Stopped for a weeks holiday on Thursday 8th and wanted to tackle the hills I had left in the Fisherfield/Letterewe area
Of course it was once cried "The Whitbread Wilderness" as the estate was owned for a number of years by the brewers. Beer used to be sold in screw top bottles - who remembers them.
"Screw two taps Pleashe barman"
Straight up the A80/M80/A9 on the Thursday evening - frustrations at Castlecary - accident and then a broken down bus
What is it about that area - there seems to be accidents/break downs every day - glad I don't travel it too often
Anyway once past there I had a good run up and stopped for the night at Ledgowan Lodge where I got a room in the bunkhouse.Arrived just in time to have a meal.
Hotel printed off MWIS forecast - 70 % chance of cloud free Munros - sounded fine.
Friday 9th
ULLAPOOL FESTER
Weather did'nt look at all promising in the morning - can we really trust these weather forecasts ?
Leaden skies and rain obviously not too far away
My plan was to walk into Carnmore Barn and tackle the hills in there over the next couple of days
I was in a right black mood as I drove over into Glen Docherty and down to Kinlochewe and was starting to have doubts about the day
Drive was brightened a bit by first disturbing a buzzard from a fence post at the side of the road - didnae miss it by much - and then further on by a polecat trotting across the road and disappearing into the shrubbery.
As I drove up the side of Loch Maree the skies darkened further and the rain started,drizzle at first and then getting steadily heavier.
Geez I was on a right downer this morning
- I remembered the phrase in one of Tom Weirs books - Highland Days I think when he talked about the "Black Dog" that used to come down on his mate.
And that was me this morning - by the time I had reached Poolewe and turned down into the car park at the bridge I knew I had really lost interest.
OK I had a full week so I could wait and see if the weather would pick up
Decided to head up to Ullapool for a game of golf to fill in the day - got a right soaking and the golf was pure mince
Just as well I didnae qualify for The Open .
How to fill in a wet Friday in Ullapool - Golf, Snack,Coffee,Beer,Newspaper,Outdoor Shop,Book Shop,a drive,some photos,another Beer,Coffee, more Golf,Chippie,Beers
Mind you the weather was pee awful so I was glad I wasn't in at the bothy.
Weather did brighten up late afternoon/evening and the MWIS forecast at the outdoor shop was promising for the next day
Got a room at the old Glenfield Hotel which they have re-opened as a hostel
not a bad deal - £ 19 for a private room - en suite
and they throw in a light breakfast of fruit juice,cereal,grapefruit,toast,tea,coffee
One or two revellers came back in from the hot spots ? of Ullapool in the early hours but no great disturbance. Had a good night's sleep and in the morning decided to stay another night.
Saturday 10th
EYELESS IN FISHERFIELD
Looking good in the morning and a reasonable forecast on the radio I decided to head round to Coire Hallie and set out for Beinn a'Claidhmeidh - a hill I had missed out a couple of times in the previous month - once by design - once not.
Away from the car park at 8.45 and up the track heading over to the corner at Achnegie.
Bright morning sunshine made for warm work up to the high point - the sweat was lashing out of me (too many beers the night before) so took off my steaming up sunspecs and put them in my pocket.
Meant to stop at the cairn but on getting there and finding a cooling breeze decided to carry on.
On the way down to the corner and feeling cooler I reached for my specs only NOT to find them.
Must have dropped them on the way up - go back - no way - annoying
but an old pair and due for an eye test anyway - hoped I would find them on the way back.
Got to bottom of the track and over the river easily enough and climbed up to the shoulder opposite to stop for a break at eleven.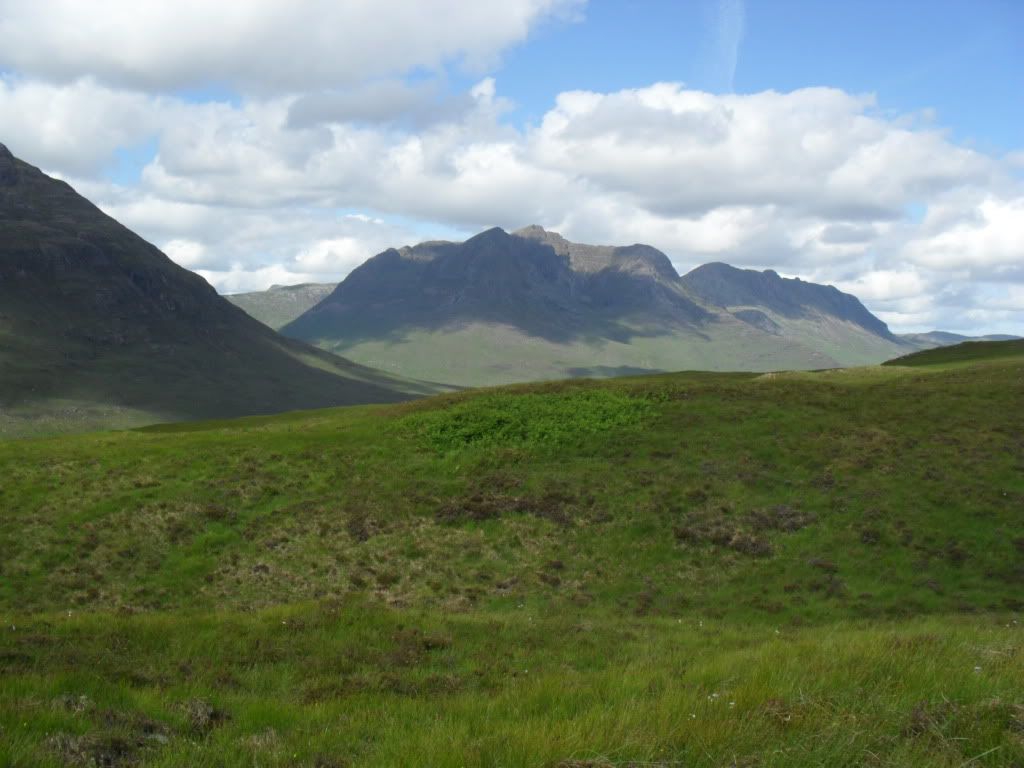 Beinn Dearg Mor & Bheag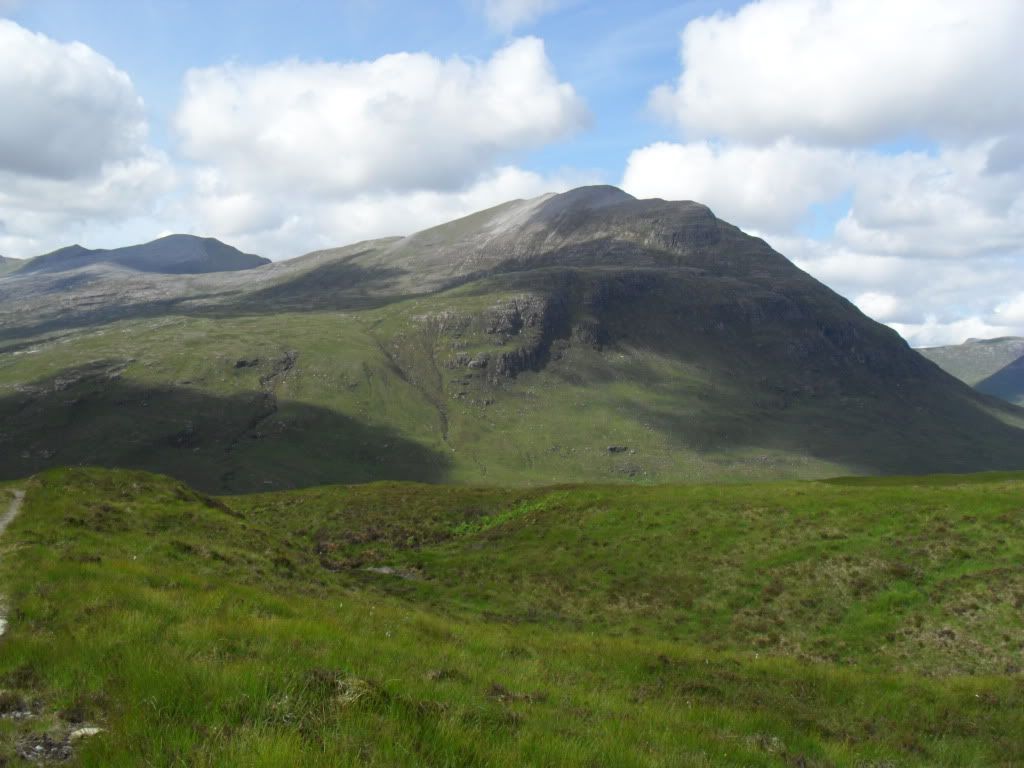 Beinn a'Claidheimh
After half an hour set up the gently sloping ridge heading for the bottom of the steep climb up to the ridge.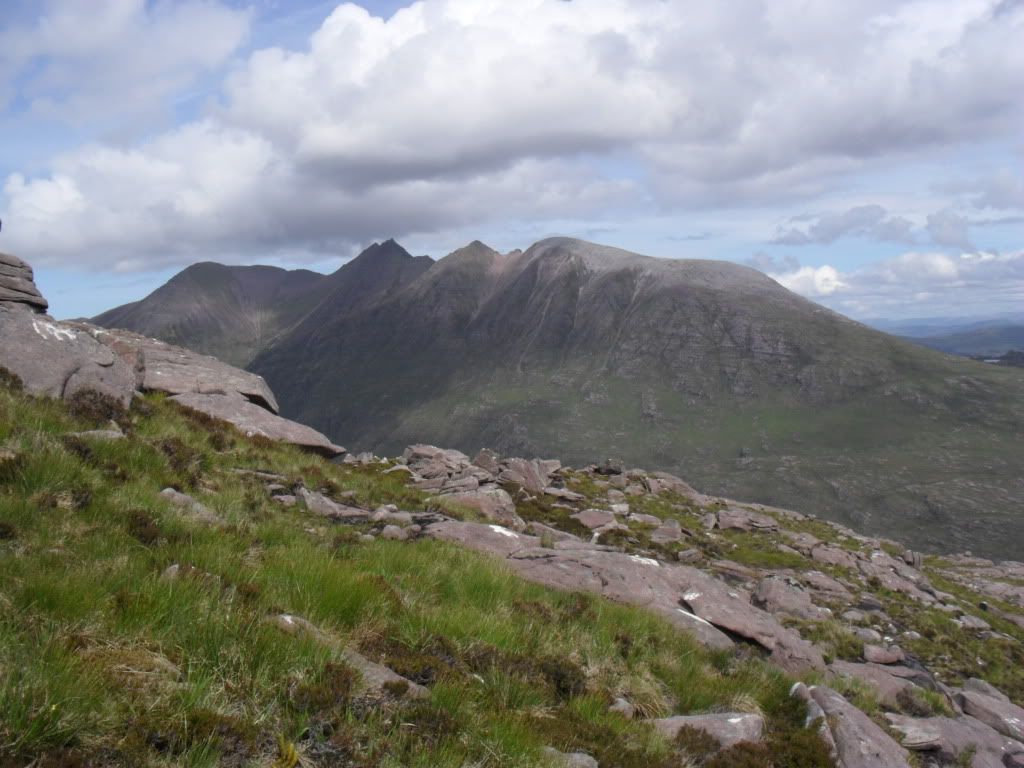 An Teallach
Eventually hit the ridge proper just before midday and was at the top shortly later - and time for another sit doon.
I'm as blind as a bat without my specs and had to squint to kinda take in the views,but it was a grand day,and I had my camera to record it.
Beinn Dearg Mor
Looking to Beinn a'Chaisgein Mor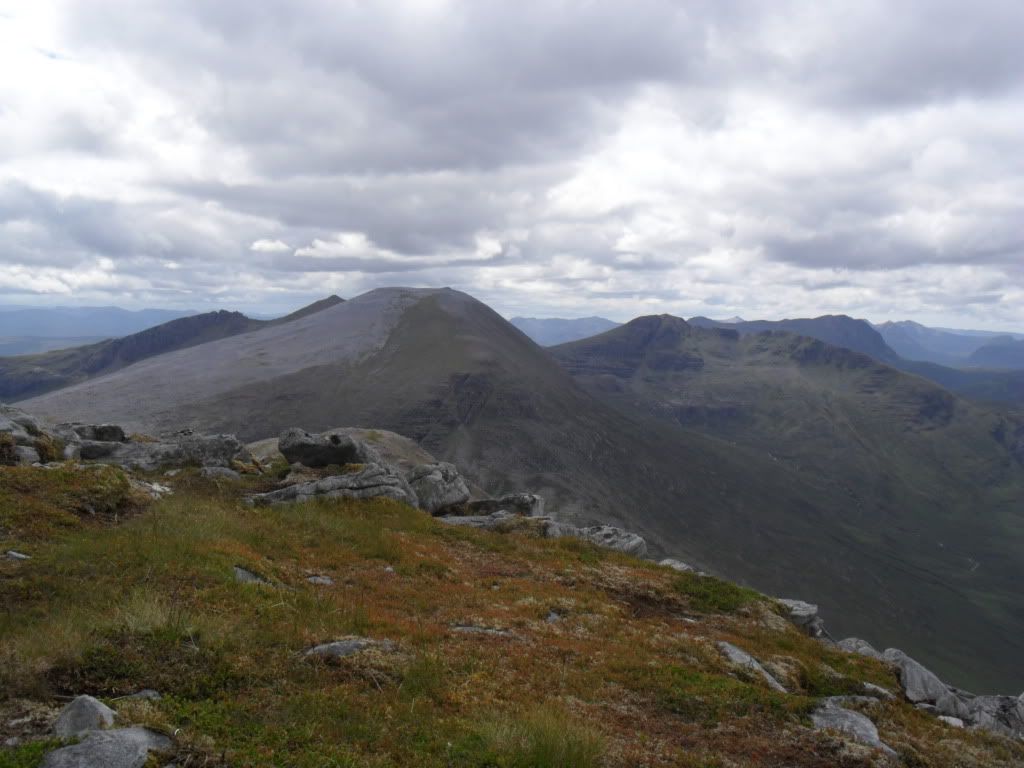 Sgurr Ban and Beinn Tarsuinn
Left top just after 1.30 and dropped down the east ridge , into the shallow corrie and down the Am Pollan slopes heading back to the river.
Easy enough going down the slope - but do the rest of you find that the last wee bit always seems to go on for ever. Anyway back over the river - a few cleg bites here - and back over the track.
Got to cairn and then set down slowly hoping to find my specs - squinting at every dark object on the track - dark rocks,even sheep droppings had me fooled a few times - but naw I didnae find them.
Consoled myself that at it was maybe better that it wasn't my ordinary specs I had lost
I would have looked a right chookie walking into a pub at night wi my sunglasses on.
Cool
? Me ? Nae Chance !
Pint at Dundonnel and then back round to Ullapool
Watched the first half of Germany v Uruguay in the Caledonian hotel where I had something to eat.
Second half in the Argyle Hotel.
Sunday 11th
ANOTHER FESTER
Sunday was always going to be a quiet day - wanted to watch the World Cup final in the evening.
Had a bet on Spain so was quite hopeful.
Headed down to Gairloch hoping for a game of golf on the great wee course there.
Another atrocious day - heavy rain and strong winds.
Eventually settled for a coastal walk along past the beach to the pier and a pint in The Old Bridge Inn.
Booked into Gairloch Hostel,had something to eat and over to the Poolewe Inn to watch the match.
What a crap final - but hey Spain won - nice wee return on my bet. VIVA ESPANA
Weather was now really nice and the forecast was promising for the next couple of days - was it right ?
PART ONE - WILL POST SOME MORE LATER