PART 2
Monday 12th
THE RIGHT DATE FOR A WALK ?
Pared down the gear in my rucsac as much as possible for the walk into the bothy.
Not as early a start as planned - told the lassie at the hostel I was heading for Carnmore
Oh there's heavy thunderstorms forecast she said - Och well I've got my waterproofs.
As it turned out I hardly needed them.
Set off from the car park just before nine for the walk round to Kernsary and through the forest.
A mild morning with heavy spits of rain which did have the feeling of thunder about them.
Not heavy enough to think of putting the jacket on - didn't fancy a self generated sauna.
Just at Loch Kernsary I caught a sudden flash of red to my left - Fox I thought right away
But it wasn't - It was a small Roe deer hind - but very very red.
Through the forest on the newer/higher line of the track,over the stile and onto the moorland.
The rain hadn't come to anything - just continual heavy spots which were really cooling and welcome.
Carried on to the high point and stopped for a wee break.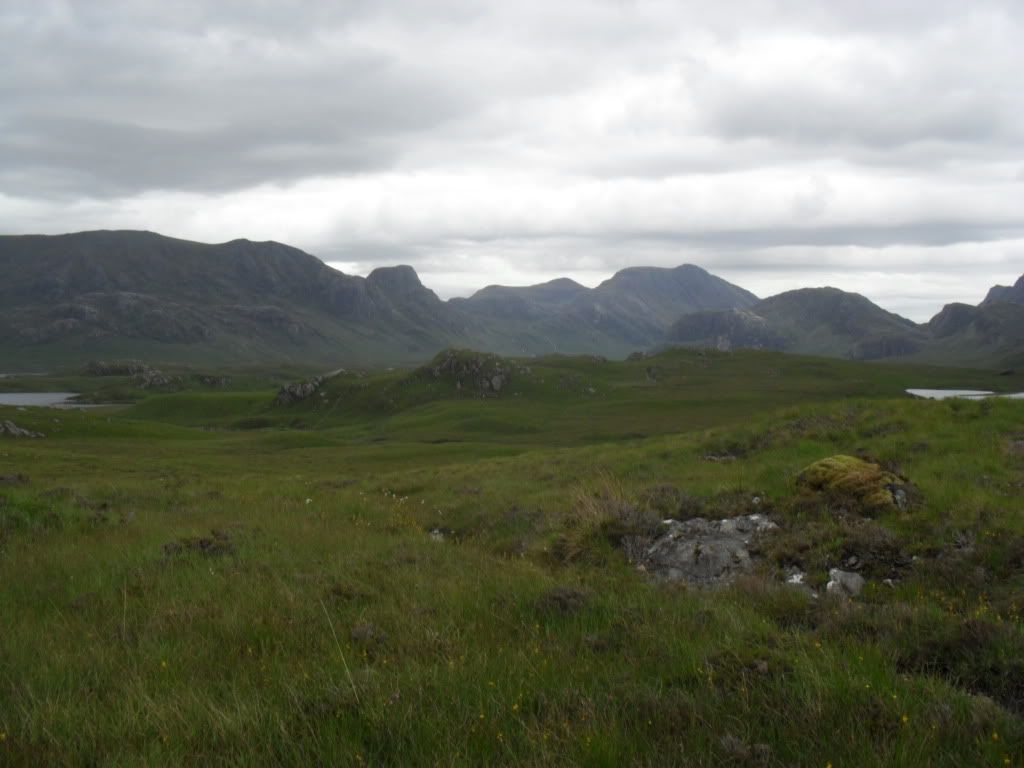 Looking to Carnmore Crag and A'Mhaighdean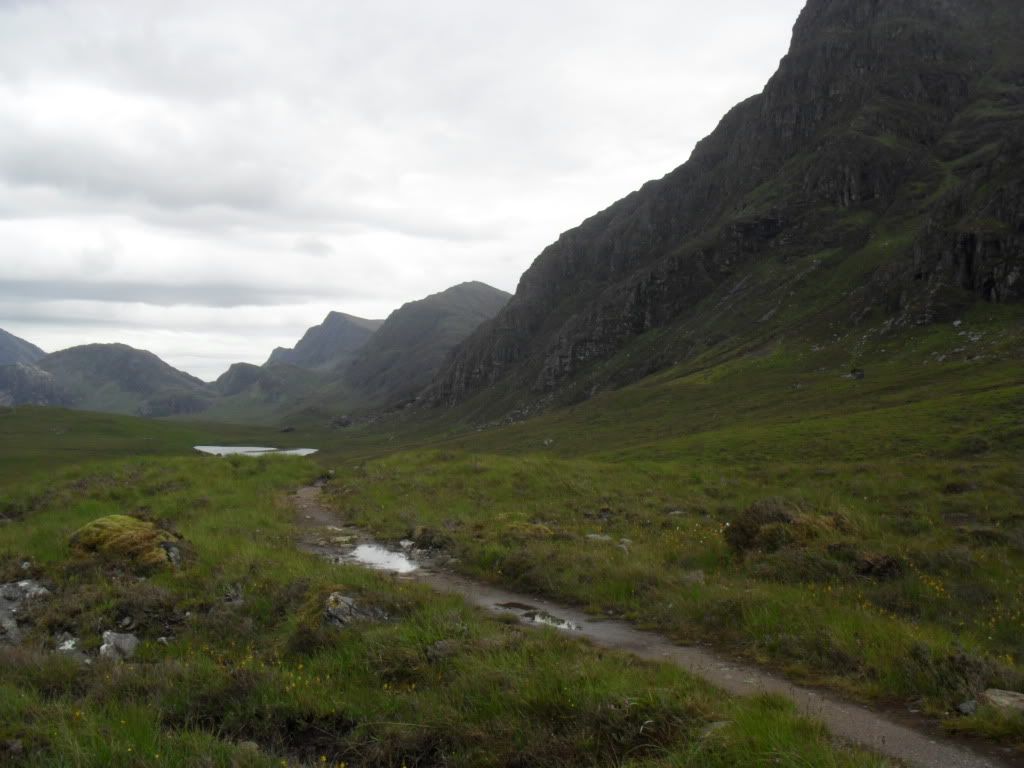 Beinn Lair in the distance
This is really an excellent path now down towards Carnmore - not the mudfest I remembered on my first trip down it in 1993. The estate really deserves some plaudits.
Crossing the causeway it felt a bit cooler - thought it was just because I was next to the open loch.
But looking up to A'Maighdean I could see the clouds just catching the top, so rain not far away.
Made good time down to the bothy,which was empty,getting there just before 1pm.
Minutes after arriving the heavens opened and it rained heavily for the next hour.
The bothy is just a basic shelter with a single skin steel roof - and the rain was really clattering on it.
Had a coffee and settled down on my sleeping bag and had a wee nap.
Just after two the rain eased and it looked a bit brighter so got my rucsac packed for the hill.
Set off at 2.30 with jacket on but climbing the stalkers path I was just too warm so took it back off again.
This path takes you quickly up and round to Lochan Feith Mhic-illean and the start of the track up into the corrie. Got up the bealach below Ruadh Stac Mor in just under two hours.
The weather was now really fine - dry,warm but with a nice breeze - great walking conditions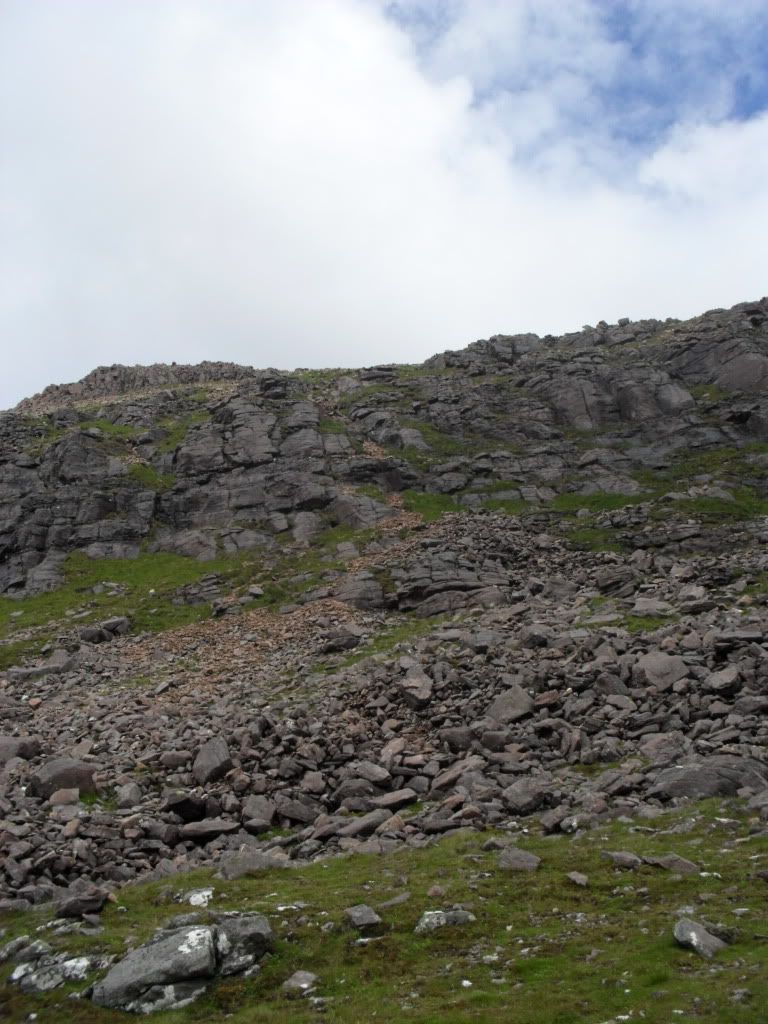 Looking up to Ruadh Stac Mor
And A'Mhaighdean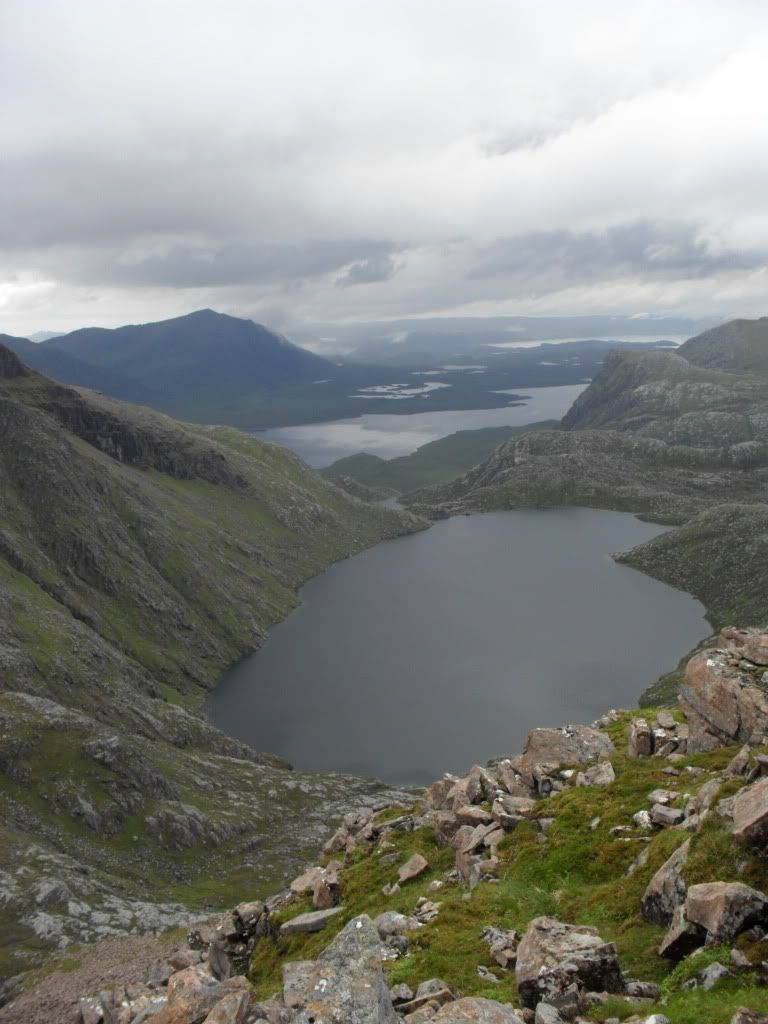 Fuar Loch Mor
After a drink I set off up to RSM on the rough zig zag path through the crags and then through the boulder field to the summit cairn.Took a few photos and then back down passing the MANY marker cairns on the way.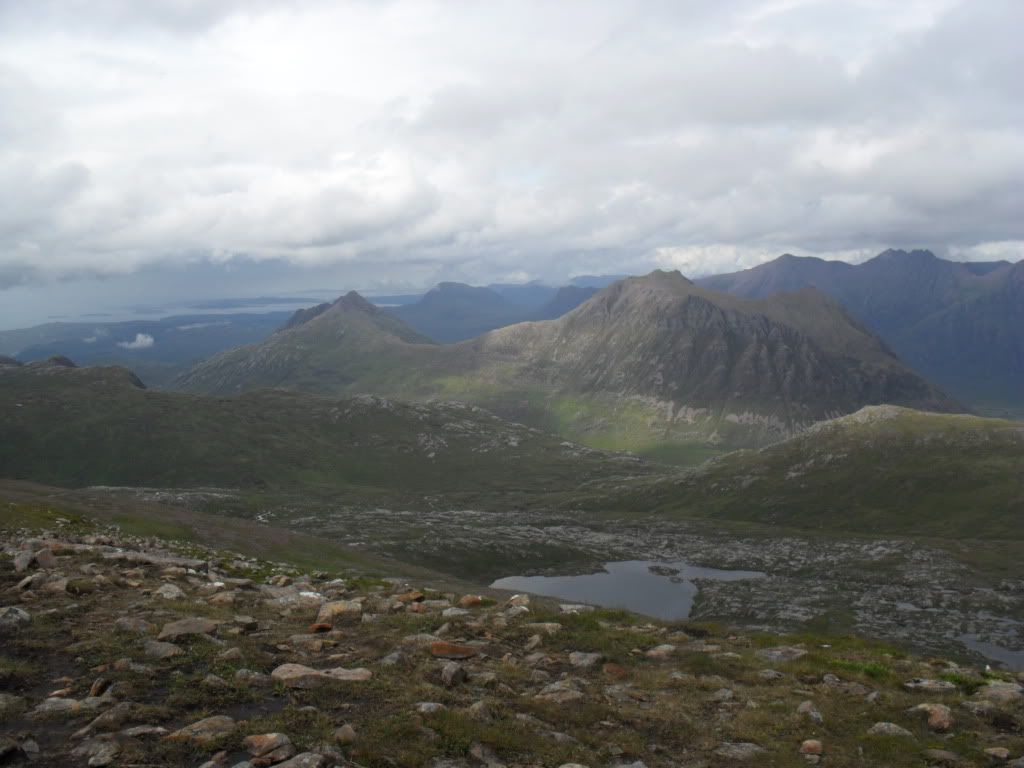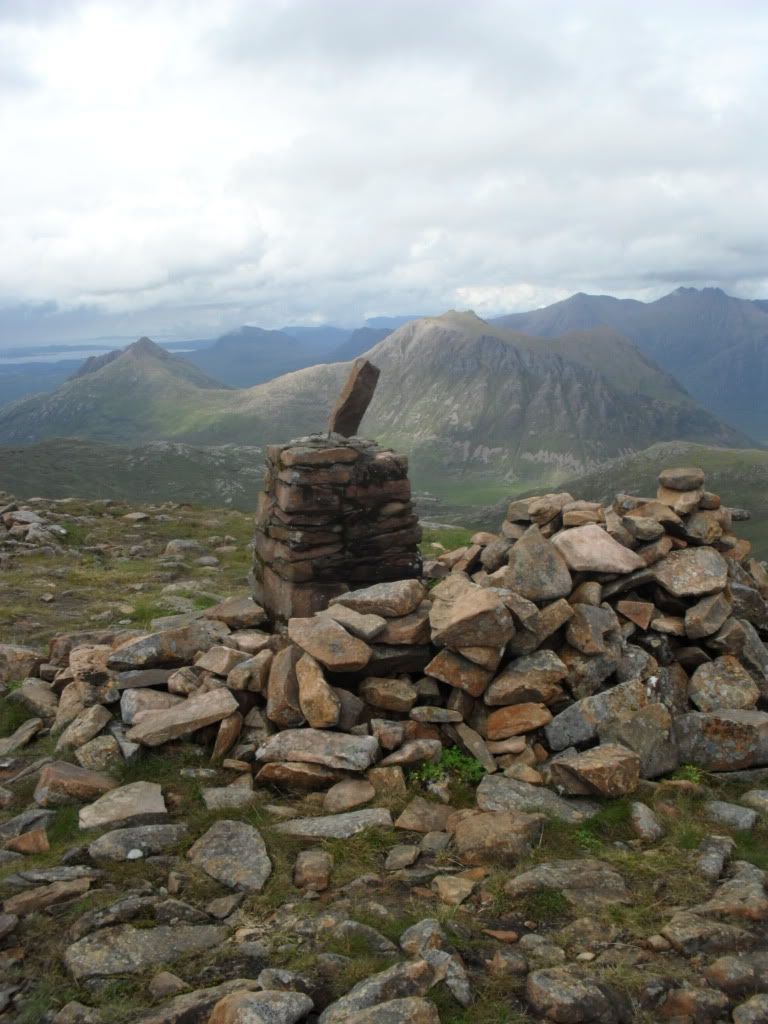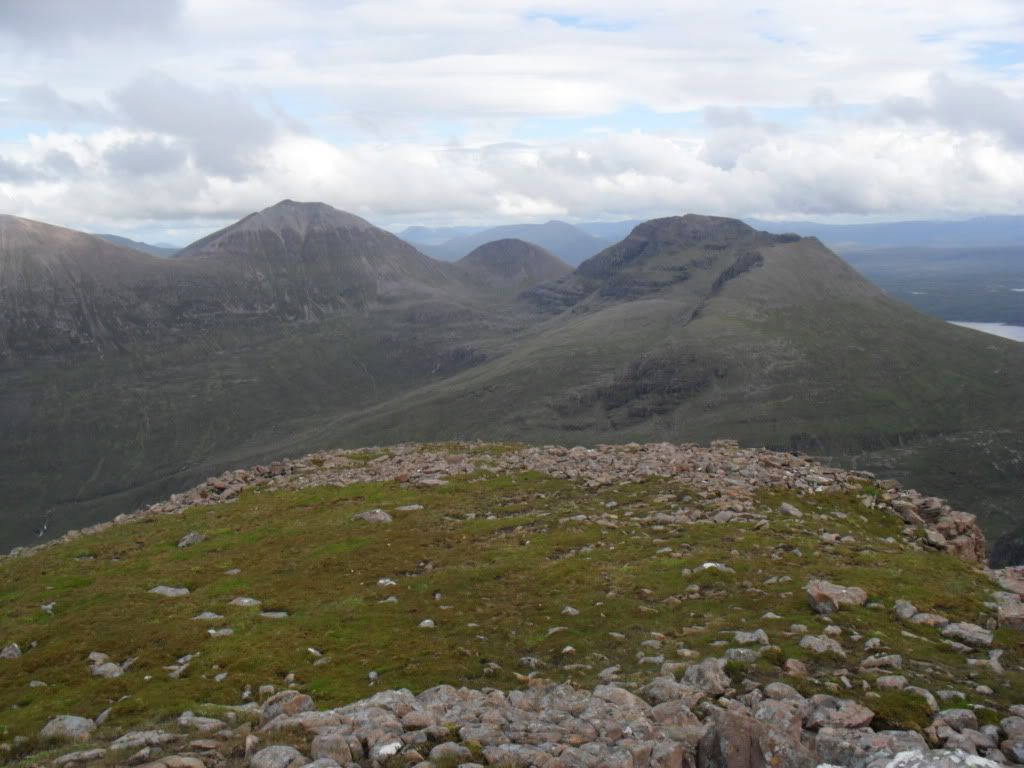 Another wee break and then the plod up to A'Mhaighdean disturbing a mountain hare on the way up .
Oh what a summit,Oh what a viewpoint - Is it the best in Scotland - Gets my vote
A'Mhaighdean - The Maiden - is a hill of note for me - Ach I just love the hill
My third visit and the third time she has rewarded me with great weather and wonderful views
Brought back memories
Ah Ah Ah Ah Ah !
First Visit
Easter Sunday 1993 - This was the day I compleated my first round of the Munros
Had walked in to the bothy the night before on a raw,chilly April evening feeling not too good
Suffering from flu type symptoms my meal that night consisted of a lemsip
The Sunday morning was bright so set off at the back of six - Ruadh Stac Mor and then A'Mhaighdean for ten o'clock.
Sat taking in the scenery for a good hour with beautiful views out to Poolewe
To celebrate my compleation took out my hip flask for a dram.
Lifted it to my lips but YUCH just couldnae stomach it - me refuse whisky - jings I must have been ill.
Walked out that afternoon and round to Ullapool and had a meal in The Ferry Boat Inn
And in my bed for 8.30
Second Visit
July 1997 - reached A'Mhaighdean mid afternoon - fifth on my round of the six from Shenavall
On a very warm summers day
There was another lone walker at the summit who asked me to take his photo at the cairn
It was of course his compleation hill
After I took the photo he produced a bottle of whisky and offered me a dram.
Springbank it was - good stuff
So it turned out that I had my dram at the top of A'Mhaighdean after all.
Woke up, fell out of bed,
Dragged a comb across my head
Found my way downstairs and drank a cup,
And looking up I noticed I was late.
Found my coat and grabbed my hat
Made the bus in seconds flat
Found my way upstairs and had a smoke,
and Somebody spoke and I went into a dream

Ah Ah Ah Ah Ah ! --------------
Oops sorry about that - where were we
Today again the views were terrific,some photos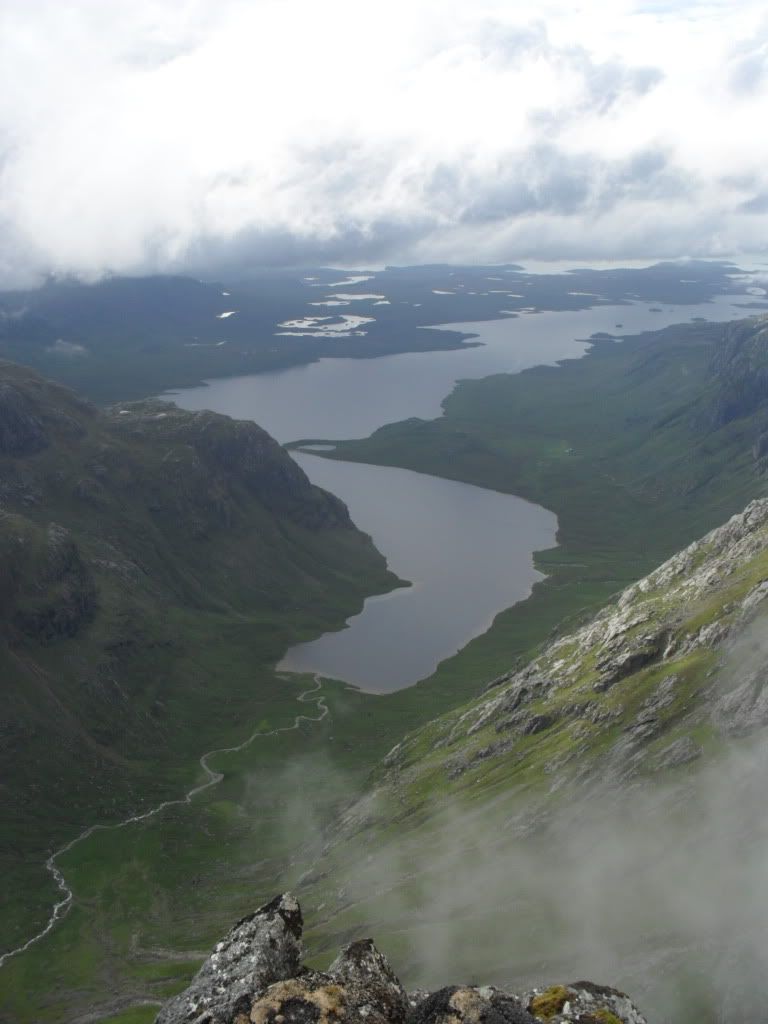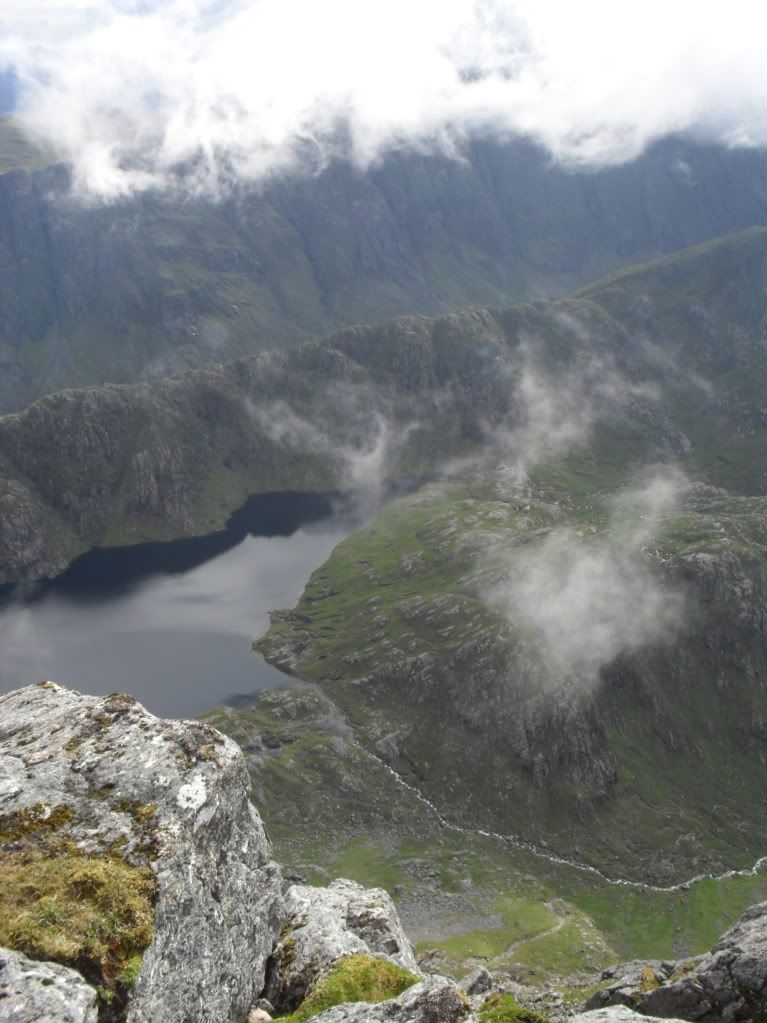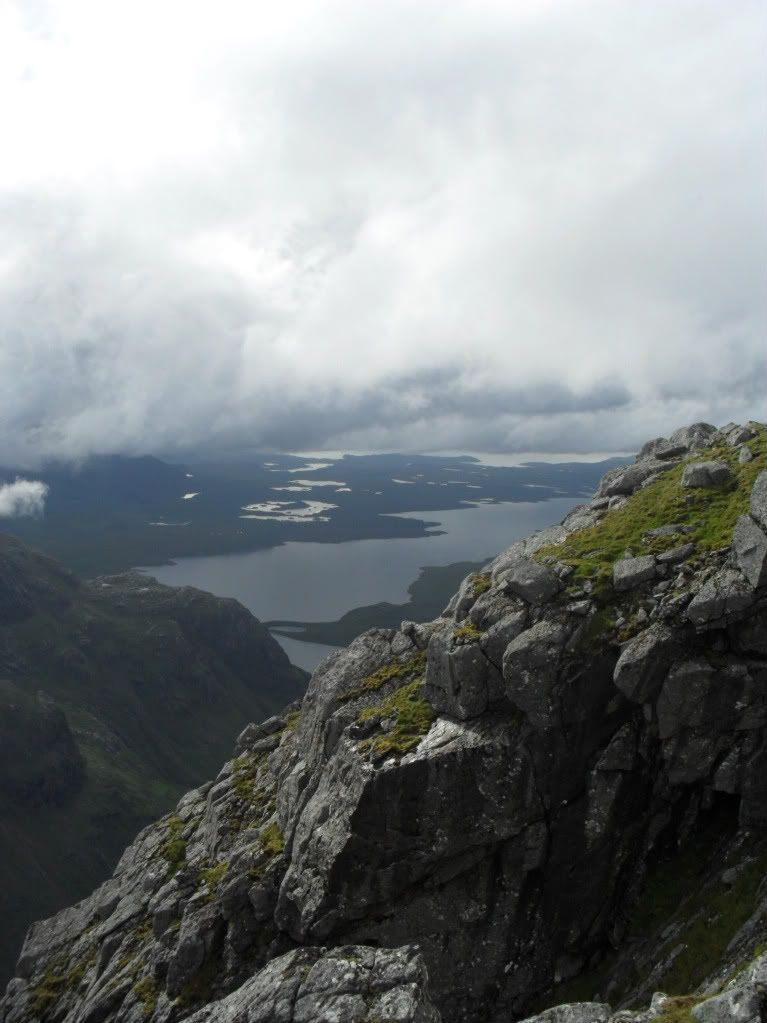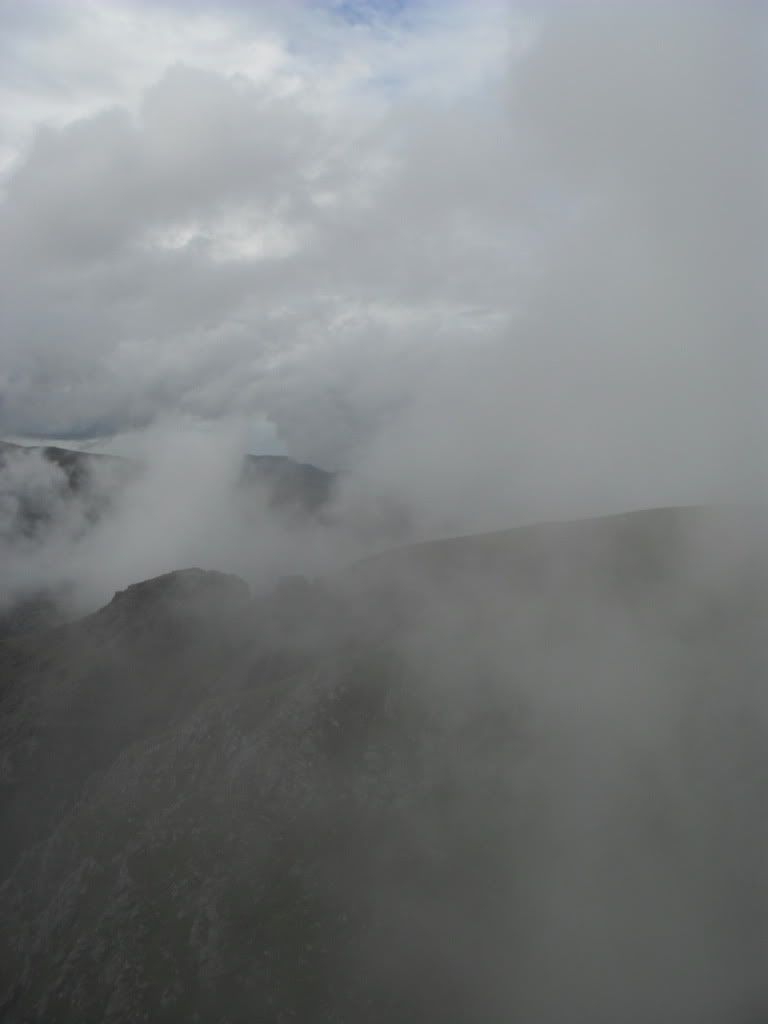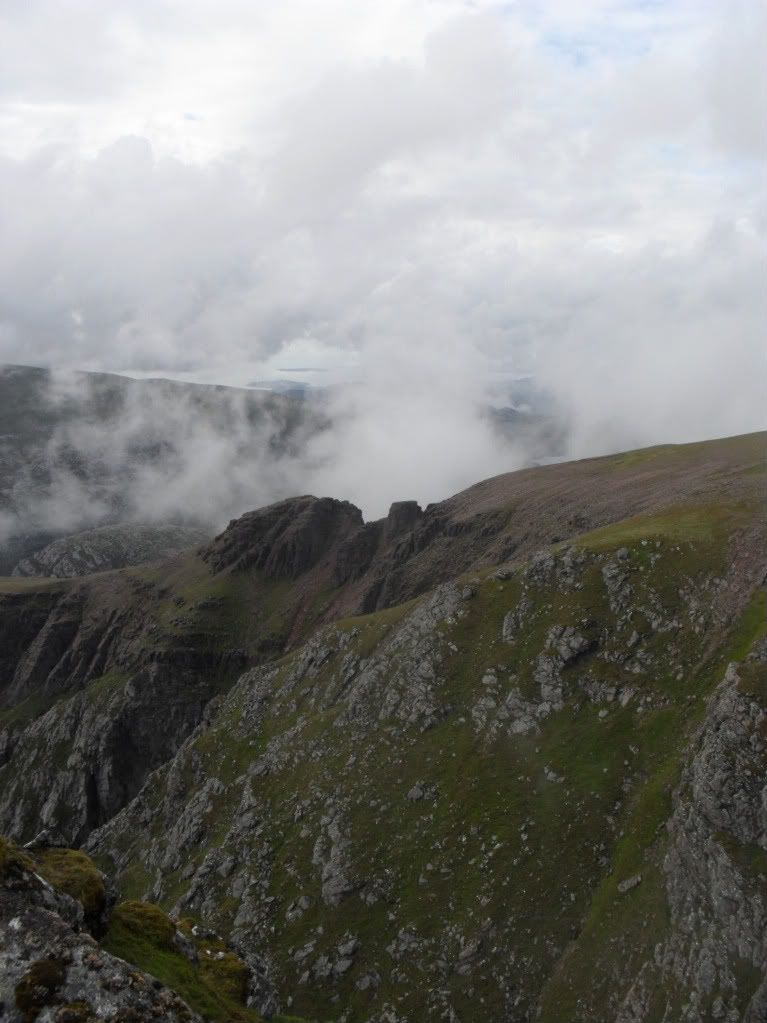 No dram at the top today, but I had one waiting for me at the bothy.
I was a bit tired so rather than go down the north west ridge I opted to go back down by the bealach and the path. Had a look at the howff on the way back down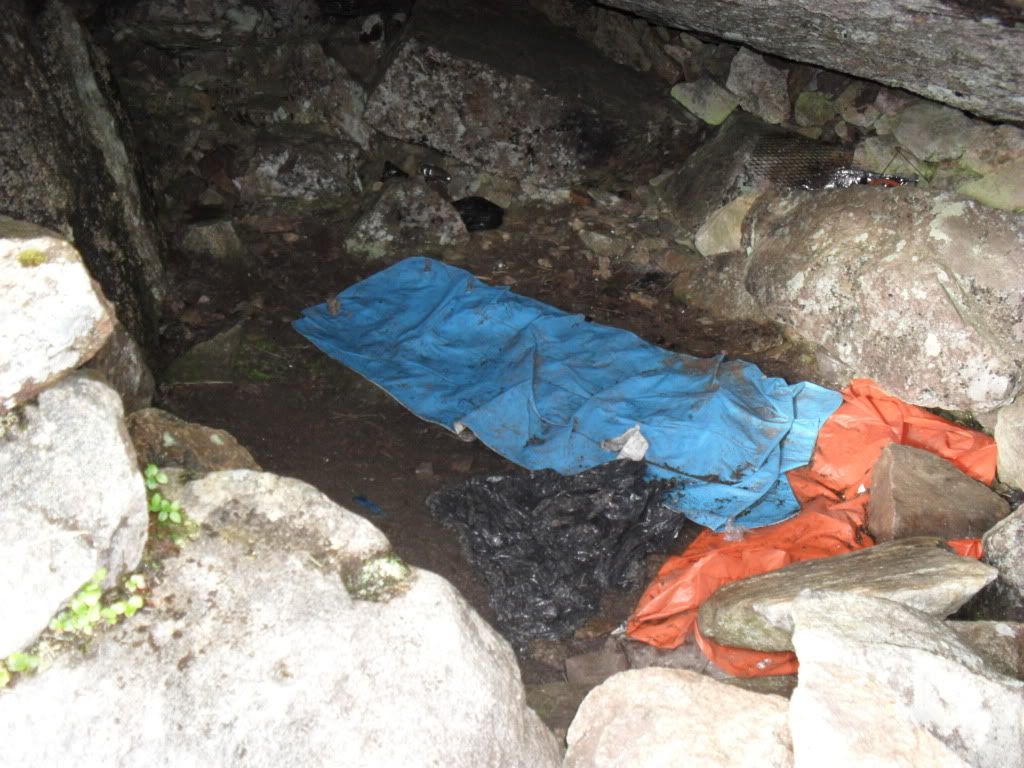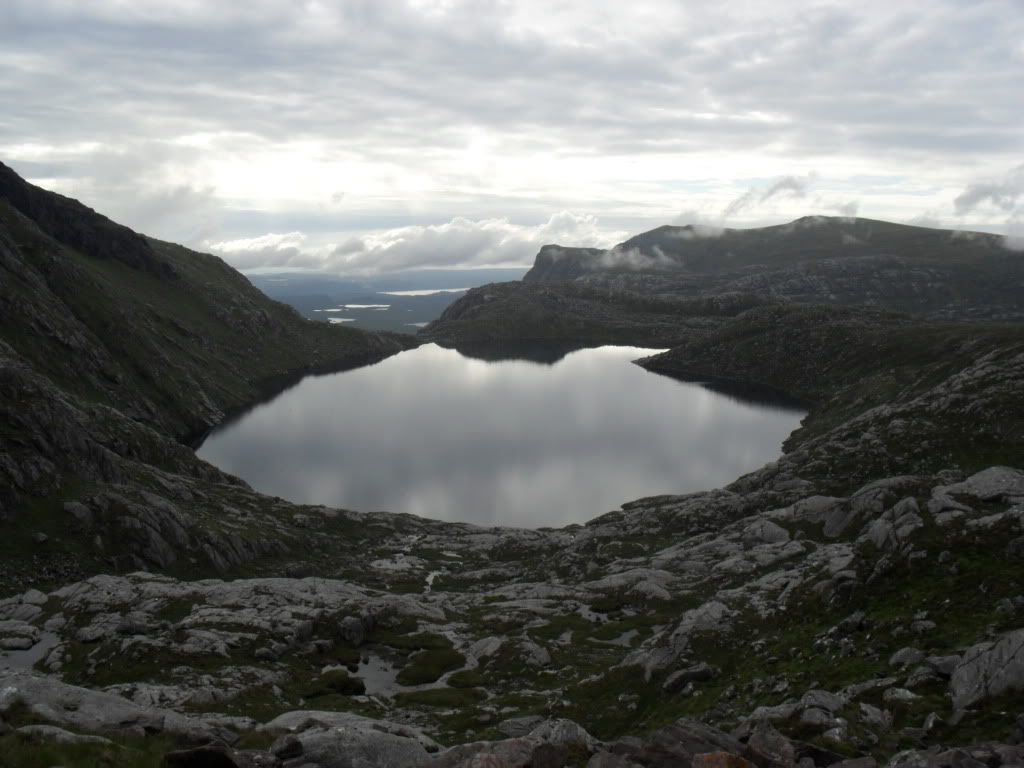 Fuar Loch Mor again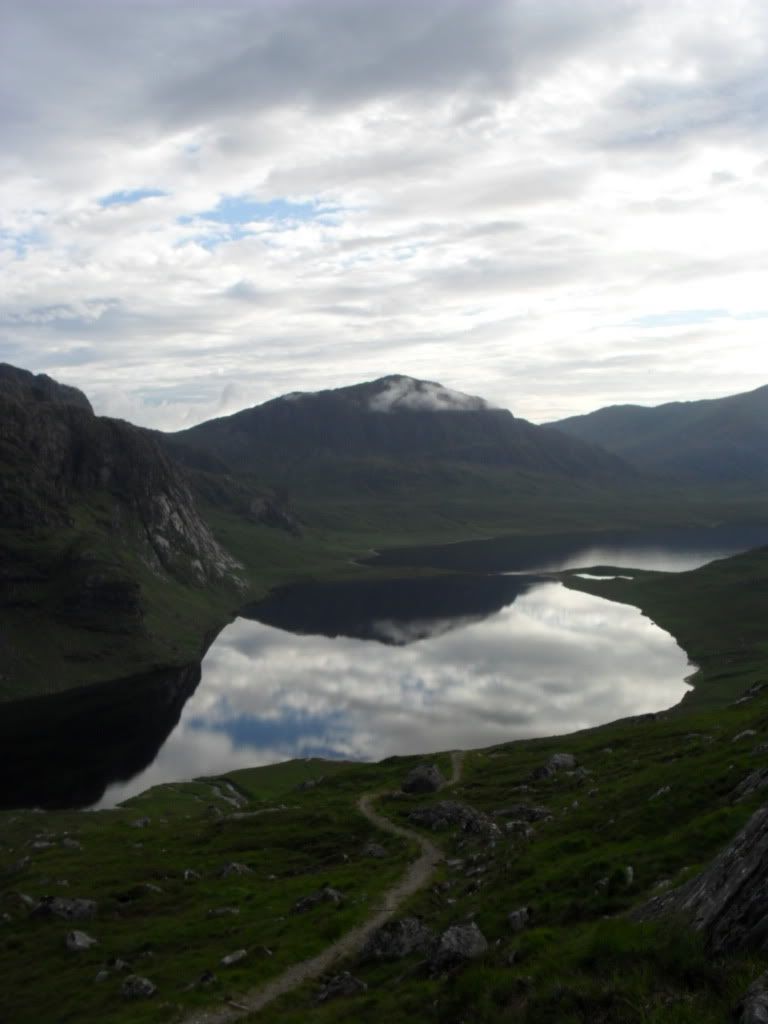 Dubh Loch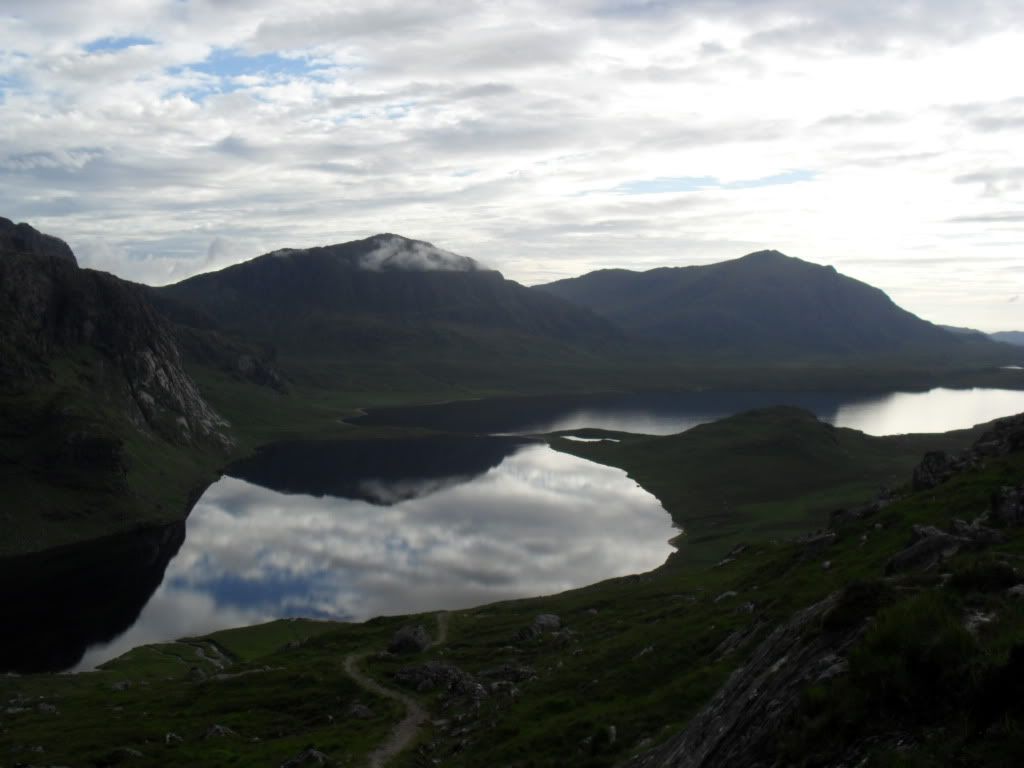 Dubh Loch and Fionn Loch
Back at the bothy at 8 o'clock.
Had the place to myself - had something to eat - and a dram - and sat reading the log book
Recognised a couple of names from Scottish Hills
Last entry was by a group of fishermen who had brought a new first aid kit into the bothy.
Must have been them who left the can of lager - cheers lads
Not T in the Park but T in the Barn
Late evening went outside and took this photo towards Beinn Airigh Charr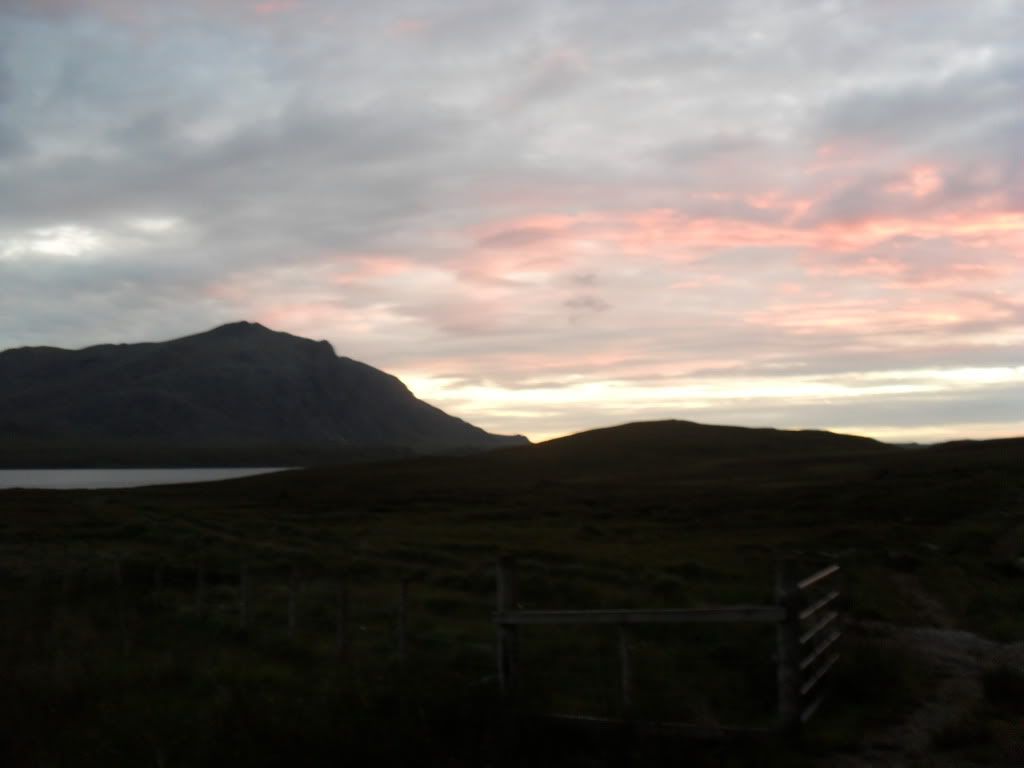 Tuesday 13th
RED FACE ON THE DEARGS
Had a good sleep but again didn't start as early as I wanted
The pads of both my feet were feeling a bit tender,the left especially - so applied some compeed.
Away at the back of eight,up the stalkers path again and through towards Loch Beinn Dearg.
Past Lochan Feith Mhic-illean walking along deep in thought,I didn't notice the couple coming the other way who were suddenly right in front of me.
They had been camping and were heading for the two Munros.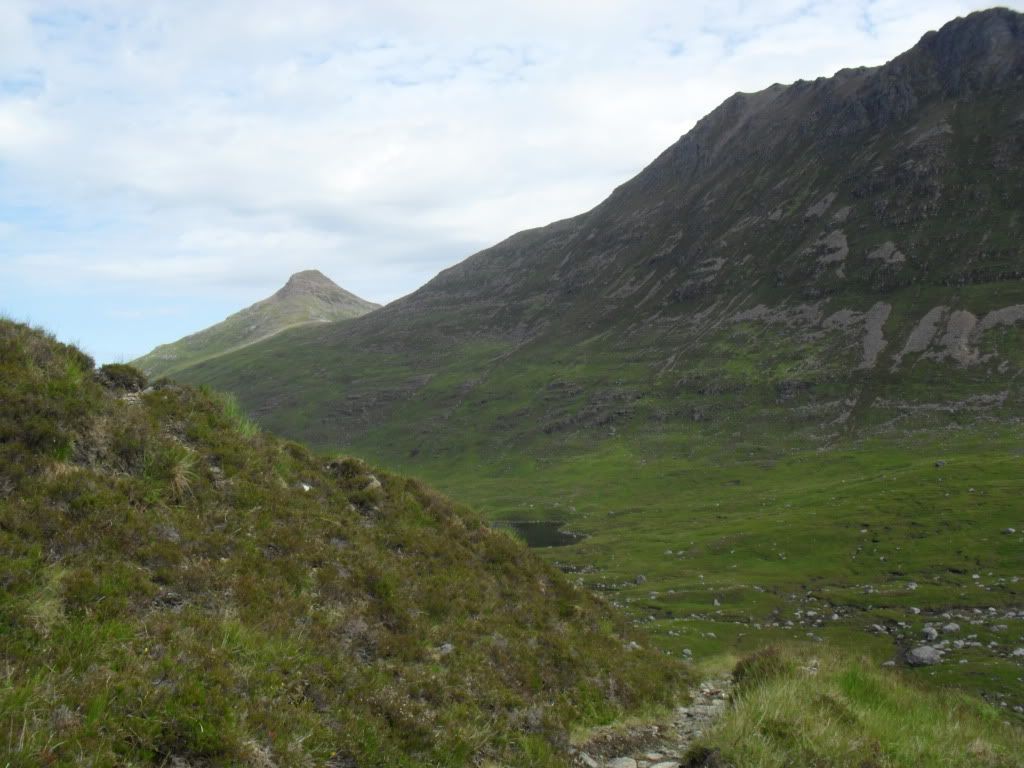 Beinn Dearg Bheag in the distance
Beinn Dearg Mor
I suppose we all split our walks into different legs - In my mind I had split this one into eight
Up the stalkers path to the lochan
Through to the drop down to Loch Beinn Dearg
Up past the loch to the bealach
Up and down Beinn Dearg Mor
Up and down Beinn Dearg Bheag
Reverse legs 3,2,1
Leg 3 was the one I didnae really fancy - I don't like these rises up long featureless grassy slopes.
Rough enough walking it was,grass,heather,broken rock, but in the end was,nt too bad.
Got to the bealach just after 11.00 and had a good rest.
Directly below Beinn Dearg Mor headed there first - 1000 feet to go up and down
Steep climb but with an easy enough path to follow
This summit definitely vies with A'Mhaighdean as a spectacular viewpoint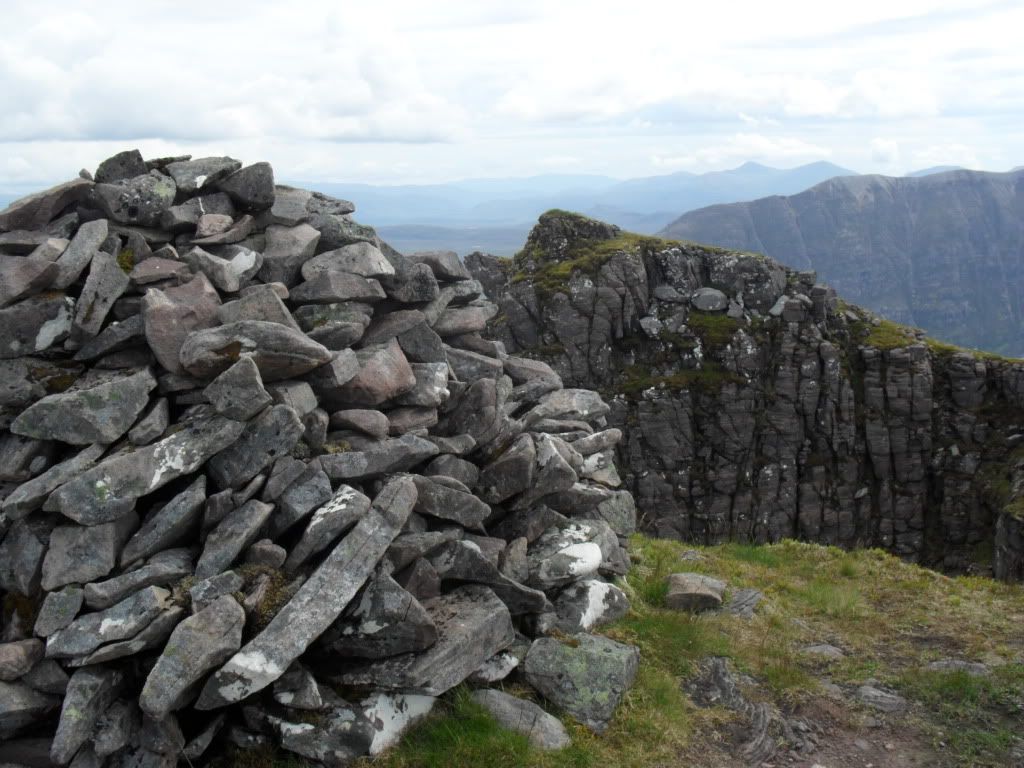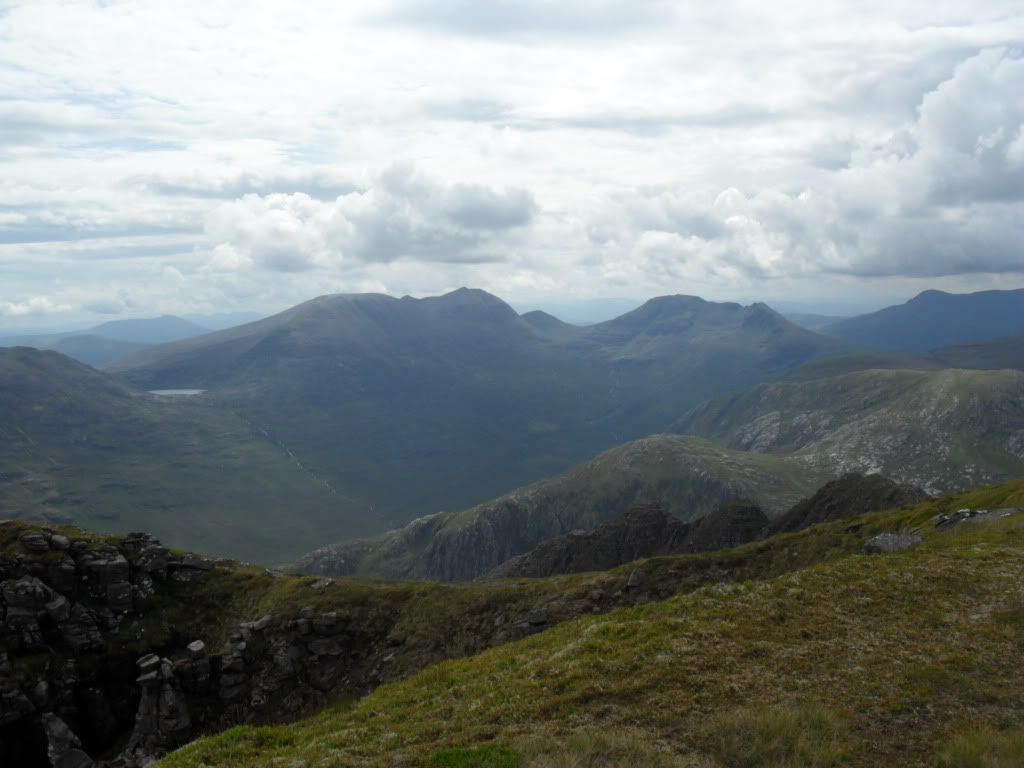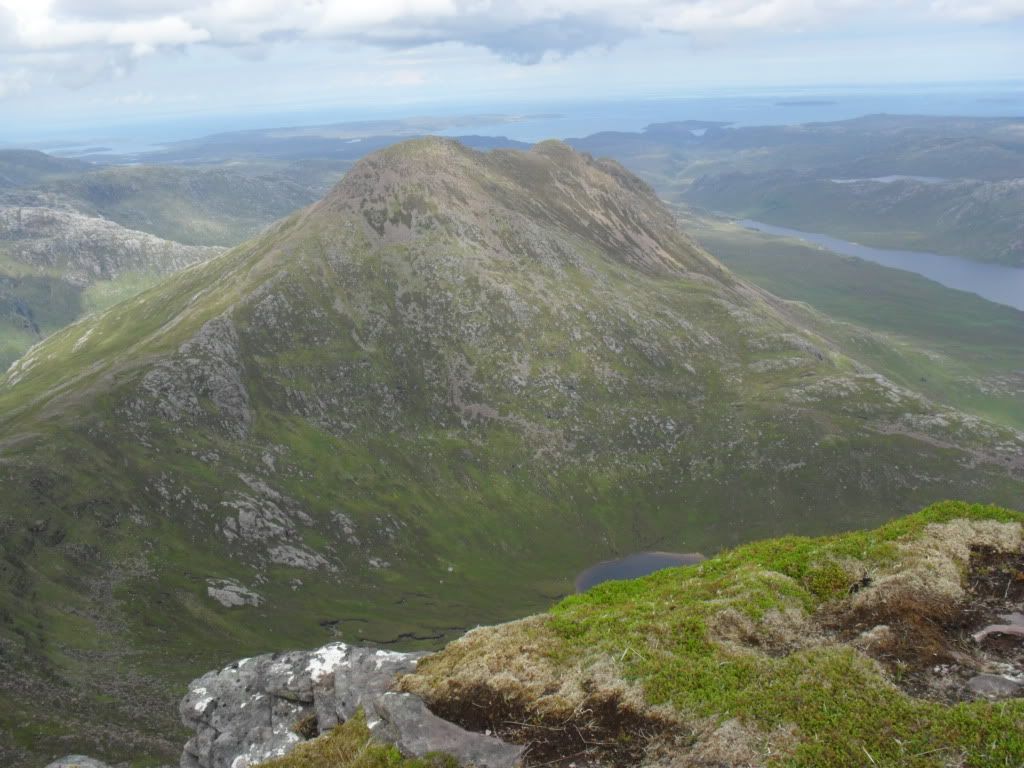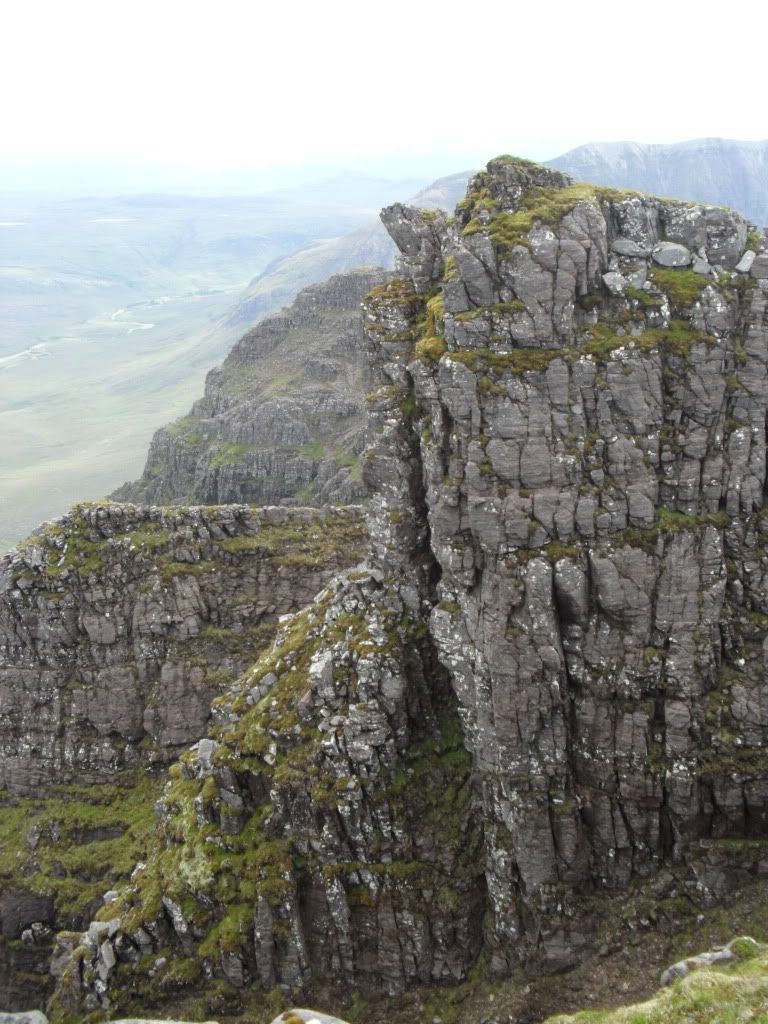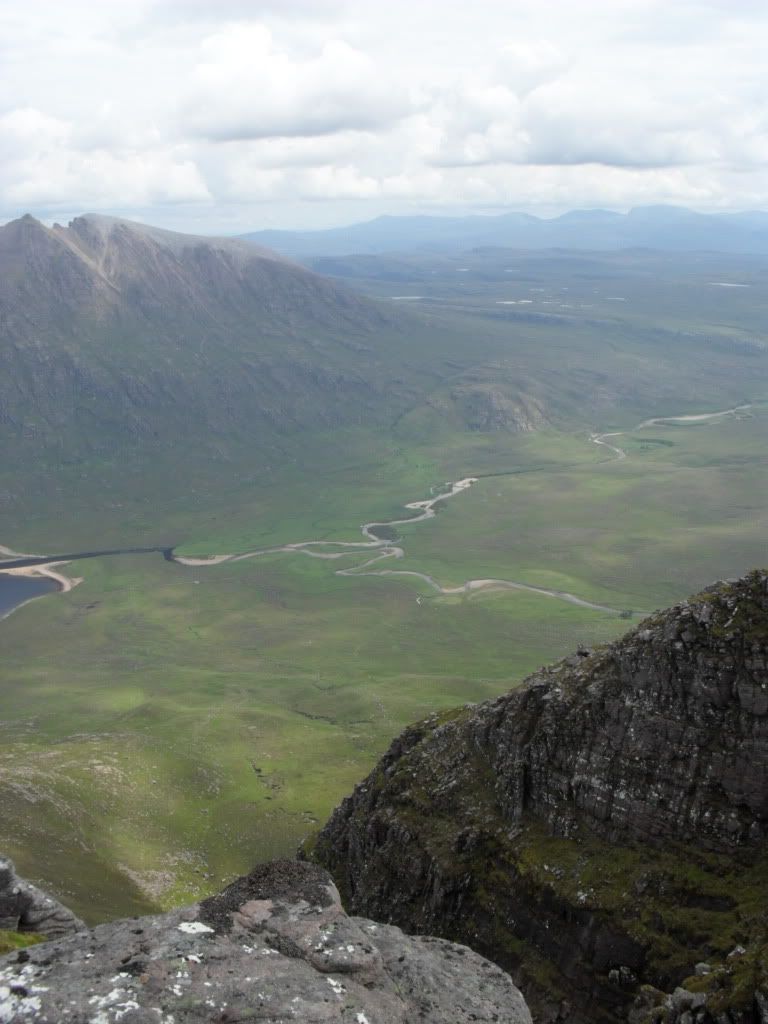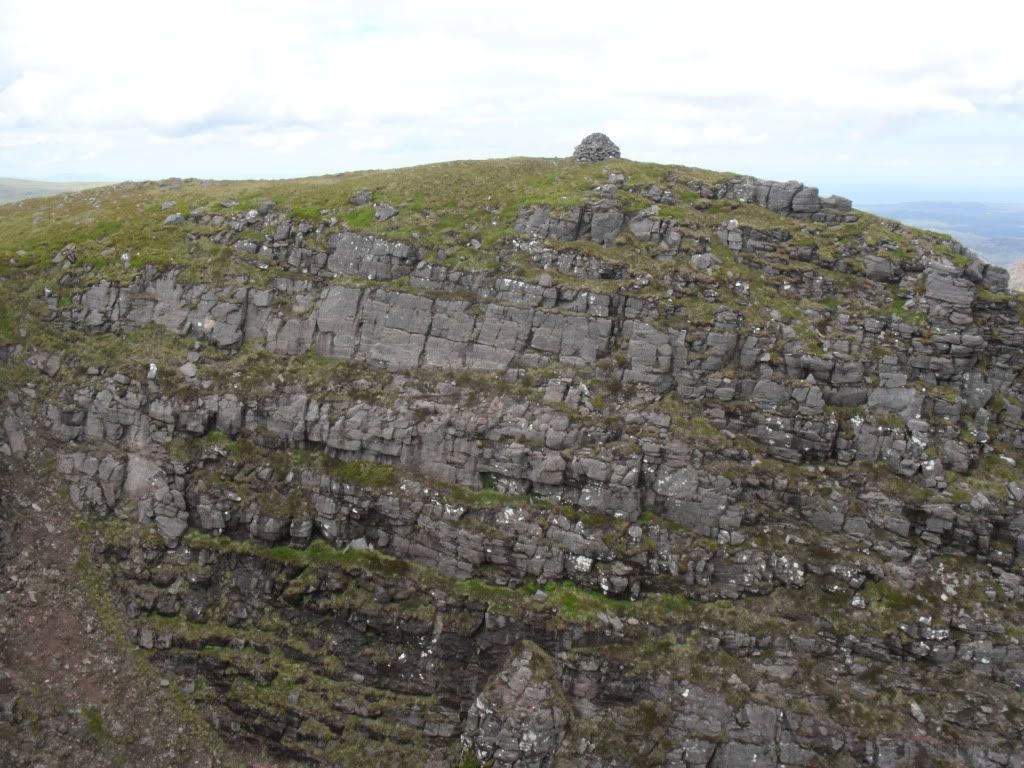 Back down at the bealach and again not wanting to lug the rucsac up the hill I looked for a prominent rock to leave it at.
Soon enough at the top and a wee insignificant cairn.Could see a figure at top of BDM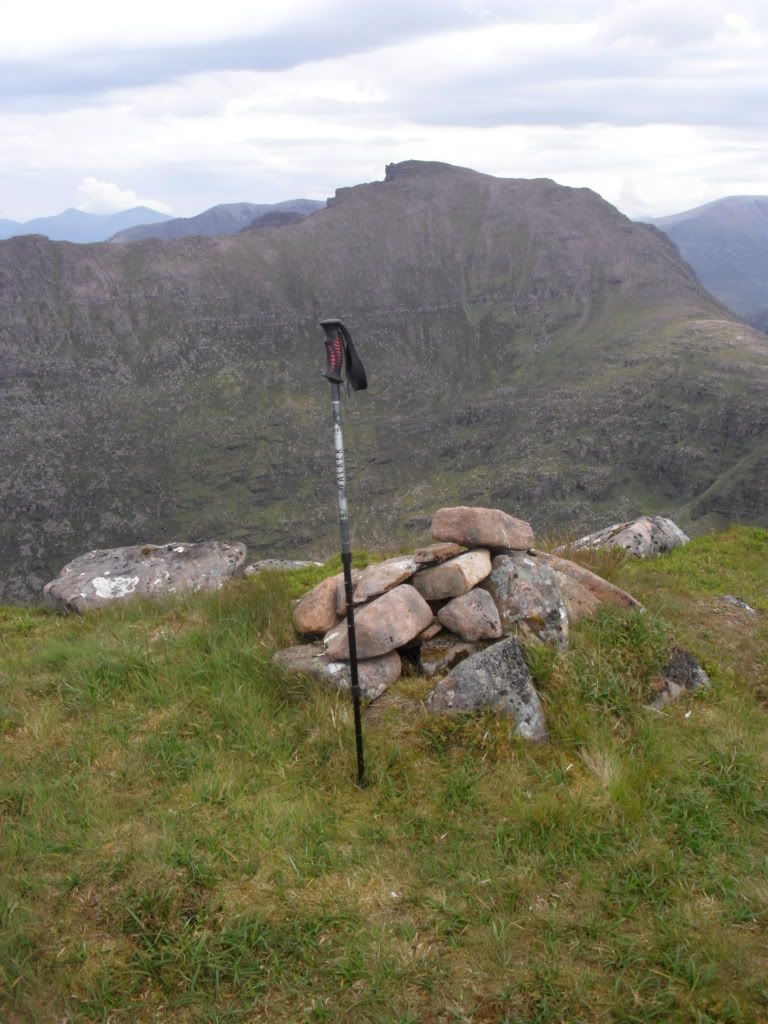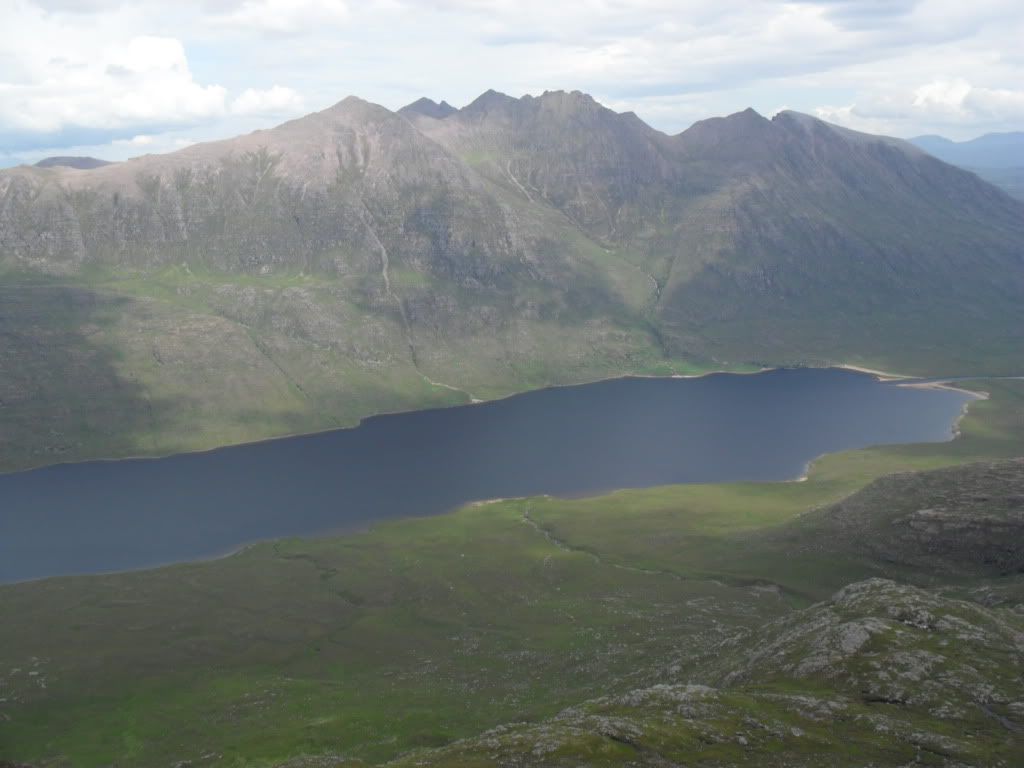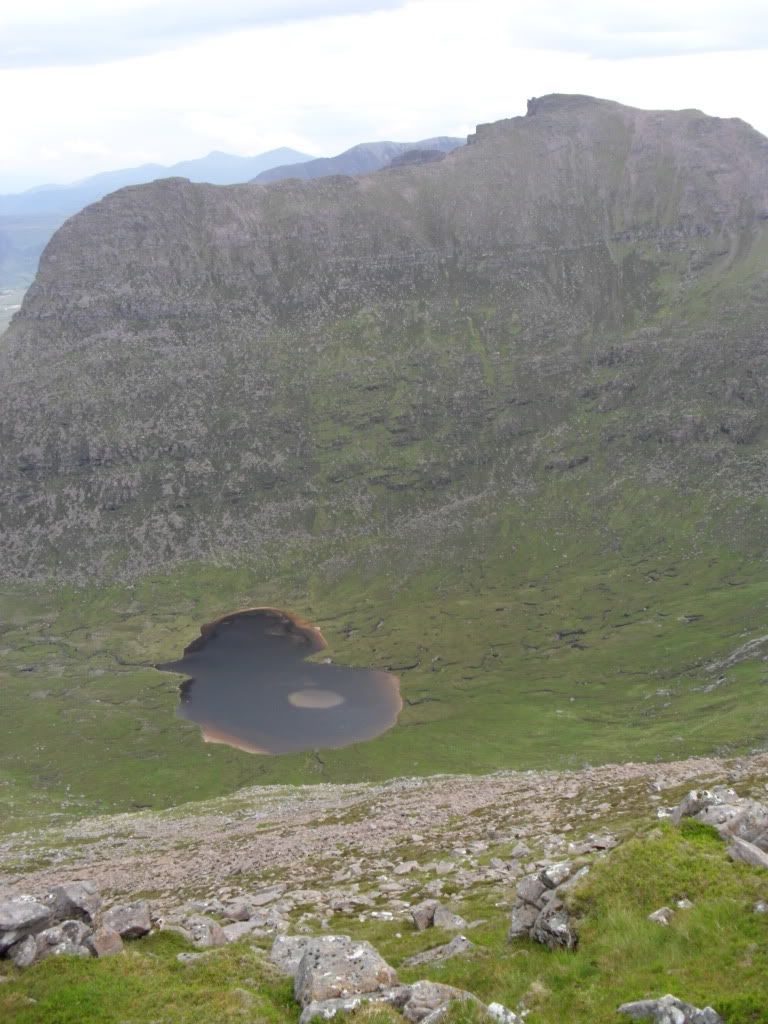 Two wonderful hills,I felt a bit of a cheat in approaching them from this less than adventurous route
I really was just "bagging" them., but hey was I also glad to get them done.
Pedant to the end I remembered that this was hill 499 out of 504 (Munros + Corbetts) on the double round I started out on in 2002 - seemed a good idea at the time.
Headed back down to pick up the bag - now then what prominent rock was that again.
Jings they all look the same - but after five minutes and a bit of head scratching I got back to the sack.
Hands up all that have done that.
As I left the bealach I gave a wave to the walker coming down from BDM - must have been the person I had seen on top - don't know if he saw me
Back at the bothy at 5.30 I swithered about walking out - had plenty of time - but I was tired and my feet were sore again - so settled down for another night.
Still had plenty of food and enough whisky to keep me going - Had the place to myself again but I wouldn't have minded if somebody had arrived for a bit of craic.
Started reading my book about Swedish lassies - but only got as far as Drymen before my eyes were closing.
The wind really got up in the early hours and the roof sheets were creaking and rattling good style.
Earplugs in I had a great sleep.
Wednesday 14th
QUIET WALK OUT
Packed up and was away just after 8 o'clock
Took some extra rubbish with me
For anyone who hasn't been there and wondering about Carnmore Barn - well it is very basic but wind and watertight. And it is close to the hills
Took some photos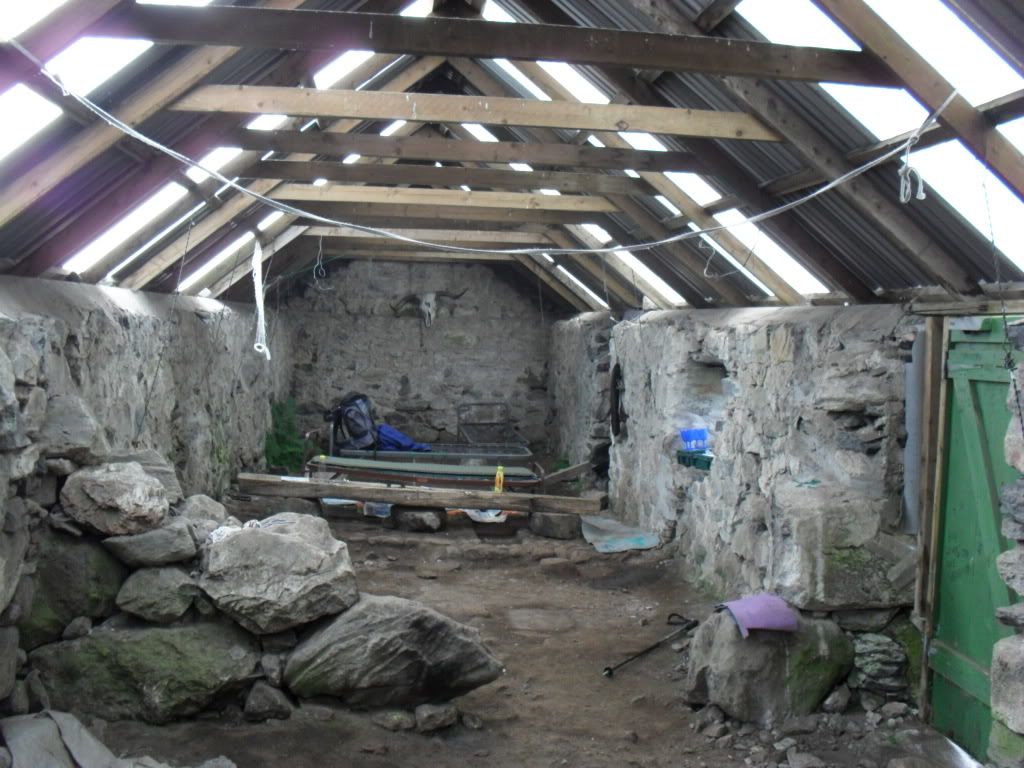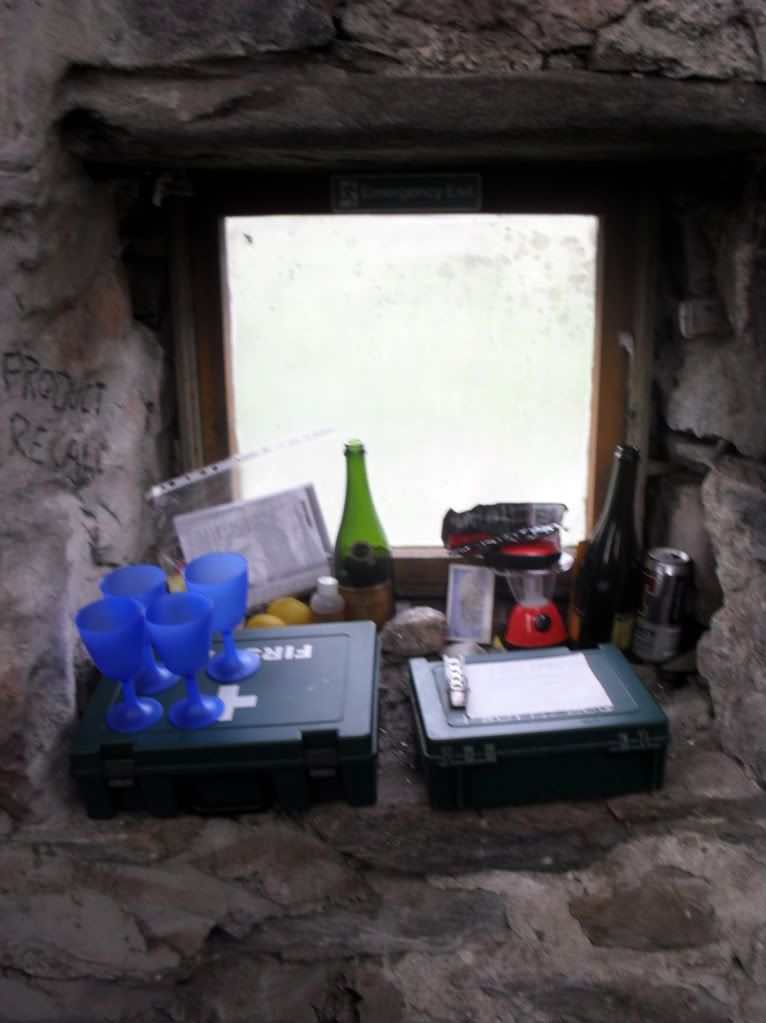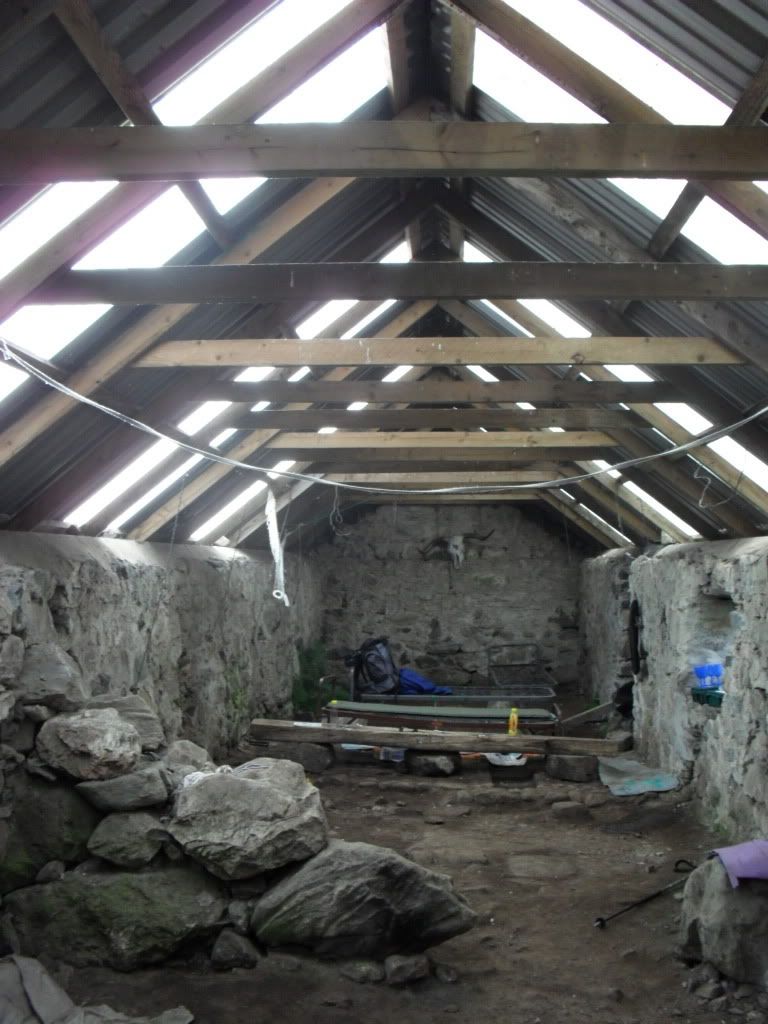 Cryptic comment I think by the Fishermen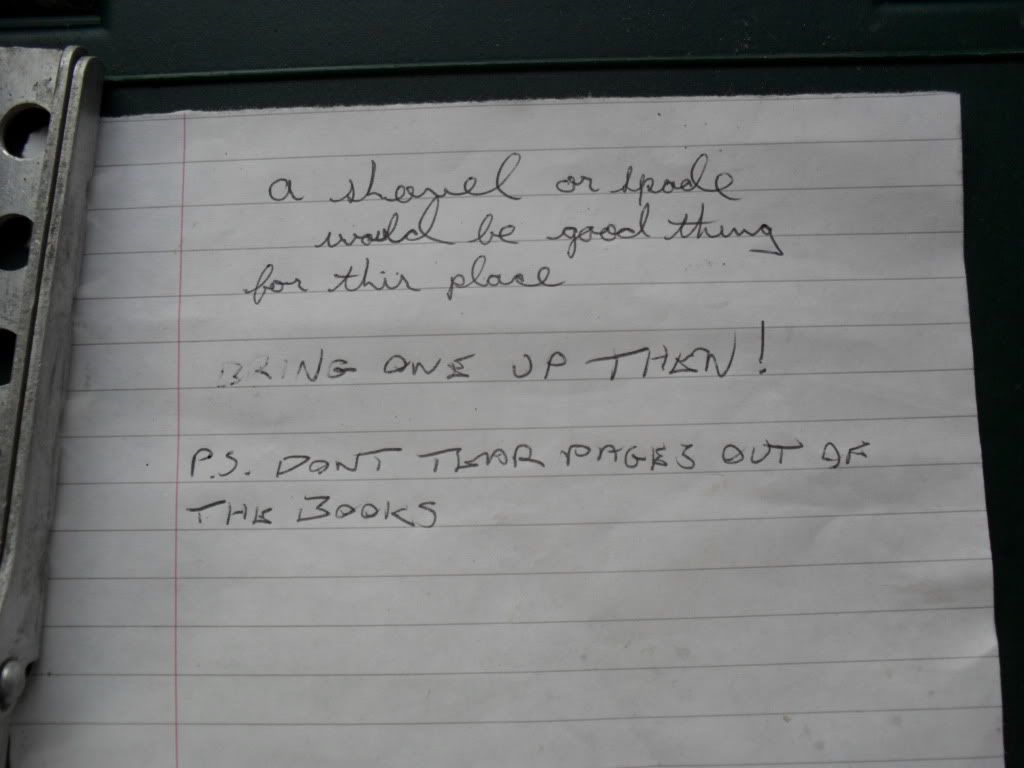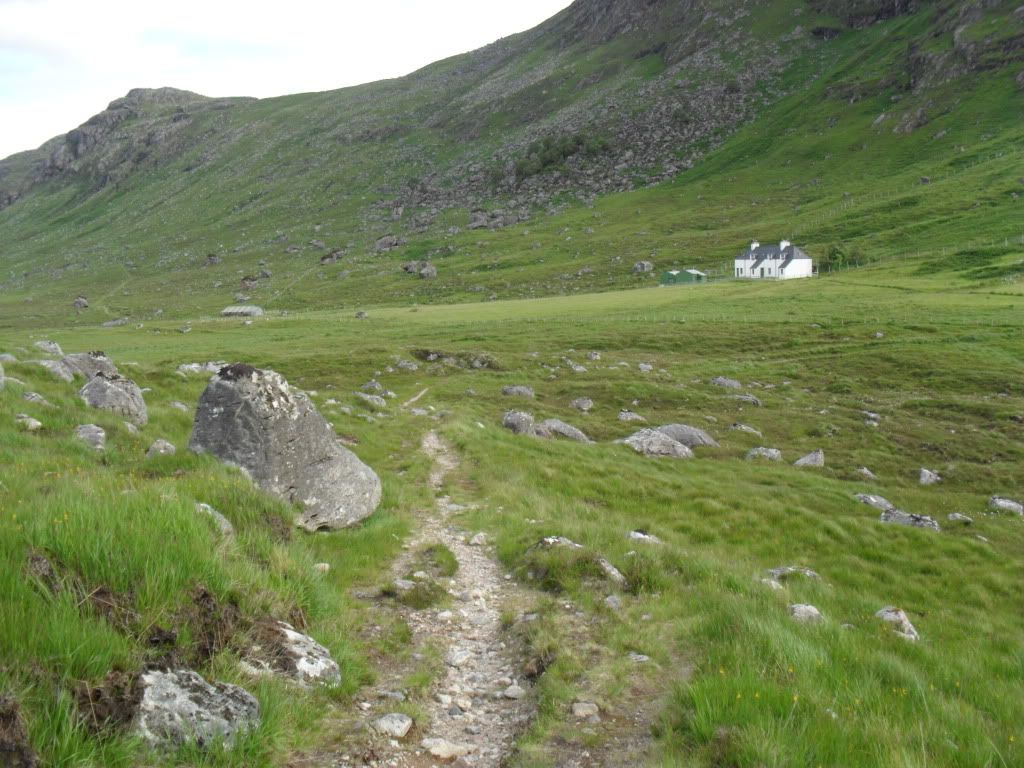 Leaving the bothy and the lodge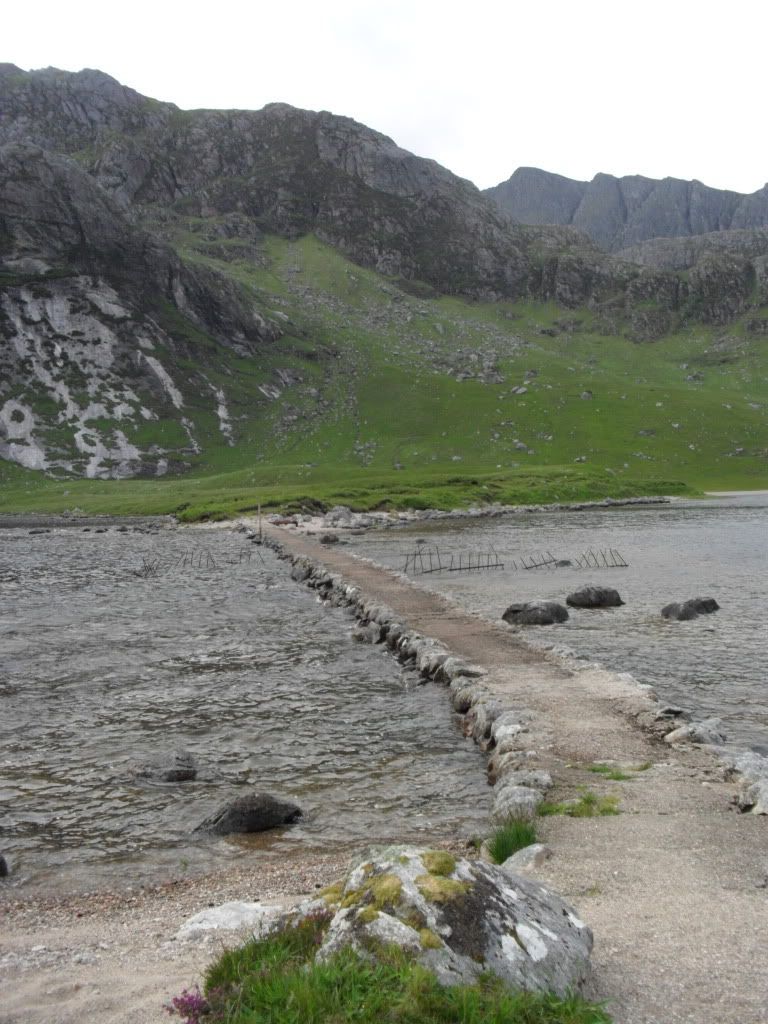 Back over the causeway and along the track below Meall Meinidh and Beinn Airidh Charr.
I was thinking that this area would be ideal Eagle territory.Steep crags overlooking moorland with plentiful lochs - must be teaming with wildlife - so I kept looking up
It was then that I realised that since leaving the bothy some two hours earlier that I had not seen or even heard one single bird - no not a thing - strange - not even a crow to be seen up on the crags.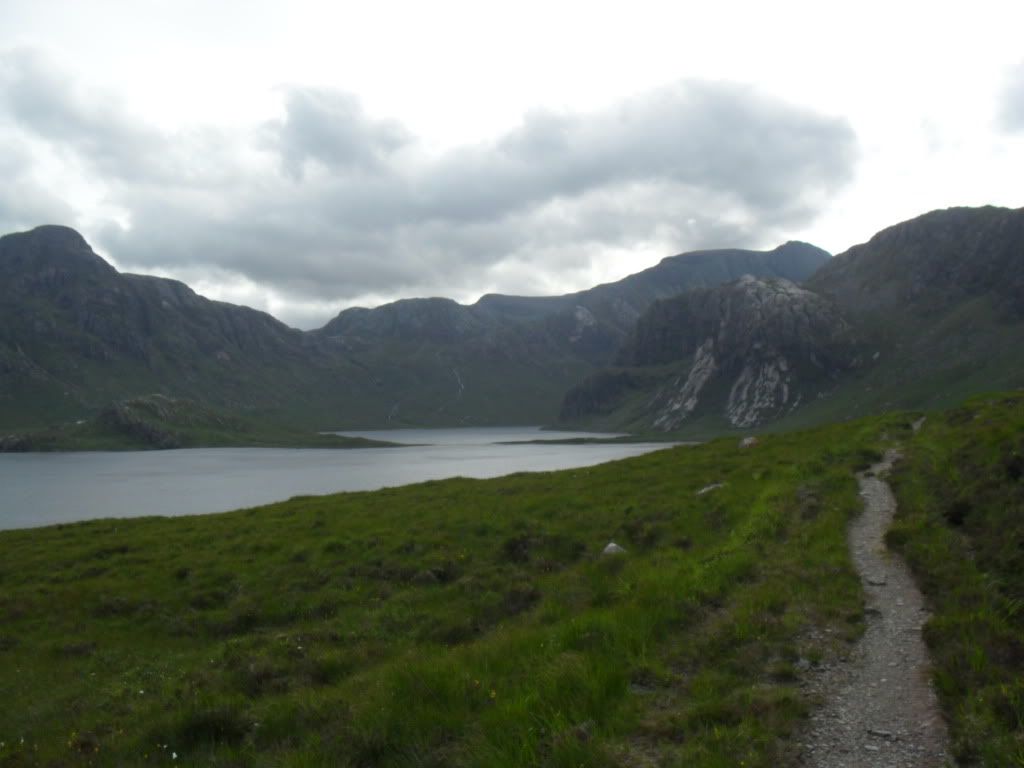 Last look back
As I was approaching the edge of the forest the rain started - but it was the same as the walk in - just heavy drops of rain - cooling and refreshing - and feeling in the need of a good wash also cleansing.
Walking through the forest I met a red deer hind - funny how they always have that last look over the shoulder before prancing off.
Last bit out from Kernsary is a pleasant walk especially along by the river - back 12 noon
Not much later the heavens opened again - I really was lucky in dodging the worst of the weather
Wash - change - pint - food - home
Whitbread Wilderness/Fisherfield Munros and Corbetts climbed - Happy with that
Will I go round the Fisherfield hills again ? - Doubt it.
Will I go back to A'Mhaighdean - AYE YOU BET !