The original plan of going to up Lawers went down the pan (the road was impassible – thanks for the heads up howardthain!) so we settled for Ben Challum as I'd had excellent views of it from Meall Glas the other week and it looked like a cracker. The one top rather than 2 meant my chances of hitting 40 before the end of year were almost zero but I was just happy to be out on the hills. We had an early start from Glasgow and the weather was not looking promising – thick fog all the way to Tarbet. However it cleared from here and by the time we set off from the layby by Kirkton Farm it was almost light and beautifully clear. Motto – Glasgow weather is rubbish
Dawn behind the Crianlarich hills
Left the car just after 8 after a fight with my gaiters – who'd have thought it was so hard to do up zips with numb fingers
and marched down the track towards the farm. Not a person in sight, but one inquisitive dog came out to say hello. Neither of us like dogs so we weren't very friendly
It was absolutely Baltic – well below freezing, frost and icy puddles everywhere and we had to be careful on the wooden bridge across the river.
We followed the WH instructions until we came to the cemetery. Couldn't see any big trees but there were 2 small ones. We figured they might resemble bigger trees in the summer so headed up the grass to the right of it, then climbed a fence and reached a track… Looked at the map somewhat bewildered and tried following it round to the left rather than walk through a front garden. As we walked round a wee hillock we saw a second cemetery containing 2 large trees and an obvious path to the right of it… 2 cemeterys, oops!
Finally on our way we followed the path up to the level crossing, and spent 5 minutes trying to open the gate – the handle was frosty and so slippery! We were about to give up and climb the gate when we finally succeeded and headed up the faint frosty track the other side.
No trains this early on a sunday!!
Ben Lui and pals
Sun nearly there...
This got steep very quickly, and although it was clear that this was usually a complete bog fest, it was completely frozen making it very slippery but at least dry underfoot. Looking back the sun was peeking through Ben More and Stob Binnein and the views were unbelievable.
Me standing on a large rock
Lucy
The snow was getting progressively deeper as we progressed and we were grateful for whoever had been up yesterday leaving trails of footprints for us to follow. We kept the fence in sight all the way up but the footprints seemed to know something we didn't as they had picked out a much better route. Couldn't avoid a couple of very awkward stiles however. I tried to take a particularly embarassing one of my friend Lucy but slipped on ice and ended up in a snow drift as I was getting the camera out. Karma huh...
Footprints with Challum looming behind
Amazing icicles
Looking back at my nemesis, Ben Lui, looking very serene in her snowy coating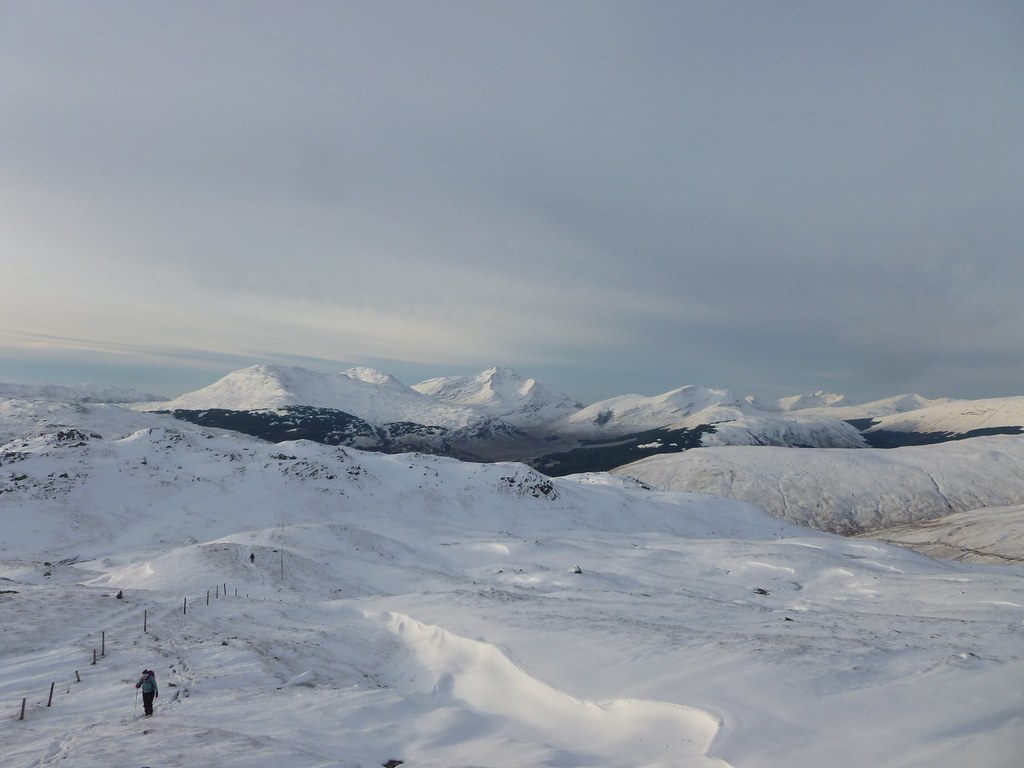 Just as we were starting up the final pull we were overtaken by a friendly man who stopped to chat for a few minutes. He correctly identified me as Jaxter and we had a laugh about it being a small world! Turns out he recognised me as I was wearing the same clothes as in my photos from Sgiath Chuil and Meall Glas a few weeks back. I'd washed them since, honest!
He turned out to be guinessman whose 4 days report of Cairngorms and Ben Hope I'd been ridiculously envious of a few months back. It was great to meet a WH celebrity
Incredible sky over Crianlarich
The final effort up to the South top of Challum was pretty tough going for us – Lucy had been walking yesterday and I had walked about 10 miles in the past 2 days, 4 of them in heels (I should know better
) We had a quick snack and water break and headed off along the ridge to the true summit.
Looking towards the summit
This was amazing – the snow was lying pretty deeply on a lot of it, the sun was out and the views were incredible. No pictures from here as I was trying not to fall on my face in the snow…
Back along the ridge from near the top
We reached the top, layered up and enjoyed a sandwich break whilst talking to a man who had overtaken us earlier – he was helping me with my mountain geography. I'm pretty good with anything I've climbed before but most things North of here were a mystery to me.
Pretty snowy mountains
Crazy cauliflower snow at the top
After adding several more munros to my growing to-do list, we headed back along the ridge for the long walk back, but not before stopping for a bit of sliding around and snow angels in the deep snow.
The walk down was fairly uneventful. We were falling over more often as we started to get tired and we could see that the weather was starting to close in on a few of the peaks so cracked on. We passed a big group of people stopped on the South top as we passed and the volume of people had worn away a lot of the snow so bogs were beginning to pop up as we got lower (but the icy first section, although now almost completely devoid of snow was still completely frozen, as we both discovered by ending up on our backsides.) With tired legs, the stiles were even more awkward than on the ascent…
Back on solid ground we could feel the legs stiffening up so got back to the car – now joined by several others – and got the boots off. What a feeling!! Headed back to Glasgow – was pleased to get past Tarbet before it started getting dark as I hate driving that top section of the loch, especially in the dark. When I tried to get out the car at home my legs were not happy about it, so heading for a bath fairly sharpish!
Couldn't believe how lucky we were with the weather. After seeing everyone's amazing pictures from yesterday I thought that we were in for a disappointment but the weather Gods were definitely smiling today! I'll never doubt you again