The weather was looking pretty good for my days off and having started my walking a little earlier this year I've decided to try and turn all the red balloons between Glasgow and Arrochar blue this pretty much means walking Grahams & Sub 2000ers but that's fine with me, I'm not a hill snob. Having done Cruach Tairbeirt the previous week and the 2 Glen Douglas Grahams the week before that (see unpublished reports for pictures) I was now onto the Luss hills.
I left a sunny Glasgow behind and tried to keep my temper the best I could dealing with the morning traffic (I have a car now), rubbish music on Clyde 1 kept me company as I was going out alone again.
I had gotten to the roundabout that takes you to Balloch when it stared snowing
This was in none of the weather forecasts I had looked up before my walk, it snowed form that point until I got to Luss then stopped. Obviously it had been going for a while as there was a covering of snow on the road that takes you up Glen Luss and I was starting to wonder what I was about to let myself in for but luckily, this was the only falling snow I'd have to deal with on the day.
I was parked up right a the start of the walk, I opened the car door only to be slapped in the face by the cold air, that woke me up
I pulled on ma boots and set off wearing my jacket.
The path was obvious...
The path up isn't that steep but it sure is a good leg stretcher and opens the lungs up nicely. I built up a heat already and I removed my jacket then turned around to be blessed with incredible views across Loch Lomond. My phone could never do the views and lighting justice.
A bit further up.
The views up ahead weren't the best but my intended 3rd target showed it's self, you don't look so harsh...
Just follow the scar up.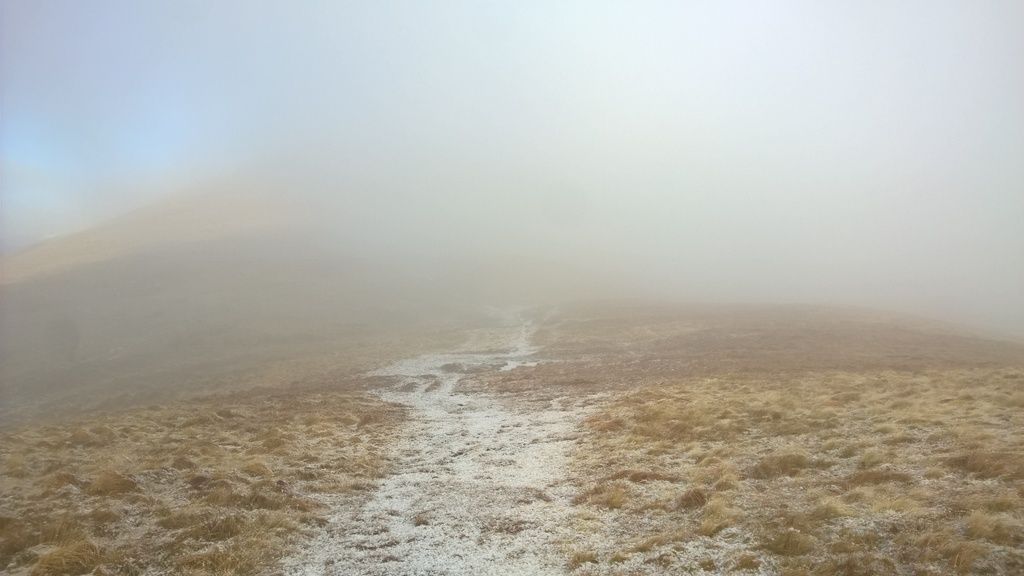 Stopped for a little rest, half expecting to see someone coming up the path, nope it was clear.
Some sucker stuck their pole in the ground and this happened
Once the slog was over I reached the first cairn.
This isn't the highest point of the hill and there is still plenty of walking to be done to reach that point. I had read a few reports on this walk with most mentioning the boggy top but the ground was frozen, this made the going so much easier.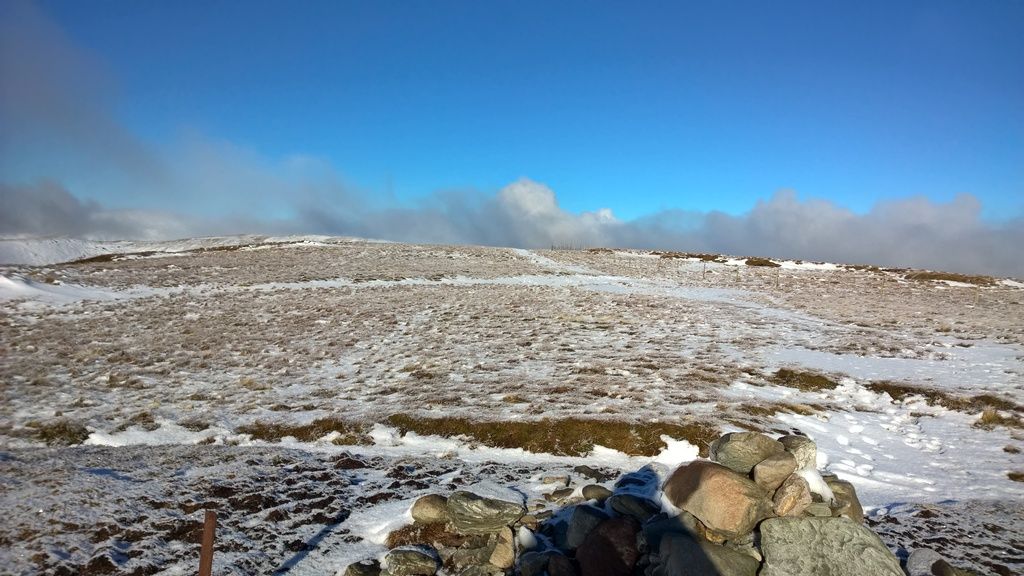 As I pounded over the frozen ground I couldn't help but think about a walk I done last year up Beinn Chabhair and how I wished that the ground was frozen that day
but oh well. I could just make out the top of the hill now.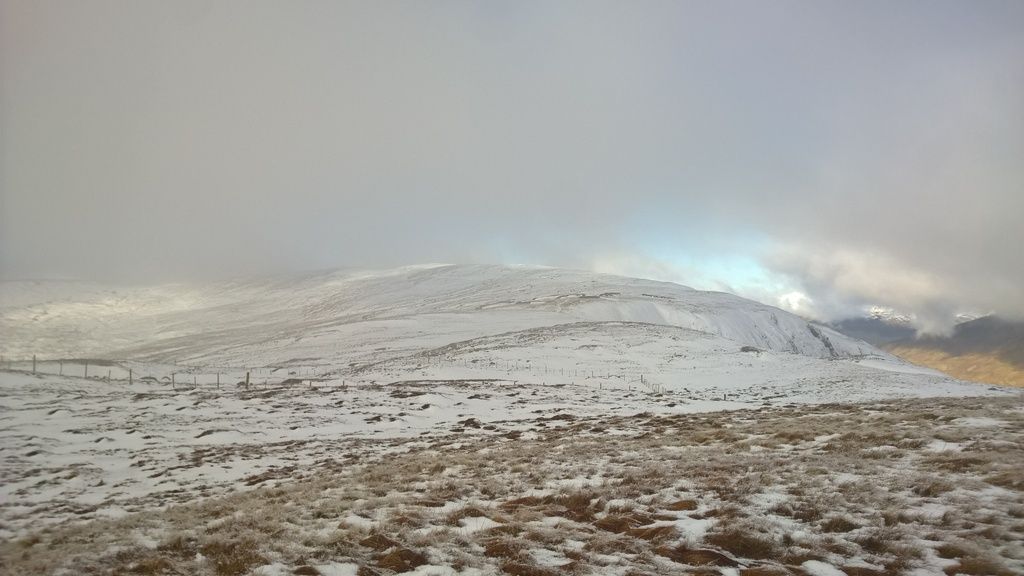 Cracking view into Glen Douglas.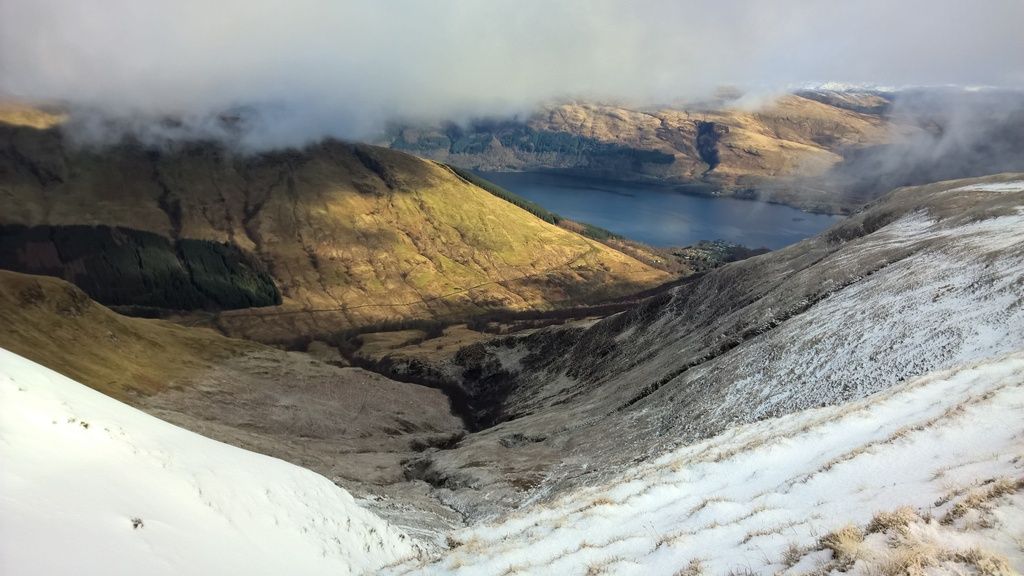 I visited all the cairns, I was really just following the previous few days foot prints.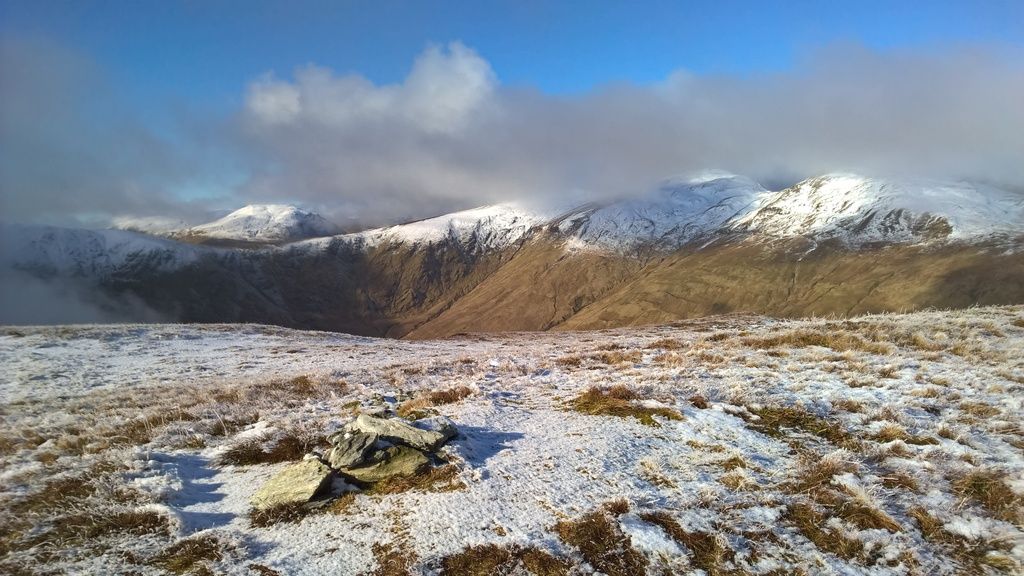 It was now time to turn off and make my way down into the glen between Beinn Dubh and Doune Hill. Out of all the footprints on Mid Hill only 1 set turned off to head for Doune Hill, a big walk nobody really fancies is what I thought to myself.
I wasn't even down the hill yet but I was plotting my route up already. I had planned to follow the route Bobble_hat_Kenny had done his assent.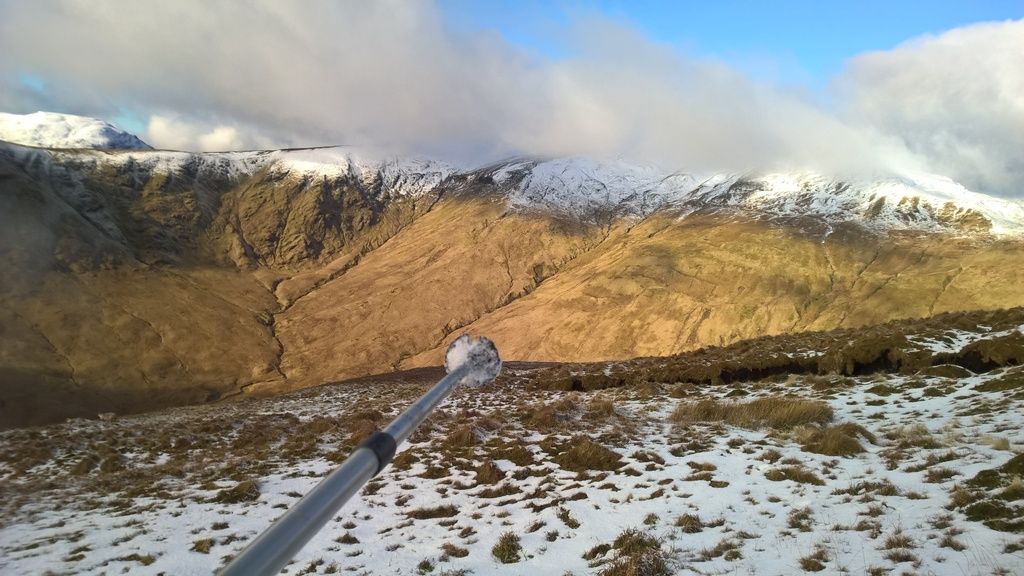 I snapped a few shots on the way down the hill which at first wasn't so bad but then it gets ultra steep right near the bottom.
STEEP
I knew this assent was going to take me a while. I'm not hill fit and looking up to what needed climbing was a little disheartening to be honest. I decided to have a rest on a rock, eat a little for a boost.
As I set off again I changed my plan, I chose to go and check out a rocky part of the hill to add a little interest to my walk so I crossed the burn and made straight for it. As I suspected, I found the going tough so I used the excuse of taking pictures to rest...lots of pictures
Beinn Bubh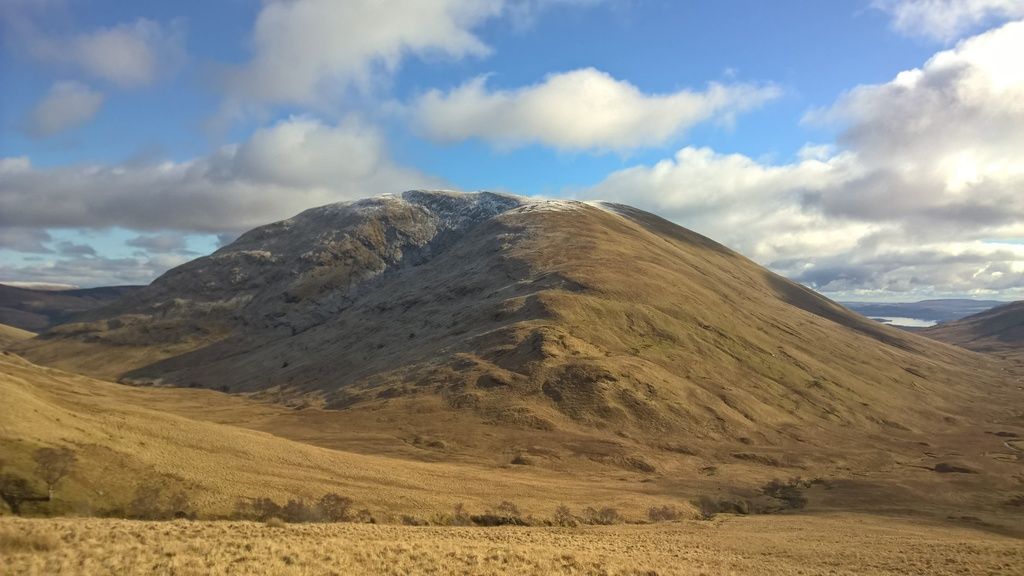 Glen Mollochan
I found this barrel, can anybody tell me what it's for? There was a second one a bit further up as well.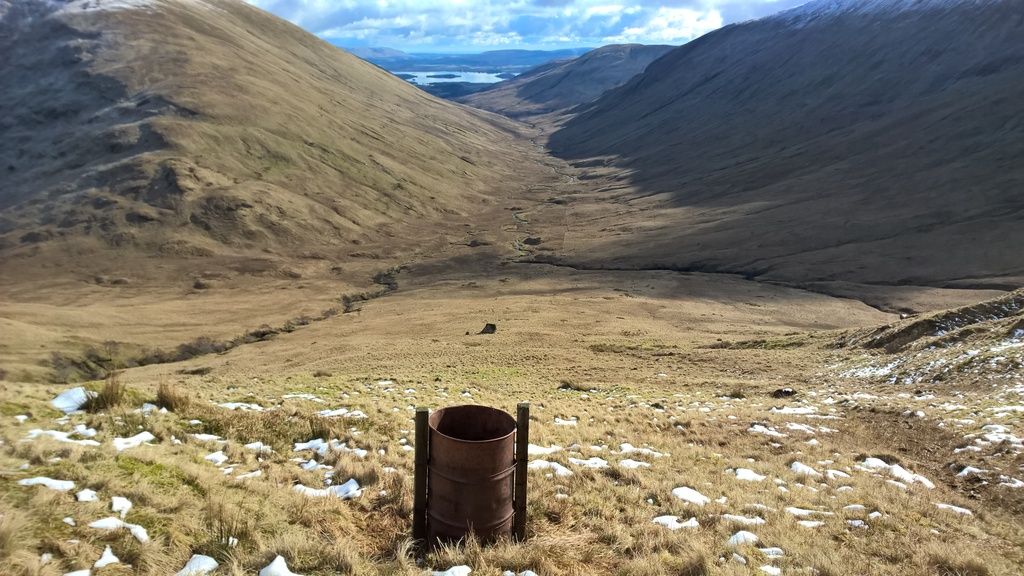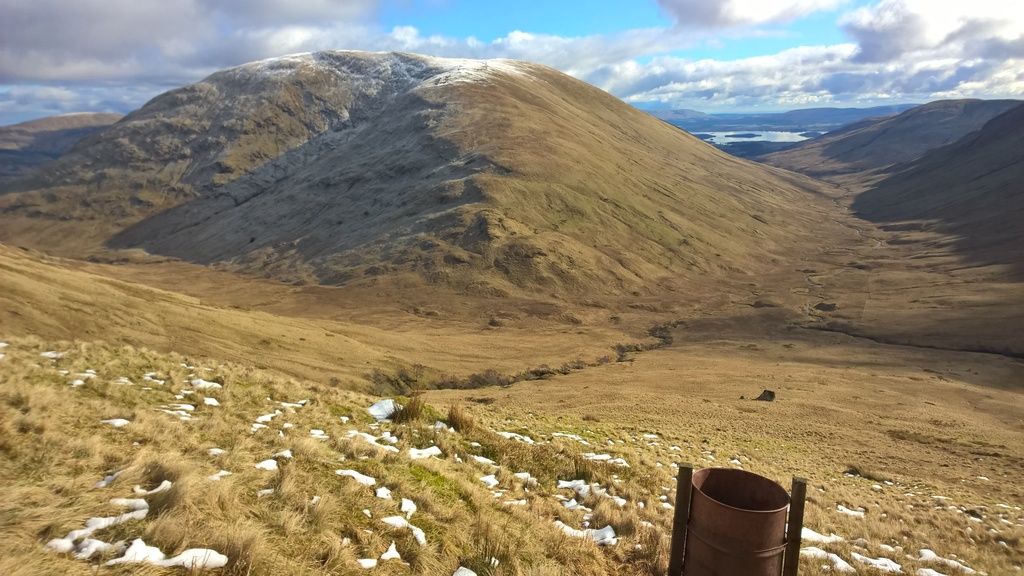 Looking over to Ben Lomond
Another of Glen Mollochan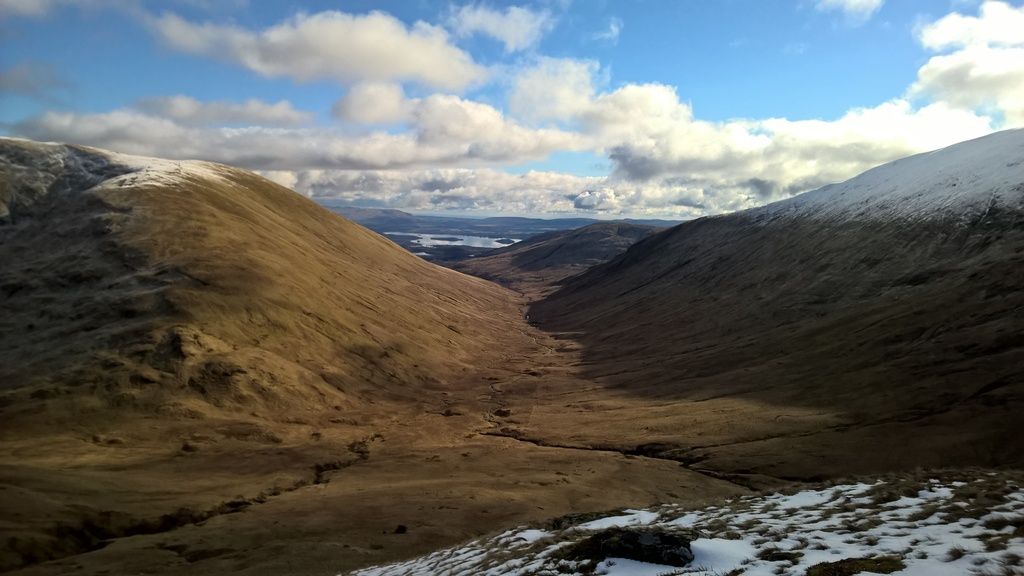 Rocky bit
Looking to the Bealach between Doune Hill and Beinn Eich.
It was at the rocky bit that I picked up a set of footprints again, I couldn't believe somebody as daft as me choosing to walk up this way, could it have been the same person I thought to myself
I actually got myself into a little bit of a pickle here, the boulders were large and difficult to move through especially because the gaps were filled with snow so you didn't know if it was solid ground or a deep drop for your leg. I took a little time to ensure my footing was set before shifting my weight, I didn't want to end up breaking a arm or a leg or my head.
I was happy to be past this part of the walk and now I was on the last little stretch to the summit. My thighs were burning and only some of the snow was frozen so I'd be walking on frozen snow then my leg would disappear into a deep drift but the next step would be fine, it felt very random.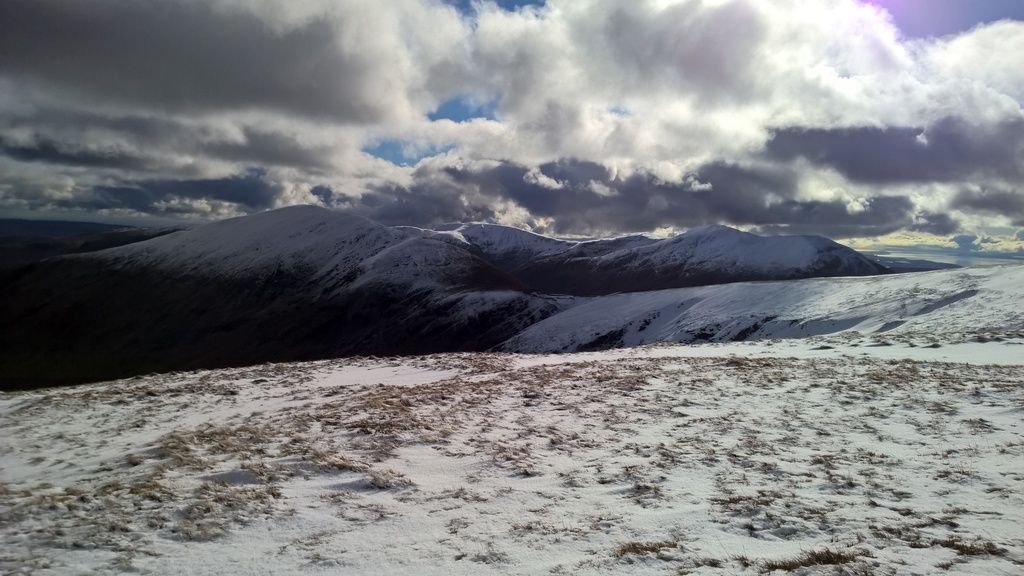 I skipped a visit to that top. Look through the gap and you can see the Crainlarich hills.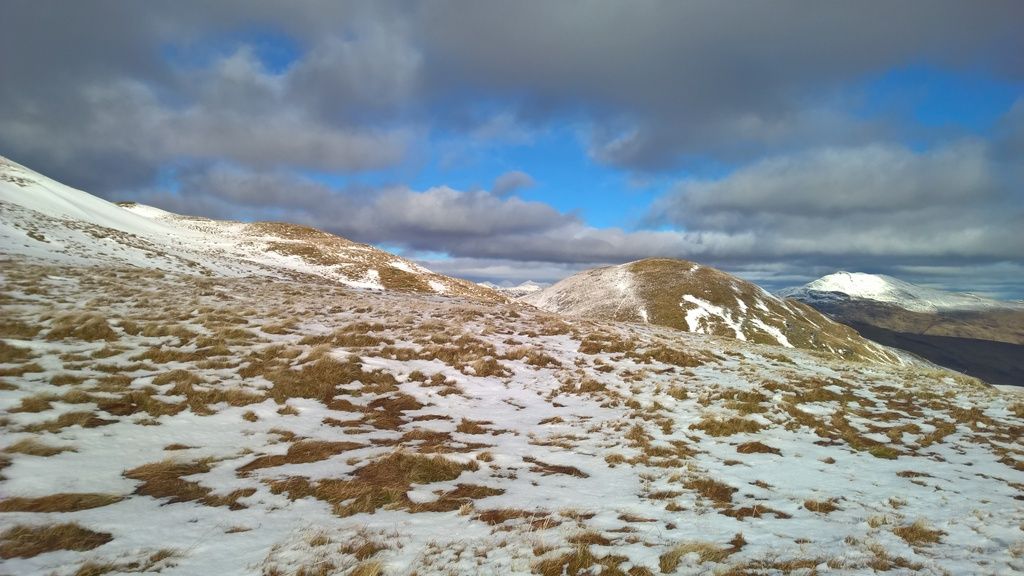 A better view of the Crainlarich hills.
Sorry about the squinty image, I couldn't see the phone screen because the sun was so bright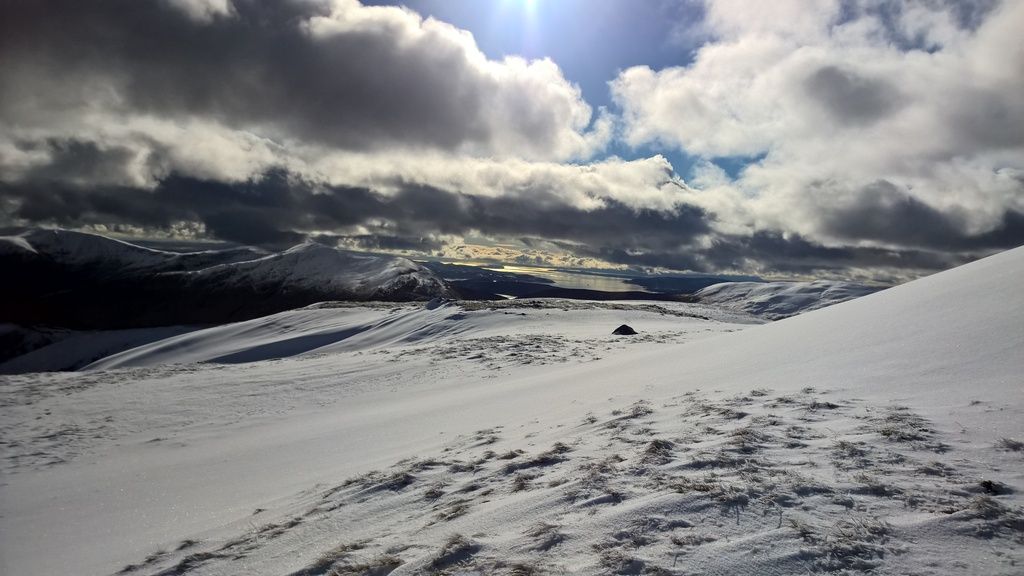 Finally the Trig point appeared and with it some incredible views across, well, the entire country really.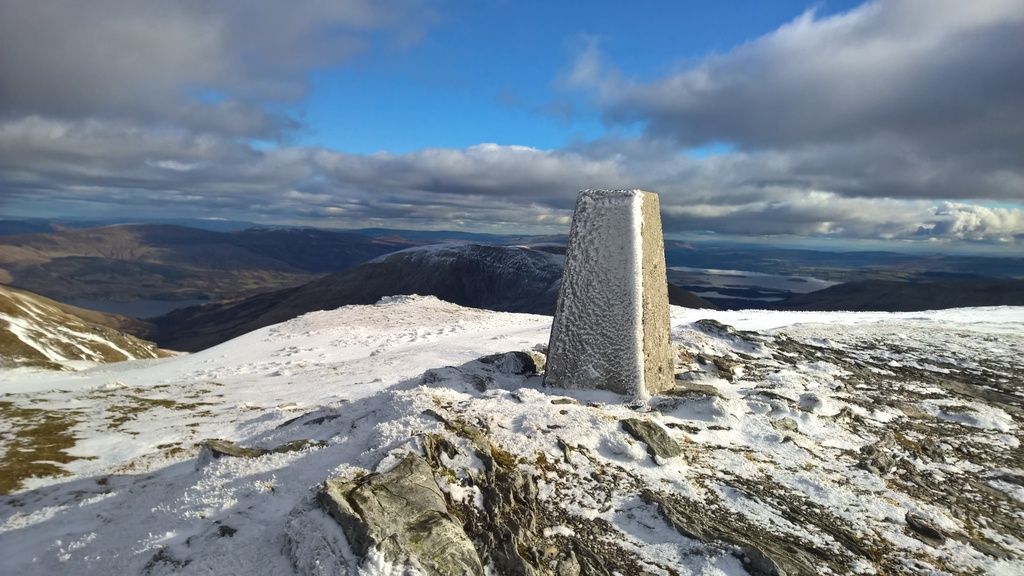 Once I took plenty of trig snaps it was time to move on...one could say I was 'trigger happy'
Now I'm on the move again and I picked up those(?) footprints again and we are heading to Beinn Eich together.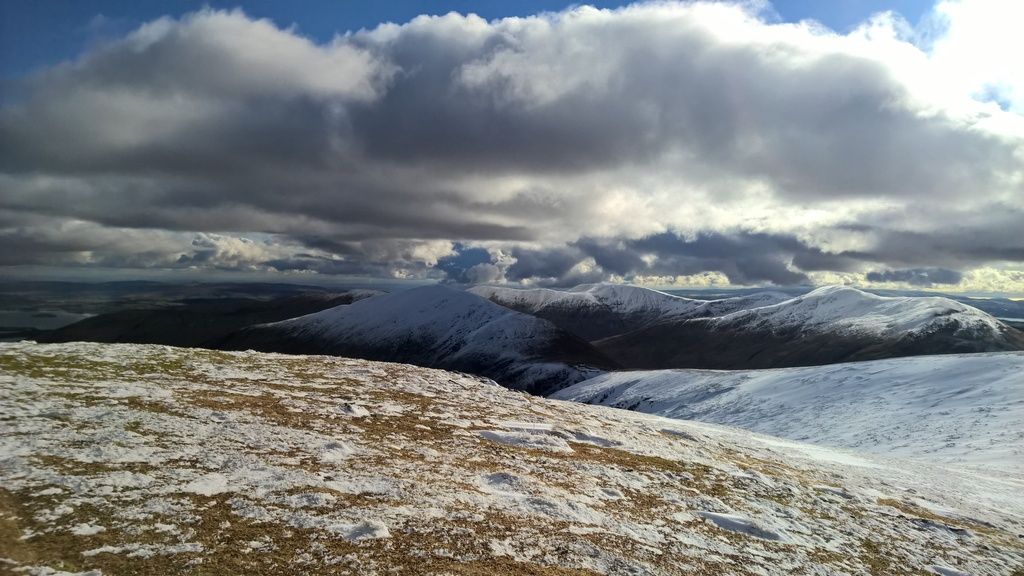 Looking towards the Clyde.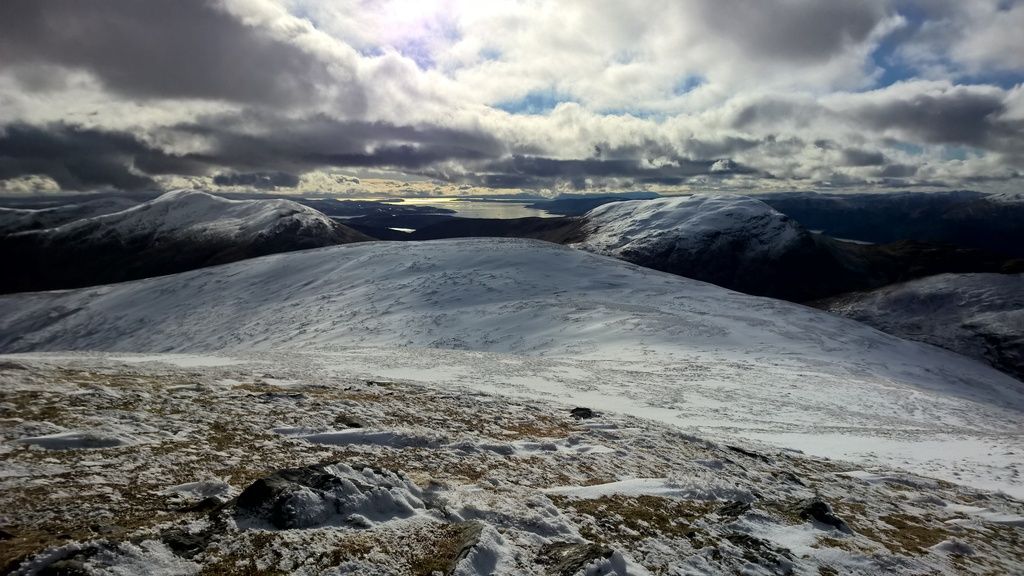 Back at Doune Hill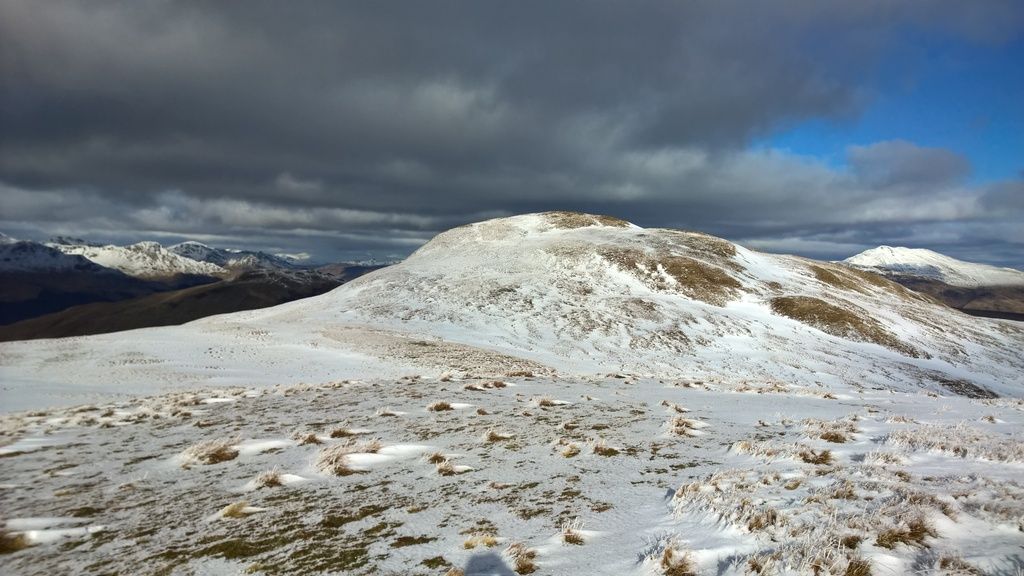 The Arrochar Alps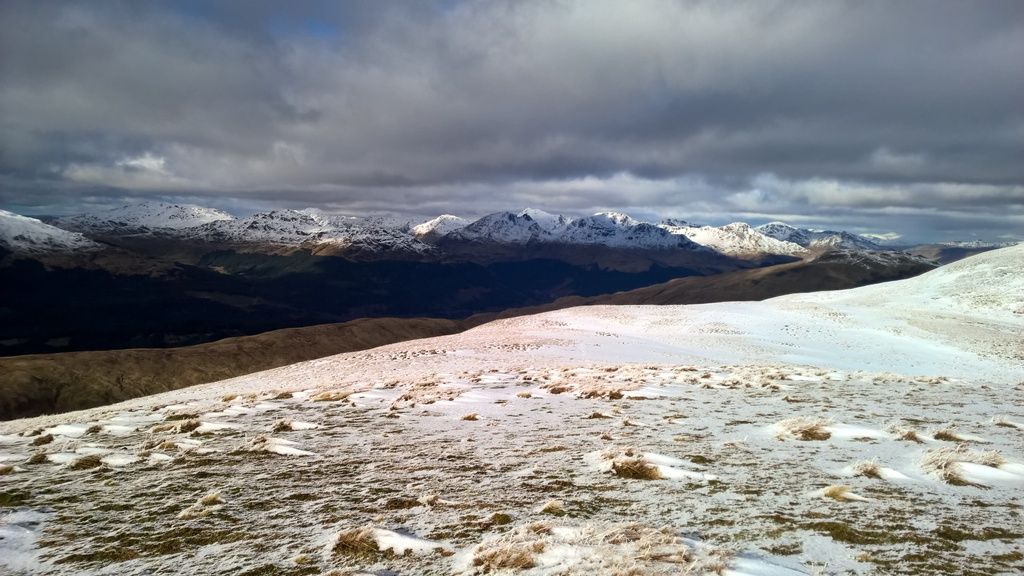 Your next! But first I'll have another rest and another bite to eat. The sun was hiding behind the clouds, the air was nippy so the jacket went back on for the last part of the walk.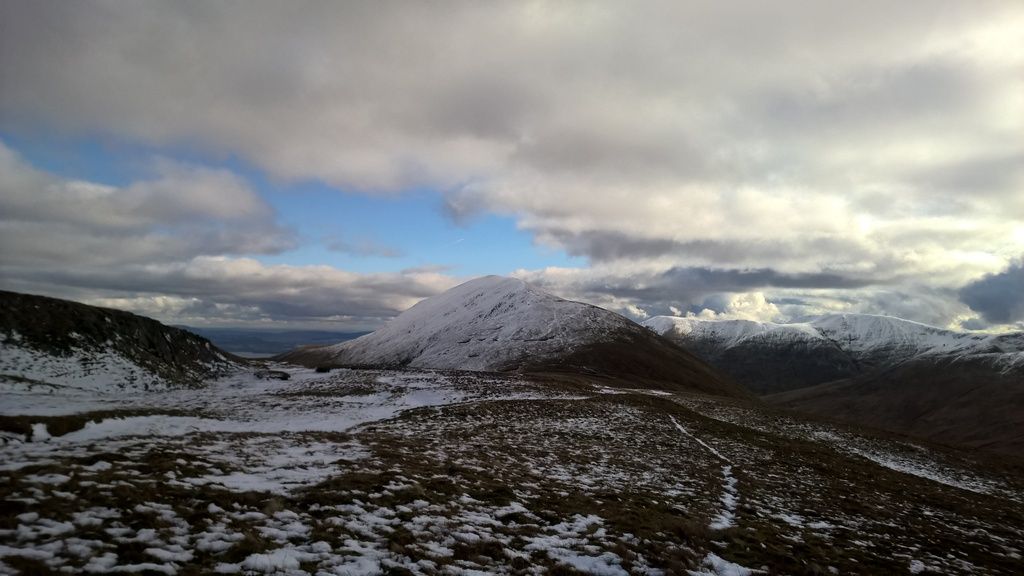 As I started my way up the narrow Beinn Eich I was again struggling. My legs were finished, I was walking with no real strength. Once I hit the snow line I again picked up my mystery companions footprints. At first the stride was longer than mine as it had been the whole walk however his/hers stride shortened a sign that they were feeling tired now, like me. Plodding up the side of this hill head down placing my feet in the prints left by the other walker I was now starting to worry about the drive back into Glasgow during rush hour...I cleared these depressing thoughts but having a look at how far I had walked.
Looking back to Doune Hill
I still have a long way to go.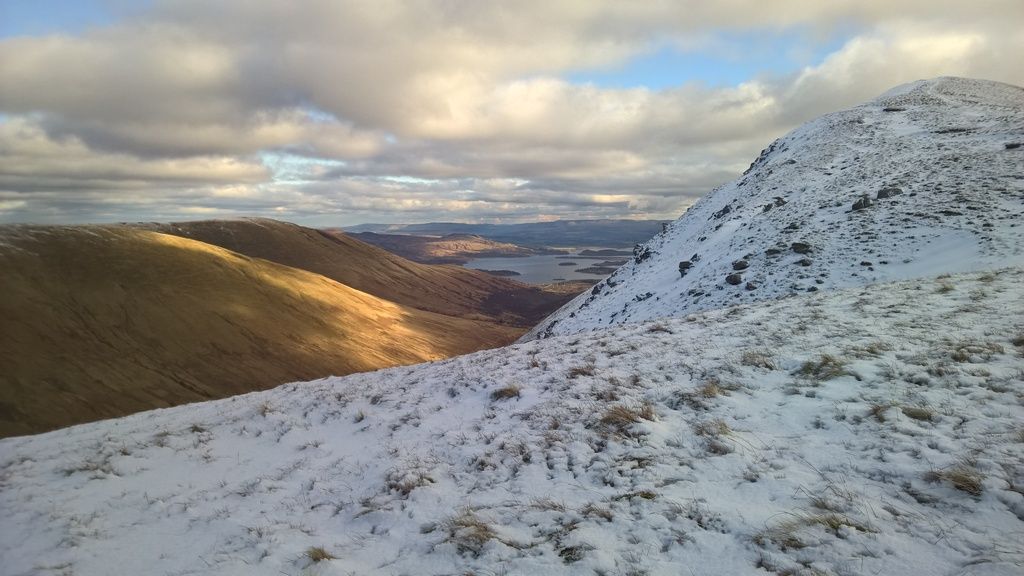 The wind had gotten up, sweeping the snow over the ridge.
The path with the footprints leading to the summit.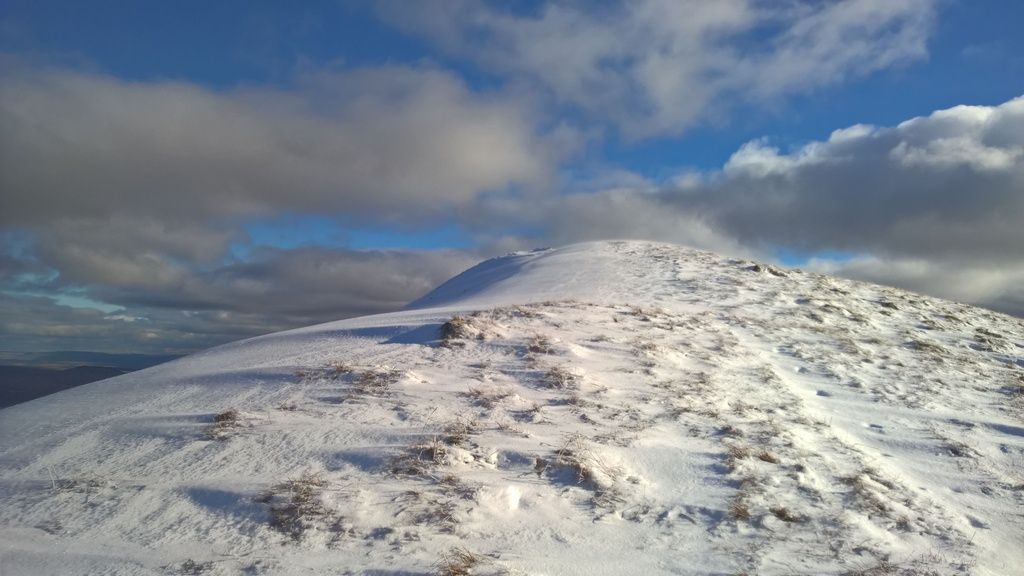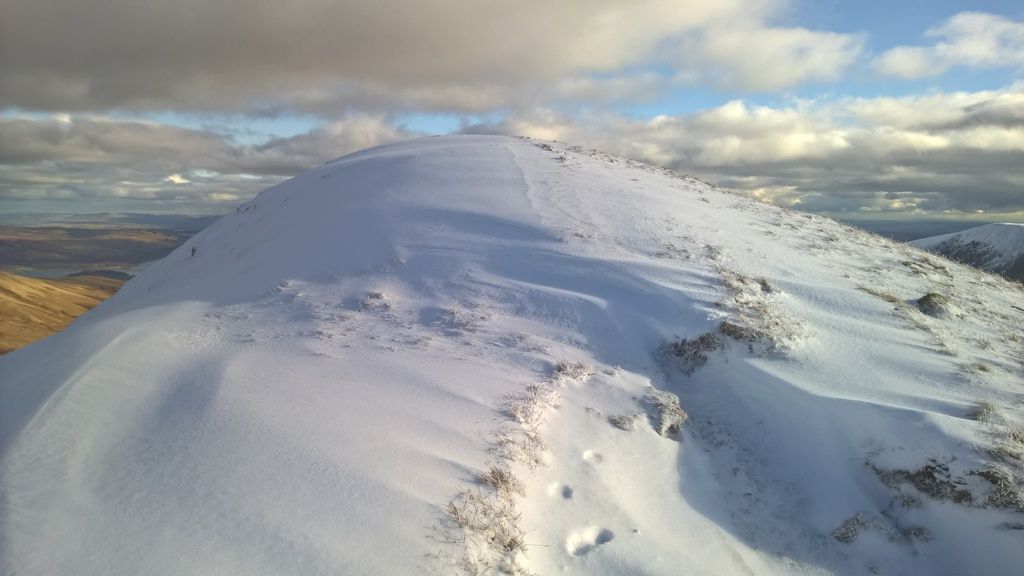 Beinn Eich summit.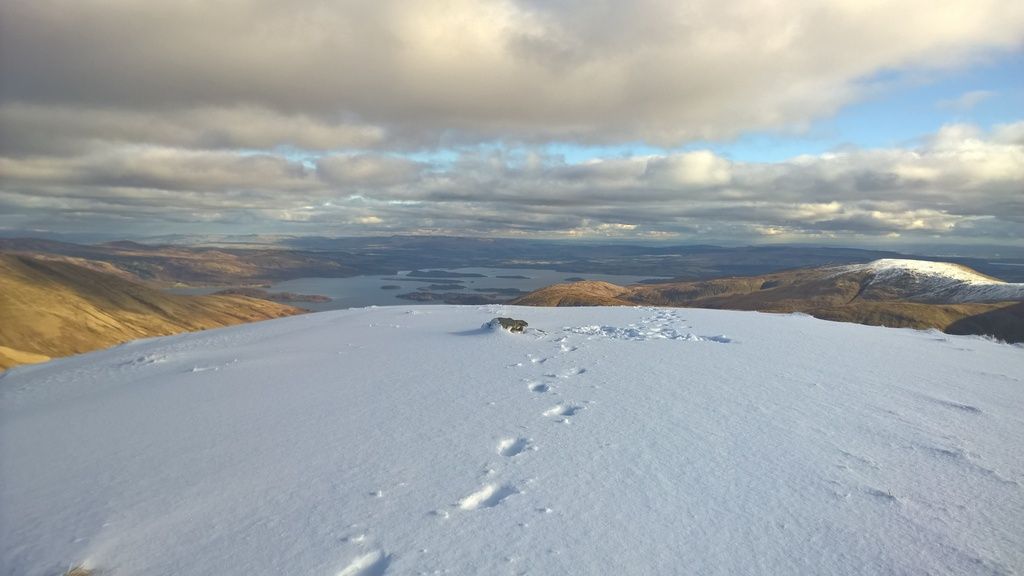 Although there are bigger hills in the area I felt like I could see the whole of Scotland from here.
At the summit my 'walking buddies' footprints had gotten mixed in with other prints from people that must have walked up from Glen Douglas only to summit this one hill. 'We' all walked of the hill together, I had a chuckle or 2 at the expense of the poor person that had stepped into a snow drift and obviously fallen over then having to scramble out...whoever you(s) are thanks for making my lonely walk and decent not so lonely