After the success in Kintail last weekend, we decided to head south to the lakes, the lure of fine paths and smaller hills too strong to resist. Besides the weather looked rather rubbish in Scotland..
We headed down to Borrowdale on Friday night, and managed to find the campsite that we had been aiming for – just a farmer who will let you camp in his field and use his out-house, but at a fiver a night, that was grand for us.
Dougie had spotted a scramble he fancied up Warnscale Beck, so that seemed like a good location – lots of paths to make lots of possibilities depending on how my ankle held up.. seemed a grand plan.
The journey over Honister Pass was a bit of an eye opener, some quite steep bits, but made it down to the car park at Gatesgarth with no hassles. The weather was claggy, but forecast to improve, so we set off along the track in high spirits.. Once round the corner into the glen though it was clear that the scramble would be challenging for Dougie as the water was rather high, but it didn't seem to matter much, it was just good to be out.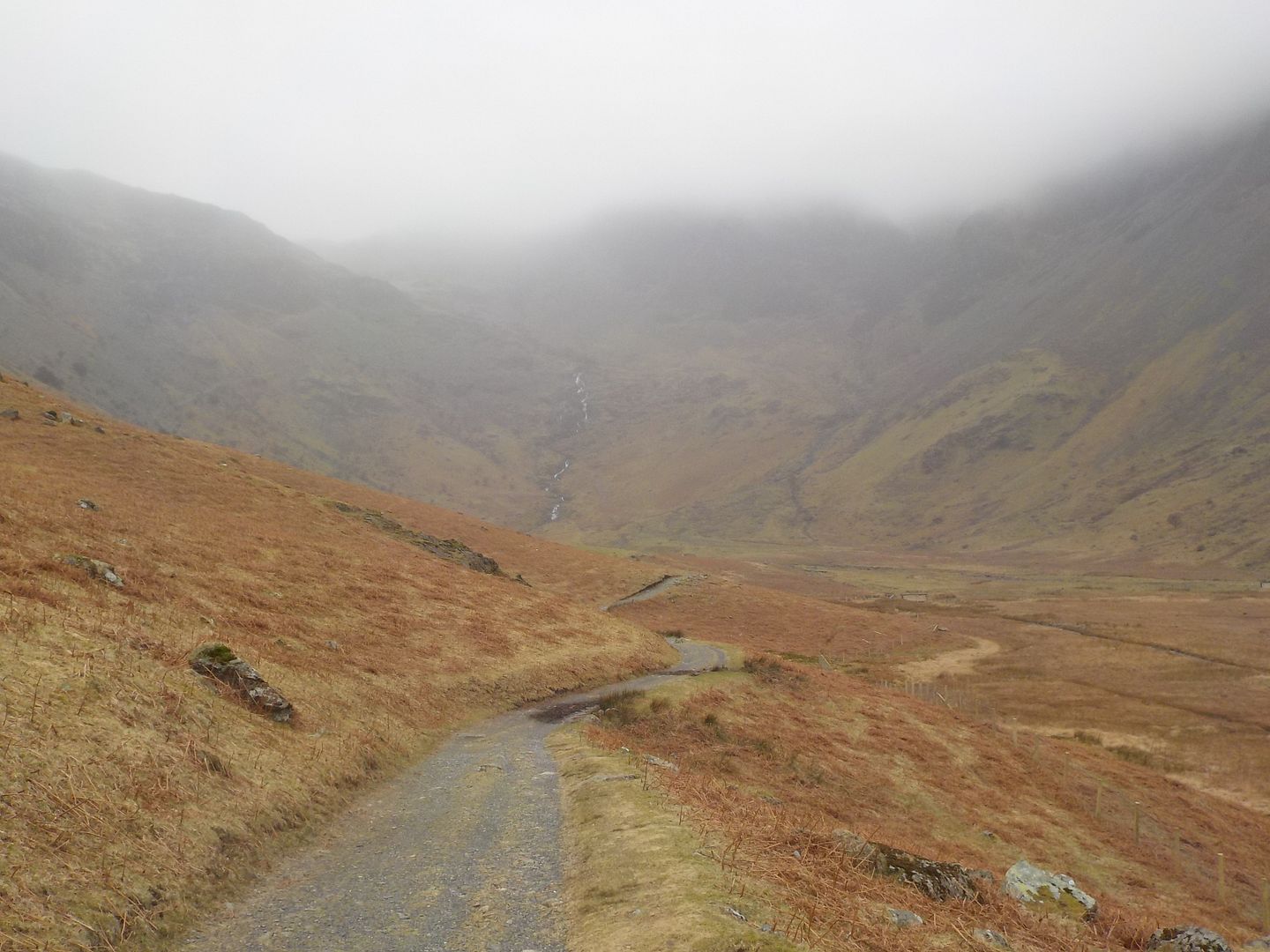 We stopped under a wee bridge out of the chill breeze, still need to stop every km or so..
Then it was uphill, which is good for my ankle – still not enough flexibility to take big steps, but at least it isn't sore.. Dougie went off to the stream to see what scrambling could be done on such a damp day.. I plodded upward slowly, but still managed to overtake people! Wow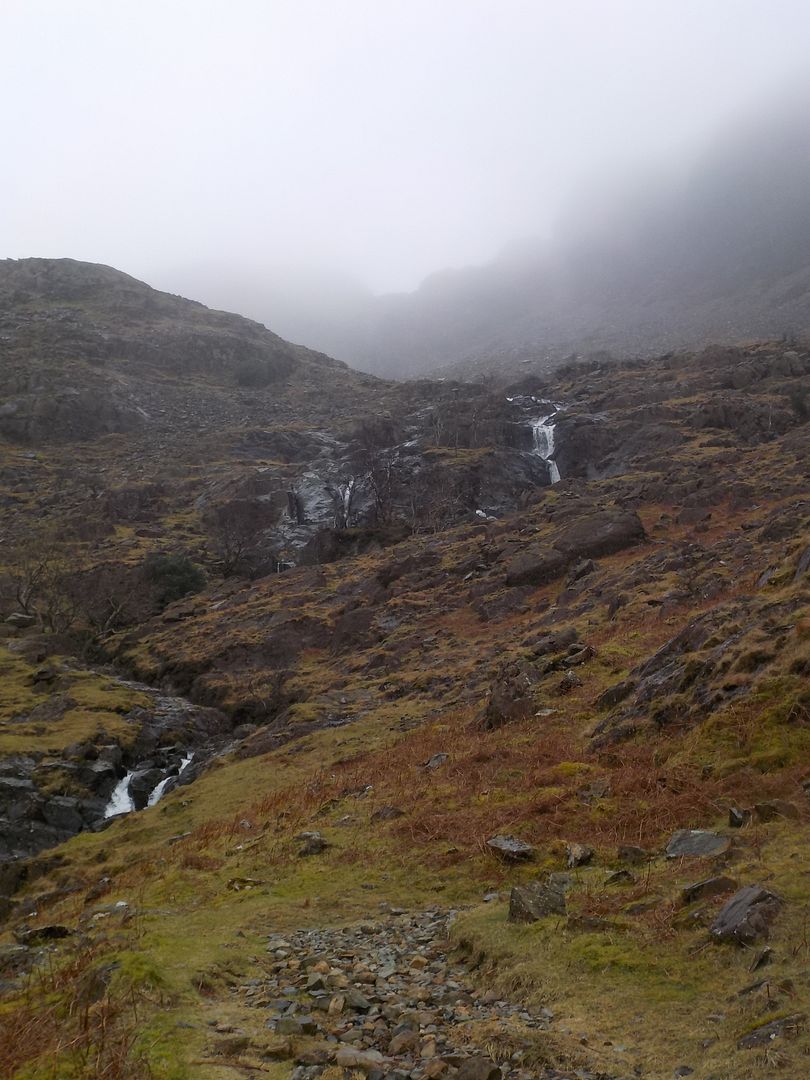 The path surface deteriorated as it wound its way upward, and I found I was actually able to pick my way through the rocks unlike last week when I was forced to remove them – progress! brilliant!
Even though I had another break, the folk I had passed didn't catch up and I made it to the top of the waterfalls before Dougie – very satisfying. It had been too slippery for him to do much of the scramble..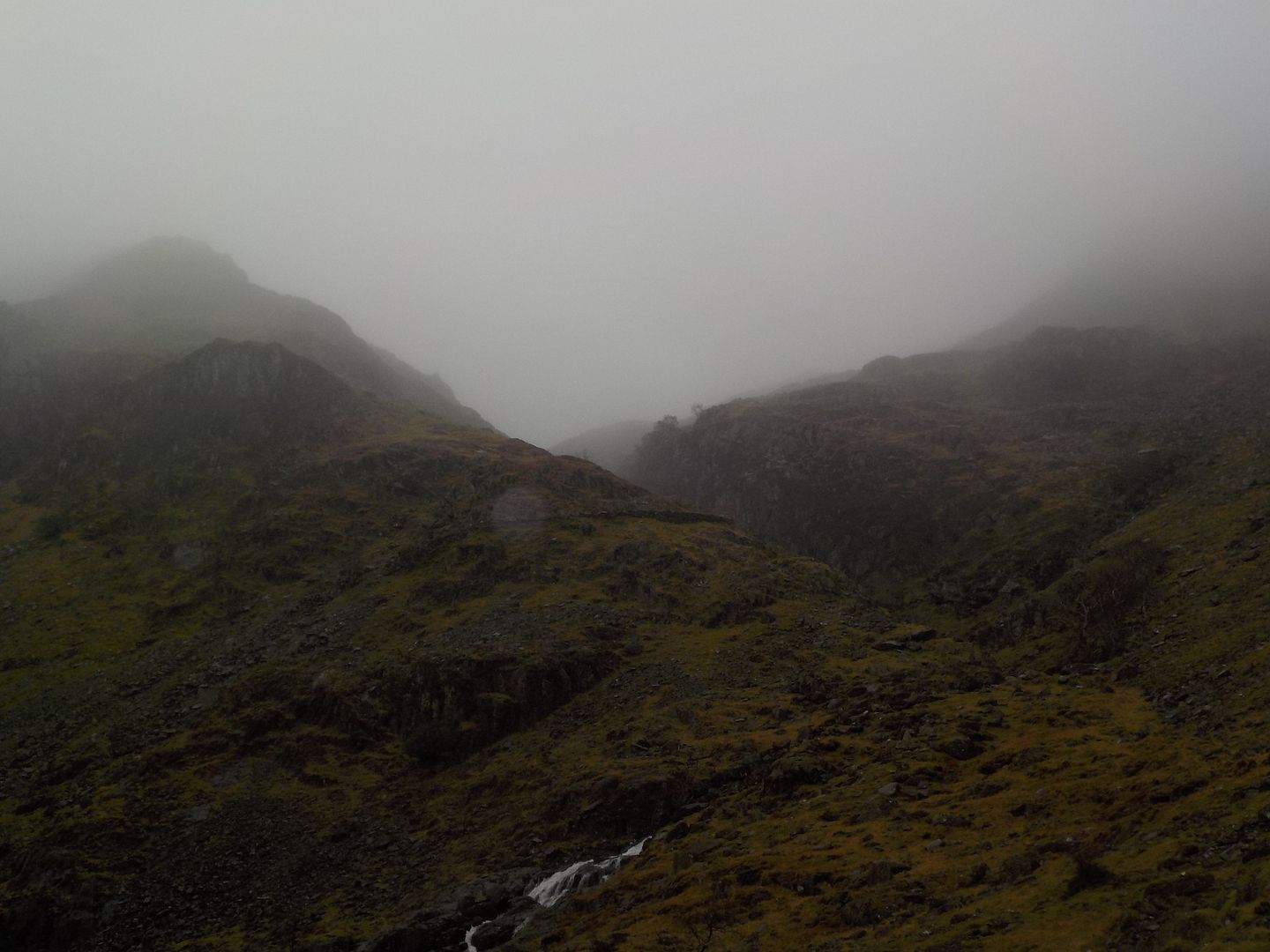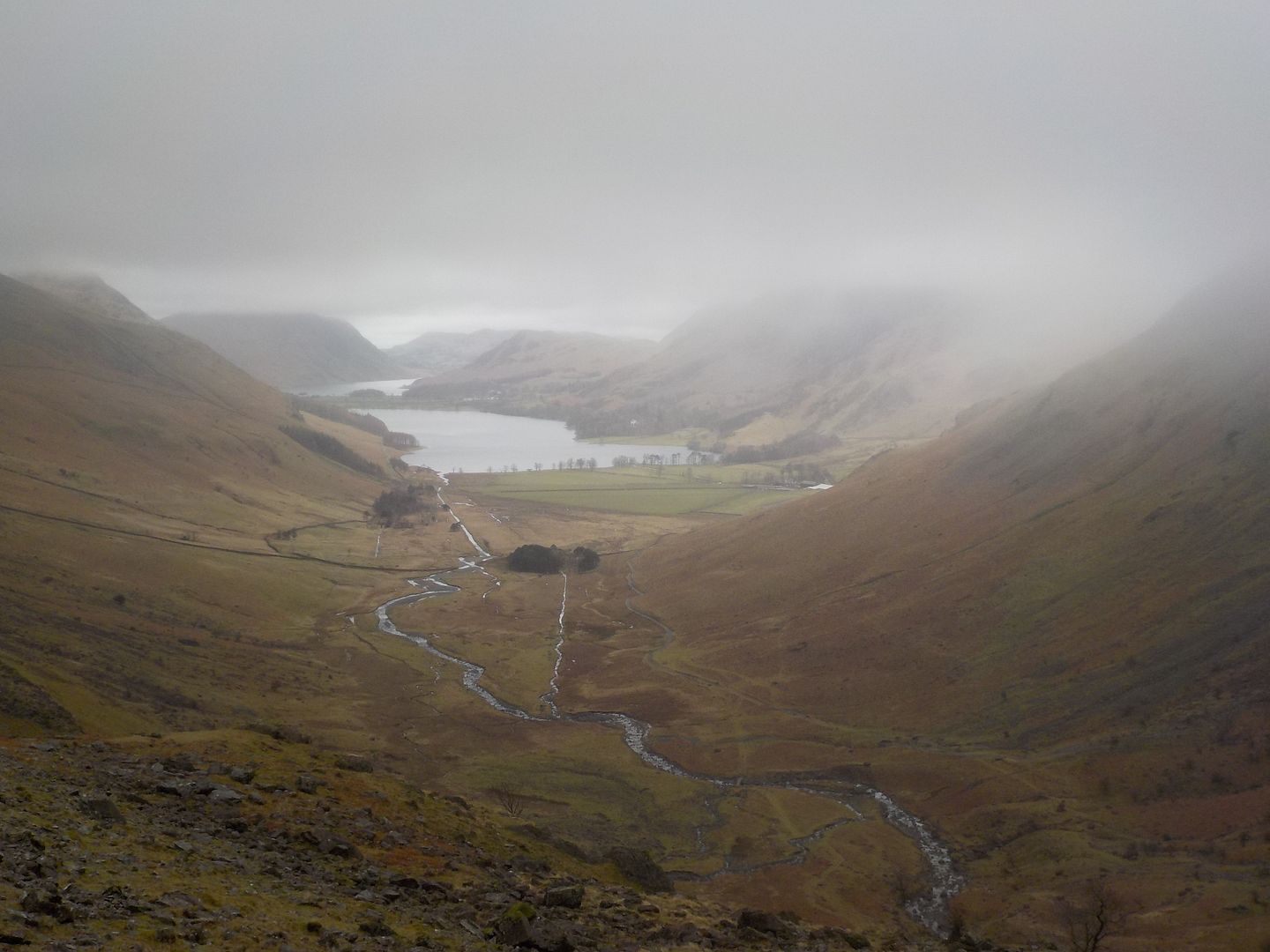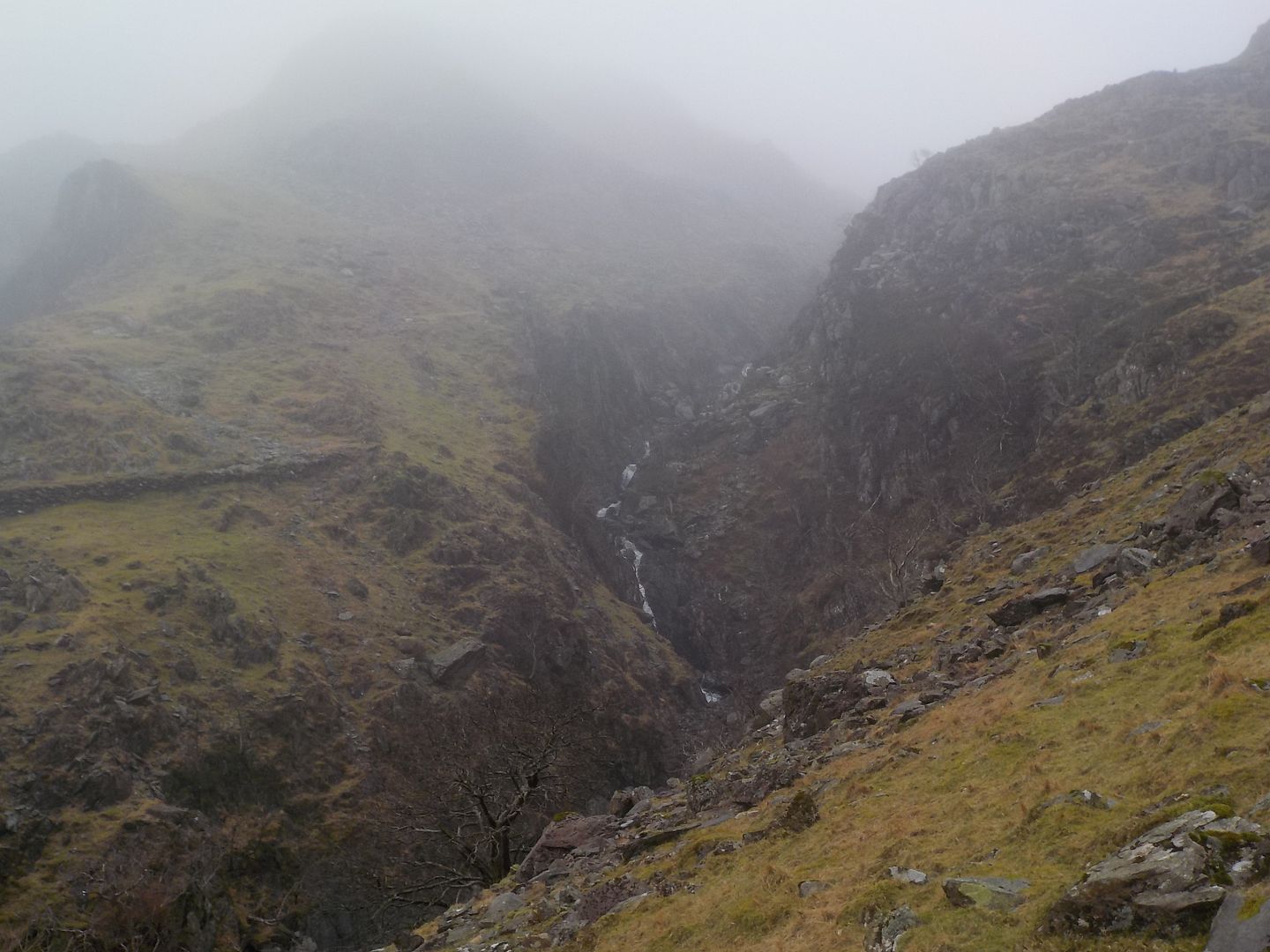 The path became indistinct, some folk were going straight up, some were traversing round the top of the gorge, we chose the latter as the ground looked better for me that way, although when we caught sight of the well formed path again, I had major troubles trying to get back to it on account of my problems with cambers which are higher on the left than the right.. made it back to the path eventually, to see a wee cottage loom out of the mist – a bothy
What a cute little place it was too, with a rather comfy camp bed for a rest and a feet up to try and get that swelling down…
From there we had choices, left over Fleetwith or right over Haystacks.. We chose the latter, as the path down looked slightly less steep for my ankle.. So we stumbled through the mist, every time the path got a bit faint, we would come across the main path again and wonder how we lost it..
Oh the joys of clag when you cant be bothered navigating properly.. There was a forced stop due to pain in a bog, we were both wondering when this supposed improvement in weather would be happening.. Probably after we get back now..
We carried on along the path, at one point I remarked that we seemed to be going round in a circle, only to find a few hundred metres further on that we had.
So it was back along the same path we had walked just minutes before and then down some steps next to a big cairn – how did we miss that the first time? The steps supposedly took us down to a tarn, but we couldn't make it out in the clag. We stopped for lunch a little further on, but the clag was thick, and the breeze was up so we didn't linger longer than we had to. Hobbling on, we got to another tarn, the path flooded along its banks, then we got to a confusing array of tops, all of which had cairns. Well one of them was the top, but who knows which.. We just visited all we could find.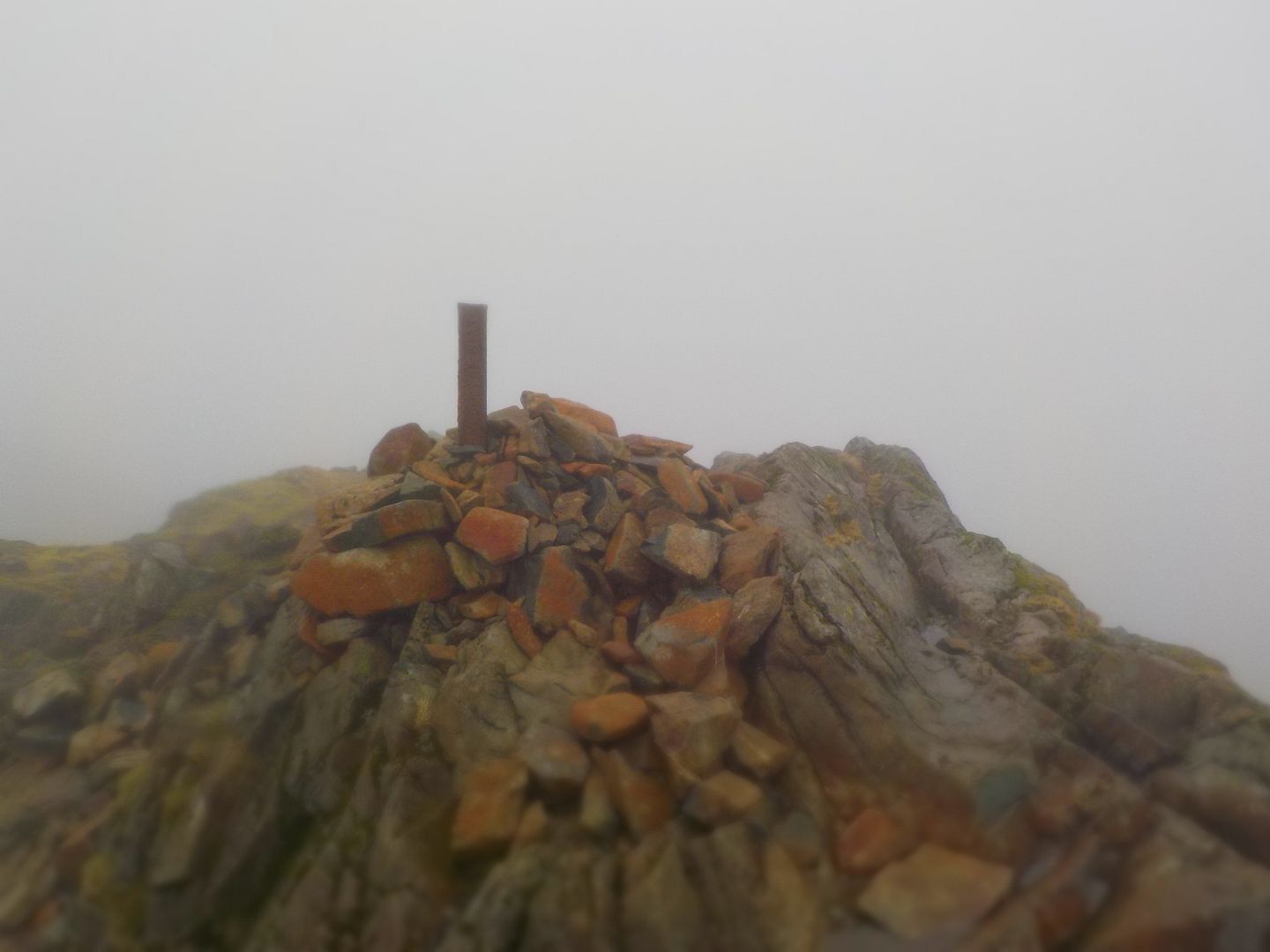 The way down was surprisingly rocky, with even some scrambles which I took a frustratingly (for Dougie) slowly, but it is so difficult for me to climb down the stairs at the moment, so I did the best I could. There was a lot of swinging down using my arms!
I was getting sore, but we were passed Scarth Gap and on the path down before there was anywhere appealing to stop. Well I say path down, but after a short stretch, it deteriorated to a steep and rocky slope which I found absolutely terrible, so another couple of stops required just in that wee stretch. At least we were out of the clag now and a good path was reached eventually, although some parts it was substantially easier to walk in the nice flat bottomed, slate lined drains.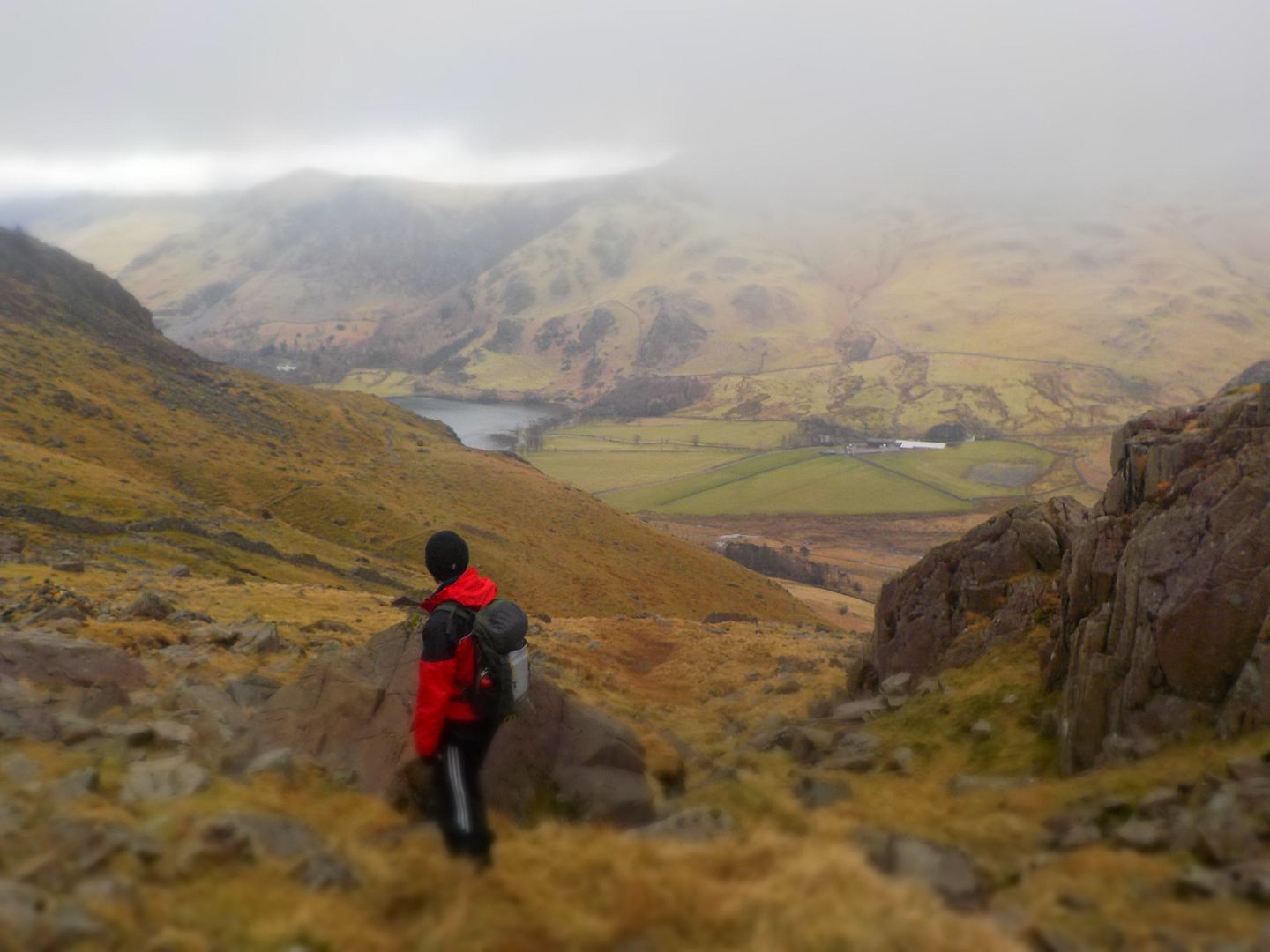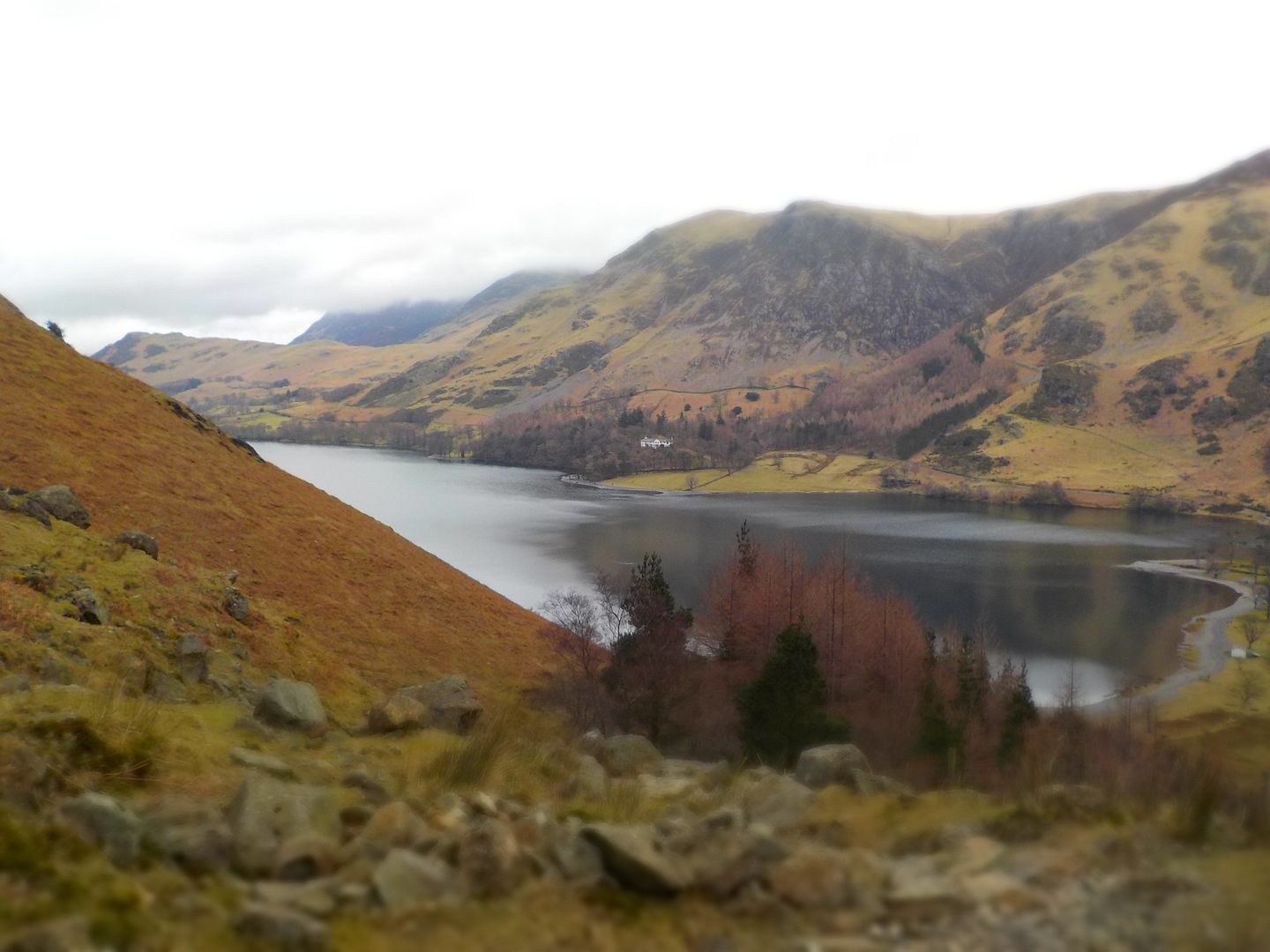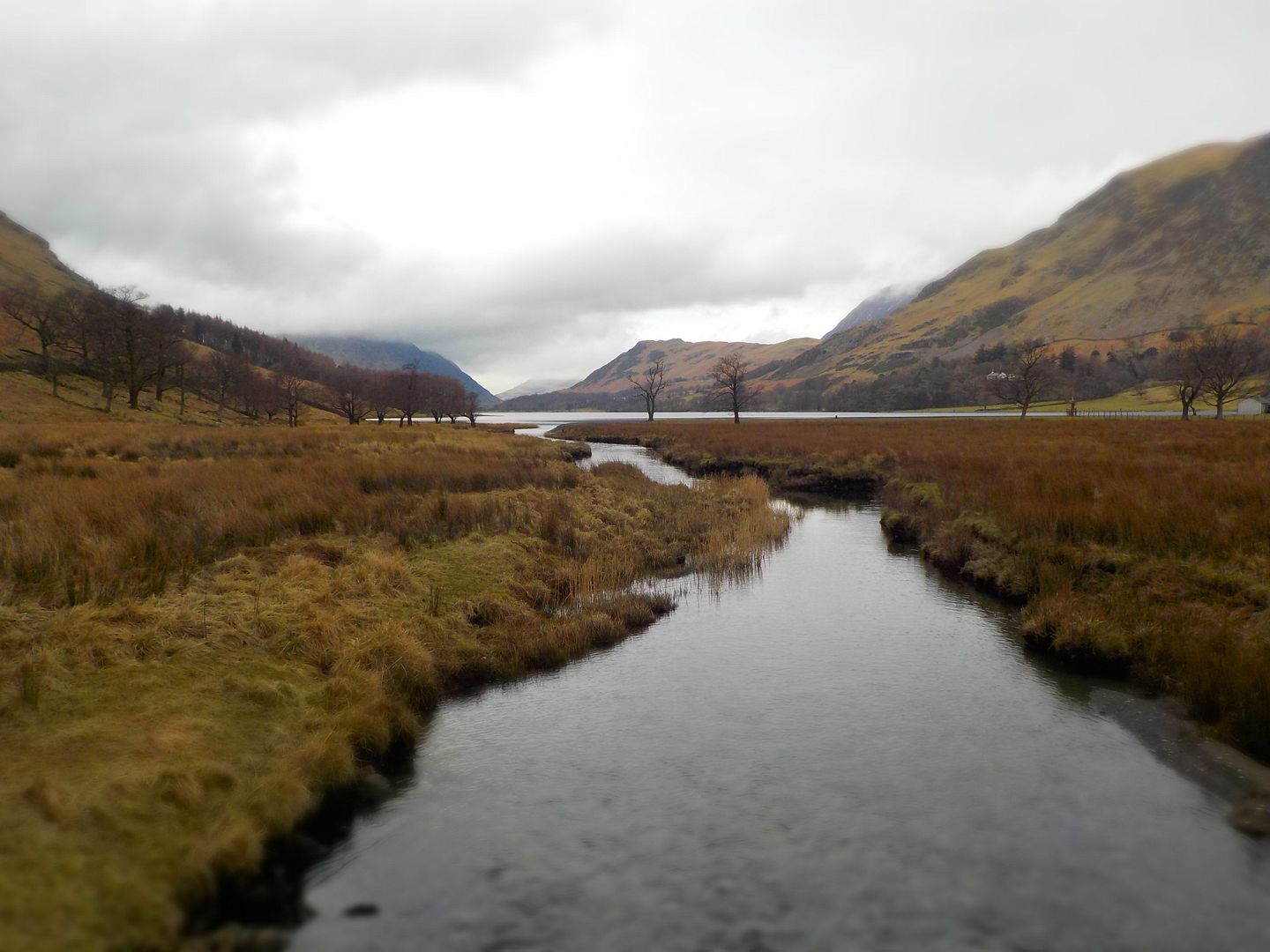 Not far from the car, the nice flat track was manageable. Six miles in all, which is the most I have managed, but it really took it out of me – back at the tent for 4 o'clock, ankle swollen like a balloon, feeling woosy from opiate overuse and absolutely knackered.. Took me 2 hours before I could muster the energy to put on a cup of tea, but I recovered OK and we had a nice evening. Being back in the tent is still a novelty.
On Sunday, we wanted a shorter walk, and Dougie suggested Castle Crag which we had seen on the telly recently. So we went into Rosthwaite, to find out they were wanting six quid to park! We didn't have that much change between us, so we parked a bit along the road in a layby.
The path took us down to the river and over a delightful little bridge.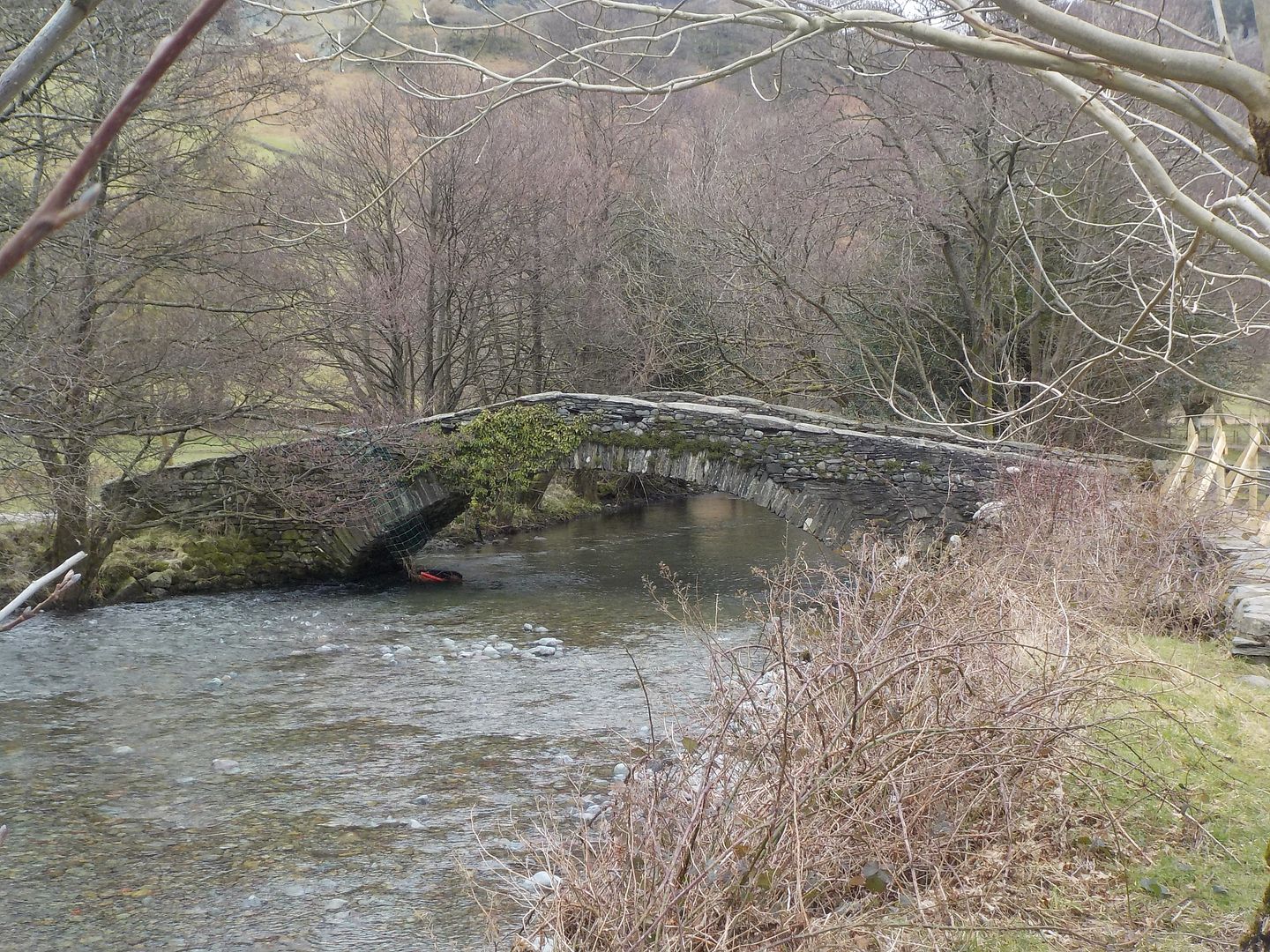 Beyond that, we had a stop in a sheep field. Turned out the sheep were attracted to the noise of crinkly packets, and came right over to see what we had.. Even when a dog came along, they hardly moved to get out of its way, so focused on begging they were.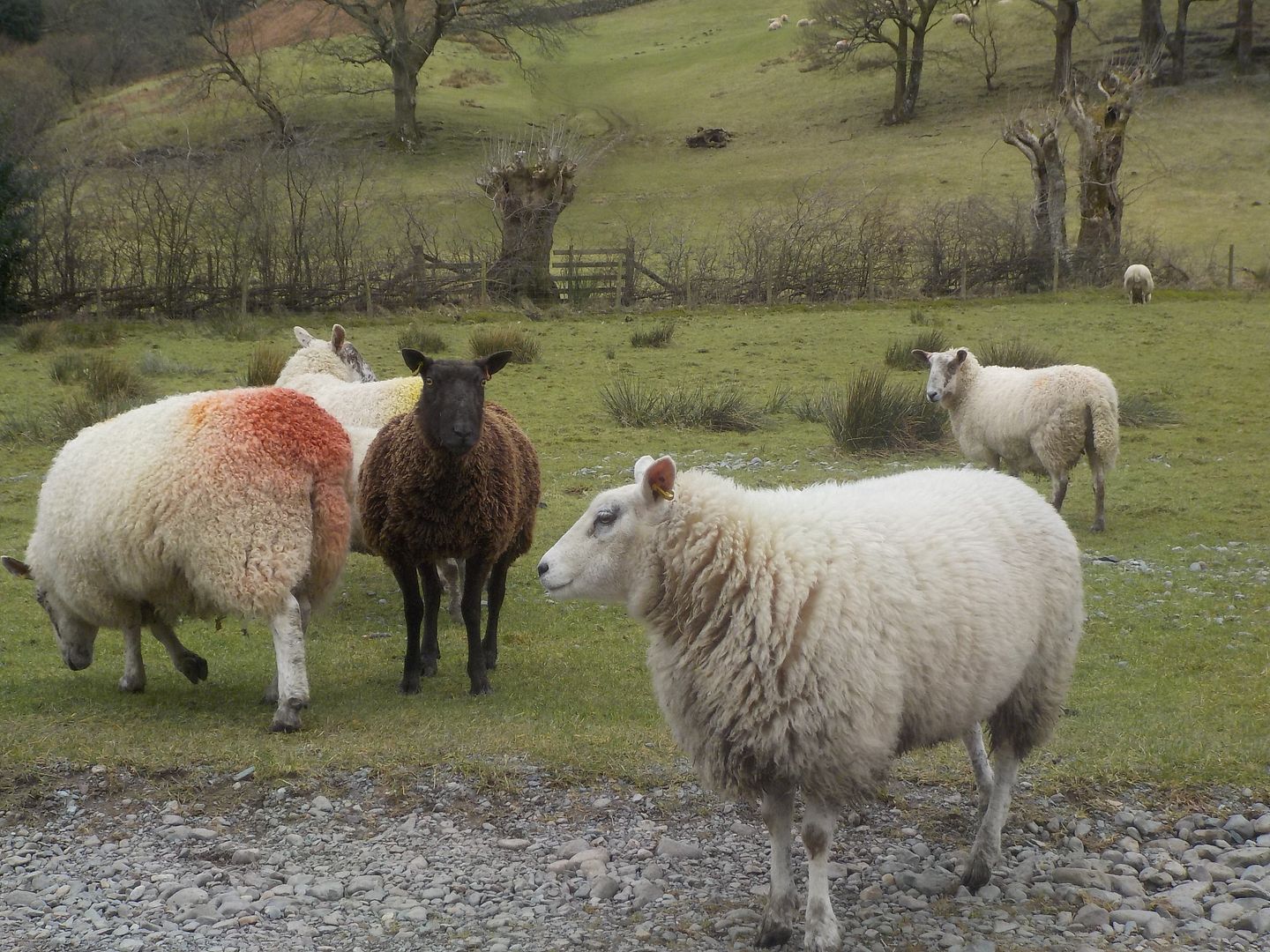 The path turned uphill, quite steep but OK. We passed a huge slag heap and went to investigate the mine, but it was all flooded so didnie go in.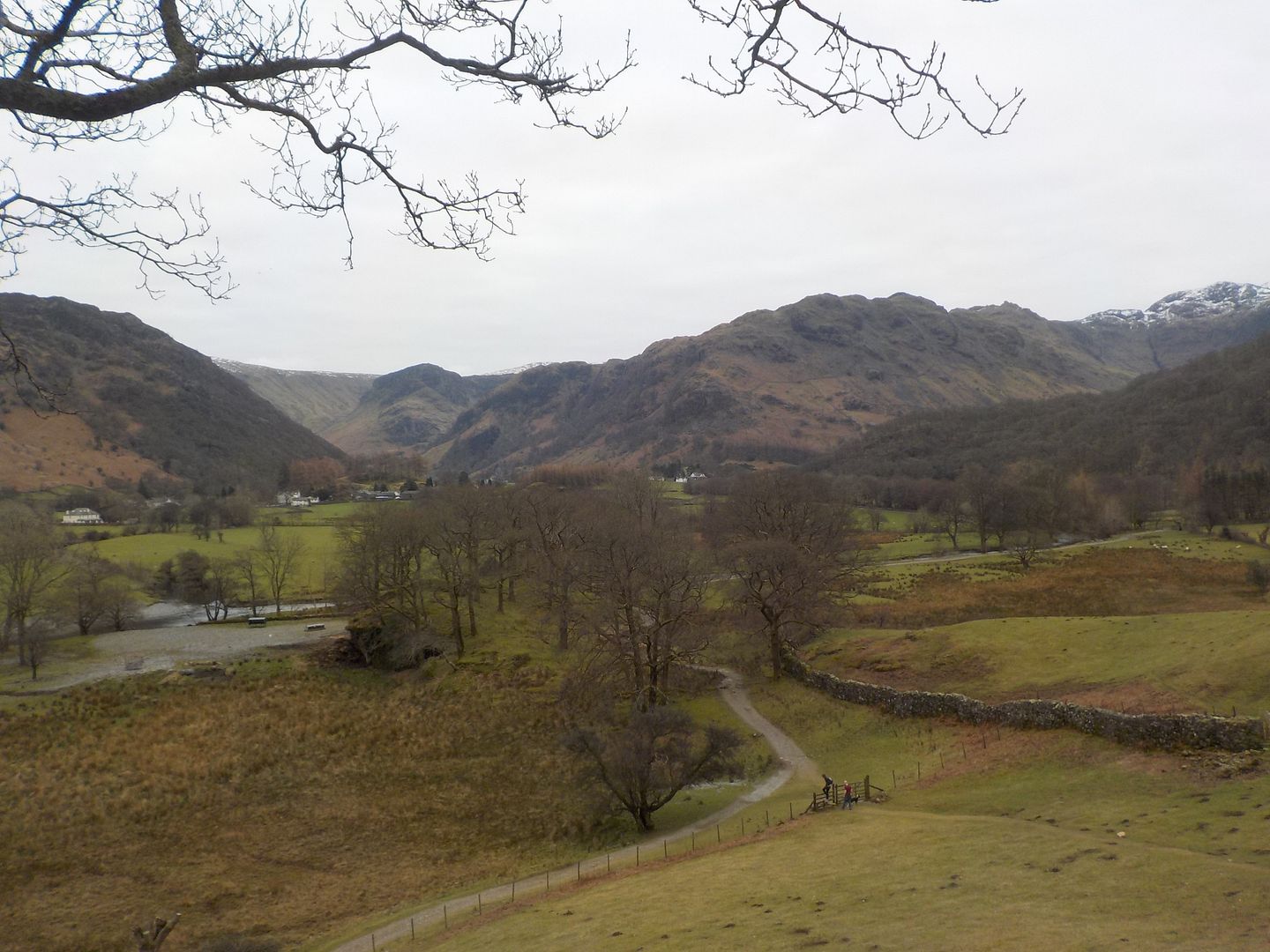 It got very steep after that, and I struggled a bit, but it wasnt far up onto open ground, pleasing views were opening up already.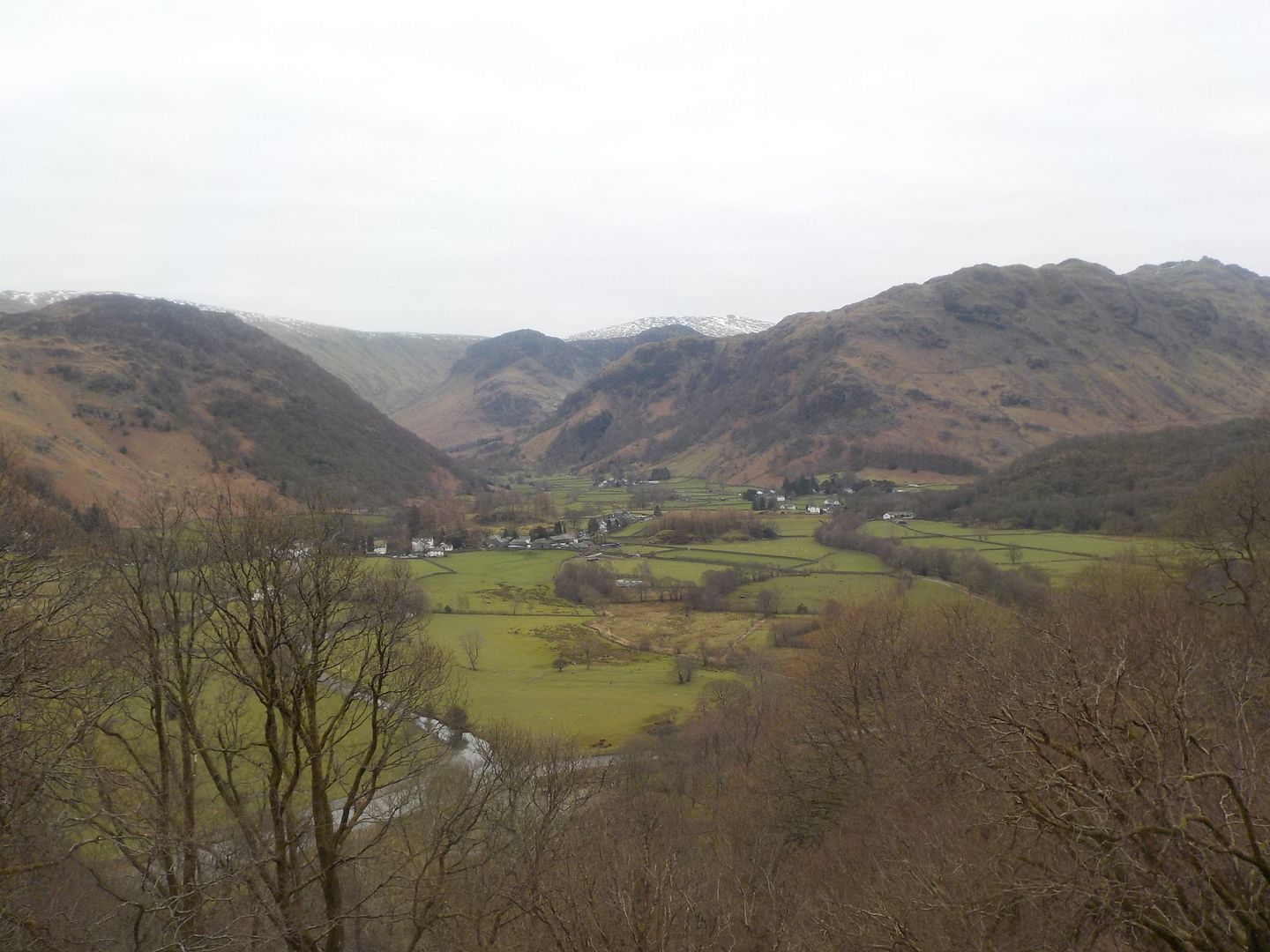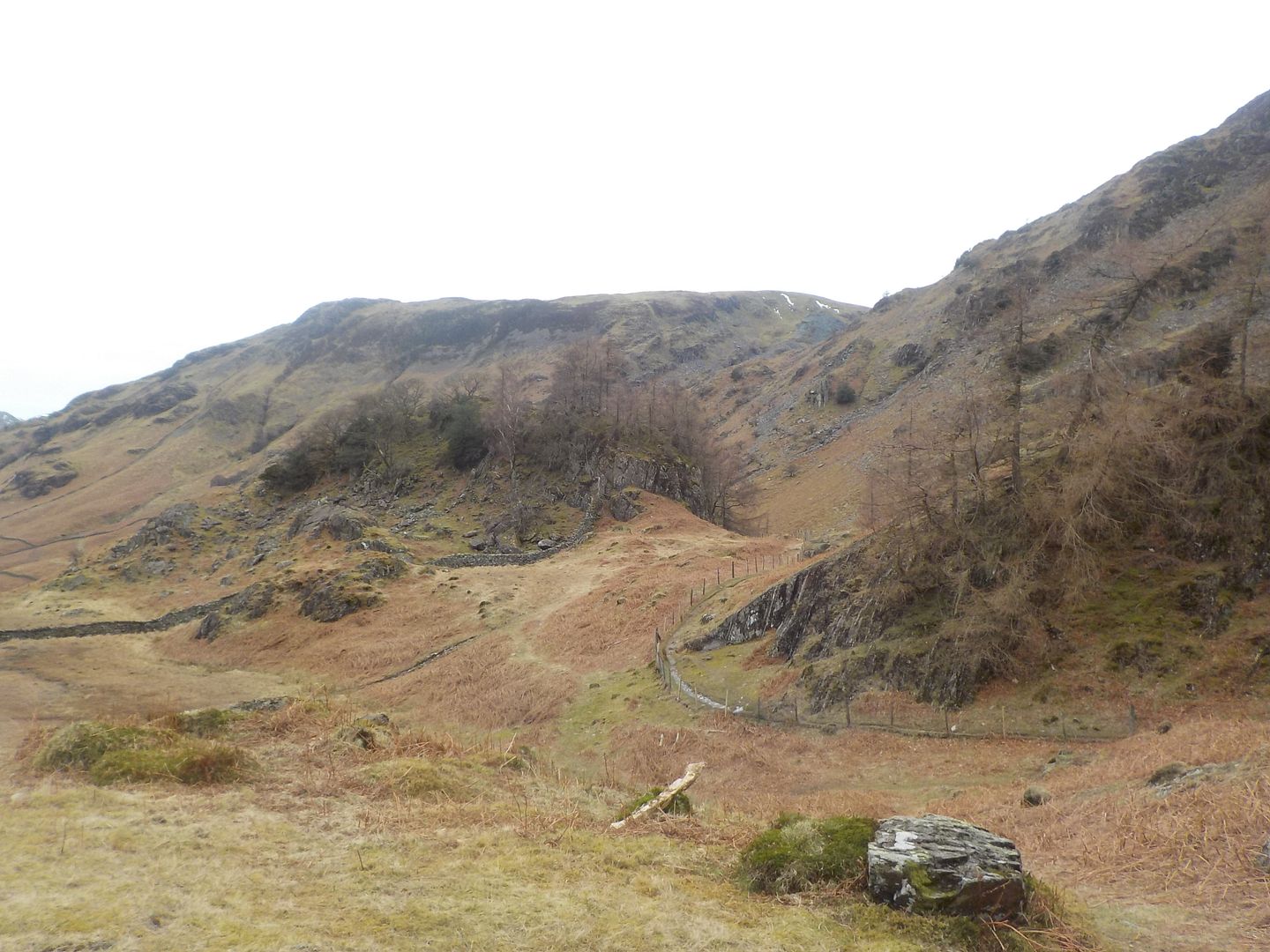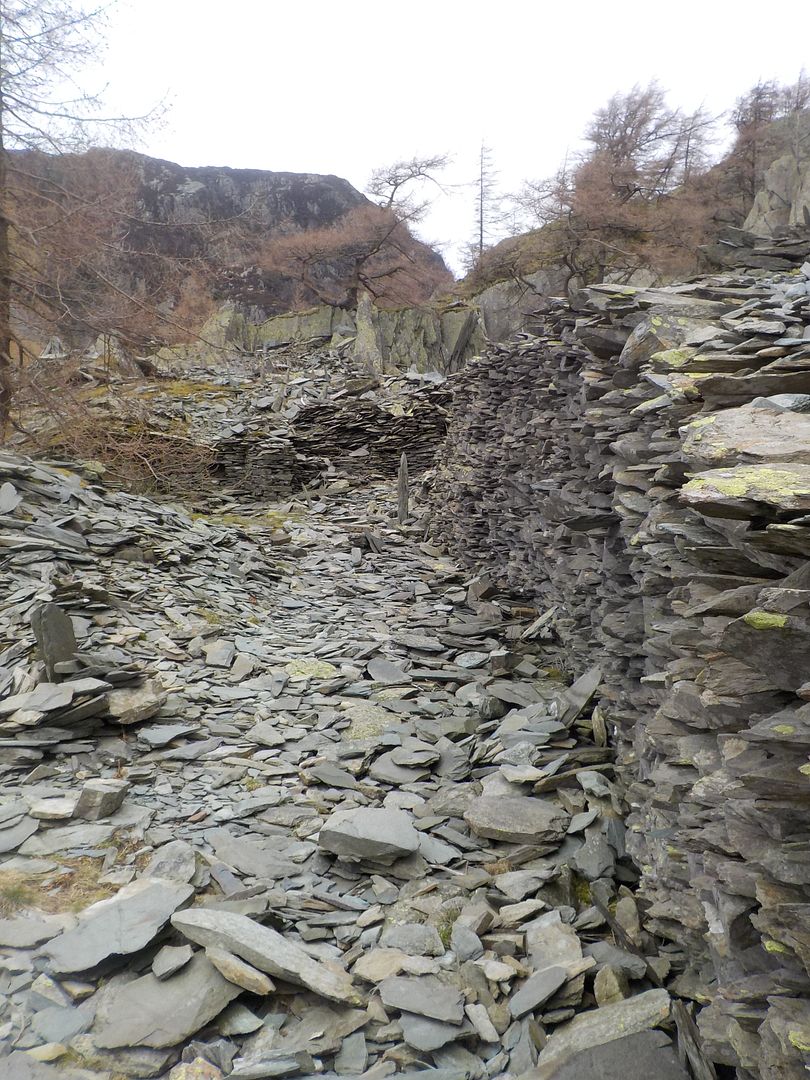 We went over the stile, and it was so busy.. a steady stream of folk going up the slag heap.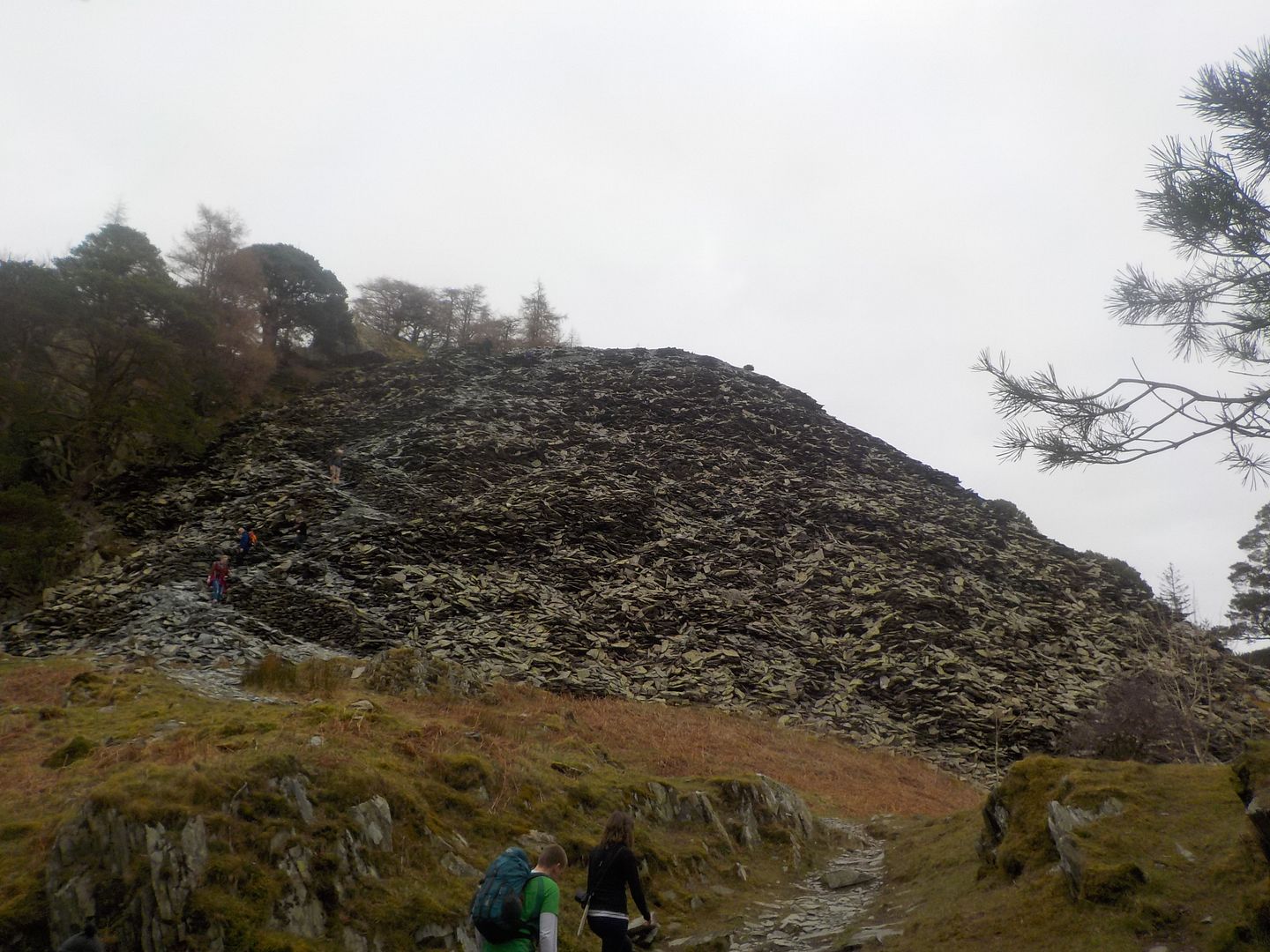 The going was again too steep, but I persevered, and got up to the quarry – a magical little place.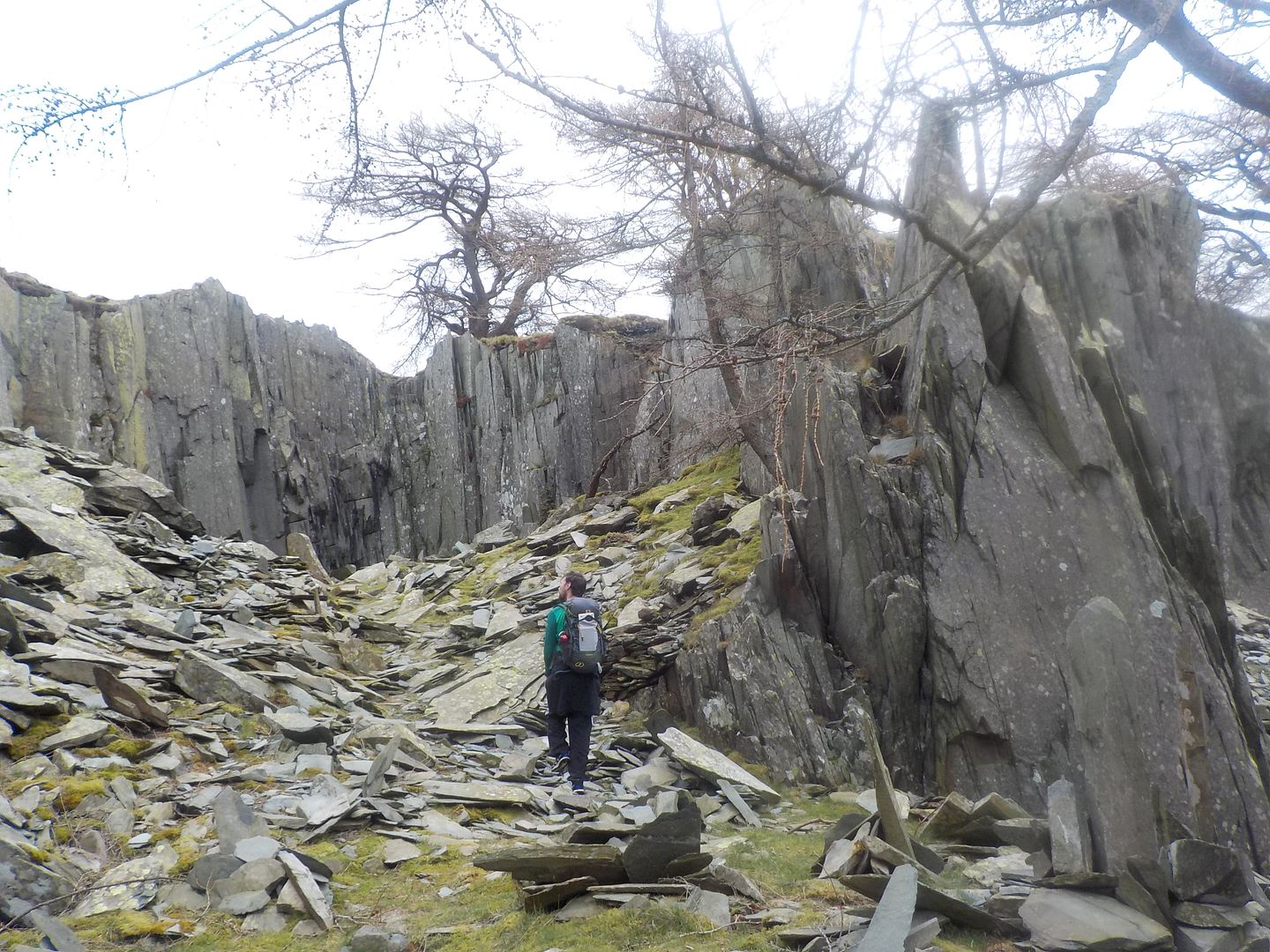 Dougie scrambled to the summit, I took the path which was probably more difficult to be honest, but only a few feet to the top, where we enjoyed the views and had some lunch. The sun was trying very hard to peek through!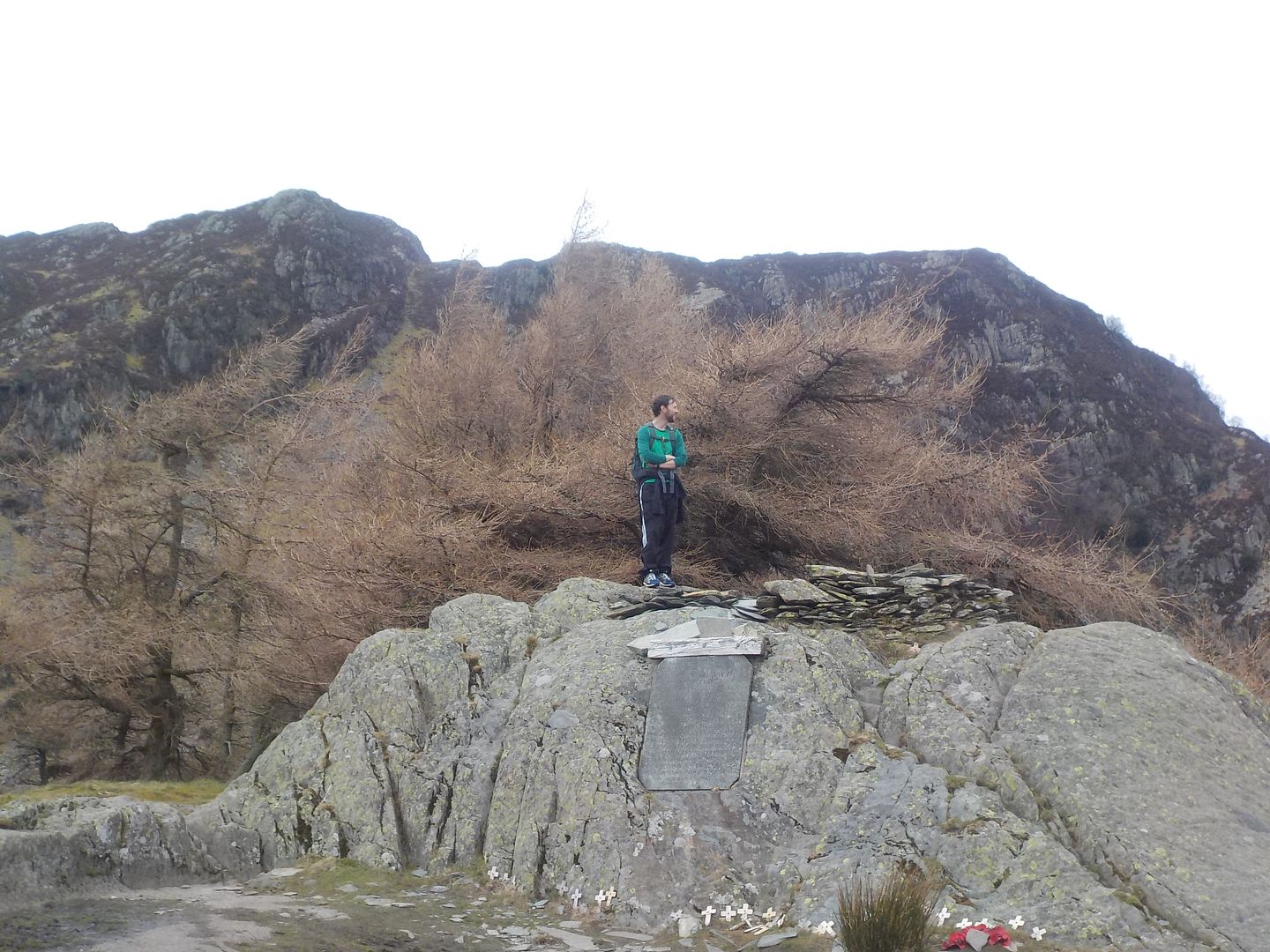 After a good rest, we made our way down, which was very slow and painful and necessatated a stop at the bottom in a pleasant wee rocky glen which was quite busy, but we did get a couple of peaceful moments.
There was a really good path back down to the river from there. Our map showed a path going along the river, so when the main path headed back up into the forest, we deviated off to find that path.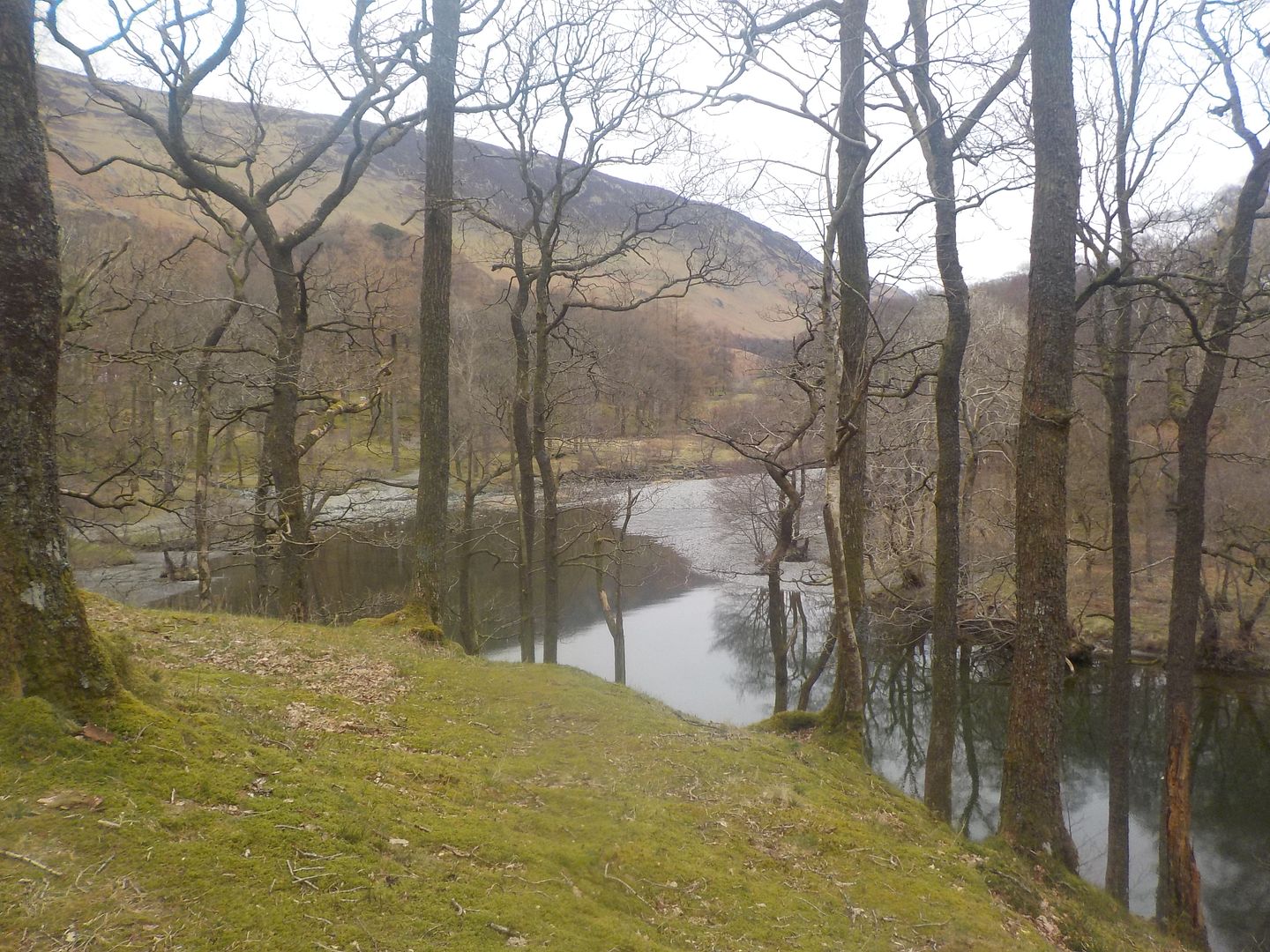 The was a little bit of the path, but it was a mistake to leave the main drag, as pretty soon we encountered a big finger of rock that went right into the river.
Dougie went ahead to see if we could get round, and he said I wouldn't manage it, so I was forced upward to look for a different route.
The wee scramble down the other side was just about manageable but on the far side, the bank had been washed away recently and there was some agonisingly tricky ground, and yet another rocky fin 100 yards away to negotiate.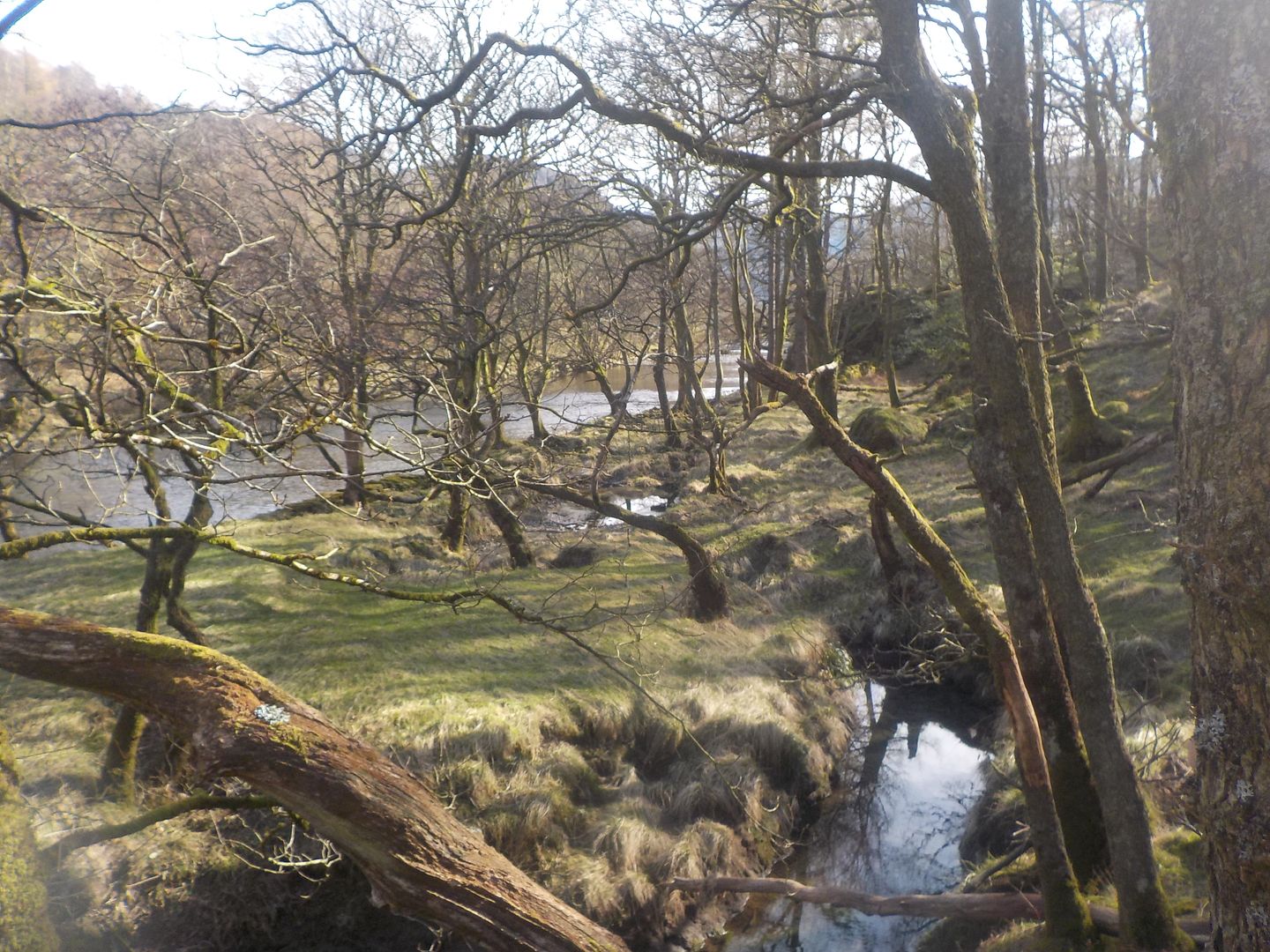 This time there really was no way round by the river, so we both went up to look for a way over – easy enough, but the big slab the other side was scary – still not enough flexibility in my ankle to walk on ground of that angle, so had to bum shuffle..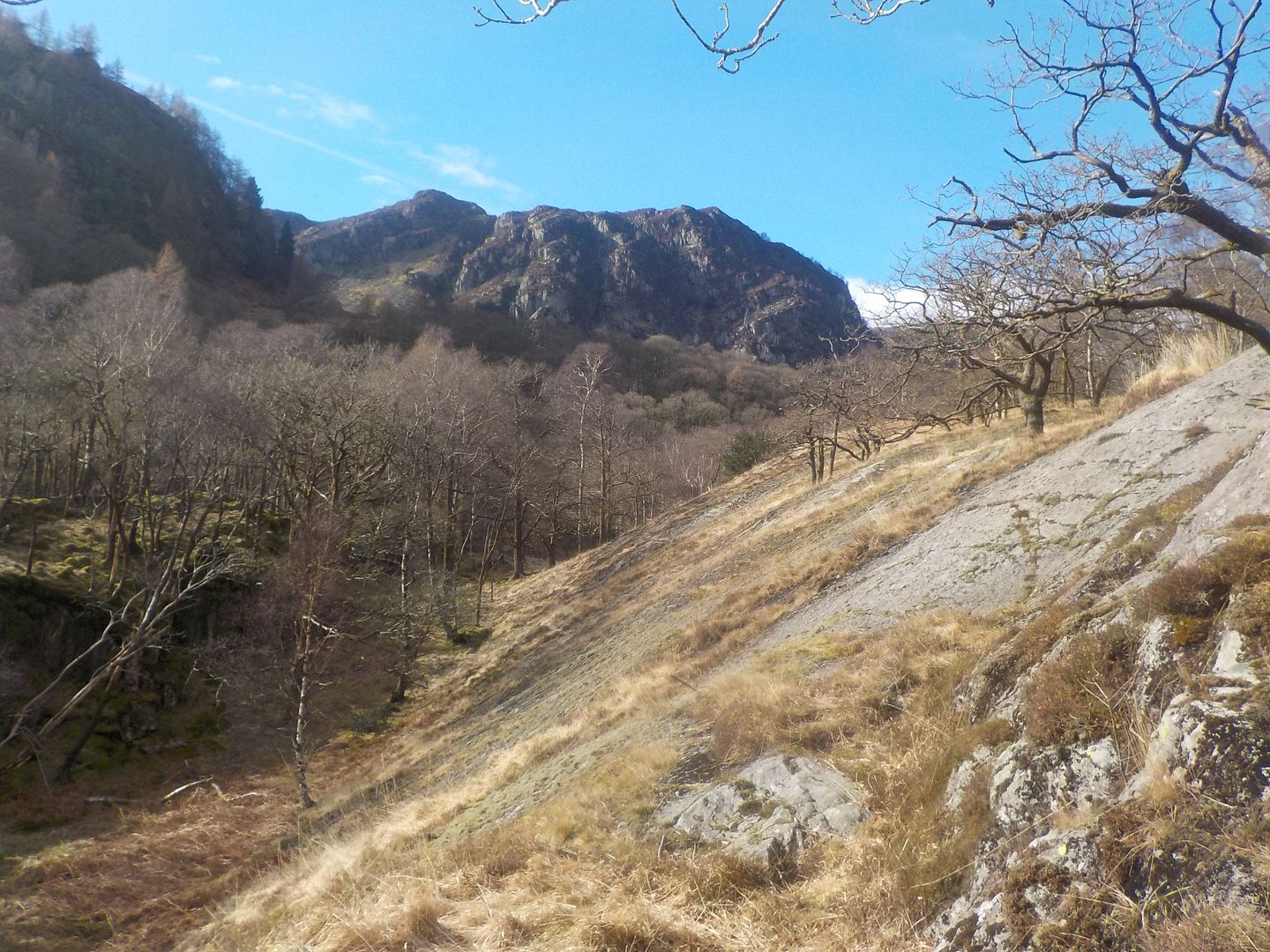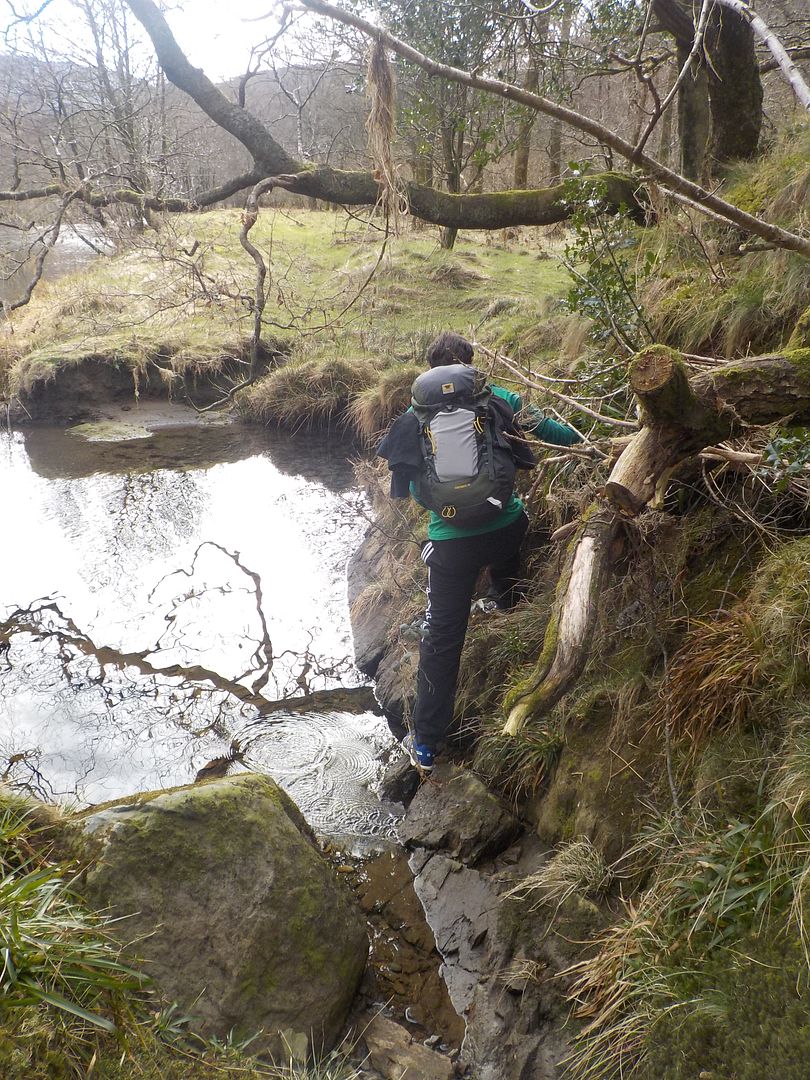 We managed down a rocky ledge back to the river bank, the sun had finally made an appearance, and it was soon roasting, so we stopped and laid in the sun for a long time, I even got a wash in the river – beautiful.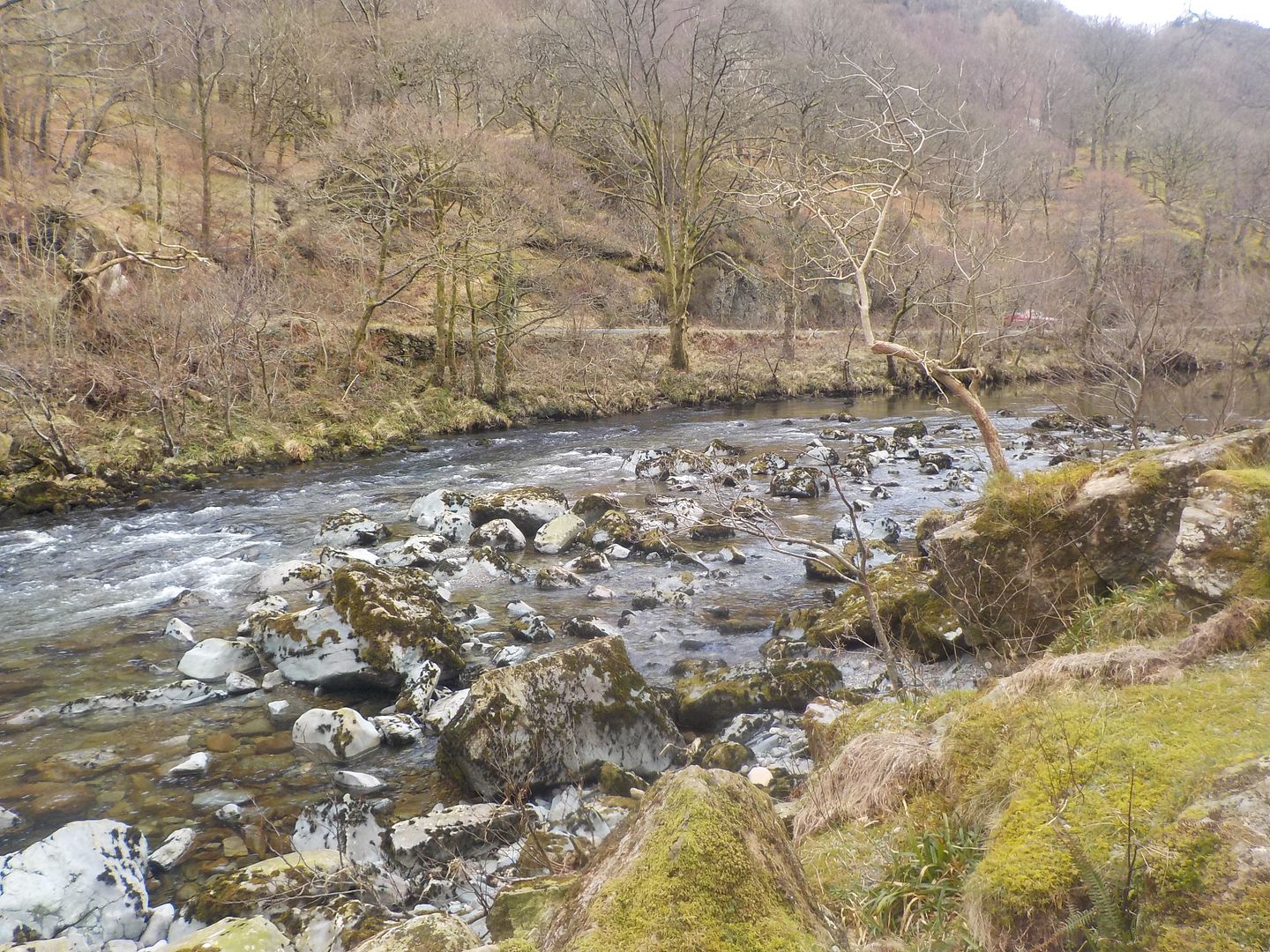 We were on farmland now, and it wasn't far back to the bridge. The rough ground had done me in though, so I had to send Dougie ahead for the car, but over 10 miles and a munro in a weekend, is better than I hoped for so chuffed with what was achieved.