Decided to spend 24 hours in the 'Arrochar Alps'. My hike covered around 21km, 13 miles and 1620m of accent not including all my ups and downs for filming.
Apologies, some of my mountain pronunciation is well off. Need to practice them before filming.
Setting off at 8am I was planning on trying to get to the summit of three of the Alps that day, Ben Vane, Beinn Narnian and final summit camp on Beinn Ime.
The weather was fantastic during the day but as has been happening recently with our topsy-turvy weather an Arctic blast was predicted to start heading down from the north later in the day.
Photo below from on the way up to the summit of Ben vane with the dam wall in the distance.
Reaching about the half way mark and looking out to Loch Long.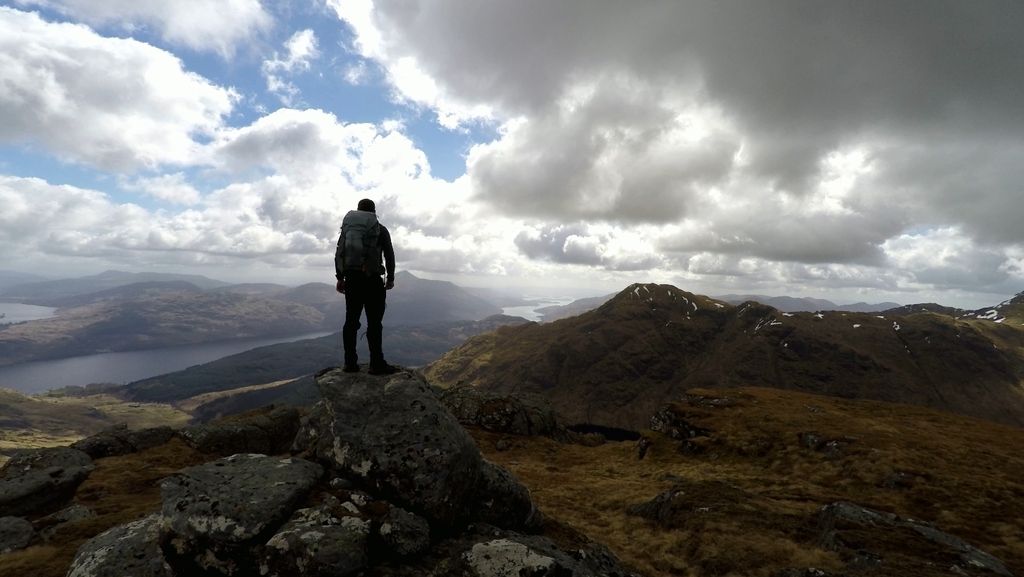 Shots below from the top of Ben Vane with some fantastic scenery and Ben Lomond in centre.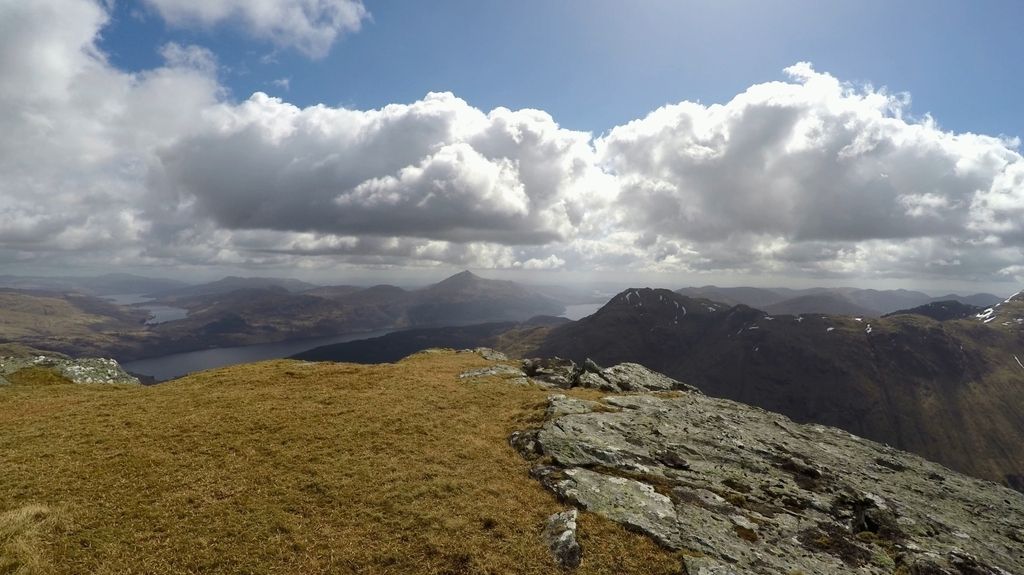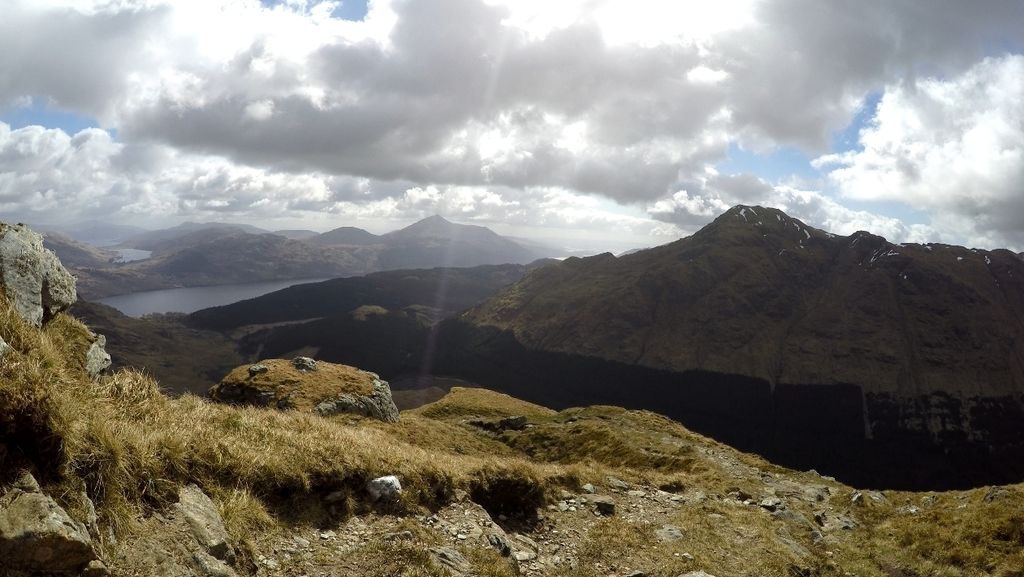 Summit of Ben Vane at last.
Views below looking from Ben vane to Beinn Ime and Narnain.
Due to route choice, the filming and stopping to look at the wonderful views it took me until about 4pm to reach the summit of my second munro Beinn Narnian. Had planned on coming down the back side of Ben Vane and then across and up to Beinn Ime first but the route was too steep for my liking. So chickened out and took the long way round the road way and then cut up onto the rear of Beinn Narnain instead.
At the summit of Narnain below after a long, long slog.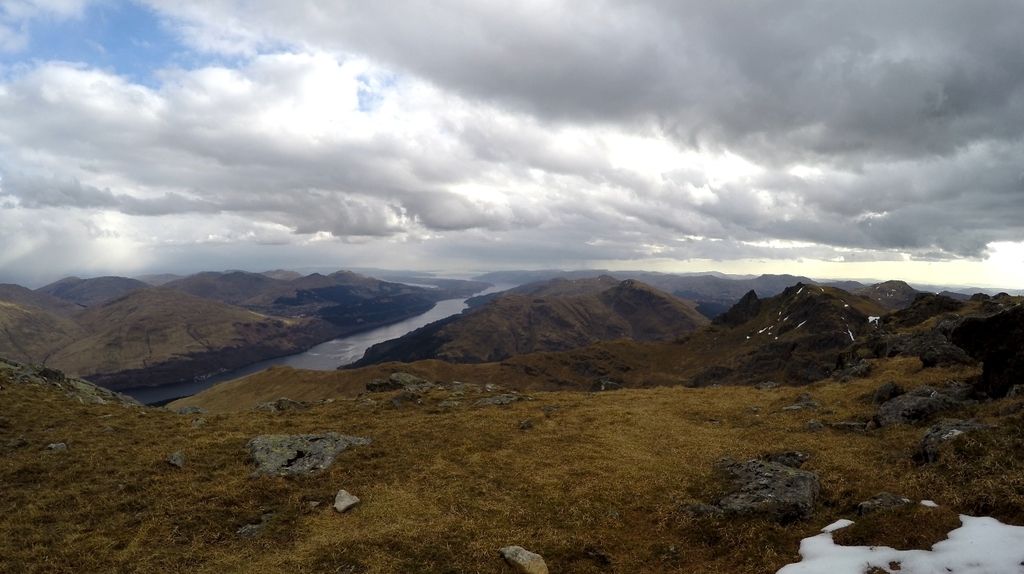 After a little bit of deliberation I decided to press on and try to bag Beinn Ime but as I got down to the bealach between the two mountains as the weather started to change with dark clouds gathering and the wind picking up. At this point I was absolutely shattered and the distance covered was taking its toll. All the additional ups and downs of filming was killing my thighs.
Beinn Ime ahead. Photo does not do it justice just how steep and far it was still to go.
As I had never been up this mountain before I was not too sure about doing a summit camp as I like to know and have an escape route should I need to get down in a hurry. Another reason was the tent that I had a loan of was an unknown quantity should the weather change for the worse and again didn't want to end up having difficulties. So decided to stop for the day at that point and head back down into the glen for the night instead. Had a fairly flat spot, looking down towards the length of the glen.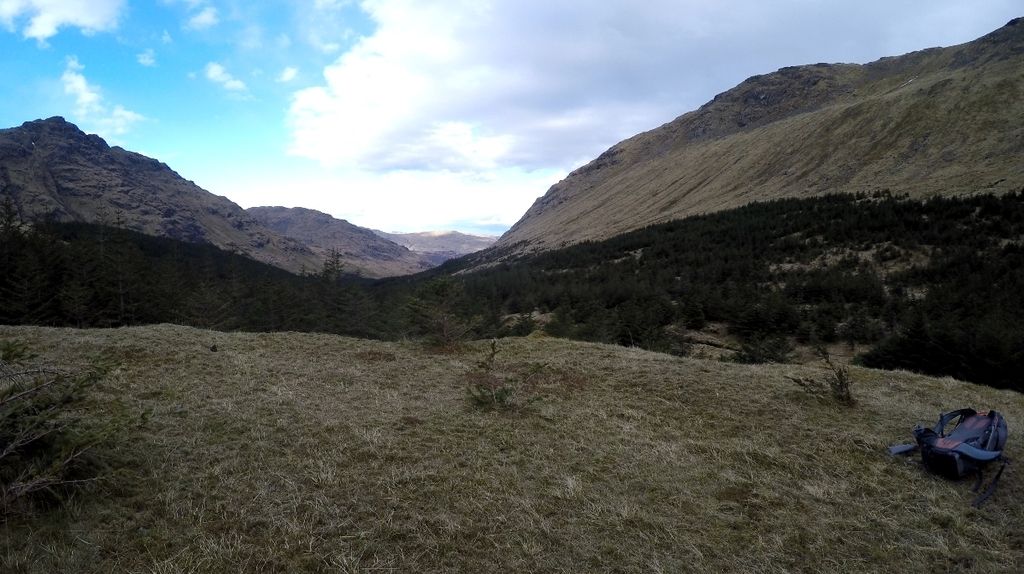 Once at my chosen camp spot the weather cleared and blue sky came out again so do regret a little not having spent the night on a summit. But as I found out later I wouldn't have been able to share that with you all anyway as all of my battery's had been used up. Had taken six battery's with me for my GoPro Hero 4 and with all the footage I had taken from the day I was down to my last seconds of film making just before night started to fall.
The trip was however fantastic with amazing views throughout the day and evening. Had a comfortable night in the 'Tarptent Scarp 1' that on first test seems to be a very good tent. Had very little condensation compared to some other tents I have recently tried.
A great day out and looking forward to getting back again soon.