Having climbed Ben Arthur last week, through a lot of snow, I knew that with most of it gone and a cracking day in store it was too good an opportunity to bag the big two, Ben More and Stob Binnein, two giants I have admired from afar for some time, often from up the hills to the south of Glasgow, more recently from nearby summits around the area, near and far, it doesn't matter as the big two always seem to pop into view.
Feeling good after the Cobbler, despite taking a tiring direct route, made me decide to see just how steep a bugger Ben More from Benmore Farm really was... and it turns out it is ridiculously steep!
Both this route and Ben Arthur are my slowest average speed by a mile, but boy is the hill fitness back in record time.
With it being such a nice morning I decided you have to be by the sea side and would divert to the Three Villages Tea Room for breakfast, then head north. Unfortunately Arrochar seems to be closed on a Monday morning (although it was just before 9am) but seeing the Tarbet Tea Room open and basking in the morning sun on the way past resulted in a perfect delayed start, with a view of Ben Lomond out of the Tea Room window and tea and a roll down the hatch.
In no time at all I was on my way again and unlike just a week ago, with all the peaks on the drive up Loch Lomond's west side covered in snow, it was insta-summer on the drive up today, the Loch a perfect still mirror at the northern side as I negotiated the new bridge round Pulpit Rock and the Ben looking grand with just a sprinkle of snow left and in full spring colour, a lovely mix of brown, green, black and grey.
After deciding against stopping in a lay by to take photo's and thus delay my taxi service requirement on the way home, I made good time and stopped off at the Green Welly in Tyndrum for lunch supplies. That turned out to be a great decision as after the pit stop the drive down to Benmore farm is dominated by Ben More, a cracking introduction with it looming ever larger as you approach the base... what have I gotten myself into...
I parked in shade right next to the start point where a few other cars had gathered, decided to start with trousers and if it was too hot i'd just jump behind a rock and change into my shorts and that took all of the initial walk up the path to the base of Ben More for me to do a quick change!
At this point I had passed what vaguely looked like the start of the path up which would zig zag for most of the way, even taking a photo at that point looking up the hill:
Unfortunately I hadn't synched my pre-planned WH gpx route to Viewranger before I came and had resorted to downloading a free one I found for the walk, thinking surely someone who has walked this has put an actual route up.... it was along at this part of the exit path where it said to start the ascent:
Well on closer inspection it turns out it is not entirely accurate, I went up where it suggested anyway and have to say the view up Sloc Curraide was outstanding and worth the extra effort to start slightly off-piste. It was all a 45 degree angle anyway so no difference.
Some nearby hills began to look grand as I stopped for a picture break. Ben Laoigh & Ben Oss: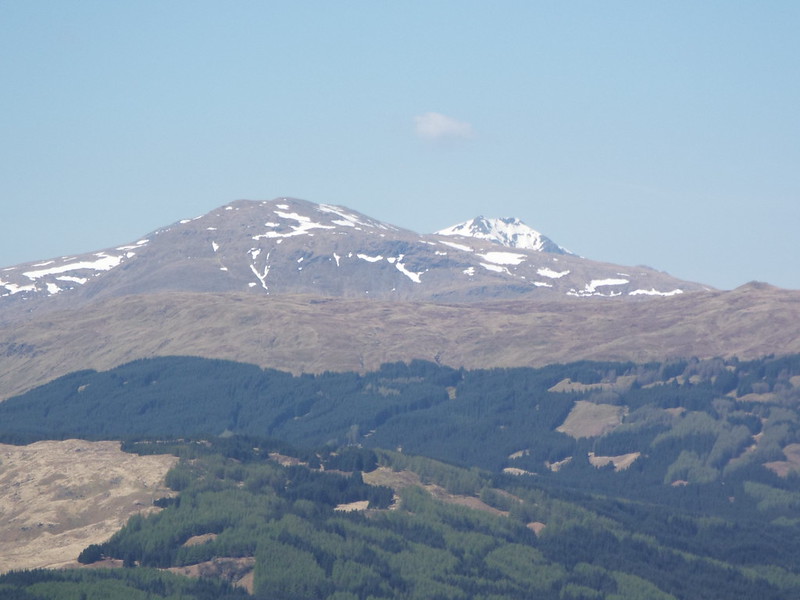 Ben Challum:
Ben Laoigh:
I proceeded onwards now that the path was in view with a few walkers clambering up:
Ditching Viewranger and keeping it purely for track recording, I quickly found the actual path just ahead of a group of Swedish lads. It also turned out that it was naive of me to think a path would help in any way
and so the slog began!
After a while of facing nothing but hill and path as you trudge up the infinite staircase I would turn to either side to to see more hill, with a corner of sky!
Luckily with frequent breathers required due to the, as advertised, relentless slope, the view behind you just gets better with each stop, Ben Laoigh, Ben Challum, Ben Cruachan, Beinn Dorain and the neighbouring hills all looking increasingly impressive:
About halfway up it was a little breezy, making the intense white sun pleasant, but I popped my fleece on for extra protection, leaving my shorts and suitably hairy legs to cope with the refreshing breeze which was fine. I was also sure that ticks couldn't live at a 45 degree angle, or just made that up after several checks had shown no red blood sucking spider vampires trying to negotiate the hair forest to my calf.
In a good way the summit keeps enticing you up, with the zig zag path easy enough to climb if you treat it like the giant spiral staircase it feels like (put your head down and make as good progress as possible during the ascent of the unrelenting steepness) and just a nice looking boulder crag to negotiate before the top of the pyramid:
Still a long way to go......
...and it's a looong way down!
At the crags the path veers left and you come round the north side slightly:
Ben Lawers & Loch Tay finally make an appearance:
Getting there... I hope!
The view back to the north, breathtaking:
Final push...
As I approached the final heave up to the top I still found myself saying "if there is any form of false summit here i'm going to break down and cry" and thankfully was greeted by a giant cairn which springs suddenly into view on a great looking cosy summit, steep on all sides, with a rocky bit and a trig point plonked on top of the uppermost boulder:
It was also exhilarating having the panoramic view south suddenly opening up to you after such a long time staring at a path, rocks, my feet or more "steep" in front of me and I was buzzing!
West and north:
I took some photo's from atop the cairn then headed over to the trig point to take more photos... the view north and the cairn:
Ben Laoigh again:
Munro number 2 for the day, Stob Binnein, which you can see from various points of Glasgow and like it's twin just seems to tower over all the other nearby hills. That's Dave & Dave on the left, who I met and enjoyed a great chat with later on at the summit of Stob Binnein:
To the south west Ben Vorlich and Stuc a'Chroin look superb...
...so does Ben Ledi:
...Ben Lomond:
...neighbouring Munros:
Boy was I glad I came up here today, I can see for miles, from Ben Nevis to the north to Ben Cruachan in the west, Ben Lawers east, the Arrochar Alps... breathtaking:
The two Dave's heading off, i'm staying to soak in the scenery some more:
A couple from the Lake District suddenly popped up over the rocks having come up the path from Stob Binnein and we chatted for a good while (sorry I forgot your names) but they are on WH so will hopefully see this and of course i will send you copies of the photos you are in if you pm me your email address as they turned out well. We shared a few walking stories and they were thoroughly enjoying bagging our hills after finishing all of the Wainwrights, impressive!
Here they are at the Ben More cairn:
Everyone was in great spirits including the Swedish lads who had suddenly appeared at the cairn then trig point:
I grabbed a seat and had half my lunch (it's only fair to share with the twins) and just soaked in the sunshine and 360 degree panorama of what looked like most of Scotland:
Stob Binnein was looking grand, unlike the hulking giant's shoulder I had just negotiated, so I snapped away as I made my way down from Ben More's very rewarding summit, leaving the Swedes to enjoy trig point poses and the high generated from conquering the beast!
I reach the bottom of the steep path down from Ben More to Bealach-eadar-dha Bheinn, chatting to one of the Sweidsh lads who was saying how useful Walkhighlands is for planning hikes, I agree!
Cruach Ardrain looking like a fun future walk:
Looking back at Ben More from the south:
So the climb up Stob Binnein from the Bealach begins, with the legs a little bit more tired due to to the navigation over the hulking giant behind me before now:
Almost there...
Ben Lawers and Loch Tay looking good to the east:
Final few zig-zags...
Summit ahoy!
The Stob Binnein Cairn... a tad less impressive than Ben More's!
Here are Dave & Dave enjoying a spot of lunch which was so good I just had to join them for a good blether:
The two guys who i've been trailing for most of the walk head off:
Looking south from Stob Binnein's summit towards Stob Coire an Lochain, I think i'll leave that for when I try out the route from the south one day:
The Strathyre Munros again, Ben Vorlich and Stuc a'Chroin, can't wait to climb them now:
Ben Ledi:
Ben Lomond:
Cruach Ardrain:
I even spot Ben A'an in the distance!
After enjoying one of the best lunch spots and views you can get while chatting away to Dave & Dave about hillwalking, hills, Arran and all sorts, we decide to head down together and continue our discussions:
Our exit via Benmore Glen way down below:
The descent down the path was straightforward, with my legs happy to not have to do any more major uphill sections again!
The big boulder picnic break spot, we head down the steep path next to the burn from here:
I'll be back for you Ardrain...
It looks worse than it is but we made good progress heading down, well me and Dave junior did....
The two Dave's, can you find them both?
At another boulder waiting point, Dave senior is still making his way down and i'm already getting asked when my taxi collection will be so I decide to leave them both behind and make haste back to the car. It was a pleasure joining Dave and Dave for the latter part of the walk, they were a good laugh and great company so i'll hopefully see them around these parts again as they spend a lot of time finding lunch spots as good as the one we shared, and no wonder!
Head for the lone tree...
Looking back at Stob Binnein, Stob Coire an Lochain and the way down:
Ben more towering above on the right during the exit:
After a brief stand-off with a sheep and her wee lamb, which resulted in us both taking a side of the path each and gingerly walking past, I continued on, feeling a tad knackered after all of the efforts getting up beauty and the beast:
I think it's safe to say that today was a belter, boy am I glad I did this walk:
A final shot of Ben More, the beast!
The home straight, well path back to the car...
With my trip a success I head back to Glasgow, knackered but thoroughly pleased with my choice of hills yet again and my reward for the taxi service is dinner on the way home.
Being atop the biggest hills around was brilliant for whetting my appetite for the many other great looking peaks all around me, helping me plan future trips and see new areas to explore. First things first I have a wee trip back home to Arran this weekend to look forward to and i'll hopefully get another hill or two climbed while I am there.
I'm glad i've finally done the big twins, what hills they are and they were worth every minute of the struggle to get there for the incredible views from both summits. Although not the busiest hill it was still a very social trip and I met some lovely people, until next time... cheers!
Full photo set available on

Flickr

.

With Birthday celebrations and hangovers out of the way, a hastily re-arranged holiday taken, wall to wall sunshine on the agenda and another day to myself to drive somewhere to bag a hill or two, I still hadn't quite decided where I was going to go.