Around seven years ago we set out to see if we could climb all seven Marilyns in Fife. We got to five and then packed up after a puncture.
I've always felt it was unfinished business, but with husband's knee getting worse and worse there was no way we were going to improve on that score…unless I left husband's knee behind. He is currently hawking it around GPs and physios in the hope that it will magically improve, and didn't mind me leaving him behind since there was loads of sport on the TV and we have just switched to super-fast broadband which means he can watch it without half the team going wobbly. With my 77th birthday coming up, I superstitiously felt that I must do them before that, or I would probably never do them.
I set out at 6.30 a.m. to see how far I could get. As I drove towards the Lomonds, I could see from the snow cover that they could use all the heat today's forecast promised, so drove on to Benarty((3.4 miles 751 feet). Problem number 1: the hill road was closed, so I couldn't just nip up and down it from the back, but would have to do the longer route from the RSPB Centre at Vane Farm( NT159990). What with the snow, it took me 1 hr 45 mins
I drove to Leslie and found, Problem Number 2., that there was a huge cycling event. Most of the cyclists pulled over to let me past, but one must have been deaf, and I had to climb the road between the Lomonds at his pace.
I parked in the usual car park for the West Lomond (4.2 miles 781 feet) at NO227061.It was quite tiring ploughing through the soft snow, only about four people had gone ahead and one, returning, advised me to climb steeply up the East side as there was still a lot of snow on the gentle north path. Descending I met a penguin training for some charity event. Time for this hill was 2 ¼ hours.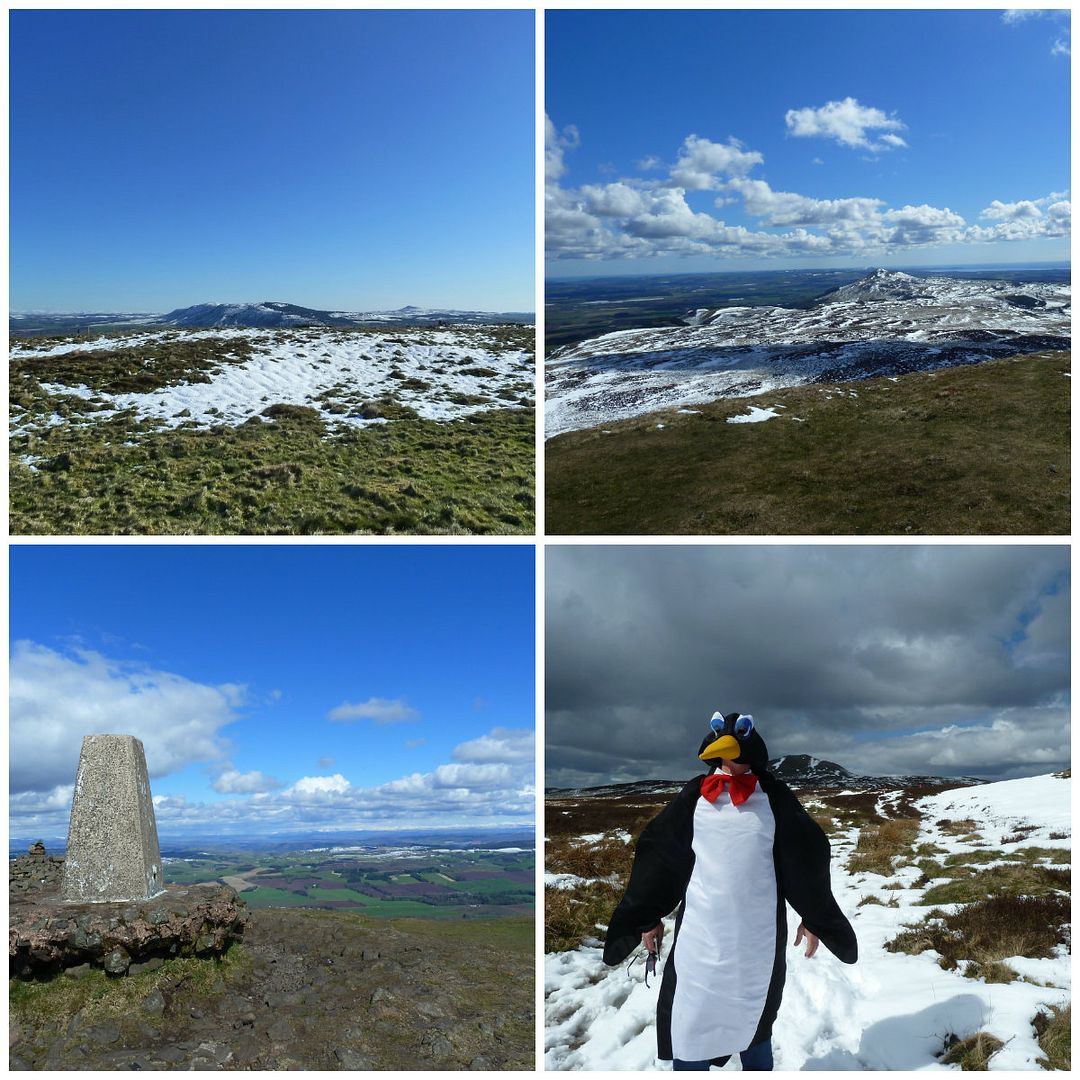 Rather than climb the East Lomond(0.9 miles 289 feet) from this car park, I drove round to the higher one at NO252058. This was less time consuming and I was up and down in 40 minutes.
For Cairnie Hill(2 miles 482 feet), I parked at NO272153.This was another 40 minute hill, with the added bonus that I found a handkerchief that I dropped last week when I came to check if there was a quicker route (couldn't find one) since this doubles back on itself.
I drove to Newburgh and took the coastal road eventually parking at NO309209 for Norman's Law (1.2 miles 430 feet ascent) where I had some soup and a sandwich. There must be a better way than the direct one I took involving horrible gates and barbed wire fences, but at least it only took half an hour.
Next was Mount Hill (2 miles 505 feet) where I parked at NO338159. I took the chance that they wouldn't be using tractors on a Saturday, but was probably just lucky, as I saw one in another field. The summit area is now fenced in with a huge deer fence and the only way in is a large gate on the south side of the monument. This hill took 50 minutes.
I set the satnav for Lower Largo and drove down several roads that I don't think I have seen before, but it saved going via home where I would have been sorely tempted to stay. I parked by the cemetery for Largo Law (1.9 miles and 718 feet)at NO 423037 and despite slithering around on snow patches that blocked my way, did it in an hour and a half (in summer, and fresh, an hour is my usual time).
Total miles walked = 15.6
Total feet ascended 3956
Below, me at the tops