After walking for the first time with my friend John back on a rather grey day in early January on the Roughburn Munros, we pencilled in another date in late February, this time roping in our mutual friend Bruce. The target on that occasion was Beinn Chabhair from the Drovers Inn in Glen Falloch and that turned out to be the perfect contrast to the rather dreary, dull walk that John and I had done 8 weeks earlier, with bright blue skies and glorious late winter sunshine reflecting back off the snow-capped peaks.
The 3 of us had hoped to get out again soon after that, with the end of March or early April talked about. John, who has been a keen hill walker for many years but has struggled badly to make time since marriage and fatherhood came along, even dared to imagine that it might become a monthly event. Events conspired to get in the way of a late March or early April outing and with the school Easter holidays then kicking in followed by my various spring/summer term commitments (France trip, DofE expeditions e.t.c.), we were suddenly faced with the very real prospect of not getting out together again until the height of summer. Greatly disturbed by this prospect, I checked the calendar and spotted a potential window of opportunity the first weekend in June. It suited both the other guys so we were on.
Once again, they seemed quite happy to leave the whereabouts to me. I floated two options – the Black Mount Munros of Stob Gabhar and Stob Coire Odhair or the Grey Corries. John reported back that he had done the latter many moons ago when he was a more regular visitor to the hills, so the Grey Corries it was.
I was a nervous wreck in the week running up to the gig, paranoid that the superbly settled spell of Mediterranean style weather was going to come to a spectacular end just as Saturday rolled round. I need not have feared. Bruce was on driving duties and he was at my house by 7am on a glorious summer Saturday morning. After quickly using my kettle to top up his skooshers, we drove the short distance to John's house, where there was no sign of John himself but at least there was a pack and a pair of walking boots sitting by the gate. I was a bit more surprised to see an ice axe sitting next to them and remembered our trip back in February where Bruce had been sceptical about the need for an axe. "Better to have it and not need it than to need it and not have it" I had said, but this looked like John was taking the mantra a bit too seriously! He emerged to a bit of a slagging about the ice axe but rebutted the abuse by pointing out that it was in fact Bruce's axe that had been left in his car last time out and he was simply reuniting it with its rightful owner.
Apart from an alarming deterioration in the level of the cloud base around and on either side of the Drumochter Pass, it looked like the Weather Gods were smiling down on us and I turned my mind to potential trip report titles. I often have a vague notion of a title in mind at the outset, although circumstance sometimes intervenes and prompts a complete change of direction by the time I start writing.
With the new timetable for the 2016/2017 school session having kicked off a few weeks ago, I now have a new and particularly challenging S3 class on my books. Challenging in various senses – behaviourally, socially, motivationally, academically, you name it! Myself and a colleague from Learning Support have them four times a week and the remit is to deliver a Personal Development and Achievement award as well as a Languages for Work unit award by the end of the session, based on two periods of input per week to each element of the course. Much of the PDA unit is based around teaching the skills required to plan and execute a Bronze DofE assessment expedition next spring. As a languages teacher with a personal interest in the outdoors and experience of delivering DofE, it is an ideal mix for me when faced with this kind of clientele, especially when my LS colleague is also a keen and experienced DofE leader . She is perhaps less confident about her foreign language skills and I think she was maybe a bit concerned to hear that I had chosen to use Italian as the basis for the LfW unit. Given that these pupils have got nowhere far or very quickly with French over goodness knows how long, that they didn't exactly cover themselves in glory when they had the opportunity to experience learning Spanish for a term last year, and the fact that German would probably melt their brains, I decided to think outside the box and teach them Italian. The fact that I have absolutely no qualification in Italian never mind any experience of teaching it needn't be a barrier. I spent my honeymoon in Italy 11 years ago, still to this day my one and only visit, but given that expectations are low and ability to meet those expectations is probably even lower, it couldn't be that difficult. As long as I stay 2 words ahead of them, I should get away with it.
After three weeks, we had struggled through numbers from 1 to 10 and a few basic colours, although mastery was still eluding most of us. What had been noted by my colleague from LS (and perhaps also by some of the students, although to their credit they didn't let on) was how many colours in Italian have some kind of reference to alcoholic beverages - "rosso" (red) as in Martini Rosso, "grigio" (grey) as in Pinot Grigio. It subsequently has become something of a joke and therefore it seemed quite fitting that if I was going to write a report about a day on the Grey Corries, it should feature the Italian word for grey in it, especially given that the alcoholic beverage reference would probably apply quite liberally to myself and John in Spean Bridge after the walk!
By the time Bruce had negotiated the road from Spean Bridge to Choirechoille and then the bone shaking track up to the small parking area at the line of the old tramway, it was getting on for 9.30. I immediately spotted GillC and Tomsie's car (I was looking for it right enough after Gill had replied to a FB comment to say that they were planning the same route today) and guessed that we would probably meet up somewhere on the ridge (probably on or around Stob Coire Easain) depending on how much of a head start they had had.
We were off by 9.45 (Bruce had insisted on a brew before leaving) and soon passed the statue of the Wee Minister. The obligatory photo opportunity was taken before we continued climbing into the Lairig before leaving the relative comfort of the track and taking to the steep, grassy ascent of the hillside.
John and Bruce flanking the Wee Minister a short distance from the start of the route
Heading into The Lairig with Cruach Innse up ahead, just before leaving the track and taking to the hillside
We stuck close to the tree line and much higher up, when Bruce clambered over the deer fence and into the forest to do a spot of gardening, John and I were drawn onwards by the increasingly dramatic view of Aonach Mor ahead of us. This resulted in us being pushed too far off the optimal line of ascent and gave us a bit more work to do before we picked up the edge of Coire na Ceannain for the long rocky pull up to the 1121m spot height and the start of the main ridge action of the day.
Back down to The Lairig from the ascent up the line of forestry, the Grahams of Cnap Cruinn and Creag Dubh visible on opposite sides of Glen Spean
The Aonachs - that's amore!
This is a route I have long anticipated and never wished to squander on a poor weather day, so I was buzzing with anticipation. With the weather looking almost Mediterranean, the Italian slant was looking more and more appropriate. All that was needed now was to meet some Italians along the way! tried to recall if I had ever met any Italians on the hills and no sooner had the thought popped into my head than I was instantly transported back in time to a very surreal evening years ago in the house next to the bothy at Callater Stables, where two rather bewildered looking Italian TGO challengers were speed drinking whisky with the "locals", one of whom was washing his private parts in the kitchen sink! Suddenly I regretted my initial line of thought!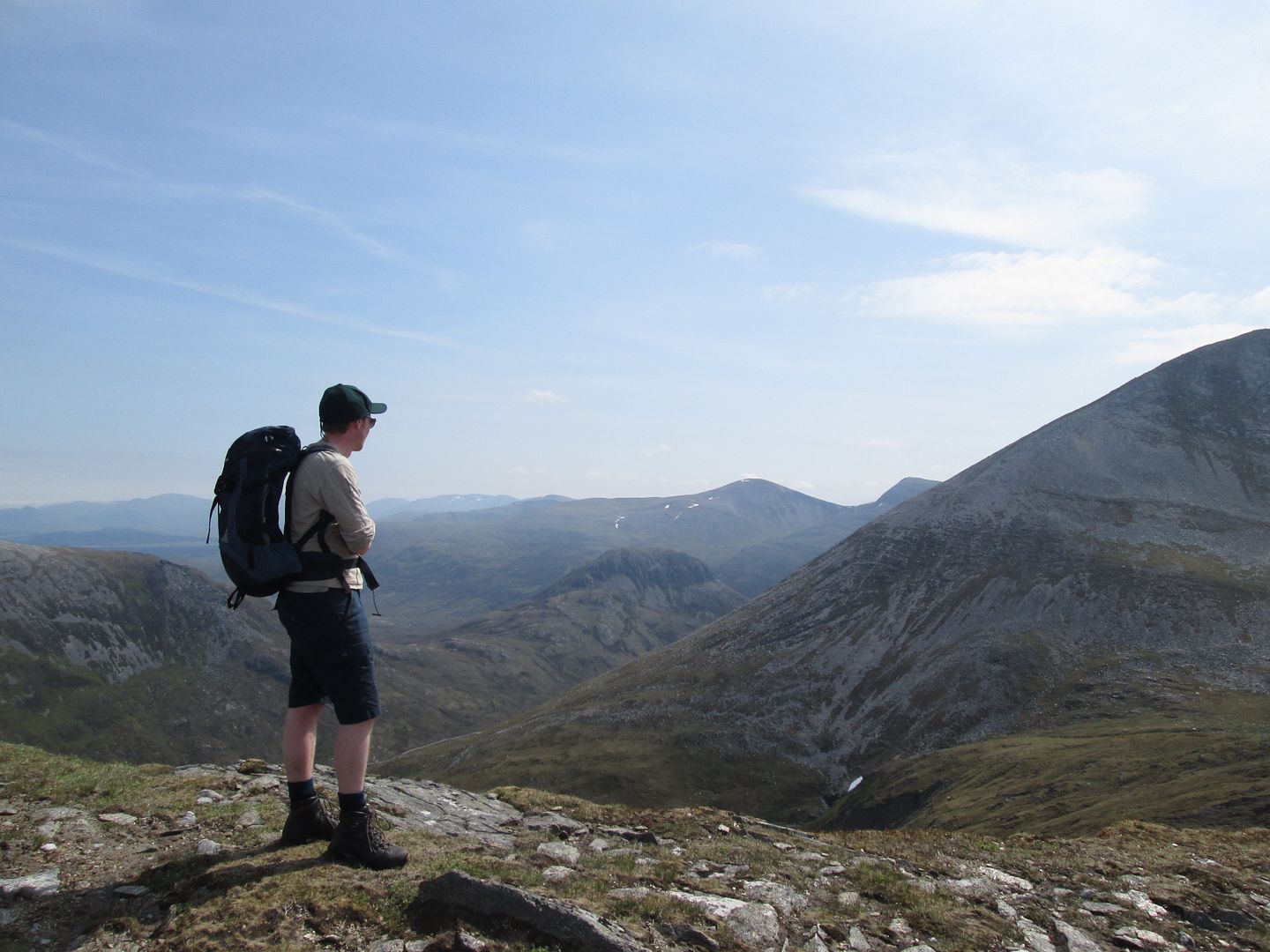 John looking out over Coire na Ceannain to the northern face of Stob Coire na Ceannain with Cruach Innse and Sgurr Innse in the middleground and the Easains in the background
Back down the ascent ridge along the edge of Coire na Ceannain towards Stob Coire Gaibhre with Loch Lochy and her Munros in the background
Bruce partaking of some antipasto at the 1121m spot height with the rest of the route stretching out behind him, Aonachs and the Ben providing the backdrop
Between the 1121m spot and Stob Choire Claurigh, Aonachs and Ben in the background
John picking his way along the northern summit ridge of Claurigh with the 1121m spot height and Stob Coire na Ceannain in the background
Bruce on the final approach to the first Munro of the day
Summit cone of Claurigh with the Grey Corries spine stretching out behind it, Eastern Mamores, Aonachs and Ben in the background
Bruce and John at the summit of Claurigh
John and myself
Looking east along Glen Spean - Sgurr Innse looking tiny and insignificant in the middle ground amongst some big boys
Bruce and John leaving Claurigh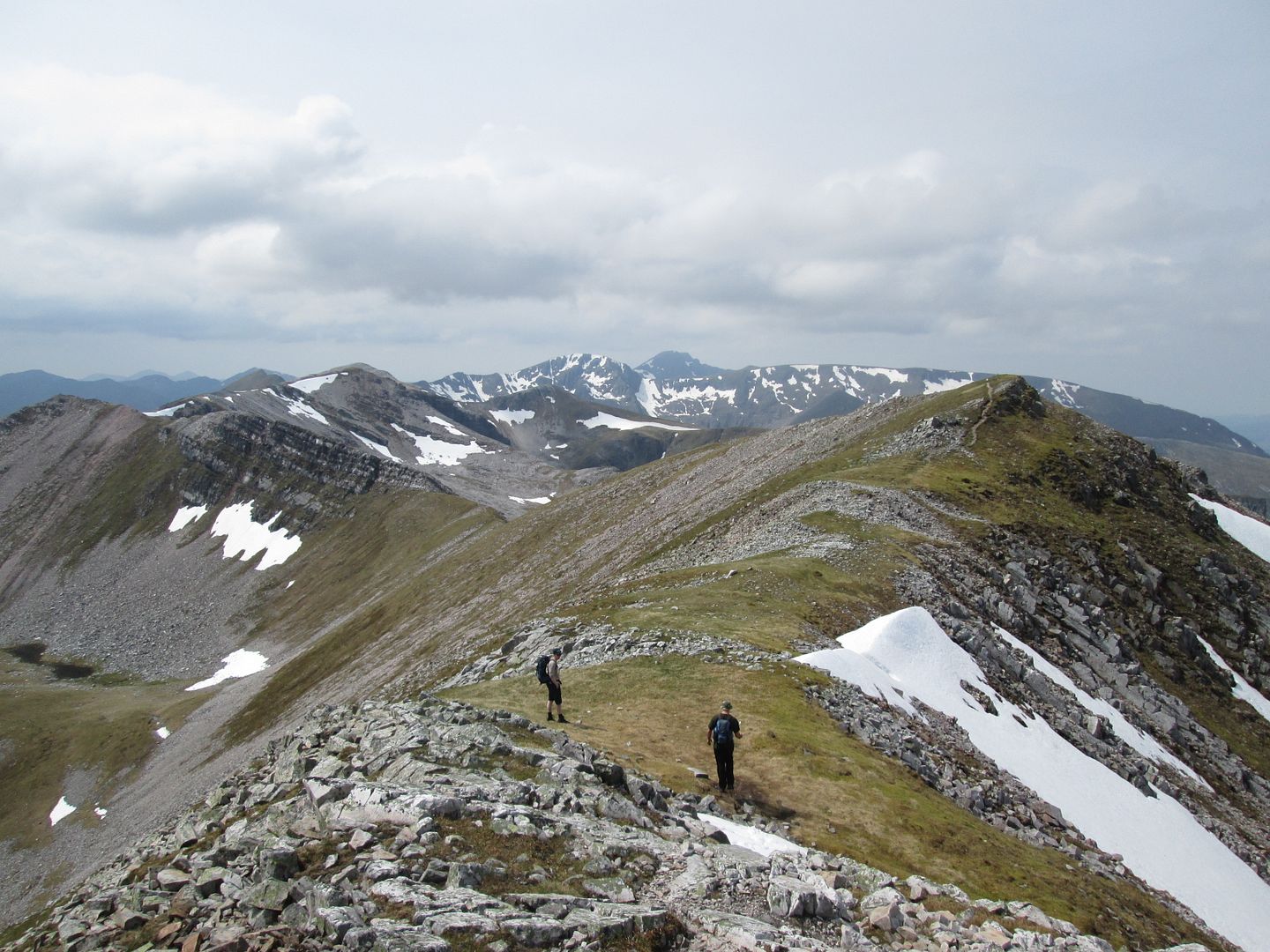 La Dolce Vita on the approach to Stob a'Choire Leith
Looking back to Claurigh
Remind me, why they are known as the Grey Corries?
Stob Ban
Mi piace il grigio!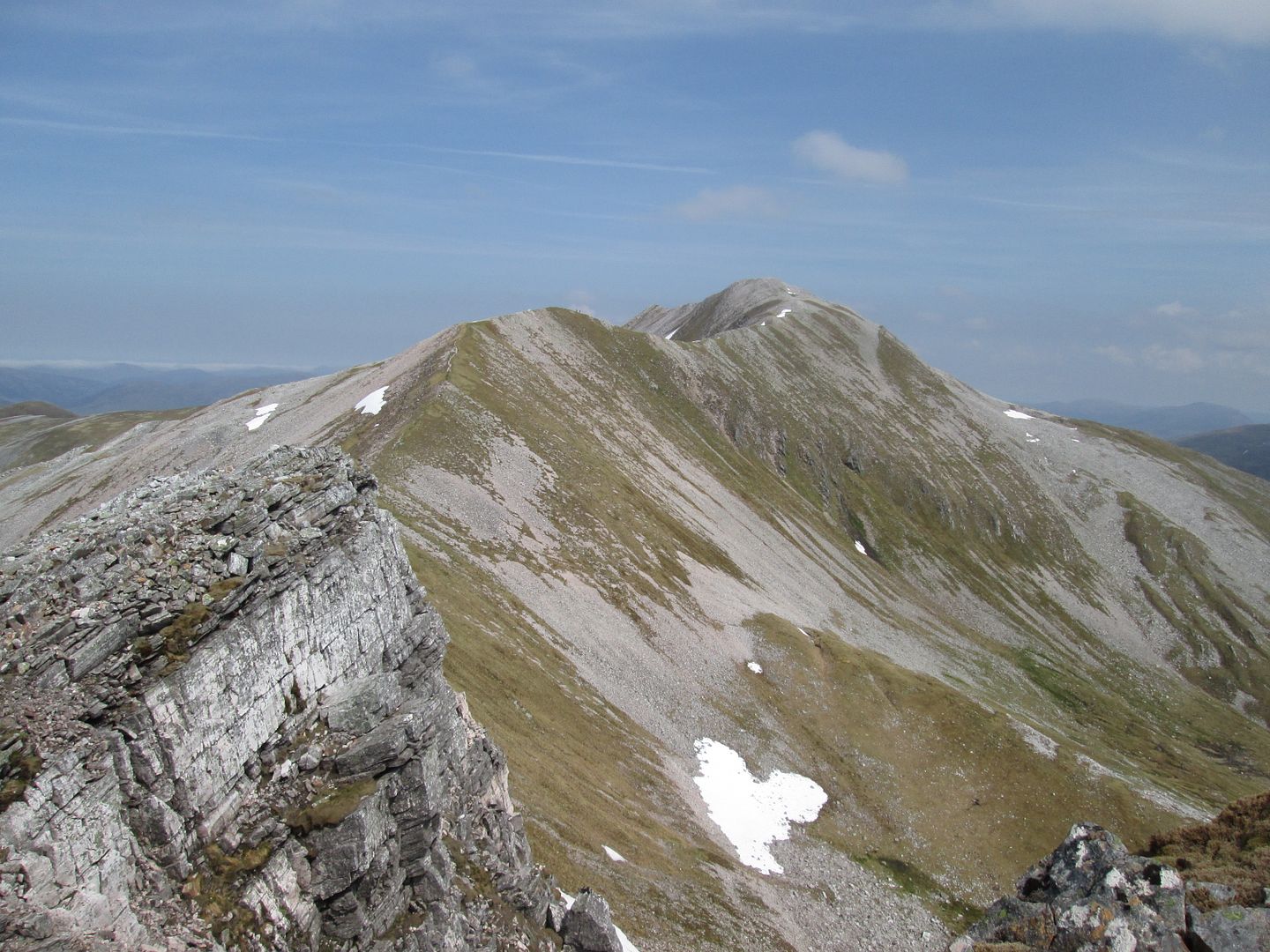 Back to Claurigh from the cliffs of Stob Coire Cath na Sine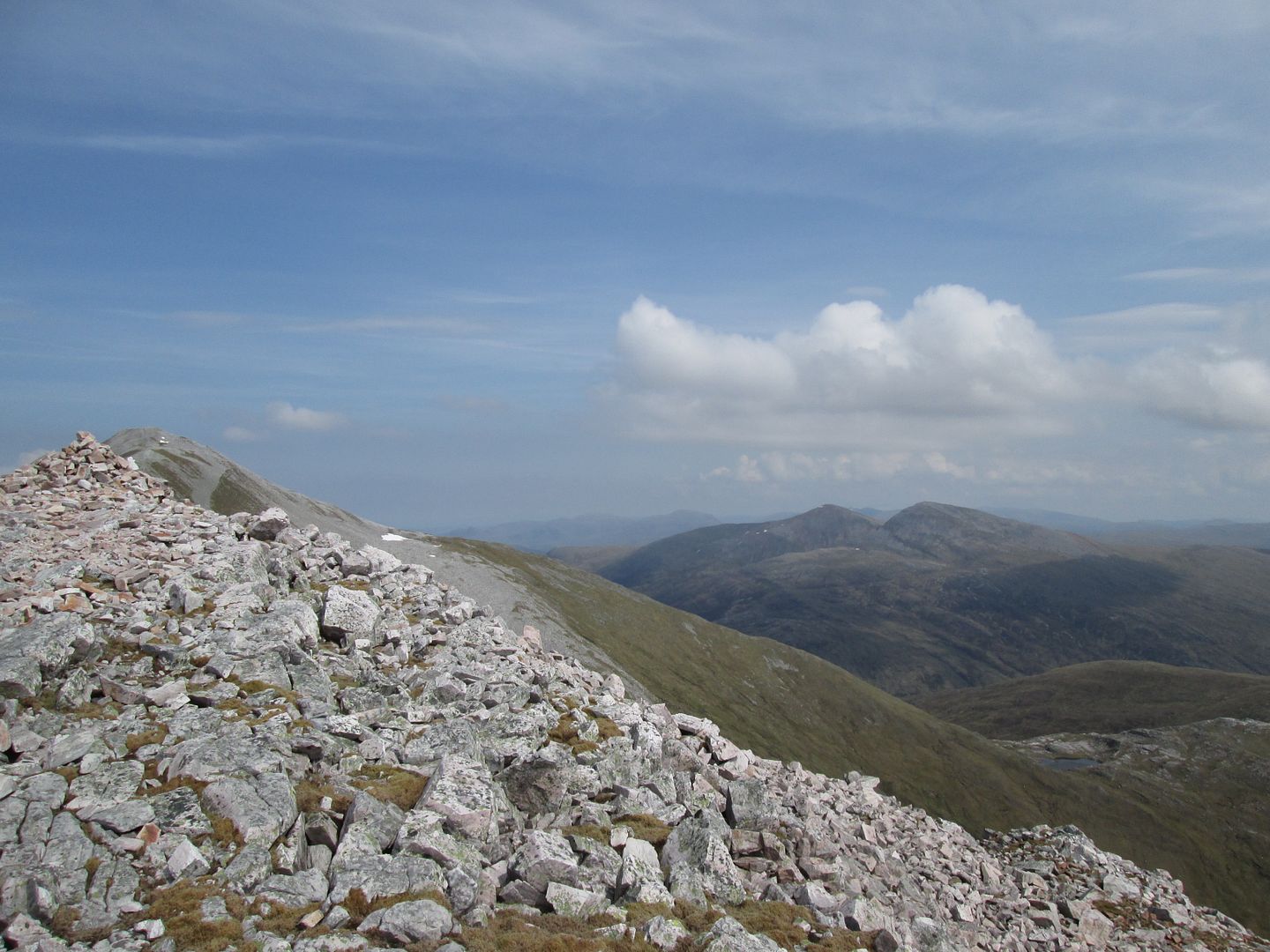 Claurigh, This Yin & That Yin and Lochan Coire Rath from Stob Coire Cath na Sine
Ah shaddappa yer face! John and Bruce exchanging thoughts on Stob Coire Cath na Sine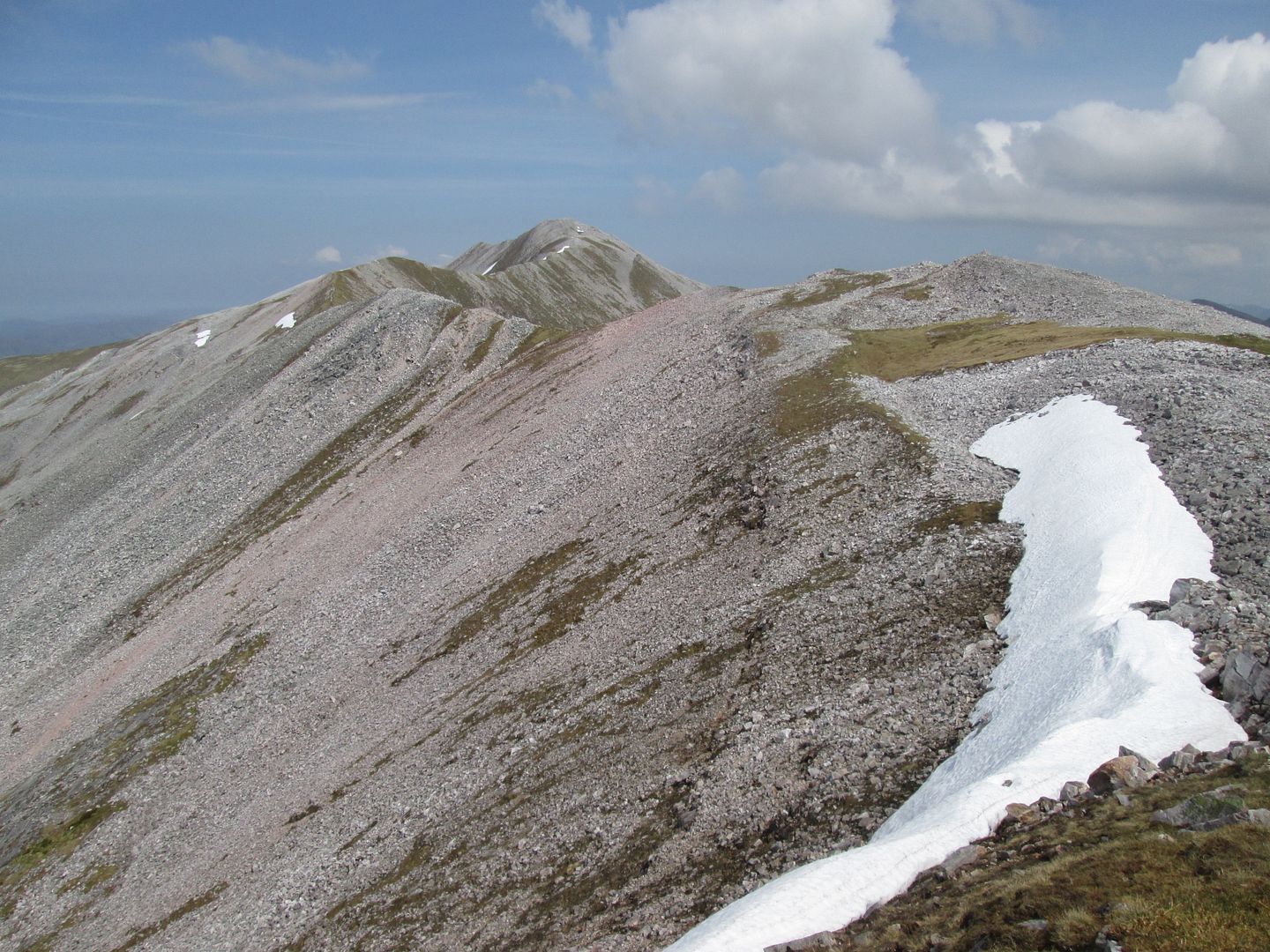 Mamma mia!
Bruce traversing The Castle with Stob Coire an Laoigh and her dark northern cliffs dead ahead
The final pull up to Laoigh and the connecting ridge to Stob Coire Easain, the Aoanachs and the Ben still providing the backdrop to the day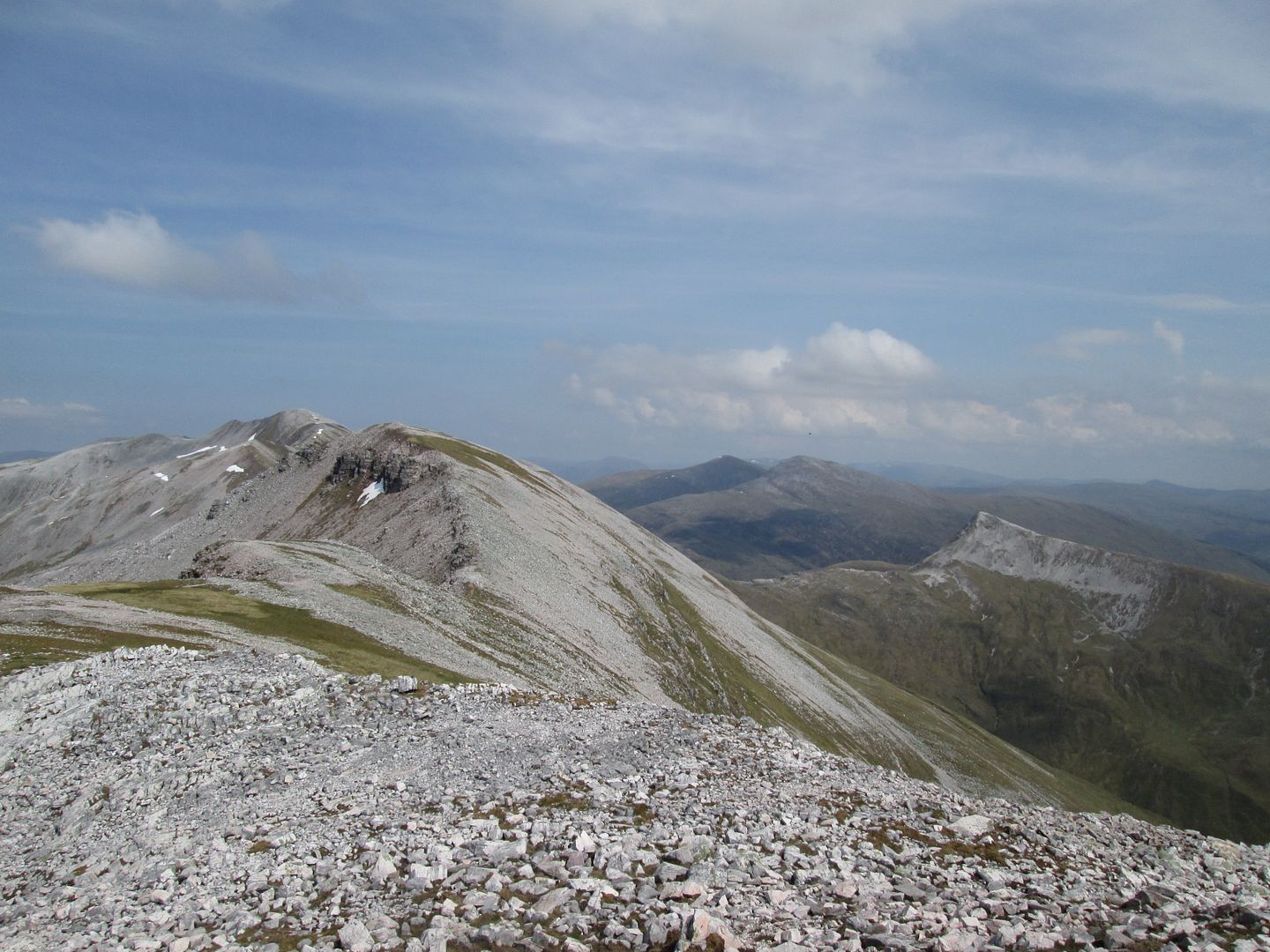 The north east half of the Grey Corries ridge with Stob Ban and the Easains in the background
Un quadro in grigio
A rather far off looking Claurigh from Laoigh
I tre amici - group mugshot on Laoigh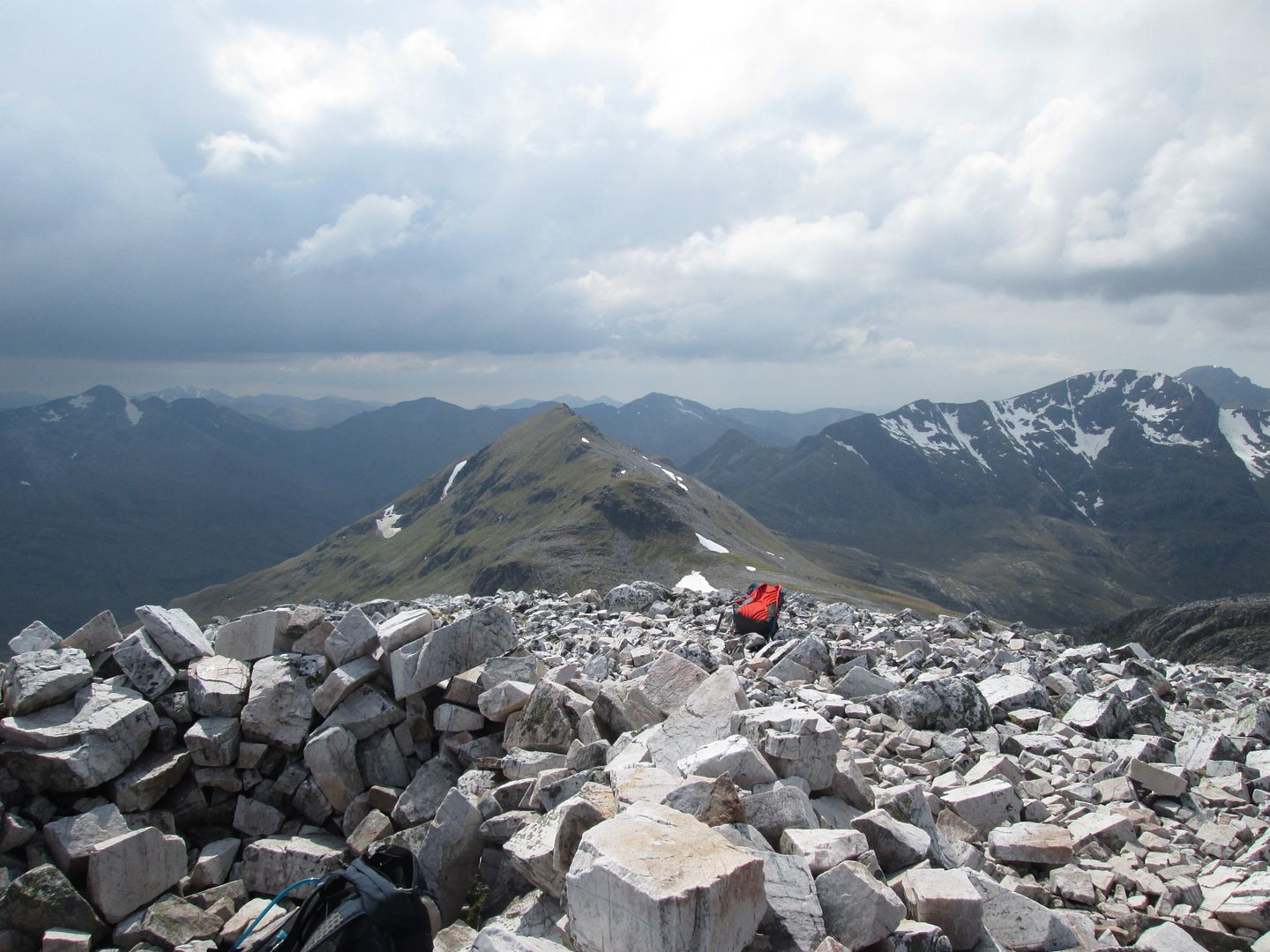 Sgurr Choinnich Mor from Stob Coire an Laoigh and a splash of colour in a world of grey
Sgurr Choinnich Mor from the Laoigh/Easain bealach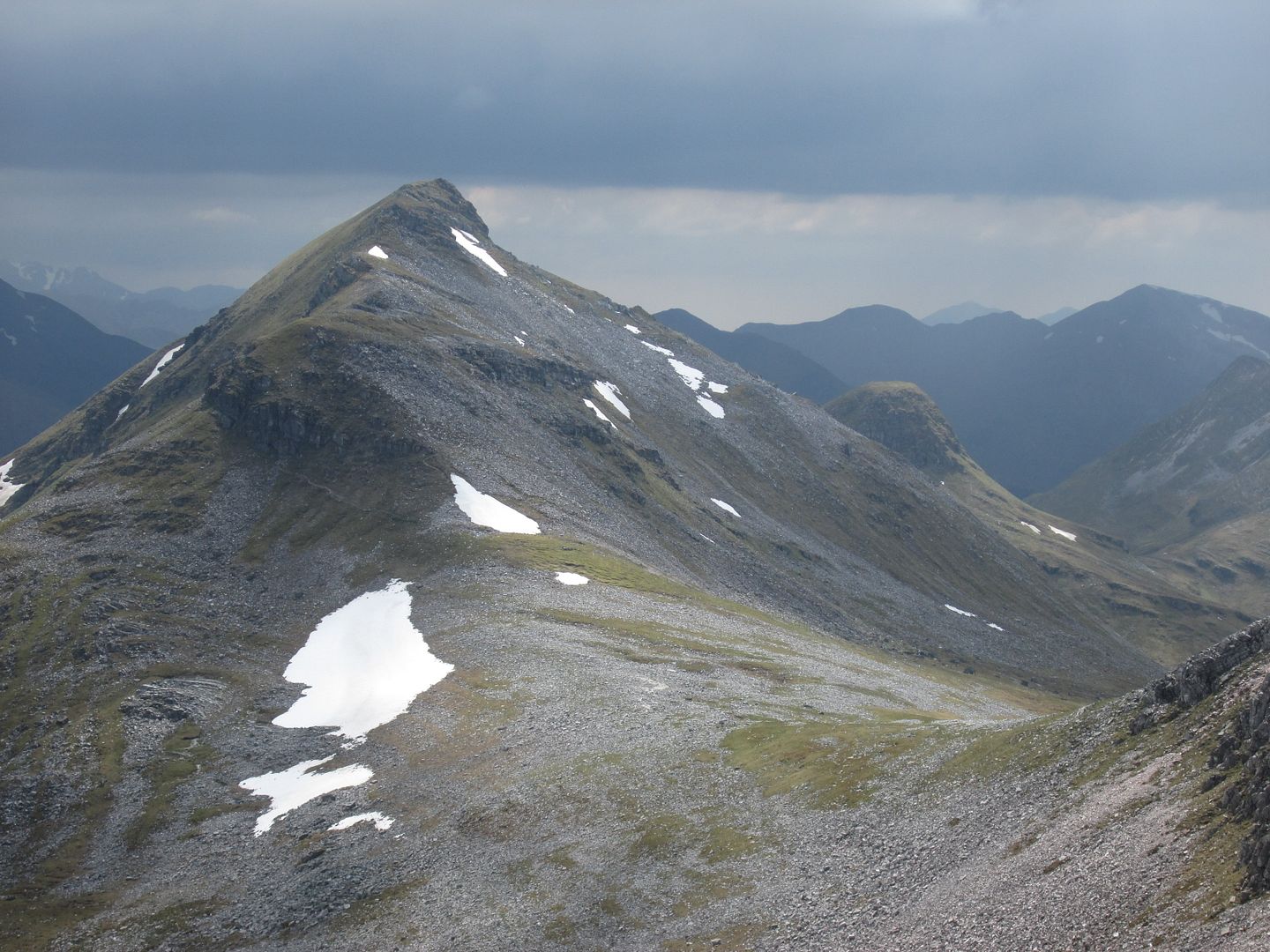 SCM zoomed with her bambino Sgurr Choinnich Beag peaking out from behind
SCM from the summit of Easain, Binnein Mor prominent amongst the Eastern Mamores in the background
Claurigh to Laoigh and the whole shebang in between from the summit of Easain
Sadly (or perhaps fortunately), no Italians were encountered although we did keep passing/being passed by a couple of English guys who we shared a bit of banter with throughout the day. Then a familiar face popped up just as we were heading off Stob Coire Easain and heading for the third Munro of the day. It was GillC, as expected. Then came Tomsie, quickly followed by Callandergirl who had joined them for the day.
We chatted to them for a wee while and learned that Gill and Lynne had polished off a bottle of bubbly between them on an earlier summit, to celebrate the former's 250th and the latter's 200th. If you ask me, neither of them look a day over......, no better not say that!
It did make me reflect on my own progress on my Munro journey though. Last August, a mere 10 months ago, Gill, Tomsie and myself (along with ScotJamie) had climbed Ben Wyvis together. Both Gill and myself had reached the same number that day. It was 181. Gill was now over the 250 mark and talking about compleation as early as September. By the end of today, I would be on 192.
We bade them farewell and started down the slabby descent to the bealach below Sgurr Choinnich Mor. SCM feels a bit apart from the main Grey Corries spine but it undoubtedly has the most character as a mountain in its own right. It also has a real sense of belonging more to Glen Nevis than to Glen Spean.
Slabby descent from Easain
Approaching the third and final M point of the day
Job nearly done - Bruce on the ridge up ahead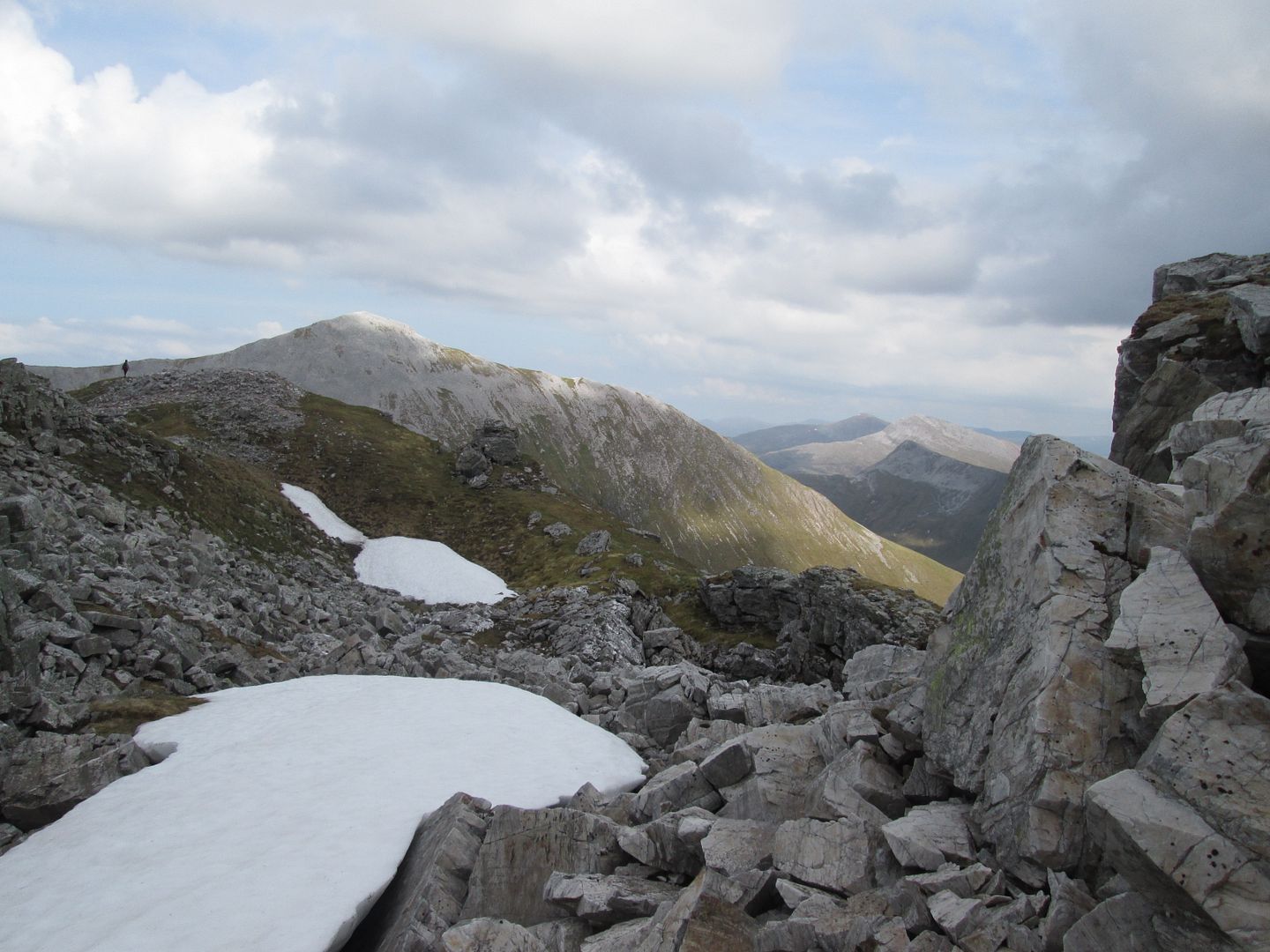 John bringing up the rear - Laoigh, Stob Ban and Easains in the background
Easain and Laoigh from the ascent of Sgurr Choinnich Mor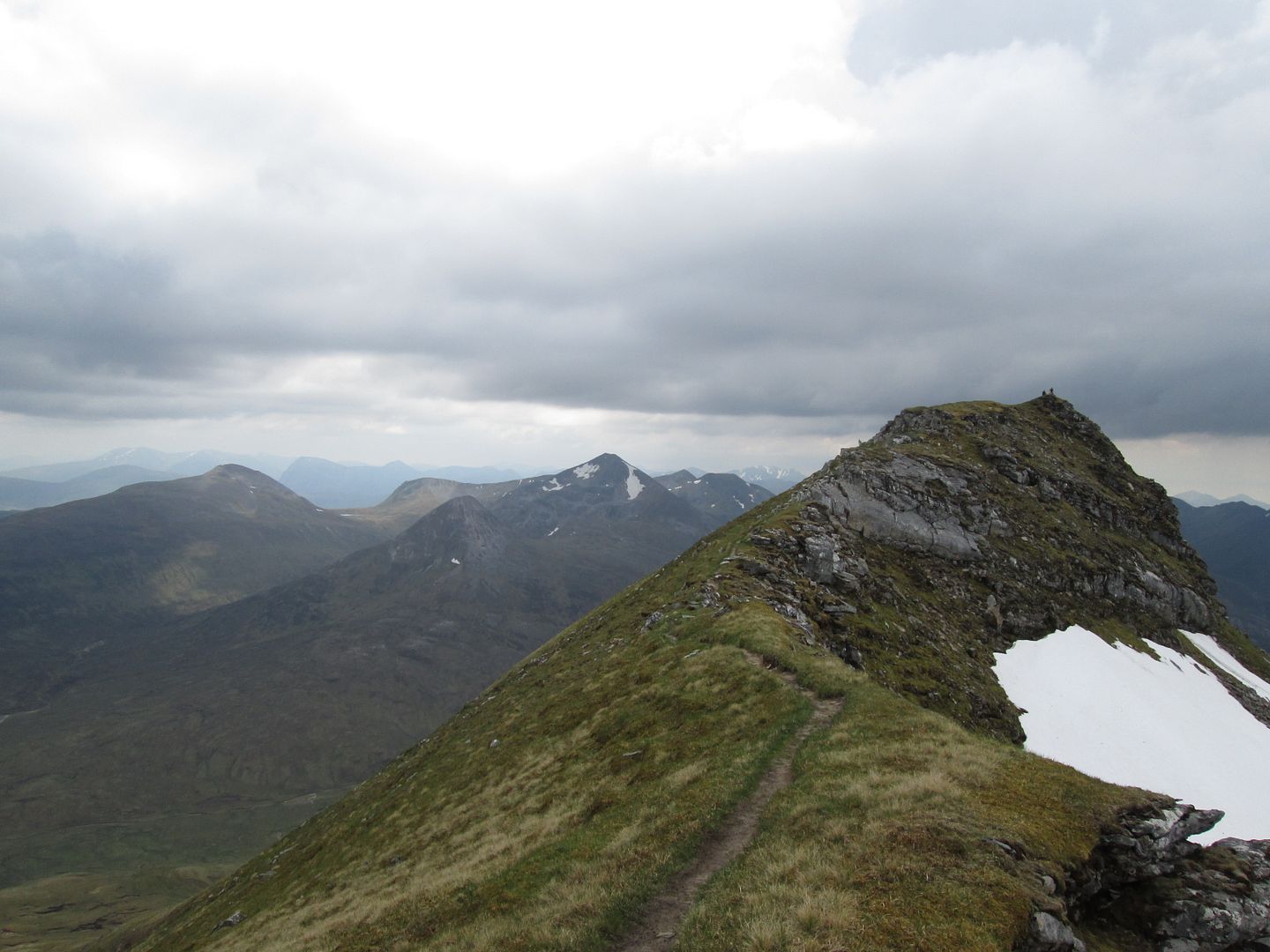 Bruce and an Englishman on the summit
By the time we reached the summit, there were a few heavy drops of thundery rain but thankfully it came to no more than that, the dark looking clouds that had been massing over Glen Nevis and the Mamores choosing to move along in another direction.
An older couple appeared on the summit just as we were preparing to make tracks and, seeing the PHS Outdoor Education logo on the top I was wearing, asked me if I was actually from Perth High. I told him that I was, to which he explained that before he retired, he did a lot of work with Angus Council Education Department and that anytime he was out with kids, he told them that if they ever got themselves in any trouble with the law, they were to say that they were from Perth High School. I laughed and told him that I employ similar tactics, except that I instruct our kids in such circumstances to say they are from Perth Academy!
Bruce and a bloke from Auchinleck on the summit
We retraced our steps to the bealach where we weighed up our options - reascend up onto Easain or try to contour round to the west on a steep scree field to then ascend up onto the descent ridge via Beinn na Socaich. I am not sure it was the best tactic, given the difficulty involved in negotiating the seemingly constantly moving scree slopes. John later said that this was the highlight of the day for him, but a little part of me cannot help but feel that he may have been taking the Michael!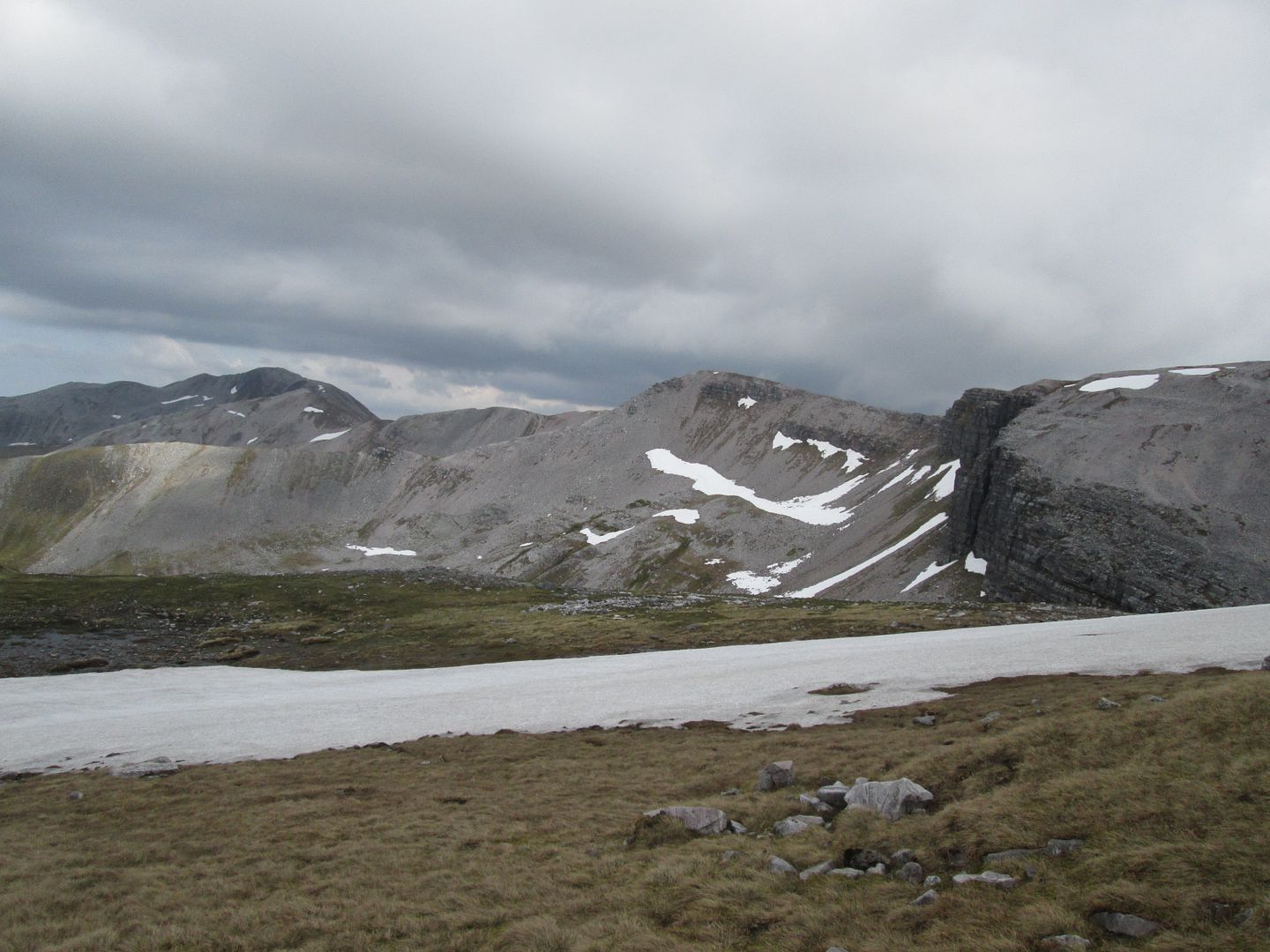 Eastern section of Grey Corries ridge from the descent over Beinn na Sochaich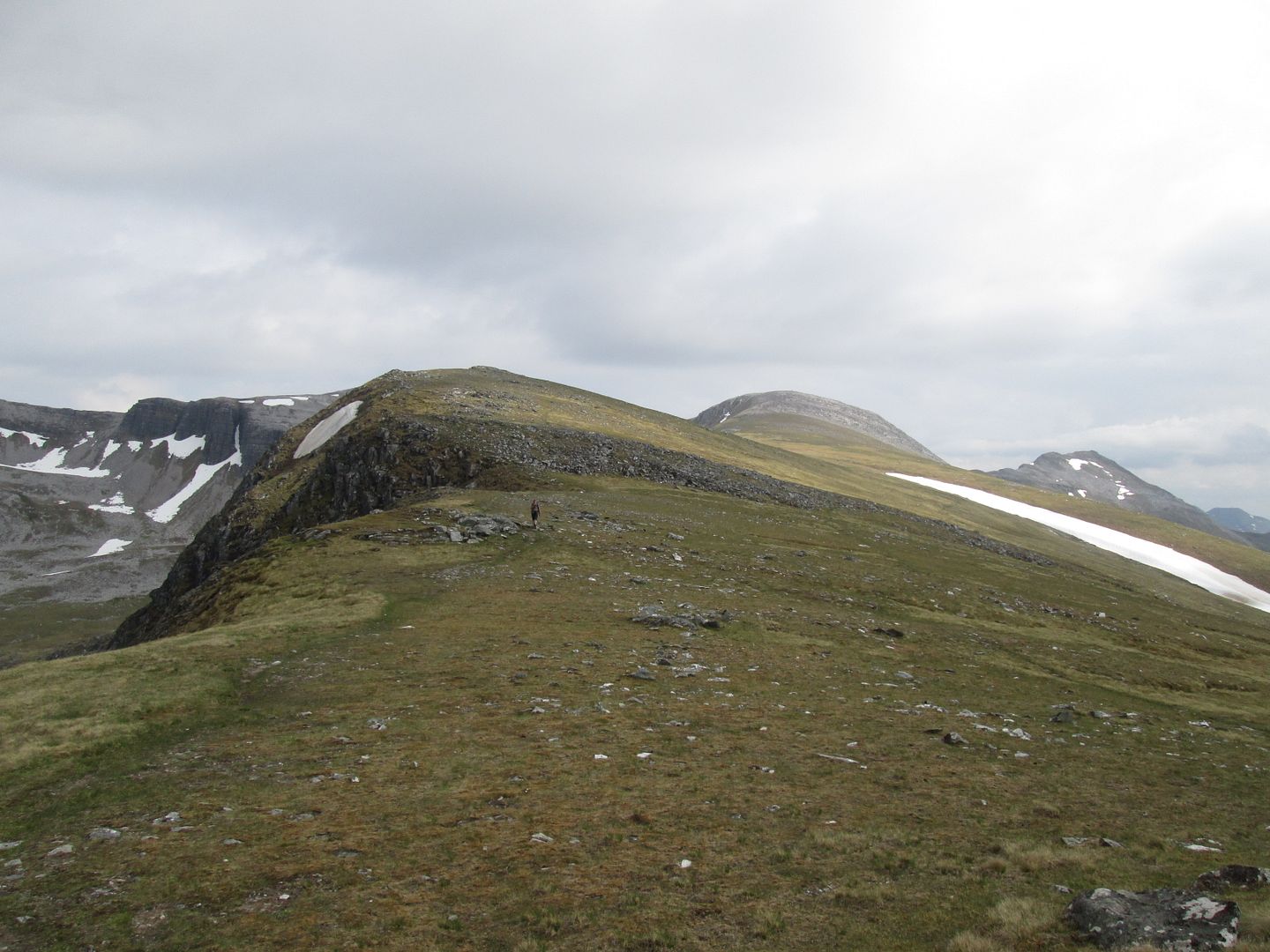 John descending Sochaich
From the relative comfort of the north ridge of Socaich, we swept down into the increasingly Alpine feeling Coire Choimhlidh. We located the dam on the Allt Choimhlidh but upon closer inspection, there was no way we were walking over it. A walk across a rather crumbly looking structure with a narrow, bevelled top and a drop of a good 50 feet or so into a skanky looking pool of brown water in an otherwise dry looking water course did not appeal at this point in the proceedings, so we walked a short distance back upstream where we found both the two English blokes and a much safer crossing place.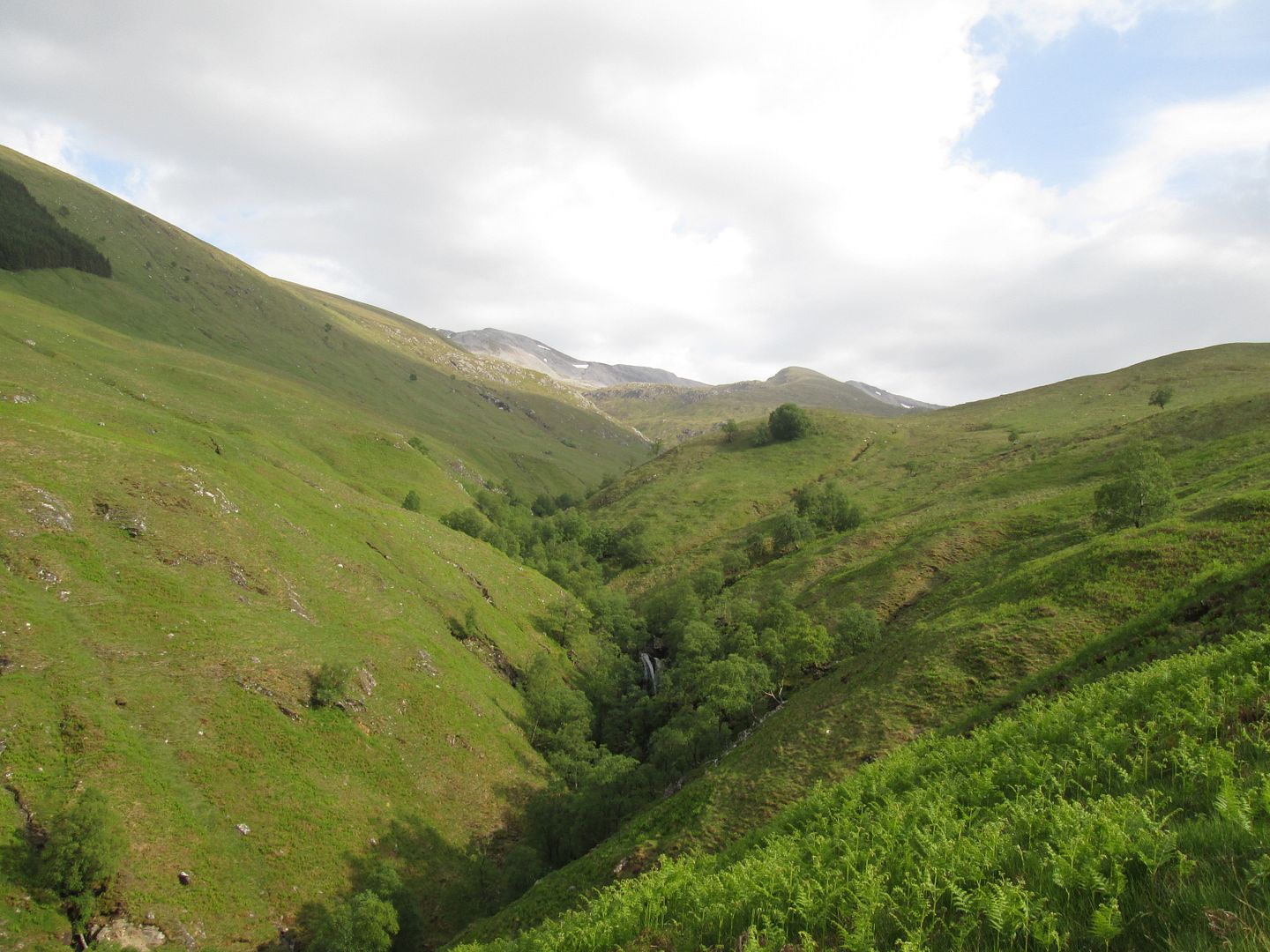 A vaguely Alpine feel from just above the dam
From there we walked the half kilometre or so north along the track to pick up the line of the old tramway which led us after a couple of clicks back to the cars and the end of our day.
Not quite though, because after a few texts and phone calls home, we all managed to secure a late pass and so decided to head for a few beers. First of all we had to find some dinner, so set out on the hunt for some fish suppers. I had mentioned to the guys that it would be better to head to the Roy Bridge Hotel (good) for a pint rather than the Spean Bridge Hotel (shite), however knowing that we would not find a chippie in Roy Bridge, and not wanting to have to come back to Spean Bridge, we decided to try to find a chippie there first. Our thirst would just have to wait!
A big sign outside the Spean Bridge Hotel advertised fish suppers available from the bar. Despite my reservations about the establishment, based on prior experience, we decided to avail ourselves. We could always have a quick pint there while we waited before having our food and then stopping off at the Roy Bridge Hotel on the way home.
Well, I don't quite know where to start! Let's begin with the fact that there had been a cycling event going on somewhere near Fort William and their punters were descending en masse just at the same time as we got there. Maybe if we had known just how incompetent the service was going to be, we would have gone elsewhere or at least been quicker to get in early. Instead we faffed around a bit and I went to the cash machine before we went inside and ordered our food. We ordered a pint each, fully expecting our food to have arrived before we finished them, so that we could finish our pints while we ate our food at one of the tables outside. Well, that first pint didn't last too long, so John and myself had to order a second one. By this stage it was becoming clear that we had wandered into some kind of Highland Twilight Zone! OK, it was quite busy, but nothing that a competent staff or management shouldn't have been capable of dealing with. We watched with increasing incredulity (and growing unease) as Daniel and Cristian, the two Eastern European bartenders went at each others throats, while the clientele grew more restless (not to mention more hammered!)
The Fawlty Towers double act of Daniel and Cristian kept their incompetent routine going for a bit longer, fielding all manner of queries from punters who were "curious to know how it could take so long to produce a fish supper". On more than one occasion, the old dear doing the frying in the kitchen came out and called out a delivery only to be met with stony silence. Presumably the intended recipients had wandered off out of boredom and missed their slot. Eventually people just started taking anything that emerged from the kitchen. More and more people wandered around in a state of advanced inebriation, confusion and hopelessness as their food failed to arrive. Some had no idea that their order had long since left with other punters, others were too afraid or too far gone to tell them what had happened. Eventually, just as a full blown riot was about to break out and Daniel and Cristian were about to be strung up, the old dear from the kitchen emerged and took control of the sorry situation.
Eventually our food arrived. By this stage I believe that John and I were four pints to the good with little more than that in our stomachs. We picked our way through the disgruntled assembly of punters to the outside tables. A group at one table cheered as we passed by with our food. "I was teetotal when I went in there" I replied. "Now look at me!!!!"
By the time we had eaten our food (which was actually very good despite the issues), we decided another stop was inadvisable, so John and I popped into the Spar for a few beers for the road. Four bottles of I&G later and we were home. The walk up the drive and into the house was almost as difficult as the round of the Grey Corries itself, but then I blame that entirely on the Spean Bridge Hotel.