After yesterday on the Snowdon Horseshoe, another fine evening was had in the Bryn Tyrch Inn, including the comical penalty shoot out of the Italy-Germany quarter final and the quiz, won by Together Stronger, fighting off the lacklustre competition provided by the Young Ladies, the Tryfannies and God Bless R Souls.
Most folks were making tracks for home on the Sunday morning but I had a pass out until Wednesday. Tryfan and the Glyders were high on the to-do list and Hugh was also keen to do this before heading back north that evening. We bade farewell to those about to head home and headed ourselves for Llyn Ogwen and the foot of Tryfan.
Kissing gate at the start
There were plenty cars parked up along the roadside but other than one other chap on his own, we appeared to be the only people picking our way up the shattered craggy face of Tryfan. The initial ascent is straight up, no concession to a gentle ease in. In terms of a route up, sketchy would best describe it, non existent would be more apt. I guess any official guides would simply suggest going up by whichever means seems appropriate!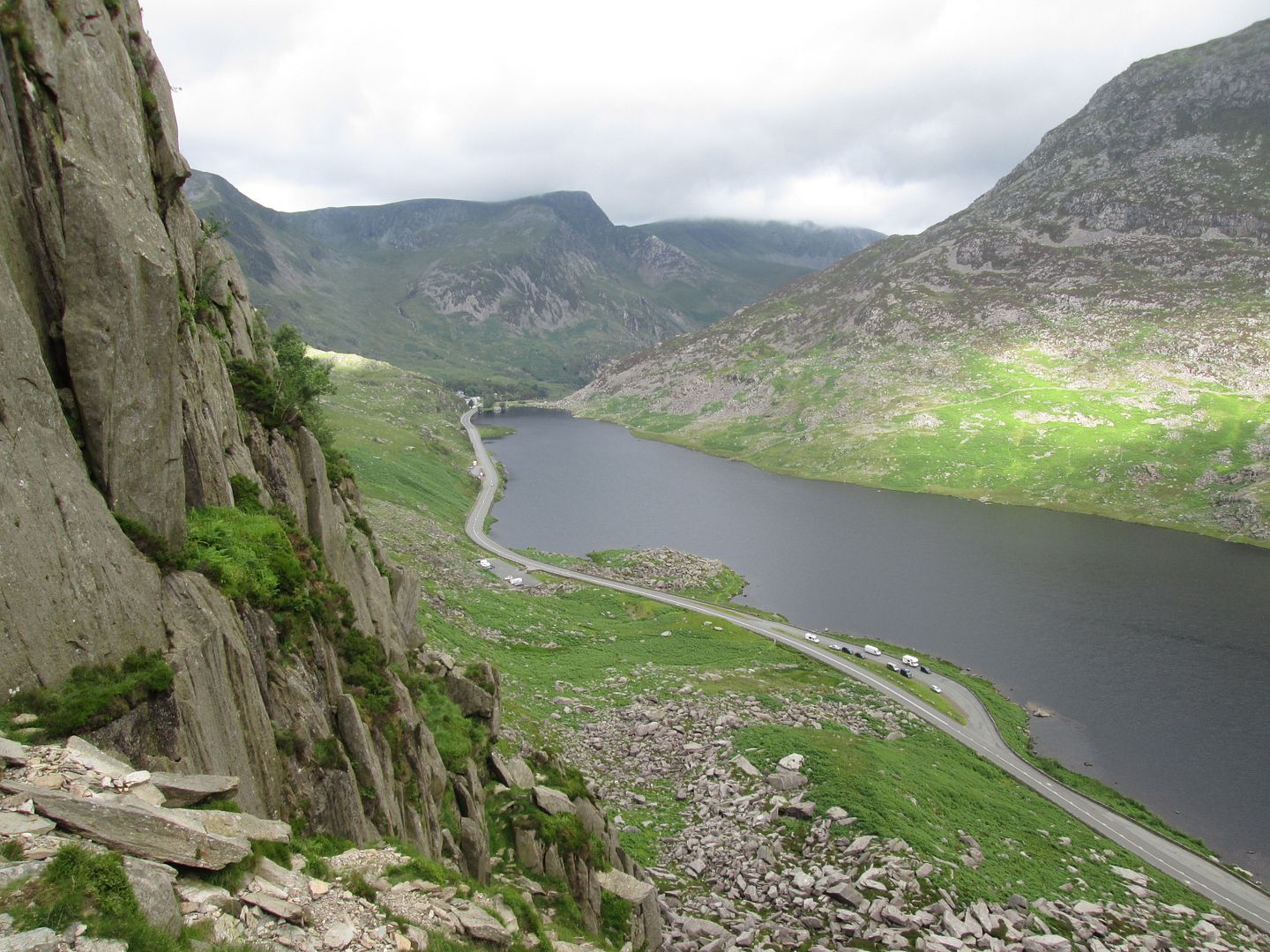 Llyn Ogwen
No Pyg Track for Hugh today
Hands were being fully occupied and a bit of backtracking took place every so often, most notably when Hugh lost a personal battle with a tree, but otherwise good progress was made. We failed to find the so called "Cannon" at close quarters but enjoyed epic views across to Y Garn and over to the Carneddau.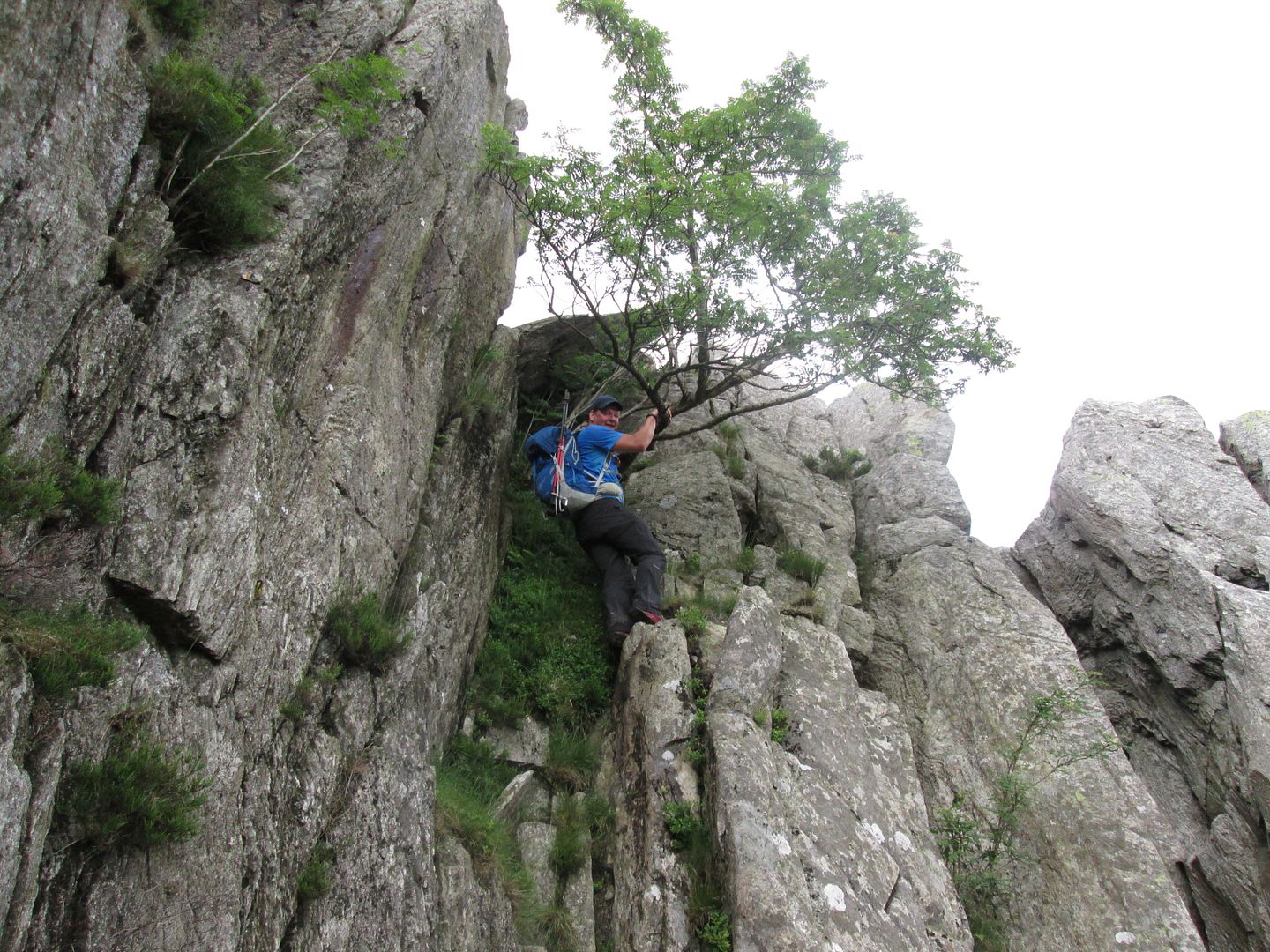 Hugh doing a spot of extreme tree doctoring
Back down to the eastern end of Llyn Ogwen
Pen yr Ole Wen across Llyn Ogwen
A riot of shattered rock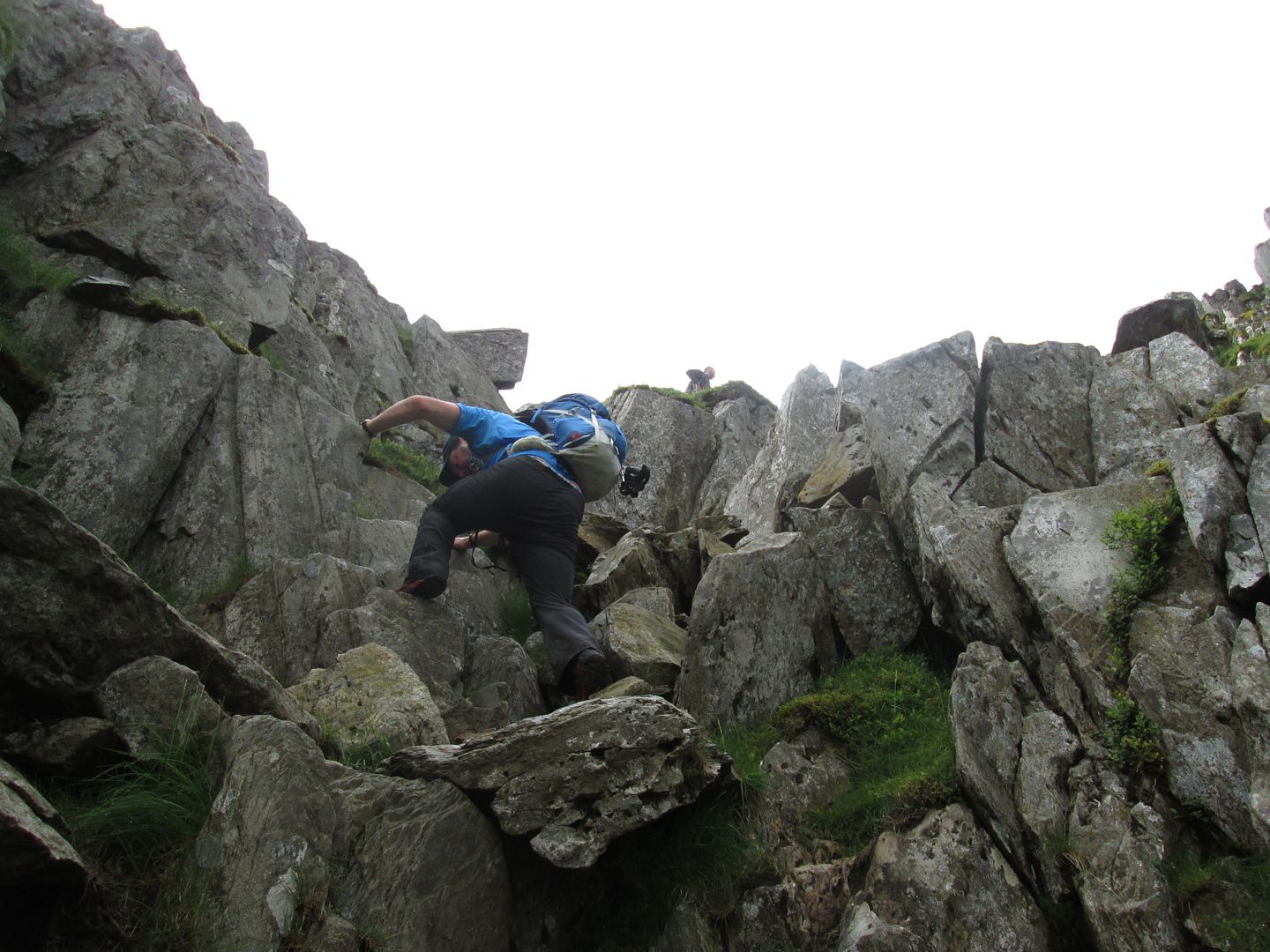 Hugh arsing around in another chimney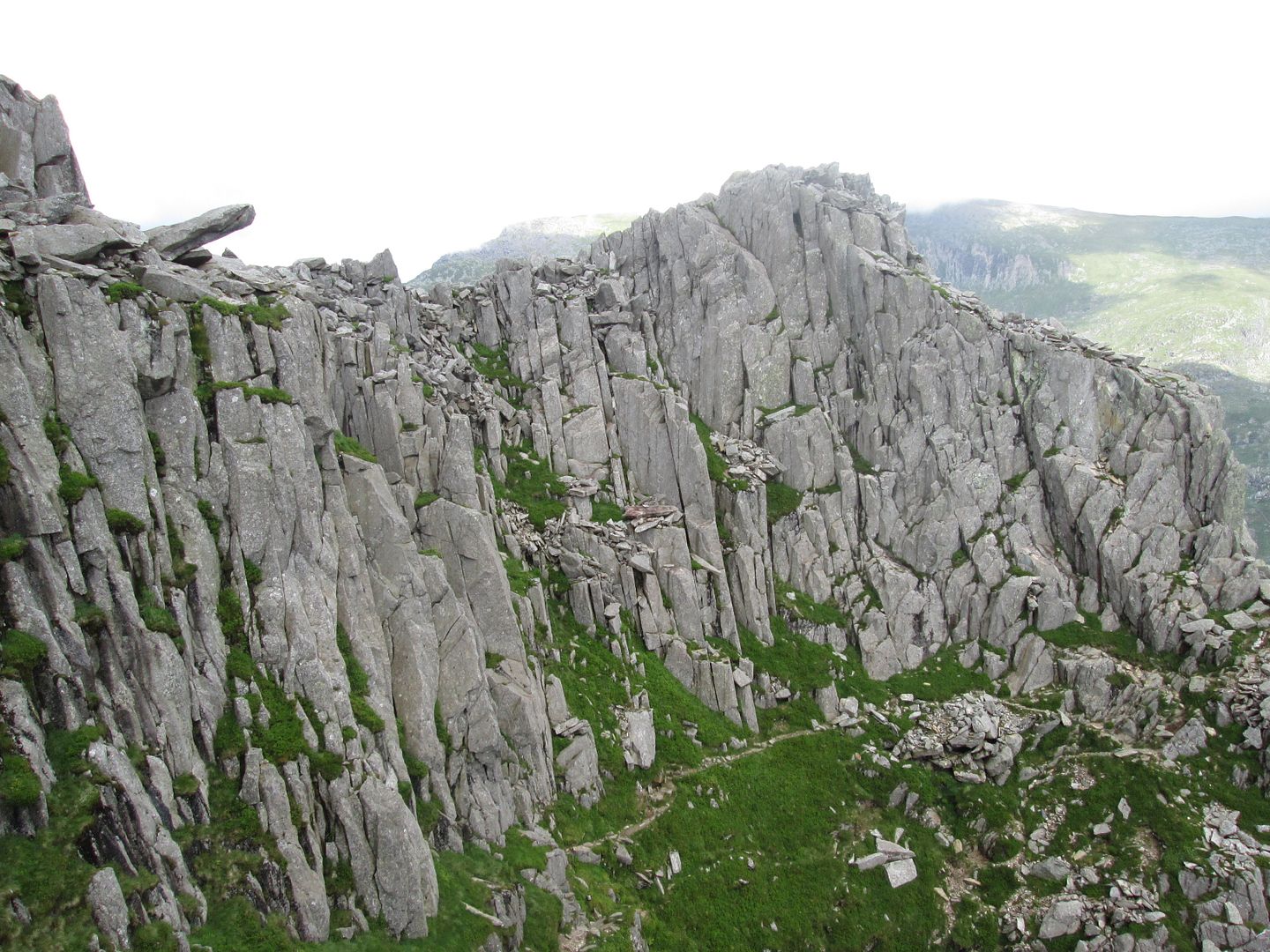 Don't know if this is "the" Cannon but it sure looks like a cannon to me
Our route towards the summit seemed to actually take us round behind the summit itself, so eventually we reached the boulder strewn summit from the rear, after passing a group of three Eastern European sounding chaps who seemed to be making excessively hard work of things. A surprising number of people were already sitting around enjoying the fine weather and a bite to eat. A couple of young guys were sizing up Adam and Eve, one of them eventually clambering up but deciding against the leap from one to the other. Once he came down, I clambered up myself but reached a similar decision about the wisdom of leaping across the gap.
Glyder Fach and Glyder Fawr
Would you Adam and Eve it!!!???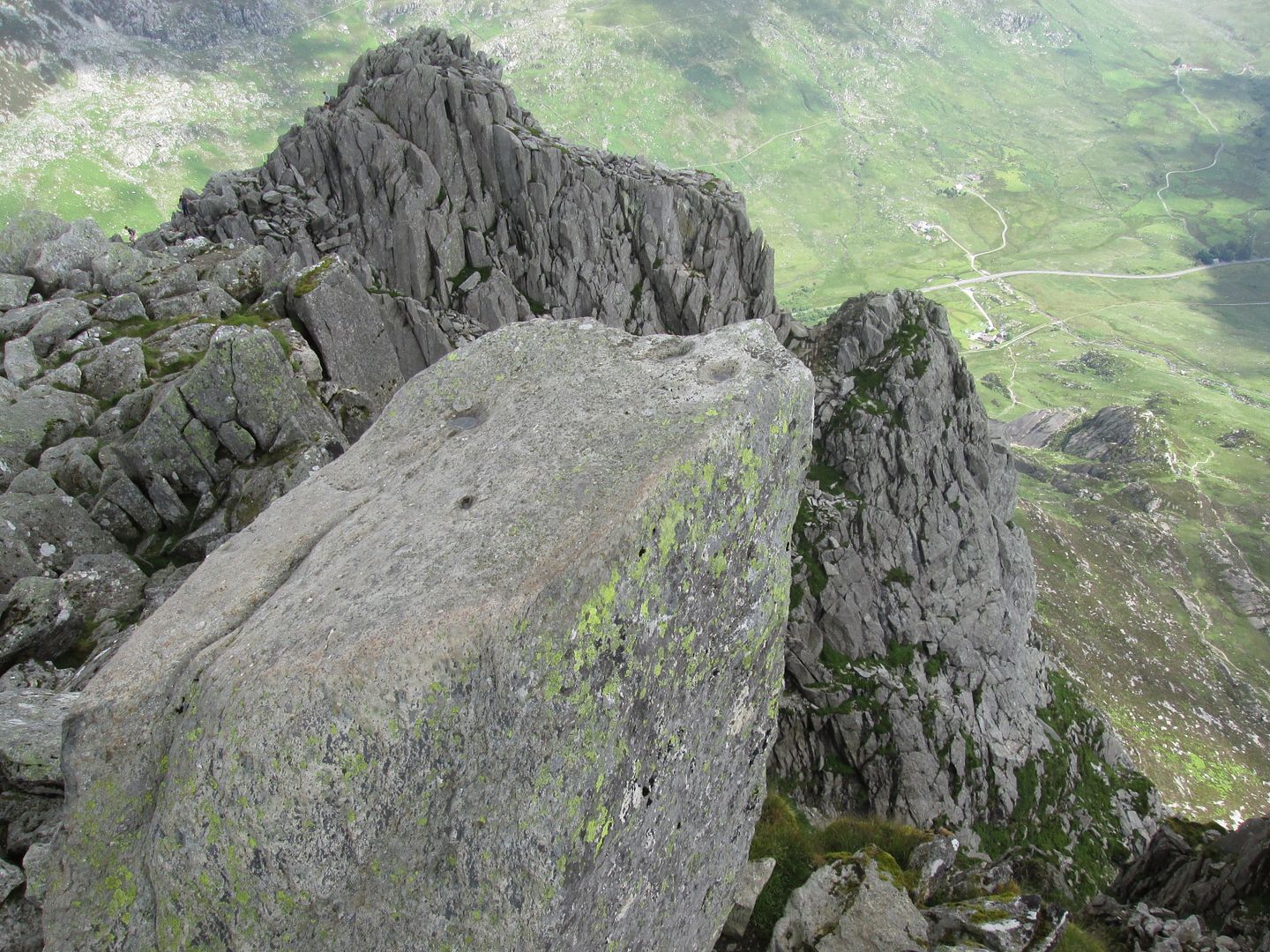 Back down from atop Adam (or Eve)
Y Garn and the northern Glyderau
After a bite to eat ourselves and a while simply sitting and taking it all in, we headed off towards Glyder Fach, home of the legendary Cantilever Stone. We had gotten a good view from Tryfan of Bristly Ridge and as we descended into the bealach between Tryfan and Glyder Fach, Bristly Ridge rose up intimidatingly before us.
Looking back to the summit of Tryfan and more folks testing their nerve against Adam and Eve
Bristly Ridge of Glyder Fach
Back to Tryfan again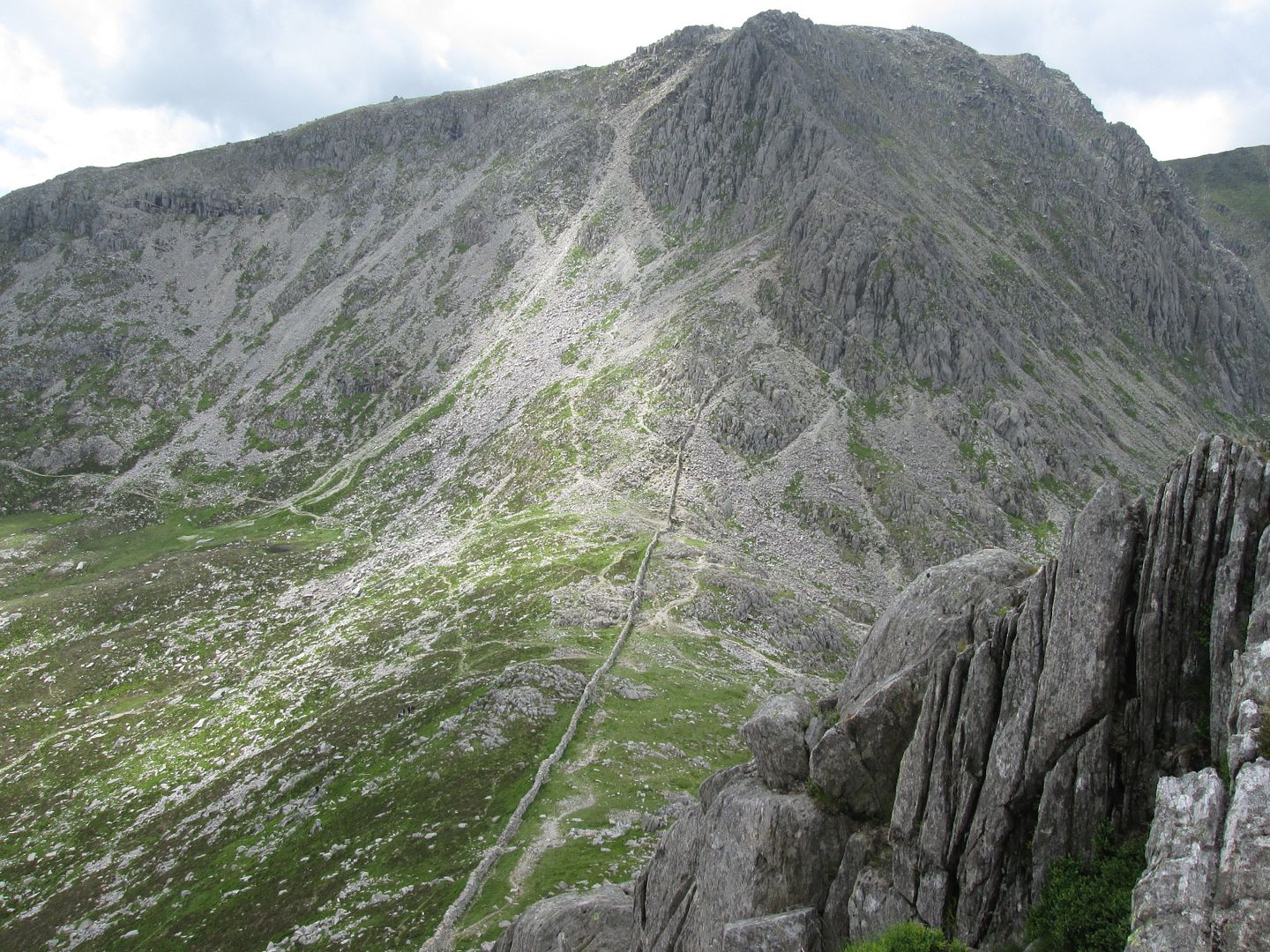 Bristly Ridge and the Tryfan/Glyder Fach bealach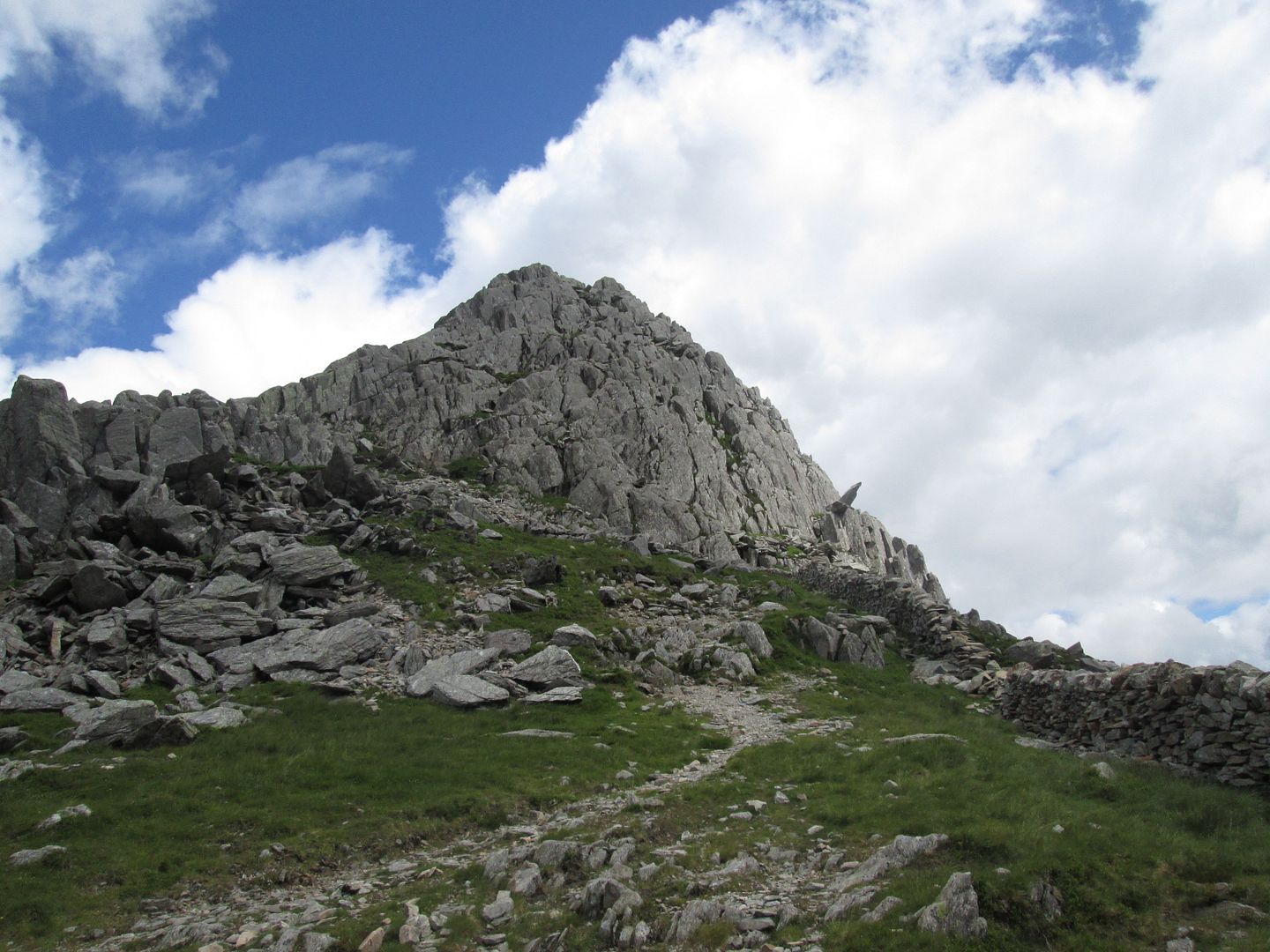 Tryfan from the bealach
Bristly Ridge
Hugh opted to avoid the ridge and took a line further left, eventually picking a line up through the scree onto the summit plateau. I decided that I hadn't had nearly enough scrambling opportunities over the past 24 hours or so and headed up Bristly Ridge. The ridge offered fantastic, airy scrambling with a lot of exposure in places but always plenty good hand and footholds and usually several options to choose from. Some of the chimneys were huge!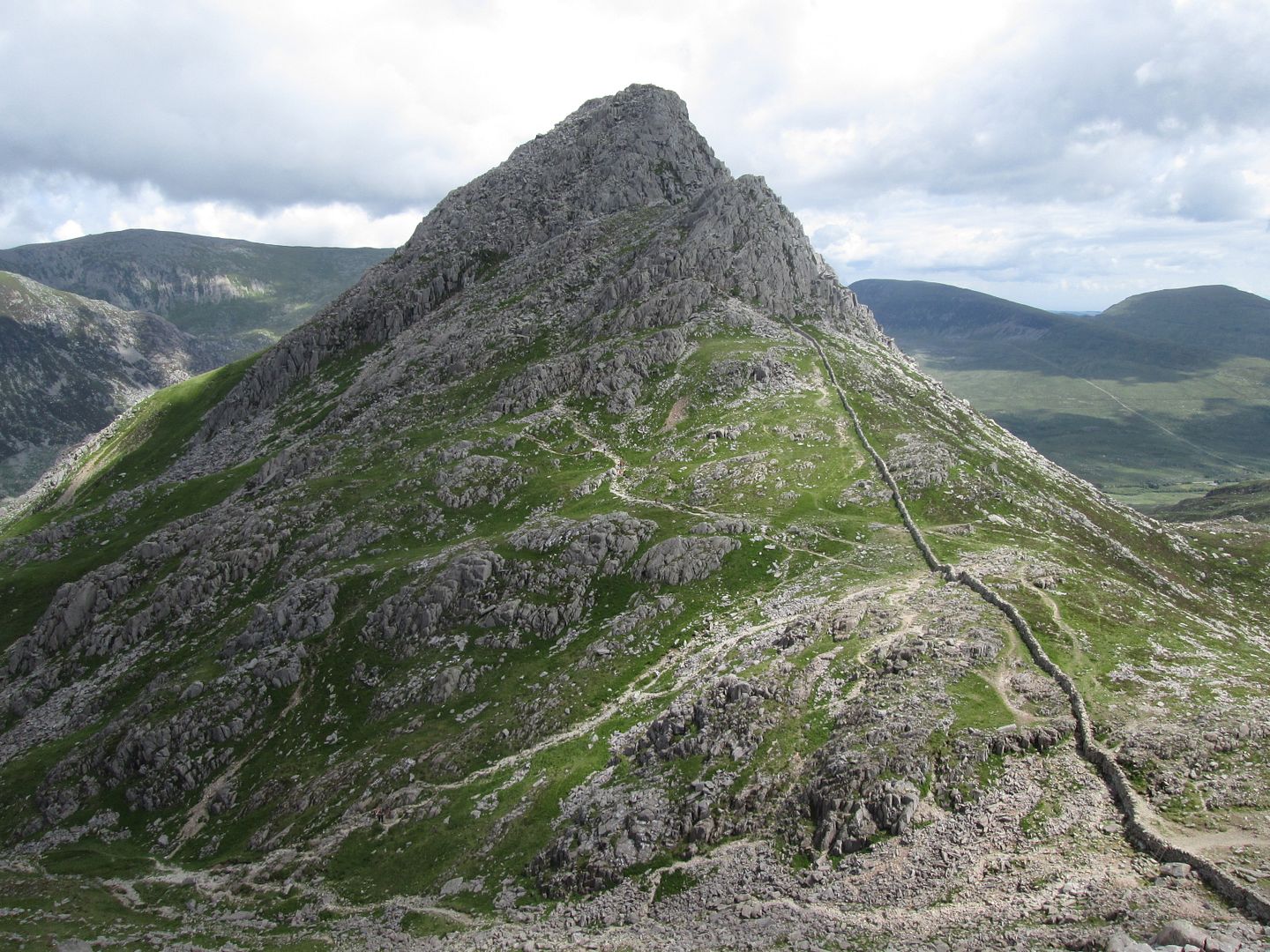 Tryfan in all her glory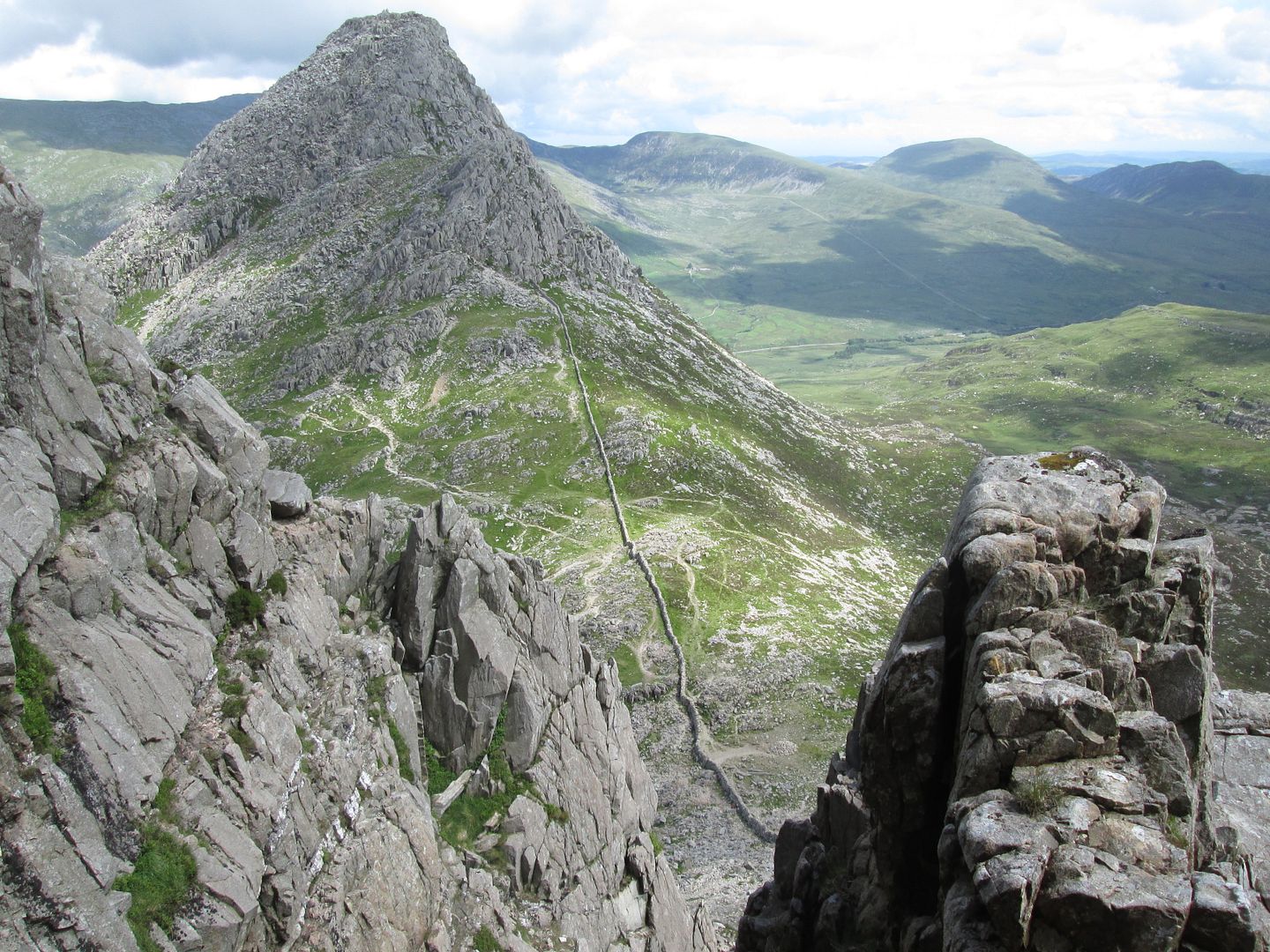 From one of the big chimneys on the ridge
Think I need another shot of Tryfan!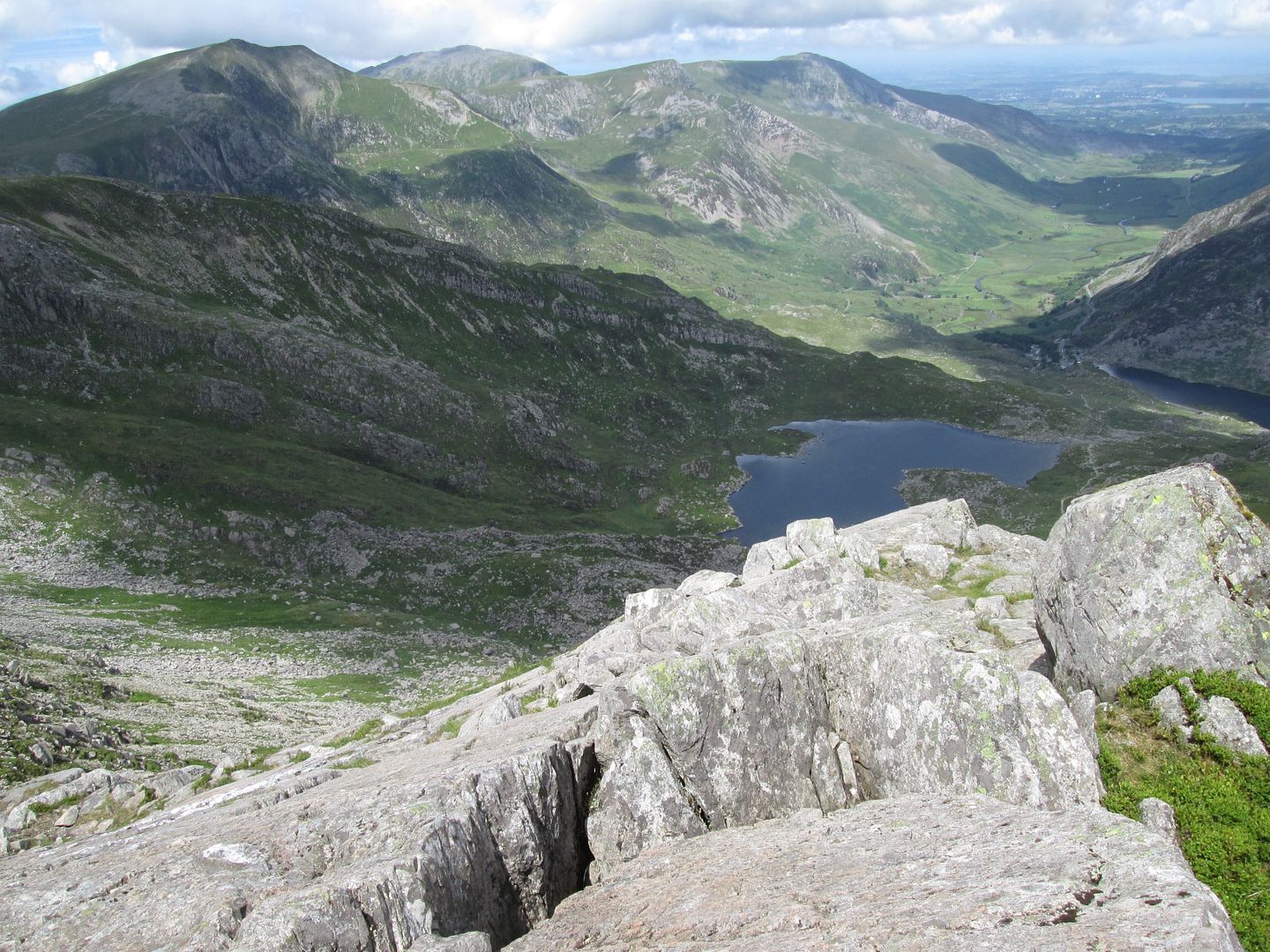 Northern Glyderau across Llyn Bochlwyd and the Y Gribin ridge
On Bristly Ridge
Scrambling heaven
Llyn Bochlwyd through a window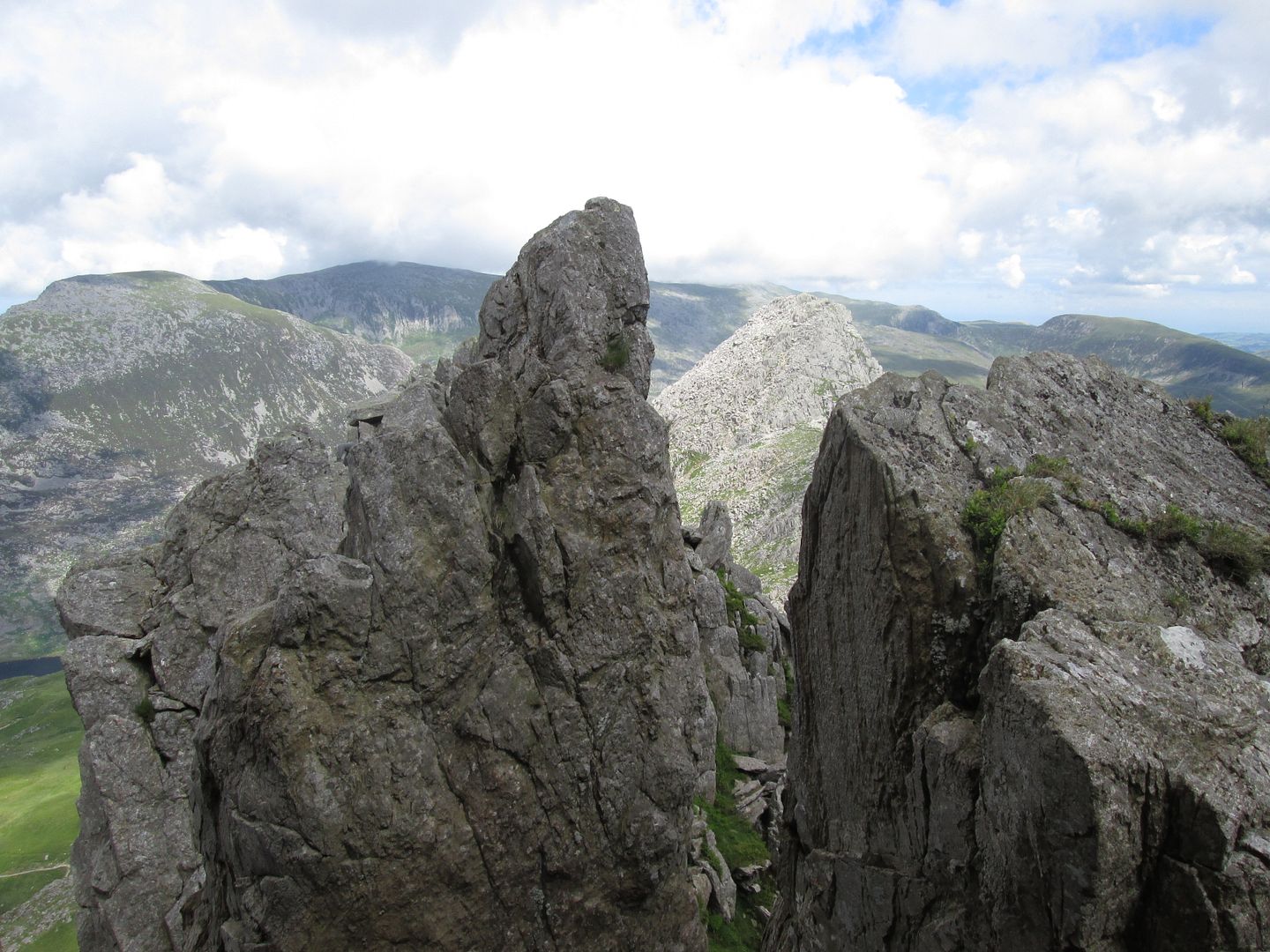 Tryfan and the Carneddau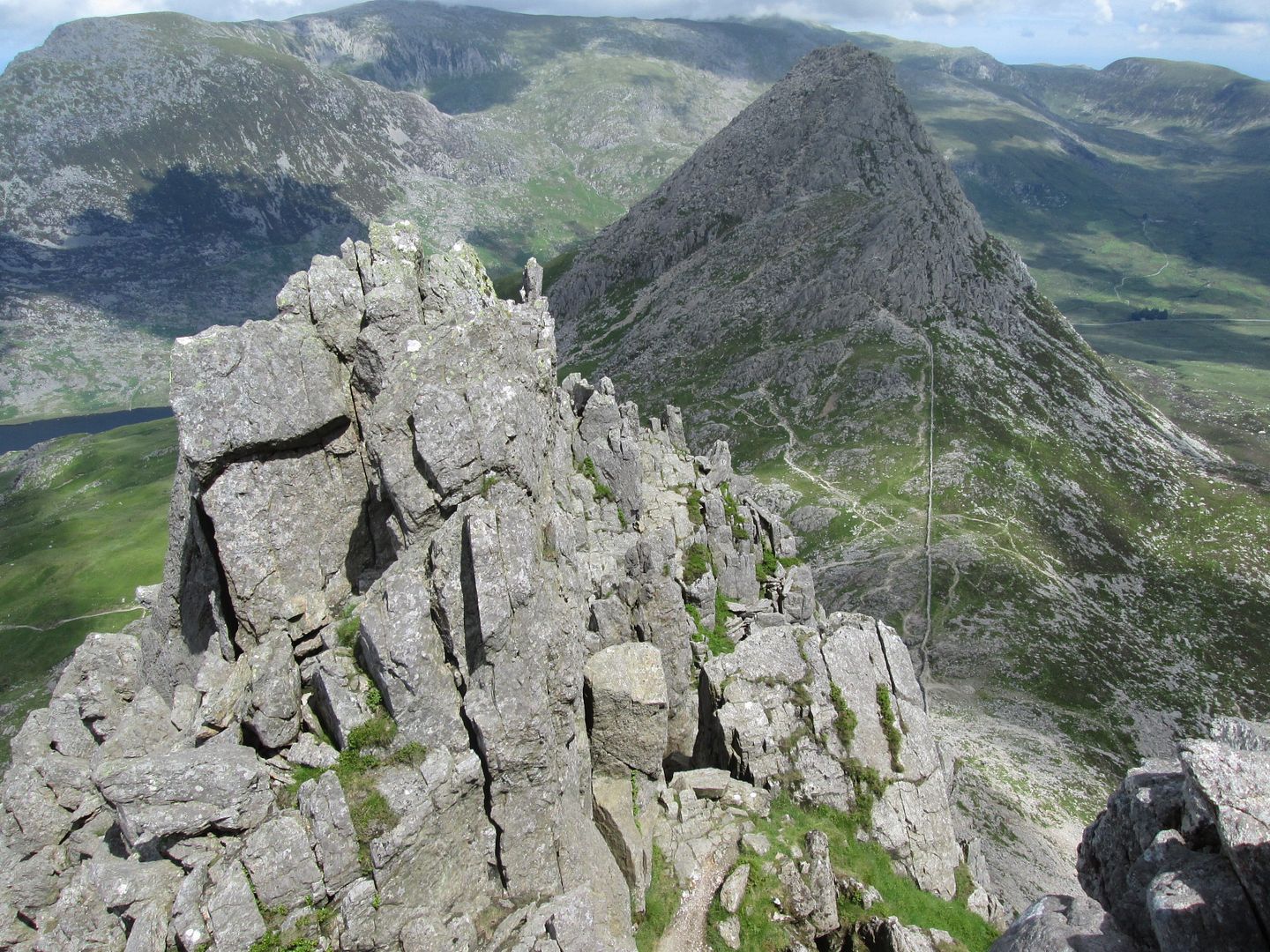 Some pointy mountain
Eventually the ridge levelled out onto another boulder strewn summit area and I heard Hugh shouting my name from up ahead. We did the customary posing on the Cantilever Stone before heading across to the shattered summit crag, complete with its deep clefts that looked capable of swallowing your average family car.
Tryfan from the top of Bristly Ridge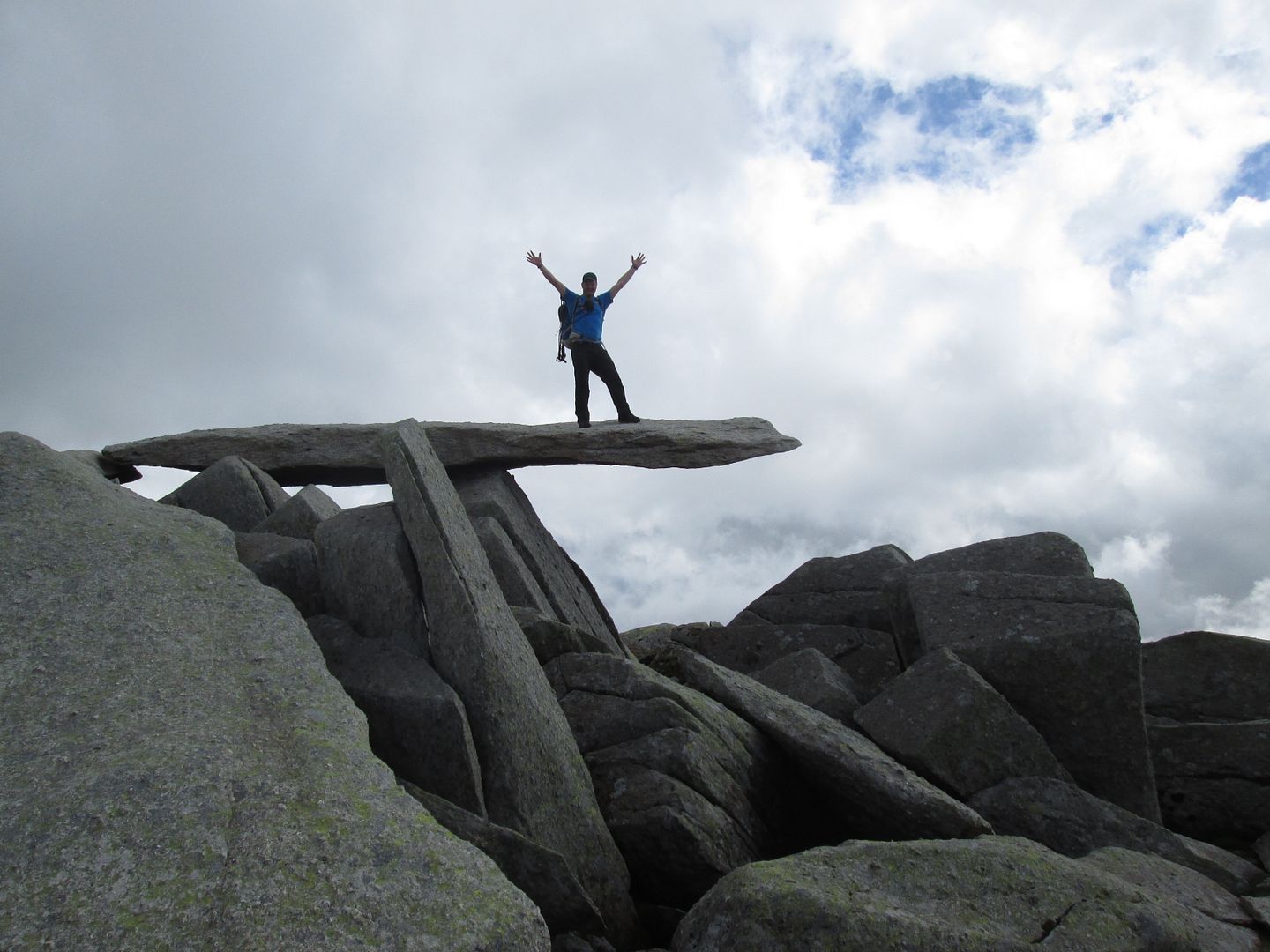 Hugh on the Cantilever Stone
My turn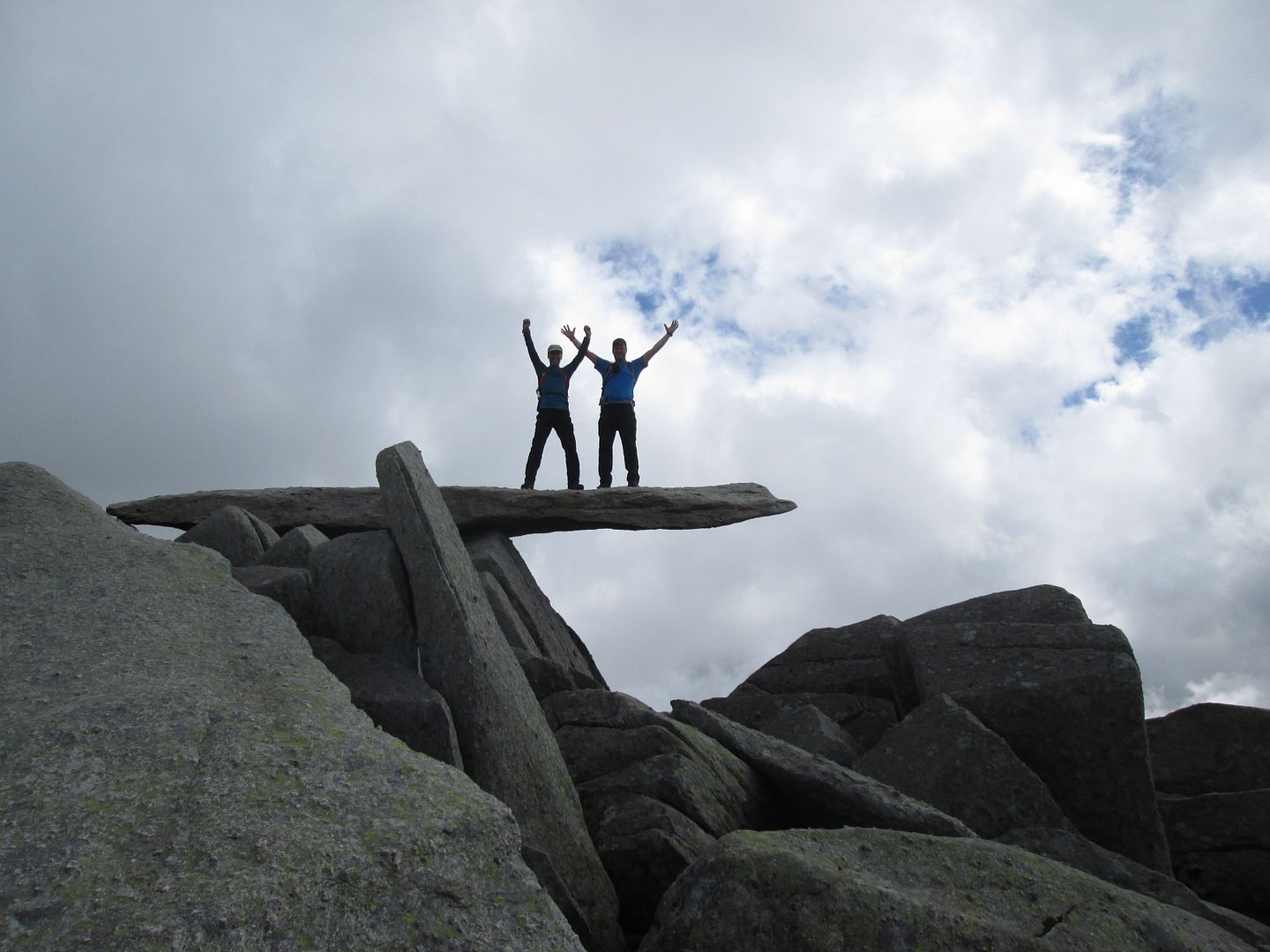 Double act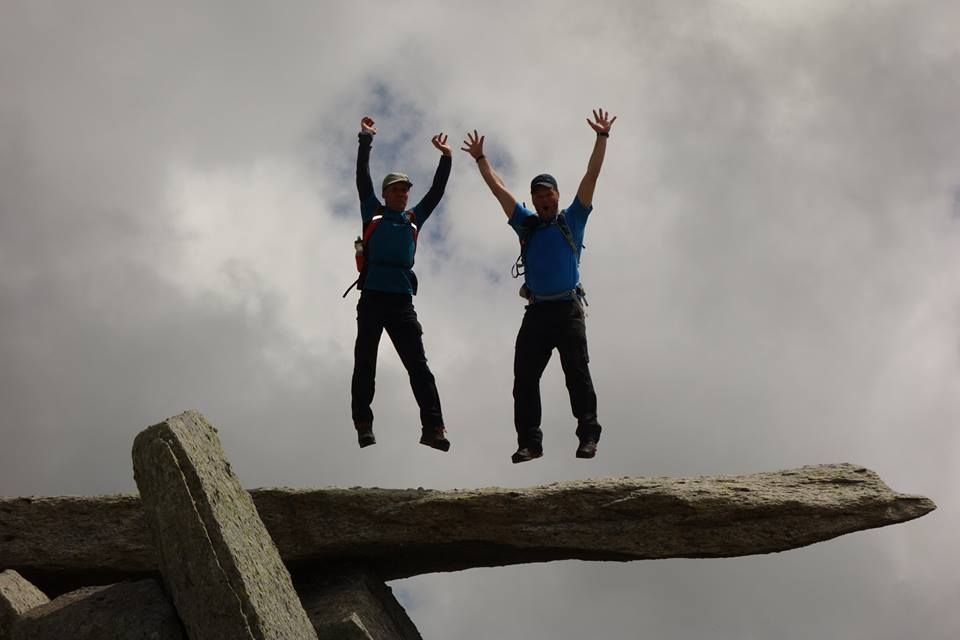 We're floating on air!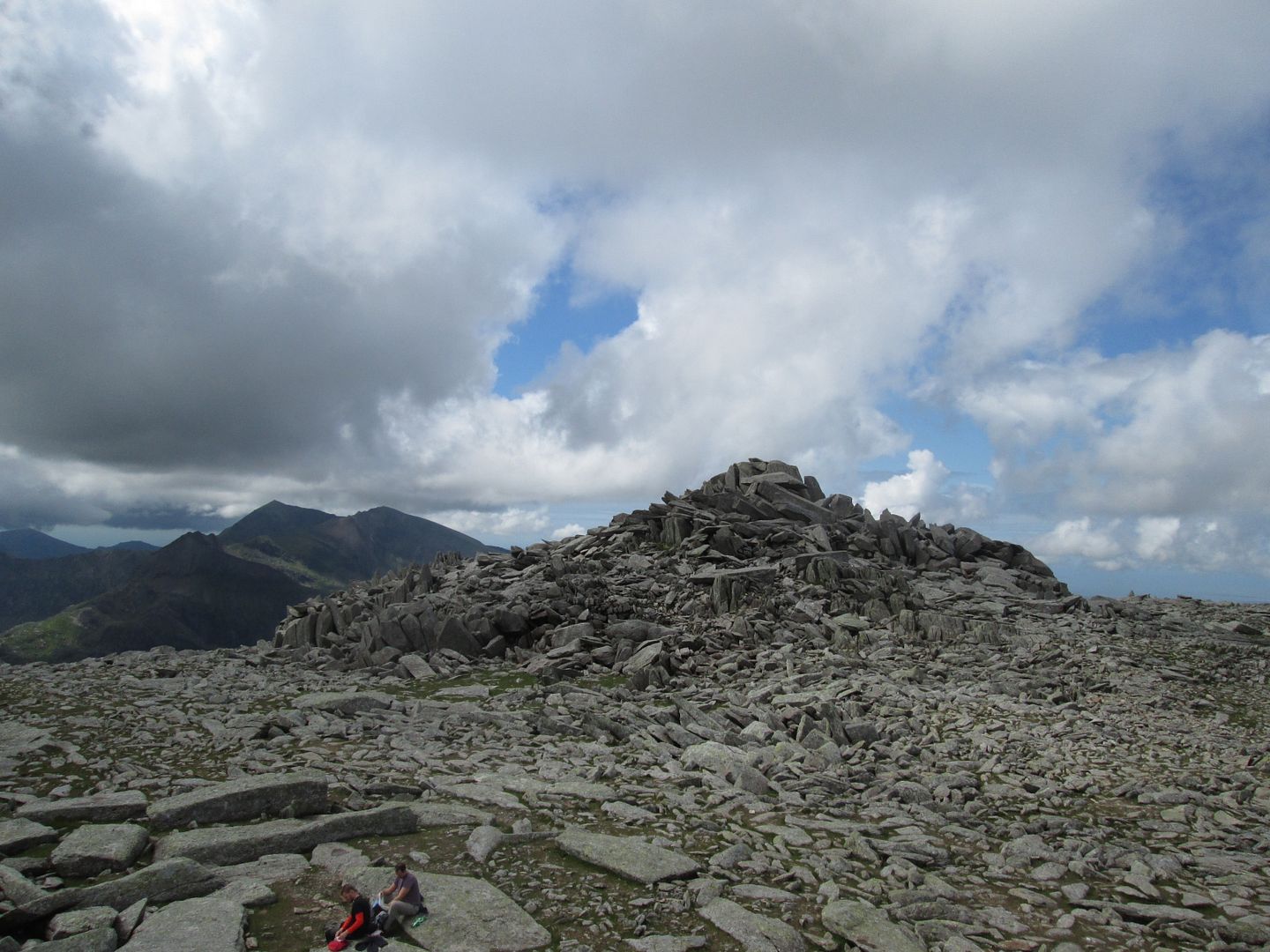 Summit of Glyder Fach with Snowdon and co. in the background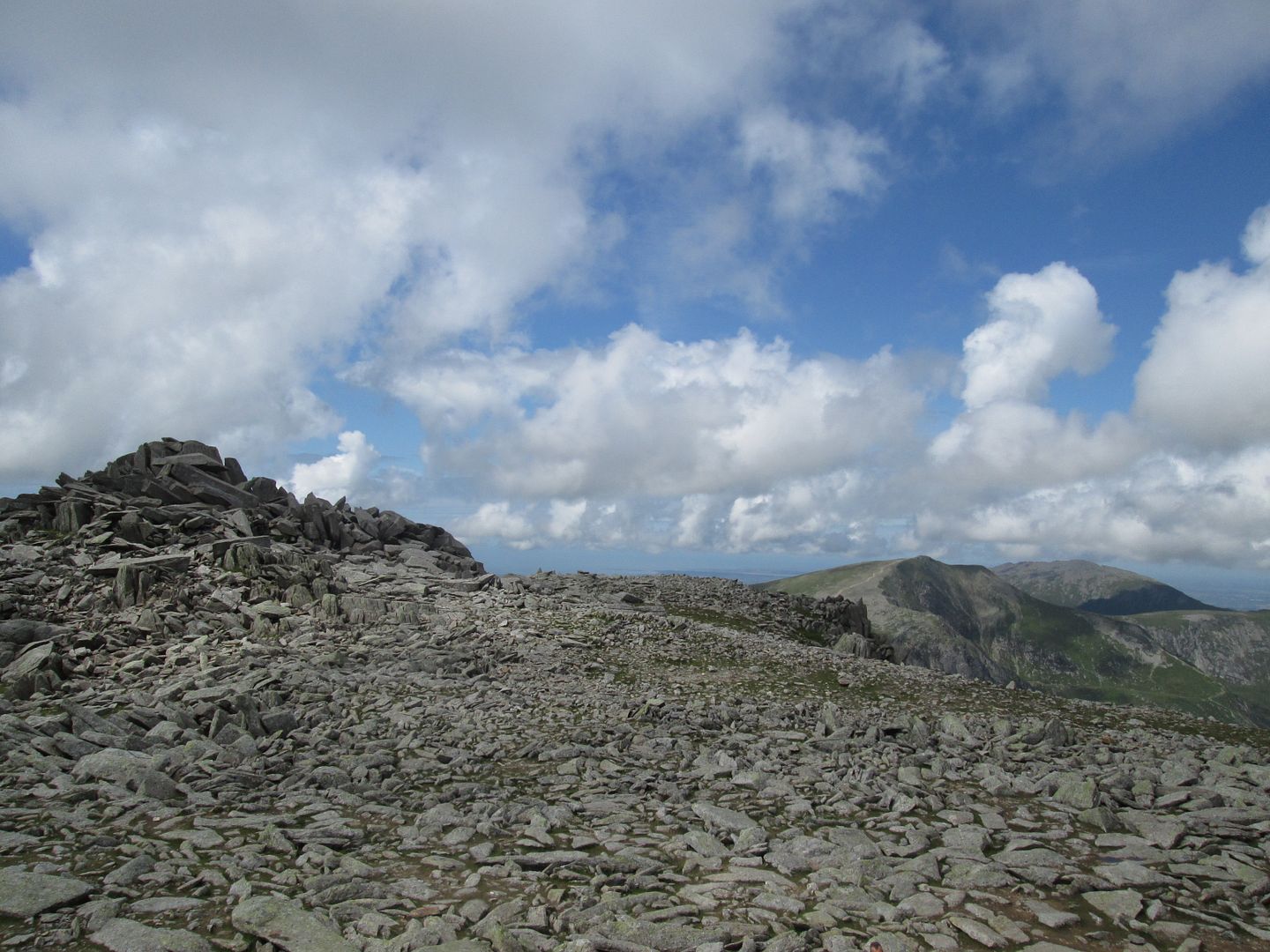 Looking north west to Y Garn and Elidir Fawr
The Carneddau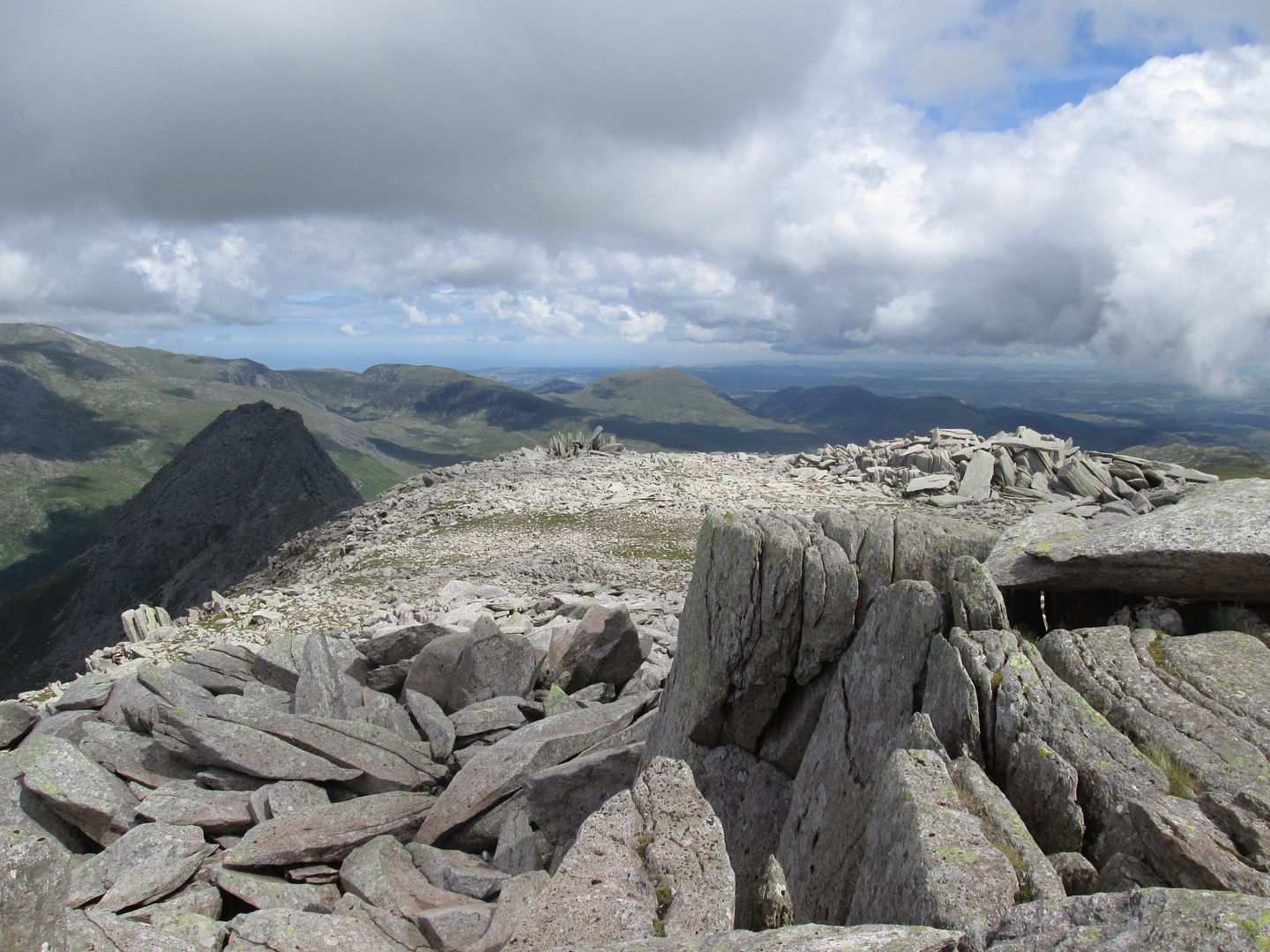 Tryfan from the shattered summit of Glyder Fach
From Glyder Fach we crossed the Bwlch y Ddwy Glyder, skirting the huge rocky, northern corries and passing Castell y Gwynt on the way to the lunar landscape of Glyder Fawr.
Towards Glyder Fawr and the Snowdon Horseshoe
Glyder Fawr and Y Garn
Castell y Gwynt - Castle of the Winds
Back to Glyder Fach from the Bwlch Y Ddwy Glyder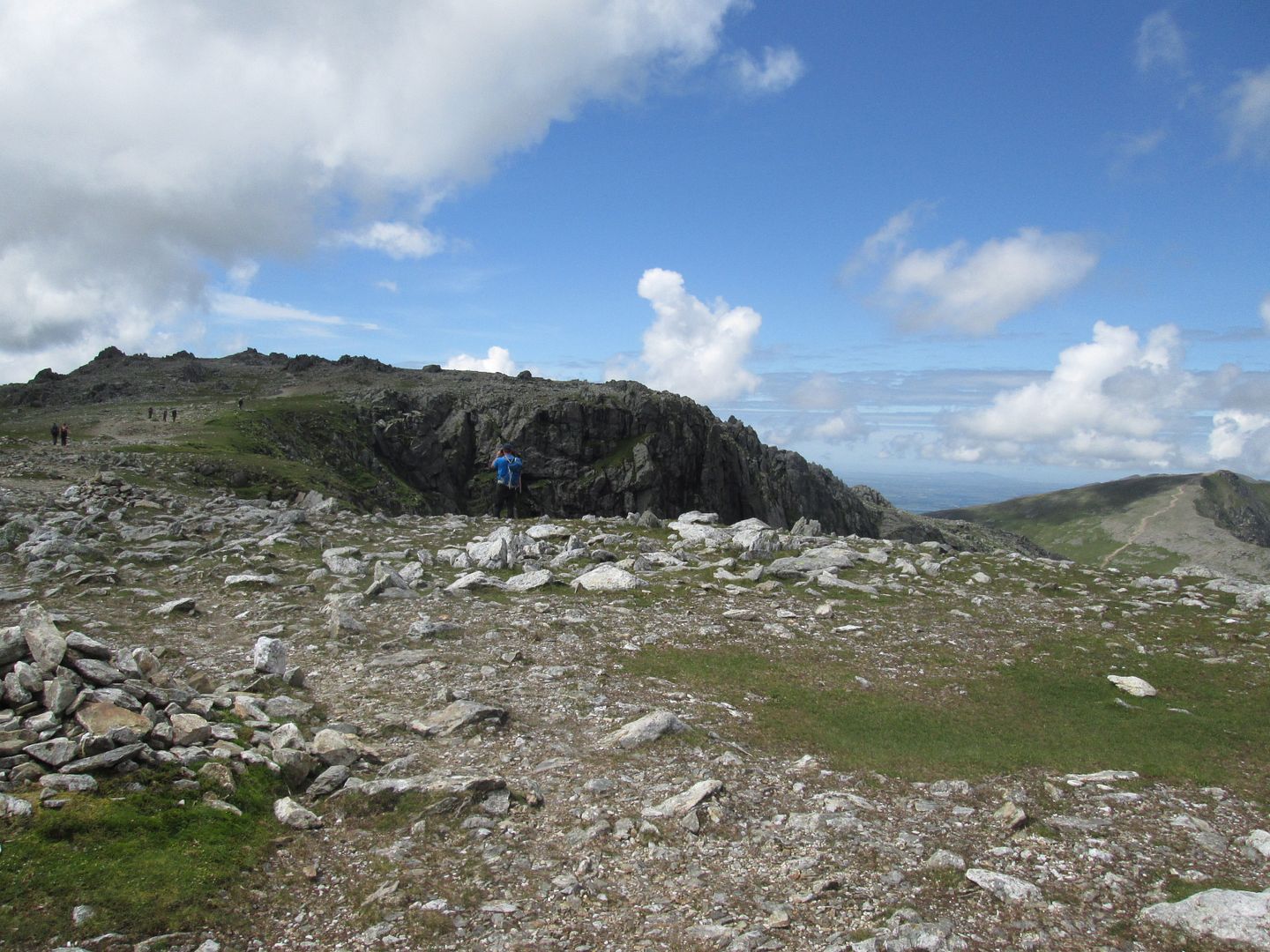 To the tor studded summit of Glyder Fawr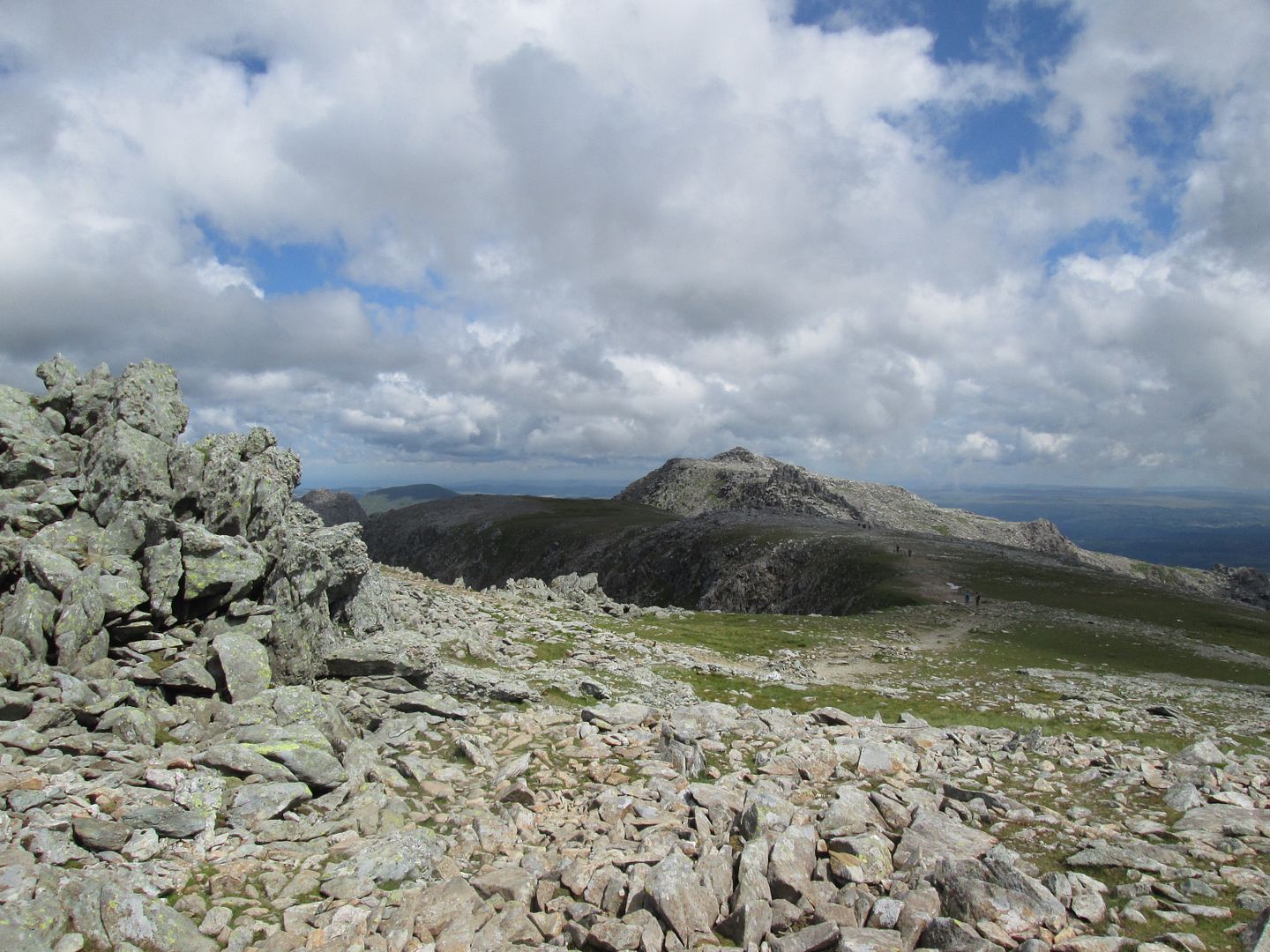 Back to Glyder Fach
Moonscape
Hugh on Glyder Fawr, Snowdon behind
More moonscape looking back to Tryfan and Glyder Fach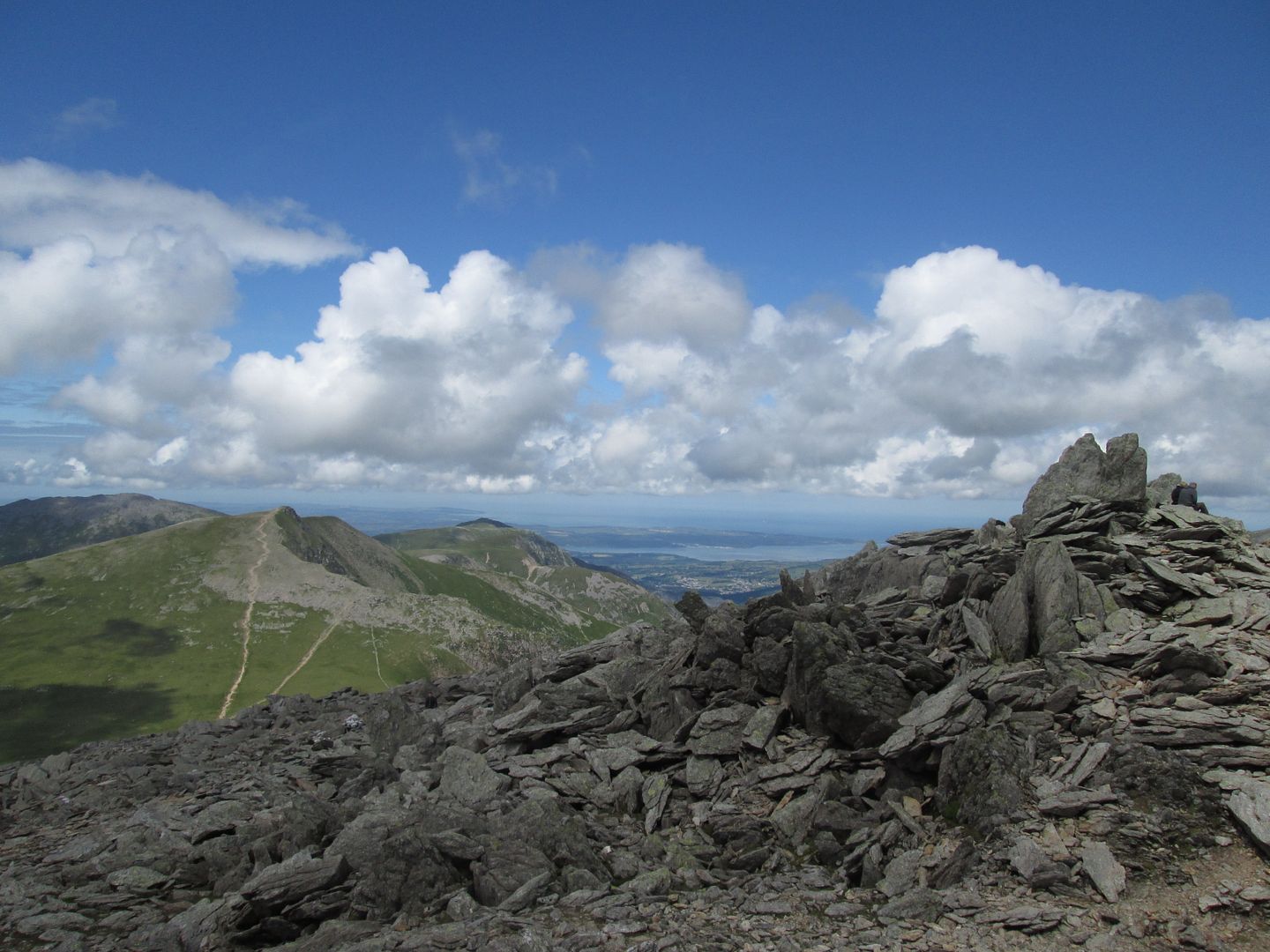 North west to Y Garn, Elidir Fawr and Foel Goch, with the Menai Strait and Anglesey in the background
This was the busiest summit of the day - I guess a lot of the people there had come up from Y Garn or via Y Gribin, or even up from the Pass of Llanberis, as they certainly hadn't seemed to be on Tryfan or Glyder Fach. Still, it was positively deserted in comparison to Snowdon 24 hours earlier! We nipped over to the weird pineapple like rock structure for some arty shots, from where we saw a paraglider preparing for flight, but unfortunately by the time he took to the air, we had descended out of sight and so did not see him (presumably) get airborne.
Rock pineapple and Snowdon Horseshoe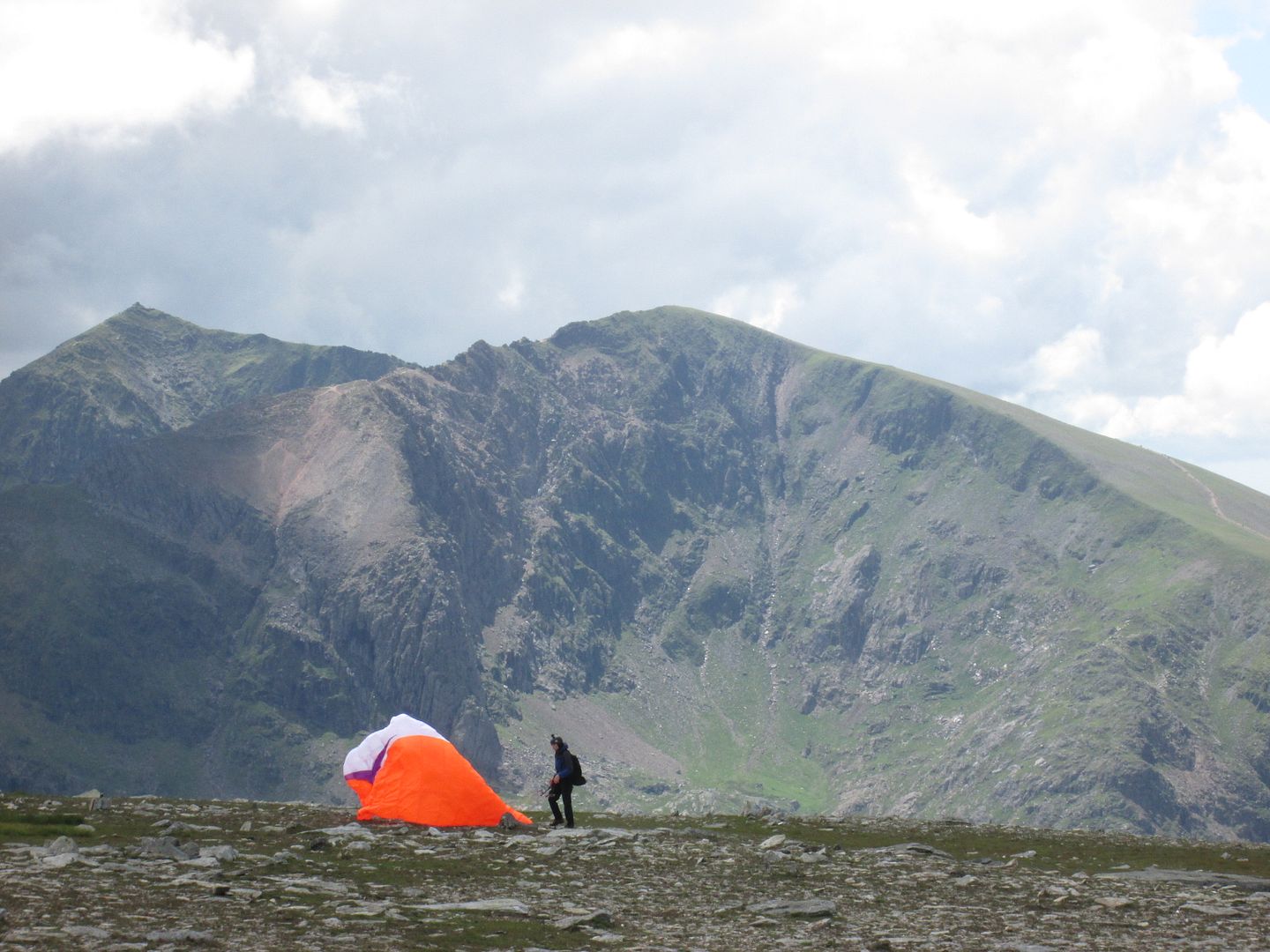 Paraglider getting ready against a backdrop of Snowdon and Crig y Ddysgl
Almost ready for blast off
The descent from Glyder Fawr was a knee jarring affair on steep, loose scree interspersed with large rocks and it was a relief to reach the bealach and the relative ease of the ascent path onto Y Garn, whose summit gave superb views back south to where we had been and north over the Menai Strait to Anglesey.
Loose scree descent towards Llyn y Cwn and Y Garn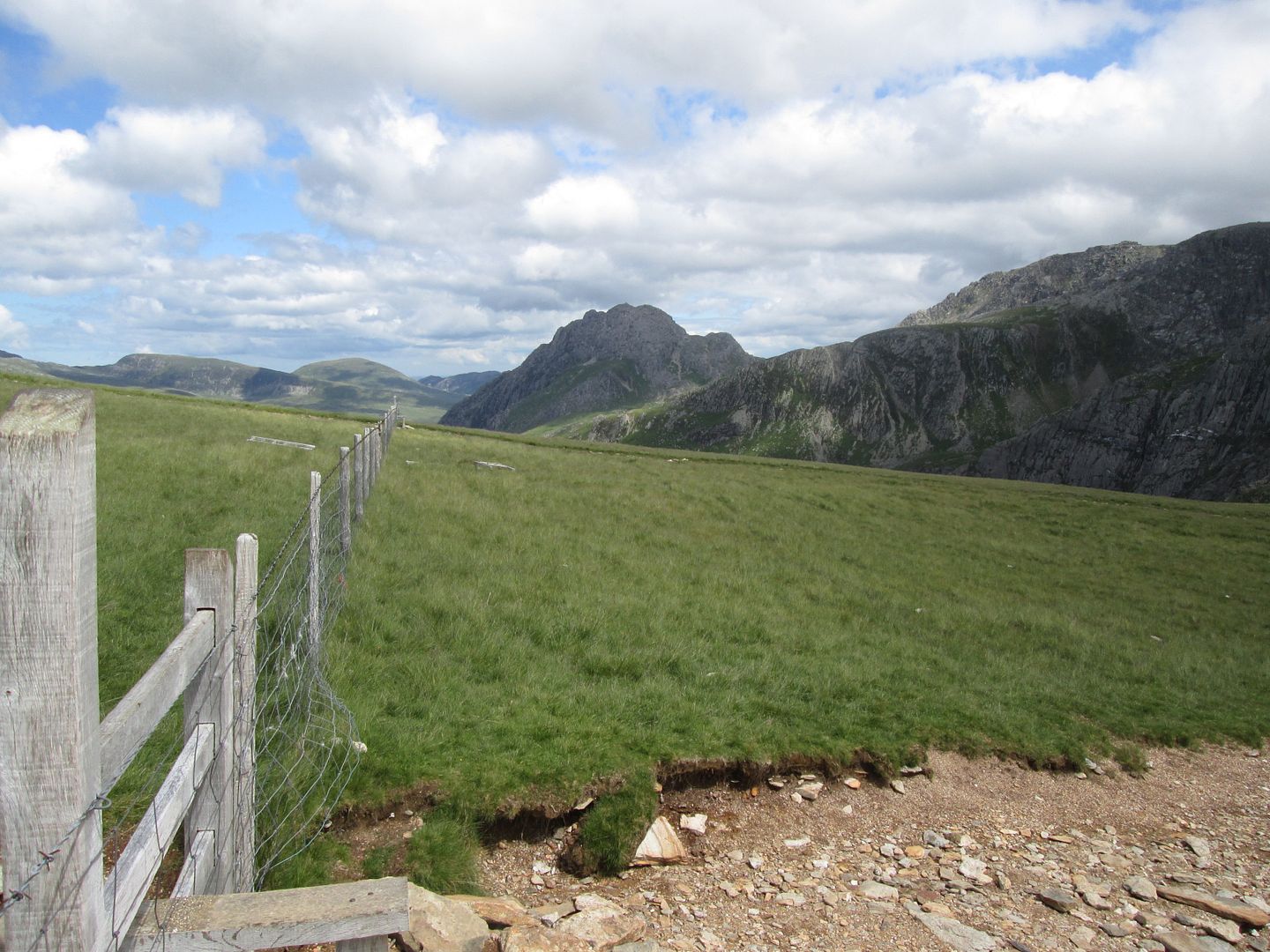 Tryfan, Bristly Ridge and Y Gribin from the ascent of Y Garn
Back to Glyder Fawr
Zoomed over the Devil's Kitchen to Tryfan, Bristly and Y Gribin
Llyn Ogwen
Crib Goch ridge and Snowdon from summit of Y Garn
The road home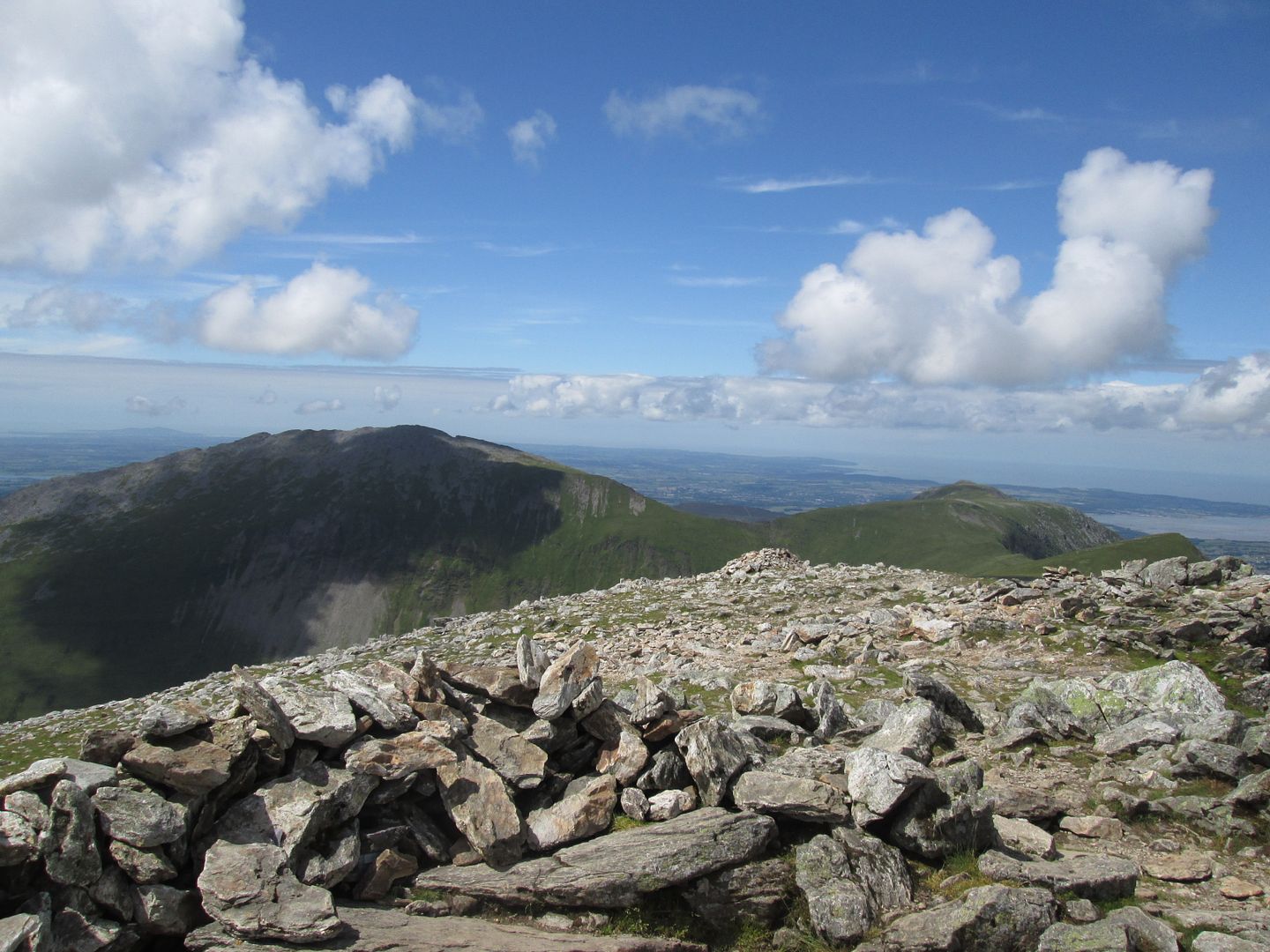 Anglesey beyond Elidir Fawr, Carnedd y Filiast and Foel Goch
From there we took the stone staircase down towards the beach at the northern end of Llyn Idwal and through the rock cutting to the road at Ogwen Cottgae and the short walk on tarmac back to the car.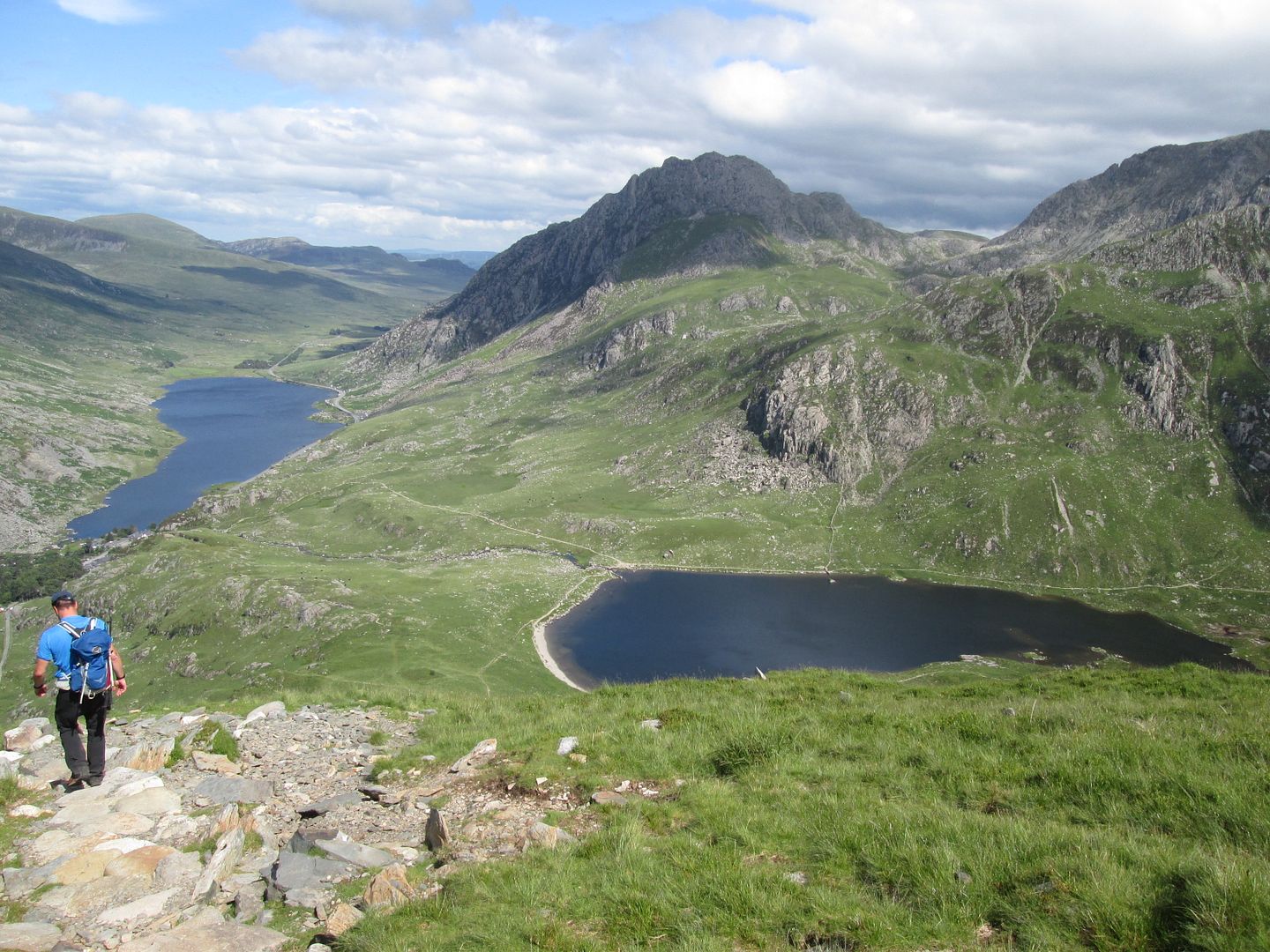 Tryfan and Bristly Ridge towering over Llyn Ogwen and Llyn Idwal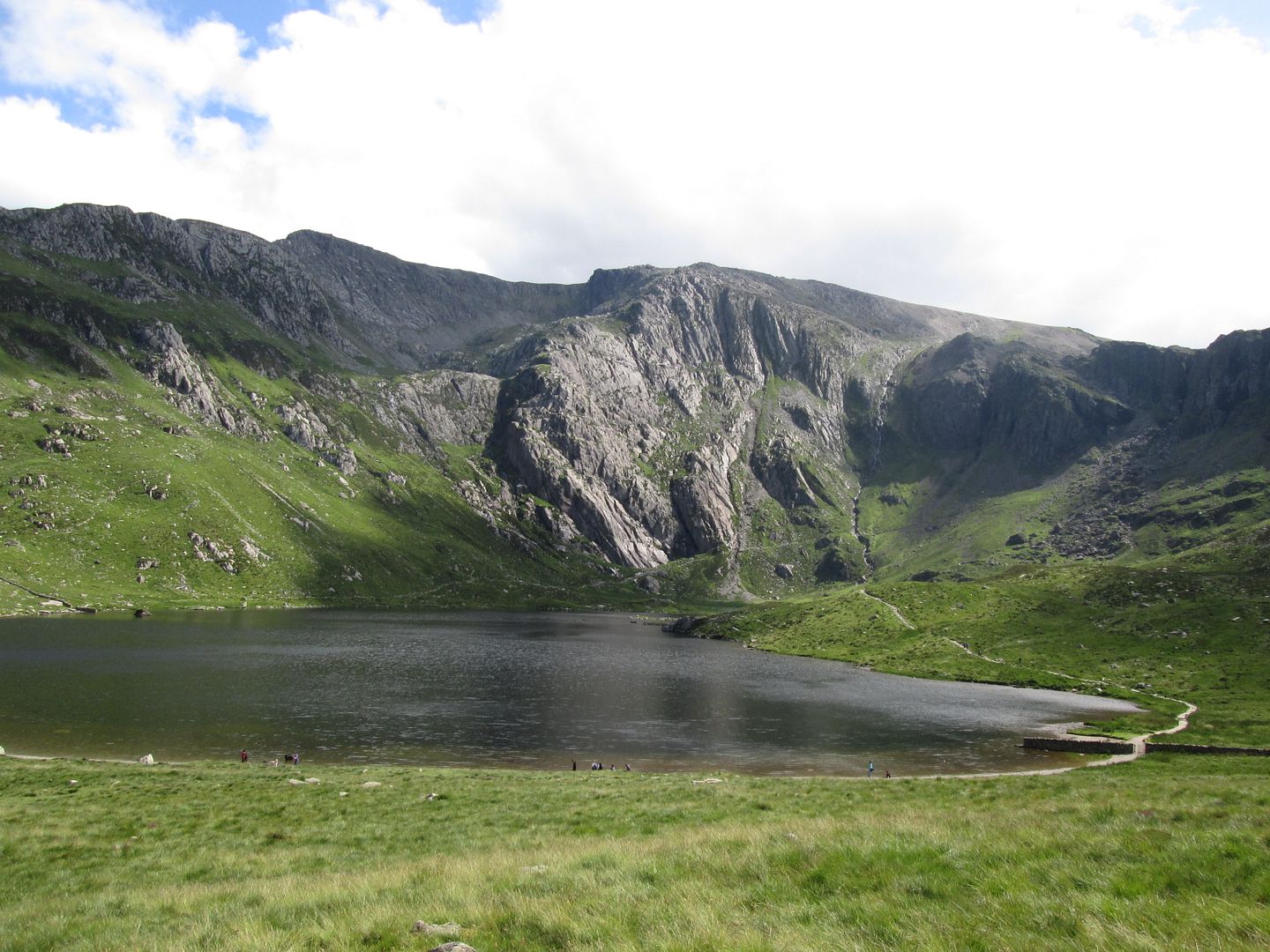 Llyn Idwal and the Devil's Kitchen
Rock cutting leading back to the Visitor Centre and road at the western end of Llyn Ogwen
A last shot of Tryfan from the road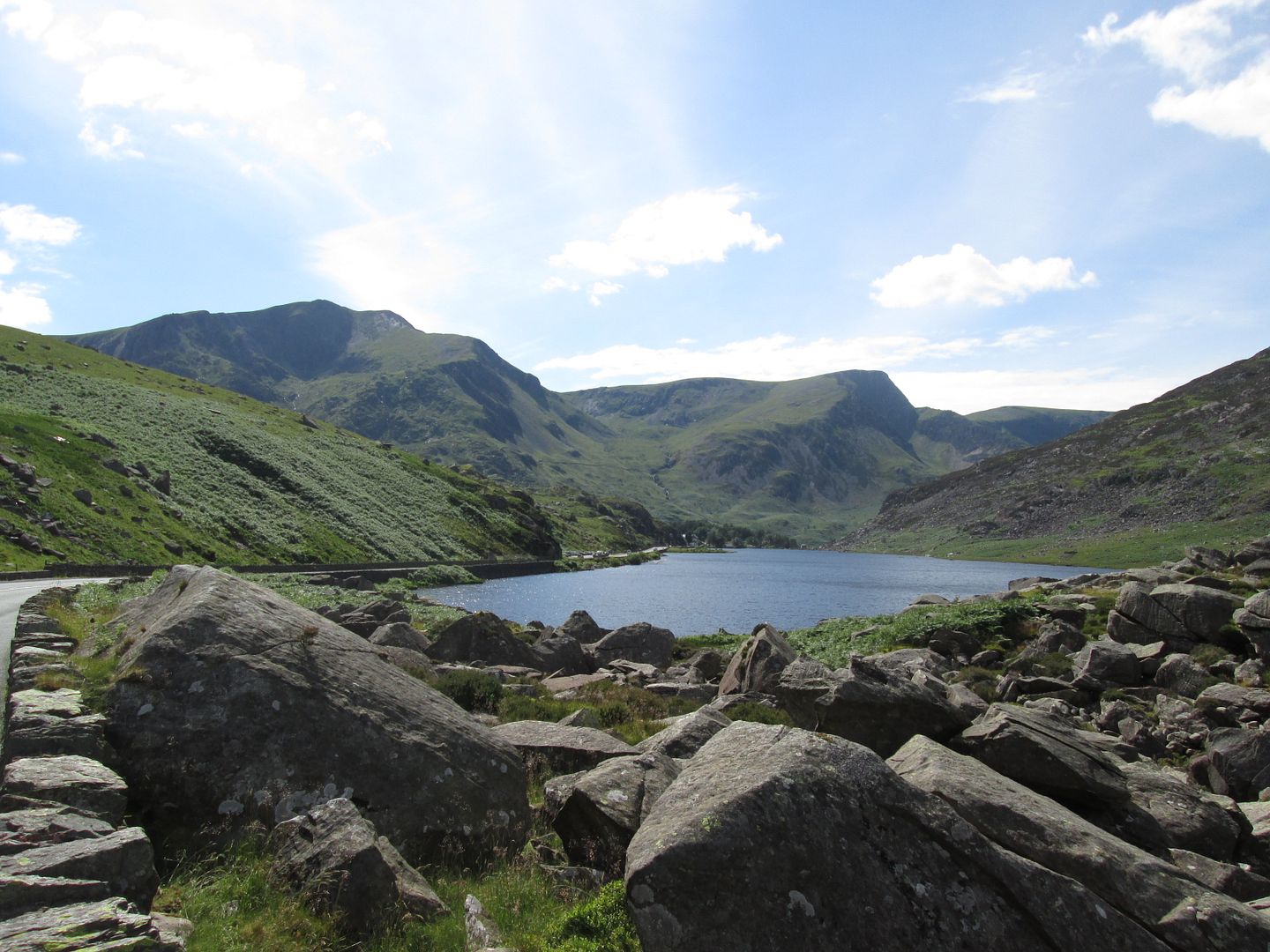 Llyn Ogwen, Y Garn and Foel Goch
A great day - arguably the highlight of my 5 days in the Outlands - with great company. Thanks to Hugh and I look forward to walking with you again after your move to Stirling!