Day 3 of the Snowdonia meet and almost everyone had gone home. Hugh had left after our memorable day yesterday on Tryfan and the Glyders. Sue and I had gone for dinner at the Tyn-y-Coed (we were damned if we were walking all the way to the Bryn Tyrch for a third night on the trot!) after leaving a note for Al and Alison who were still out on the Snowdon Horseshoe, but they were too late back to join us.
The following morning saw Sue heading back to London and Al and Alison heading back north via Alison's dad in Cheshire, leaving yours truly the last man standing in Capel Curig (although Bod and Val were still out there somewhere at large!)
I had been banging on since Friday about the Nantlle Ridge. When I left Perth on the Friday, it had been a priority before I returned home. On Saturday I had gone with the flow and joined the majority of our group on the Snowdon Horseshoe. On Sunday, I had joined Hugh on the Glyders. I had not regretted either choice, having enjoyed two epic days in fantastic company and enjoyed some top class scrambling. But the Nantlle Ridge was still foremost in my mind........
It had been in my mind for several years, and this was simply the first opportunity I had had to do something about it. Several years ago I had been heading off somewhere on holiday (I cannot recall which destination or indeed which airport) and had bought the latest copy of TGO magazine in the airport to read on the flight. That edition had a multi-page feature article on the Nantlle Ridge, including how a number of scenes from a recent Hollywood film (again, I cannot recall which one) had been shot on or around the ridge. I was blown away by the description and the photography and vowed to do the route the next time I was back in Wales.
The forecast was not great for the Monday but time was beginning to turn against me. As it turned out, I emerged from my tent at Dolgam to a very pleasant, sunny Monday morning, indeed the first day proper of the school summer holidays. So the Nantlle Ridge was on. I quickly paid the owner for another night, wolfed some breakfast down, bade farewell to Sue, Al and Alison, and headed for Rhyd-Ddu.
There were a couple of cars in the car park when I got there, including one owned by an older English couple who were having a fight with the ticket machine which had taken their money but refused to give them their ticket. After resorting to physical violence, it still refused to give them their ticket but at least returned £3 of the £5 that they had fed it. Decision made for me then - no money going in the machine and a note going on the dashboard.
The couple were heading onto Yr Aran. Somehow they struck me as being fairly familiar with area and when I told them my plans, the man replied "Oh very nice. One for the connoisseur!" Excellent news - I'll take that!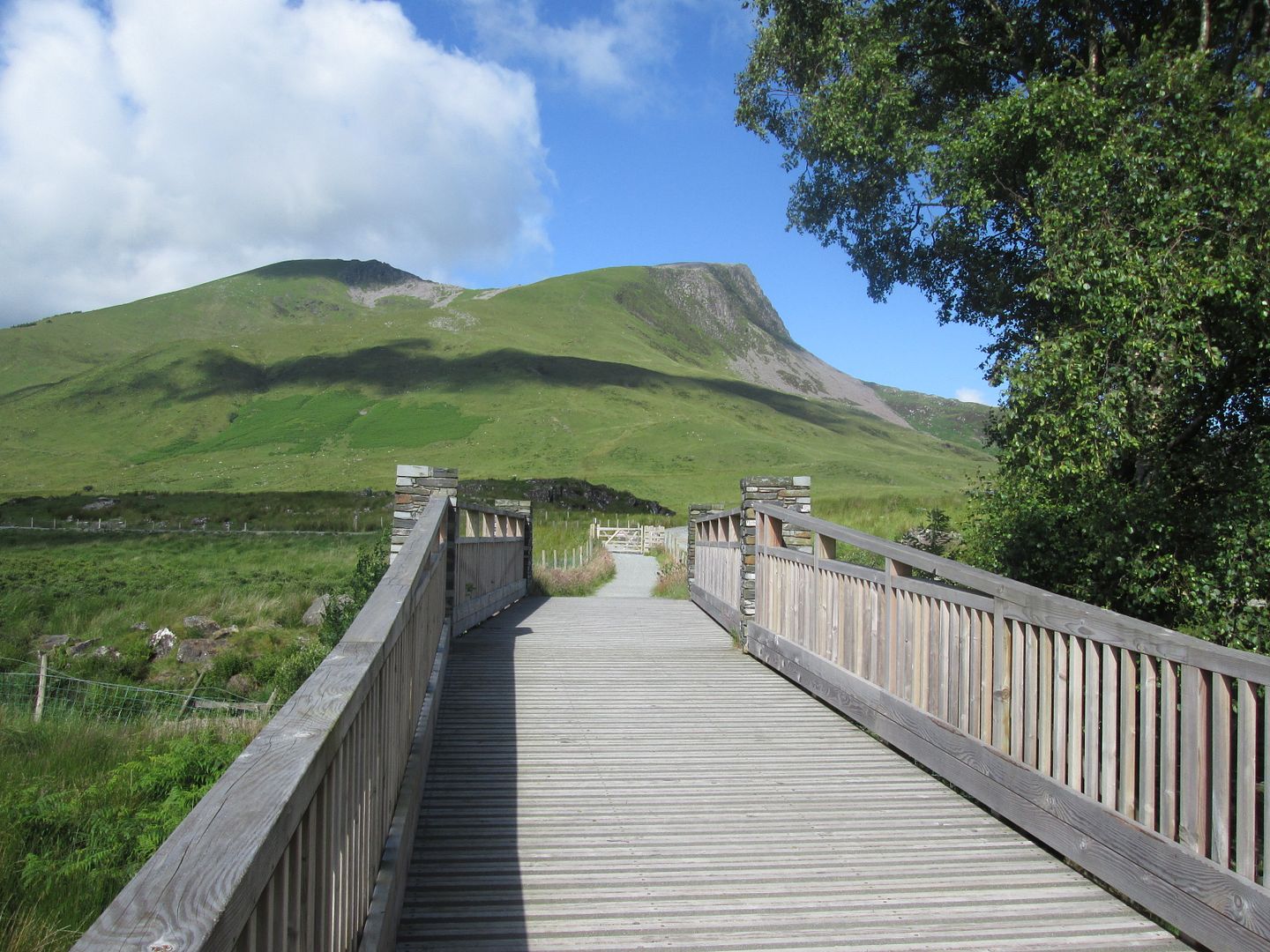 Y Garn from the footbridge at Rhyd-Ddu
The Hebog range across Llyn y Gader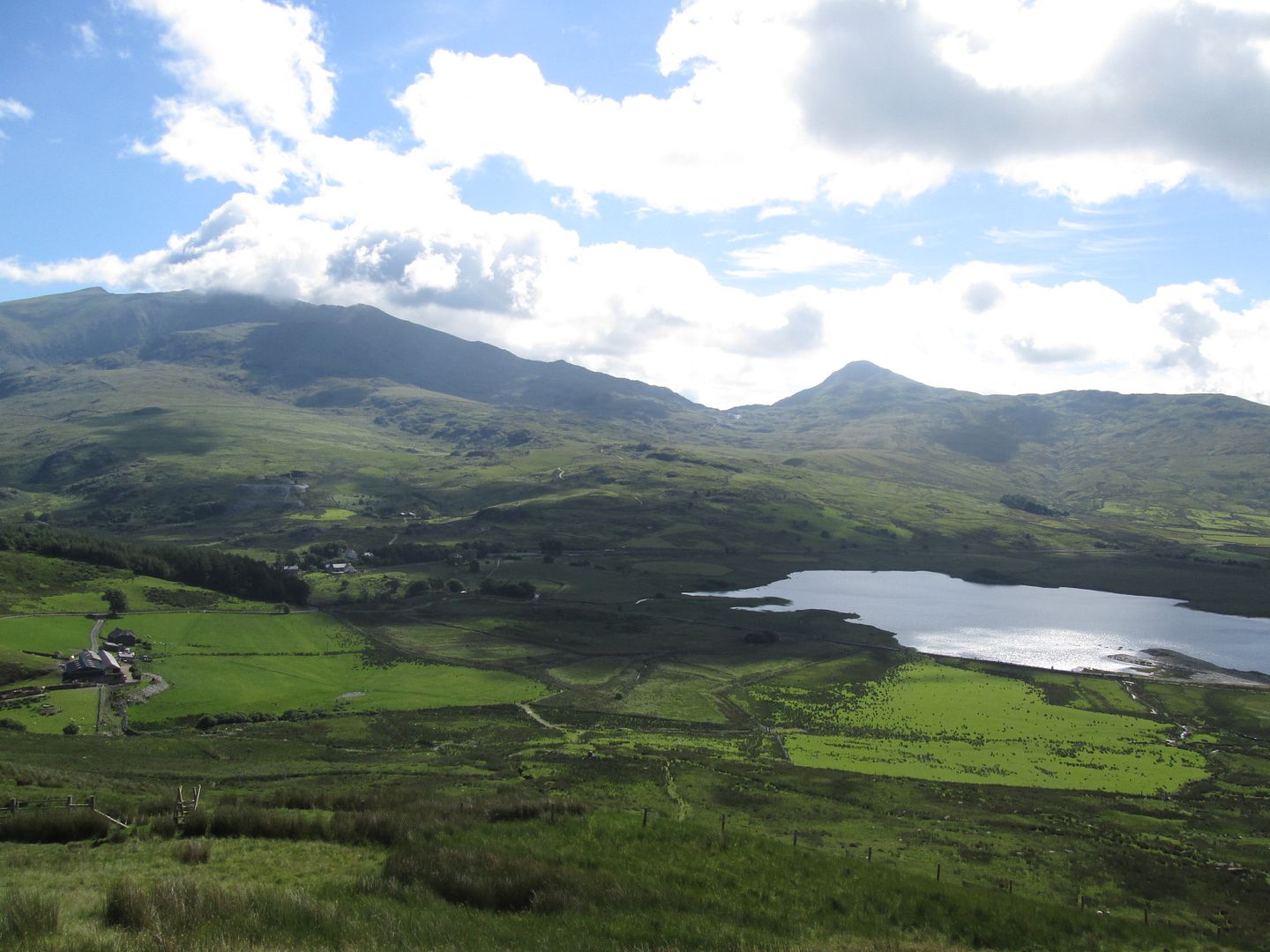 Snowdon, Yr Aran and Llyn y Gader
Well initially everything lived up to expectations. After a fairly long and lung bursting ascent up onto Y Garn, I was rewarded with stunning views along the main part of the ridge as far as the obelisk on Mynydd Tal-y-mignedd. I spent a wee while on Y Garn having a bite to eat and taking photos in various directions before dropping down to the bealach and the start of the scramble up onto Mynydd Drws-y-coed.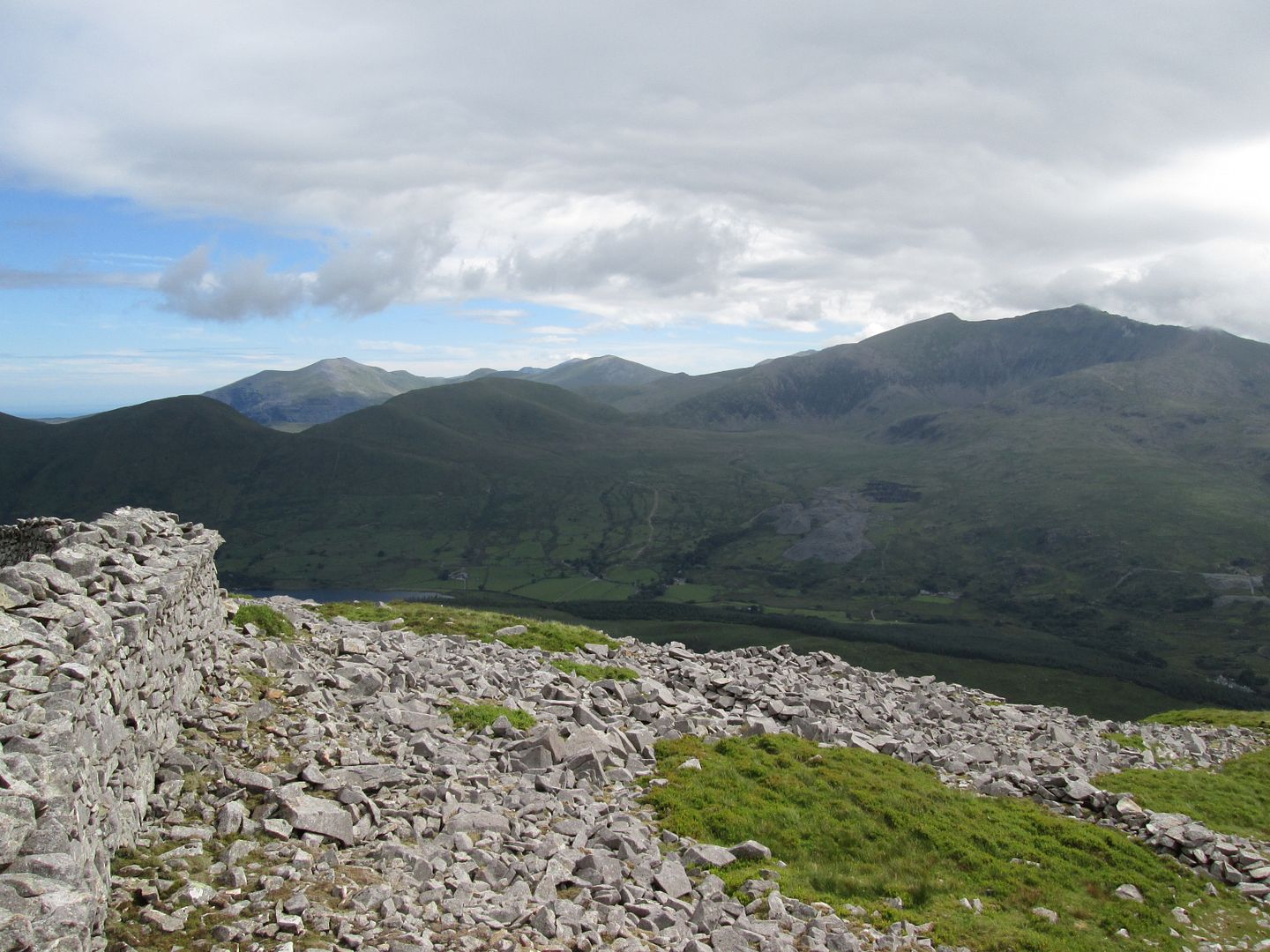 Towards the Moel Eilio group
The Nantlle Ridge
Mynydd Mawr, Llyn Nantlle Uchaf and Anglesey
The ridge from Y Garn - Mynydd Drws-y-Coed, Trum y Ddysgl and Mynydd Tal-y-mignedd
Towards Snowdon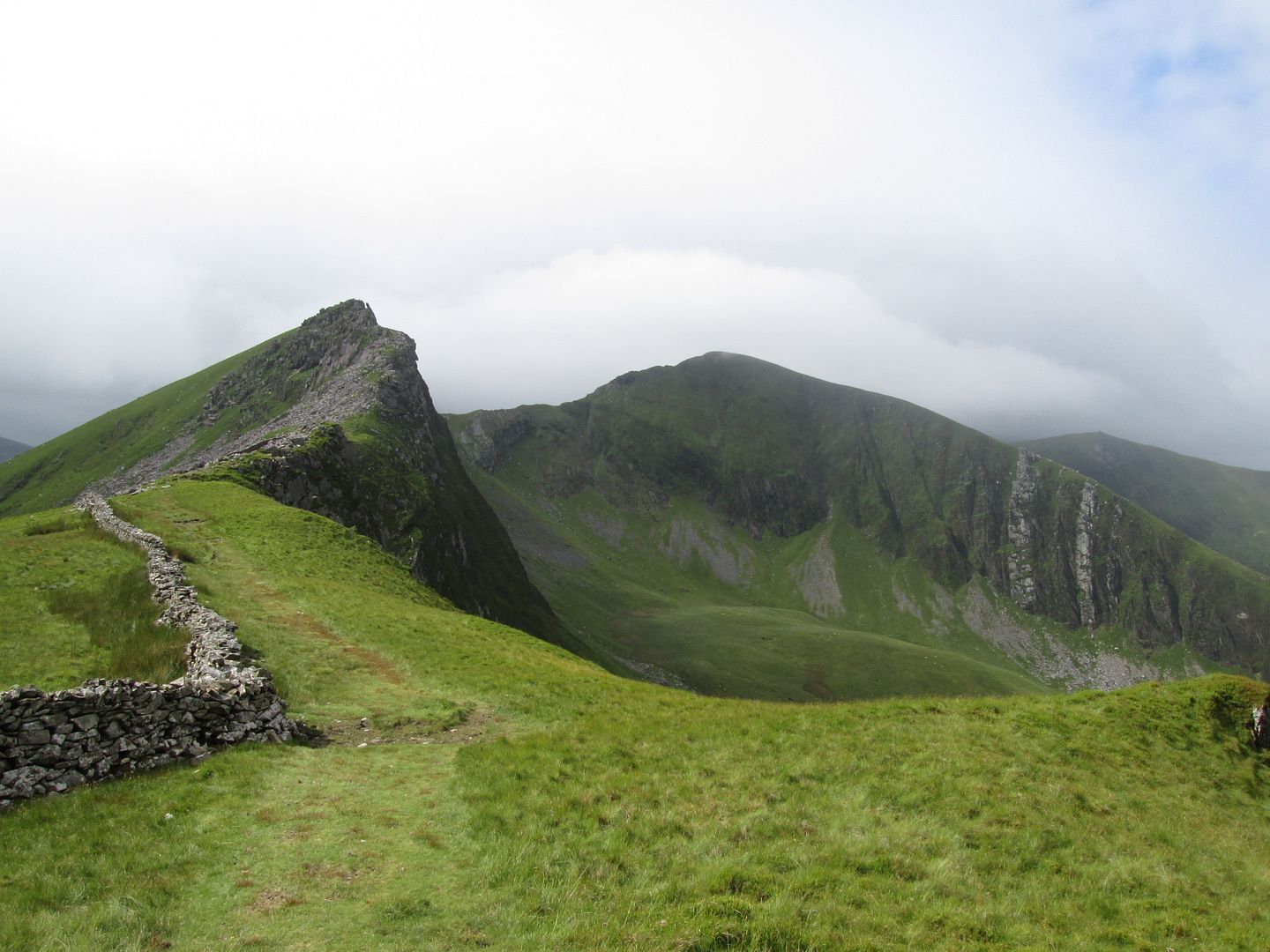 Last shot of the Nantlle Ridge before the s**t hits the fan
Then it all went pear shaped......... weather wise at least. The clag came down with a vengeance. I could see it building from the south and within the space of 5 minutes it went from a glorious summer day to........ well, absolute p**h to be honest.
Mynydd Mawr and Moel Eilio from the ascent of Mynydd Drws-y-Coed
Clag coming down on the ascent of Mynydd Drws-y-Coed
Back along the ridge
Approaching Hewitt summit number one
I didn't hang about on either Mynydd Drws-y-coed or Trum y Ddysgl. To be honest, there was bugg*r all to see and I could have been getting *****d on anywhere in Scotland, never mind having driven all the way to North Wales for the privilege.
A compass bearing led me safely onto the narrow connecting ridge to Mynydd Tal-y- Mignedd where oddly enough the only other people I saw were sheep.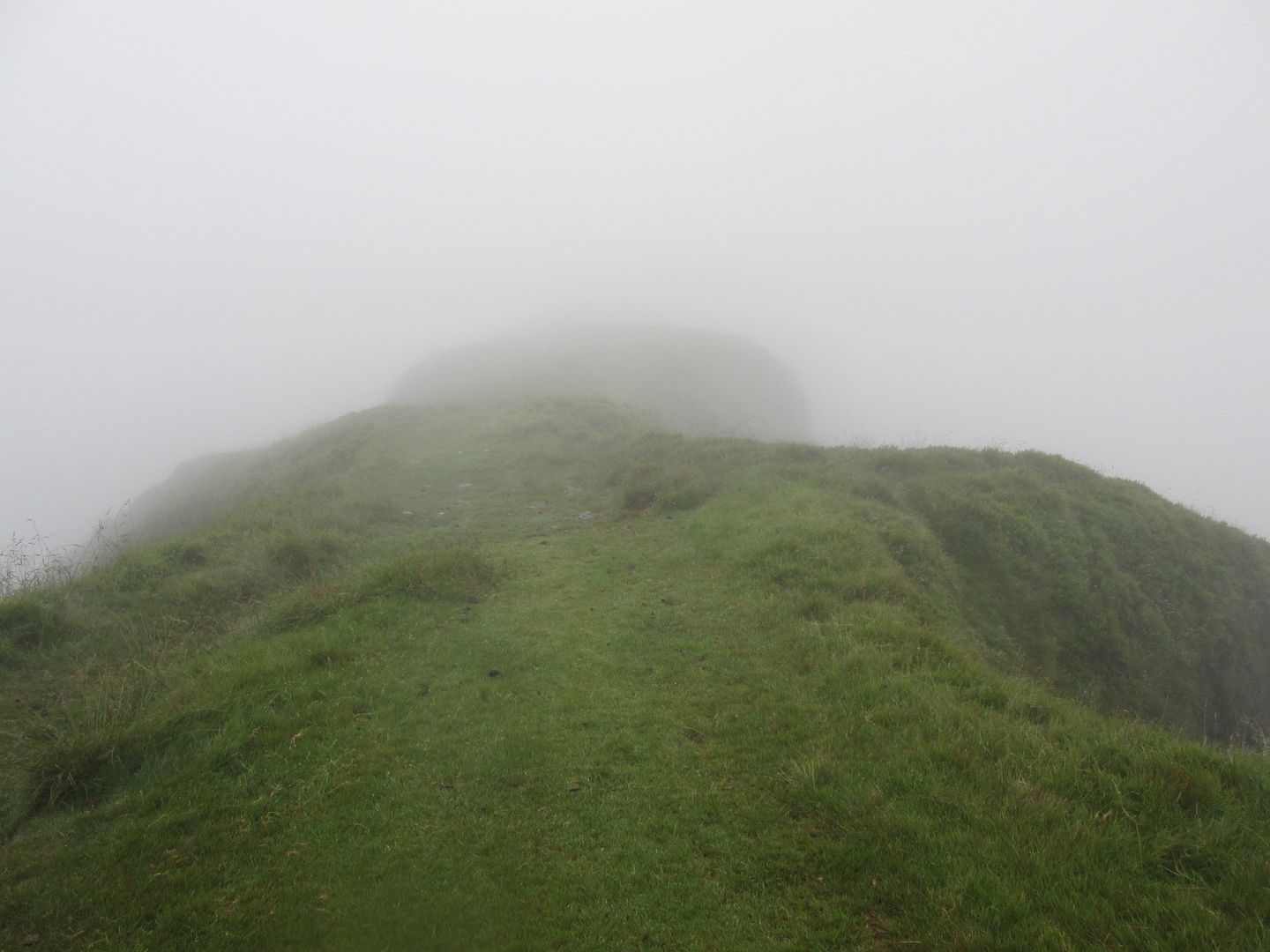 Dropping down off the broad grassy plateau from Trum Ddysgl to the narrow ridge to Mynydd Tal-y-mignedd
Scrambly section
At the obelisk I decided to "dig in" and sit it out over a prolonged lunch stop to see what the weather would do, with half a mind on carrying on to Craig Cwm Silyn, but after an hour or so of huddling beneath the rocks on the north side of the obelisk, I decided that the game was a bogey and reluctantly made tracks back towards the car.
Obelisk at the summit of Mynydd Tay-y-mignedd
Soaking it up!
I don't think I have ever felt so dejected on a walk out, compounded by the fact that I was retracing my steps over the same ridge that I had walked in on, with the same views of ....... nothing. My utter dejection bred complacency and before I knew it, I was heading down the north west ridge of Trum y Ddysgl. Fortunately my hill radar kicked in quickly and I clocked my error before it became a big deal.
After that, I couldn't go wrong. All I had to do was follow the narrow ridge back to Y Garn. But I kept hearing voices! It too me a minute or two, but then I realised who it was. It was Homer Simpson. Homer was talking to me. Not only was he talking to me, he was
TAUNTING
me. Yes, taunting me with thoughts of beer! I had brought a little stubby bottle of beer in my pack, imagining a leisurely lunch by the obelisk with stunning views of.....
....... yes, well, that didn't quite go according to plan, so the stubby went unopened. The bottle opener I had brought with me was a Homer Simpson gimmick, red plastic with a metal bit for opening the bottle. Whenever the metal touched a bottle cap, Homer would shout "Oh yeah! Beer! Woo Hoo!!!!!!" to the accompaniment of sound effects of a beer bottle opening and beer being poured into a glass. It had been a present (Birthday/Christmas - I can't remember) years ago from my brother and in latter years it had found its way into my "accessories" crate in the garage. In other words, it was the regular "solo" hill walking/camping bottle opener.
Now it was firing off every few minutes in my back pack. At first I tried to ignore it. I guessed it must have somehow moved in my pack and was now touching something metallic, probably the bottle cap. I jumped around and jiggled my pack a bit, but still Homer spoke. Then it became more frequent. We're talking every 20 seconds or so! Oh, did I forget to say, it was still absolutely lashing it down at this point!
Every 20 seconds soon became every 10, and before I was back on Y Garn, Homer was pretty much doing my nut in on a constant loop. Finally I lost it! I ripped my pack off and opened it up to find the bottle opener nowhere near the bottle cap or anything else vaguely metallic, and yet the feck**g thing was still at it! I guess the metal part had gotten damp and was causing some sort of reaction. So I picked up a rock and smashed his brains out. I have to say, for a small guy made primarily of plastic, he wasn't easy to finish off. Several sustained blows were required, but eventually, after a bit of slurring, he went quiet.
Not wishing to dispose of the body on the hill, I popped him back in my pack and returned to the car where I gave him a decent .... f**k it, let's be honest about it, I threw the feck*r in a bin!
"One for the connoisseur!" the guy had said some 5 hours earlier! Good job there was no sign of him or his car now! There was nothing else for it but to get out of the waterproofs and drive back to Capel Curig, ditch the car and wander up to the Tyn-y-Coed to ponder my next move.
So, the Nantlle Ridge. Well, I've done it, or at least part of it, depending on how you interpret it. But it certainly wasn't like how I imagined it on that flight from wherever to wherever all those years ago. Sure, the views along the ridge from Y Garn before the sh*t hit the fan were stunning, and showed what a truly stunning walk it would be in good conditions. I was just unlucky I guess. But that's hills for you, whether it's Scotland, Wales, England or anywhere else for that matter.
I can quite categorically say that I have never come off the hill more disappointed and thoroughly fu**ed off than I have on this day, but as we hillwalkers and climbers say, the hills aren't going anywhere anytime soon. They will be there for another day. That applies to the Nantlle Ridge like any other route. It may be a bit further from home than other hills, but it will still be there longer than I will, and I will be back.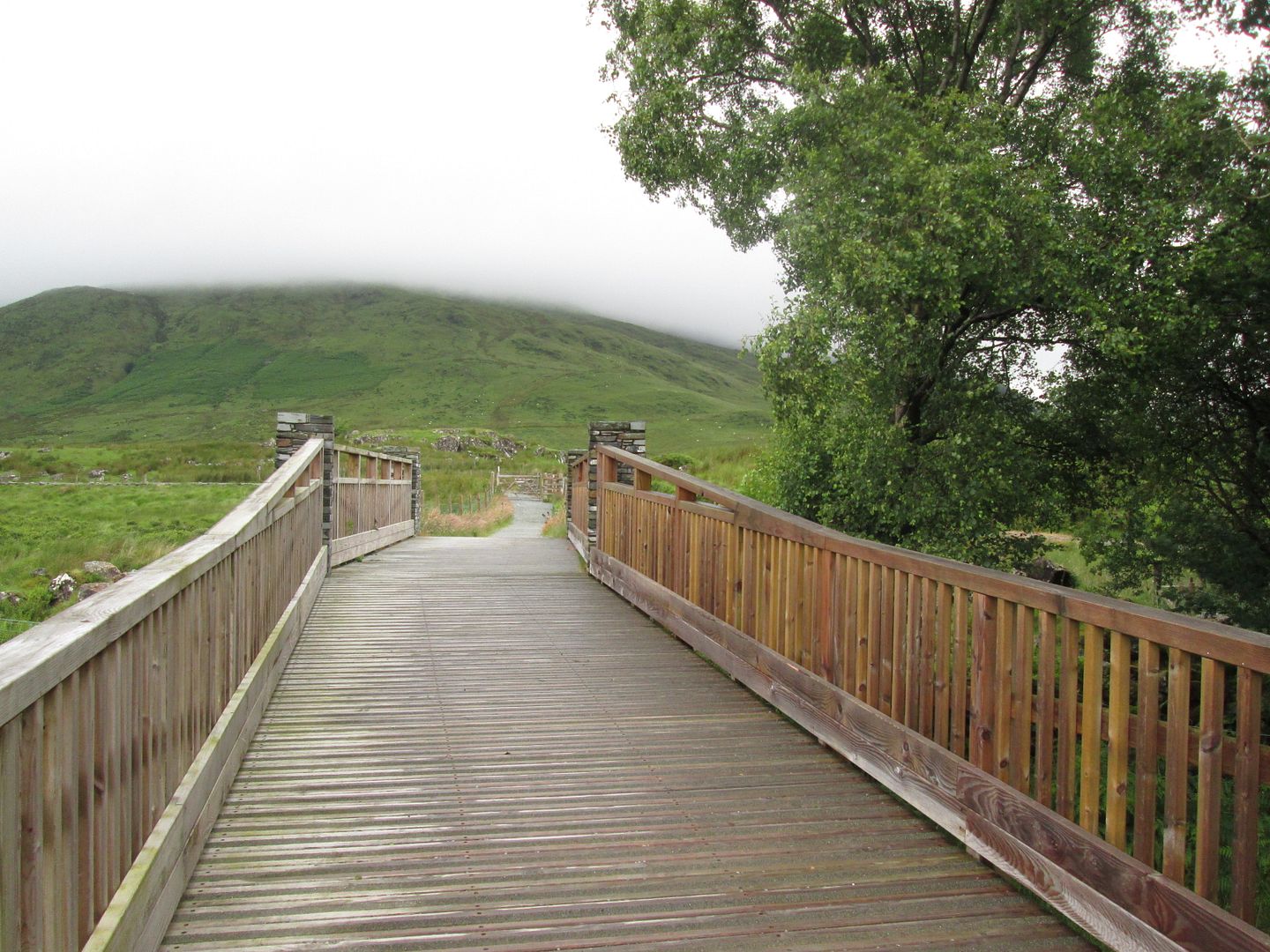 Spot the difference!