If Foinaven is regarded as a complex mountain: snaking ridge walk; multiple ancient named and unnamed summits; striking rocky features (Lord Reay's Seat/ A' Cheir Ghorm) then the number of possible approaches and routes was equally diverse. Every new walking guide I picked up or website I browsed threw up new ways to tackle 'wart mountain' or 'white mountain' (even the etymology of 'Foinaven' was disputed). There was also a scarcity of walk reports (or even detailed routes on WH, until very recently), which I found rather baffling as Foinaven appeared to be an epic day out. Prior to leaving for Scotland, the most surprising walk I hadn't even considered, was a circular walk commencing at Loch Eriboll.
As a solo walker I had a number of considerations to take into account: the logistical challenge of a lack of transport at the northern end of a linear walk if I started from Achfary; the challenges faced by remoteness and concerns that I was just not up to such a big day. To become more confident I had to plan more challenging walks and my concern was with the length of the day rather than height or exposure. I decided on a route that would start on the A838, taking in almost a complete traverse of the ridge and then retrace my steps to the car.
Leaving the campsite, I had loaded up and left at 7.15am for diesel and then I took the A838 to Laxford Bridge. The weather was fine and clear and many camper vans had parked over night by the roadside with some of the occupants standing mesmerised by the dramatic landscape they had woken up to after the poor visibility of Monday. Drove past the mighty Arkle and the fair weather suggested today's walk would be a worthy companion piece to the glorious ascent I had made of that mountain last August.
The route I was taking to Foinaven was to commence about 100m before the 143m spot height on the OS map and just beyond a bridge that crossed the Allt Loch Tarbhaidh I found a two/three car parking space. I parked and was immediately under siege from horse flies.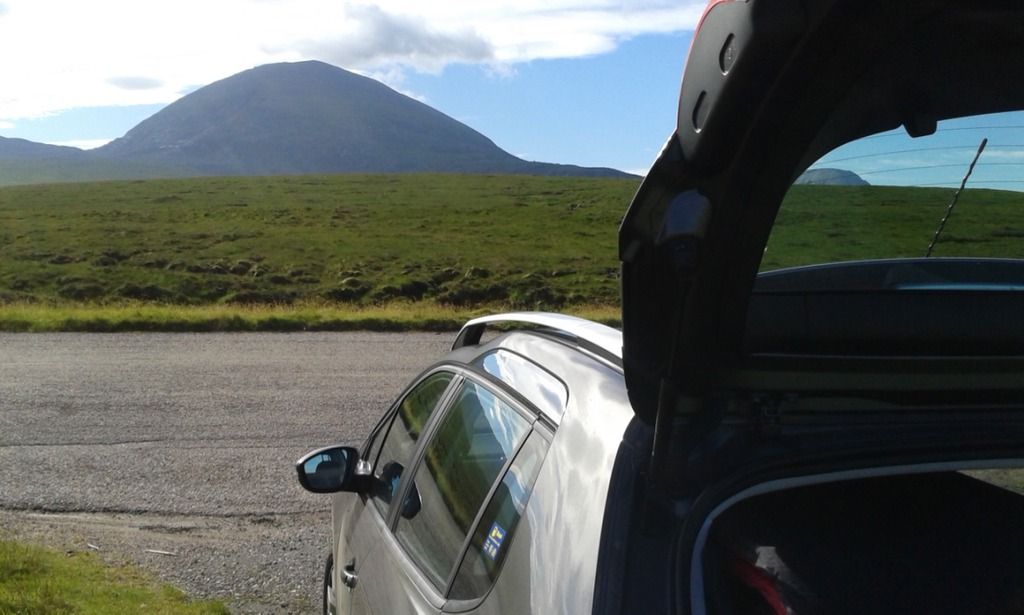 Ceann Garbh from the parking space
The route was pathless and I was to take a south-easterly direction that led to the foot of the north face of Ceann Garbh 'rough end of the mountain'. Above me elongated blobs of lava lamp- like clouds were strung out bizarrely across the morning blue sky and it is no exaggeration to say I felt like I was on another planet with only sheep (and horseflies) for company.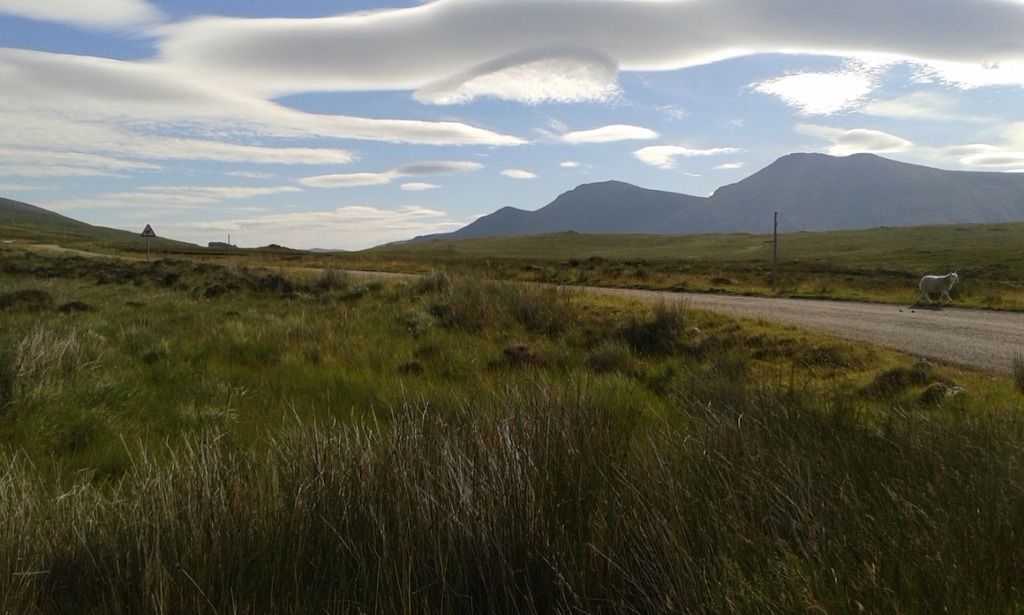 The gates of dawn
Sheep lead the way
Lochans and bog
Quinag stood sharply marvellous almost immediately as I crossed the marshy ground and the route was long but not particularly wet or difficult.
Arkle, Ben Stack and Quinag
I weaved my way through chains of lochans.
Lochans en route to Ceann Garbh
At one lochan I disturbed two ducks that mechanically danced above and below the water mirroring the crazy cloud patterns that were beginning to disappear.
The ground gradually rose as I neared 'the rough end' and I could see Creag na Claise Carnaich which a number of the routes I had read suggested as a way of descent to the pumping station north of Rhiconich.
I heard the very active Allt na Claise Carnaich which I had to cross.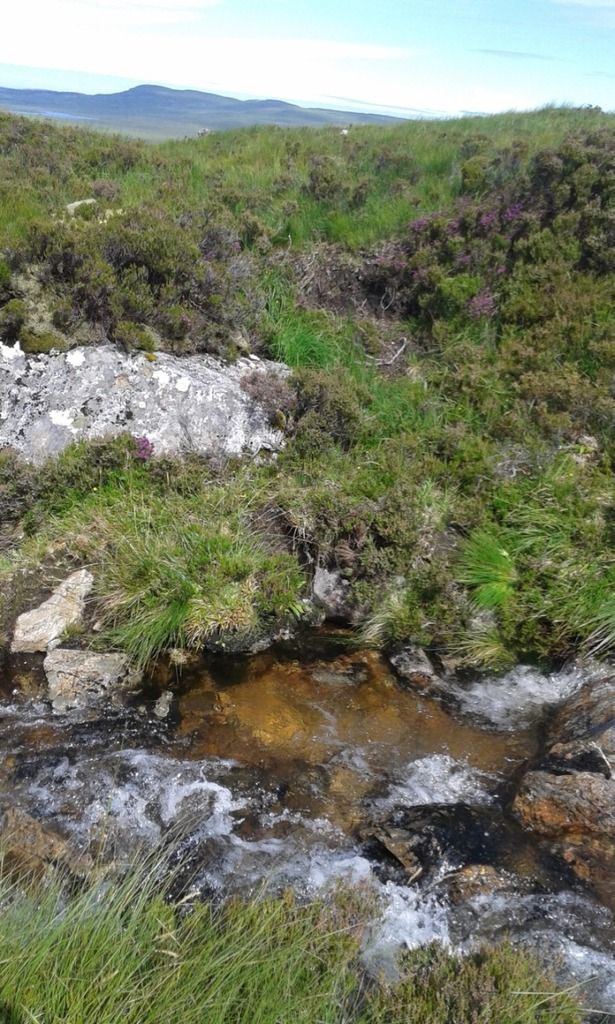 Fording the Allt na Claise Carnaich
Boulders began to litter the boggy land more frequently and some of the bigger ones gave an opportunity to lean back, have a drink and let the grandeur of this wonderful place sink in.
It really was a long and tough ascent but not complicated in any way. It was good to be away from the softer ground and climbing with the expectation of the views I would find at the top.
North to Cranstackie, Balnakeil and the Kyle of Durness and the blue sea was fantastically clear.
Gualin House - one of the only dwellings on the road to Durness
Views west revealed Loch Inchard and the villages that lead to Kinlochbervie and the smudges on the horizon indicated the Outer Hebrides.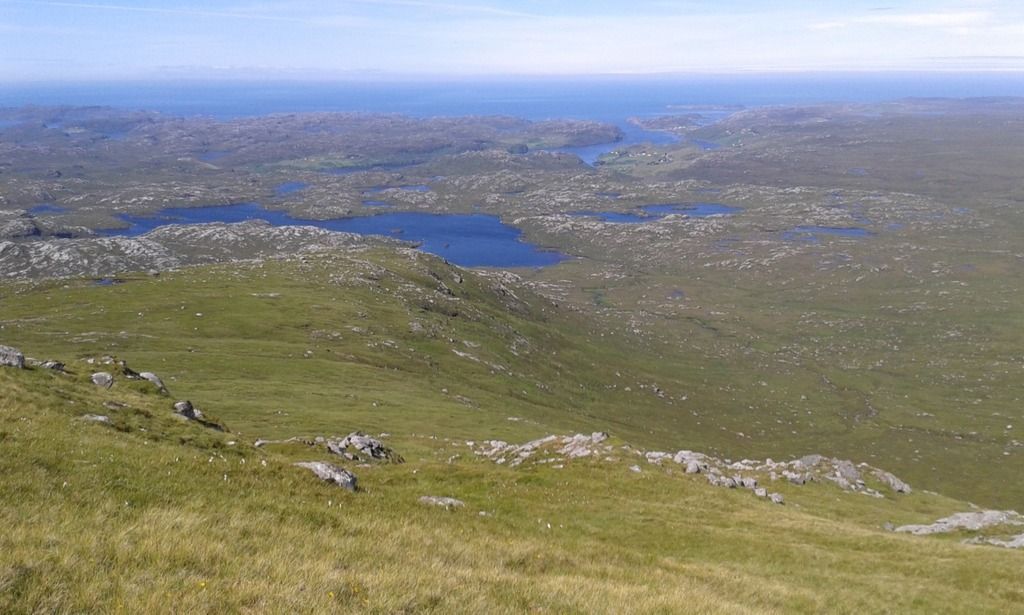 Looking West
The contours narrowed as I reached a break in the craggy shoulder and Creag na Claise Carnaich ran away from me to the west.
There was always the suggestion that I was getting closer to the 902m summit but there was more to go… and more.
After a steady climb the cairn of Ceann Garbh was finally before me and the huge panorama opened up.
Cearn Garbh 902m
Ben Hope
To the north was Cranstackie, looking worthy of a future walk. Ben Hope fanned out like an ice cream wafer; I had stood on the summit two days earlier in mist and saw only the trig point.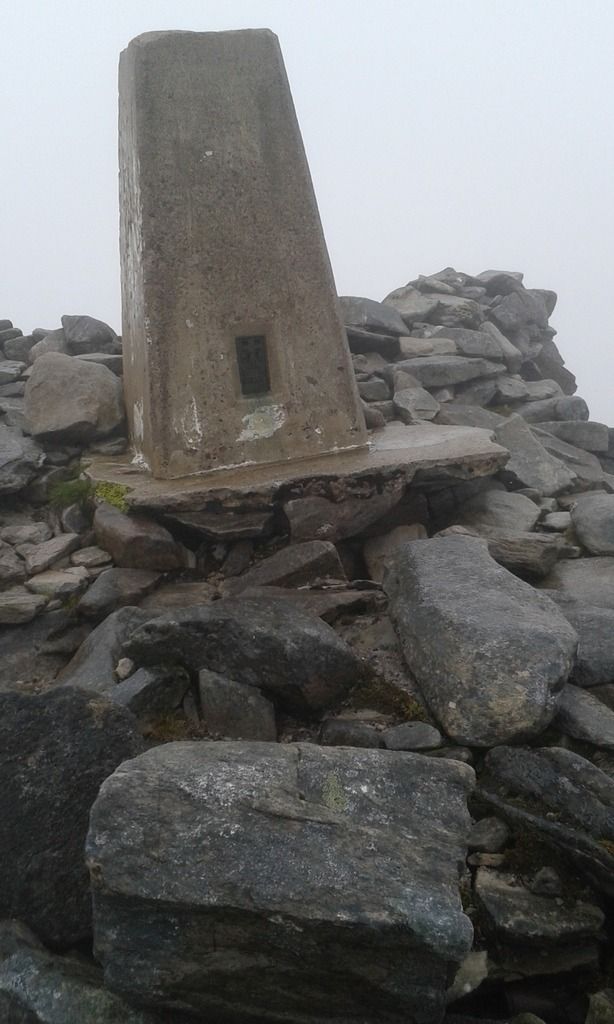 TP1274 Flush Bracket : S7061 Slightly damaged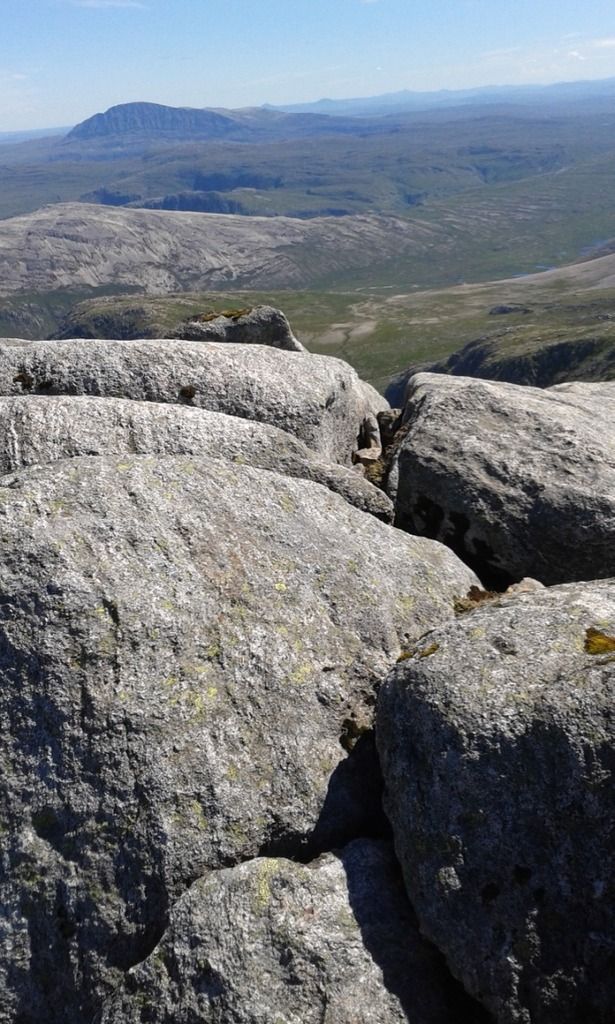 Ben Hope again
Then there was the ridge of Foinaven that I had read so much about. After the disappointment of a misty Ben Hope and an abandoned walk to Cul Beag there was the clear view of all those features: A'Cheir Ghorm ridge with its contrasting craggy top and smooth scree base, the not quite Munro Ganu Mor and soon to be seen prehistoric tooth of Lord Reay''s Seat.
To the south ran Arkle, Ben Stack and Quinag, a trio that I had climbed last year.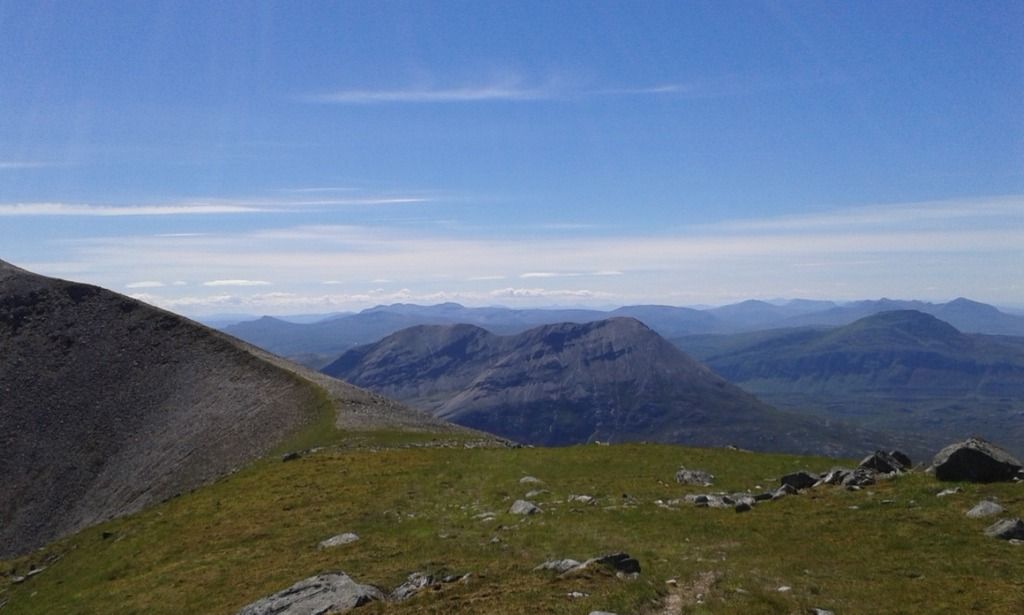 Last year's mountain highlights
The conditions were so clear and it was warm; I felt hugely privileged to be up here on a day such as this. The ridge was quite rocky in places but with some grass sections that made for a easy going initial section.
Grassy ridge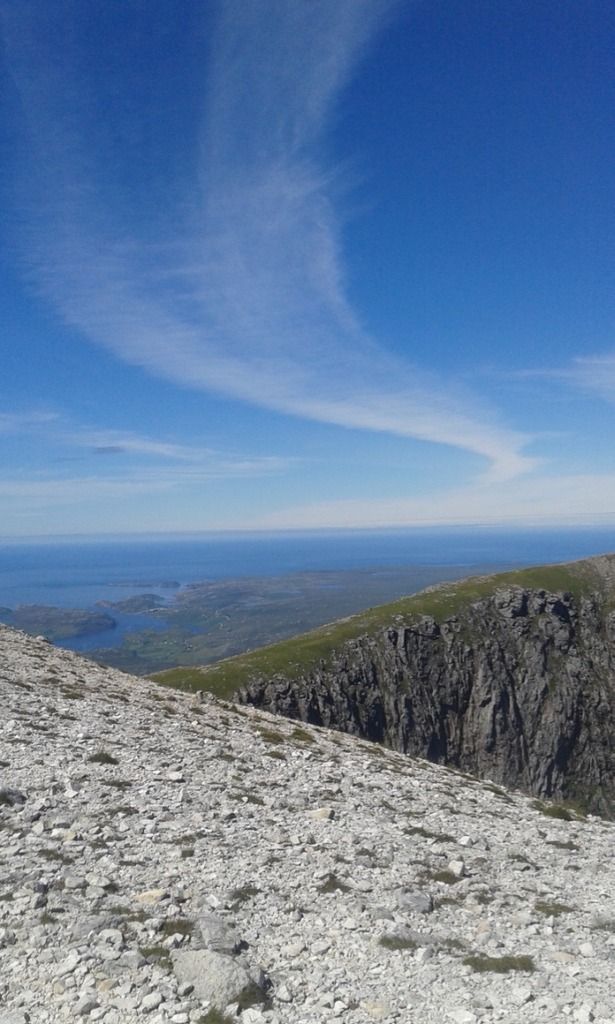 Sky highway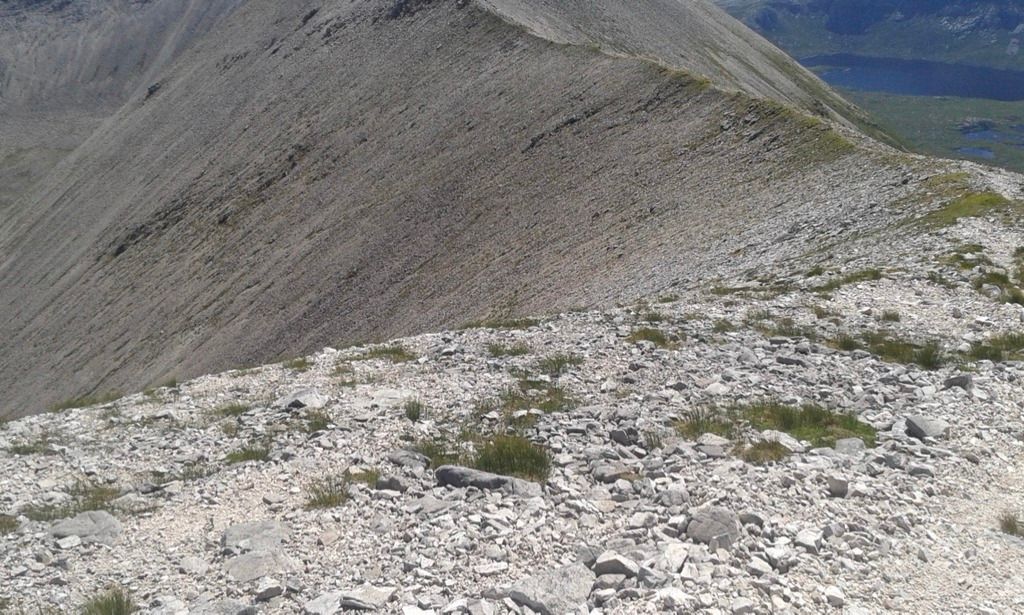 Rocky ridge
Ahead of me near the Ganu Mor summit cairn I saw two figures. We eventually met as I climbed the ridge to Ganu Mor. They were from Thurso and were to be the only people I met on Foinaven that day. They had ascended from Strath Dionard and climbed up the slope of Ceann Garbh from Coire Duail (another route).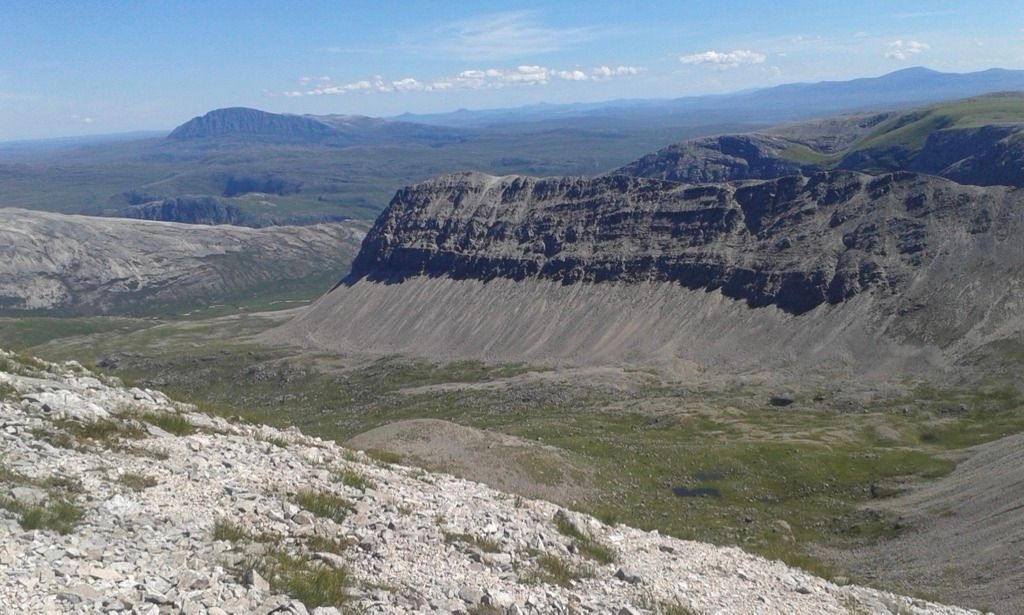 A'Cheir Ghorm

Looking back to Ganu Mor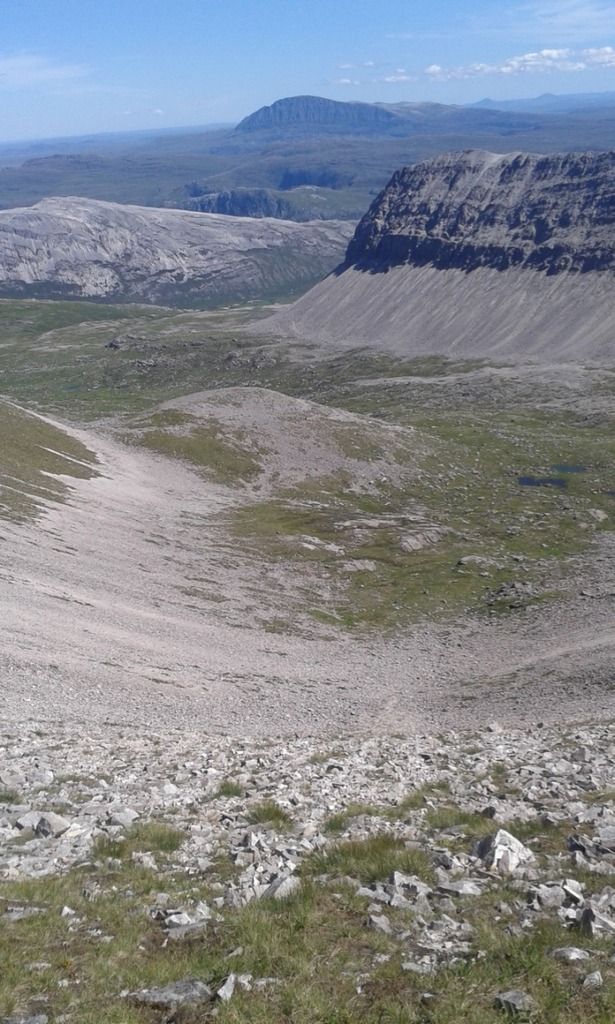 Braigh a' Choire Leacaich
The ridge to the next unnamed summit was increasingly rough.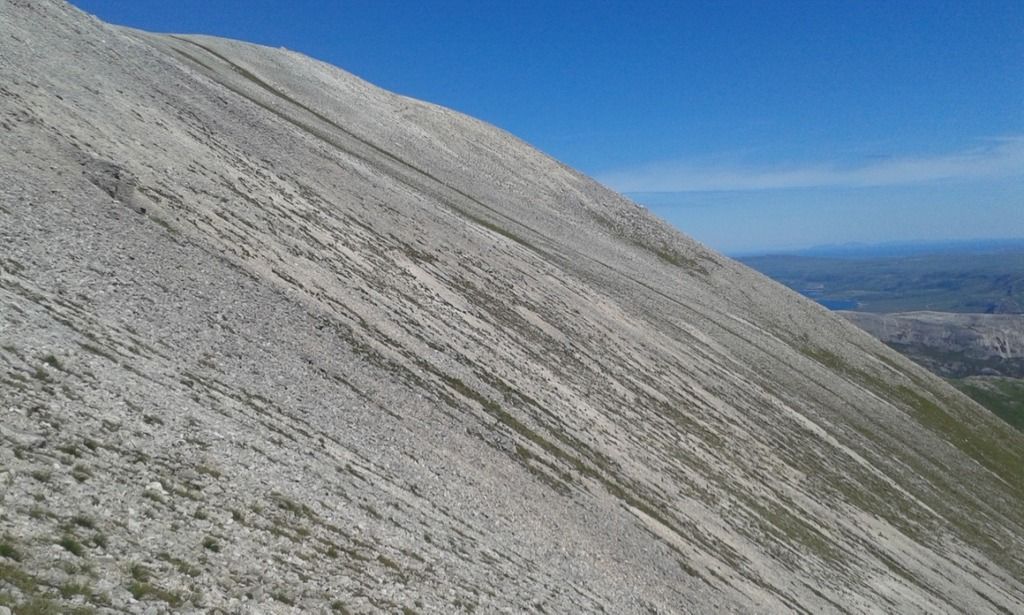 Scree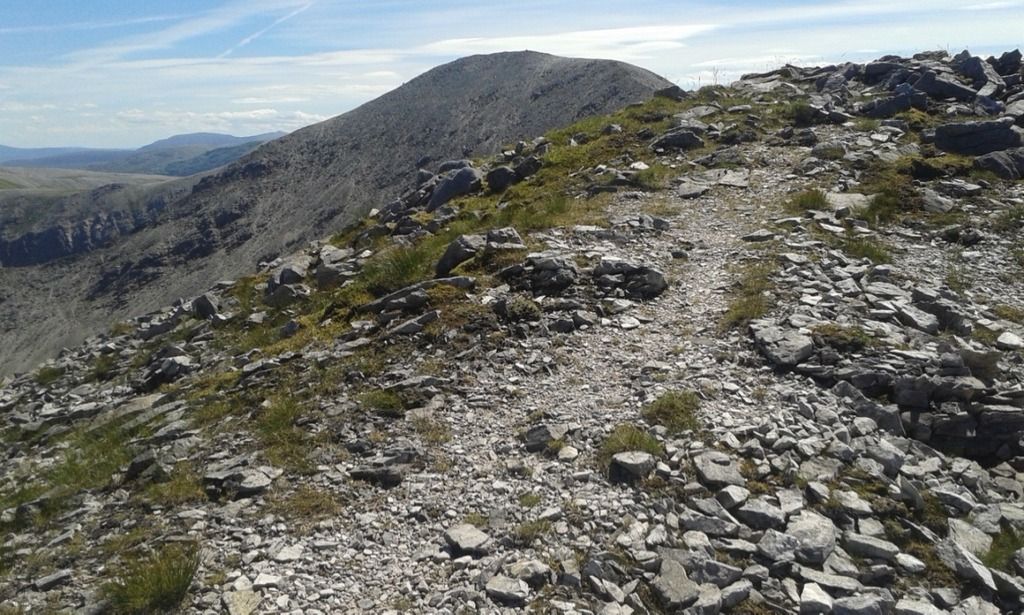 Ridge path to unnamed summit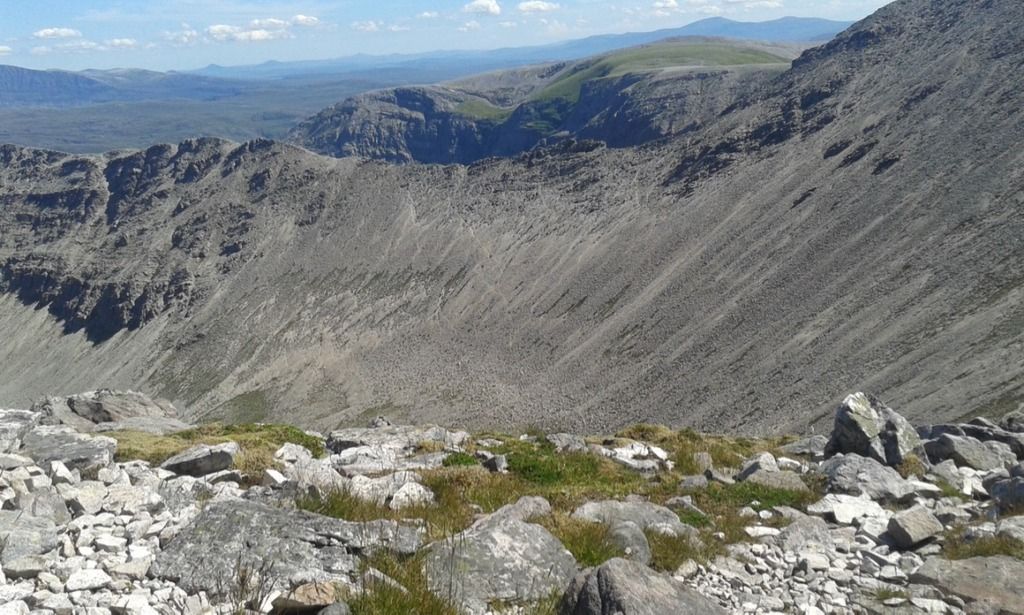 A' Cheir Ghorm from unnamed summit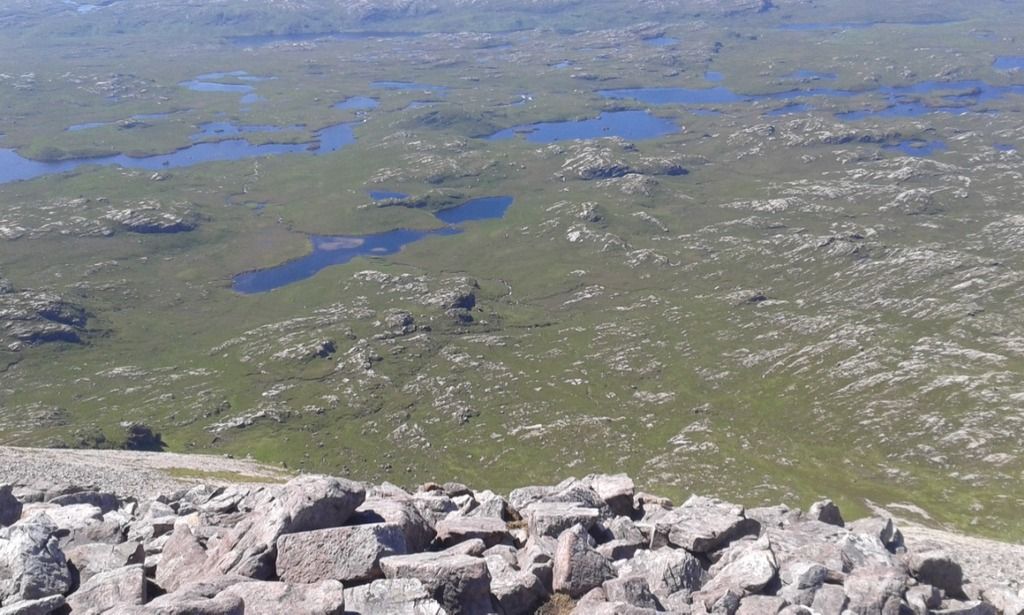 Lochans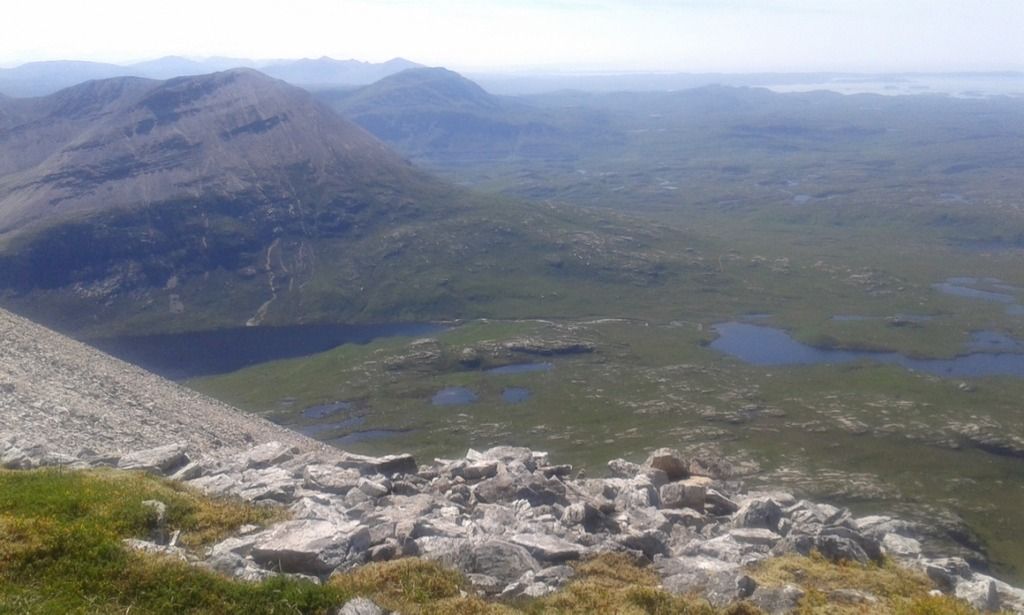 Arkle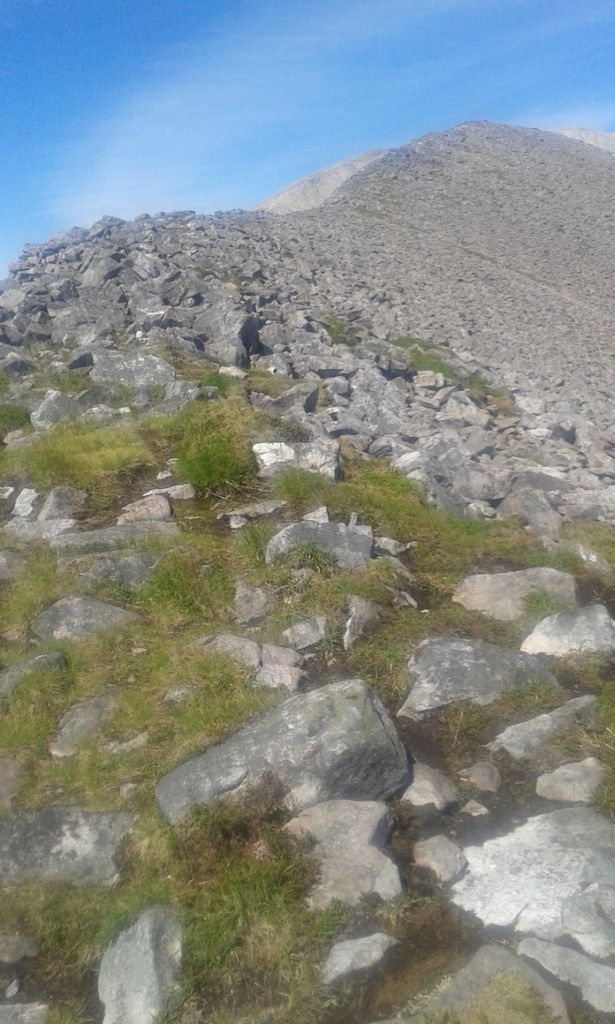 Looking backwards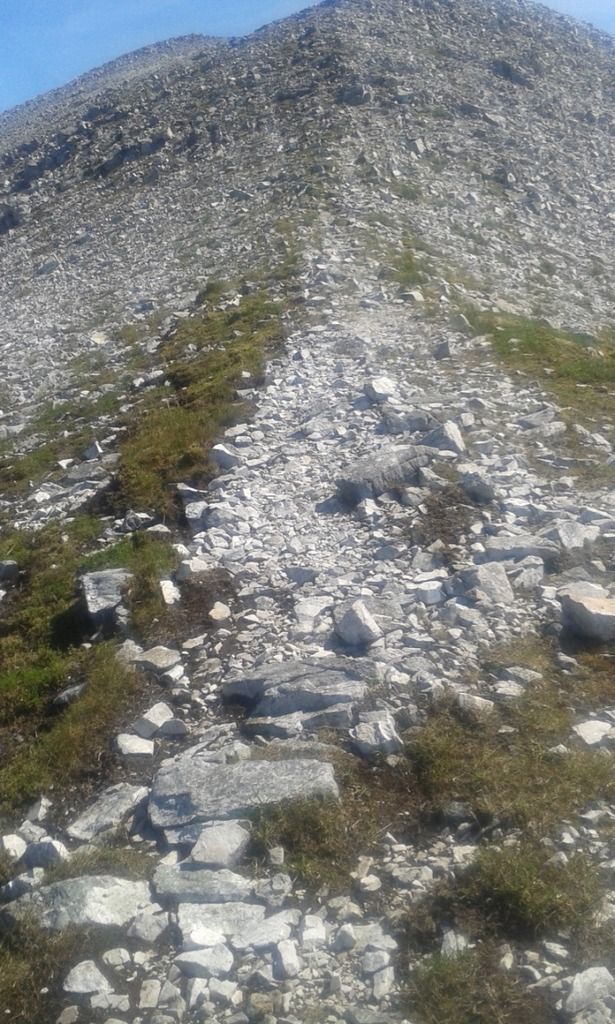 Looking forwards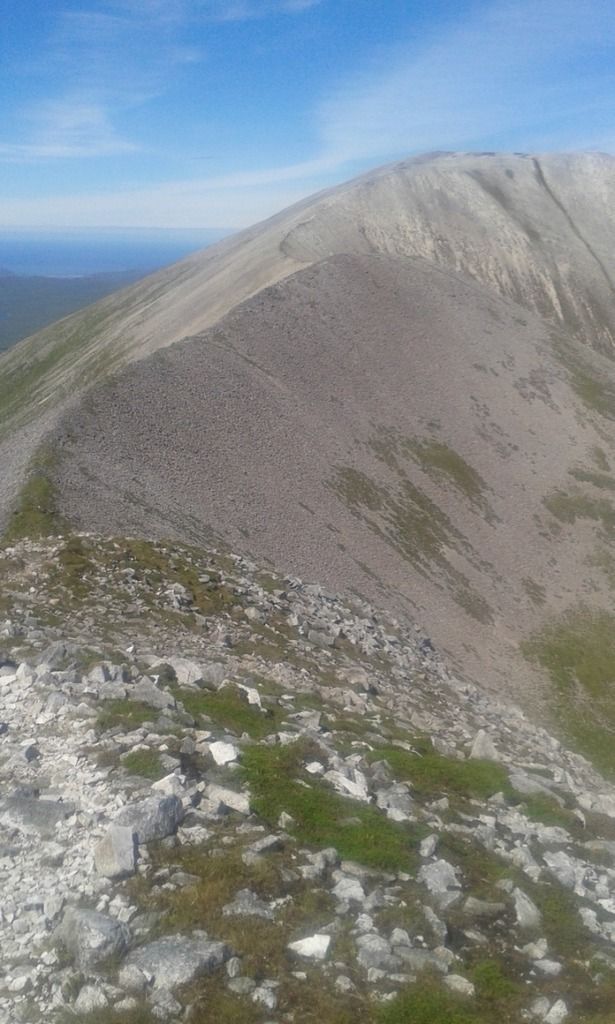 Sweeping ridges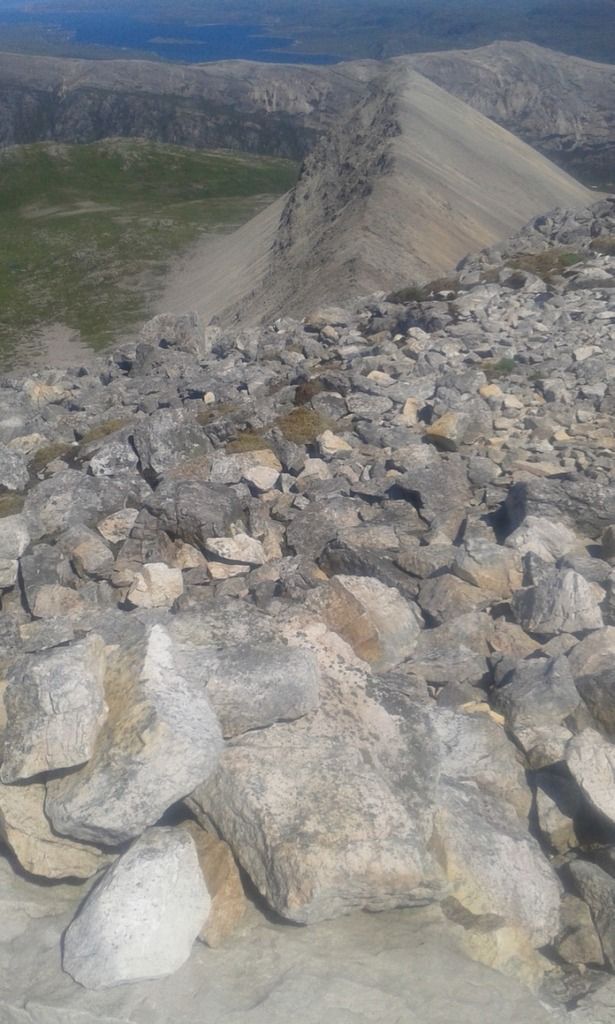 A' Cheir Ghorm from 869m summit
The views from the 869m summit revealed Loch Eriboll to the North and the imposing A' Cheir Ghorm ran in a challenging line. I stopped to eat my pasta bolognese straight from the packet. The ridges were stunning but they did make for a demanding if not technically difficult walk. The route was to get more difficult underfoot as I neared Lord Reay's Seat.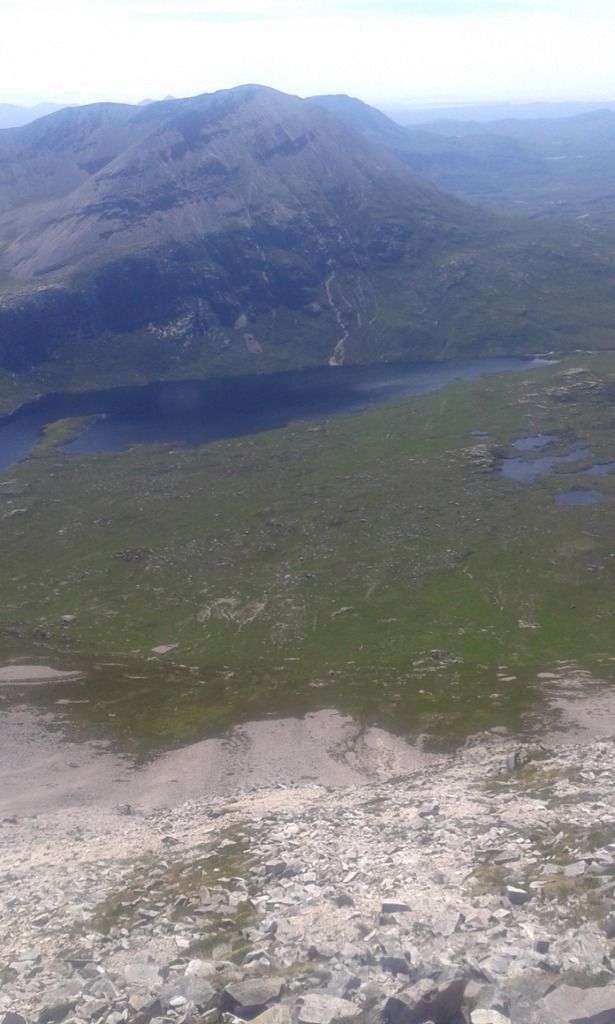 Arkle from 869m summit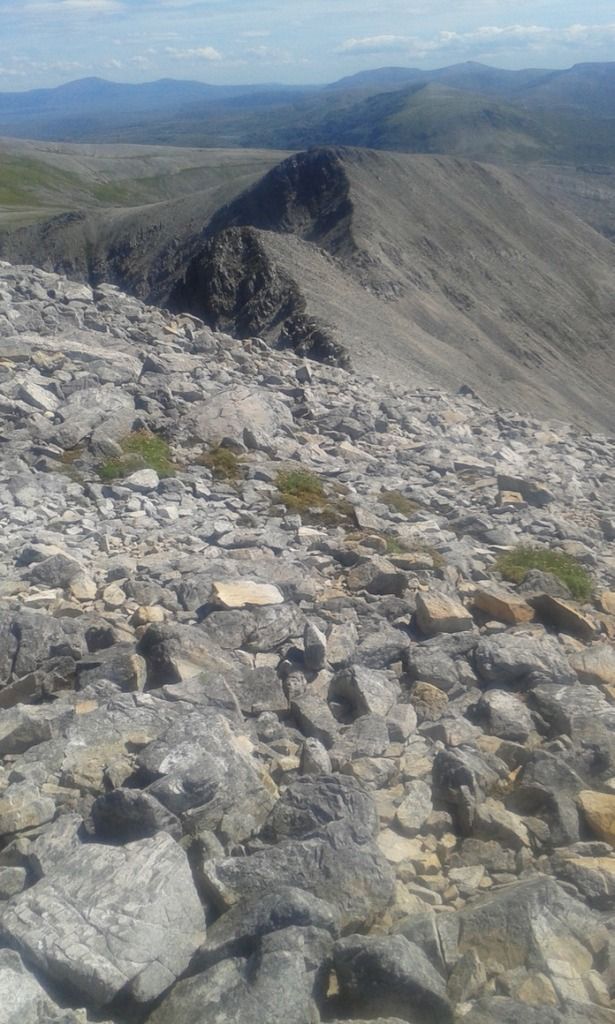 Lord Reay's Seat and Cadha na Beucaich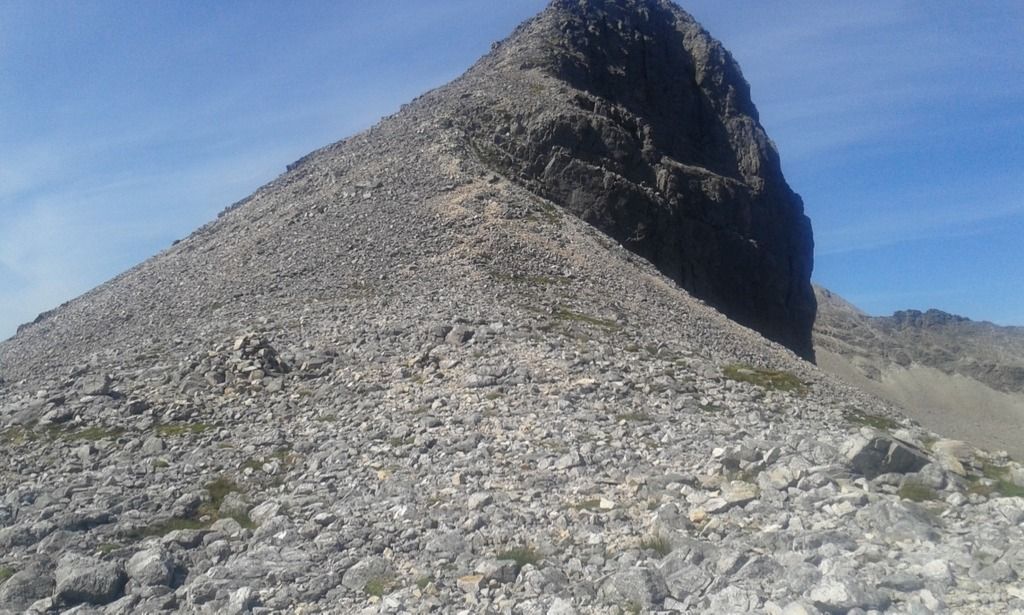 Lord Reay's Seat
I left my ruck sack at the shelter with the intention of climbing up to the 808m summit. However after a few minutes I decided to turn around. I think it was the right decision in view of the long route I had taken. It was a tiring scramble and having dismissed the idea of continuing to Achfary with the option of hitching back to the car, I reluctantly headed back. down.
Which brings me to something you should not do. Instead of heading back on the obvious path up and over Lord Reay's Seat, clearly visible, I chose to head further west down the scree slope.
Difficult scree below Lord Reay's Seat
This was a big mistake. I did my best to head diagonally to the ridge but this involved some very difficult scree walking. Avoiding the more obvious loose stones I walked on streaks of grass and held on to large permanent looking boulders…which were not permanent. I did reach the ridge fine but I was glad to be back on the more clear route.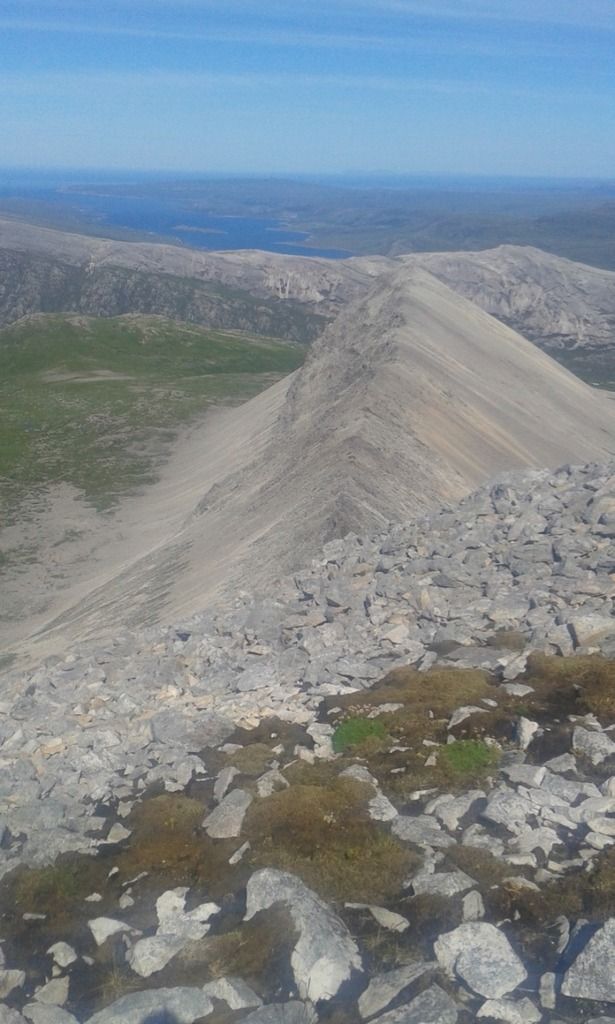 A' Cheir Ghorm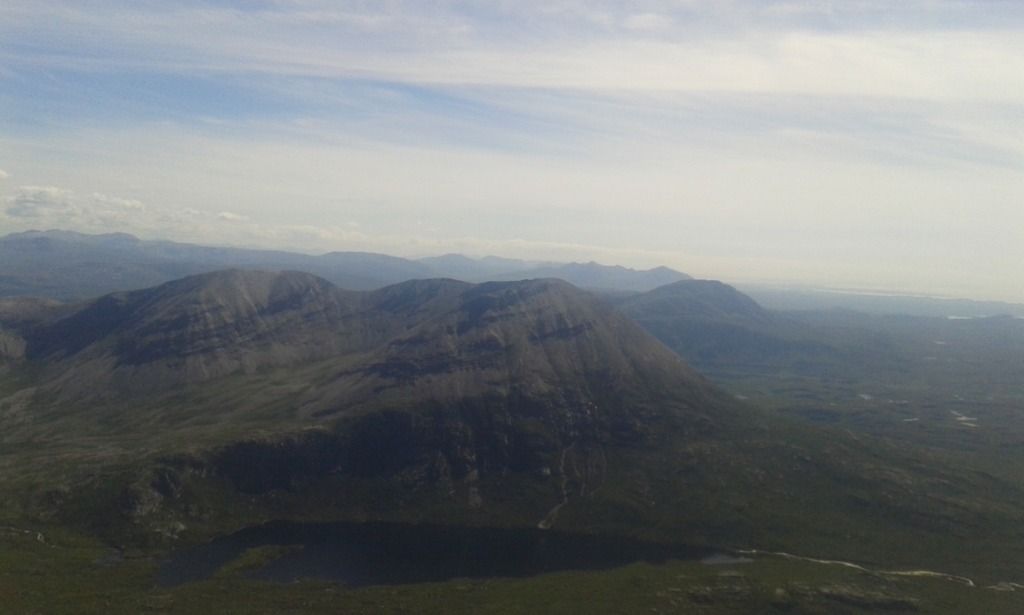 Arkle
Rucksack relief
Cranstackie
The day was really warm now and I still had a long way to the car. I took a lot of water and drank a lot of it that day. The final trudge across the boggy land was hard but a few large boulders guided my way back. Near the end I was pretty much exhausted and decided with the help of my brother via the phonebox at Rhiconich (guarded by sheep) that I was heading to the SYHA in Durness rather than a night of camping.
Overall a great day, fantastic weather and I would hope to return. What I did enjoy was the mix of pathless and ridge walking.It is not really possible to do this mountain justice from one walk report. The variety of routes shows how many times you could return and find new approaches. I think I just got a taster of what Foinaven holds for walkers. Which brings me to some suggestions if you are considering Foinaven: either a) a complete traverse from Achfary to the Durness road or b) approach Foinaven from Strath Dionard or Loch Eriboll. The reason for b) is because I think you would get a real appreciation of the scale of Foinaven from the ground, something I did not really have on my route. For the a) option Foinaven (in my opinion) looks more stunning from Arkle than Arkle from Foinaven and a complete traverse taking in Arkle would be an awesome day out with the complete Foinaven ridge, your objective for the day, laid out massively before you from Arkle's sinuous curve.