Having read Kinley's recent retrospective report on Streap/Beinn an Tuim thought I would post this report on a walk I had at that same time in the wonderful winter weather we were experiencing.
Ben Dronaig Bothy – December 2008
Drove up to Strathcarron on the morning of 27/12/2008 getting there at 12 noon
Went round to Lochcarron for a coffee and to buy a few things before walking into the bothy.
Took just under three hours to walk in from Attadale House on a good track all the way.
Track would be cycleable but with a fair bit of pushing especially at the very steep climb at Loch na Caillich
A beautiful frosty winters day.
Had the fine bothy to myself that night – my time was spent for the next few hours trying to get going and tend a fire.
There was log cuttings in the bothy but they were just to cold to catch – really regretted not buying a pack of kindling in Lochcarron stores.
Well below freezing – used ice axe to break ice in burn for water.
Had my meal and eventually just after eight gave up with the fire and settled down in the sleeping bag.
Saturday 28/12/2008
Even colder this morning – decided best just to set off about 8 am.
Checking my rucsac for the hill I discovered I had left my crampons in the car – DOH !
The hills on the walk in had looked clear of snow but with the freezing temperatures I wondered just how icy they might be.
So with a wee bit of trepidation set off in thick freezing fog at 8.30 am.
First part of the walk was up the "controversial" bulldozed track up towards Loch Calavie.
This track does allow quick progress and I continued until I passed Allt Coire Calavie before striking uphill.
Good enough going on frosty and frozen grass – I was soon nearing the bealach and suddenly this.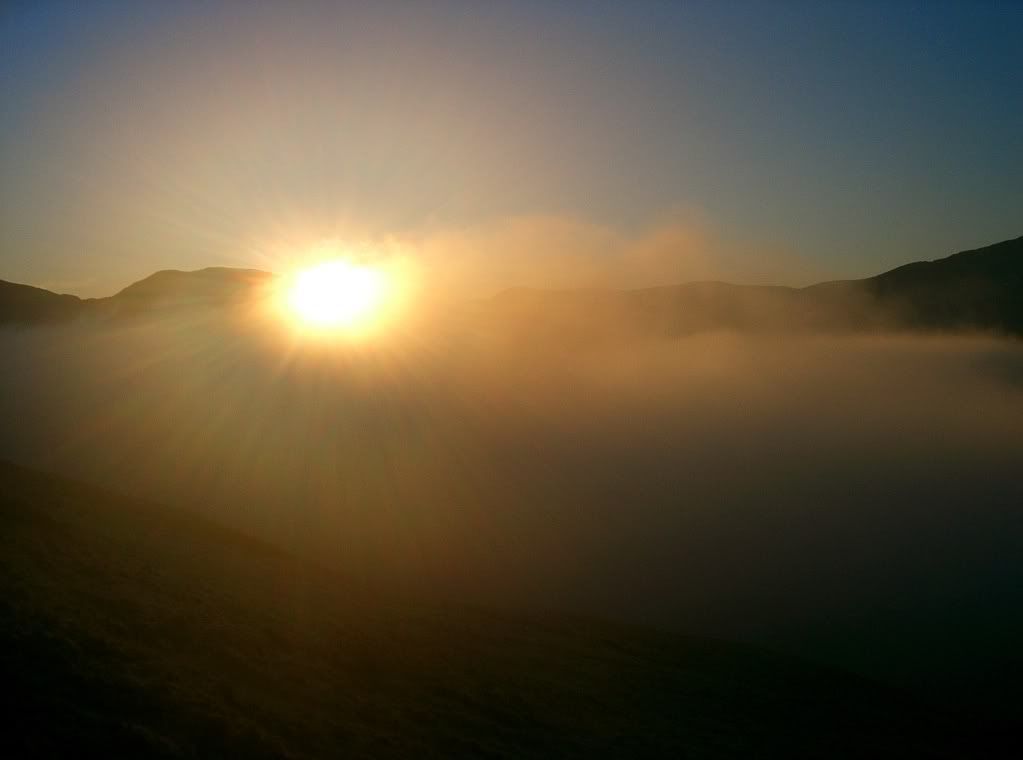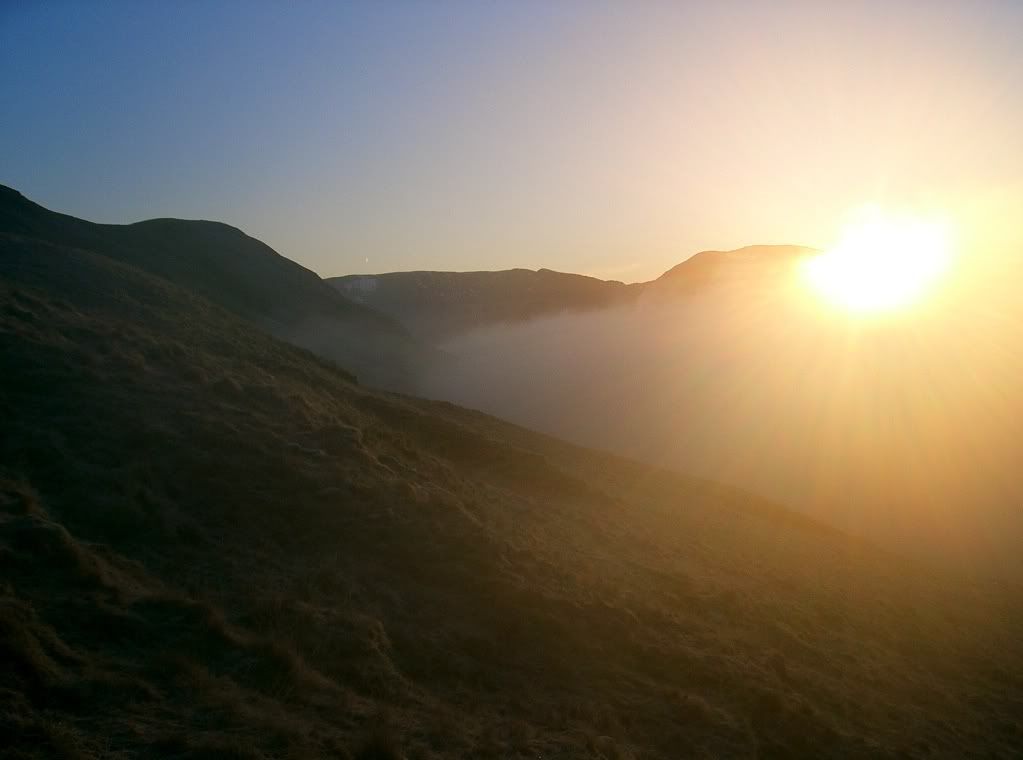 As I climbed out of the mist I could see that the hills were well clear of snow but the lower slopes of Lurg Mhor were white with frost.
Some photos from the bealach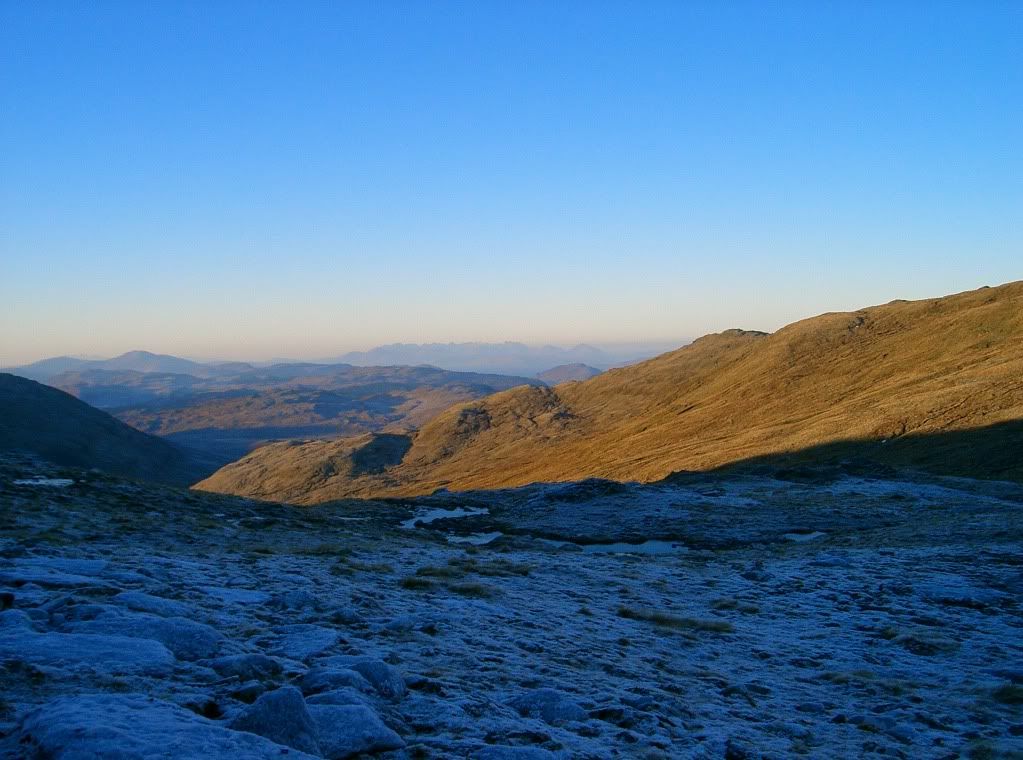 Skye
Skye zoomed
Bidein a'Choire Sheasgaich
Set up for Lurg Mhor to get the frosty hillside out of the way first.
I was lucky the hill was just frosty but dry enough – no patches of ice which might had stymied me.
After the first wee rise from the bealach it was easy going up grassy slopes
Soon at the top where I sat for a while taking in the views – what a wonderful day.
I did'nt go out to the top Meall Mor however – did that on my first visit to this hill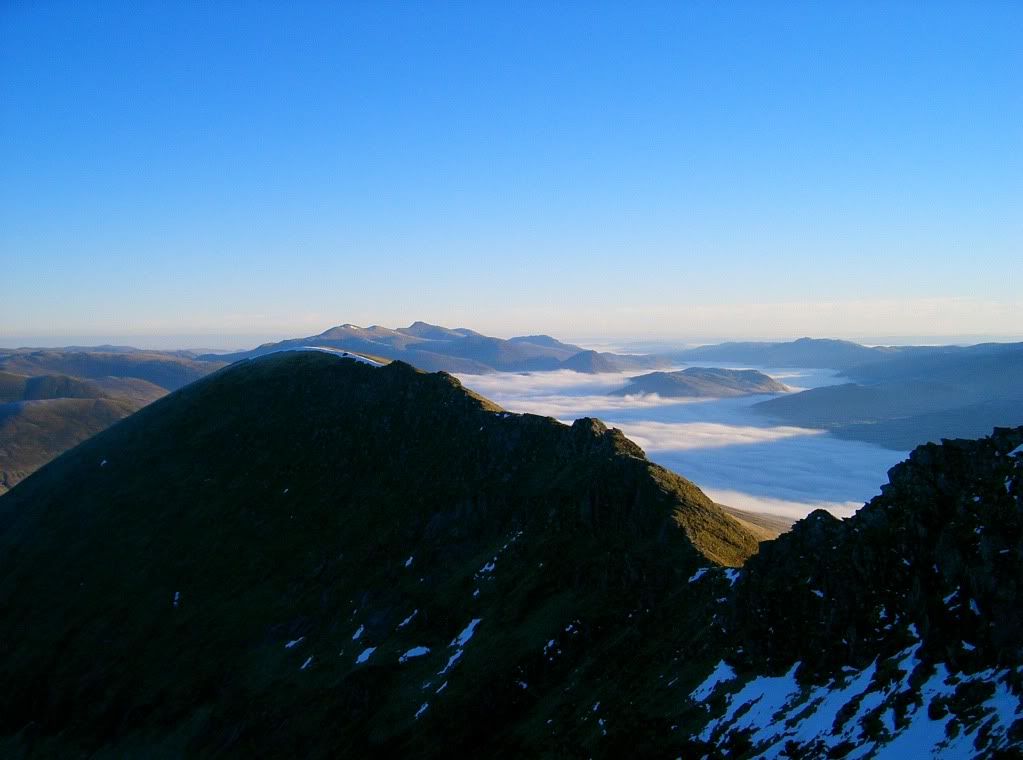 Meall Mor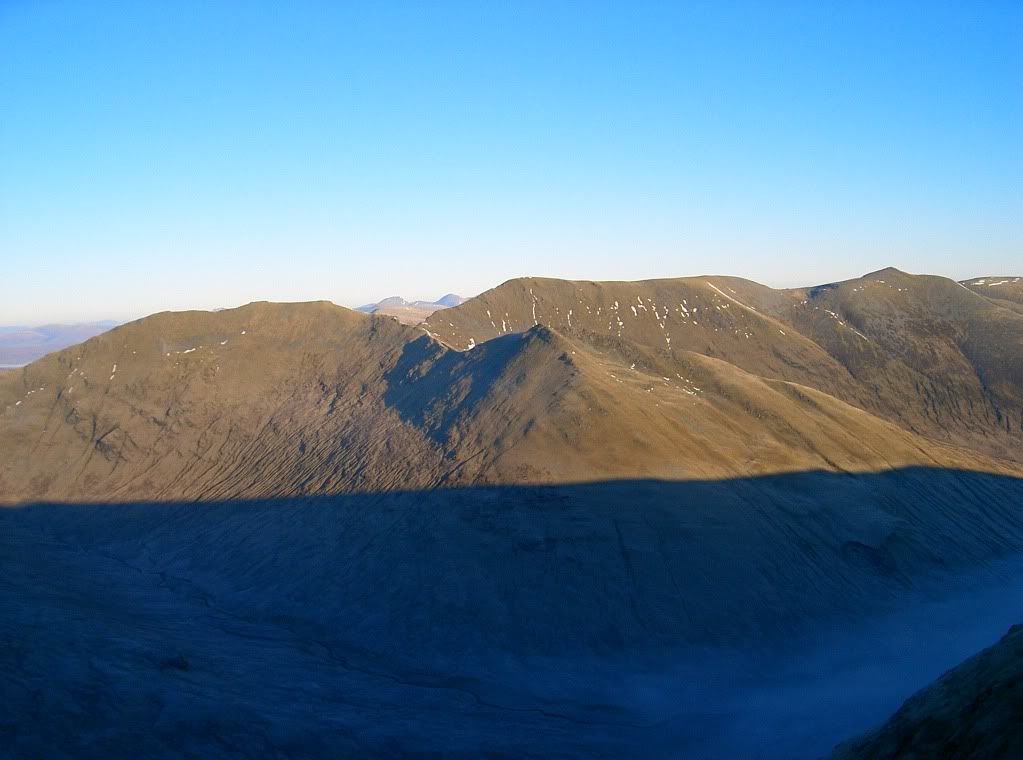 Sgurr Choinnich - Bowman's Pass - Sgurr na Conbhaire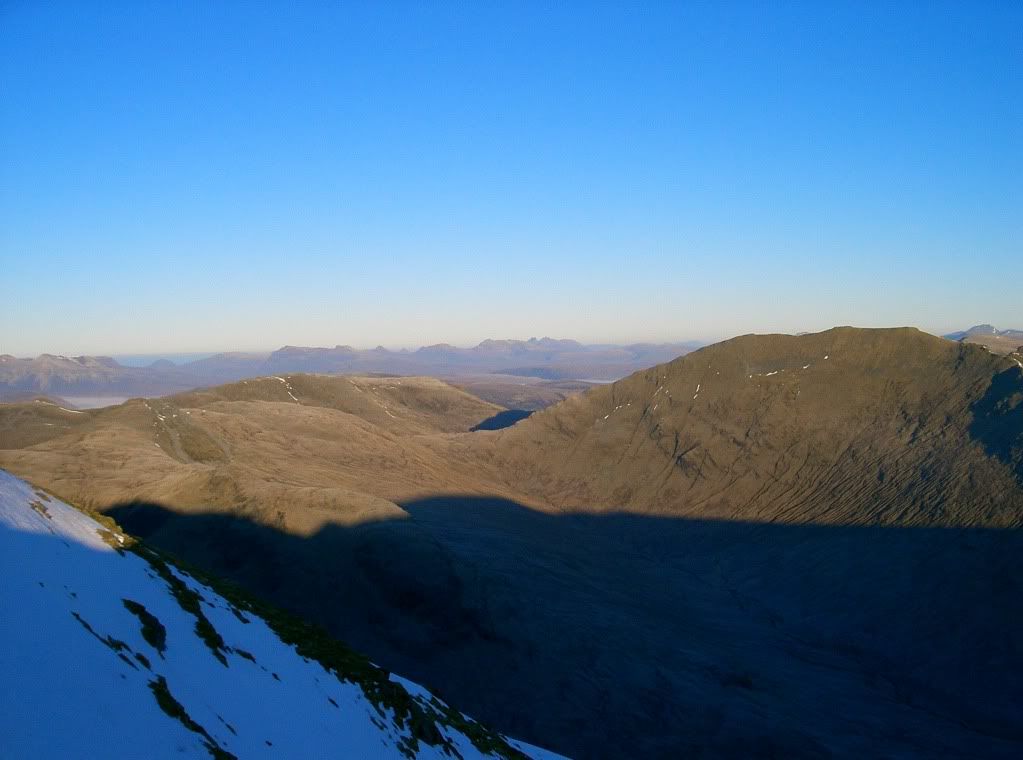 An Teallach in distance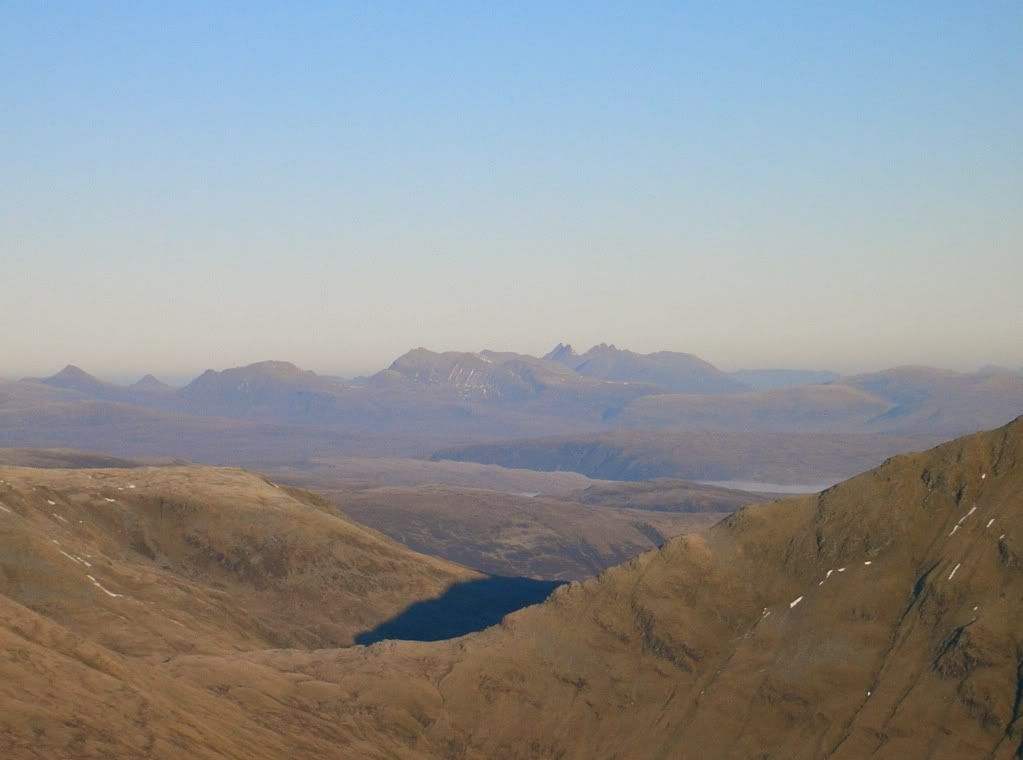 An Teallach zoomed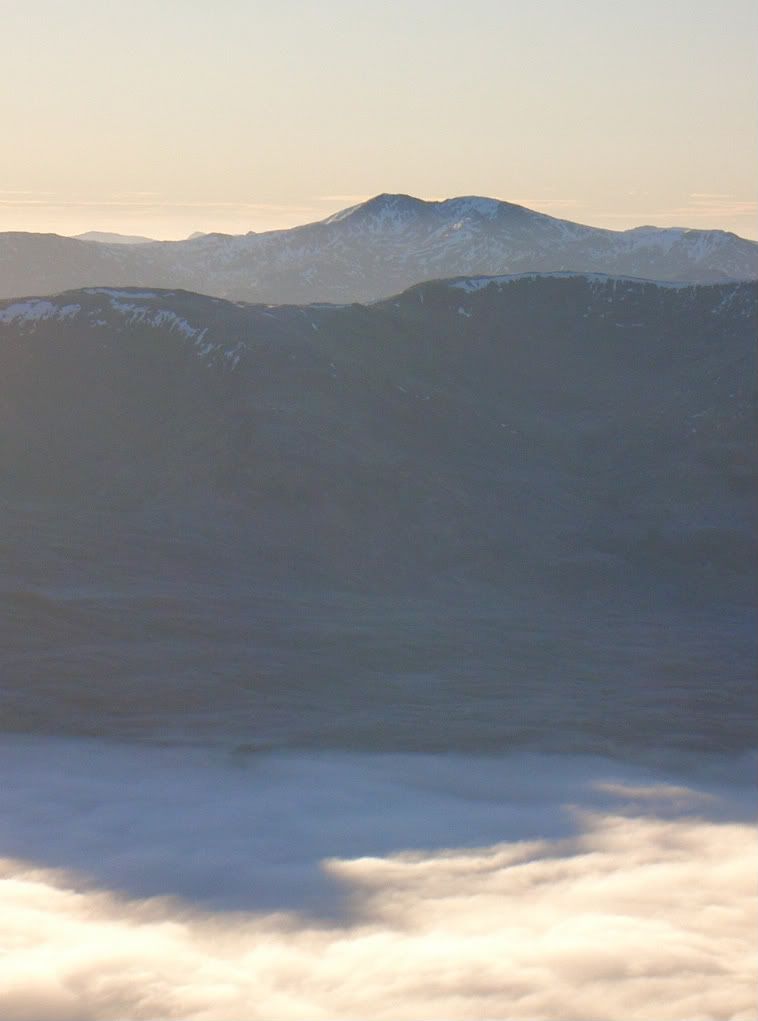 Sgurr nan Ceathreamhnan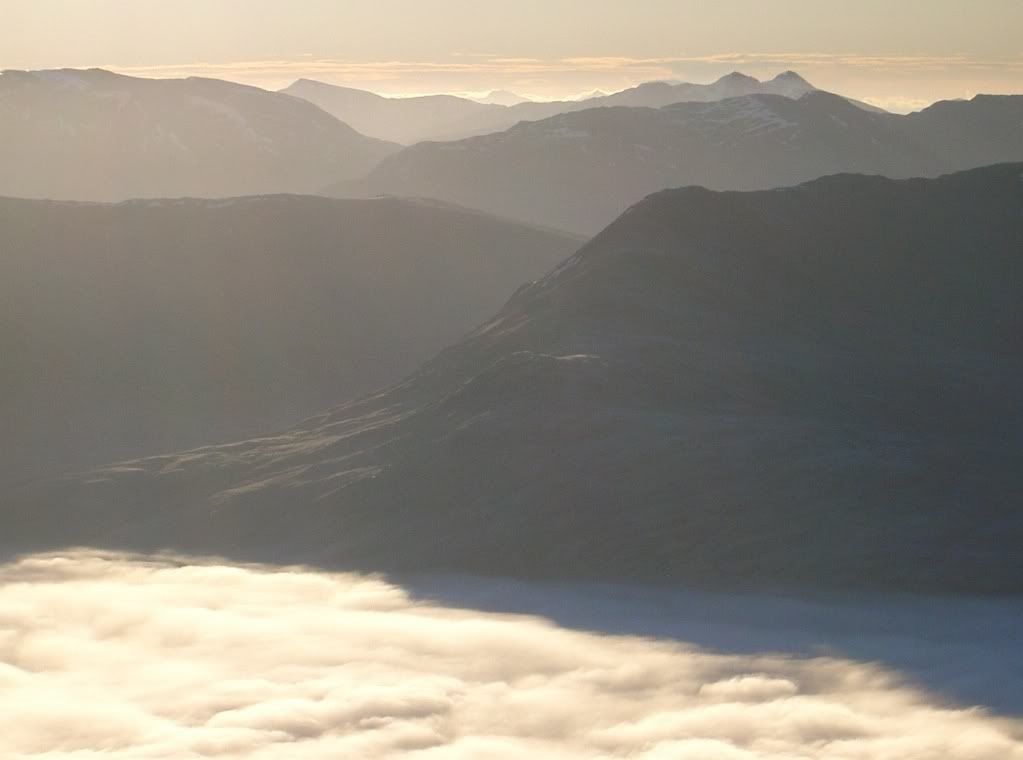 Carn Eighe and Mam Sodhail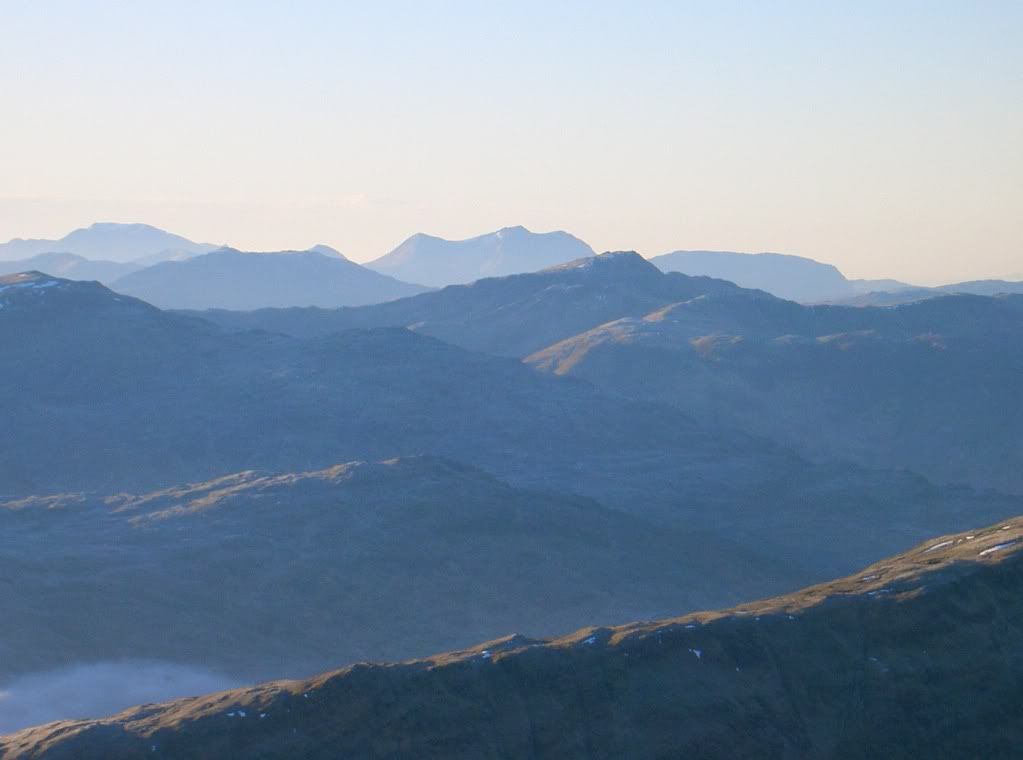 Beinn Sgritheall
Picked my way back down carefully to the bealach and up Bidein a'Choire Sheasgaich.
Easy going now on dry grass and path.
Good thing about approaching from the south is that the climbs from the bealach are short enough.
Really pleasant weather now – still cold of course but a bit of warmth from the winter sunshine.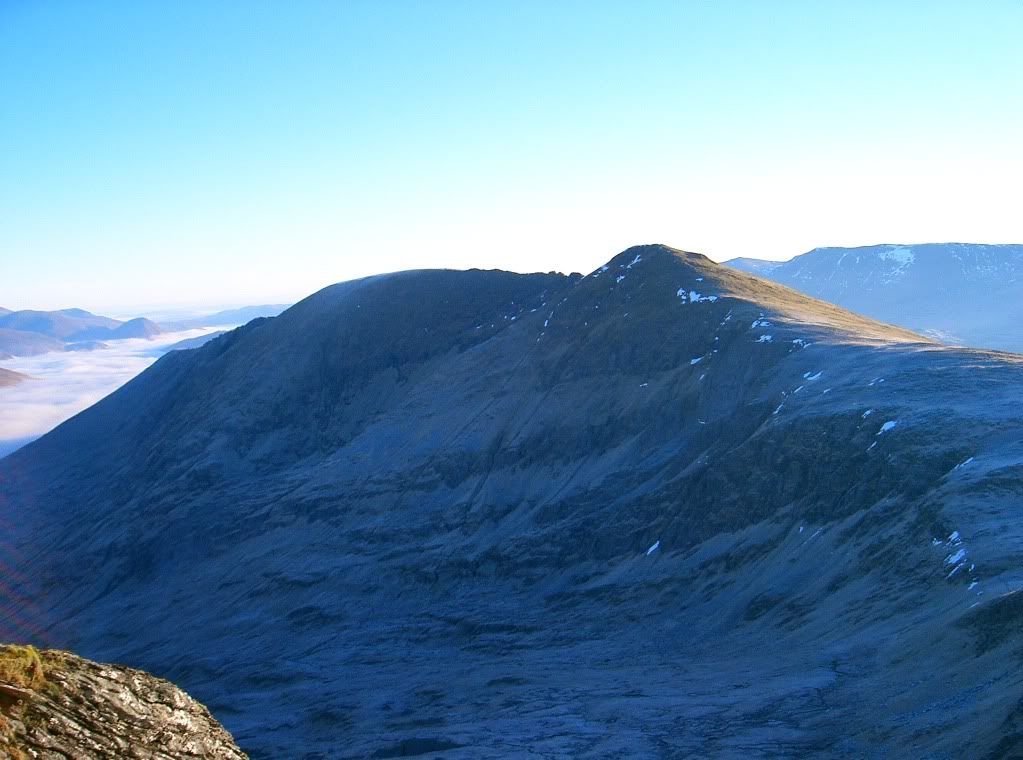 Lurg Mhor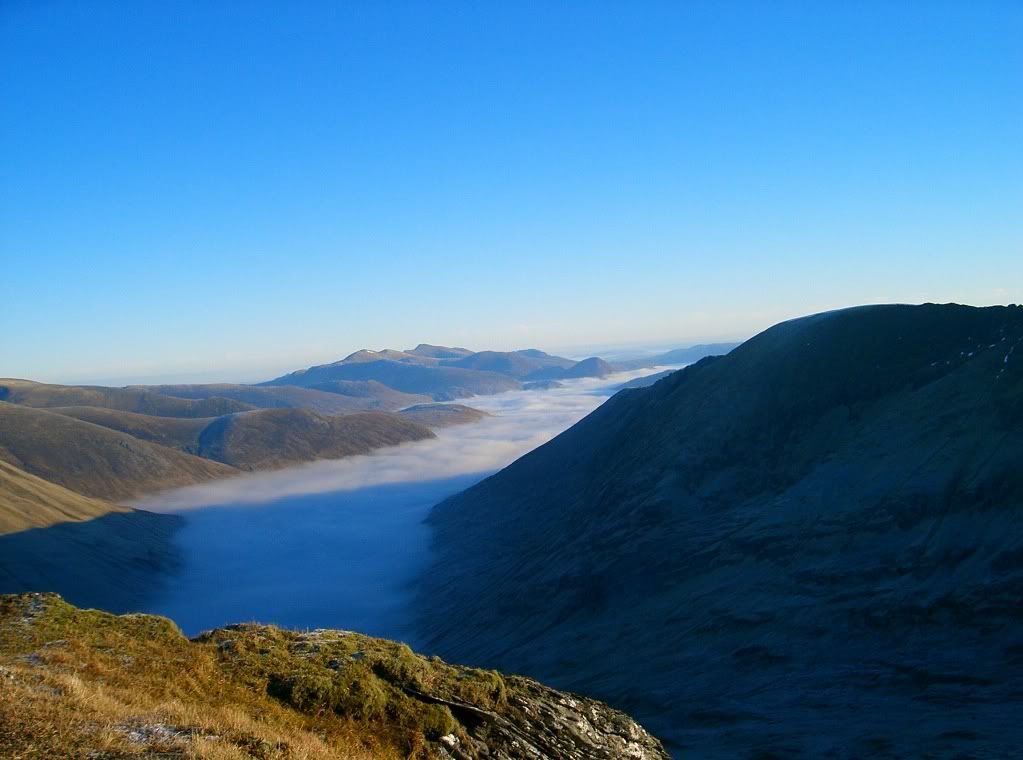 Glen Strathfarrar hills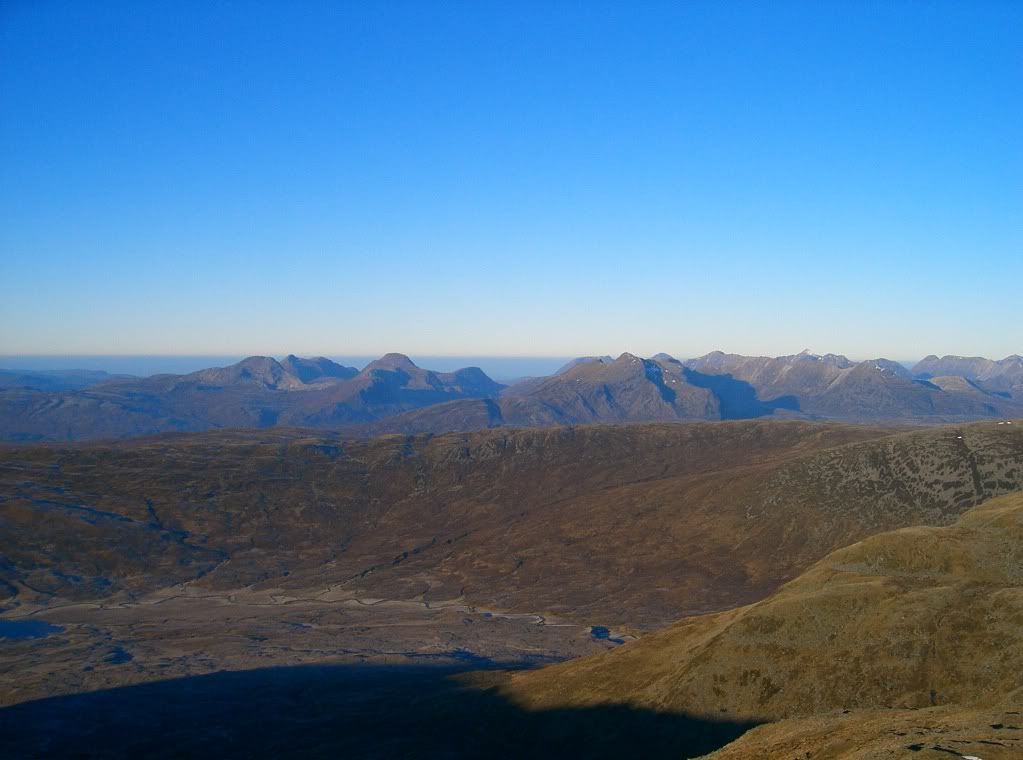 Achnashellach hills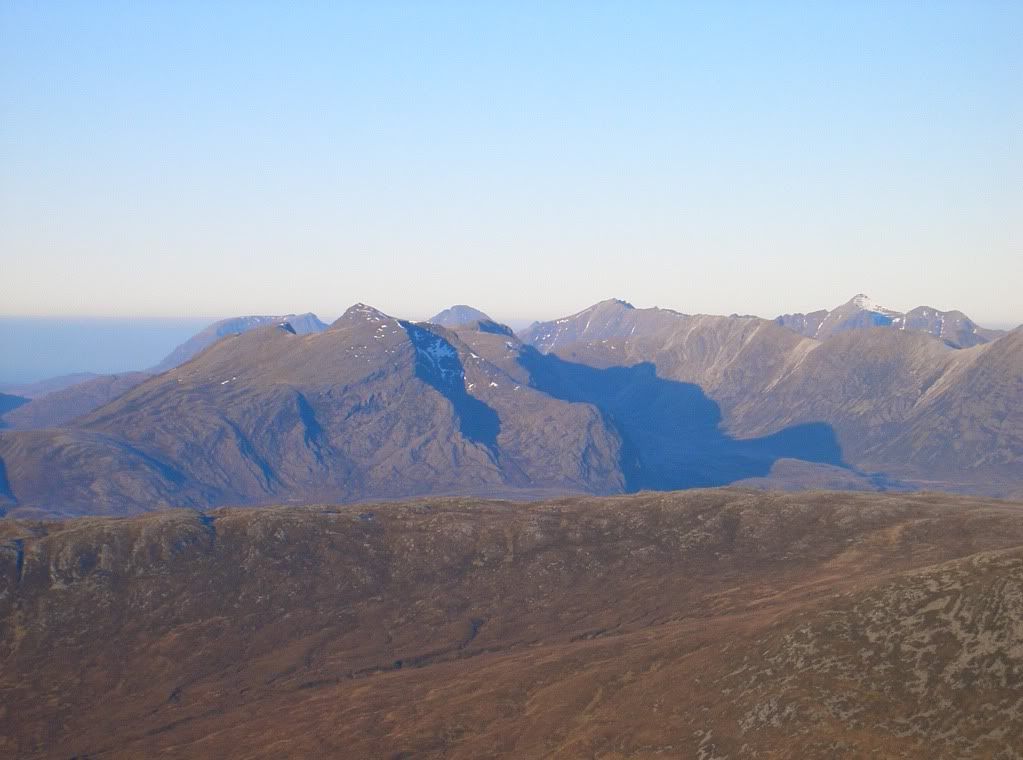 Achnashellach zoomed
Beinn Eighe
Eventually dragged myself away and made a more direct descent towards Loch Calavie.
A bit of a mistake as I ran into some ice patches.But I was careful to pick a line and soon back at track.
Have to admit I swithered about Beinn Dronaig but as it was the last hill (Munro/Corbett) in this immediate area decided to go for it.
Steep grass to climb and now a bit tired – it was just one of those plods – but my oh my it sure was worth it.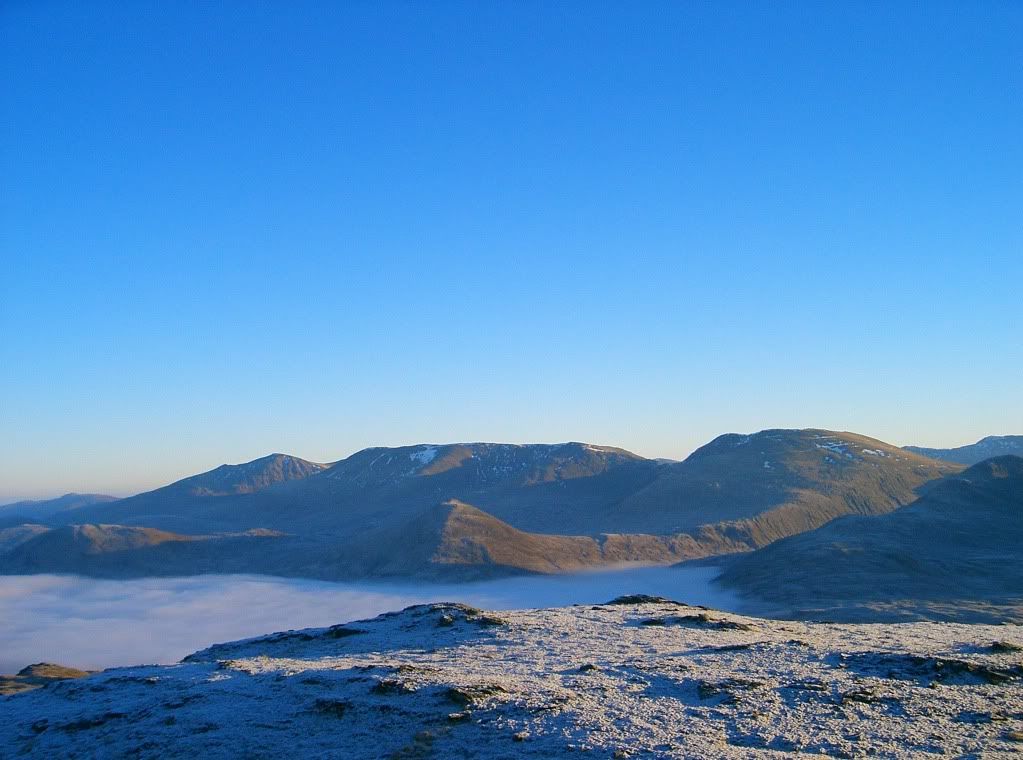 Sgurr na Lapaich - An Riabhachan - An Socach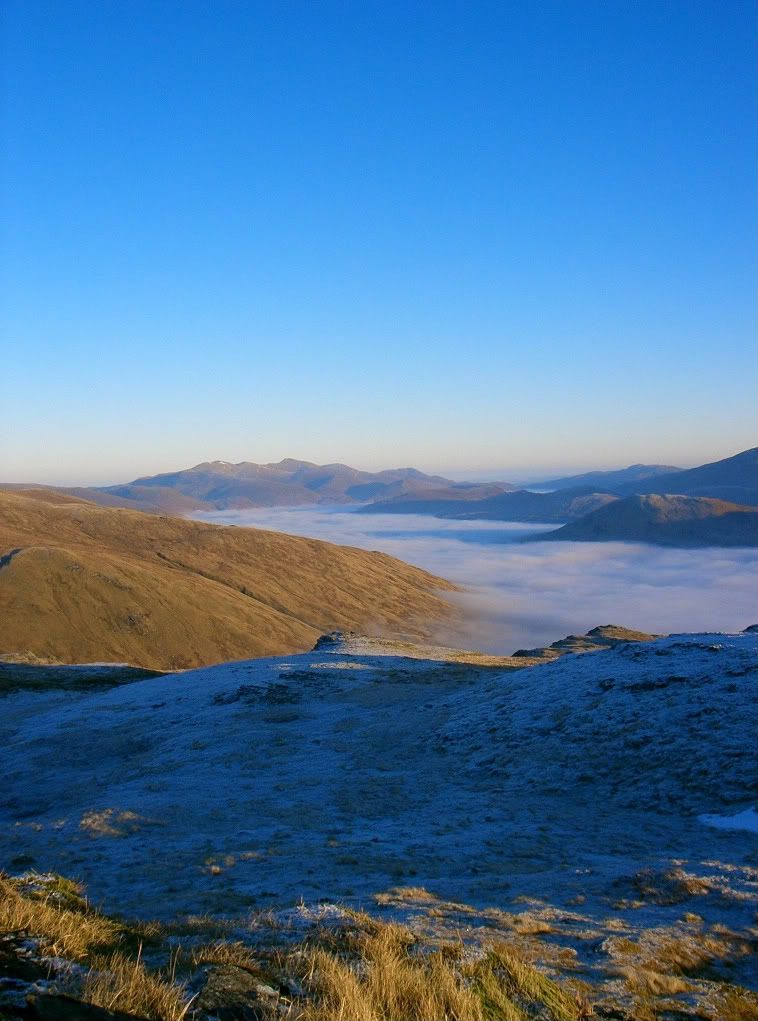 Strathfarrar again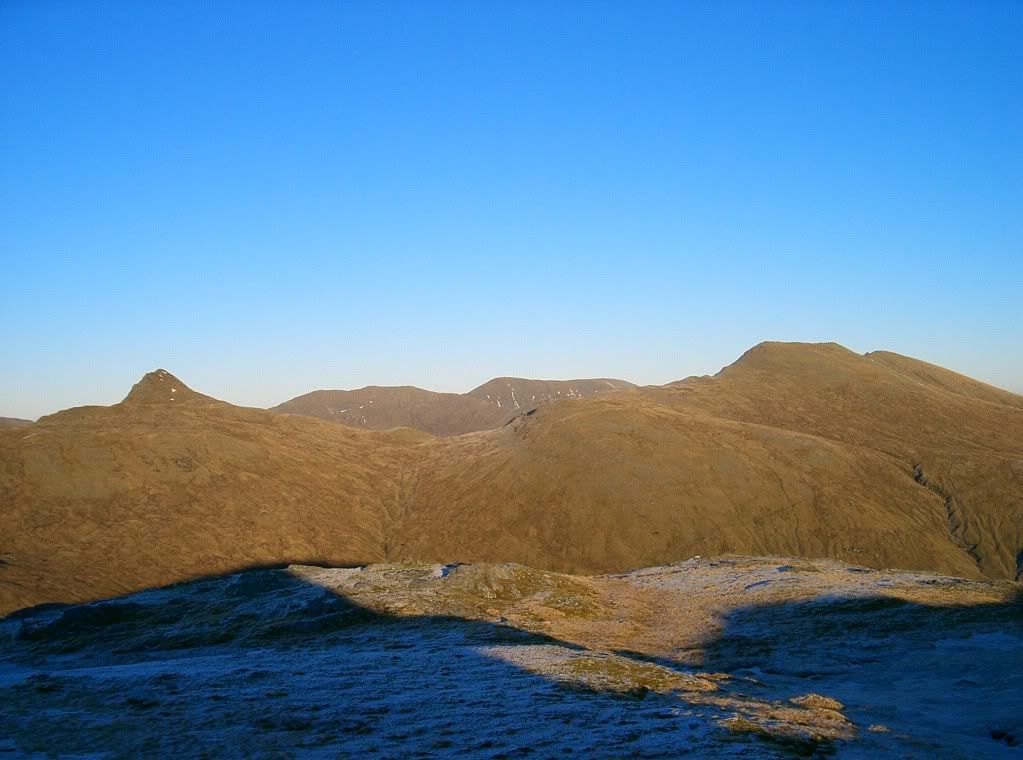 Bidein a'Choire Sheasgaich - Lurg Mhor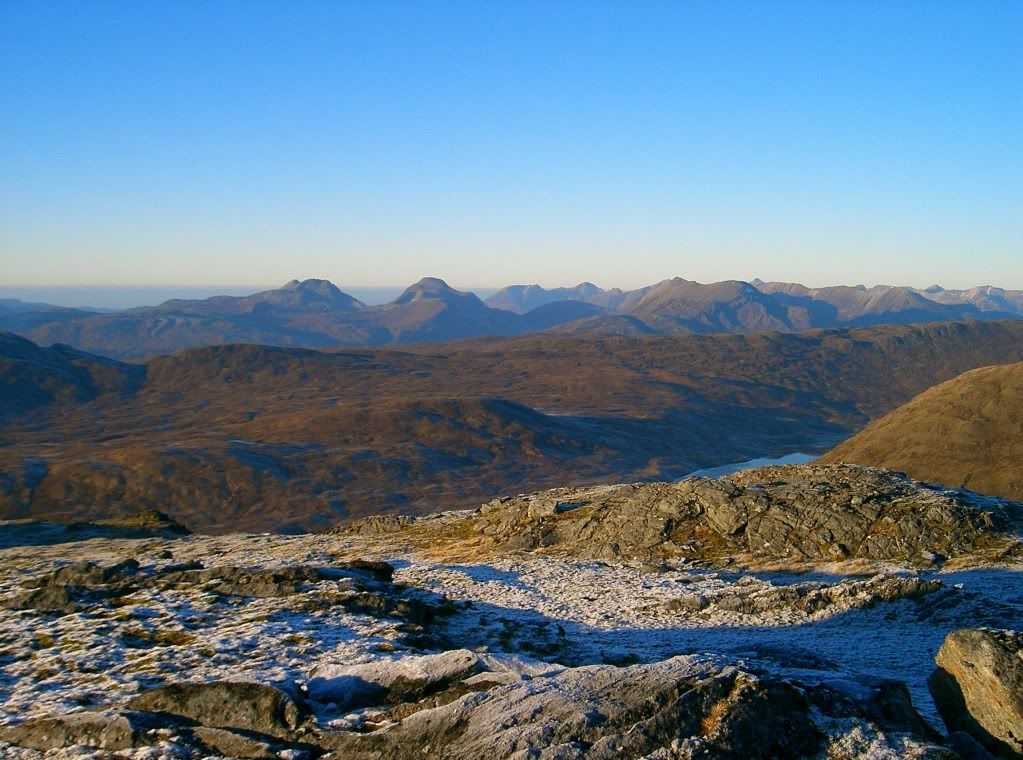 Acnashellach - Torridon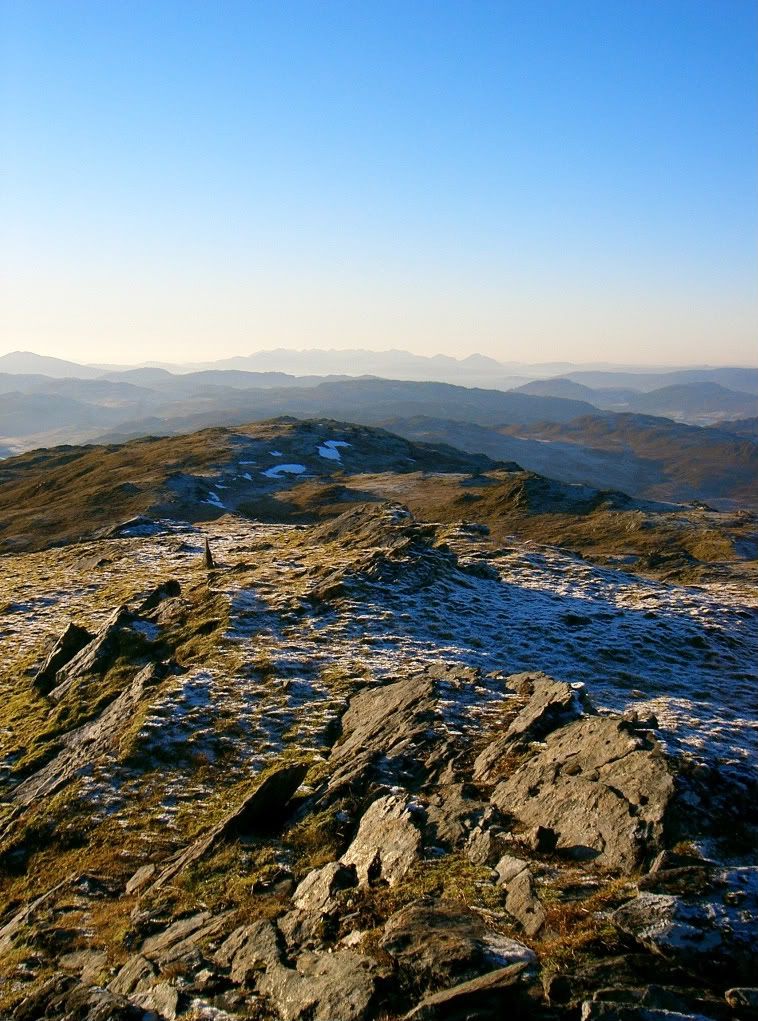 Skye again
Did'nt take too long to drop down to the bothy – again I was lucky that the slope was'nt frozen.
MENTAL NOTE – DON'T FORGET CRAMPONS IN WINTER TIME
ESPECIALLY WITH A THREE HOUR WALK INTO A BOTHY !!
REALISED JUST HOW LUCKY I HAD BEEN WITH THE GROUND CONDITIONS
As I descended I could see a group of walkers heading towards Loch an Laoigh.
Thought they may have been heading for Bearnais bothy.
As it was when I got back down about 4 pm their gear was in the bothy.
I was having a cup of tea and getting my pack sorted out when they came back into the bothy.
A group of six who were on a three day backpacking trip – heading for Maol Bhuidhe and back out via Glen Elchaig.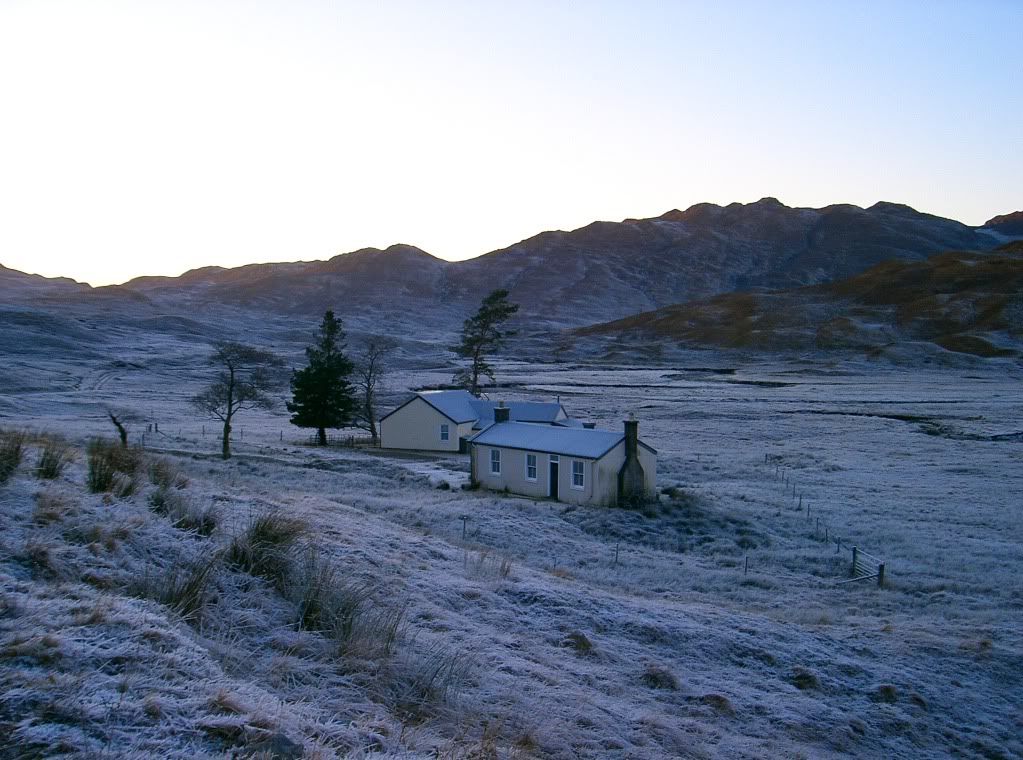 Ben Dronaig Lodge and Bothy
Left at 4.30 pm for the walk back out – still clear and frosty did'nt feel the need for a headtorch.
Back at the car for 7.30 pm – minus ten on the car thermometer.
Quick change and along to the Strathcarron Hotel.
On asking if they had a room the owner told me that they had been busy all weekend with a folk music festival and that the rooms needed cleaning.
I must have looked a bit of a pathetic sight because he soon relented and asked if I could give him half an hour to get a room ready.
Great - what a relief – an example of Highland hospitality – went through to the bar for a meal and a pint.
The music festival had just finished with a Spanish band but they and some of the locals were carrying on with a bit of a session.
After my meal and with the room ready up for a shower and change and back down for a couple of pints to listen to the music.
So tired though that I didnae last too long however.
A really memorable couple of days – Thanks again due to the Strathcarron Hotel.
Next day stopped off in Glen Shiel and up and down the graham Biod an Fhithich on the way home.