I was vexed to have to use up a 4 day Bank Holiday weekend doing single day walks rather than something more adventurous, but a lousy weather forecast and Allison's no-quite-fit-yetness made that prudent. At the start of the week it looked like the East Coast would be blessed with sunshine, but as the end of the week approached rain had spread there, plus the Braemar Gathering would make campsite options difficult. So i turned eyes to the west and came up with a cluster of 6 hills all around Corpach, meaning we could stay at Loch Linnhe campsite, an old favourite. We drove up on thursday evening and were fortunate to get the tent up in a dry spell. Apart from some loud Germans having a good time in the next tier up, an uneventful night.
Day 1 - Meall nan Damh and Glas Bheinn
Starting at Callops, this was the easiest day, just to get us warmed up. I remember this route well from having done the Corbetts on the west side of Cona Glen. We parked up by hte river and walked past the Hydro substation and the miserable horses that wouldn't come over to talk, then to the wee dam just after passing the turn-off for Cona Glen path. We crossed the burn then the deer fence on the east side - a new section of fence comes right down to the dam. Up through tussocky heather heading for the south shoulder of Meall nan Damh. We crossed the fence again at the apex, snagging my trousers on some wire, then set off up the ridge on open terrain. It was raining on the other side of the glen, rainbows a frequent accompaniment to our walk today.
Dam
P1130711
by
Al
, on Flickr
Ridge up Meall nan Damh
P1130713
by
Al
, on Flickr
P1130714
by
Al
, on Flickr
First of many rainbows
P1130715
by
Al
, on Flickr
Cross the fence, up the ridge
P1130716
by
Al
, on Flickr
There's a little avoidable scrambling up the crags and before long we'd reached the 722m top where we chose to have lunch. Across Cona Glen to the south spread the fingers of Stob Mhic Bheathain, rising steeply. Tomorrow's target. We pressed on the short distance to the summit then continued along the eastern shoulder to Glas Bealach, ascending the smaller Glas Bheinn. The trig point is east of the true summit. A double rainbow hung in the sky to the north, with the clouds obscuring Gulvain.
The 722m top
P1130719
by
Al
, on Flickr
Looking south to Stob Mhic Bheathain
P1130721
by
Al
, on Flickr
Summit Meall nan damh
P1130724
by
Al
, on Flickr
Descent was initially NW then we turned W making for a track we could see heading into the trees. Cross the burn at a hydro inlet and follow the track through the woods, becoming squelchy under foot but leading to a dam on the approach track. Nice short day, plenty of time to get back to the campsite and plan the rest of the week. Of course it was too still to sit outside in comfort for the midges, but we persevered and as soon as I'd served up dinner, the rain started. Bah
Down to Glas Bheinn
P1130725
by
Al
, on Flickr
P1130727
by
Al
, on Flickr
P1130729
by
Al
, on Flickr
P1130730
by
Al
, on Flickr
Scotch Argus
P1130731
by
Al
, on Flickr
P1130732
by
Al
, on Flickr
Day 2 - MacBeth's Hill - Allison's 100th
It rained a lot overnight but was dry when we returned to Callops for today's outing. This involved walkign the track down to Cona Glen then turning east, crossing the Cona River at some point and ascending the steep rise up to Mhic Bheathain's summit, taking in the 2 nearby Simms. The footpath down to Cona Glen was very wet and muddy. Rain started when we were about halfway along and the cloud was low. We passed a couple of eastern European hikers looking a bit damp. It's a steady rise up to just short of 400m at the southern end of the glen, before dropping over 200m to Cona Glen, knowing that you have to repeat the process on the return leg.
P1130734
by
Al
, on Flickr
P1130735
by
Al
, on Flickr
We headed down to the good track on Cona Glen as the rain stopped and the view improved. Stopping for lunch we surveyed the possible options for getting over the river. All involved getting wet feet
I chose a wider section on the basis it was likely to be shallower, we removed socks, replaced boots and gaiters and waded. On the other bank we dried feet as much as possible then began the steep ascent of Sron a'Choire Liath Mhoir. Nothing difficult just steep and grassy. We arrived at the summit then headed over to the neighbouring summit of Mhic Bheathain for Allison to claim her ton of Grahams.
Cona River
P1130737
by
Al
, on Flickr
P1130738
by
Al
, on Flickr
View east down Cona Glen
P1130739
by
Al
, on Flickr
Our ascent route
P1130740
by
Al
, on Flickr
But first, the fording
P1130741
by
Al
, on Flickr
Emperor Moth Caterpillar
P1130742
by
Al
, on Flickr
Steep up
P1130743
by
Al
, on Flickr
P1130745
by
Al
, on Flickr
Summit Mhic Bheathain
P1130747
by
Al
, on Flickr
From here we tracked back to Liath Mhoir and continued west to the final top of Stob a'Chuir then dropping down into Bealach a'Charrain and continuing back to the Cona River. Another crossing, wetter feet, then it was back up the glen path towards Callops.
Carn na Nathrach, Sgurr Dhominuill
P1130748
by
Al
, on Flickr
P1130749
by
Al
, on Flickr
P1130752
by
Al
, on Flickr
Descent
P1130754
by
Al
, on Flickr
P1130755
by
Al
, on Flickr
Quite a long day - it was after 6 when we got back to the tent. A tasty meal then some relaxing reading - the peace shattered by a family of Weegies and their feral offspring down by the riverside fishing and having a barby. And a very loud annoying conversation punctuated by the weans screaming, pa threatening all kinds of torments. i lay on my back thinking would I rather use a claw hammer or a high-calibre handgun to sort the situation out - I settled on the handgun only if loaded with dum-dum bullets and headshots mandatory. yes, I am an intolerant man. They eventually dispersed in time for some sleep to be had.
Day 3 - Ravens' Playground
Sunday and the choice of hills included the Hill of the Storm and the apt Minister's Face, a couple of hills on the other side of the A830 approached from Fassfearn. I had considered various options for these two, including a mighty circuit that encompassed Mullach Coire nan Geur-Oirean, Gulvain and those two, or a trio with Druim Fada, but in the end I settled for the simpler option. We parked at the hidden away but very nice parking area at Fassfern "Why do we cut down trees? - Because we love them" reads the poster. Returning to the road we crossed the weak bridge and set off up the "blue" marked trail into Glen Suilaig. A number of randomly placed benches, the track easy going under foot, the lovely gurgling, burbling sound of the river to accompany us as we strode along.
P1130756
by
Al
, on Flickr
P1130757
by
Al
, on Flickr
Onfhlaidh, Phubuill
P1130759
by
Al
, on Flickr
At a clearing we caught the first glimpse of Meall Onfhlaidh, its rounded summit still bedecked by puffy cloud, sitting to the west of Meall a'Phubuill. We continued along the track to a bridge over the An t-Suileag, Glensulaig bothy over to the right. Didn't stop to look in as a little out of the way we were going. I hadn't been expecting a bulldozed track to continue uphill, but here we were, easy going up to the bealach with Phubuill. There's a bridge that crosses the Allt Fionn Doire - immediately before it there's an ATV track that continues left up onto the marshy lower slopes of Onfhlaidh. We followed the path for a bit, then headed for the southern shoulder before meeting the path again as we crossed the summit plateau. It was really rather lovely up here, quiet, birdsong the only sound. Up ahead the twin tops of Gulvain peeped out from behind a layer of cloud. We stopped at the summit for lunch and were investigated by numerous species of flying insect as we did so.
Track up to the bealach
P1130761
by
Al
, on Flickr
Glensulaig bothy
P1130764
by
Al
, on Flickr
Freeloading spider
P1130765
by
Al
, on Flickr
Onfhlaidh
P1130768
by
Al
, on Flickr
P1130774
by
Al
, on Flickr
Gulvain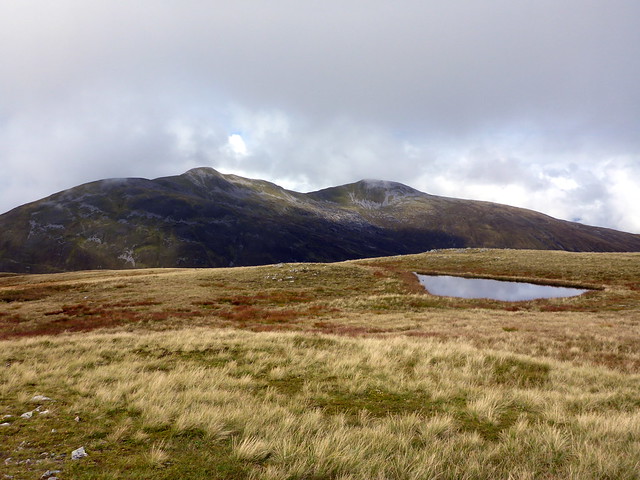 P1130776
by
Al
, on Flickr
From the top it's a matter of dropping down the NW shoulder towards the bealach with Aodann Chleireig, losing 350m in the process. Steep grassy descent. At the bealach the rain started - thought we were going to get a day without waterproofs, but no. As we skinned-up, we saw (and heard) a large party of ravens flying north - maybe 25 birds. The slope up Chleireig looks quite foreboding from here, riven with gullies and crags, but it proved easy enough. Allison was leading so I looked down at the grass underfoot as we stravaiged up hill. It's remarkable how much there is to see on the little level - Malteser clusters of new deer poop, purple saxifrage, the occasional bright yellow spear of late Bog Asphodel, glossy blue-black orbs of blaeberry. Quick through the grasses go the little lives of beelte, frog and lizard, going about their business.
Aodann Chleiraig
P1130777
by
Al
, on Flickr
P1130778
by
Al
, on Flickr
We were almost at the summit, rounding the crags by heading west then turning back to the top. There are at least 2 cairns, the most northernly being the highest. We started to follow the natural lie of the land down Druim Beag, passing another large cairn. I realised that this was a continual down - whereas I had anotehr Simm to do - oops - I looked over to the SW and saw the ridge of Beinn an t-Sneachda thata way. Allison was not overly impressed as we had to return uphill, but we did get to see whole squadrons of raven passing us by. It's no exaggeration to say there were over 100 of the birds, passing by in groups of one or two dozen. Never seen such numbers before. A number alighted on the summit of Aodann Chleireig and treated us to some splendid acrobatics as we walked by beneath - mostly in pairs or threes they would dive, tumble, soar - wonderful to see.
P1130781
by
Al
, on Flickr
P1130782
by
Al
, on Flickr
Oops - should be over on that ridge
P1130786
by
Al
, on Flickr
Streap
P1130788
by
Al
, on Flickr
Raven
P1130790
by
Al
, on Flickr
P1130791
by
Al
, on Flickr
We walked on along the fine ridge leading to Beinn an t-Sneachda, Streap and Sgurr Thuilm standing proud off to our right against a clear blue sky. We reached the summit of my Simm then descended into Coire Chuir, making for the Abhainn Bheagaig. We picked up deer tracks then an ATV track which led towards an area of cleared forest but then continued southwards. Nothing for it but to ford the river. I chose a section where the current was fast but the stepping was easy - unfortunately Allison freaked out a bit and dropped one of her Leki poles which was swept away by the water. We crossed over the fence into the cleared forestry area and walked on a "road" of crushed tree and mud back to the track, which in turn led us back through the forest and back to our parking spot. A much quieter night at the campsite followed, fortunately, so I didn't need to resort to murderous fantasies.
P1130793
by
Al
, on Flickr
P1130795
by
Al
, on Flickr
View to Loch Eil
P1130798
by
Al
, on Flickr
Descent - aiming for the cleared forest
P1130799
by
Al
, on Flickr
The Ben pops out
P1130800
by
Al
, on Flickr
P1130802
by
Al
, on Flickr
P1130803
by
Al
, on Flickr
P1130805
by
Al
, on Flickr
Day 4 - Stob na Ghrianain/Beinn Fada
One last push to get the sextuplet of hills completed. An early start - well earlier than the last few days - we were away from the campsite by 8 and along the narrow forestry road up Glen Loy to a parking spot signposted for our hill. How unusual! The first section is on broad forest track then the signpost takes one onto marshy ATV track beside an old wall, through the trees and out to a gate leading to Coire Lightuinn. From here it wasn't very clear where the ATV track was going and we contemplated heading up Sron Liath first, but we stuck with the track which led us to a bridge over the Allt Coire an Lightuinn then up the flank of Stob a'Ghrianain. Rain had started by this time and would stay with us until we came off the hill. At around 550m we disappeared into clag - no more views for today. Up a seemingly never-ending succession of false summits to the summit cairn (actually we chose the wrong summit cairn in the mist) then on for another miserable 3km along the back of Druim Fada, getting lost in marsh/swamp until finally reaching the cairn for the west top. To be honest I almost abandoned the thought of getting the Simm today, the weather was so dismal, but I knew I'd be disappointed if I did that.
P1130806
by
Al
, on Flickr
P1130807
by
Al
, on Flickr
P1130808
by
Al
, on Flickr
Sron Liath
P1130809
by
Al
, on Flickr
Hidden bridge
P1130810
by
Al
, on Flickr
P1130813
by
Al
, on Flickr
P1130816
by
Al
, on Flickr
P1130818
by
Al
, on Flickr
P1130820
by
Al
, on Flickr
West top
P1130821
by
Al
, on Flickr
It would appear, from the map, an interesting walk along here, but in the foul weather - winds over 40mph, rain and clag - it proved arduous and not enjoyable. We found a deer track to follwo back, which led us too far north at the 717m top, so we had to recover our position. I had planned to come back over the southern arm, descending steeply from Sron Liath, but there seemed little point in the weather conditions, so we retraced our ascent route, finding the true summit and a large cairn not near the summit in the process. Back down the ATV track, over the bridge and back to the car by 2.30. Then just the annoyance of being stuck behind one of the slowest and poorly driven lorries down the A82 I have ever had the mispleasure of. "Euro-Speed"? "Euro-bloody-Snail" I think
True summit of Ghrianaig - found on the way back
P1130822
by
Al
, on Flickr
Cairn of something
P1130823
by
Al
, on Flickr
P1130824
by
Al
, on Flickr