This year has seen me make a number of sorties into the hills with two Perth based friends, John and Bruce. After John and I went out just the two of us in early January, Bruce has joined us for two further outings, in late February on Beinn a'Chabhair and early June on the Grey Corries. On both of these days we hit the jackpot in terms of weather conditions, but given that our wives tolerate such activities every few months or so as long as we book a date far enough in advance that doesn't clash with any family commitments, our good fortune on the previous two gigs had been just that, good fortune rather than good planning. Sure enough though, as fate would have it, we were not fated to strike lucky for a third consecutive time.
We had pencilled in 24th September as our next outing and identified Beinn Fhionnlaidh from Glen Creran as our proposed route. It was my turn to drive, so arrangements were made to pick John up at 6am and be at Bruce's house in Methven for 6.15.
In the week leading up, MWIS and the Met Office had been making dire predictions for the West Highlands. Under the "Chances of cloud free Munros" section, words like "nil" were being used, whereas the "How wet?" section talked of "incessant rain".
I was not a happy man! I had not been on a Munro since July and, other than a fairly miserable Silver DofE training outing at the start of September and a low level day walk near Dunkeld with some "interesting and colourful" characters from school, had not done any hillwalking since then. So I was fairly focused on getting out at all costs, regardless of the conditions. I was also keen to get to a position where I could potentially hit the 200 mark at the Ratagan meet next month, so another solitary blue triangle in the meantime would make that a realistic possibility. I was in denial, and even when I met John on the way to work on the Friday morning and mentioned to him the full horror of the forecast, he seemed quite unperturbed about it. It wasn't until about 9 o'clock that evening that Bruce blinked and broke ranks, leaving a voicemail which I eventually picked up just before 10. He wanted to know if we were still on, given the nature of the forecast. I called him straight back and it was answered by his wife who said he had gone to bed. Good, I thought, he is taking preparations seriously and getting an early night rather than sitting boozing until goodness knows when! But no, she said he had had an "epic" day fishing up near Aviemore and was knackered after his exertions, and not keen to get a drenching tomorrow. I told her to tell him to man-up and that John and I would be at his door in just over 8 hours!
To be fair to Bruce, come the following morning when we picked him up, he was up for it, despite the rain lashing off the windscreen for most of the drive north indicating that MWIS had unfortunately been spot on with their forecasting. There was a fair bit of surface water lying on the roads on the way up, causing a bit of aqua-planing on a few occasions and many of the familiar hillsides were marked by broad lines of cascading white water
Eventually we pulled onto the minor road towards Elleric in Glen Creran, which was literred with the evidence of last night's storm in the form of felled branches. Nothing too large or that couldn't be easily negotiated by the car, but evidence nonetheless that our original plan to head up on the Friday evening and camp near the start would perhaps not have turned out to be a good one.
We were away by just after now and it was all downhill from there on in (metaphorically speaking anyhow)! After negotiating a felled tree across the road next to the house on the left we crossed a River Creran in spate and flooded fields around Glenure Lodge before turning left into the forestry and then right onto the hillside. What a day for John to have forgotten his waterproof trousers and to be wearing a pair of linen (yes,
linen
) trousers!!!
I will dispense with a full description of the ascent and descent and simply give the following list of highlights:
1)
2)
3)
4)
We were a sorry looking spectacle when we arrived back at the car a little over 5 hours after setting off. I was one more blue flag towards hitting 200 by Ratagan but that is the only positive. We changed and got dried as best we could (at least John had a pair of dry jeans to change into).
Then we headed along to the Creagan Inn for the sole highlight of the day - a pint of Jarl for me, two for John and two for Bruce. Then it was back down the Oban way with a quick stop at the shop in the wonderfully named village of Benderloch where John and Bruce procured more ale for the long drive ahead.
The amount of water coming down off the hills above Loch Awe was ridiculous and after one rather scary aqua-planing incident, we then faced several long tailbacks as vehicles queued up to negotiate flooded sections of road. There was more than one vehicle stuck midway through a flooded section with hazard warning lights flashing and presumably a flooded engine.
I sure was glad to get home to a few well earned beers, a take-away curry and a roaring wood burner after what had categorically been one of my worst (if not actually the worst) ever hill day!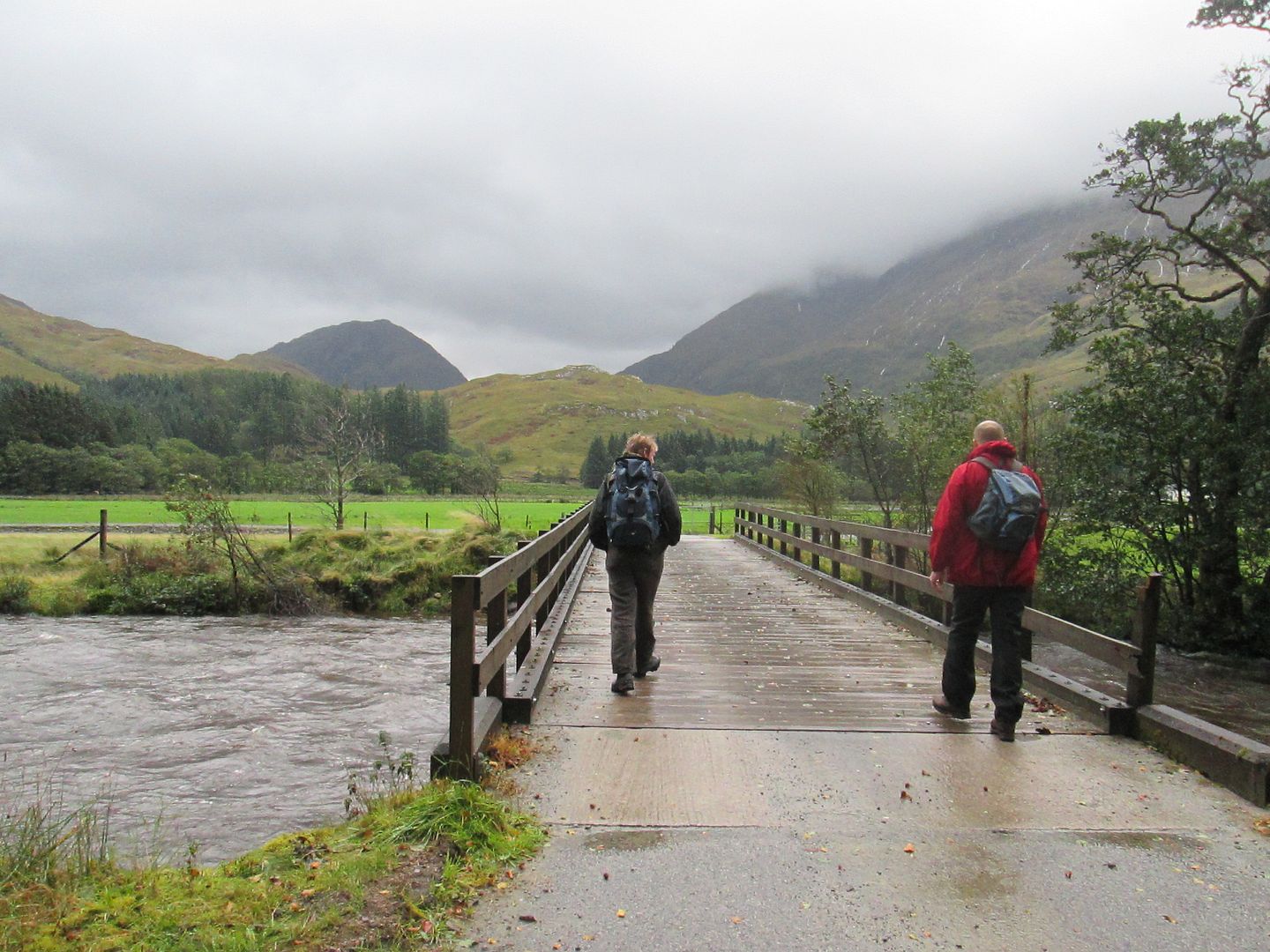 Crossing the River Creran with An Grianan and Beinn Sgulaird ahead of us
A very swollen River Creran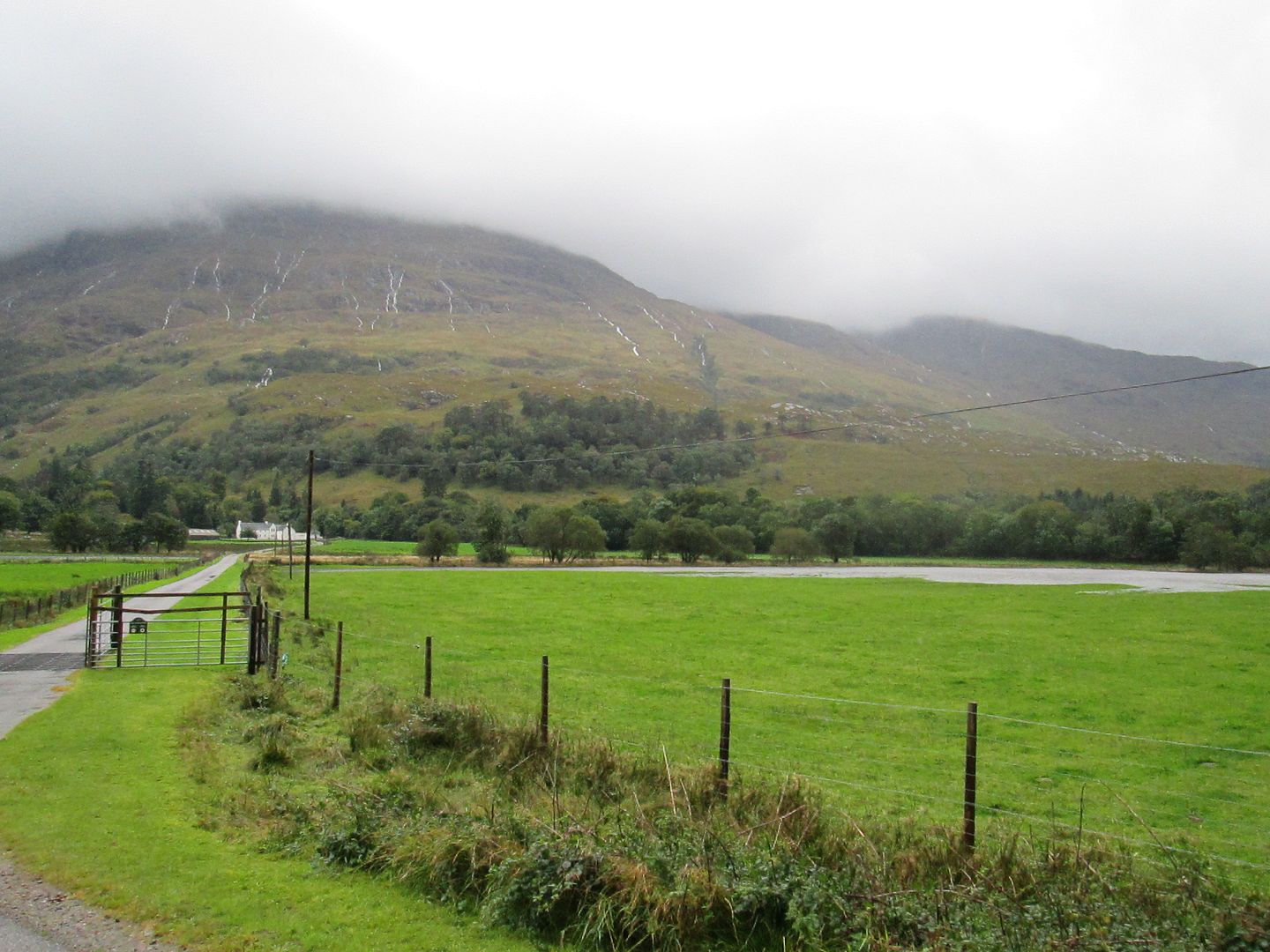 Flooding in the fields around the lodge
The clearest view of Fionnlaidh we were to get today - the sign that is!
More flooding
The burn between the old cottage/barn and the forestry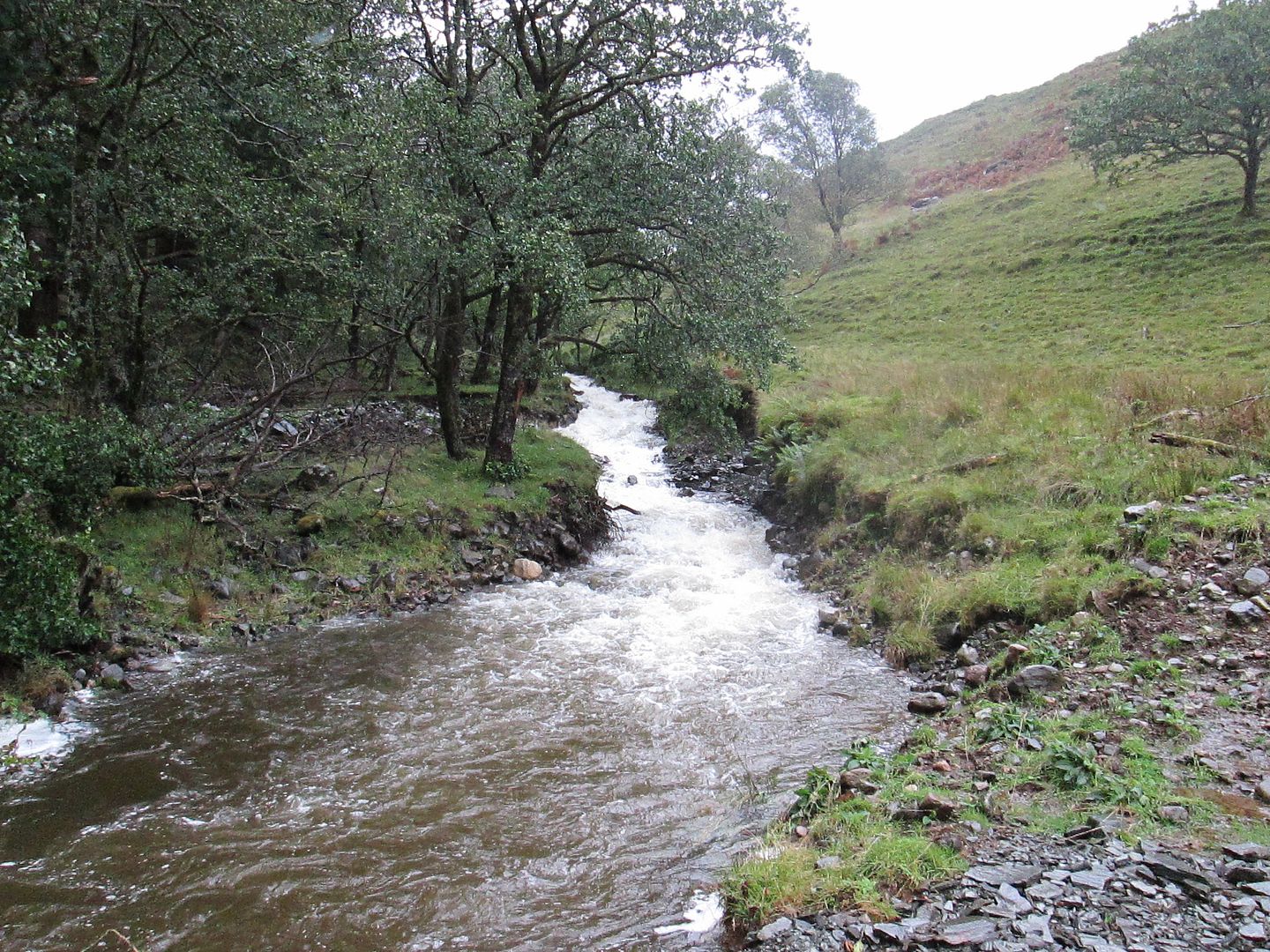 Upstream towards Glen Ure and Beinn Fionnlaidh
The path on the early part of the ascent
Back down to Glen Creran
Large amounts of water coming down off the Leac Bharainn
More glorious vistas over Glen Creran and out to the Firth of Lorne and Mull
John "The Human Sponge" Miszalowski
A typical scene towards the summit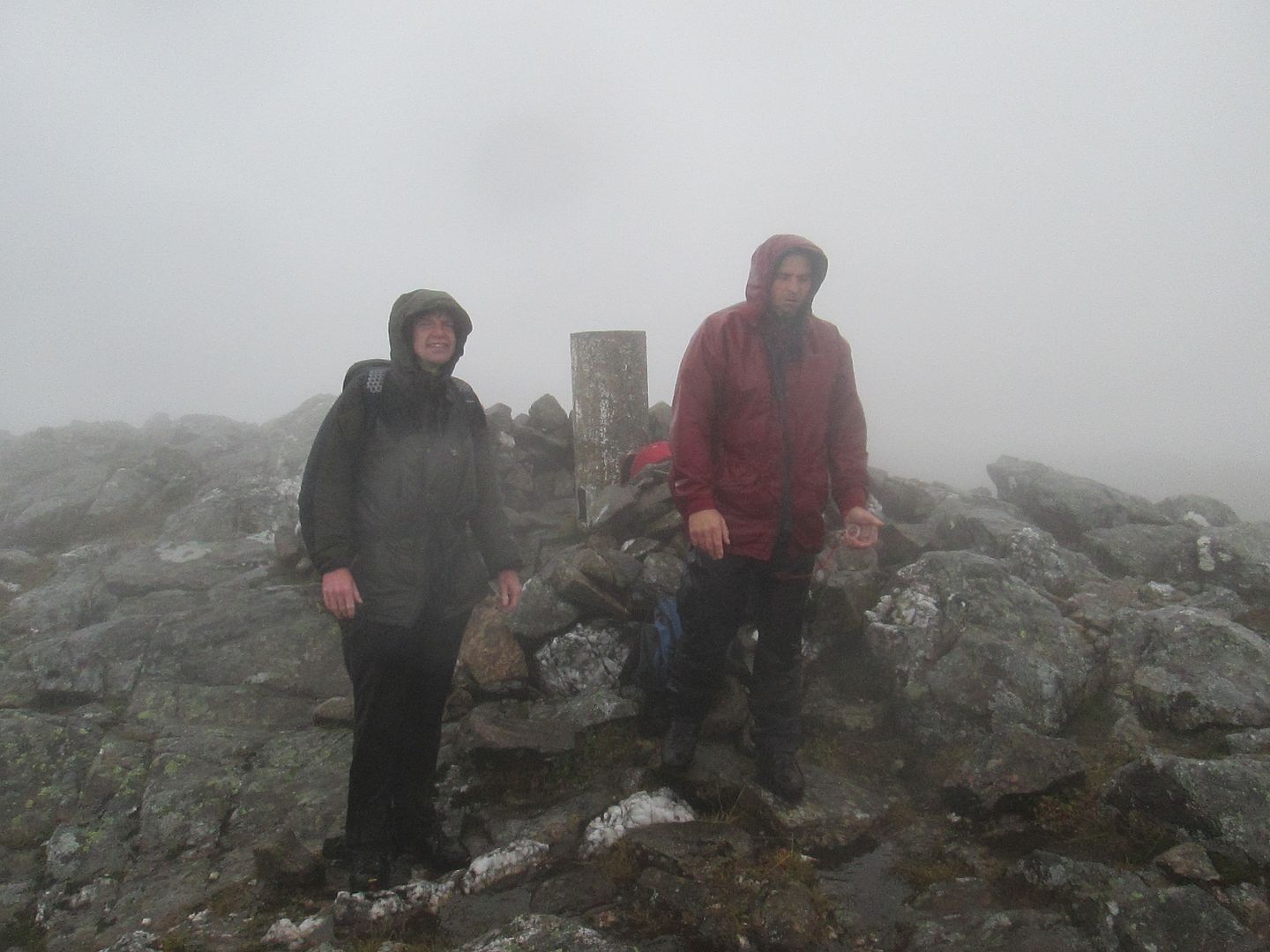 Bruce's face says it all!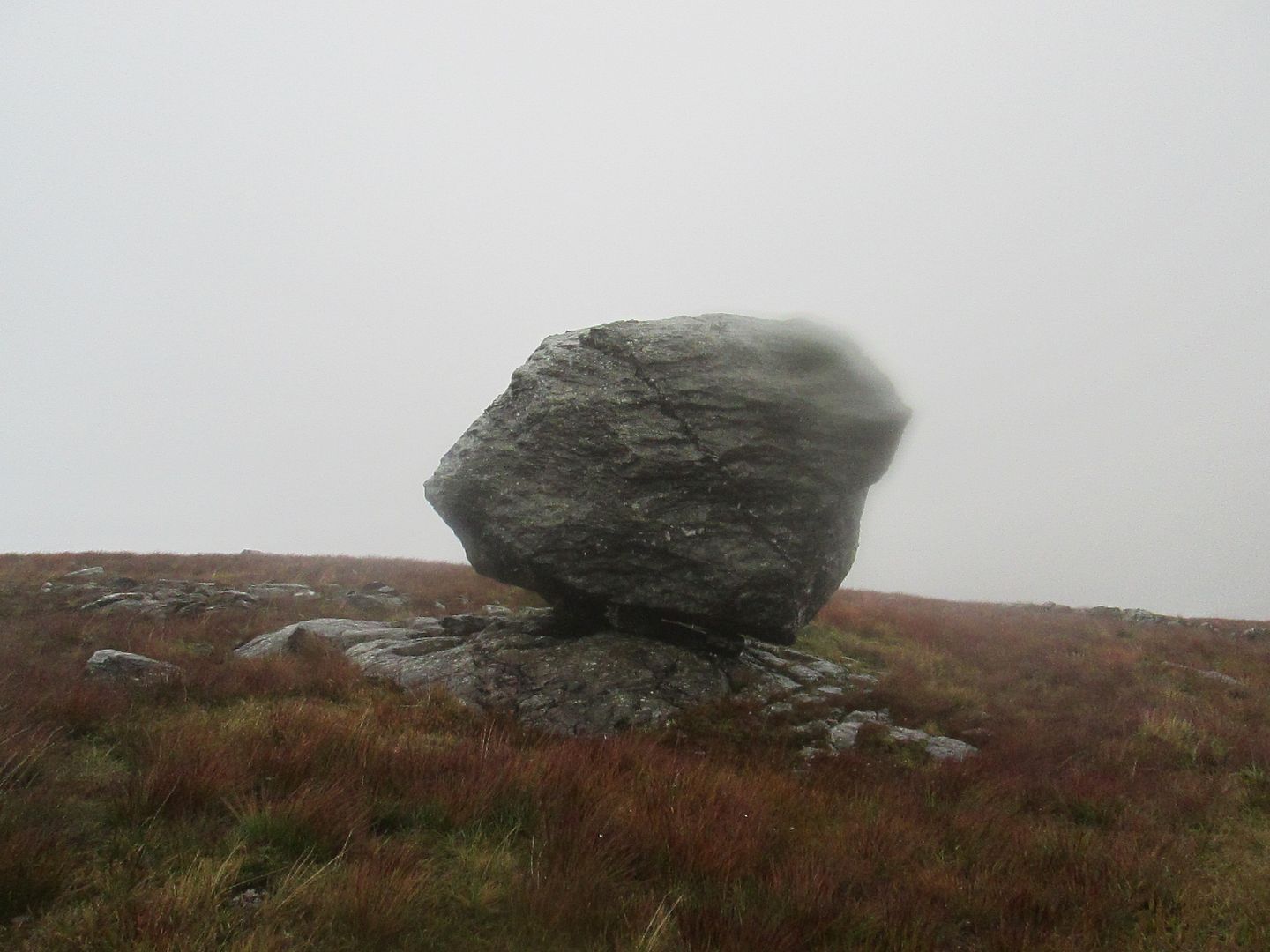 The highlight of the descent!