Ben Vrackie is one of those defining hills for me. I first climbed it in April 2003, with my future wife, on the afternoon of her 30th birthday, having spent all morning trying to cajole her to get out of bed and stir herself from the depths of a terrible depression, brought on by the fact that she had just turned 30 and was unmarried, childless, working as an underpaid and undervalued paralegal for a law firm in Aberdeen, a city which she had no connection with or roots in whatsoever, and was living in a shitehole one bedroom apartment in the city while she supported me through my teacher training. Or was it Schiehallion that we climbed that afternoon?????
Almost 14 years on, the memory is not what it used to be! Either way, we climbed one of these two Perthshire hills that afternoon, the other the following day. One was my first Munro, the other my first Corbett. I hadn't even heard of Grahams, Donalds, Sub2Ks or any other hill designation for that matter. The rest, as they say..........
I'm sure I have told this story in previous reports, but it needs updating. We were living in Aberdeen while I did my teacher training course at university there. I had just been told that my probationary post (starting in the August of that year) would be at an as yet undisclosed school in Perth and Kinross, so we had taken a few days to head down and do a bit of house hunting in Perth and general scoping out. We had also booked into the Moulin Hotel for the night of her 30th, from where we did Vrackie and Schiehallion, or was it Schiehallion and Vrackie???
Anyway, fast forward from that day in April 2003 to the present day - October 2016. Neither of us were in our 30s anymore (
), we had indeed moved to Perth in the August of 2003 and I had completed my probationary year at Blairgowrie High School before finding a permanent post at Perth High School the following year, where I still am to this day. Debbie had found a job with a Perth law firm. We had completely gutted and renovated the old house we had bought. We had gotten married in 2005, Debbie had moved to work in the new Perth office of the firm she had worked for in Aberdeen, I had spent 3 years working as head of my department before becoming sick of the shite and resigning to become a foot soldier once more, Debbie had gone off to university in Dundee to study to become a fully qualified solicitor, we had become parents to our beautiful daughter in 2011, we had moved to a bigger house, Debbie had moved to another firm and become an Associate, I had thrown myself fully into the Outdoor Education scene at school, an area in which I would one day like to think I might spend most if not all of my working days, and our daughter had gone off to primary school..........
So much had changed since that day in 2003, and yet, in many ways, so much remained the same.
And so with Ailsa spending a couple of days with my parents and Debbie on holiday for the second week of the school holiday fortnight, the two of us decided to take a walk up Vrackie for old times sake. I had been up here many times before since that first time over 13 years ago. Debbie had been with me most times, and her mum had even joined us once. We did it one time in thick snow cover on either 1st or 2nd January (again, the memory fails me!) and my first ever involvement in the fledgling Perth High School Outdoor Education programme was a guided walk up Vrackie with some pupils during an "Activity Day" in 2004. But it had been many years since either of us had been up Vrackie. I reckon it is probably at least 8 years, if not longer.
We parked in the busy lower car park on the minor road up the hill behind the hotel and brewery, a new addition since my last time here (the lower car park that is, not the brewery). As fate would have it, we had only just that morning accepted an offer for our house, which we had put on the market a week or so ago as we have recently bought another house nearby. The new house doesn't quite need gutted and totally renovated like the first one we bought in Perth 13 years ago, but it is a new chapter and a new project all the same.
As we wound our way up the muddy path by the stream, I reflected on all that had happened and how we had changed over these 13 years, and on how Vrackie herself seemed to have changed. There has been a great deal of tree felling on the lower slopes below the deer fence and gate, and between the gate and the descent down to the loch, the grass seems to have grown up quite high compared to how I recall it.
Skirting the lochan was, and always will be now, an emotional kind of experience. On one of our earlier jaunts up here, our chocolate Labrador Lucy (now aged 13 and crippled with arthritis, but then aged only 1 and full of uncontainable energy and life) romped in the loch and one of those photos of her is still used by my dad as his screen saver. It is and always will be one of my favourite photos of her.
But then Vrackie revealed that she hadn't really changed much at all. From the loch up to the small, hanging summit, she is just the same as she was back in 2003. It is quite reassuring in this life of continual change to know that some things really don't change at all.
From the summit I gazed over at Beinn a'Ghlo and recalled my various outings on those slopes and summits in the intervening 13 years and wondered if maybe one day I would return to her and be rewarded with some decent weather for a change.
And of course, once we had retraced our steps back to the car park, we could not drive home without the mandatory stop at the Moulin Inn, another Perthshire icon that resolutely defies the passage of time ...........
Lots of leaves down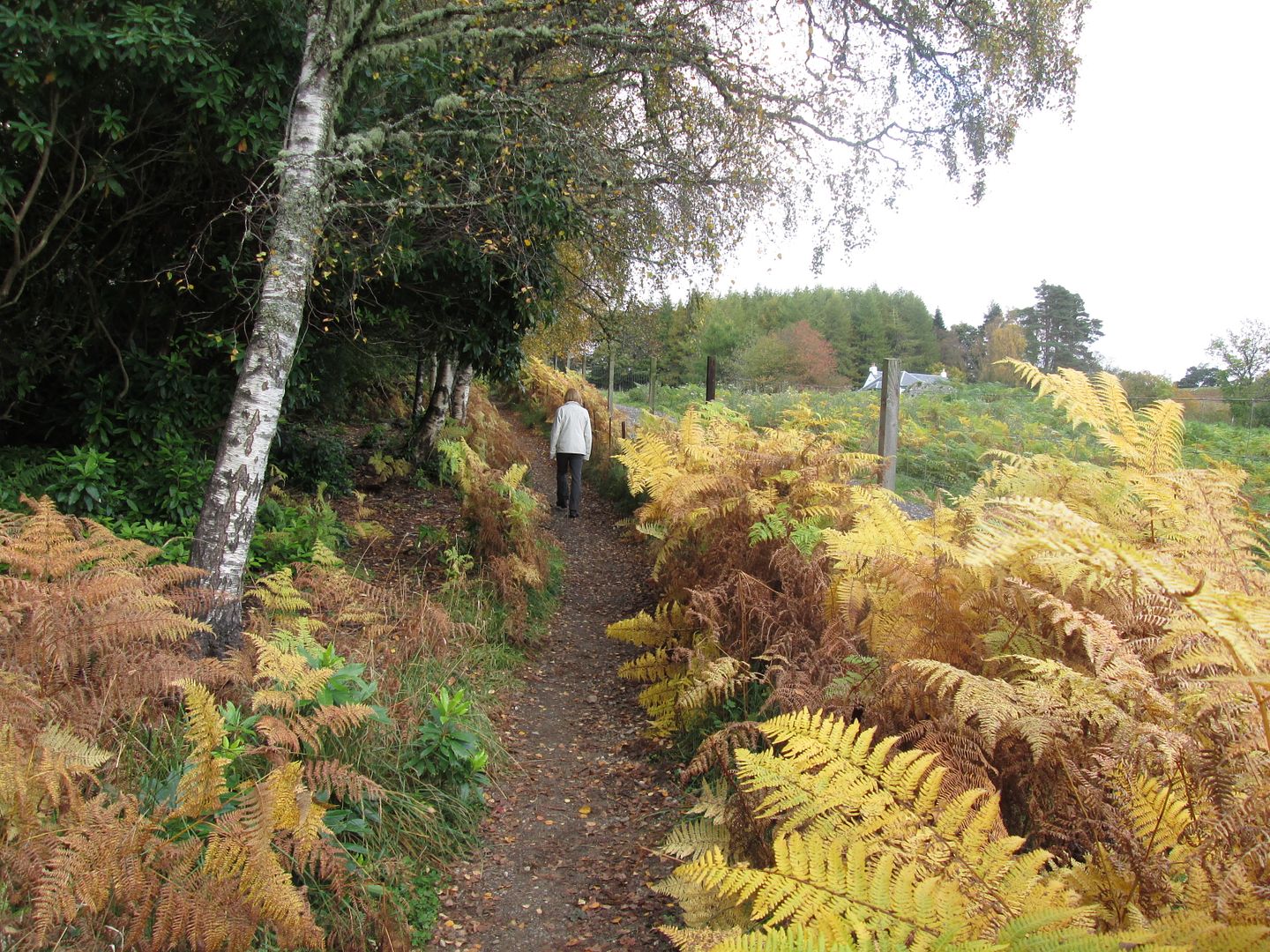 Autumn gold
By the gate leading to the open hill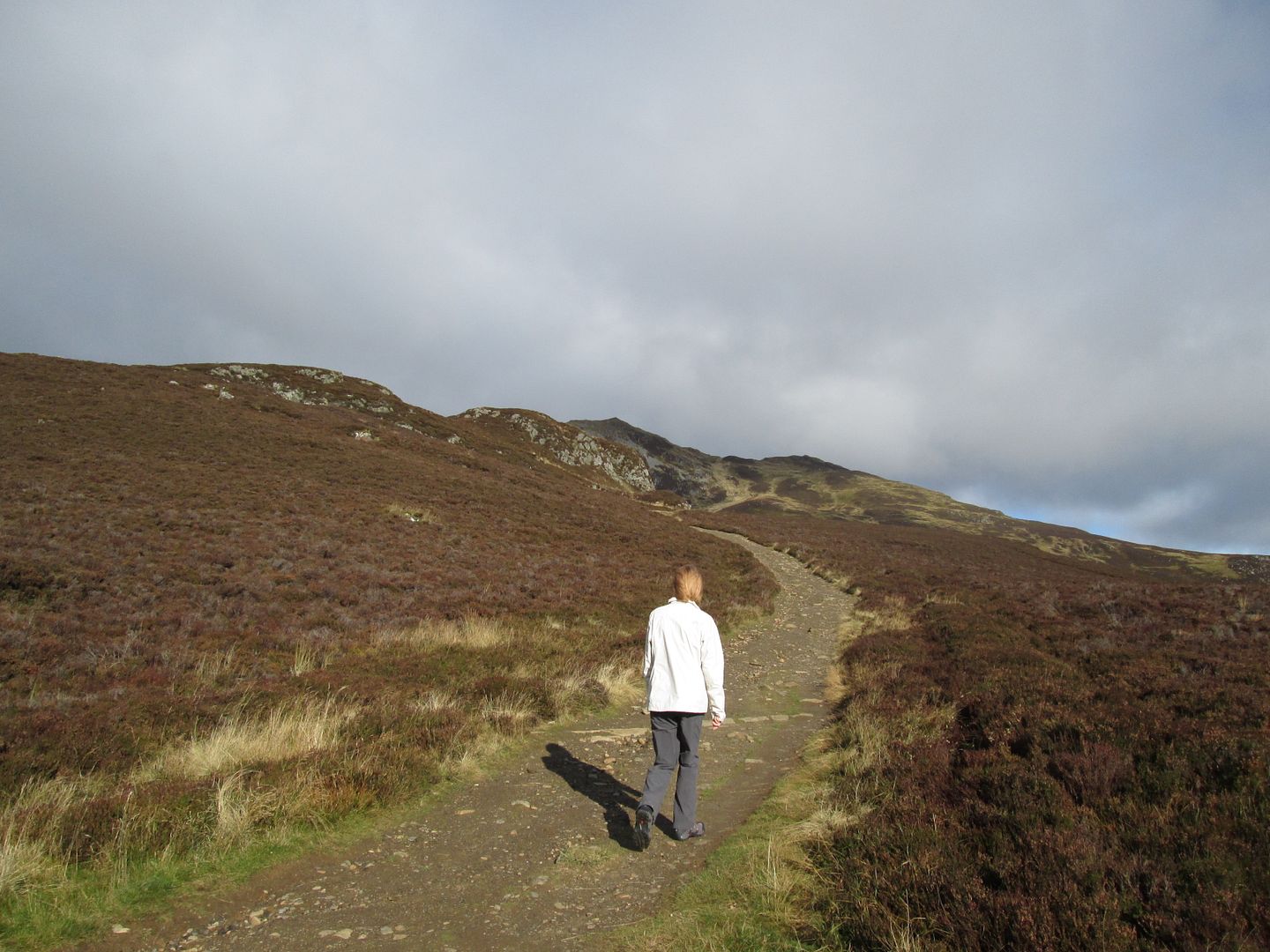 Well trodden path through the heather
Approaching the bend above the loch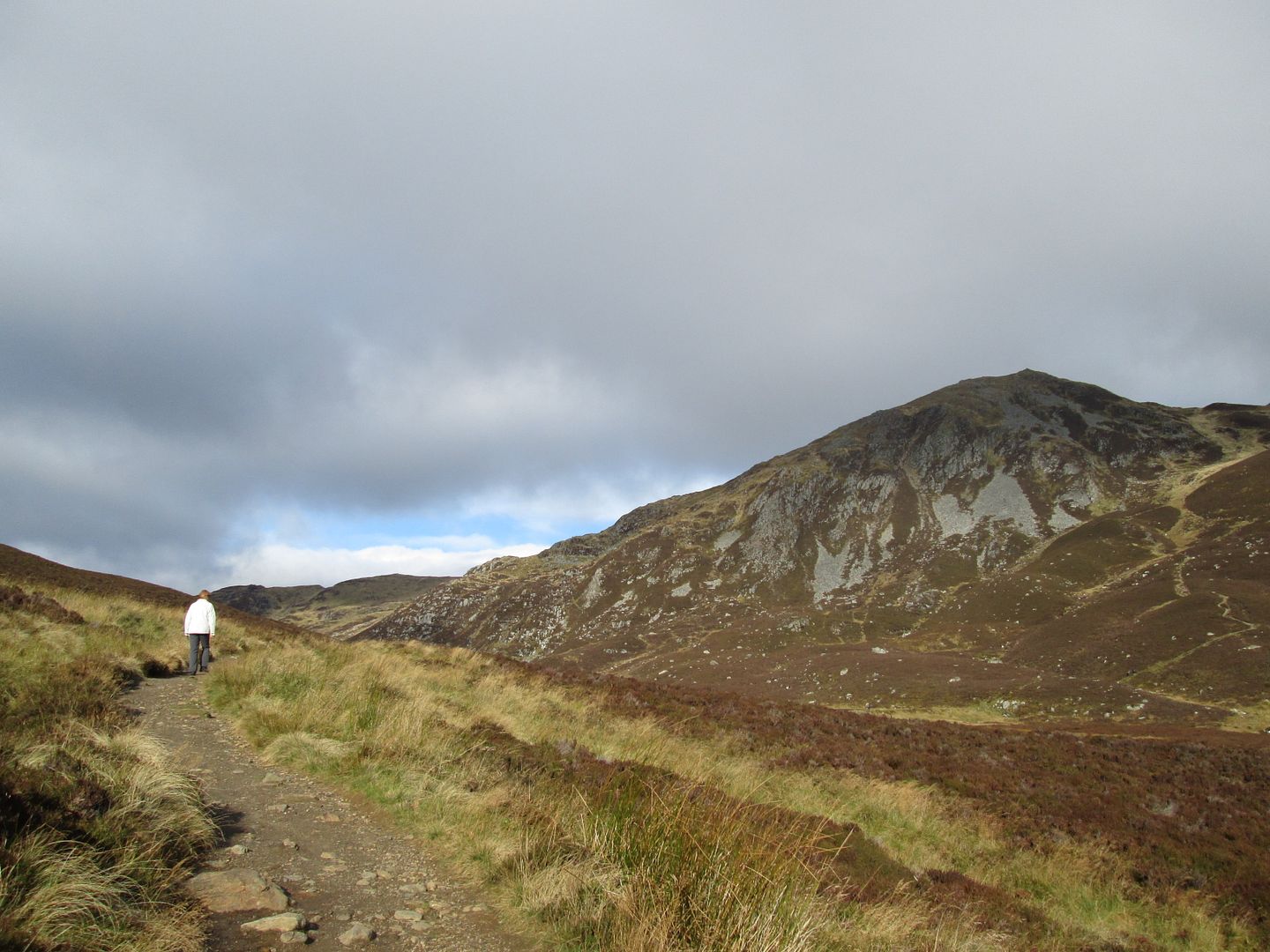 A glimmer of blue
Descent to the loch
Bench by the outflow
The summit from near the bench
Gaining height on the stone staircase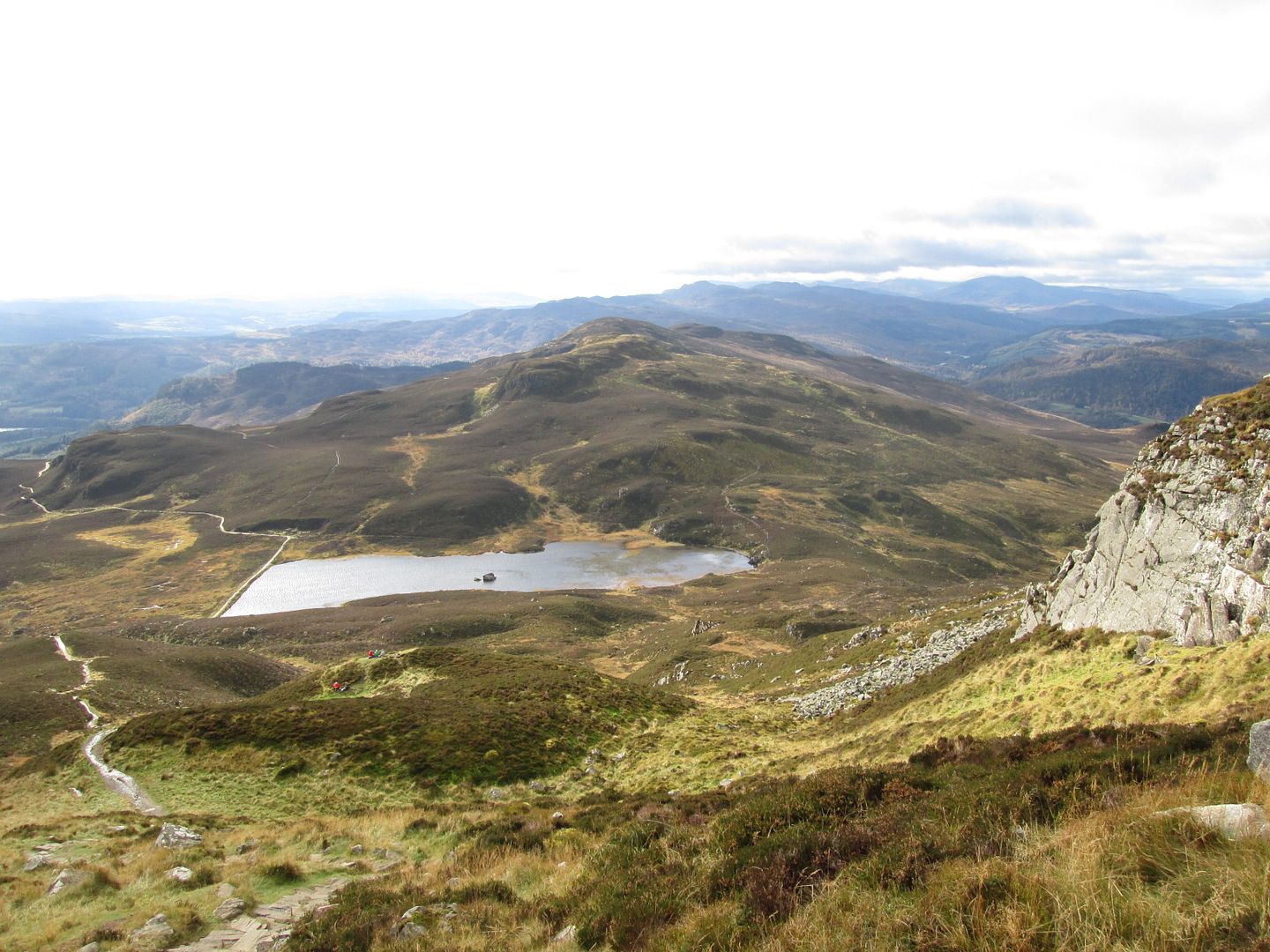 Higher still
Pitlochry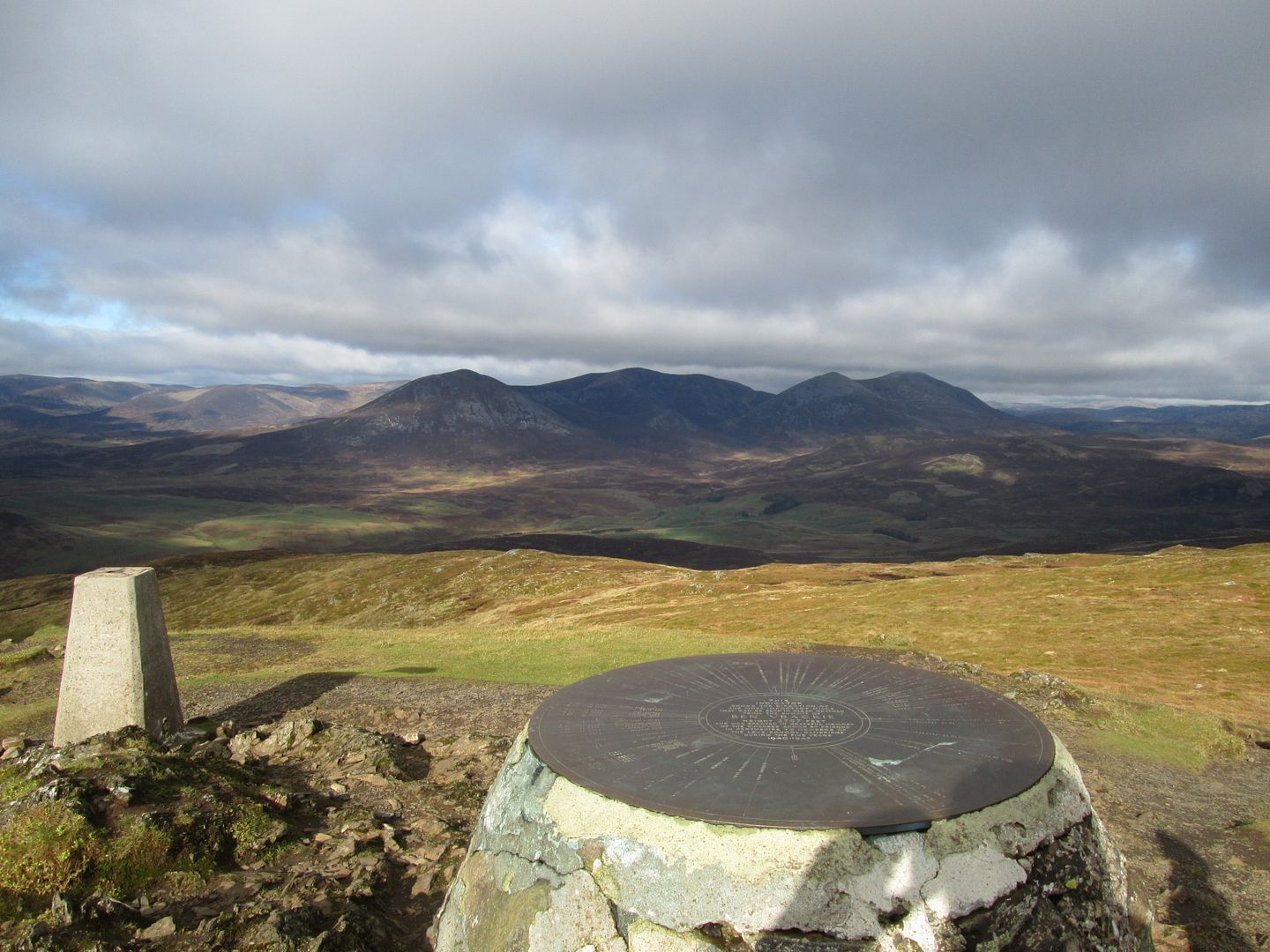 Beinn a'Ghlo, trig point and view indicator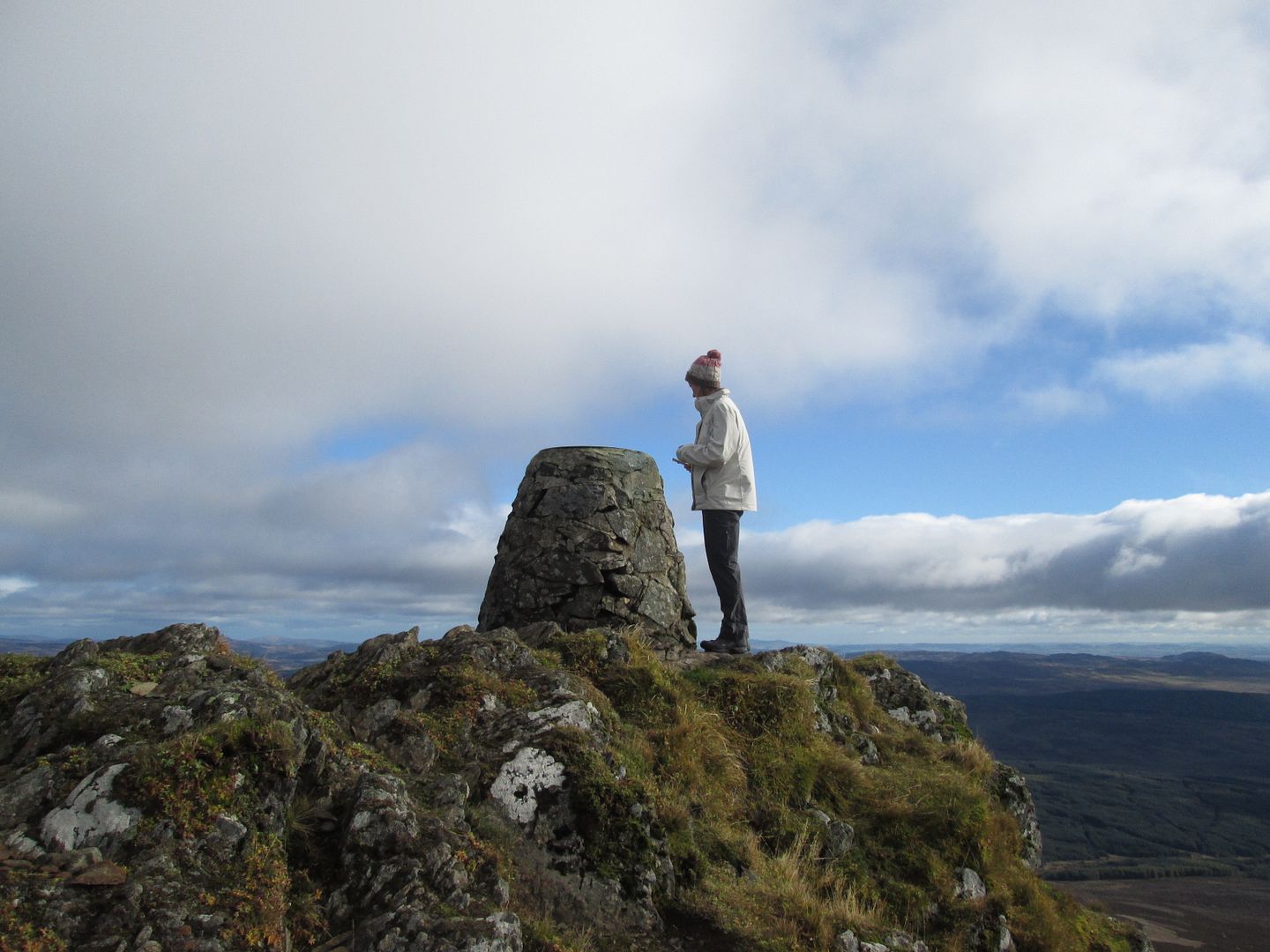 Debbie at the view indicator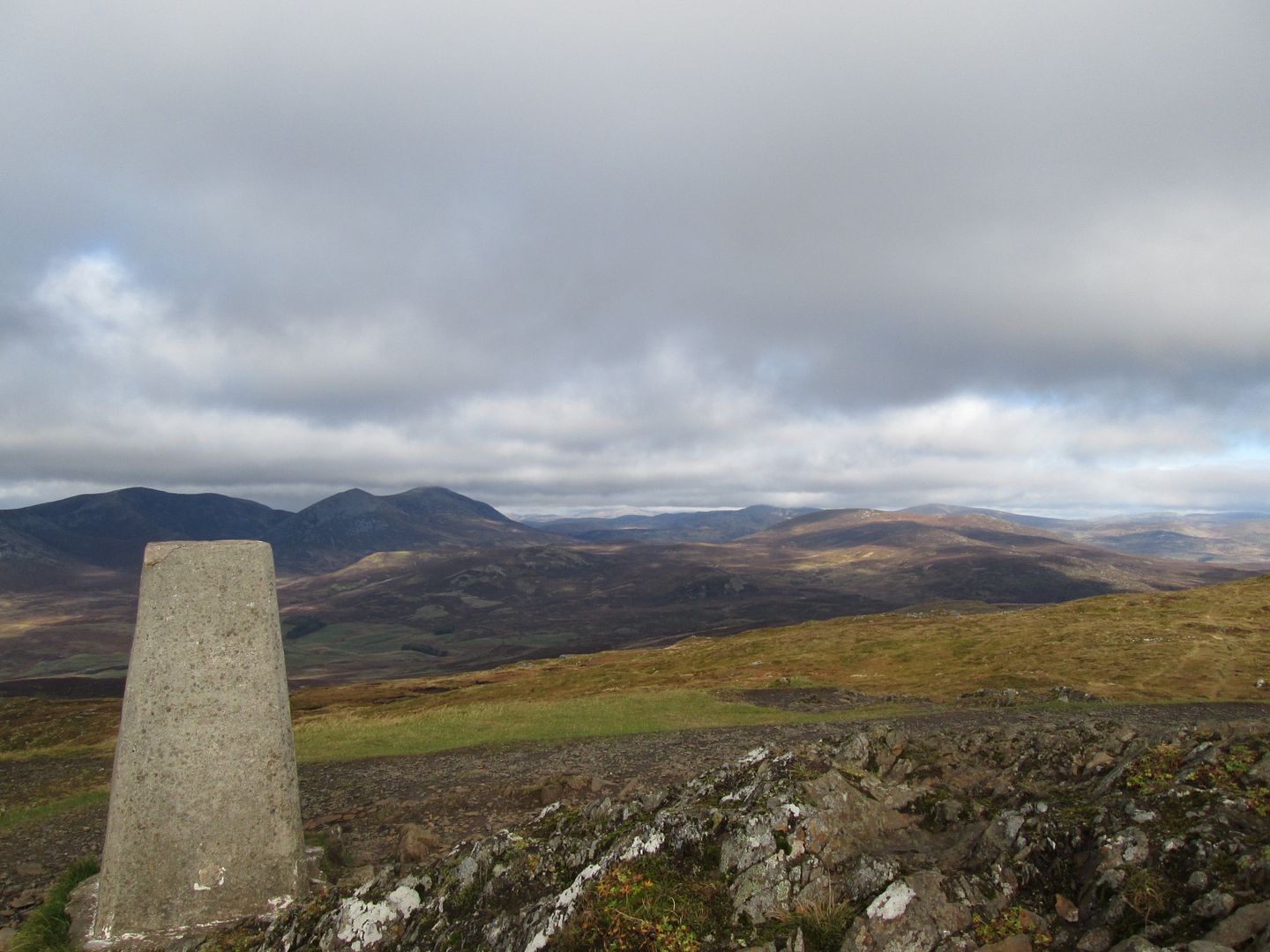 Beinn a'Ghlo and Beinn Vuirich
A big swathe of blue now
North up the A9 corridor
Pitlochry and the River Tummel
South down the Tummel valley
Back on a carpet of leaves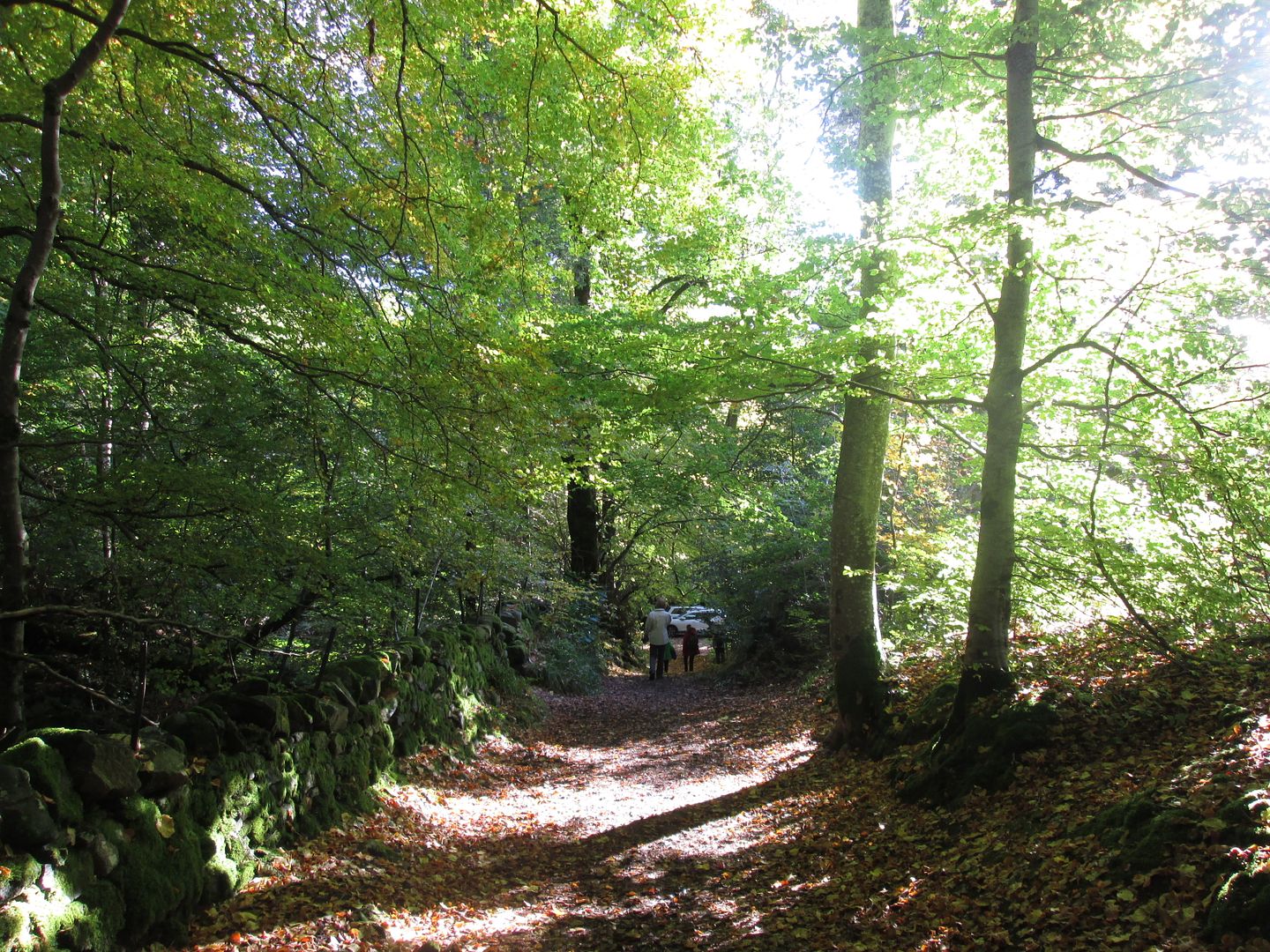 Weak October sunshine
Hello Moulin my old friend!