The November/December bothy meet has been a fairly regular fixture for myself and Kev over the past few years, albeit one that has been a bit interrupted in recent years due to family commitments. The tradition really goes way back to the famous Tarf Hotel meet of November 2009, one of the forerunners of what was soon to mushroom into the WH meets. We have tried to keep the tradition going, with Darren initially being a regular participant but more recently it has tended just to be Kev and myself. Since that night in the Tarf, we have paid pre-Christmas visits to locations such as Duinish and Burleywhag. This year was to be Over Phawhope in the Ettrick Hills, and we were hopeful that Darren would make it this year. Kev had also talked his brother in law into coming along too, this despite his only previous bothy experience being a bitterly cold experience in Staoineag for which he was woefully equipped. This time he had apparently asked Kev about the merits of carrying in loft insulation to wrap himself in. Had he not pulled out a few days before the gig with a bout of man flu, he may well have needed it, with the forecast predicting night time temperatures to drop well below freezing. Darren also pulled out, a bimble over four Donalds and a night in a bothy clearly not appealing to him in the way that 3,000 mile mountain ultra-marathons now do. Boy's a zoomer!
With the Thursday and Friday being PKC school in-service days, my wife had taken 2 days off work to look after our daughter, and along with another 2 mums and kids, they were off to Kilconquhar for a couple of nights. With the prospect of therefore being left home alone on the Friday evening with nothing but the dog and Children in Need for company before an early start on Saturday for the drive down to Ettrick, I decided to head straight after work on the Friday. I made arrangements with Dougie and Seana to do Allermuir Hill on the way past Edinburgh before driving down through Peebles as far as the minor road end at Potburn for the short walk in to OP bothy.
As it turned out, I ended up driving back home to Perth after Allermuir, to keep an eye overnight on the dog who had been a bit unwell, before setting off again just after 6am. After a stop in Peebles to catch the local Tesco just as it opened, I continued on to Innerleithen before threading my way along the rather confusing network of lesser roads to our meeting point at Brockhoperig. I was there by 9.15 so had plenty time to kill over a brew while I waited for Kev to turn up.
We took Kev's car round to the end of the road by the gate at Potburn, leaving mine at Brockhoperig, before heading up the track onto Bught Hill that leads onto the first Donald of the day, Bodesbeck Law.
End of the track on Bught Hill
Crossing the wall just below the summit of Bodesbeck Law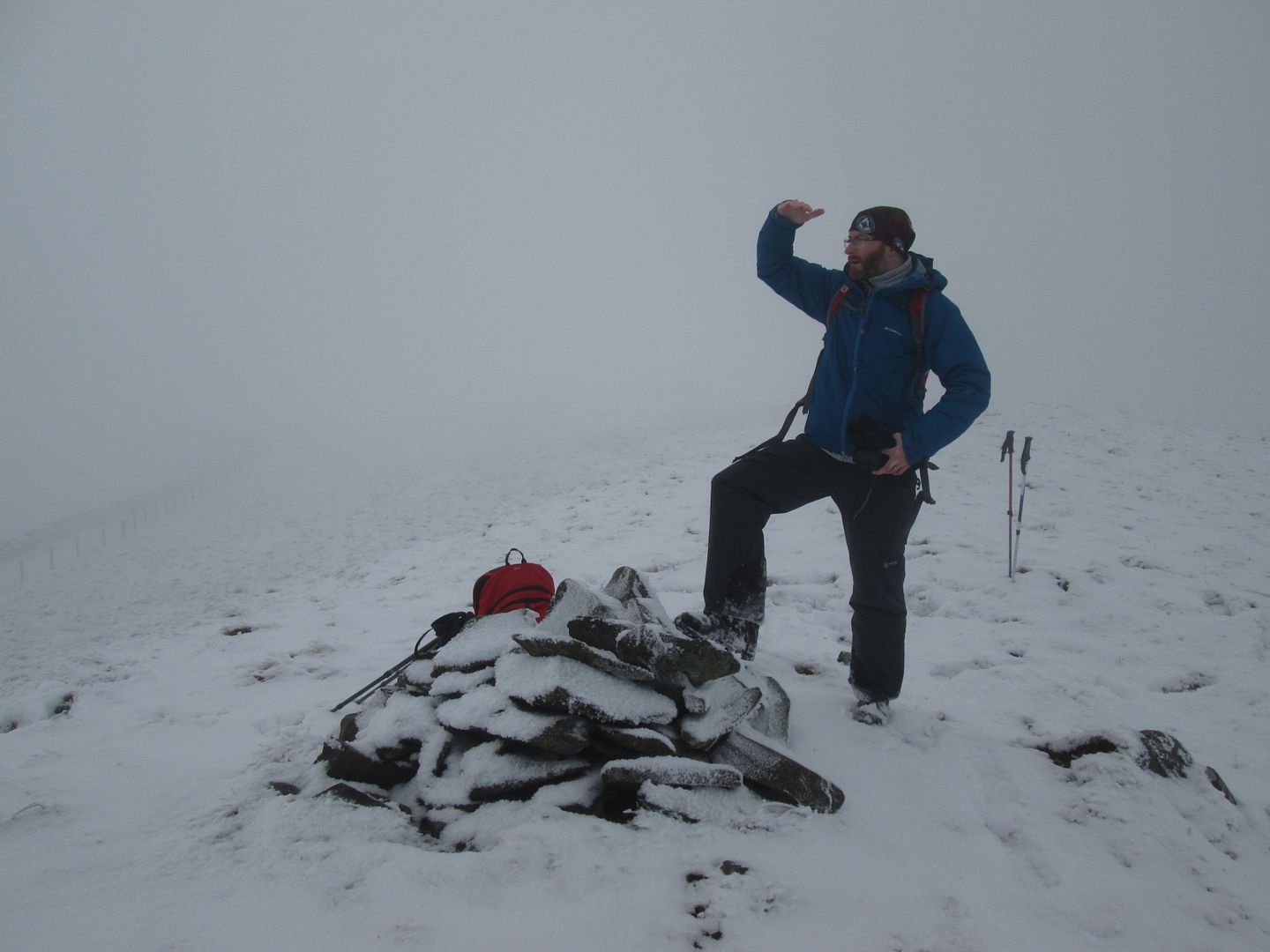 Kev on Bodesbeck
Snowed up gate
It looked for all the world like one of those days that would hint that it was about to clear at any moment but never quite did, and so it proved to be at least until the approach to Andrewhinney Hill, when it cleared for an hour or so before closing in again on the approach to the nondescript summit of Herman Law, after which a sleety rain set in for our descent back to Brockhoperig.
Somewhere between Bodesbeck and the next Donald, whose name temporarily escapes me, my water bottle must have fallen out of a side pouch. If anyone should find it, please return it to me! On such a well trodden tourist route, how hard can it be to stumble across a white water bottle in the depths of a Scottish winter. PM me when you find it and I'll send you my address along with a tidy finders fee!
South east across the valley of the Ettrick Water
Bell Craig
White Coomb beginning to emerge from the clouds
Ascending along the fence line to Andrewhinney Hill
For a well trodden tourist route
, we encountered very few other people along the way, a couple of older gents about mid-way along and then a solo older gent as we neared Herman Law being the sum total for the day. It was a fine wee daunder though in good company with much fat to be chewed over. The highlight was certainly Andrewhinney Hill, the single Donald/Graham tick of the day, with it's substantial cairn, the clearest weather of the day, and cracking views on approach across towards Loch Skene and the Grey Mare's Tail.
Loch Skene begins to appear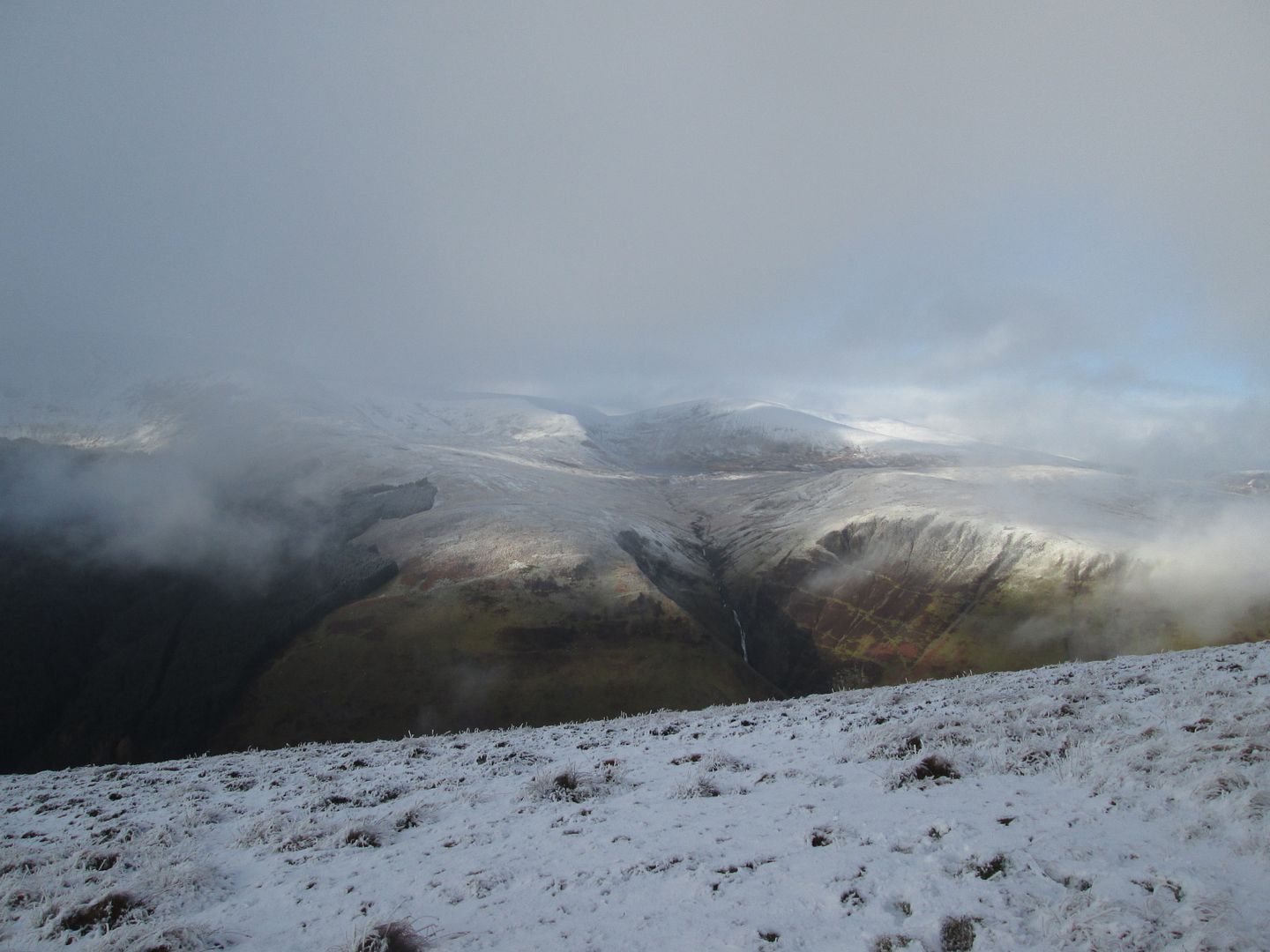 And now so does the Grey Mare's Tail
Blue sky disappearing again over Andrewhinney
Kev approaching Graham
South east
The high point of the day
By the time we reached Herman, the day had taken a turn for the worse with chunky flakes of sleety rain falling as we descended back to Brockhoperig. It was with some relief that we reached my car in the knowledge that we had but a short drive followed by a short walk to Over Phawhope Bothy.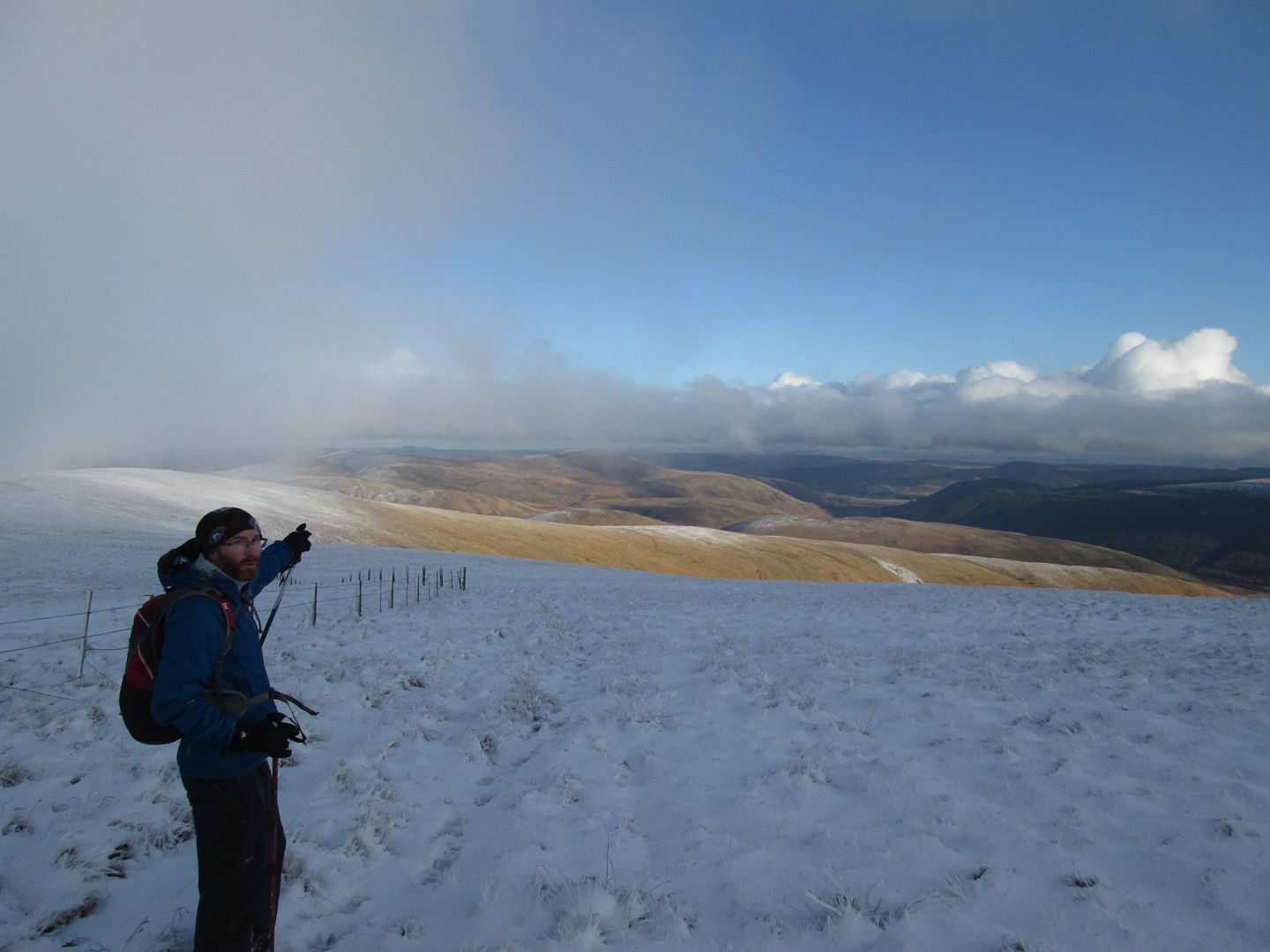 Kev pointing the way towards Herman and more blue sky
And again without Kev spoiling the wilderness view!
Approaching Mid Rig
The rolls of fence wire add a certain "Je ne sais quoi!"
Mid Rig cairn
The wonky cairn on the final unnamed top
The summit of Herman Law - once visited never forgotten
One of many circular dry stane sheep enclosures round these parts
November light fading fast
We were both carrying large packs with a significant amount of the weight being accounted for by coal, wood and alcohol. I also had a carrier bag of wood which threatened to fall to bits almost from the start of the 1.5km walk in and duly did so just a few hundred metres short. We scooped up the logs between us and limped the final little bit to the bothy, which we had already observed was occupied, the clues being the smoke belching from the chimney and the two vehicles parked outside!
The minute we stepped through the front door and into the vestibule, we were confronted by a stack of wood which was large enough to build a small frontier-style settlement complete with general store, saloon bar and railroad station!
Five people were already well settled into the place as we stepped into the main room where a roaring fire was going and a neat arrangement of cans was stacked up on the window sill. There was a works party just finishing up for the day, comprising Kenny and Beth, the MOs for OP Bothy, Kevin and Brian (both joiners) and Dave, who appeared to be the odd one out on account of the fact that a) he was the MO for Gorton, b) he was from England, and c) he didn't routinely intersperse every sentence with words beginning with F or C!
They were all top quality geezers and readily shared their fruit liqueurs and crack (banter, I mean banter!) Beth and Kenny had been in since the Tuesday and the others had joined them a couple of days later to replace the wooden flooring of the upstairs in order to accommodate new sleeping bunks that they were putting in once they had installed a set of stairs up to them.
The conversation generally centred on hills and bothies, and at one point Brian said that I must know a bloke by the name of Alan Bellis. I tried to feign ignorance but the twitching obviously gave me away and I was forced to admit that I did indeed know the man!
As the hours ticked by and the beer, cider, whisky and fruit liqueur flowed freely, things started to become a bit hazy and it was soon 8 or 9 o'clock if not even later and........ winter nights in bothies! You have got to love them!
Before things became hazy beyond the point of no return, Brian and Kevin decided it was time for a spot of light supper and proceeded to play their trump card (no pun intended whatsoever) by getting out their sooper dooper Diabolo toasty making thingummybobs which go right into the fire and hey presto, before you know it, you have the finest toastie you have ever gotten outside of!
With the toasties scoffed, Kenny then steered the conversation in a very surreal direction when he started talking about "little people". From what little I can remember, the little people in question may have been of the winged, mythical kind as opposed to your average folk with height issues. Kev's train of thought was clearly now taking him to some very strange places so he decided that discretion was the better part of valour and took a bow for the night. I wasn't too far behind and settled down for a fitful night's sleep, interrupted by bizarre dreams involving midgets and the CO alarm going off at half past God only knows when!
The following morning was to have involved an ascent of Ettrick Pen, Kev's only remaining red balloon in the Ettrick Hills. My plan was to continue on and grab the other four Donald summits in the horseshoe before dropping back down to the car. In the end, we both decided to give those hills a miss in the interest of harmonious marital relationships, with me deciding to make a short stop off at Innerleithen on the way up the road to do Minch Moor and Kev heading straight back to Glasgow, but not before his missus had made a call to MRT!