They say you never forget your first one. That is certainly true. I still remember my first one. Schiehallion, and although it is now way back in the mists of time, I still remember it. I am sure I will remember my last one too, if I am spared long enough to make it all the way to the end of the long and winding Road to Nevis.
I don't remember my 28th, or my 63rd, or my 134th, at least not which ones they were. If I bothered to check my records to find out, I would remember them. But I remember my 141st. That's a landmark, the half way point, and I have fond memories of the day in February 2013 when Kev and I experienced the vast, featureless white silence of Beinn Bhrotain . And I remember my 100th. That's a landmark too, and A'Mharconaich in April 2011 was doubly so given that it was also part of my first outing since fatherhood, a mere four weeks after the arrival of my daughter. And I sure as hell will remember my 200th - Sgurr na h-Ulaidh, the hidden Munro of Glencoe, the so called Peak of the Treasure, with my two local Perth walking buddies, Bruce and John.
Saturday 4th February 2017. A day that had been a long time coming. It would be the day Black Sabbath played their last ever concert in their hometown of Birmingham after a career spanning 347 years. It would also turn out to be the day Scotland won their opening match in the 6 Nations since 1592, or at least sometime before I had posted my first TR on WH. It would be my first hill day in 10 weeks and 6 days (or 76 days if you prefer). And it would be the day I took the biggest kicking I had ever taken at the hands of a mountain. Yes, the 16 hour day in the blistering July heat round the Beinn Dearg circuit and a couple of outliers near Ullapool in 2014 was a test of stamina, mental strength and bloody-mindedness, but even at just over half the time, just over half the total ascent and less than half the distance, today would be more of a kicking.
Sunday 20th November had been my last fix, a quick up and down of the tiny Minch Moor near Peebles on the way home after the Andrewwhinney round with Kev the previous day and a raucous night in Over Phawhope Bothy. Bruce, John and I should have been out the first Saturday of the year, but had to postpone that until today. The forecast was pants, and Bruce admitted to thinking of bailing out, but I was adamant. Although I had gone well beyond the point of cabin fever in the course of the last three months, to the point I no longer felt like climbing the walls, I was still desperate to get out. I did think about switching to a different route or part of the country, but even MWIS saying there was a 90% chance of it raining fire and molten lead would not have stopped me. I was now on my longest dry spell since a similar barren three months in late 2014. And of course I had spent all those days since November sitting tantalisingly on 199 Munros, so I couldn't put off the Big 200 any longer.
It was John's turn to drive and I was sitting on the front step by 6.30, my winter daypack on one side of me, a cool box with seven chilled bottles of beer and a few ice packs on the other. For Bruce and myself on the drive back, in case you were thinking it was a bit early for that sort of shenanigans. He was late, the result of faffing about at home trying to locate his crampons, and eventually drew up in an unfamiliar and rather new looking car. Before I could stop myself, I thought "Ullo John! Gotta new motor?" Nooooooooo!!!!! That's going to follow me all bloody day now! And it was only a bloody hire car, with his wife having claimed rights to the family car to do taxi duties for the two kids.
We stopped for Bruce in Methven and headed west to Lochearnhead then north through Crianlarich and Tyndrum before encountering the very white and wintery conditions on Rannoch Moor, which abated as we dropped back down through Glencoe. A few folks were already heading off towards the Buachaille as we passed, no sign of much activity around the main parking areas for Bidean or the AE. Maybe a lot of people had thought like Bruce but actually pulled the plug. John asked what I thought about the likelihood on needing crampons and axes, and my reply was the same as it always would be in winter - take them but not need them is always better than the other way round. I had checked various sites for snow conditions and read a few reports on WH/TH recently that had bemoaned the lack of good snow conditions over the last wee mild spell, so I wasn't certain we would encounter too much snow. Perhaps my long lay off had led me to forget what conditions in the Scottish mountains can be like, especially in February.
We pulled into the parking area on the east side of the road just before the bridge and the bend in the road at Achnacon, with a little nod and a cheery "Hasta luego!" to the Clachaig as we passed the road end. Oddly there were no other cars there and none appeared in the 10 minutes or so it took us to get waterproofed up against the light rain and to get our gear organised.
Ullo John! Gotta new motor?
This was the fourth time we had been out as a group, and since that first outing almost a year ago on Beinn Chabhair, Bruce and John have both been quite happy to let me call the shots as far as routes have been concerned. They are both able and confident enough walkers, and both are perfectly capable of reading and interpreting a map and using a compass, but they both appreciate that they have less experience or qualification than myself when it gets above a certain level or grade or route finding or navigation, or when it gets into certain weather conditions. I take this as extending to decisions about the "purity" of the route, and so when faced with a choice such as the one that faced us now, namely whether to follow the conventional "tourist" route along Gleann Leac na Muidhe or take the less conventional one straight up what Cameron McPish refers to as the "unrelentingly steep" nose of the long, protruding Aonach Dubh a'Ghlinne ridge, the purist route must always prevail above the tourist one! McPish also says that once on the ridge, "you can pour scorn down upon those walkers in the Gleann Leac na Muidhe far below". Well we would have done Cammy, if there had been likely to have been any and we had been able to see them!
Taking great care to cross the road right on the fast bend, we crossed the stile into the rather squishy field beyond for the short tramp across to the foot of the Aonach Dubh a'Ghlinne and the start of proceedings proper.
Aonach Dubh a'Ghlinne
The first major obstacle of the day - the Allt Fionn Ghleann below Aonach Dubh a'Ghlinne
Upon closer inspection, it seemed clear that we were not going to get across the Allt with a simple hop and a skip. There was a healthy volume of white water coming downstream. This was going to be a wet and wild experience, a real river rapids style adventure. If I have learned to be extremely cautious of one thing in the hills, it is river crossings, so we started to detour upstream into the Fionn Gleann in search of a viable crossing point. The rocks were all incredibly slippery, more so than seemed normal, and everywhere where there looked to be a route across, one part of it looked unsafe due to a poorly placed and potentially very slippery rock. We were being pushed further and further upstream with little prospect of finding a crossing point soon, when we came across a couple of fallen tree trunks close together across the majority of the span of the river. There was no way somebody could walk across them but Bruce fancied having a go at using them like parallel bars to shimmy across. He was doing OK until one of them gave way a short distance from the far bank and he took a good dunking up to about thigh depth. John and I carried on upstream.
I eventually got across next via a combination of well placed, safe looking rocks and a spot of quickstep wading, confident in my triple layered socks, the outer of which was the old Sealskinz, the internal gaiters on my trusty Haglofs trousers and the fact that the laces on my still relatively new and well maintained Aku boots were triple tied and practically cutting off the circulation to my feet!
John went furthest upstream before finding a spot he deemed safe and acceptable, while Bruce and I stood watch, cameras at the ready!
Bruce across, me in the middle, John still searching
Meall Mor from my crossing point
John heading further into Fionn Ghleann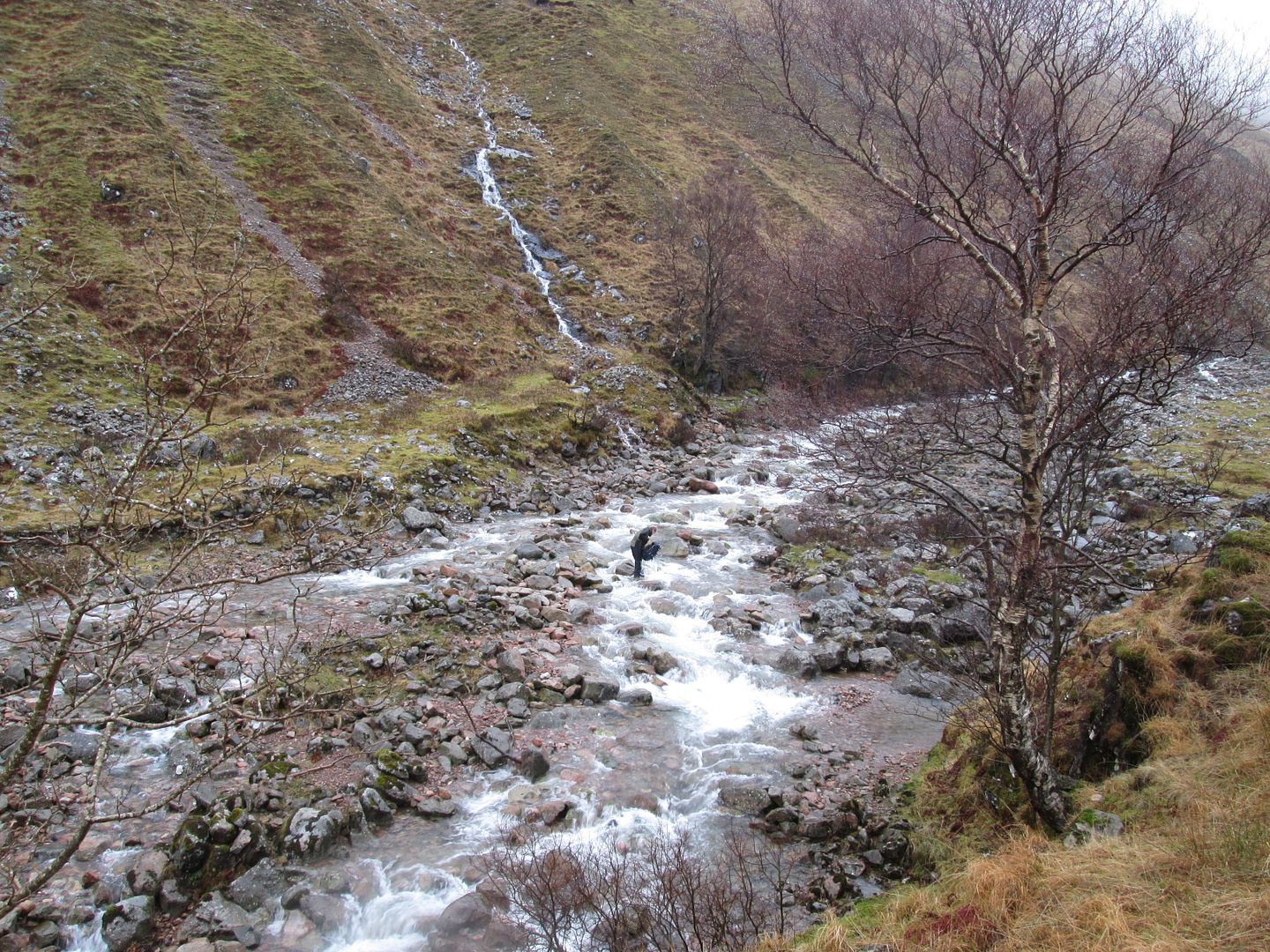 About to bite the bullet and take the plunge
Once all safely across, the inevitable steep ascent began up the north east slopes of Aonach Dubh a'Ghlinne. It wasn't long until the light rain turned to a noticeably thicker white flake, and shortly beyond that we got above the snow line on the ground. It was a brutal slog and we ended up spreading out quite a bit as we all pioneered our own individual routes via the best way we could see fit. On numerous occasions I ended up flat on my backside or on my face as a boot found a slippery patch or a concealed rock, or as I found myself backed for the umpteenth time into a corner, from where I had to perform a tricky and delicate retreating manoeuvre.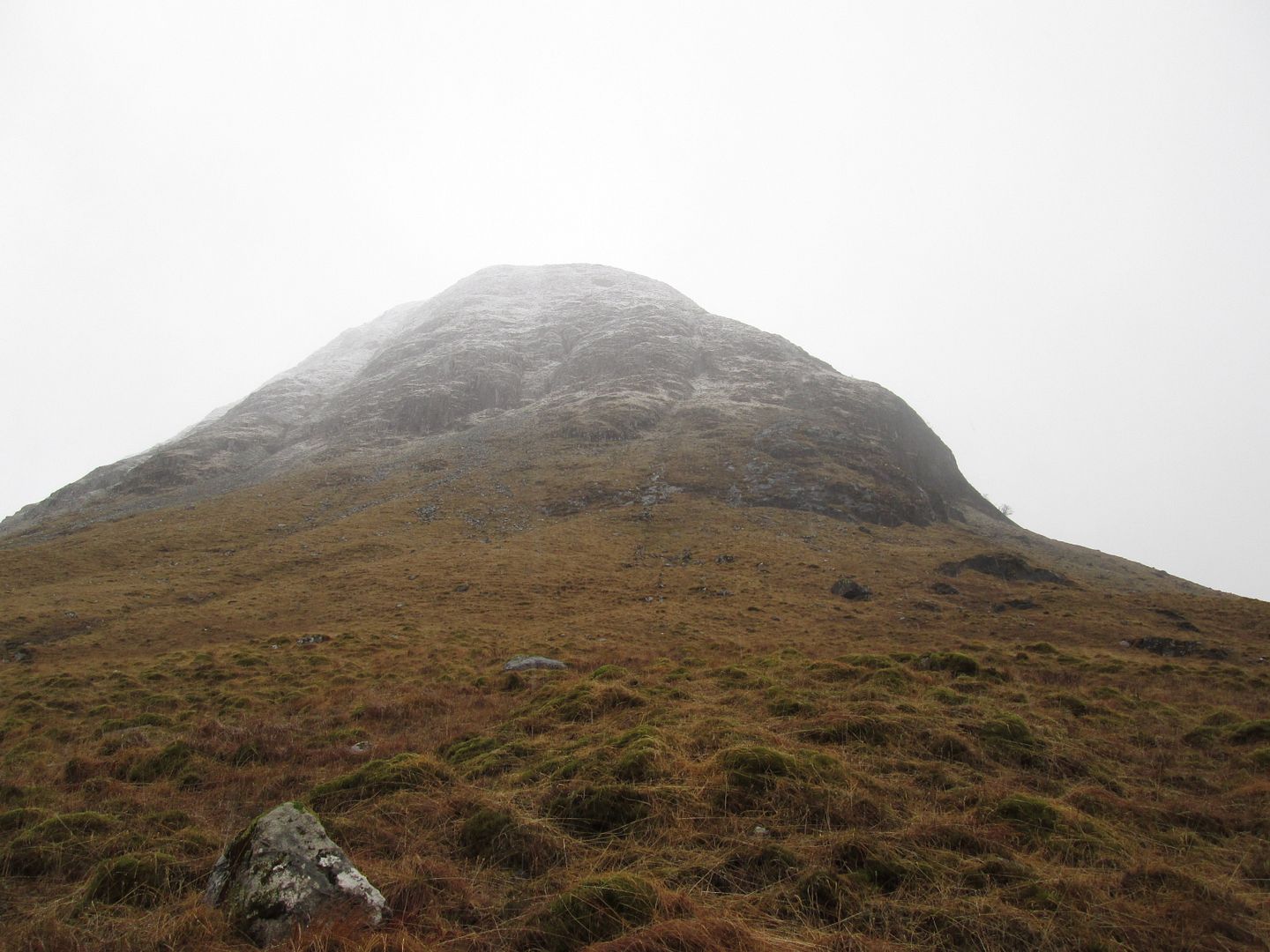 The prow of the Aonach Dubh a'Ghlinne ridge
Our gulley of choice for the initial part of the climb
Back down into Fionn Ghleann
A riot of slippery, shattered rock bands (not a reference to Black Sabbath)
John's new motor is somewhere down there in the distance
Mountain man Miszalowski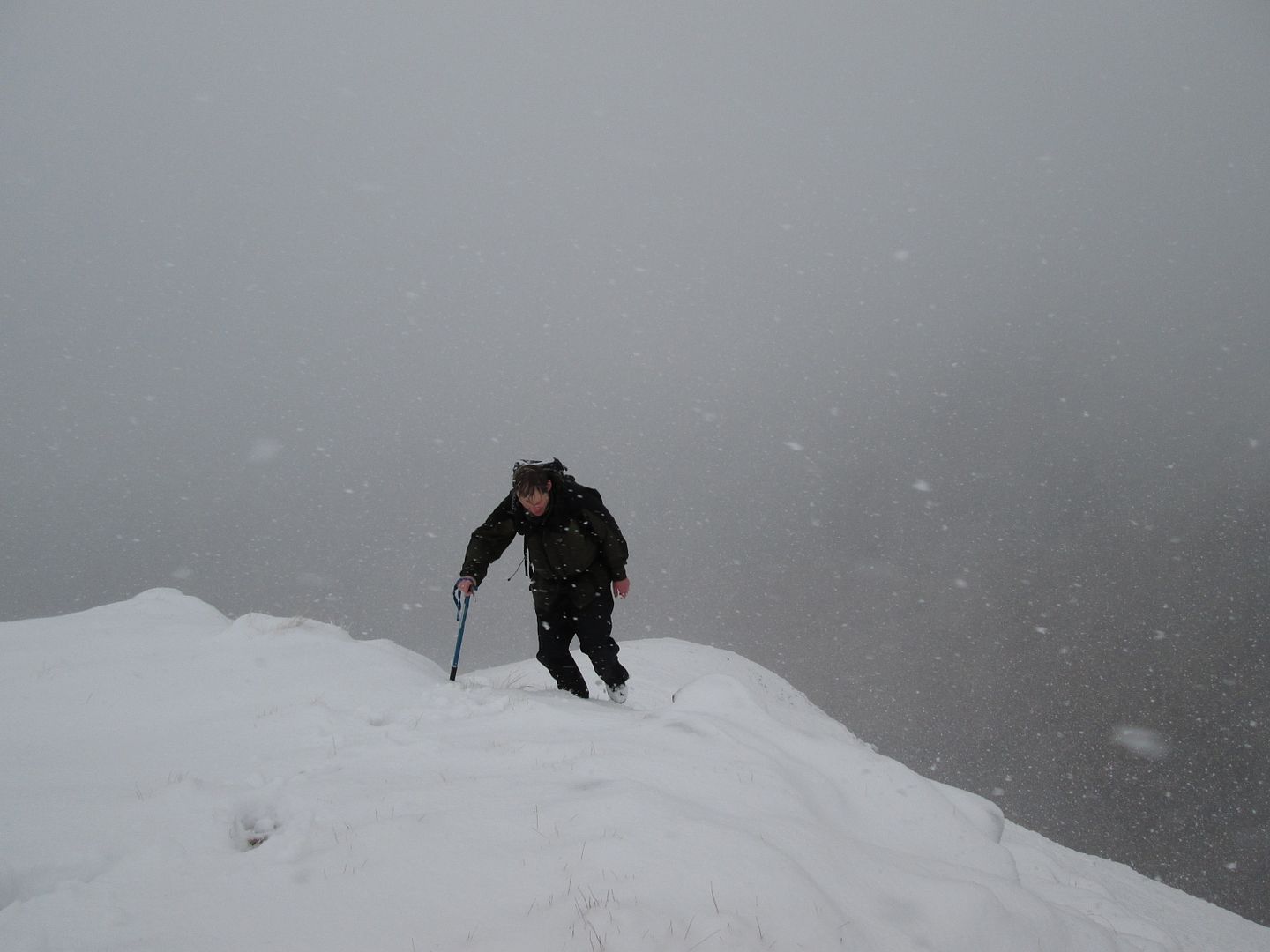 John reaching the ridge line
When we had all reached the relative comfort of the ridge line, the other two guys had similar stories to tell. We might now have broken the back of the ascent, but we now saw what the onward route had in store for us in the shape of very limited visibility and ferocious winds whipping across the ridge. The OS now showed a relatively straightforward route due south along the ridge with little prospect of major incident until Stob an Fhuarain. At that point it should be a straightforward case of hanging a gentle right to the south west as opposed to a hard left to the east, which would lead us down towards the Bealach Fhionnghail. Still, in these type of conditions I knew that anything is possible as far as navigational malfunction is required, even a full 180 degrees back whence you came, so I played it by the book and took a bearing to the start of the short descent south west from the Munro Top.
Passing the first lochan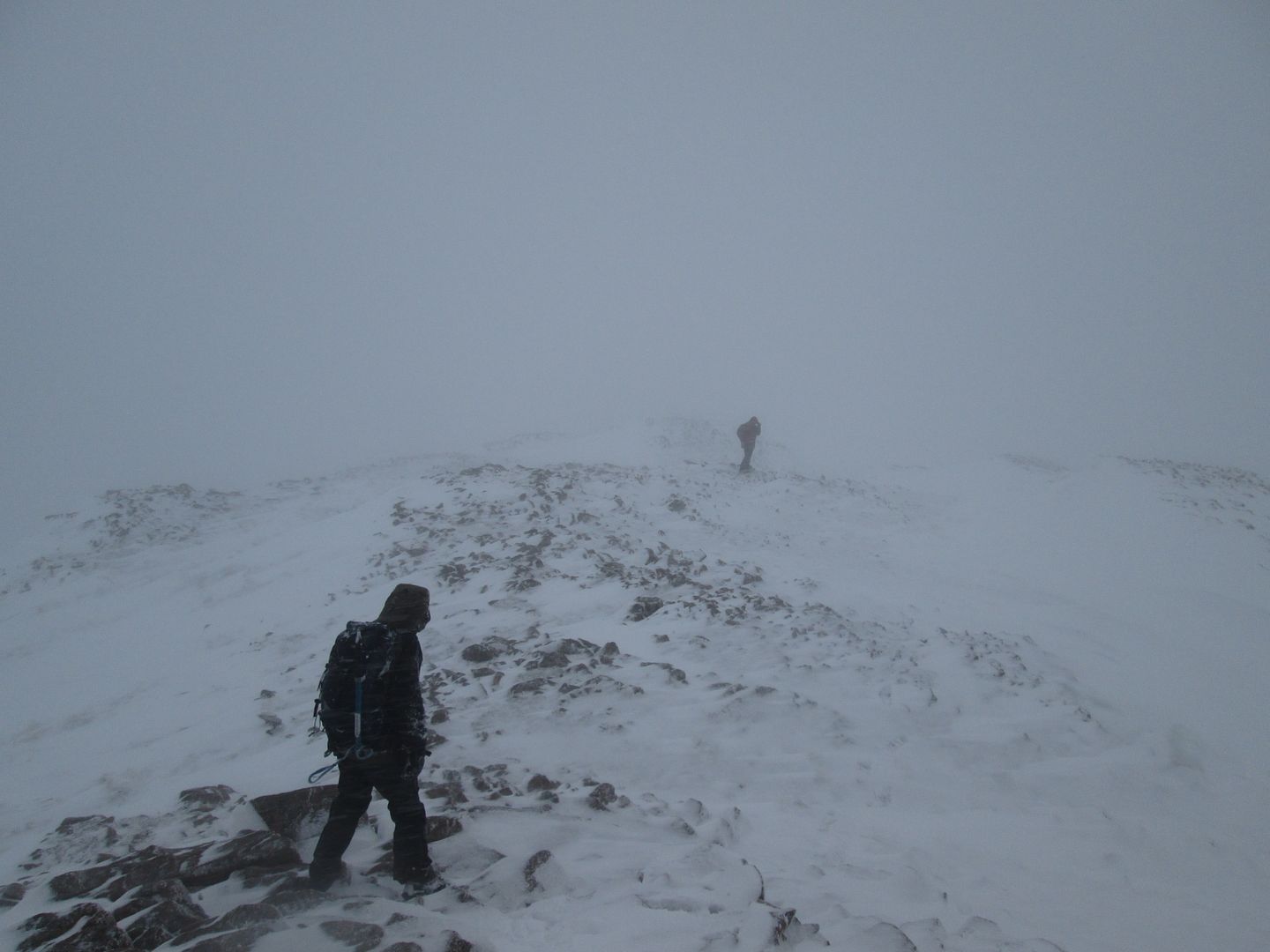 Coming off the 845m point
It was hard going along the ridge. The snow was powder soft and regularly between knee and waist deep. There was the odd lull in the driving wind, and even a hint to the south and west that the sky might be getting a shade or two lighter, but for the most part the wind was whipping relentlessly across our bows and driving spindrift and chunky flakes into those parts of our faces that were still exposed. It didn't take long for me to don the ski goggles.
We were all going over like skittles at regular intervals and progress was achingly slow. It was apparent that we were going to be out for much longer than anticipated and for the first time I started thinking about the daylight available to us. I still wasn't thinking about turning back but my mind-set was shifting. The pack wasn't helping. It was a touch on the heavy side for a daypack, even by winter standards. I had my crampons and my micro spikes in it (not that either of them would have been any help in this kind of snow cover - more dangerous having them on than not) as well as a half full bottle of Jura. More on that later!
It was at about this stage in the proceedings where we all started to fantasise about "the pint" in the Clachaig. John clearly had the short straw - a Chlachaig visit and he was on driving duties. Bruce helpfully suggested that a wee bit of tinkering with some wires or cables under the bonnet and a quick call to Europcar claiming a defective motor, and we could all be in the Chlachaig waiting for John's wife to come and pick us up. John thought the plan had some merit but feared a helpful passing motorist might stop by and conveniently diagnose the problem before the plan could be fully executed. I suggested that I knew a guy in Fort William and a quick call to him could be all it would take to make the car vanish into thin air by the time we returned. John said he would mull it over.
We were icing up like the insides of freezers but the goggles were a godsend. Strangely it wasn't cold at all, or at least it didn't feel cold. My hands had gotten a bit of a chill on the ascent up onto the ridge due to the amount of time they had spent, even with gloves on, in the snow as I scrambled to find a viable route and get a good hold. My right cheek (on my face that is!), felt like glass when I touched it, such was the strafing it was taking from the storm coming in from that side. The Davy Crockett hat was now on and I was spending an increasing amount of time removing icicles as they formed on the outer furry parts, as well as fighting a losing battle to stop my goggles becoming a hindrance to visibility rather than a help.
Approaching Stob an Fhuarainn
At some point along the way, I had stumbled forward through a deep, soft drift and cracked my right knee cap off a rock buried just below. I felt the pain of the blow immediately but then it seemed to wear off, before it came back with a vengeance. By the time we trudged onto Fhuarainn, it was howling! The wind was also howling and so we dipped down to the east behind some protruding rocks where we found a bit of shelter and had lunch. I had the two man emergency shelter with me but I didn't fancy our chances of managing to successfully get that over the three of us and being any more comfortable than we were.
The principal filling of my wraps turned out not to be chicken as I had expected, but powder snow. Still, it was a much needed energy boost. I took a new bearing and we prepared to set off towards the Munro summit to the south west.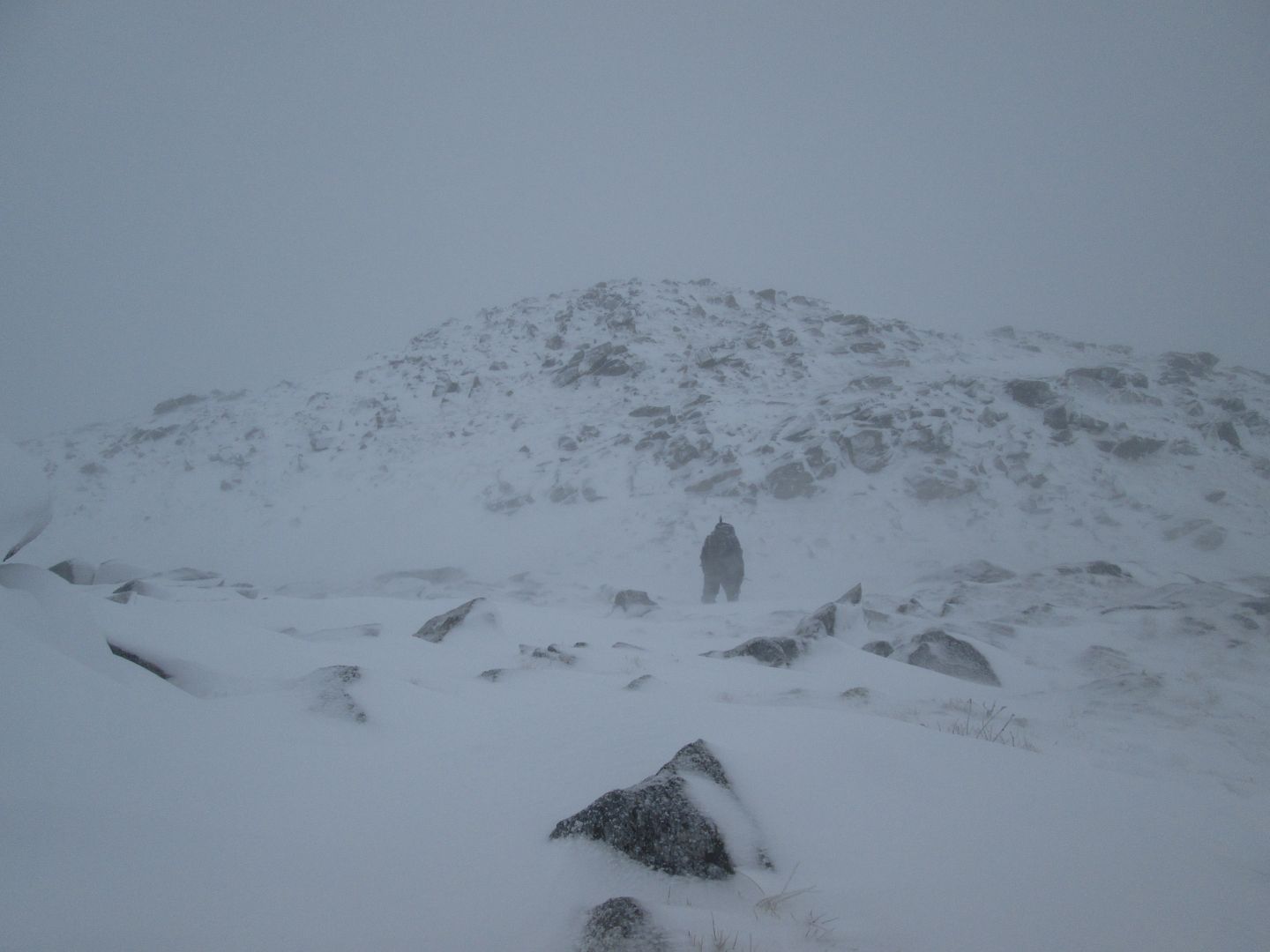 John coming off Fhuarainn
I had not mentioned to the guys that I had a half full (always half full, never half empty) bottle of Jura in my pack for a wee celebration of my 200th at the summit. I had wanted it to be a surprise. It didn't look too likely now that there would be much appetite for a celebration once we got there, if we got there! Also, in light of the conditions, I hadn't wanted either of them to feel pressure to carry on so I could achieve that elusive milestone, especially after such a long lay off. So I kept shtumm, but before we left Fhuarainn (and got to the point of no return) I did give them the opportunity to speak now or forever hold their peace. It is never too late to bail. It's a cliché but only because it is true - the mountains will still be there for another day. The trick is to make sure you are as well. Neither of them took me up on the offer. They were both quite happy to carry on if I felt secure in doing so. I told them that I thought we were safe enough, I was very confident of the nav, even although it was quite tricky and a bit of a pain in these conditions, we were well enough equipped and geared up, still had sufficient daylight and that I perceived little avalanche risk.
Following the fence posts towards Sgurr n h-Ulaidh
There was a section of steep ascent on the approach to the summit that was pure farce. I made my way up via a not very classy combination of crawling, stumbling, laughing and cursing. Bruce seemed to be making the easiest work of it, while John floundered around behind me like an exhausted man in a swamp of quicksand. I am almost 100% sure that (Bruce and John aside) there was not another living human soul for kilometres around, but just in case I am wrong, I would like to apologise unreservedly for my use of industrial language as this point.
Almost there!
We didn't stand on ceremony at the summit, a few quick photos and a quick glug each of Jura. Not quite the relaxed, enjoyable celebration I had envisaged, but hey ho. There was some dram drama when I went to put the stopper back in the bottle but it had vanished. Neither of us had it in out mitts and we couldn't see it lying about anywhere. Bruce panicked! Either we were going to have to pour away the best part of half a bottle of fine single malt whisky, or he and I were going to have to tan it between us and end up so legless that we would have to call MRT to get airlifted off! Certainly not the sort of state you want to get into in a rugged mountain such as this in full on winter conditions! After a bit of digging it eventually turned up buried under a few inches of snow at my feet. Panic over. For now.
John and Bruce a bit rimed up at the summit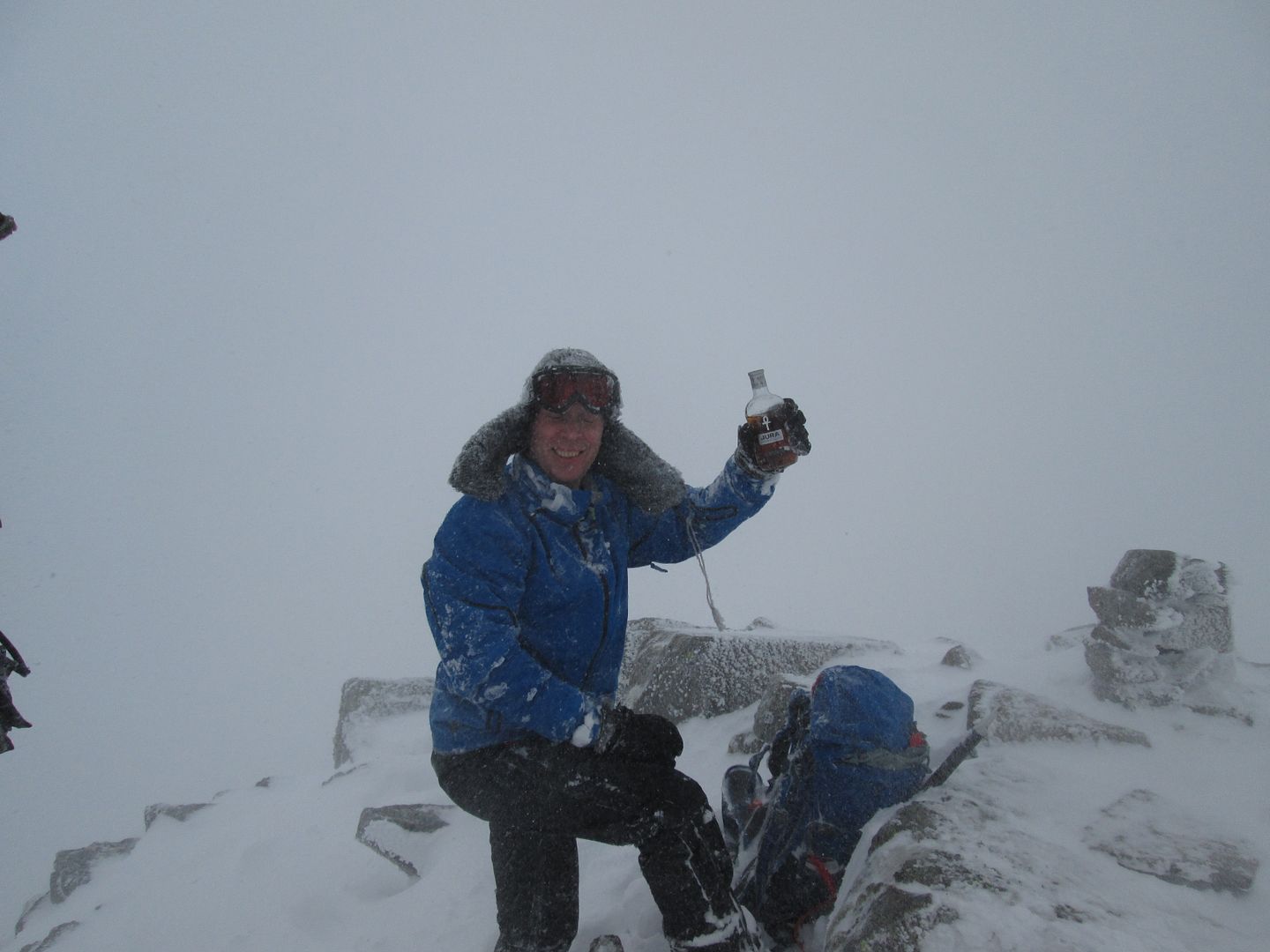 A wee dram of Jura to celebrate the 200th
McPish did say that the views from the summit are sublime!
All conventional wisdom says that you do not under any circumstances take a direct exit due north from the summit of Sgurr na h-Ulaidh. The summit sits right on the edge of the steep cliffs that form a deep gash in the precipitous northern face. Instead you are advised to continue due west to Corr na Beinne before descending less precarious ground towards the Allt na Muidhe from where you can pick up the path below the crags of Creag Bhann on Meall Lighiche and back to the track in Gleann Leac na Muidhe.
Bruce attempted to hold the OS sheet down while I scraped the ice off my compass and fought to take an accurate bearing. Then we were off without further ado. My goggles had now been dispensed with as they were iced up almost beyond recognition, inside and out. The buckles on my pack were also iced up to the point that they could not be fastened. I had gone no more than a few paces, one hand raised in an attempt to shield my eyes, the other holding the compass in front of me on its bearing, when I became aware of the fact that I had no idea where Bruce or John were. Come to think of it, I actually had no idea where I was either.
I froze and shouted to them above the howl. Eventually I became aware of somebody near me, and turned to see a shape that closely resembled John, or at least how I remembered him last!
Bruce was gone, and John and I were both rooted to the ground, braced against the onslaught. We were getting into a potential race against time to get off the mountain before dark, yet we could not move. The conditions were atrocious. We were being torn to shreds and yet we could not move towards what would hopefully be a less exposed position.
Eventually Bruce reappeared out of the storm. He had gone off in an entirely different direction to John and I. I scanned 360⁰ and saw what looked like a small pile of stones about 10 metres or so away. The cairn! I went through the excruciating rigmarole of taking another bearing before we took a deep breath and headed off once more.
Eventually the terrain under our feet started to resemble what I recalled the map showing on the walk between the Munro summit and Corr na Beinne. We seemed to be on a long, flat, tapering spur and before too long, we came to a snow filled depression running across the spur that looked like it might be a stream bed. It led quite sharply downhill to the north and after a bit of urgent debate, we decided to follow it as a potential exit route to the safety of the bealach below and the road home. This turned out not to be the wisest decision we had made today. Bruce surged ahead, his mounting anxiety evident. John tagged behind and I took up the middle ground, as I had for much of the day. I was acutely aware of the need to get us all off quickly and safely, yet also aware that the last thing we wanted to do was to allow ourselves to get too strung out. I yelled at Bruce to rein it in a bit but he couldn't hear. I glanced back to see that John was still in touch before plunging through the deep powder in an attempt to get in range of Bruce. There was a niggling doubt in my mind that we had "gone too early" in our descent and this was confirmed when I caught up with Bruce. There was what looked like a pretty sheer drop of a not insignificant height in the gulley about 5 metres or so in front of us. I was glad of the deep powder that I was standing almost waist deep in - I felt like it was providing a bit of sticking power and holding me on the slope. However, it looked like that was about to become a mixed blessing if we were going to have to climb back up through it!
Little snow particles were running down the gulley, gathering mass and speed as they went barrelling downwards before showering over the drop in front of us. Bruce managed to clamber over a shallow rise to the left to recce the ground there, but returned to advise that the only safe course of action was probably to climb back up to the line of fence posts on the ridge and head further west to less steep ground. About 20 minutes later and we were all back on the ridge, feeling like we had just waded uphill through an Olympic sized swimming pool filled with several feet of treacle. And now that we were safely back on the ridge, we were once again being torn to ribbons in return!
Bruce was now on auto-pilot in his search for an escape route. I was stressing the importance of not panicking and of taking our time. If that meant we would be coming off in the dark, so be it. After another 10 minutes or so of extreme exfoliation though, we managed to find a route down into the bealach that was safe and manageable. A lot of bum sliding ensued, although the consistency of the snow meant it was not the most graceful of bum sliding technique. Every few minutes required a stop to remove a few tonnes of snow from the inside of our trousers!
Now that we appeared to be safely on the road home, the sun even came out to say a brief hello, and bathed the snowy slopes below us in warm light, before disappearing for another day.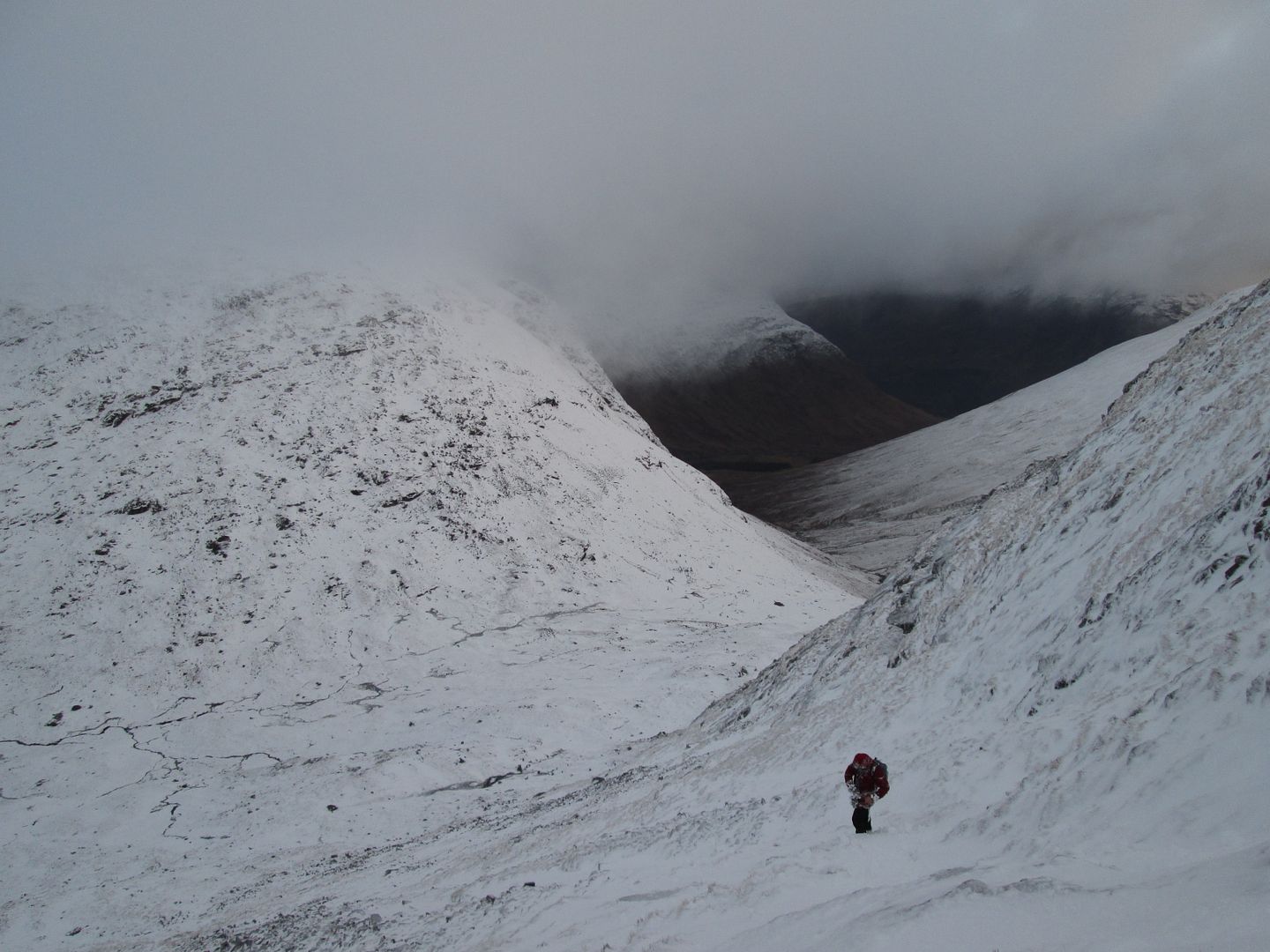 February late afternoon sunshine on the slopes of Meall Lighiche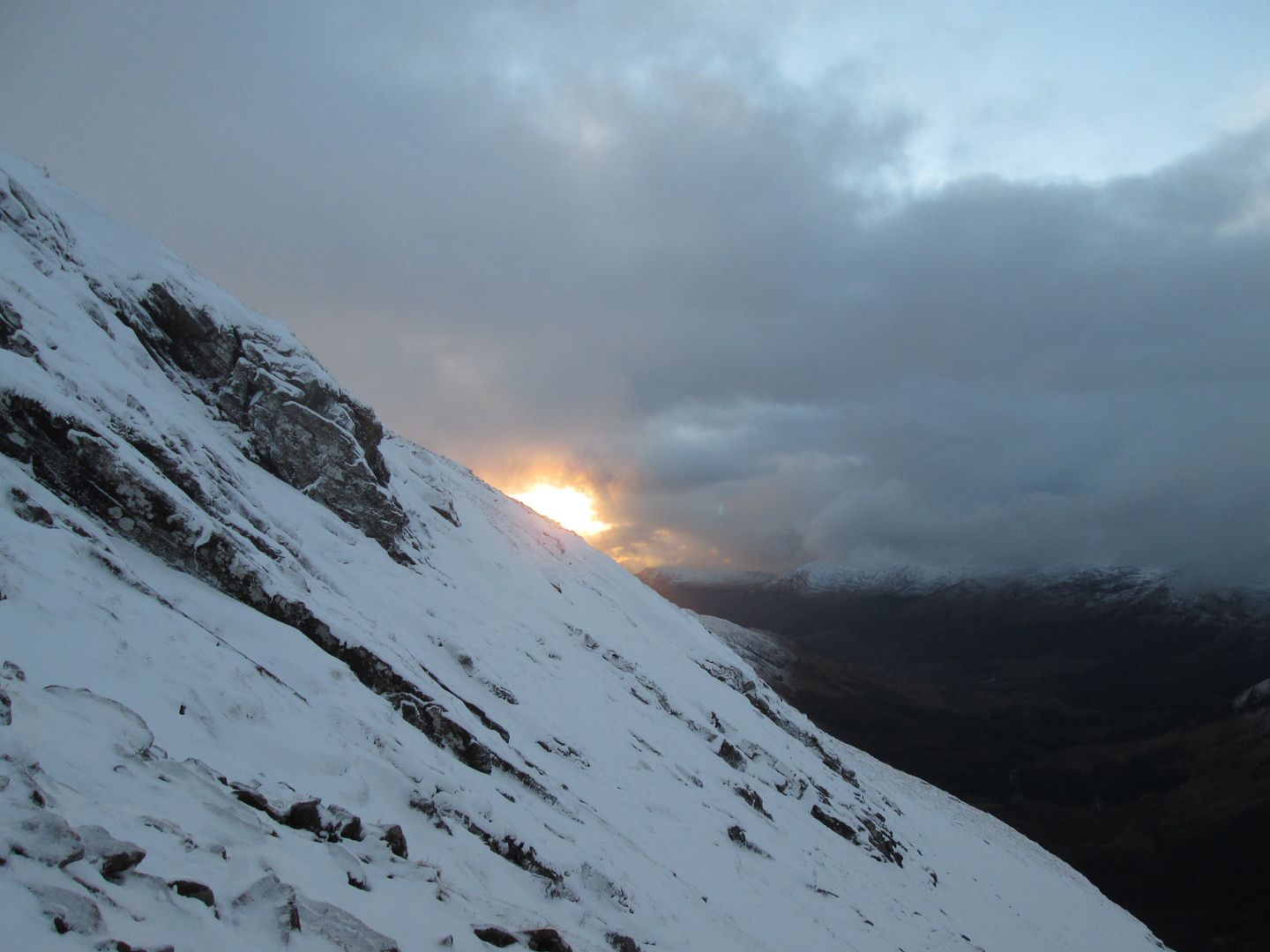 The sun checking out in the west
The Aonach Dubh a'Ghlinne ridge
Sgurr na h-Ulaidh
We got a bit strung out over the walk out along the Allt na Muidhe but I wasn't caring any more. We were all out of real danger and probably all needed a bit of space and time to ourselves.
Moonrise over the north face of Ulaidh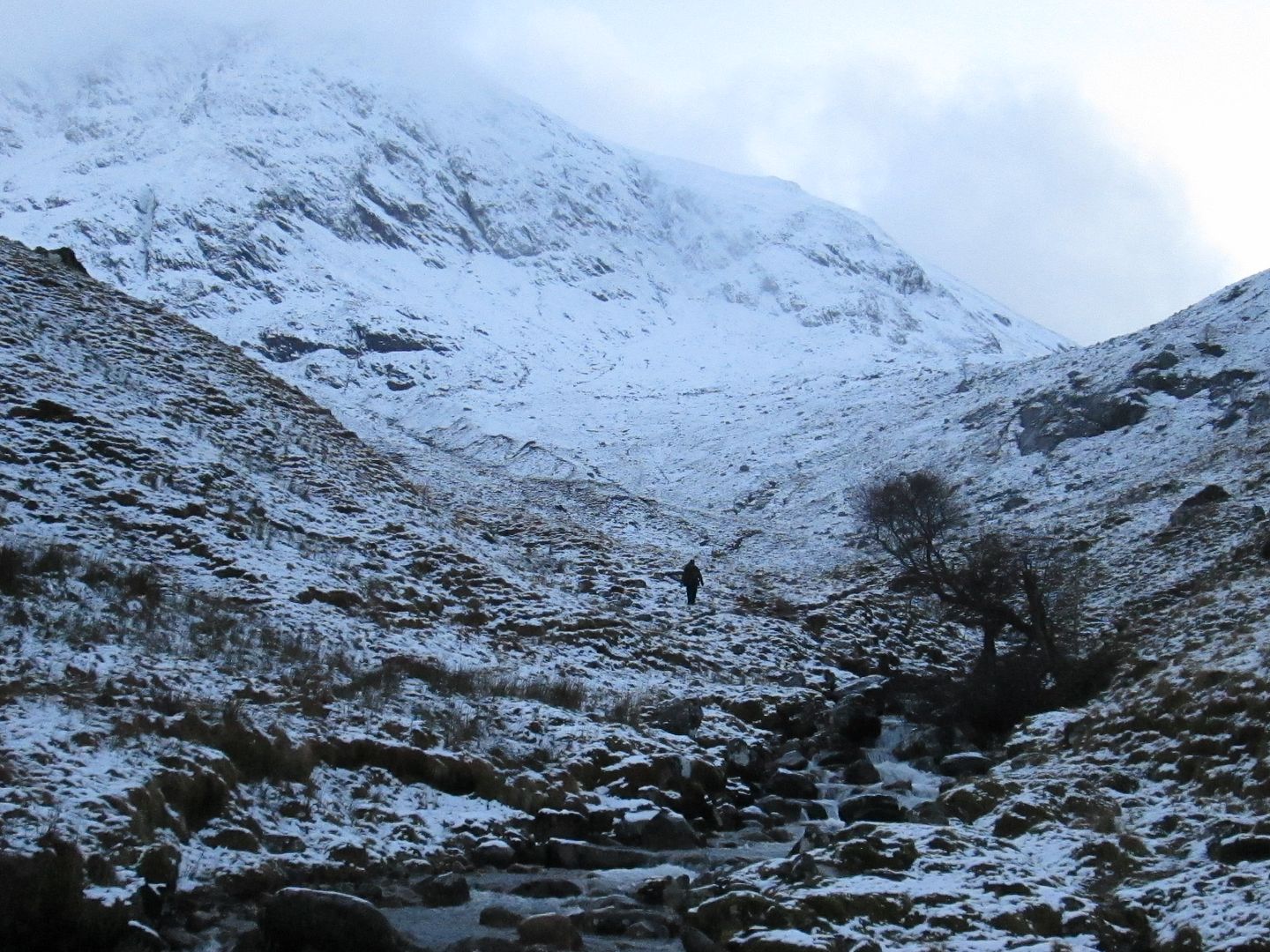 John coming down the Allt na Muidhe in the gathering darkness
Meall Mor
We all reconvened at the gate at the start of the track back through Gleann Leac na Muidhe, head torch on, and walked together in the darkness back along the track, making our respective calls home to advise of our rather later than anticipated return. I had wondered whether the guys would have gone off the idea of the Clachaig by now and would just want to get back home ASAP, but on the contrary, they were both raring to go. Bruce momentarily thought about driving first to Newtonmore and paying a visit to McPish "to kick his hole" but decided that on balance, a few pints in the Clachaig was a better option.
A proper celebration in the Chlachaig (#1)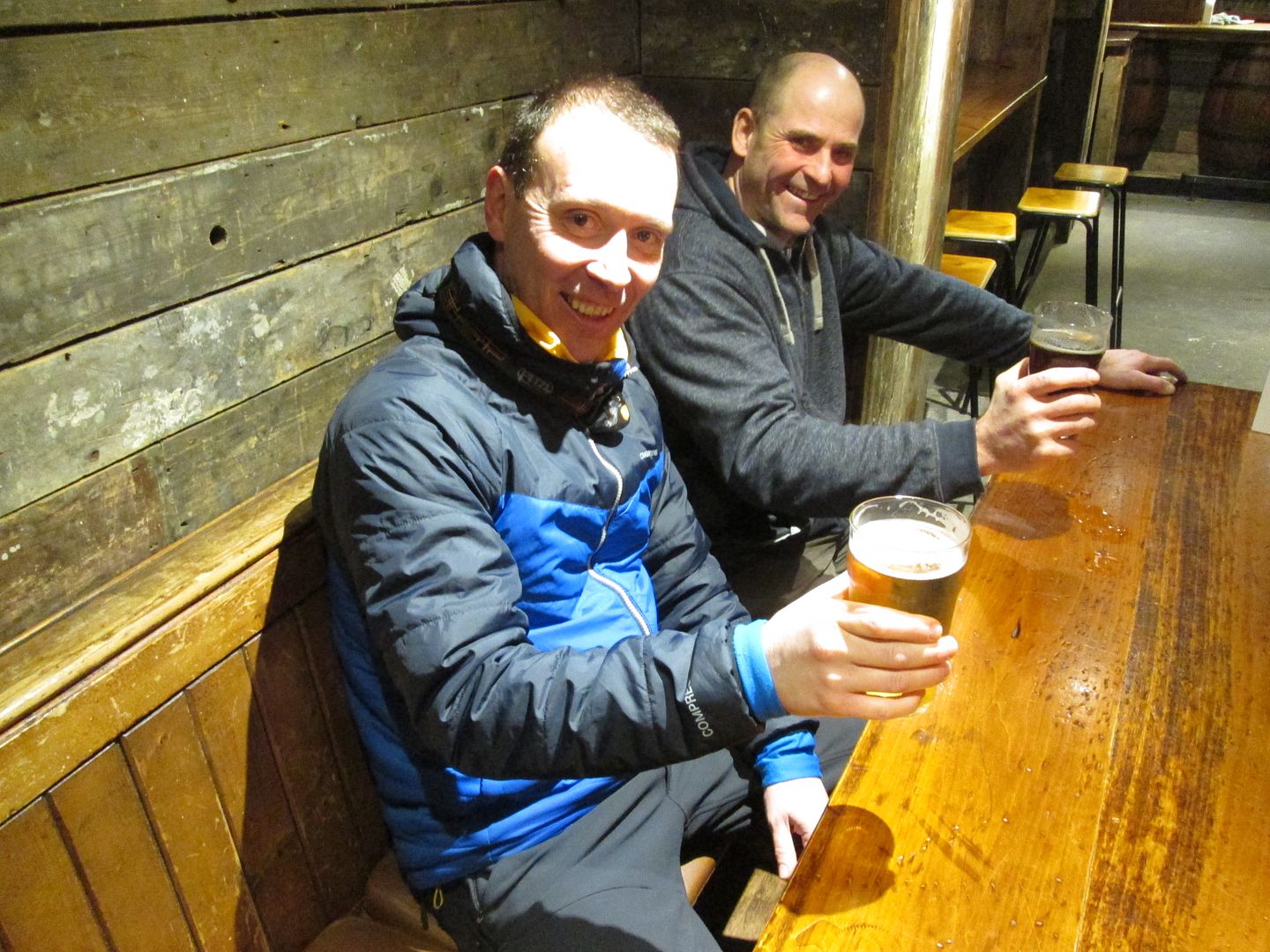 A proper celebration in the Chlachaig (#2)
After that, all that remained before the curtain was brought down on one of the all time epics, was the drive home, John at the wheel and Bruce and I working our way through the still nicely chilled beers in the cool box and much of the remainder of the whisky.
God, I've missed the mountains!