I suppose we all have a soft spot for the hills we started our hillwalking on
For me it is the hills around Loch Lomond and Arrochar
Most west coasters will probably be the same
For east coasters it will no doubt be the Angus Glens,White Mounth,Cairngorms.
These well rounded sometimes featureless hills in the east are perhaps better for learning navigation skills.
But the Arrochar Alps to me,and I'm a wee bit biased, are terrific hills for learning the basic skills of hillwalking.
Plenty of well worn paths of course,even more so nowadays, but wander off the beaten track and they can give a good test. Steep sided hills with rocky outcrops - good for finding out how to pick a line - and plenty of opportunities for scrambling.
It is a great playground.
One of my favourites has always been Beinn an Lochain above Loch Restil and the approach up the bounding NE ridge from Butterbridge.No navigation problems once on the ridge but craggy and narrow enough in places to give a sense of exposure.
When I first started hillwalking this hill was classed as a Munro but was soon to be demoted
In these days they were all just hills (lists like Munros/Corbetts just did'nt matter to me and my mates)
In the past few years I'm glad to find that I now think that way again - wish I had always.
Parked at the layby just up and round the corner from Butterbridge and started off just after 9.30
Cool enough in a breeze to have the fleece top on,across the burn and on to the boggy path over to the start of the ridge.
A very pleasant morning with warm watery sunshine but with cloud just catching all the tops.
This ridge soon gets you working hard and my legs were feeling it.
Basically the ridge bounds up in three steps - first rise to 630 m second to 760 m
After the second rise I was ready for a stop and a drink where I took the first photo of the day.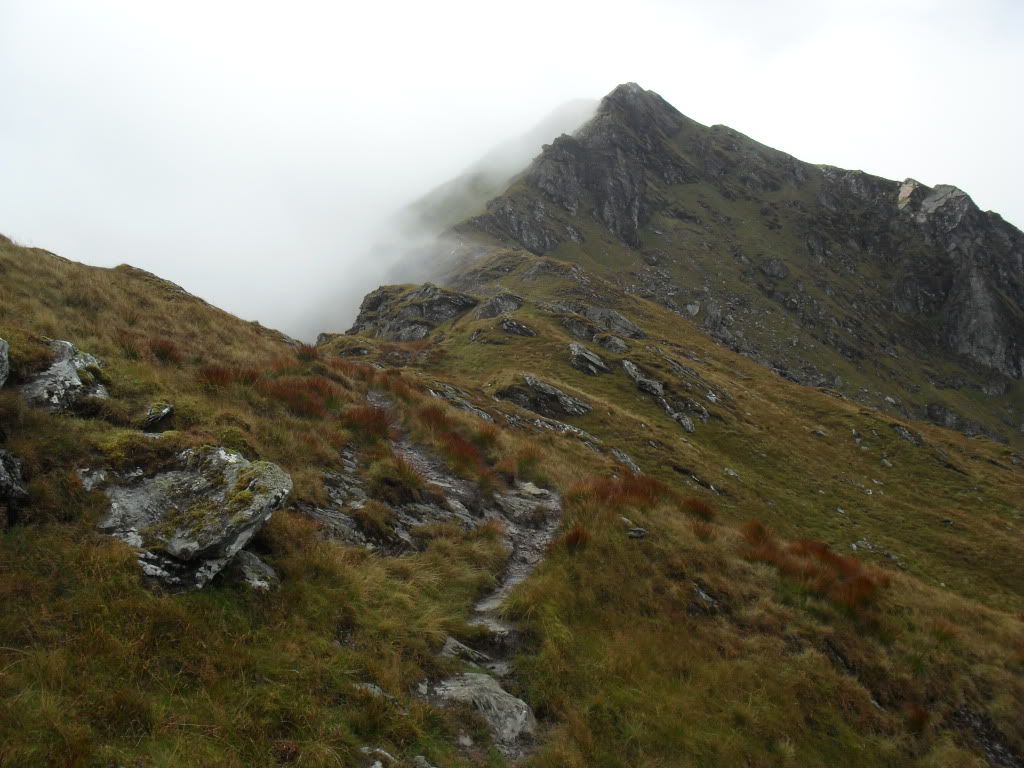 looking to the final rise
Found a sheltered spot below a large rock out of the strong and cold breeze
Sitting there with no sight of the road below and looking over to Beinn Ime and Beinn Luibhean with rain sweeping across it felt as though I was in a more remote area - and for some reason thought of Loch Monar hills - they are kind of similar in character I suppose.
rain sweeping across Beinn Ime and Beinn Luibhean
After my break I set on up again only to find that the top had disappeared into the clag.
The last climb to the summit 901m is terrific up a steep ridge and takes you quickly to the somewhat tame summit. There are two cairns a couple of hundred yards apart - which is the highest ? - who cares - visit both !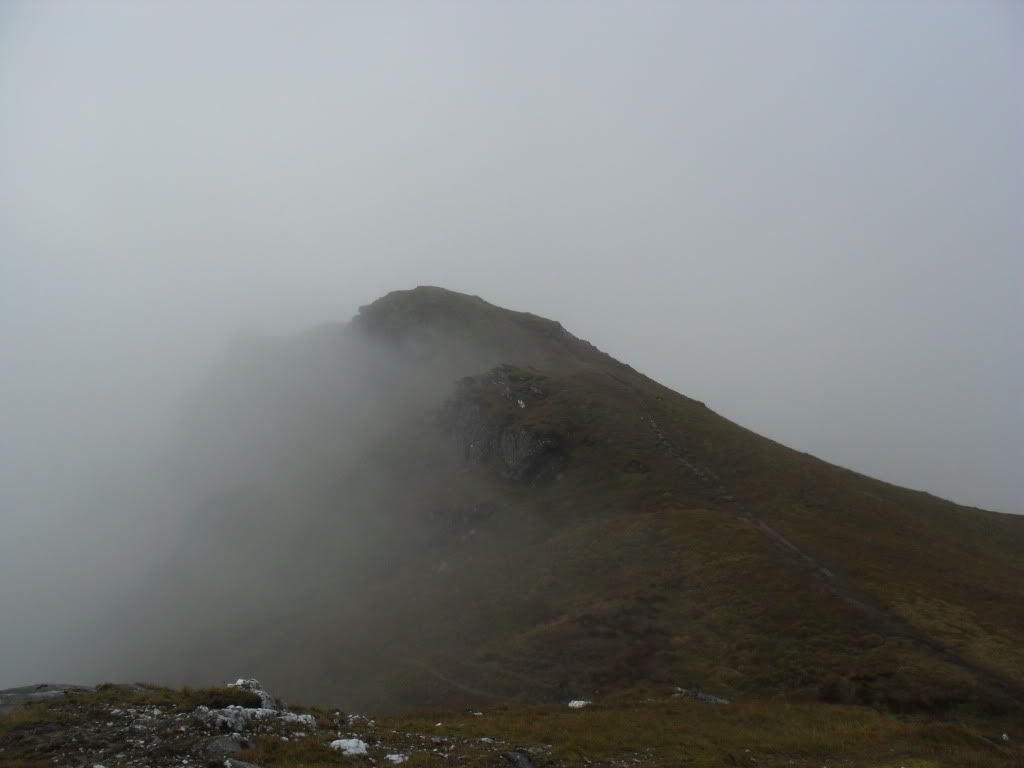 mist at the top
No views from the top so I hung around for twenty minutes or so with the hope of a clearance.
But alas nae chance - and you just know that once you leave the top and drop down a bit the hill will clear - and of course it did - why does that always happen.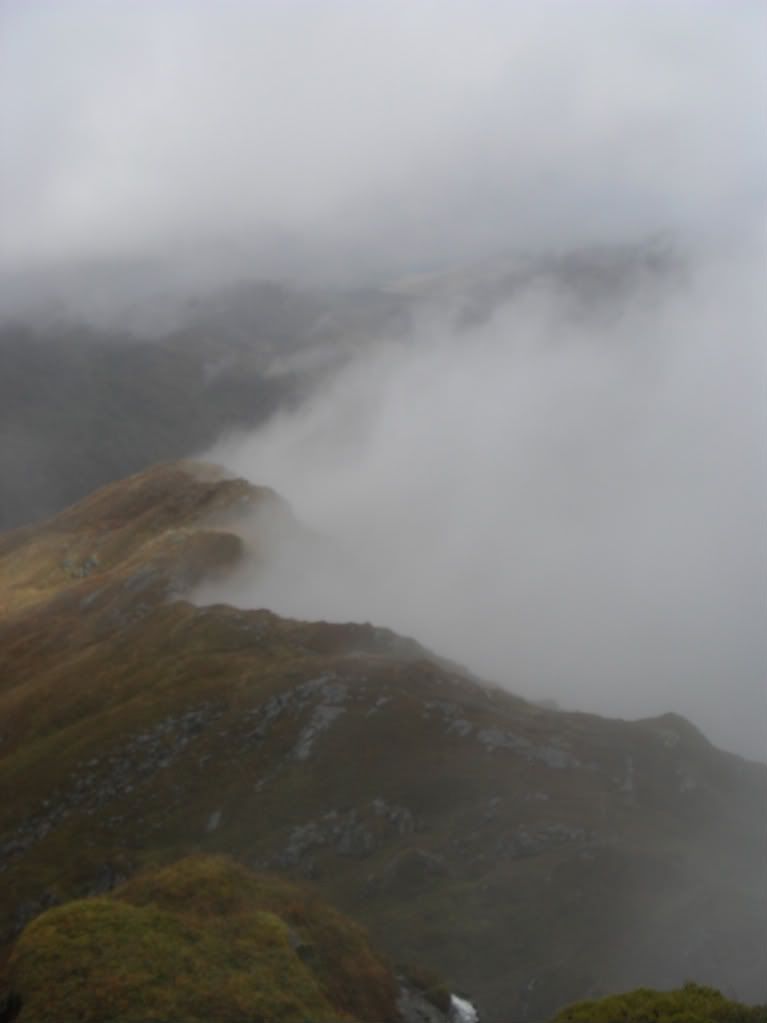 mist clearing the lower ridge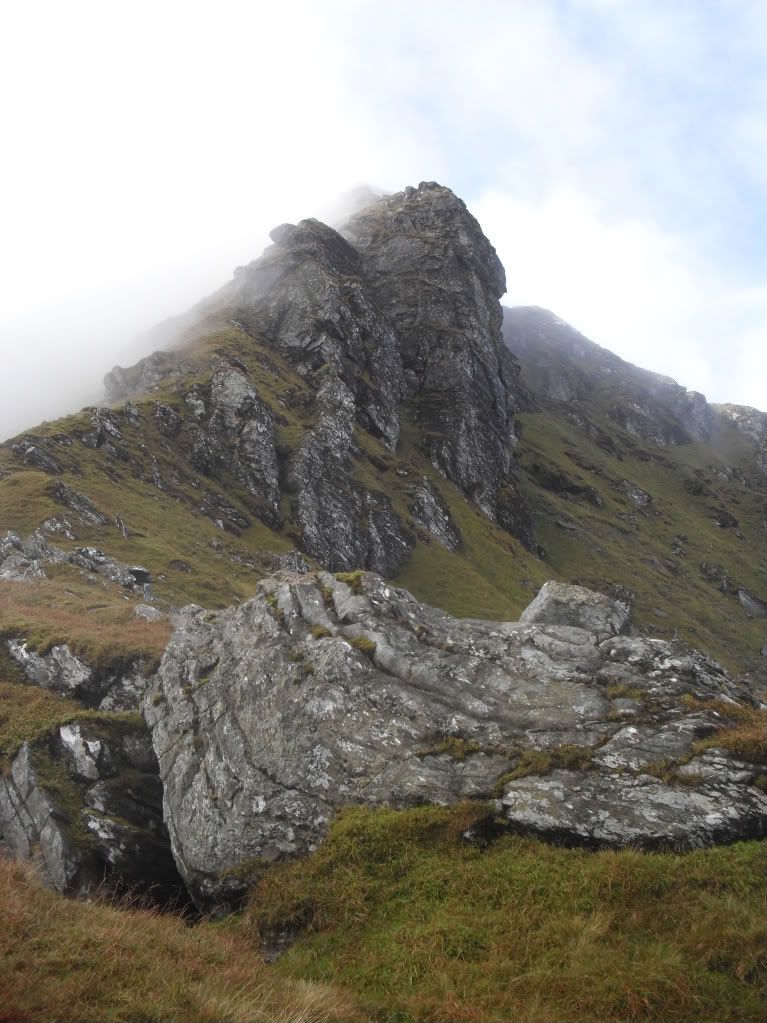 and the upper ridge
Sunshine now and really warm and pleasant for the drop back down the ridge
looking through to Loch Fyne
Rest and be Thankful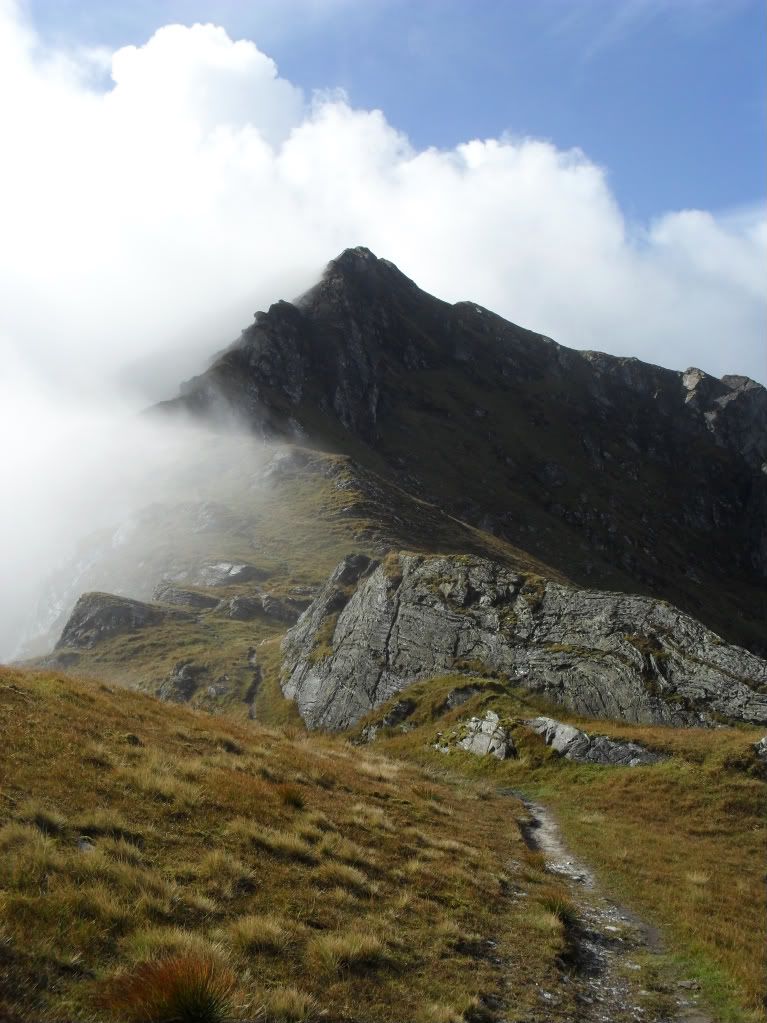 the top clearing now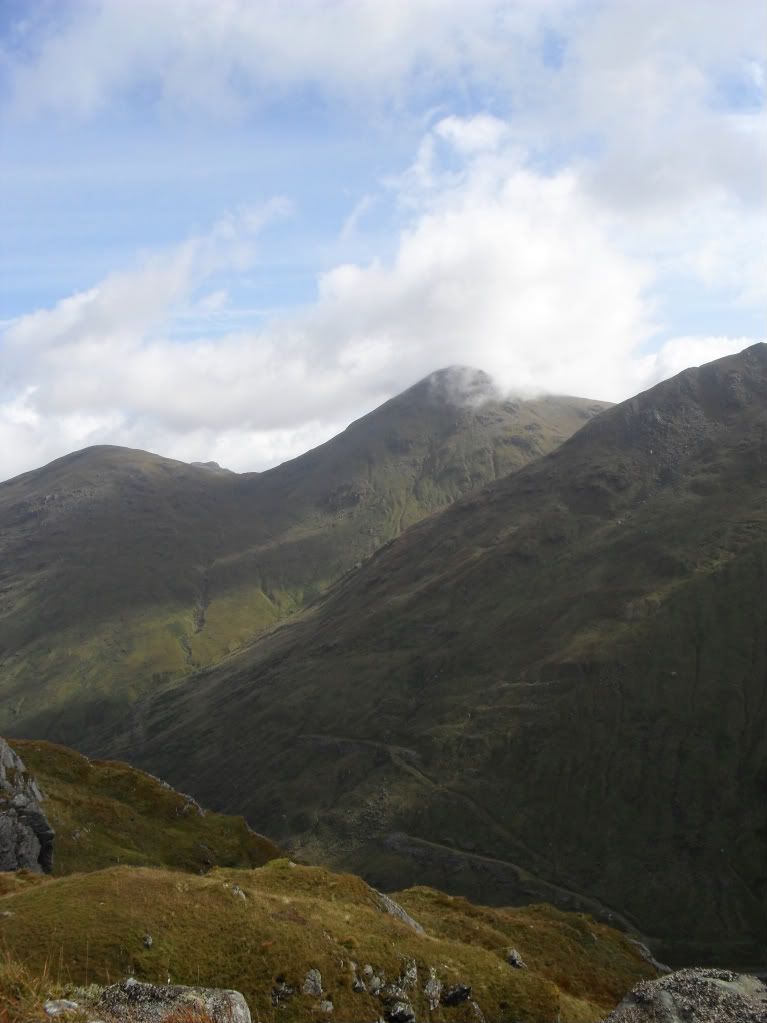 Beinn Ime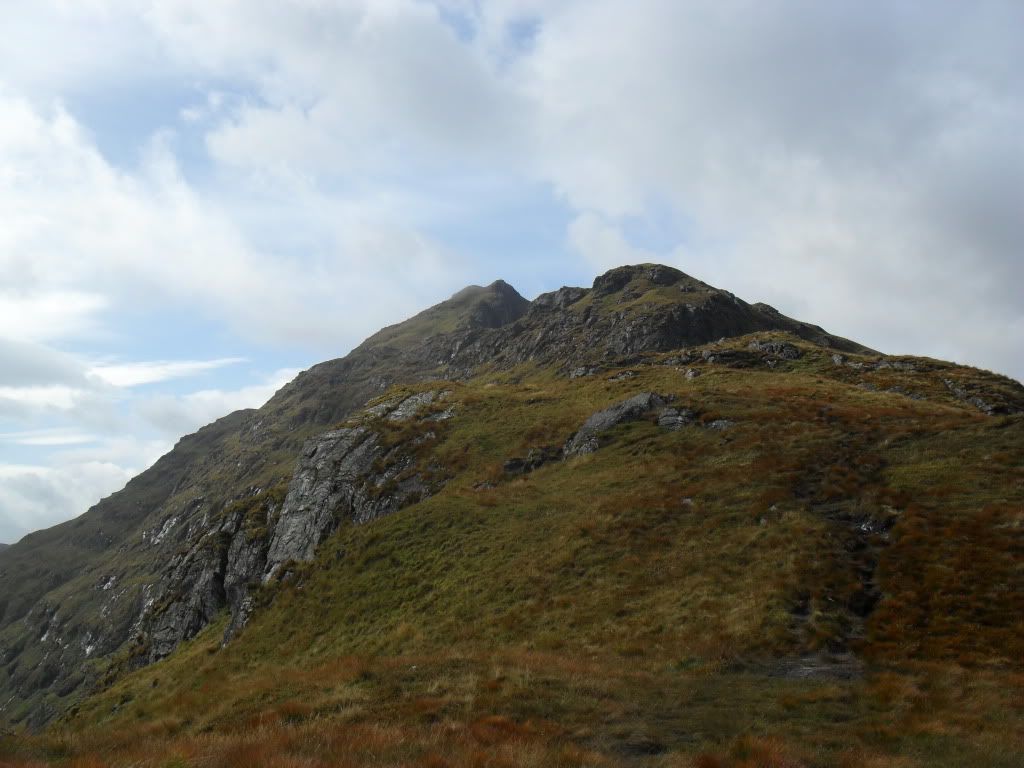 another look back up the ridge
butterbridge
Back at the car before 1 pm - drove round to Cairndow Hotel for a pint of Fyne Ales Avalanche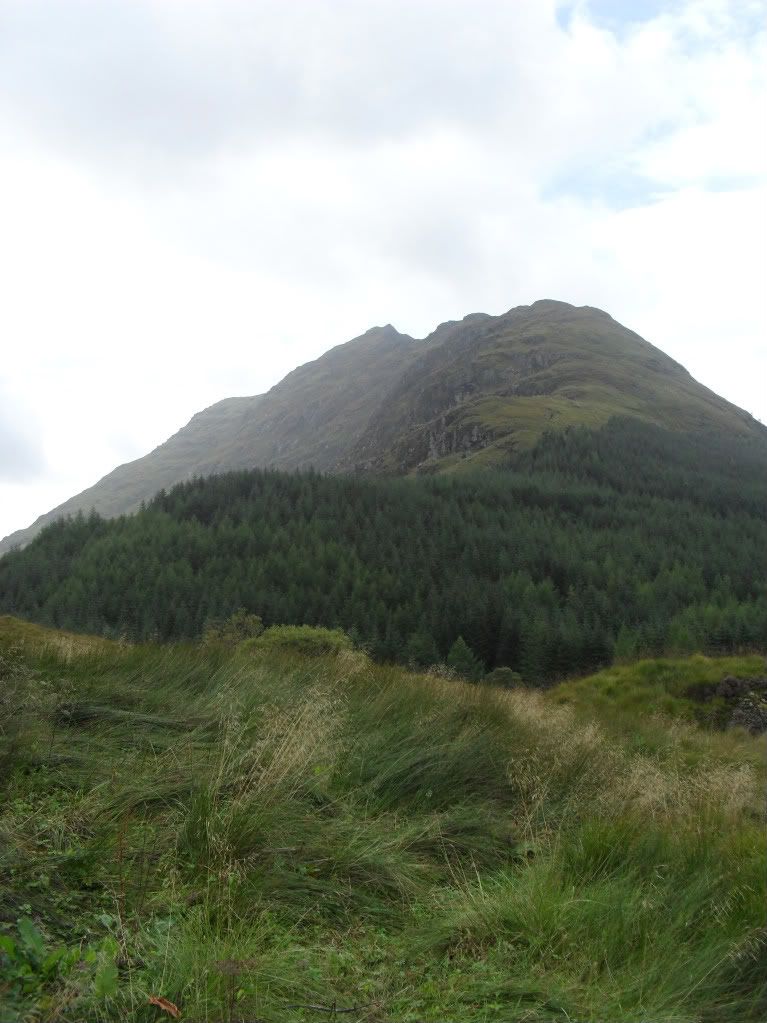 took this view of the hill from butterbridge on the way back