It was the second full day of our three night Easter mini-break in Aultbea (just the two of us in a child free environment
), and after the eventful walk of the previous day around the Letterewe Estate from Poolewe, we had decided to do our own things today. It had been a perfectly amicable decision - the arguments and falling out from the previous day had been forgotten and left where they belonged. To my mind, and doubtless to anyone who regularly hillwalks in Scotland), they were pointless, futile, nothing arguments anyway. Debbie had suggested that I might like to go for a walk myself while she did a bit of wandering and photography around the various beaches and settlements between Aultbea and Dundonnell. I had immediately thought of Sail Mhor and spread the battered old OS sheet 19 on the table to look at the logistics. She had mentioned checking out the falls at Ardessie so it made perfect sense for me to tackle the Corbett via the recognised "book route" from that side, but I didn't fancy a straight up and down, especially with the luxury of having a drop off and collection service on hand. This called for a point to point walk and my eye was immediately drawn to the descent off the north west side of Sail Mhor towards Loch an Gaineamhaich and the walk back out towards the Gruinard River and the bridge where it was crossed by the A832.
The Friday forecast was largely similar to the previous day, but the likelihood of showers was a little higher and the chance of cloud clearing the Munro summits of An Teallach a little lower, so we had already decided to leave An Teallach for the Saturday (marginally the best forecast of the three days) before heading back down the road. It was all falling into place as far as I was concerned – a wee low level ramble with some fireworks on the Thursday that served as a useful recce for future reference, a solo point to point walk over a Corbett via some remote, off piste terrain on the Friday and finally, on Saturday, the "pièce de résistance", An Teallach.
Debbie dropped me off at the bridge over the Gruinard River on the A832 where a track heads upstream on the west side of the river towards Loch na Sealga and another track follows the east bank upstream past the cottage below the craggy slopes of Cam na h-Aire before peeling away from the river and heading into the hinterland to the northwest of Sail Mhor and An Teallach. I had only asked her to pull in there so I could point out to her where to pick me up later in the day, but she assumed that this is where I intended setting off from. When I set the record straight, she said that she probably wasn't going to head round to Ardessie after all as she reckoned there was more than enough to keep her occupied between Gruinard Bay and Mellon Udrigle, allowing time for her to head back to our accommodation in Aultbea and fit a quick run in before coming back for me.
After a bit of haggling, I agreed to meet her back there at 5.30pm and without further ado, jumped out and headed for the track on the east bank, while she performed a quick three point turn manoeuvre and headed back towards Laide. It was 11.55am, so I had just the right side of 5.5 hours to get the job done. I had been warned – she did not want to spend a good chunk of the last evening of her mini-break in Aultbea sitting by the side of the road waiting for me to materialise. Half five meant half five! I was pretty confident that I could easily get away with 6 o'clock without arousing too much hostility. 6.30? Pushing it! 7 o'clock? I was a dead man walking!
I set a healthy pace along the east bank of the Gruinard River, not flagging unduly where the track peeled off to the south east and climbed towards a high col that would lead me into the hinterland.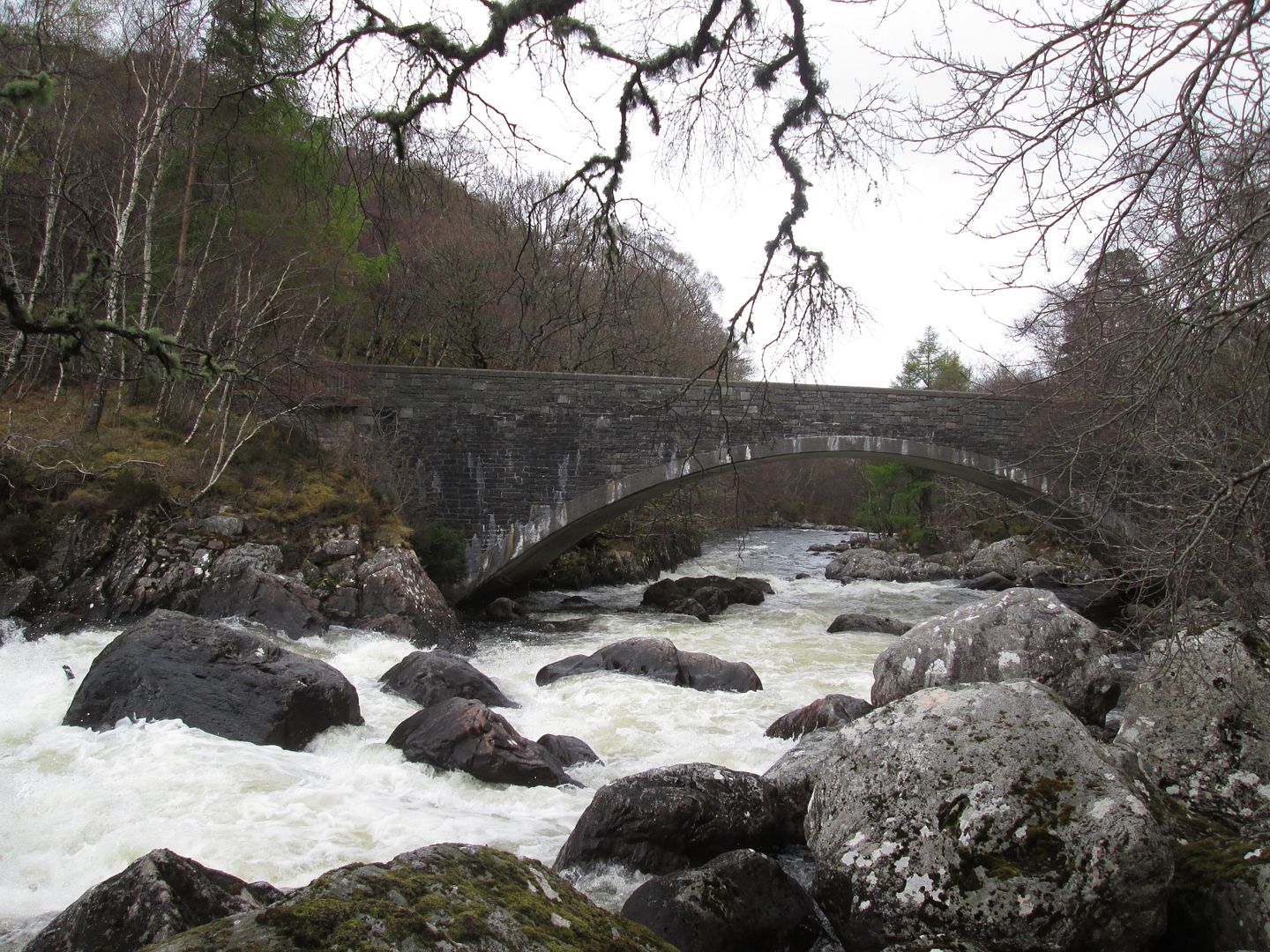 The A832 road bridge over the Gruinard River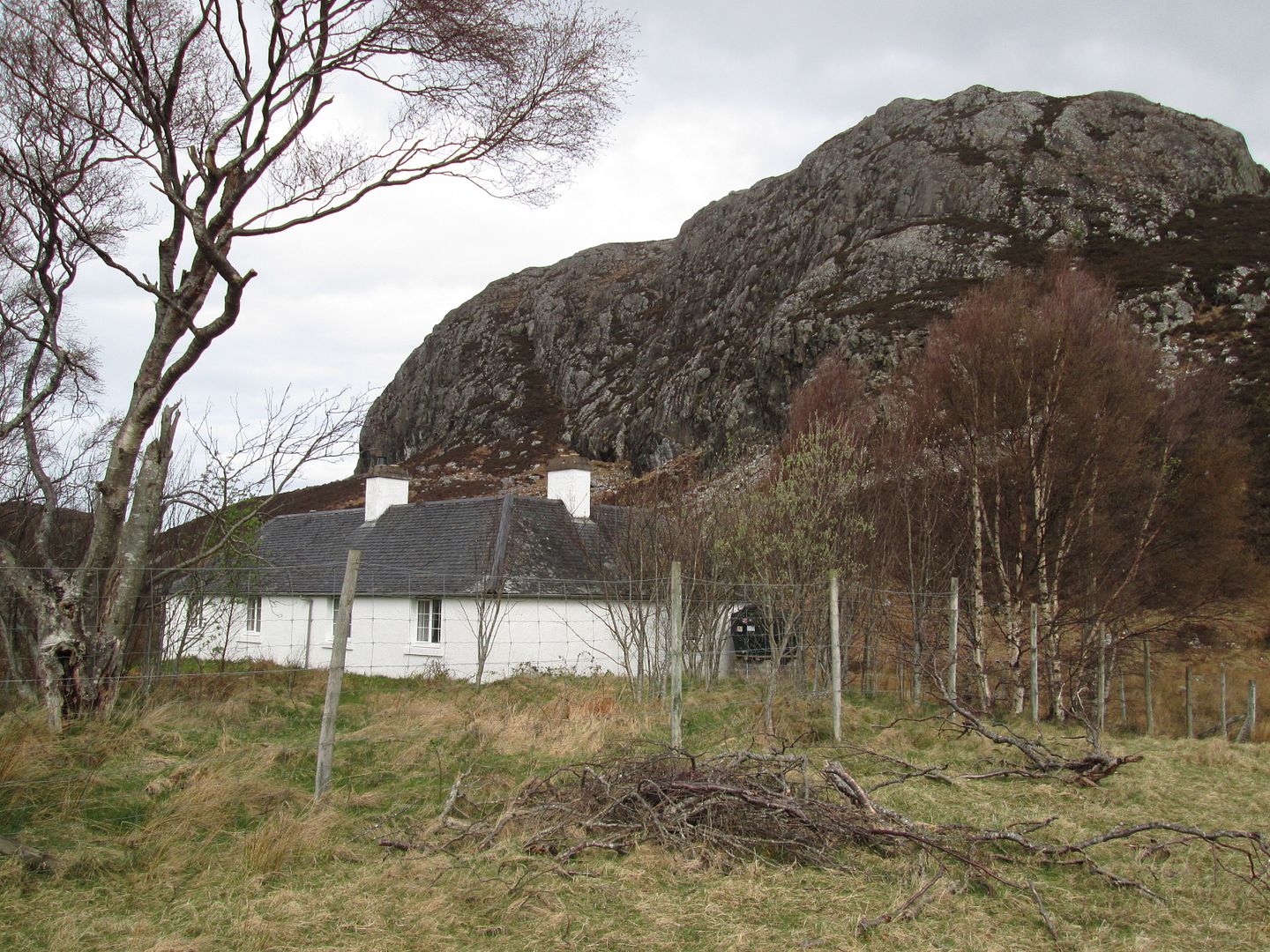 Cam na h-Aire
In my mind I had two options – an in and back out to the start point, or a change of plan at the summit where, assuming we both had signal, I could call Debbie and arrange to be picked up at Ardessie, presumably earlier than if I were to retrace my steps back to the Gruinard River.
Gruinard River from the climb to the col
I felt utterly in my element - alone in the wilds with a light daypack on my back, on a glorious spring day but with the threat of "interesting" weather developments clearly visible on the horizon in various directions. And a new hill sitting tantalisingly somewhere out there in front of me.
The view from the top of the col just brought further joy – a vista of nothingness! The foreground seemed almost Alpine-like, almost like a high Alpine summer pasture, ringed by craggy little outcrops and dropping down to where it seemed to fan out into an area of little streams. Beyond that was a line of more crags and way beyond those, I could see the rounded dome of Sail Mhor rearing up to the south east. The grass seemed almost golden in places in the April sunshine and was being constantly ruffled by the stiff breeze. Appearances can sometimes be deceptive though, and below the pretty façade the reality was a pretty boggy underbelly that became more widespread and trickier to negotiate as I dropped down into the valley.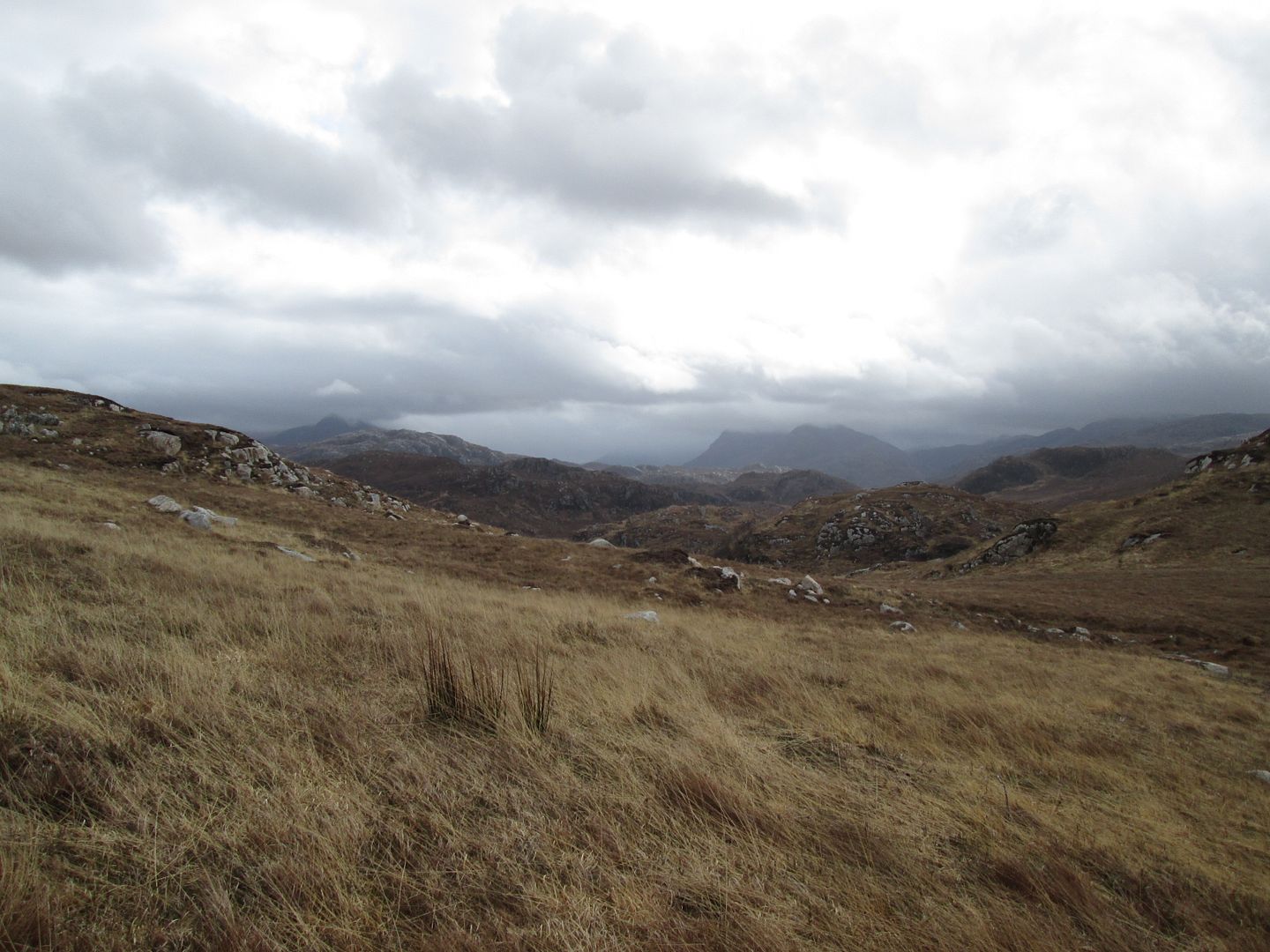 Down towards the Allt a'Ghlinne
Looking back to the col
I must have let my guard down and been duped into a false sense of security by the relatively benign feeling of my surroundings. Before I knew it I was being sorely tested by a network of bogs that seemed to draw me in and then trap me with no immediate sign of an easy escape route backwards or forwards. I stopped and fished the map out from its position wedged between my pack and my back, where I have recently taken to carrying it. Something felt not quite right and a quick look at the map, followed by a look at my physical surroundings and a bit of pondering seemed to back this up. I dug the compass out and checked the bearing I had taken from the top of the col to the ruin shown on my sheet near Loch an Gaineamhaich . This confirmed that I had overshot and was now beginning to loop back around to eventually rejoin the Gruinard River. Schoolboy error, compounded by the fact that I was now in a totally unnecessary duel with a monster bog. The "skip and a hop" approach through the bog had served me well so far, picking out strategically located solid looking patches within the bog and "hop-skipping" across them. Until that is one such solid looking patch turned out to actually have all the weight bearing properties of a sheet of Tesco value arse-wipe paper! I was in deep, my leading left leg disappearing with a hideous squelch to mid-thigh depth. Fortunately as I stumbled forward, my trailing right knee connected with relatively solid ground and I managed to quickly haul myself out with an equally hideous squelching sound. The damage was not pretty, but credit to the Akus, my left foot remained bone dry. The seal-skinz socks helped to minimise the discomfort from my now putrid looking left trouser leg and within 10-15 minutes, my trouser leg was bone dry itself, with only a manky looking brown tide mark on my upper thigh remaining as evidence of the catastrophic and ultimately unnecessary miscalculation.
First f*ck up of the day!
I was now back on track but the whole sorry affair in the bog had cost me a good 15-20 minutes and I got my first doubts about my ability to make it back for my target time. Sail Mhor had now disappeared back below my horizon as I climbed awkward, heathery slopes into the shallow coire below Carn na Beiste. It was real wild country terrain, the high ridges and tops of crag lines being routinely dotted by erratics of all shapes and sizes.
Looking back from the pull up towards Carn na Beiste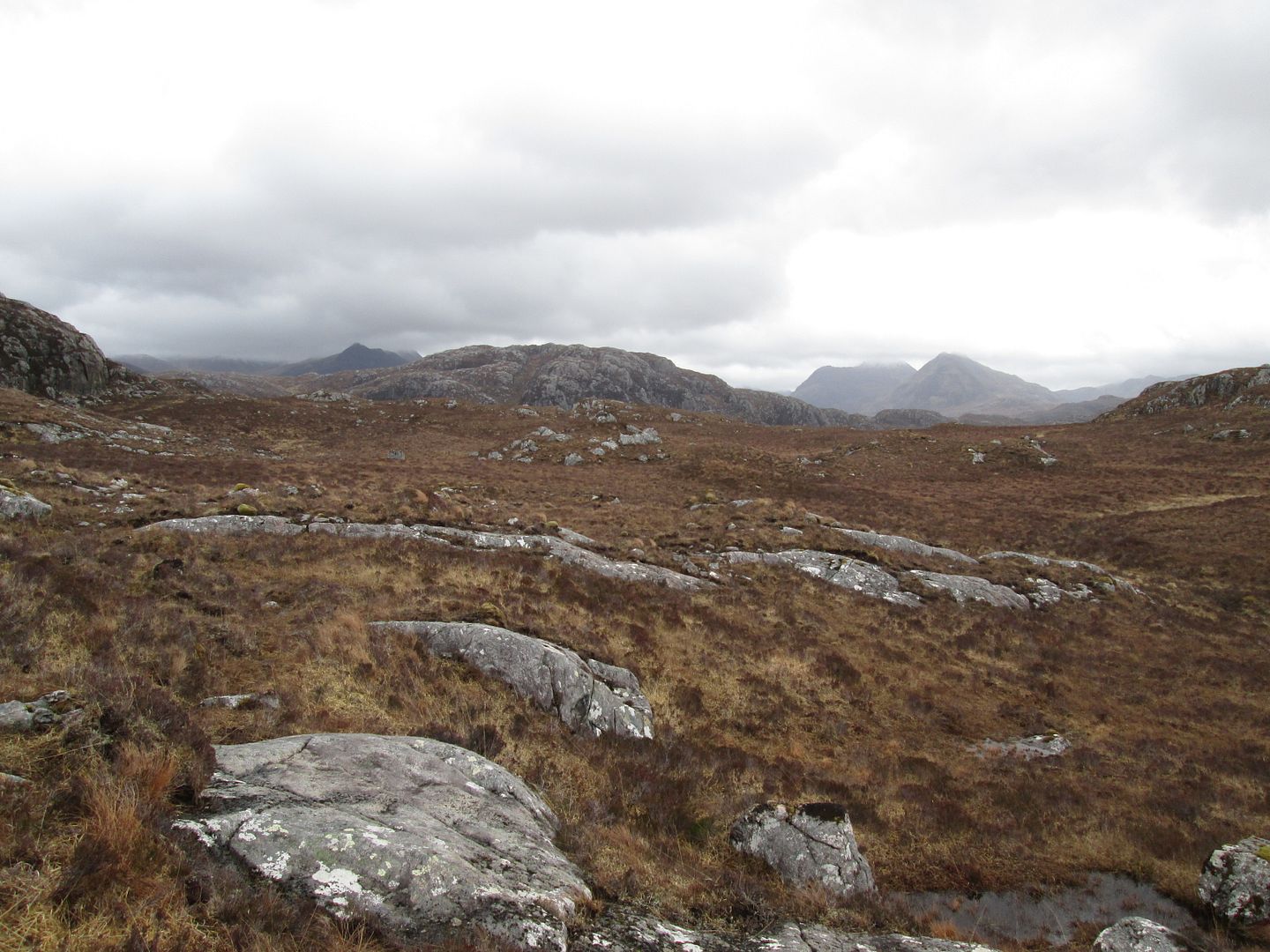 Skirting Carn na Beiste - Cam nam Buailtean in the middle ground ahead
A weird land of erratic skylines #1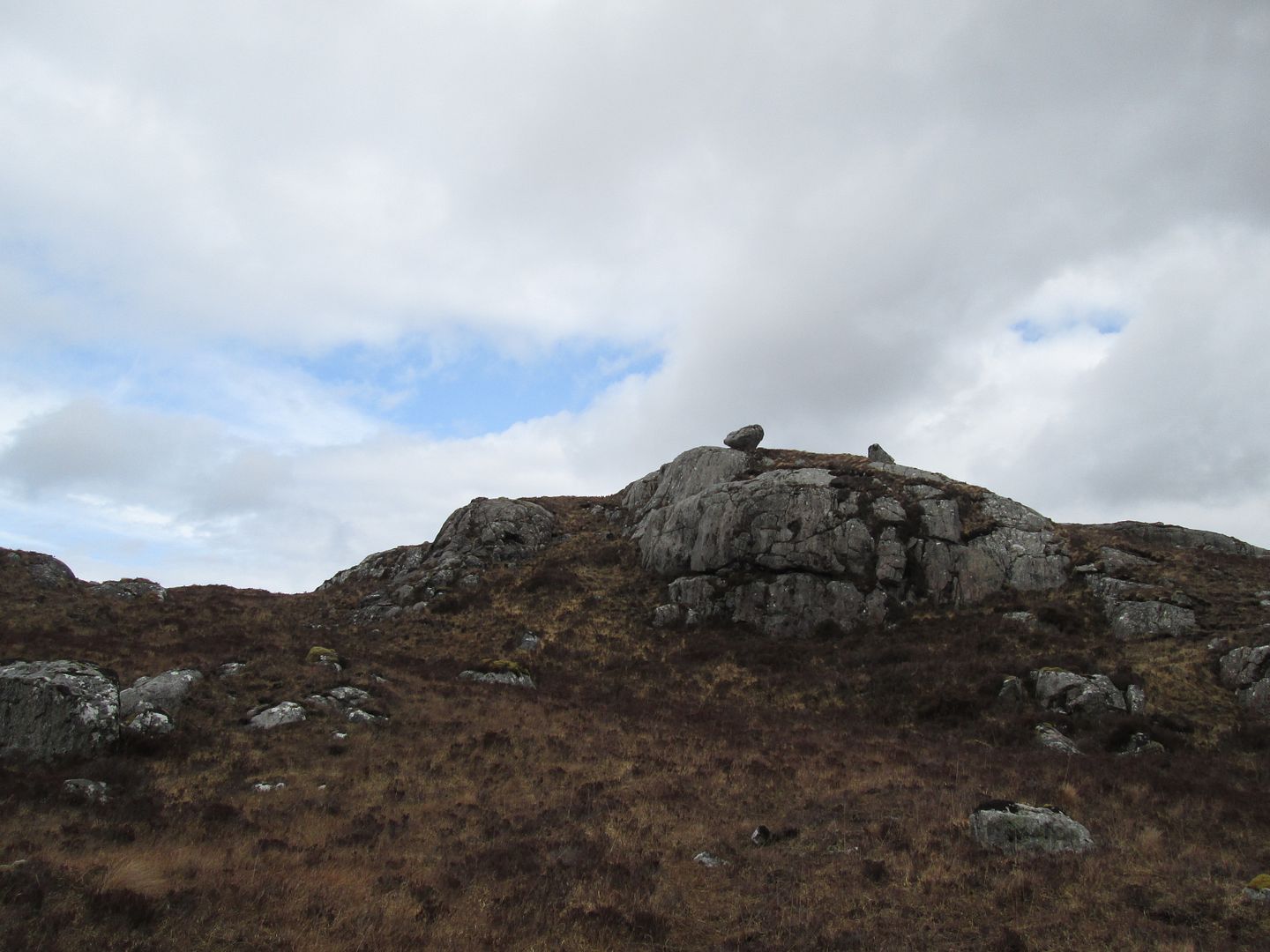 A weird land of erratic skylines #2
From the high point of the col below Carn na Beiste, what faint and intermittent resemblance to a path there was began to descend towards the relatively flat moorland to the north west of Loch an Gaineamhaich, but not before it had cleared Carn na Beiste sufficiently to give great views to the north across the low rise of Sail Bheag and the unseen expanse of Little Loch Broom to the forked summit outline of Beinn Ghobhlach on the Scoraig Peninsula.
South towards the Gruinard River
The line of attack on Sail Mhor was now clearly in site - steadily climb at a shallow angle up the contours of the lower slopes of the western flanks above Loch an Gaineamhaich to a clearly visible set of large boulders nestled below the 500m high bealach between Sail Mhor and Ruigh Mheallain, beyond the craggiest sections of ascent line.
Sail Mhor
There was a time, not so many moons ago, when I was going through Corbetts like a knife through butter that had been sitting in the sun for too long, but those days seem to have gone. This would be my first new Corbett (and only my second at all) since Morven back in May of last year, almost a full year ago. I could almost taste it!
Sail Mhor and Sgurr Ruadh on An Teallach
About 10 minutes or so before reaching the boulders, which I had identified as my lunch spot, I whipped my pack off to take a drink of water before slinging it back over my shoulders and carrying on. No time to linger - I had a deadline to keep!
Loch an Gaineamhaich and towards Fisherfield
A quick heads down yomp got me to the boulders where I could take a well-deserved break for lunch. It was beginning to rain lightly but the boulders offered some pretty useful shelter so I wasn't too bothered. I pulled my pack off again and dug out my cheese and pickle sandwiches, my apple, a cereal bar and my bottle of water. I took my first bite of sandwich as I looked out over Loch an Gaineamhaich and reached into my pack to grab the map so I could cross reference it against the jumble of little lochans and knolls that stretched out between me and the Beinn Deargs and beyond them…….. Fisherfield!
The lunch view
Now, if you have been reading carefully, you should have seen the punchline coming! The map! Where the f**k was my bloody map? No map in my pack! But I had it back there when…….oh ****! It was stuffed up between my pack and my back! That drink of water a wee while back! ****!
I turned around and looked at Sail Mhor – the rain had thickened and picked up in intensity, and the clag could almost be observed inching its way down the craggy western face of the Corbett behind me. Carn na Beiste was looking a little bit obscured back whence I had come. ****. I dropped what remained of my sandwich and started to half walk, half run back the way I had just come. The rain drops were now more like flakes than drops, and I was cursing at myself out loud. The language was foul – I believe the phrase "hoof wan*ing bungle c*nt" may even have been used! I would walk twenty metres or so glancing right and left before turning to look at the boulders and try and envisage the line I took when walking towards them. Looking for physical features on the ground was a waste of time – it was all pretty much uniform moorland with the odd little rock sticking up. All I could hope for was to catch a glimpse of pink or blue somewhere in the sea of washed out green. Eventually, with the flakes coming thick and fast and having reached the point where I was almost certainly past the spot where I removed the pack and hence dropped the map, I gave it up and retraced my steps. I kept looking but more than anything I just wanted to get back to the boulders, get some waterproofs on and finish my lunch.
I sat down and quickly scoffed my lunch. I thought that if there is indeed a God and I should ever meet him in a future life, I will give him a good slap!
To give him some credit, he at least called off the rain at this point!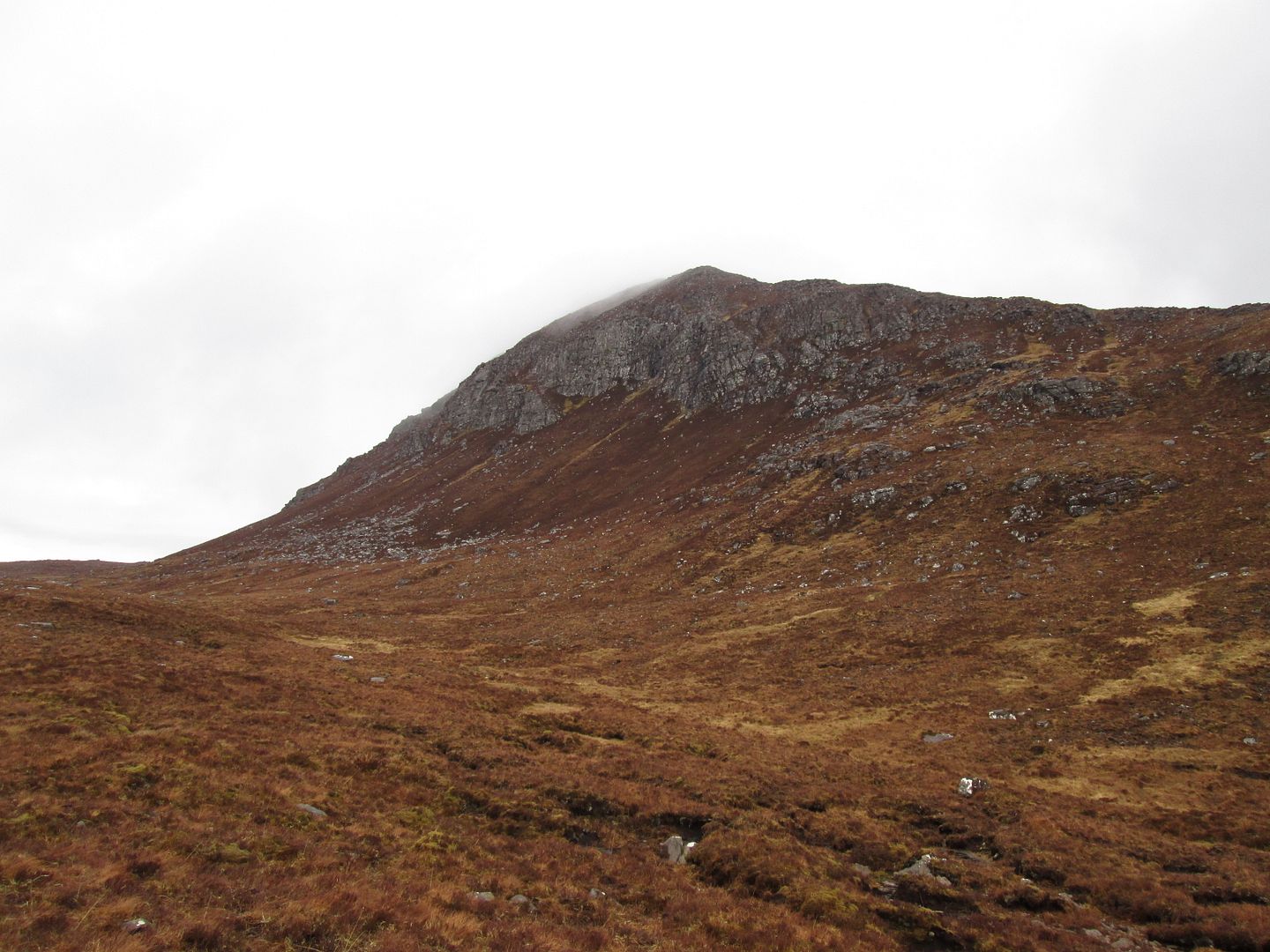 Western slopes of Sail Mhor
I took a bearing back to Carn na Beiste just in case and decided what to do - to bail out now or carry on. I was tantalisingly close. It had been almost a year. I made the decision to do the wholly irresponsible thing and batter on.
The sky out to the north west looked pretty clear and settled so I reckoned that if I could get to the summit, which would probably be clag bound, and back down to the boulders, I should be able to make it out without to much difficulty. But what about my deadline? Surely I would be pushing it now? Oh f*ck it. You only live once!
I raced up the grassy slopes towards the bealach and onto the ridge which rose and curved gently round to the right towards Sail Mhor. I almost wished I hadn't bothered. It was absolutely bitter and as I climbed higher, what intermittent views there had been from the bealach disappeared entirely.
Towards the summit from the bealach
From the bealach in the other direction
The ridge went on.....and on .... and on..... across rocky slabs until finally the summit cairn was reached. With nothing to see and my eyeballs at risk of freezing over, my first new Corbett summit in almost a year was a brief affair! Anyway, I could hear a loud ticking sound coming from somewhere!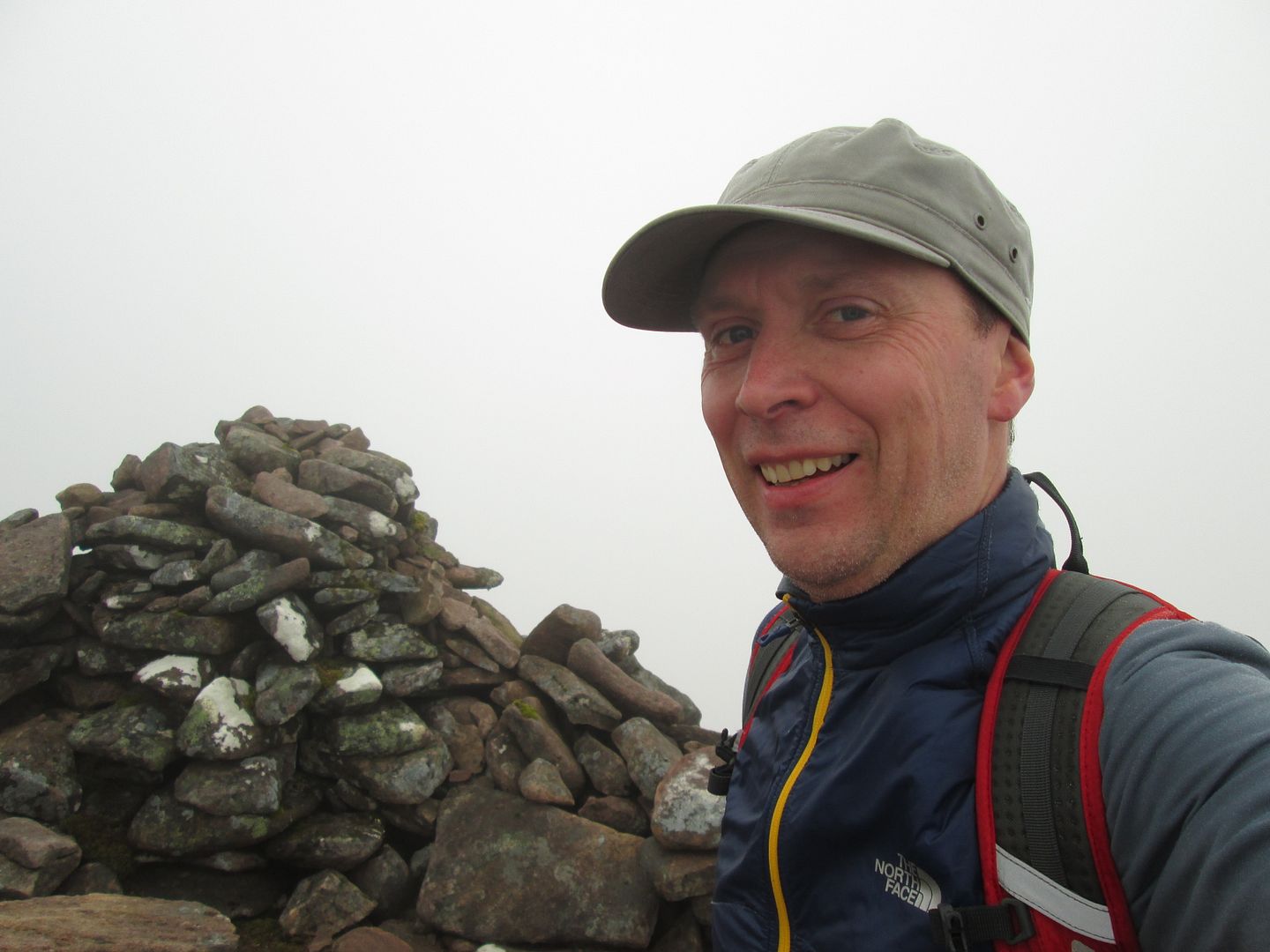 Happiness tempered by the conditions
I skipped back down towards the bealach, eager to find a more direct way back down towards the boulders to save on time and get me the hell out of the biting wind as quickly as possible. I had thought that it might clear at the summit to allow me to see the route down to Ardessie, and if I could get a message out to Debbie, I could arrange to meet her there. However the first of these things never happened and the second happened only sporadically. I managed to get a call through but she could barely hear me over the wind. In the end I figured the easiest thing was just to text to say I would meet her when and where we had organised.
Once I could tell that I was clear of the worst of the crags, I took a descent line that I thought would bring me back to the boulders. That way I had my bearing on Carn na Beiste and I might still yet find my map. My in built navigational functions must be working just fine because my line brought me right out on top of the boulders.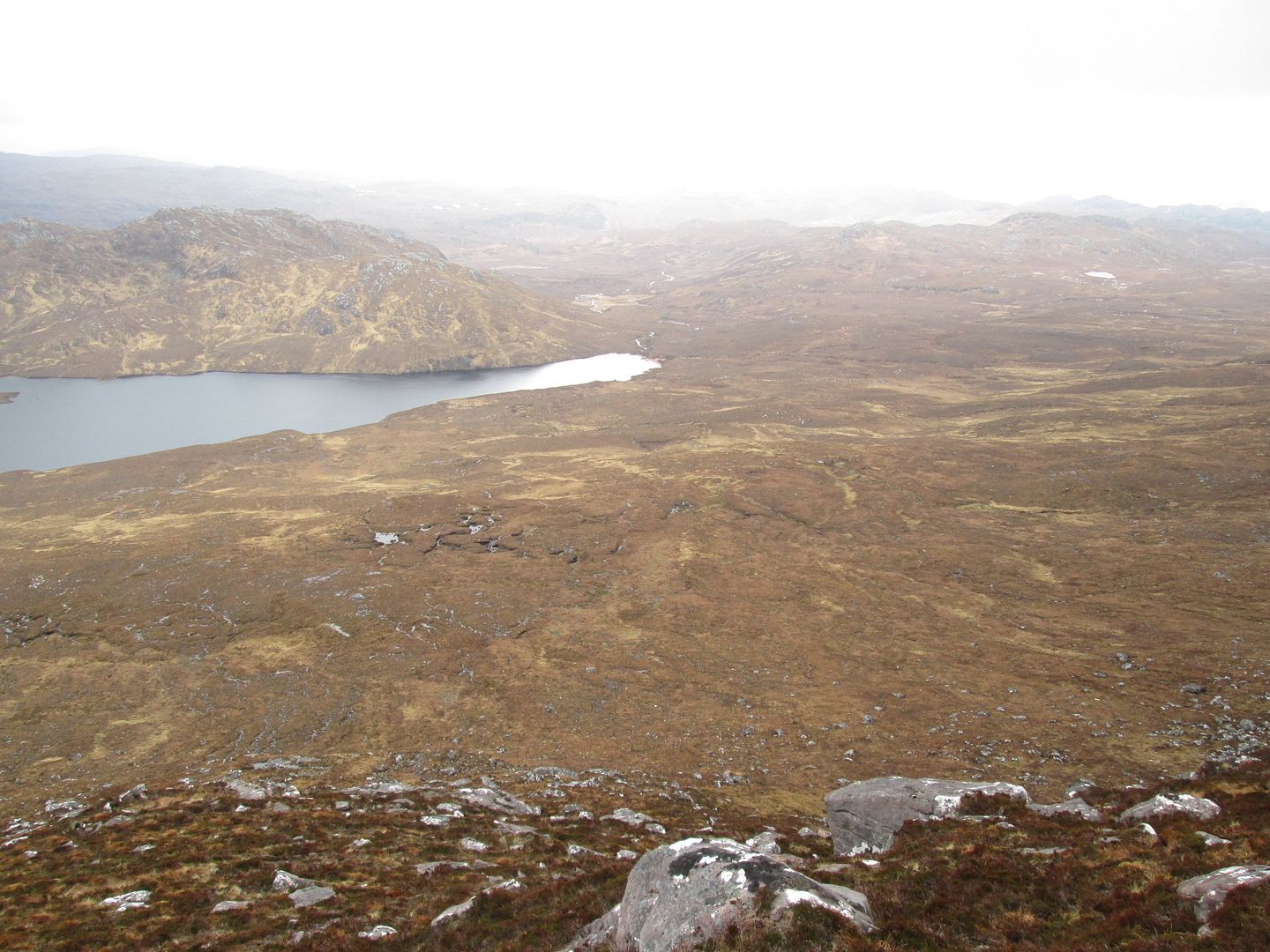 Descent
Although I thought I was retracing my steps pretty closely, it really was very difficult to tell, and there was no sign of the map anywhere. I was less concerned about that to be honest and more concerned about getting back for the deadline. I didn't seriously think I would be late by a significant amount but it now became a matter of professional pride. I
was
going to make that deadline!
Sgurr Ruadh
Back to Sail Mhor and the final resting place of OS Sheet 19. May it rest in peace.
I had to rein in my desire to stop and take photos, especially with the weather now improving and the late afternoon turning into the best part of the day!
Beinn Ghobhlach
Beinn Ghobhlach zoomed
Sail Mhor and a prominent erratic
The long way home
I had some concerns about the jumble of gullies that contour around the side of Carn na Beiste and drop down towards the Allt a'Ghlinne and the line of Torrs that sit above the east bank of the Gruinard River. I sacrificed a bit of time by keeping to the higher ground so I could see the ideal line down. Paying little attention to boggy patches, I skipped across the Allt and raced up the grassy path towards the top of the col. I had 18 minutes remaining!
Achadh Torr an Daimh
Just over that col is the promise of salvation
Torr Mor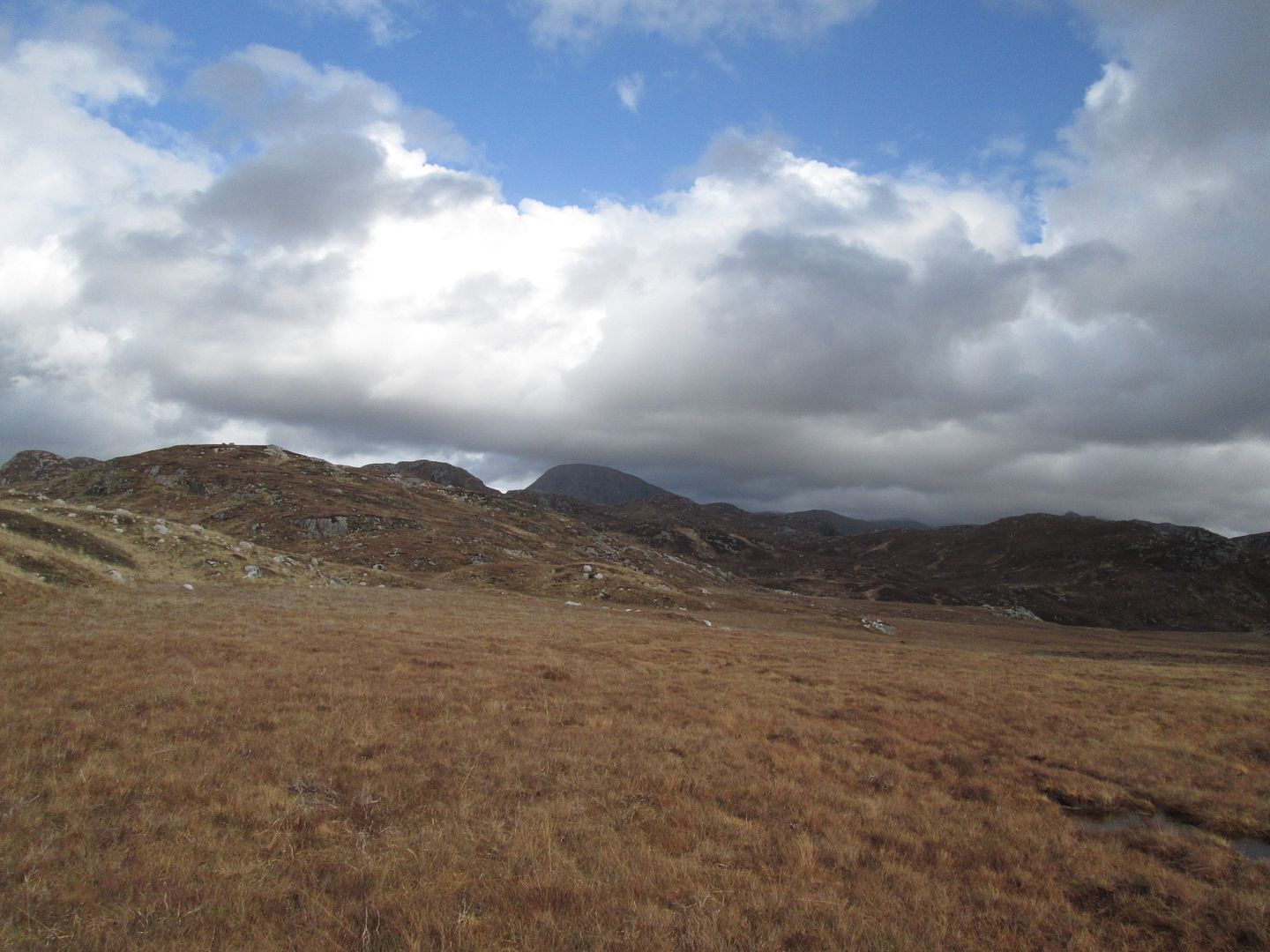 Last glance at Sail Mhor
From the top of the col I could see the finish line. I was practically jogging now and in normal circumstances, I would have stopped to remove a layer, but I had no time for that sort of thing now.
The homeward stretch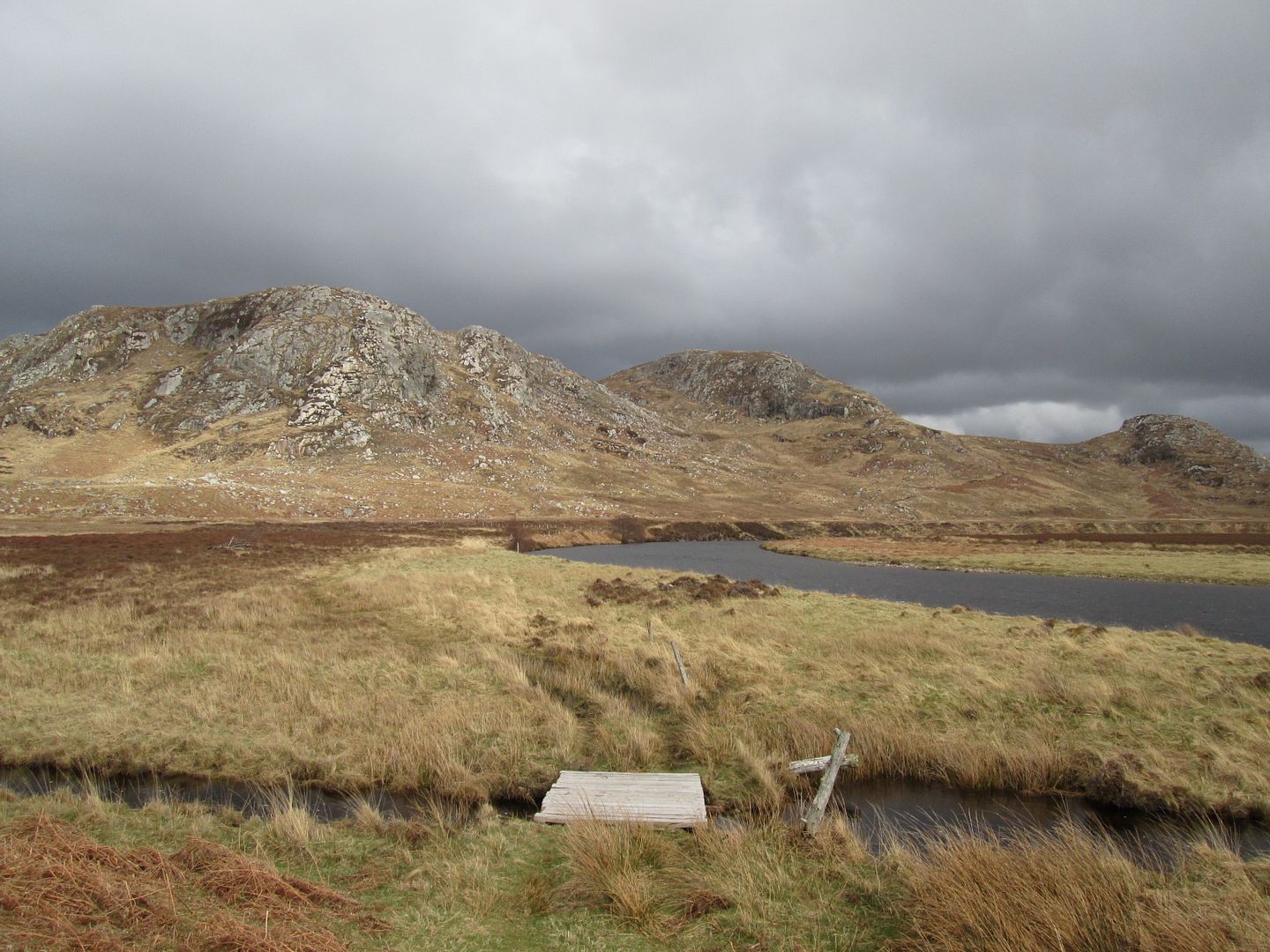 Carn an Farraidh and Carn an Teas
From a couple of hundred metres out, I could see the car sitting parked by the bridge. It turns out Debbie could see me running along the track and thought there was some emergency going on!
Anyway, An Teallach never did happen the following day but all was not lost - I leave the final photo to conclude the story!
Get in! - 14 seconds to spare!