I have been to Assynt quite often(for a german....). The first time was in 1998, as a student, returning frequently until 2008, then there was a break due to lack of money and time.
Quite often I have been at the foot of Stac Pollaidh, always finding a reason not to do it. Bad weather, not sure the dogs can do it, my wife has a mild form of vertigo, she always gets wobbly knees , when walking down steep places, this can even happen on spiral staircases.
Not this time though, my wife was at home, the dogs too.( and yes the 14.5 year old male could not do this anymore.)
my company was my mother and my aunt. Since there is a made path, this should't be a problem.
We planned this ascent for May 9th, since would be coming up from Lochcarron on our way to Lochinver.
And when we finally arrived, in glorious weather about 2 p.m. on that day...........................the car park was full, some of the passing places already blocked. We decided to go on, and try the next day, early on.
At least looking was possible, after the right corner in the direction of Lochinver.
A closer look, I have always thought, that it is looking very intimidating, as if it would crumble down, right on your head.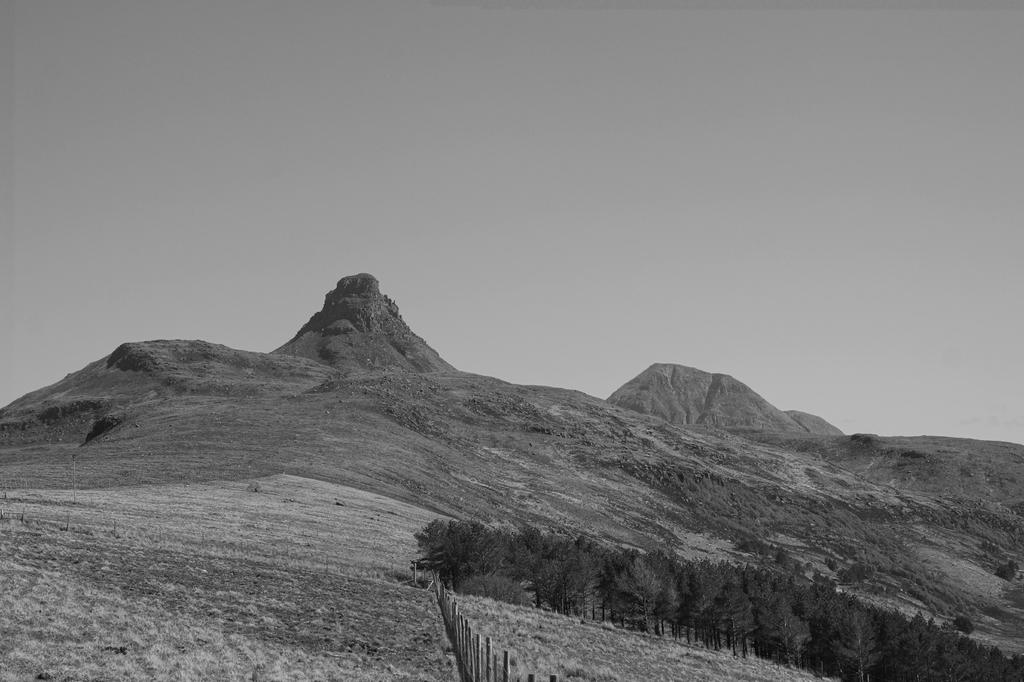 For the 9th, we drove on, visiting another "old friend" Achmelvich Beach, with the Hermit's Castle.
Some lambs were very relaxed, enjoying the sunshine on a rock, others were obviously laughing at me.
In the evening we went to the Lochinver Larder and got stuffed with food. Citing a lady from a neighbourig table who had ordered a starter and was staring at her newly delivered plate in disbelief: THAT is a light bite??????
Okay next morning, waking up at 6 a.m., looking out of the window-> rain ....oh no.
It dried up until breakfast, but while we were passing Quinag, driving down to Stac Pollaidh, my aunt commented: Look, all the tops are in the clouds......
No no no, no more excuses. I was hoping, since Stac Polly is 200 m lower than for example Spidean Coinich, that it would work out ok. When arriving at the STac, there was only a light cloud crown on top. So, gear up and out on the quite excellent path.
Still hiding his head.
There was an eerie light about, quite strange. A view over the Loch to Sgorr Tuath.
The clag is lifting from the ridgeline
Very in style for Scotland,
At the point where the path splits up in the circuit and the ridgeline, we were orvertaken by some germans, who "just wanted to take the dog for a stroll for half an hour". The four legged friend was hopping happily up the steps, I was quite envious:)
The ladies opted for the circuit route, I was adamant that I wanted to go up
A bit of history on me:
I never stopped walking during the last years, but suffering from undetected sleep apnea until 2012, I was for some time just "functioning", working, having a nap after that, which got longer and longer over the years. working again. I was never lightweight, but through this and because I stopped smoking some years earlier, I went rather "blobby". This is in check now, and as I said I never stopped walking so I haven't turned into a "couch potato", and had a lot of muscles left. Still, If you want to imagine me, walking around here, just think of maybe Dooterbang, wearing a frontal baby carrying harness, with Jaxter sitting inside, strolling up a mountain:)
Sorry for that image, if any of you two reads this:)
That is what I am trying to do. This leads to one severe problem. The muscles are strong enough, but lung and heart never seem good enough to get the needed oxygen down:) So, while walking up the path to the ridgeline, I was thinking of all your walk reports I have read which went "I quickly hopped up Stac Polly, then had a break at the top"
Nearly the same for me, only I had a lot of breaks before reaching the ridgeline.
Some people coming down always encouraged me: "It's not far now".... No not far, just high
4x4 is always better here:)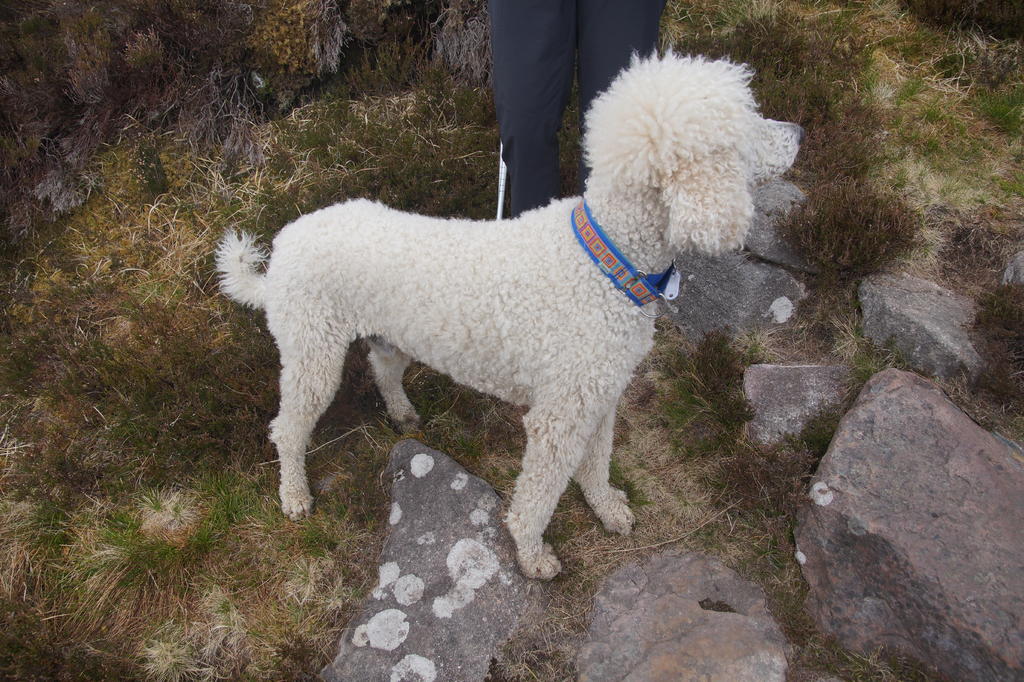 Back to the walk, Views opening up to the Stacs neighbours, all hiding in the clouds.
The "spiral staircase" up to the ridge
FInally reached the ridge and the tourist top. Using walking poles is definitely a big help for me.
Interestingly the hills in my home area are no less high than around here, but because they are heavily forested, you never get that exposed feeling.
Finally up here, I was puffin'
Great views in all directions
On the way back down
Looking back at the old nemesis
Afterwards, we drove over to Kylesku and took the coastal road back to Lochinver.
Stopping at the "secret" tea garden in Drumbeg( I can really recommend that), we had some
reward: Reasonable coffee( hard to come by in Scotland), Tea and hot chocolate, and some orange chocolate cake.
And Fruit scones with cream for the ladies:)
And some truth:)