Been toying with doing this route for a while, the last time I did Shiehallion, I was pelted with hailstones so large, I was forced to get the emergency bivvy out, so hoped for better weather.
Set off about 1.30 from Edinburgh and was in Coshieville in just a couple of hours, where a kindly farmer let me park my car in his drive
I set off up the track - it was lovely woodand, the birdsong was deafening with a gorge on one side which gave glimpses of some beautiful falls. It started raining, and the clag came down - I had hoped it would do that later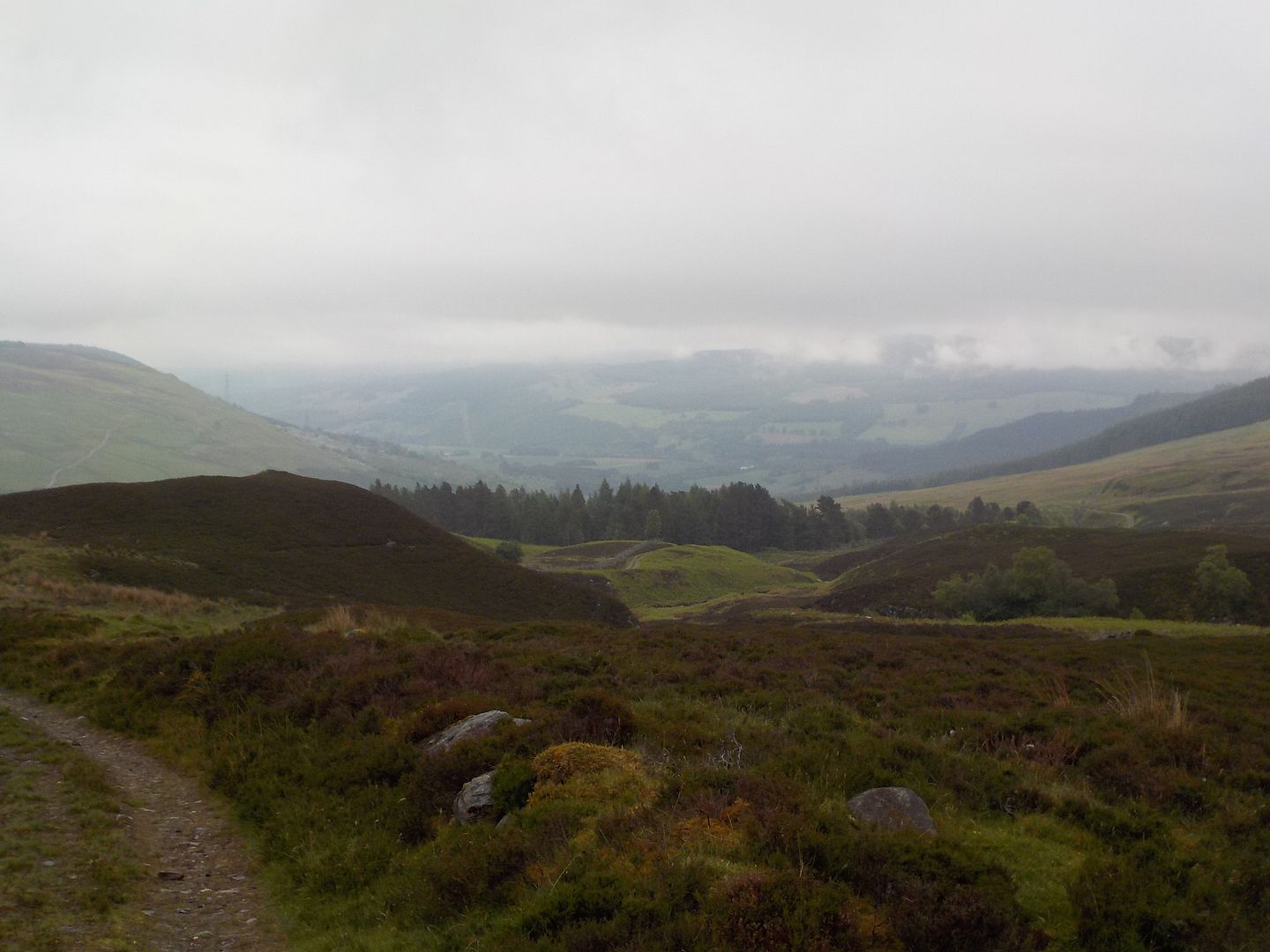 So onward, upward into the clag, there wasn't a breath of wind, so it wasn't as wet and unpleasant as it normally is, then I spotted my rest stop - Pheigan Bothy
Its a lovely wee builing, and well stocked so I helped myself to a wee dram to go with my snacks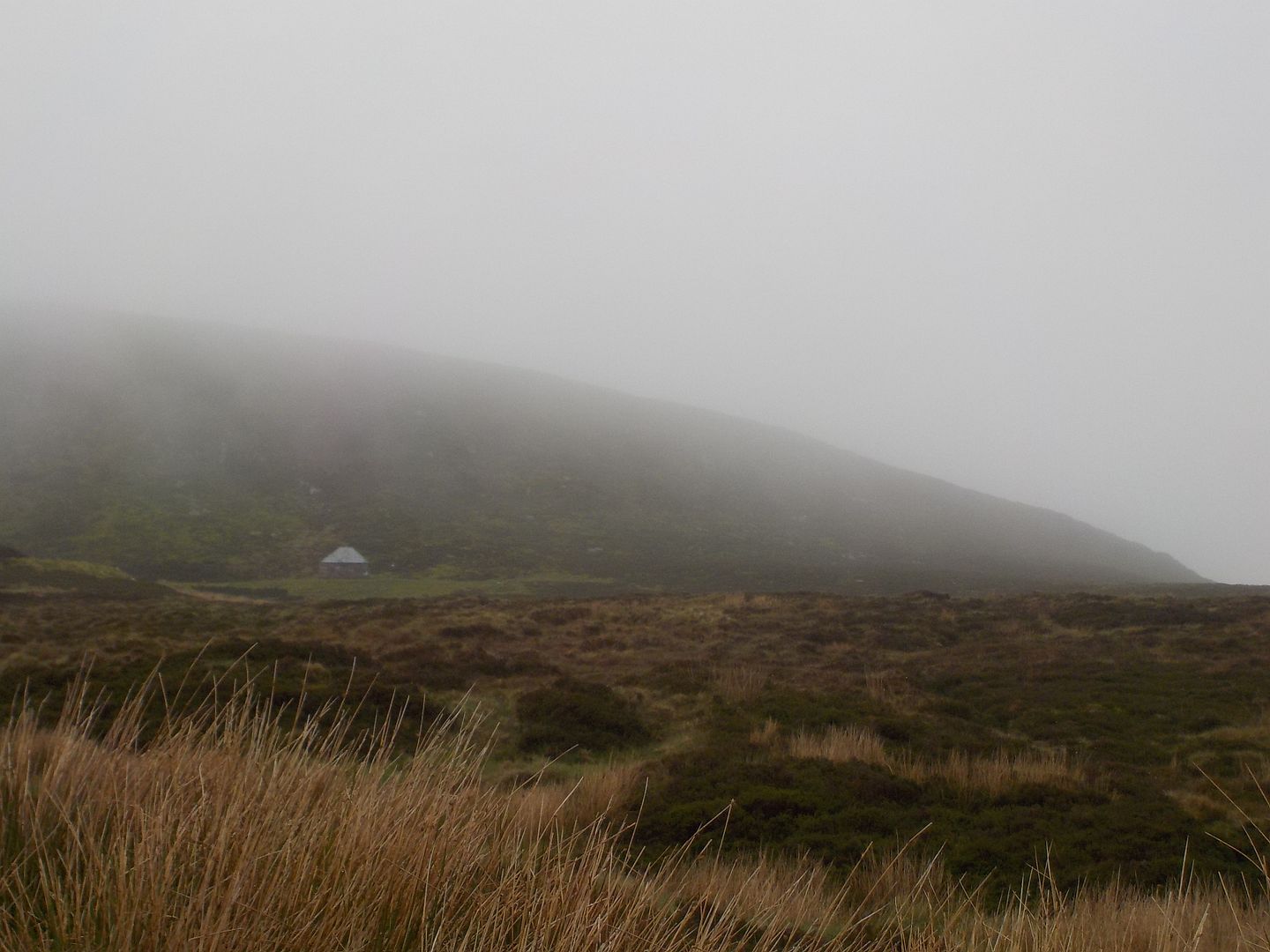 It had been a relentless climb thus far - not always steep but no flat bits, and the climb continued for a short distance. The track past the bothy isn't much used any more. I had a spot in mind for descending into the next glen, but when I got there, the wet heather bashing involved looked horrendous so I stuck to the track until its conclusion, before picking up a stalkers path which I presumed would lead to Glenmore bothy.
I lost the path of course, and the rain came on
So there was a bit of peat haggery to negotiate before I found some shielings, and followed a very old path to the track above Glenmore, which I followed down into the glen.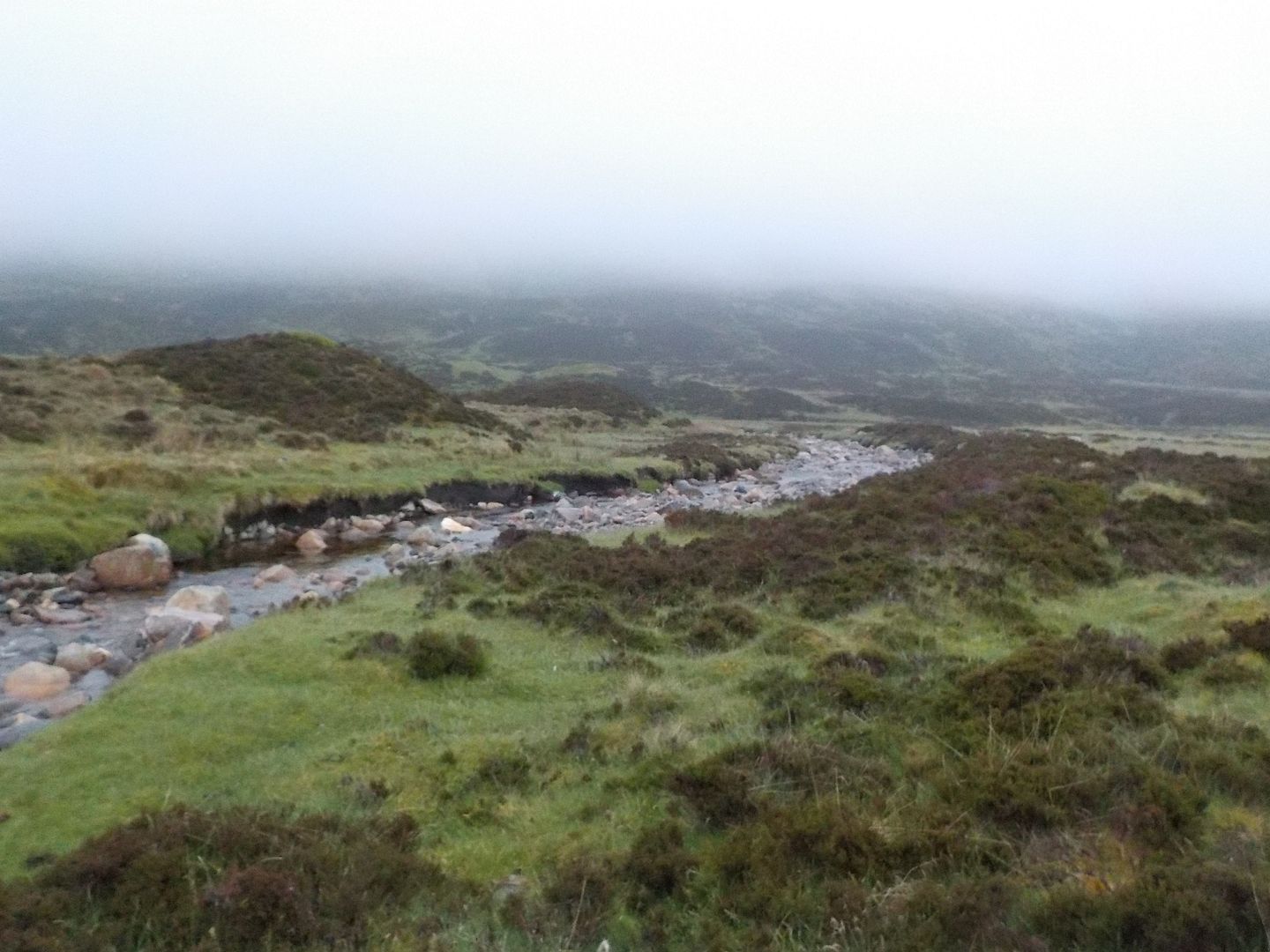 Ive been through this part of the glen before in Winter, and the snow patches made it impossible to find the cave - uamh Tom a Mor fhir - home of the Faerie queen Mab. This time it was pelting down by the time I got to the general vicinity, and I couldn't be bothered looking, but a little further on, it seemed to call to me and I found it
Was good to have a dry place to sit out the following 10 minutes of bouncing rain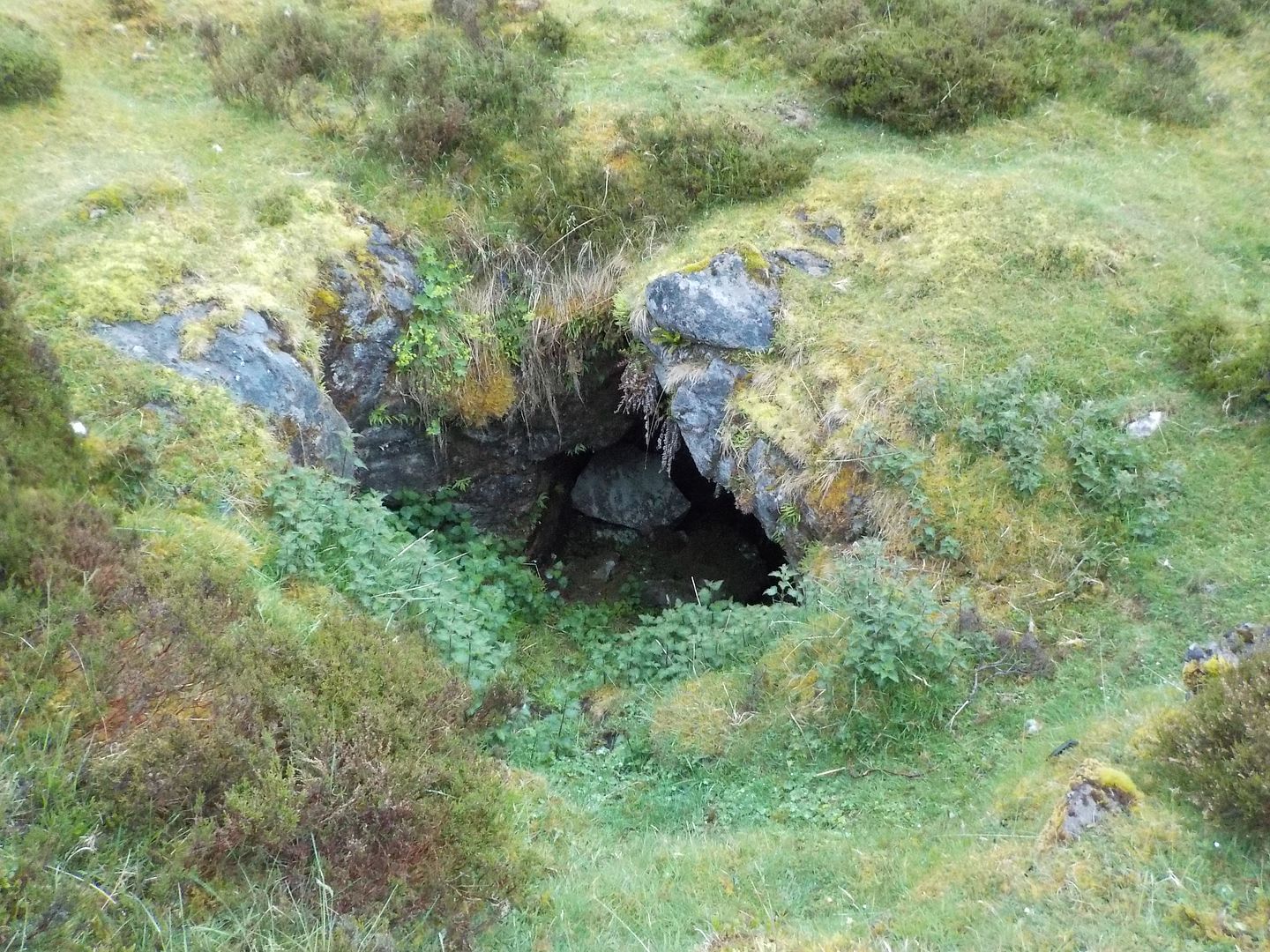 The walk up the glen was a bit damp - there is a path, but everything was sopping, so wet legs. I did see a wildcat disappearing as I came round a faerie knowe - only the second time in my life
I took advantage of a grassy ribbon to head to the upper stalkers path and followed it to my digs for the night. Not sure what the bothy is called, but we had found it on a previous trip and it is a fine start to a full traverse.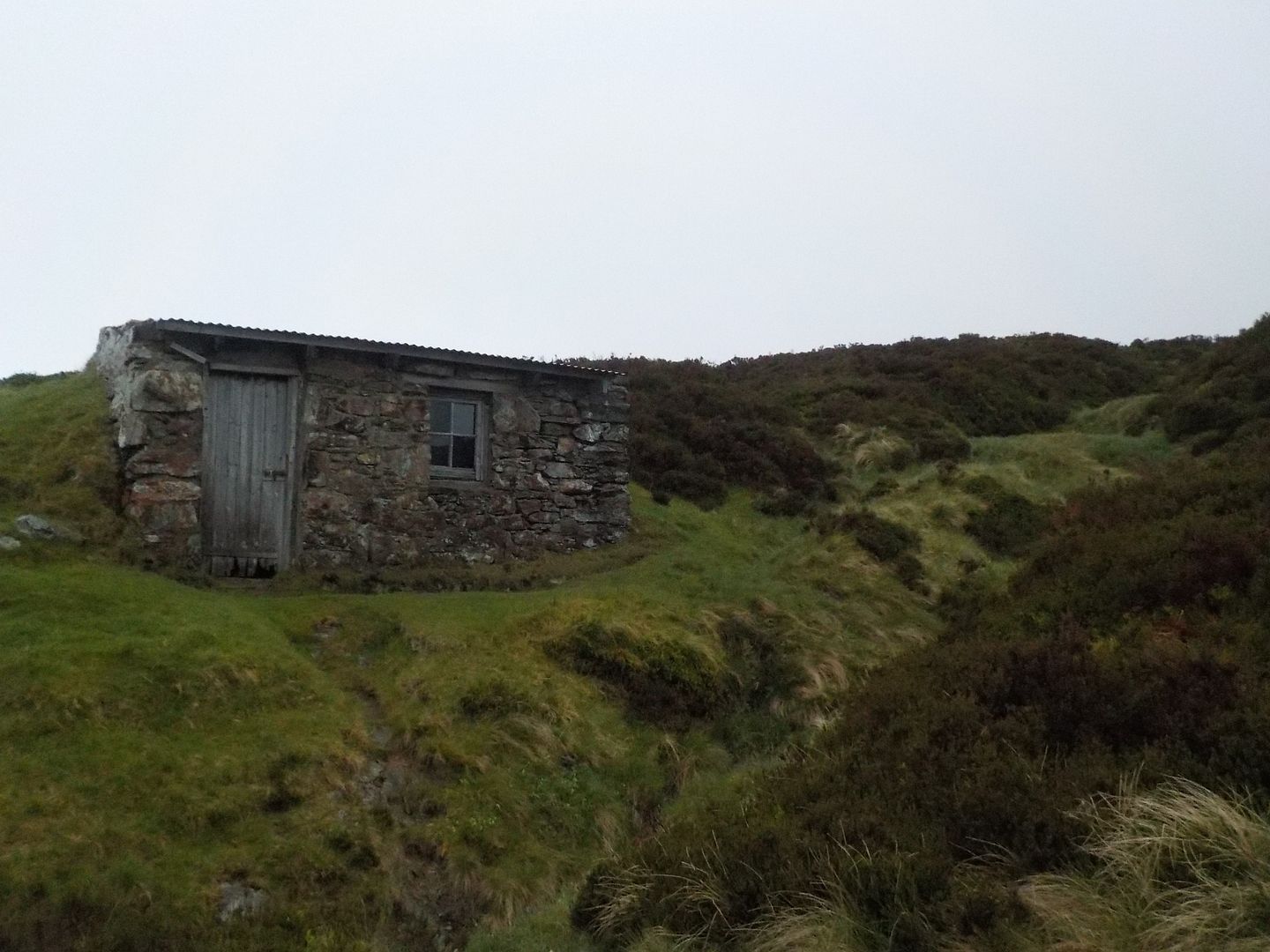 Just a few minutes after I got there the heavens opened for an extended period, so made it just in time! Boy was I needing my dinner, and as I had left late, it was a quick evening. I left the door open to let more light in and the puddle outside was extensive at bedtime
The morning came and it was still raining a bit, so I dawdled and the change came at about 9.30. I set off up the burn next to the bothy and heather bashed my way up to a spur that led up to the main ridge.
Once on the spur, I hoped there would be less heather, but I was disappointed, so wove my way up grassy ribbons that made for not bad going. It started to clear as I made it up to the main ridge, where there is quite a nice circular wind shelter.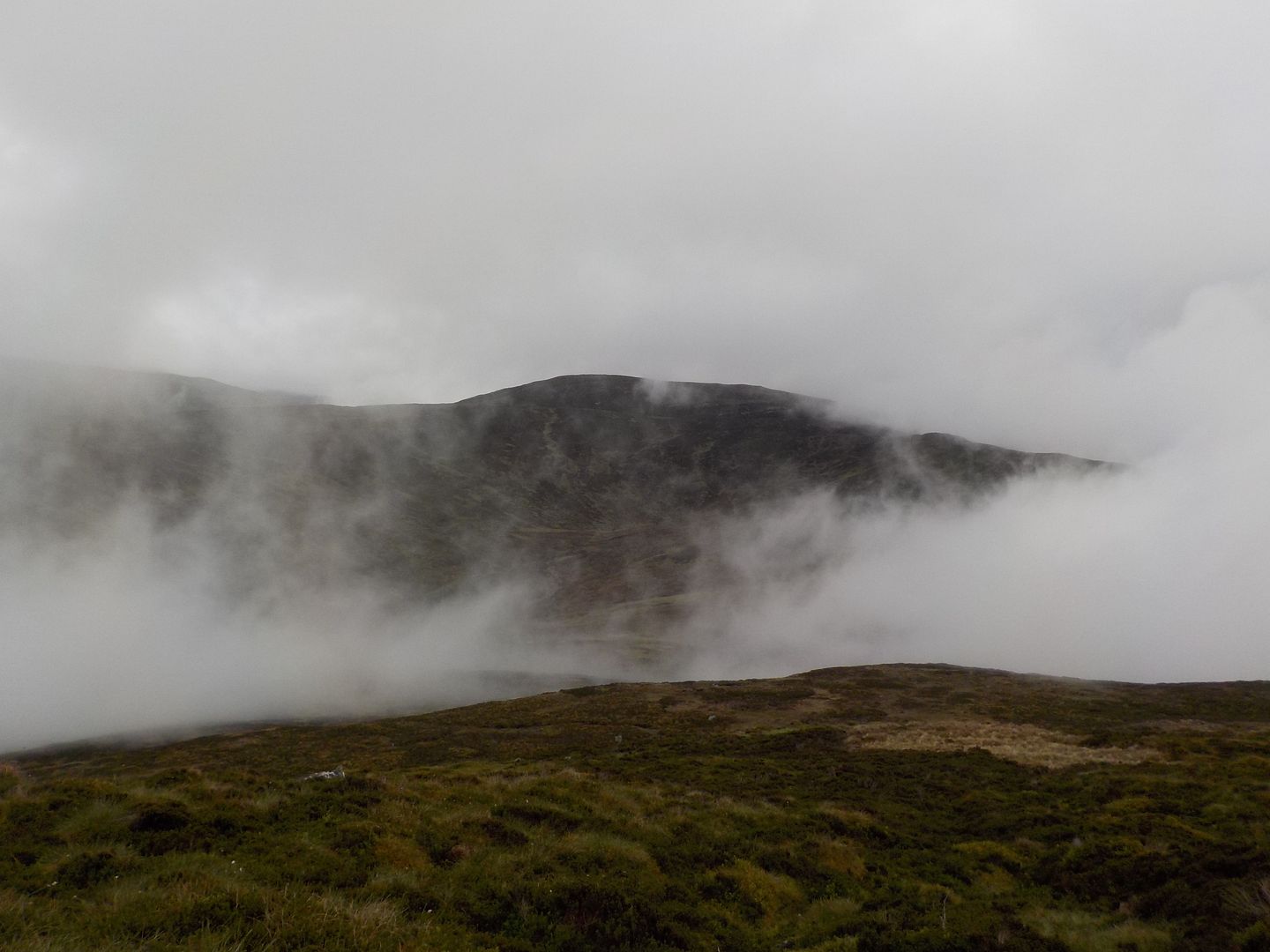 A baggers path appeared and it was a fairly easy saunter to the summit, some nice pavements and a few metres of scrambling to add variety.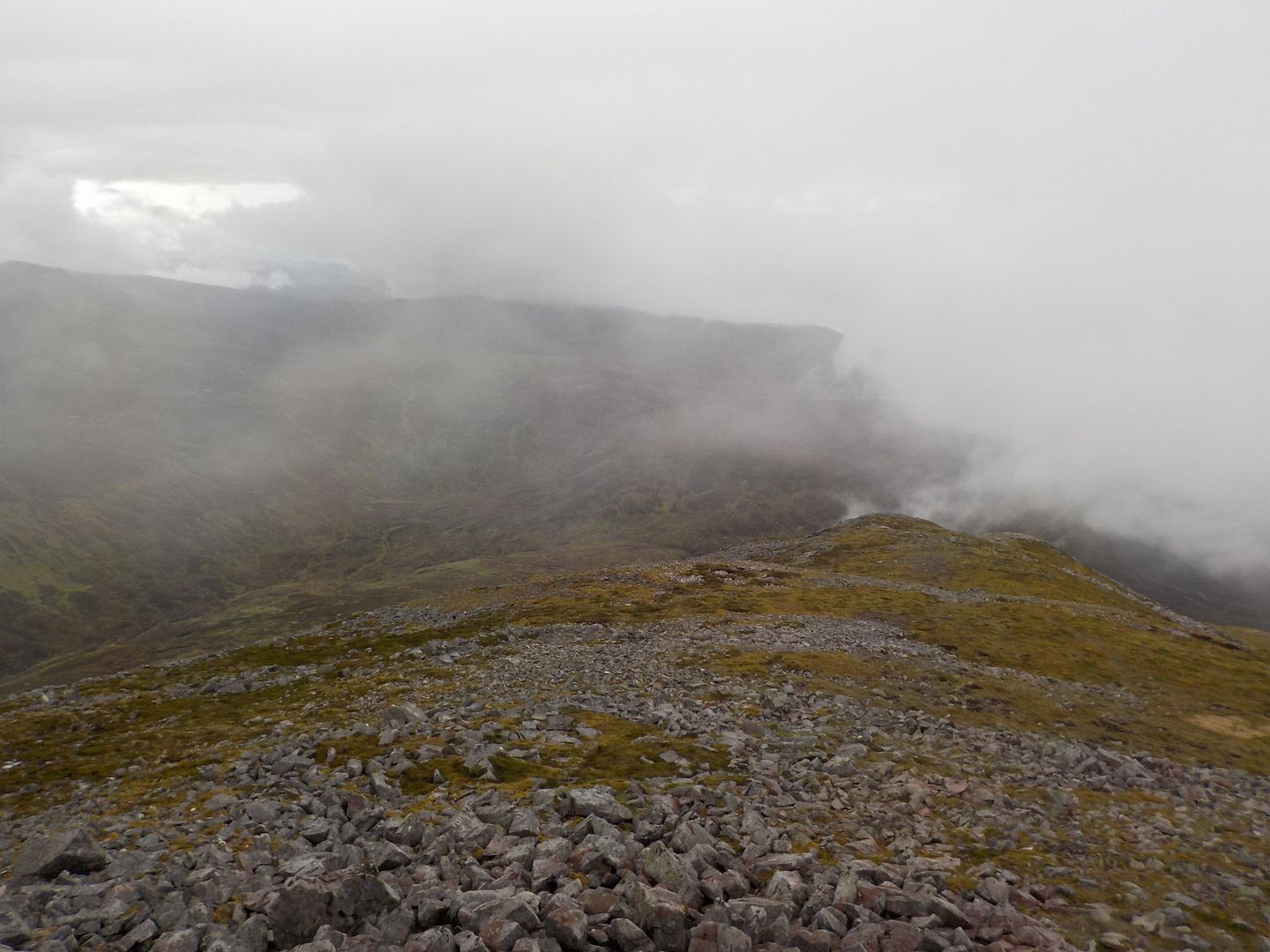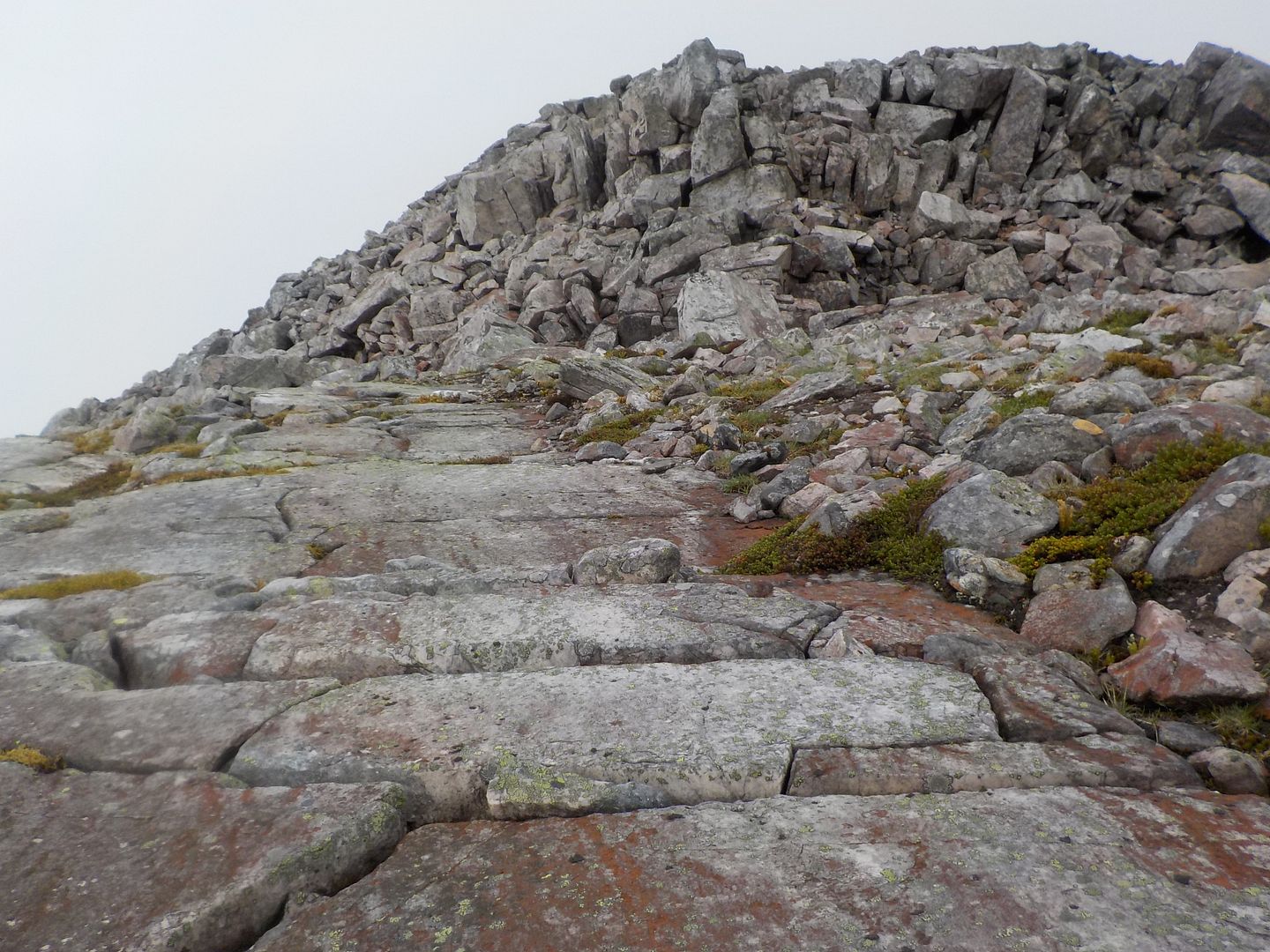 The summit was eerily quiet - I thought it would be busy so I enjoyed peacefully watching the views changing as clouds came and went. The sun really threatened to break through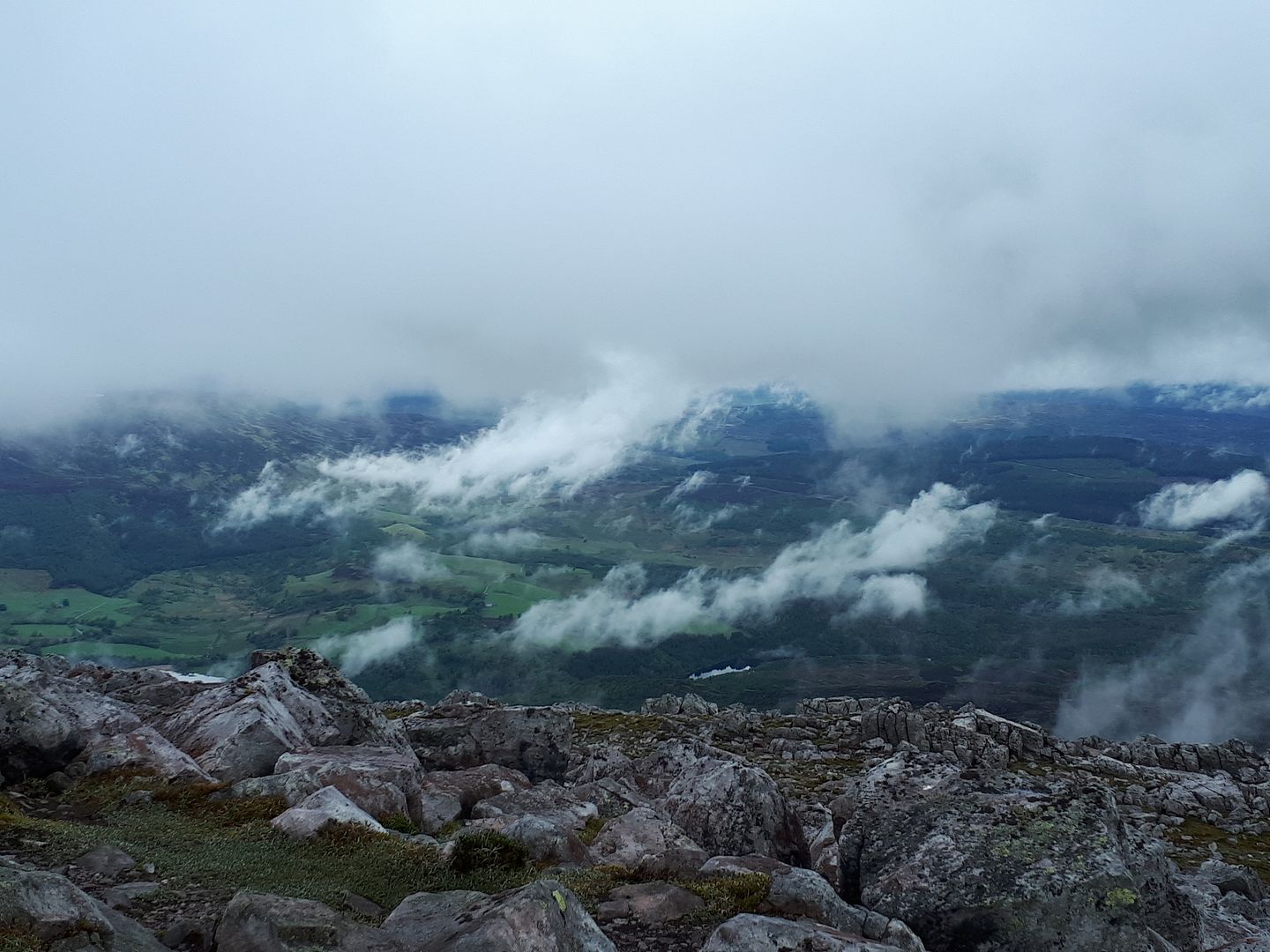 The boulderfield was still greasy from the earlier clag so it took a while to pick my way to the path, which was hard on the feet and a bit of a trudge.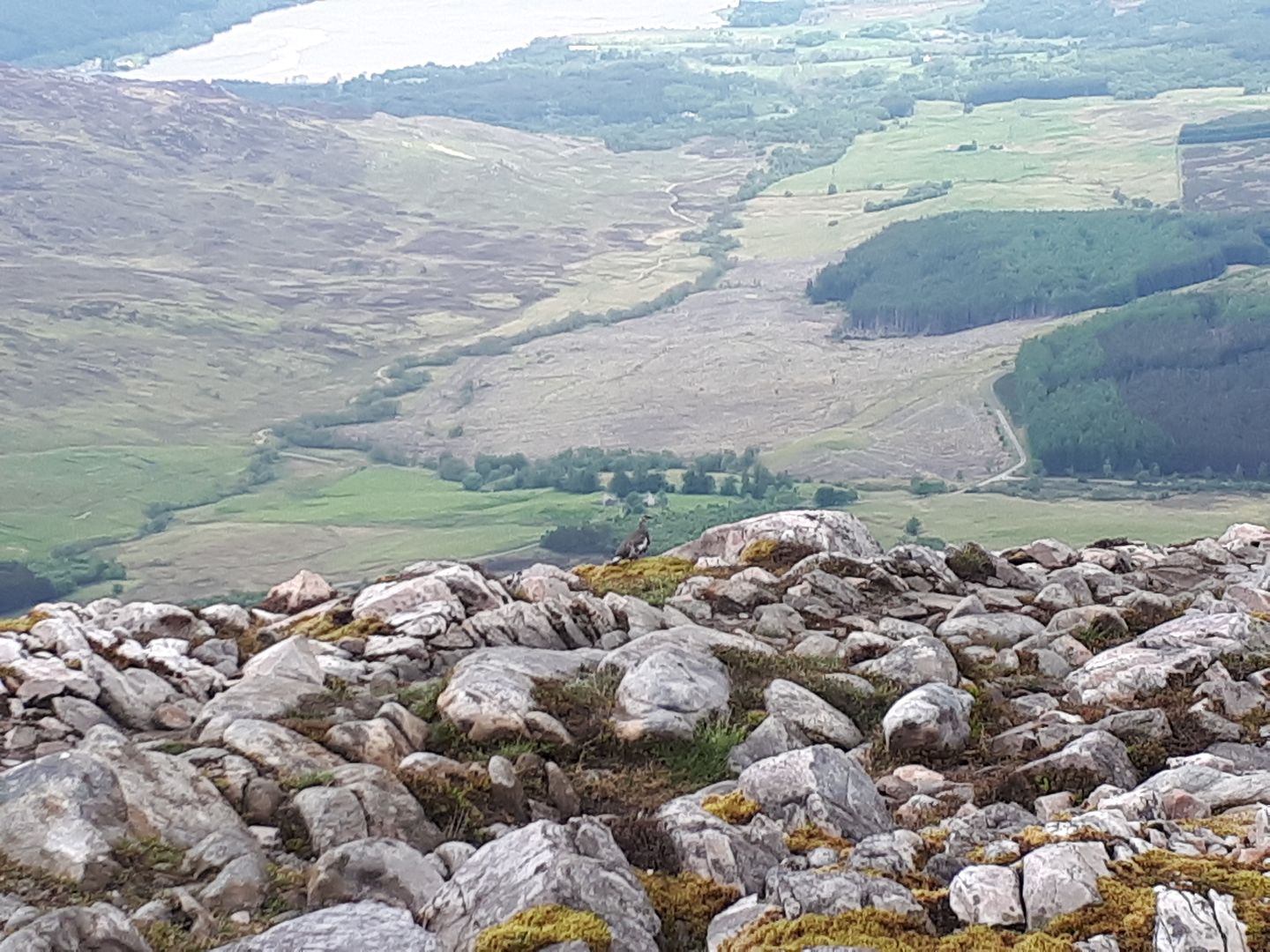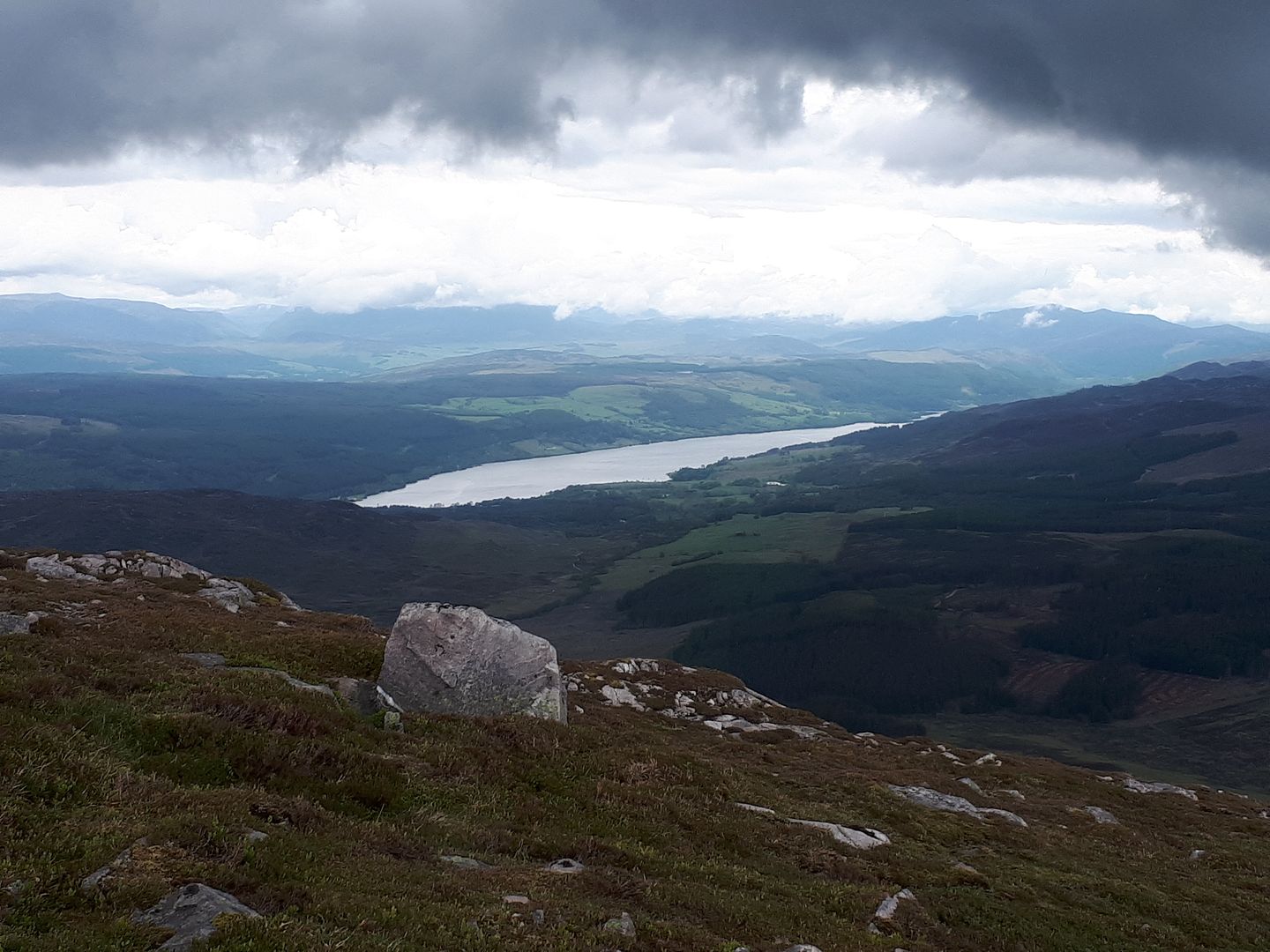 I turned right along the track at the bottom and went to seek out the hut circle on the map - it was as disappointing as every other one I've seen
There then followed a little more heather bashing which led to a track - no troube crossing the shallow river. Up at the high point I caught sight of a Hen Harrier hovering but that was the highlight of the otherwise uneventful track back to the car. Really brightened up in the end