Munros: Ben Macdui
Date: 26 + 27/05/2017.
Distance: 25 + 14km.
Ascent: 1360 + 220m.
Time: 9 hours + 2 hours 45 minutes.
Weather: Hot and sunny, warm breeze on high summits.
Had a weekend scheduled at Gelder Shiel with my brother in law for the bank holiday weekend - the original plan was to drive round and meet him, then take a quick Sunday afternoon walk into Corrour to do this month's toilet duties there. With the car being unavailable, the choice was a long train and bus journey round to Deeside on Saturday morning (it's a 90 minute or so drive, but takes over 5 hours on public transport!) or take Friday off work and walk over from Aviemore.
The weather forecast was definitely heading me towards taking Friday off - I could go via Corrour as well, and get my toilet duties out of the way before the weekend. To top it off, Gill was working in Aviemore on Friday, so I could get a lift right up to the Sugarbowl car park or ski centre, depending which way I wanted to go.
While a traverse of Braeriach etc appealed, the temperature was heading for the mid-20s, and I fancied a route with more options for cutting off distance...not to mention more lochs and paddling opportunities! The central plateau suited me better, so shortly after 11am, I was setting off up the Sron an Aonaich path towards Cairngorm, sensibly with suncream applied.
I had no interest in going directly to Cairngorm, so before long, headed off across the ski tows and Coire na Ciste for Cnap Coire na Spreidhe. As usual in the Cairngorms, it doesn't take much effort to get away from the bustle and onto quieter ground.
Coire na Ciste and Meall a' Bhuachaille:
Strath Nethy from Cnap Coire na Spreidhe:
I didn't actually visit the summit cairn of Cnap Coire na Spreidhe in the end, preferring to stick to the edge of the crags, and spiraling down to the burn running out of a large patch of snow high up in the Ciste Mhearad.
Beinn Mheadoin and Ben Macdui:
Cairngorm from Cnap Coire na Spreidhe:
Ciste Mhearad:
After crossing the burn, I realized I had no great interest in going up Cairngorm at all today, and ended up traversing round the back of it to Stac an Fharaidh, where I had a stop in the sunshine. There was actually quite a breeze up there, but for a change it was warm wind, and lovely to sit out in.
Loch Avon and Loch Etchachan:
Looking down onto Loch Avon from Stac an Fharaidh:
Again I skipped the actual summit of Stac an Fharaidh, sticking to the top of the crags and dropping down to the Coire Raibeirt path. Loch Avon was looking as spectacular as ever, and in contrast to most other burns, the Feith Buidhe and Garbh Uisge were thundering down the corrie, full of snowmelt from the highest part of the plateau.
Shelterstone and the head of the glen:
Stag Rocks:
The beach at the head of Loch Avon was in the rare state of being warm and sunny and having no midges, and there was hardly anyone around. I usually just splash through burns in my boots, but today was lovely and warm, and I fancied keeping my boots completely dry, so I took them off and paddled through the river crossing at the head of the loch. It was a lovely refreshing feeling.
Stacan Dubha and the beach at Loch Avon:
Feith Bhuidhe and Garbh Uisge running high:
Loch Avon:
The climb up to Coire Etchachan was a bit on the sweaty side, but I fully intended to make the most of the weather and have a paddle at the loch when I got there. I even had a towel in case I fancied a proper swim, but in the end I was happy enough just going in up to my thighs.
At Loch Etchachan:
The weather deserves a paddle….
….and a proper break:
Afterwards, I cracked open one of the cans of strong IPA that I had packed for later in the evening, and spent a lovely half hour sunbathing. This is what I imagine all of my overnight trips will be like, but they rarely are!
Cairngorm and Loch Etchachan:
I spotted a large group with overnight backpacks descending from Macdui, and suspected they were going to camp next to Loch Etchachan - time to move on! The pull up onto Ben Macdui from this direction is long but easy angled, and broken up with some great views over the cliffs of Coire Sputan Dearg.
Macdui:
Cairngorm and Beinn Mheadhoin:
Derry Cairngorm:
Back to Loch Etchachan:
Lochan Uaine and Sron Riach:
To be honest, the actual summit of Macdui is not one of its most interesting features, and I could easily have left it out. But I fancied getting to the top of something today, and it was close by.
Almost on top of Ben Macdui:
Top:
Looking at the map now, the most direct way down looks to be the shoulder NW of Coire Clach nan Taillear, but I thought it looked rather boulder, and opted for the spur dropping towards Carn a' Mhaim instead. Having only ever been down this in winter conditions, I hadn't appreciated that it is also pretty boulder, and I would have been as well going for the shorter one.
The Dee and Corrour:
Carn a' Mhaim:
Down from the col was steep and heathery, and I didn't manage to hit the path I had noticed on a previous visit until I was almost down in the Lairig Ghru.
Devil's Point and Corrour:
Slabs of Carn a' Mhaim:
Another removal of boots had me taking the shortcut to Corrour bothy, where there were already inhabitants and a couple of tents outside. The toilet changeover (first one I've actually done on my own) took the best part of an hour, and by the time I was ready to leave, half-a-dozen more tents had appeared outside the bothy, with a steady stream of further walkers arriving. Busy place! Unfortunately for the pair of Germans actually staying in the bothy, my session of burning the disposable gloves, paper protective suit and facemask used for sorting the toilet out left a strong chemical stench. It was still in my throat and nostrils 30 minutes later.
Grouse:
Since I was to be meeting my brother-in-law in Braemar the following morning, I decided Corrour was a bit premature for an overnight stop (not to mention far too busy), so I ploughed on to Bob Scott's. Lovely evening to be out, and the Luibeg was low enough to cross dry-shod.
Luibeg:
Around an hour and 40 minutes later I was strolling up to Derry Lodge, wondering if Bob Scott's would be anywhere near as busy as Corrour. I had my tent just in case, but in the end there were only 3 of us there. I got to meet Derek (one of the Bob Scott's / Corrour toilet regulars) and a Dutch guy who had spent the last 6 weeks or so camping, bothying and hiking around Scotland. His list of long distance trails done in that time covered just about everything, and he was now having a few nights in Corrour and wandering randomly onto various summits in the Cairngorms. When he asked for recommendations, it seemed that he'd already been just about everywhere within a day's walk of the bothy!
Finally at Bob Scotts:
Sunset over Carn A' Mhaim:
Last light: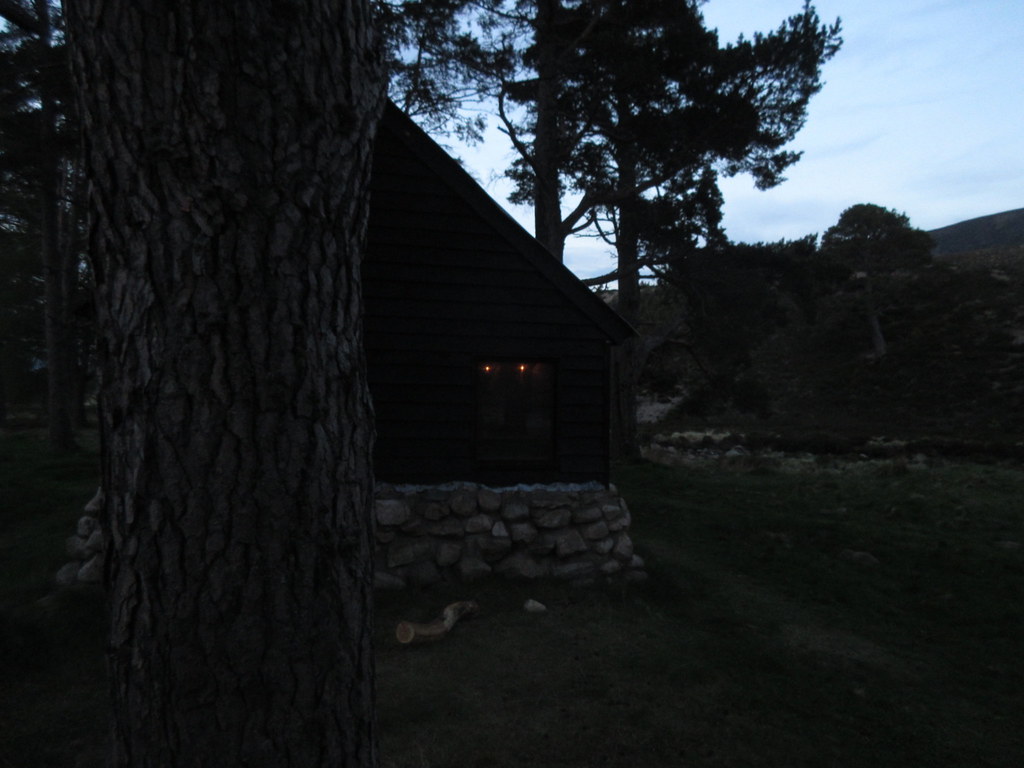 Not one of the more raucous nights that Bob Scott's has a reputation for, but very pleasant and relaxing. Unbelievably, this was the first time I'd stayed there (last time I'd intended a visit was in December 2003, when all of my potential companions dropped out and I didn't go in the end. At our club Christmas dinner the following Wednesday evening, I was accused by people who knew I was planning to go there of burning it down
).
_________________________________________________________
There's always someone who insists on getting up at stupid-o-clock in a bothy, and rattling around, waking everyone else up. Today, this was me. I had told Stuart I would be in Braemar by 11am, which meant getting uo at 7. Bah!
Inside:
Although rain and possibly thunderstorms were forecast for later today, the morning was just as lovely as the preceding day, and as I walked towards Linn of Dee, I passed a steady stream of walkers, cyclists and cycling walkers heading for the high summits. At the bridge over the Lui, I branched off onto the much quieter track heading for Mar Lodge - a fine stroll.
Bridge on the Lui:
First time I've seen Mar Lodge up close - it's massive! It was tarmac all the way, although I probably could have stuck to the riverbank for a more pleasant underfoot experience.
Dee near Mar Lodge:
Ballroom at Mar Lodge:
Mar Lodge:
Out on the public road, I decided to follow it for a mile or so, before branching off onto a forestry track that took me to the Morrone Birkwoods. A pleasant way to approach Braemar. I'd like to do this leg again - I think it would be possible to cut out almost all of the road walking.
Back up the Dee from Braegarie:
Across the Dee to Ben Avon:
In Braemar shortly before 11, I met Stuart (who had driven over from Dundee) and we headed round to Balmoral for the next bit of the weekend.