INVERIE - DAY 2
Posted:
Wed Sep 29, 2010 1:14 pm
SATURDAY 25/09/10
LADHAR BHEINN
An early breakfast at 7.15 – Baked Eggs with Cheese – delicious – I was away just after 8.00 am.
A wee bit more overcast this morning – but still a forecast of fine and settled weather.
I was heading for the gem of the Knoydart peninsula – Ladhar Bheinn – my third time on this hill – hopeful for my first summit view.
Up the track past Torrie Shieling again and round to the monument – I was passed by a couple of blokes on their bikes.
I knew I had all day today so wandered along at a steady and comfortable pace – heading up towards the Mam Barrisdale.
Landrover track all the way to Loch an dubh-lochain which made for good progress.
After passing the loch the track reverts to the old stalkers path again wet and boggy in places.
I could see two figures ahead of me on the track up to the Mam – must have been the cyclists – I had passed their bikes at the loch.
Found the rise up to the Mam a bit of a pech and was glad to get there for a bit of a sit doon.
Could hear stags roaring in the coire below Meall Buidhe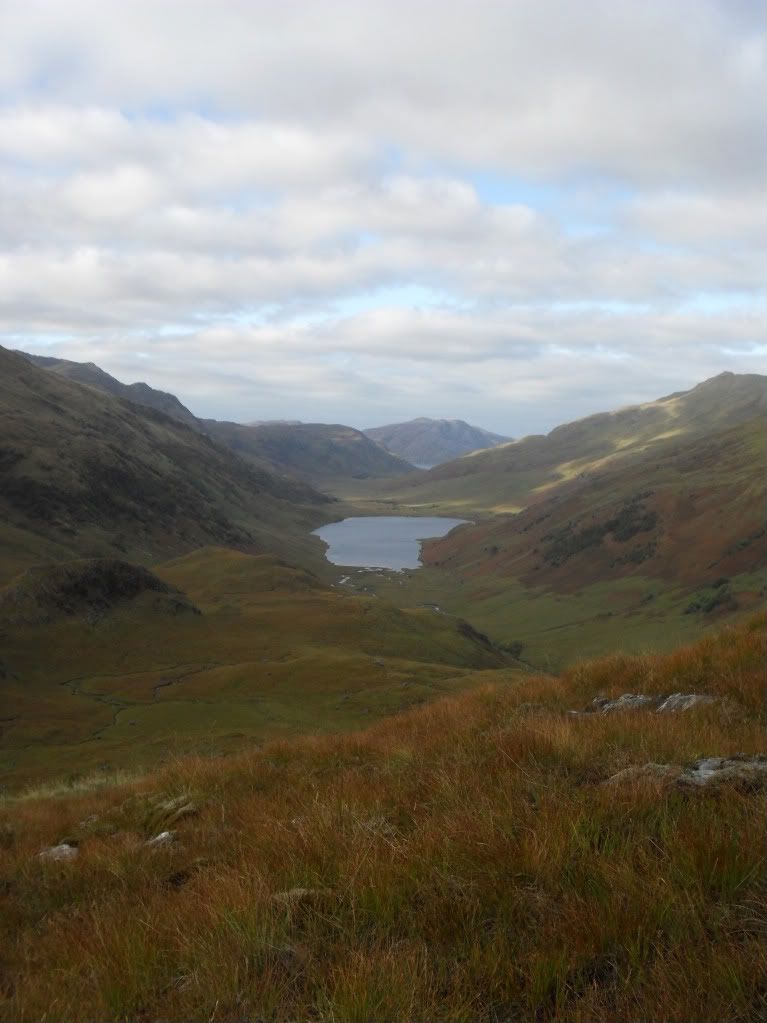 Loch an dubh-lochain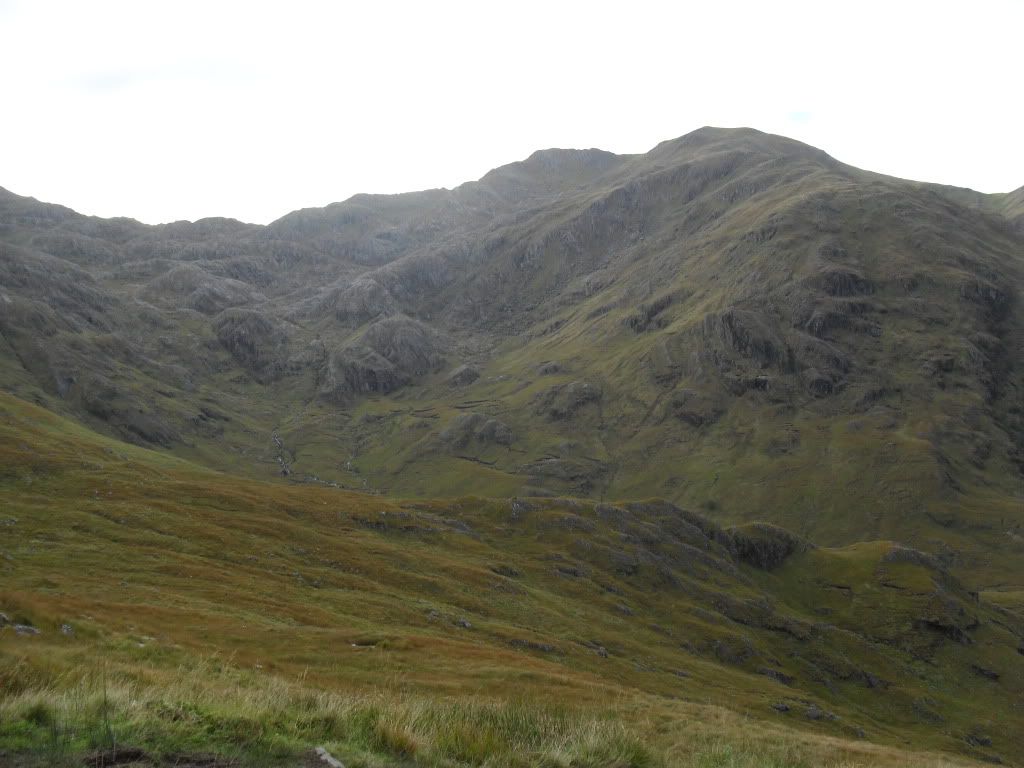 Meall Buidhe
Luinne Bheinn - looking very close
The earlier overcast skies were clearing all the time and the sun was giving a bit of welcome warmth now.
Next part of the climb is up towards the steep rise to Stob a'Chearcaill – over grassy ground – a bit boggy in places.
Started to feel a bit heavy legged at this point but pushed on to the bottom of the steep climb.
I remembered that there is a steep zig zag path directly up to the top – but I could also see an easier path slanting up to the left.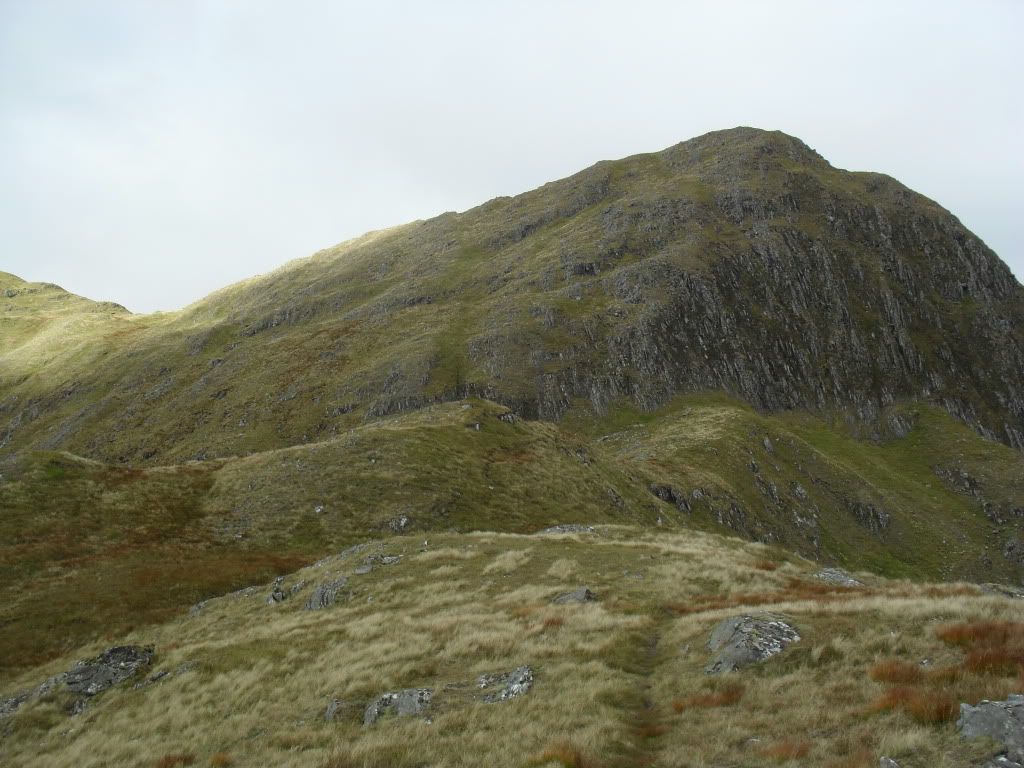 Stob a'Chearcaill - easy path maybe just visible
Took the direct line which involves a bit of scrambling – interesting it was a few times.
Sure was ready for a few minutes break at the top – and time to take a couple of photos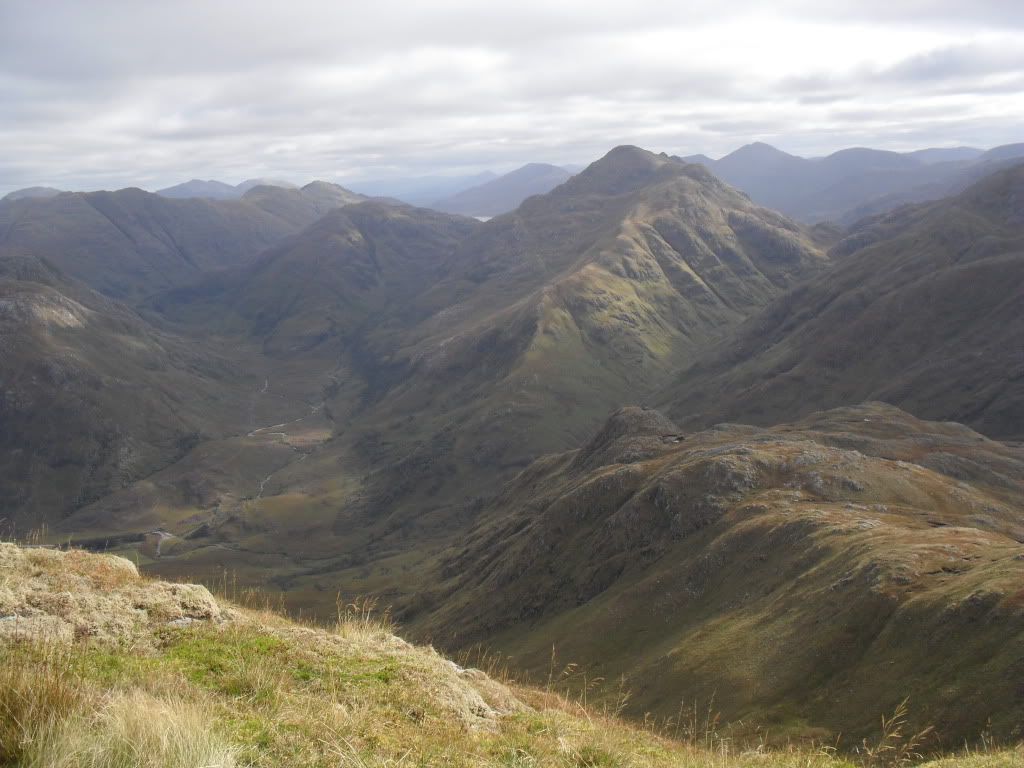 Sgurr a'Choire-bheithe - a hill I have'nt climbed - yet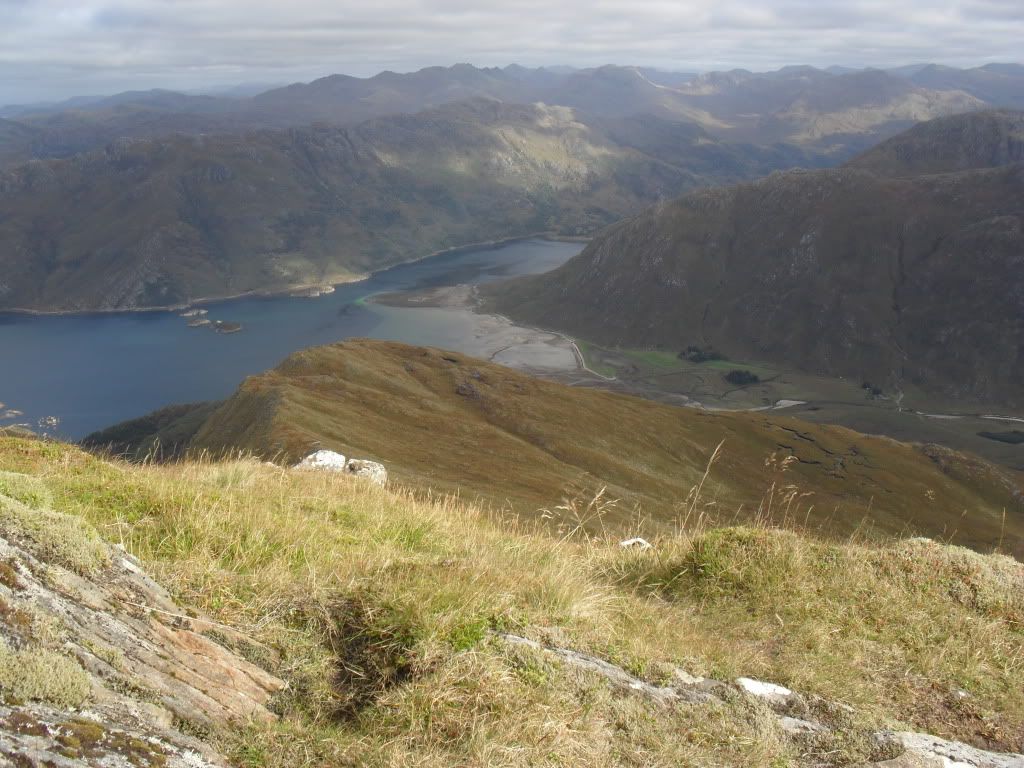 Barrisdale Bay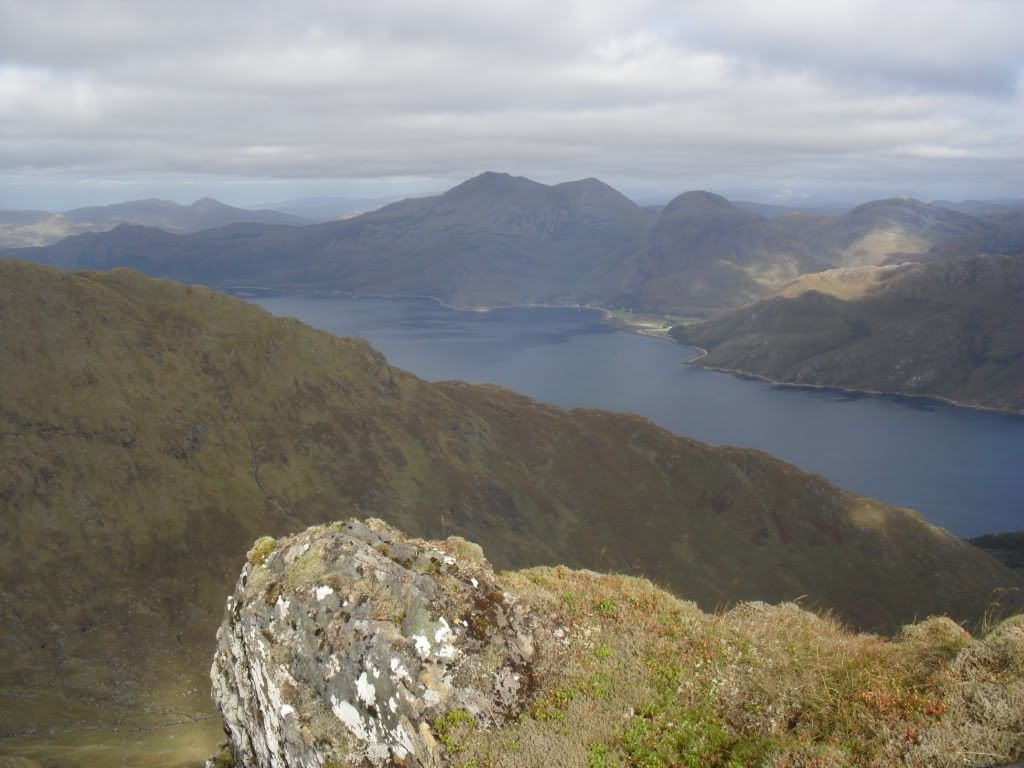 Beinn Sgritheall
And take in the view along the ridge – been along it twice before – but had never seen it – now I could
Ridge to Ladhar Bheinn
At the cairn at the junction of the ridges (849m) I chatted to two lads who had been camping and were looking to dry out their sleeping bags (condensation).
My thighs were now very sore so I just wanted to keep going along the ridge.
I had kind of made a mental mistake by thinking that once up on to Stob a'Chearcaill that all the hard work was done – but that is not the case – plenty of effort still required.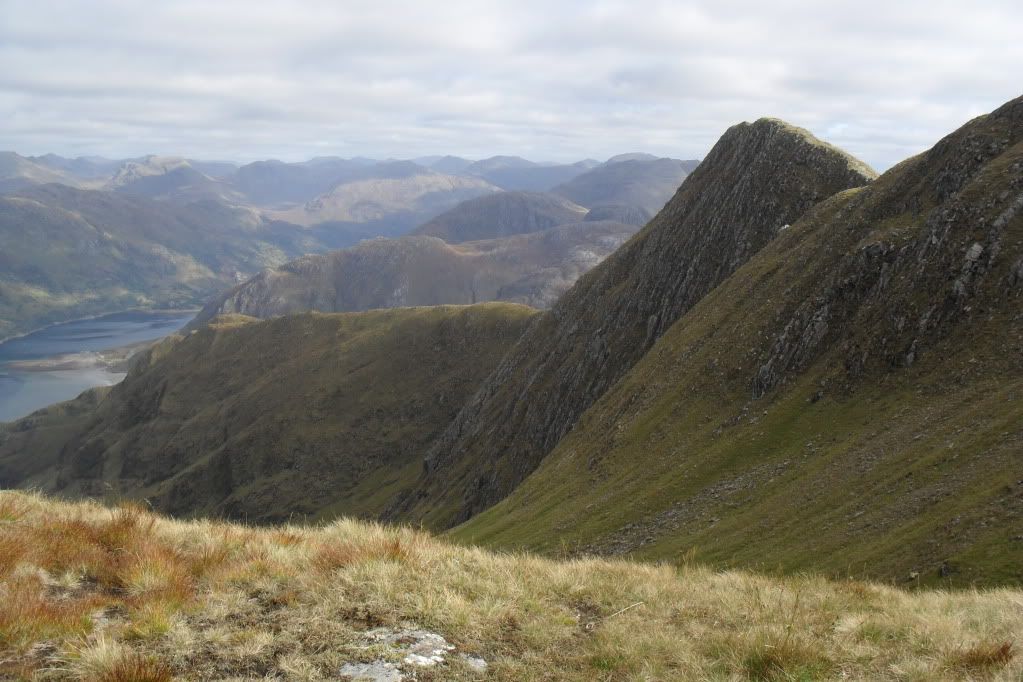 View back to Stob a'Chearcaill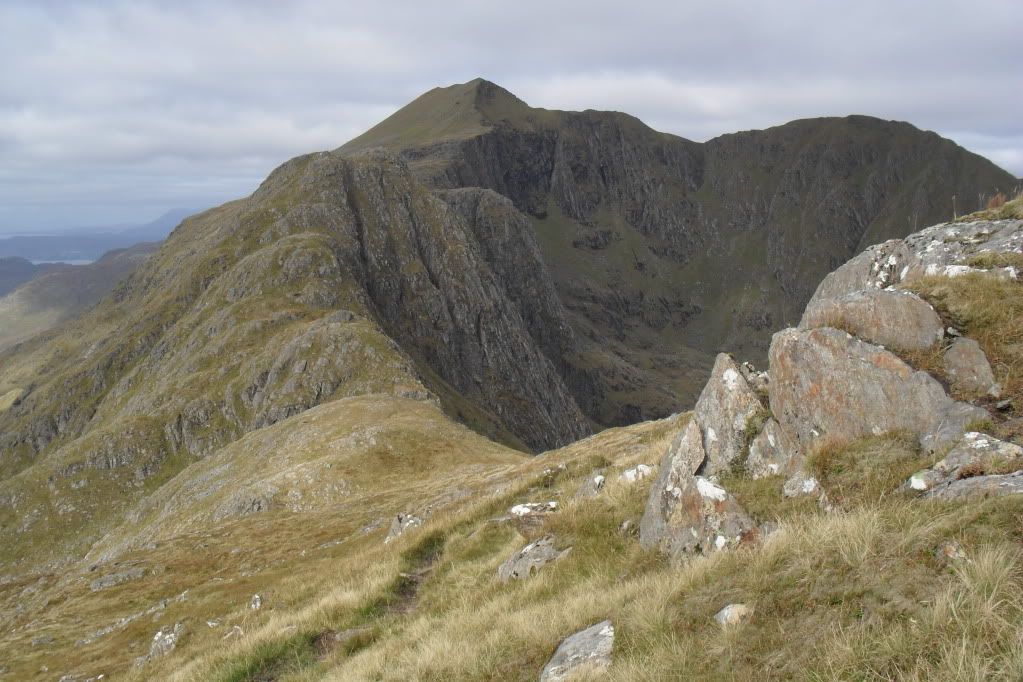 Another view to Ladhar Bheinn
Maybe it was because I could actually see the ridge this time that I found it more tiring – but I found I was having to force myself on a bit.
A steep drop down to the Bealach Coire Dhorrcaill and then another steep rise to the 858m top.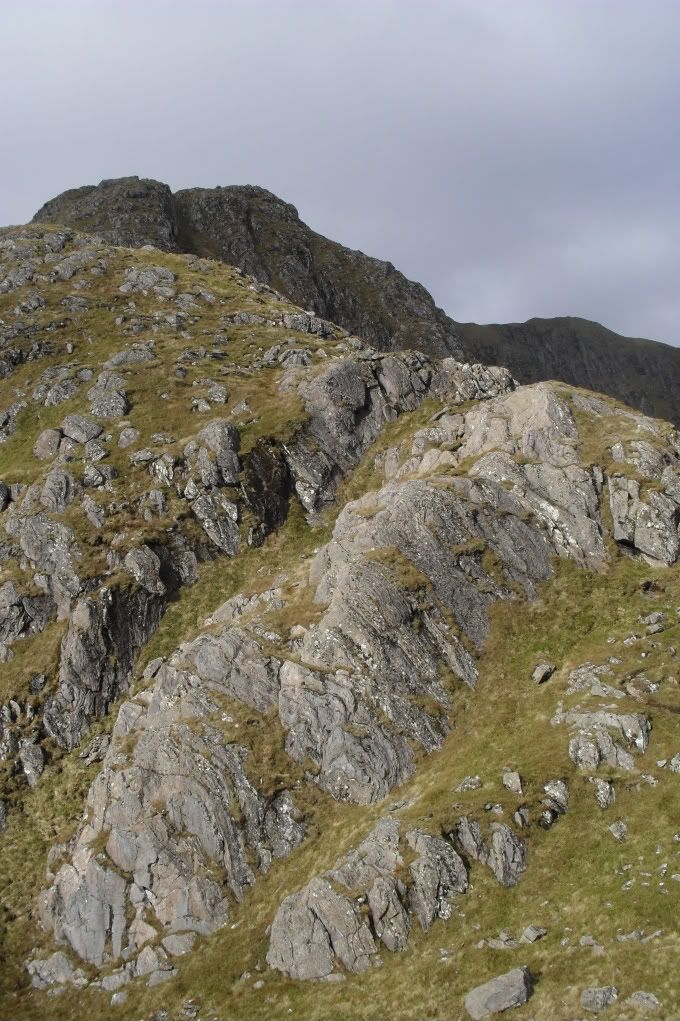 Nearing the 858m top
Met a group of three walkers who told me that the views at the top were sensational so that encouraged me.
Then the last rise up the ridge to the wee cairn at the junction with the Druim a'Choire Odhair.
At last got to the level ridge – along to the summit – and aye I didnae half get my views – Wonderful.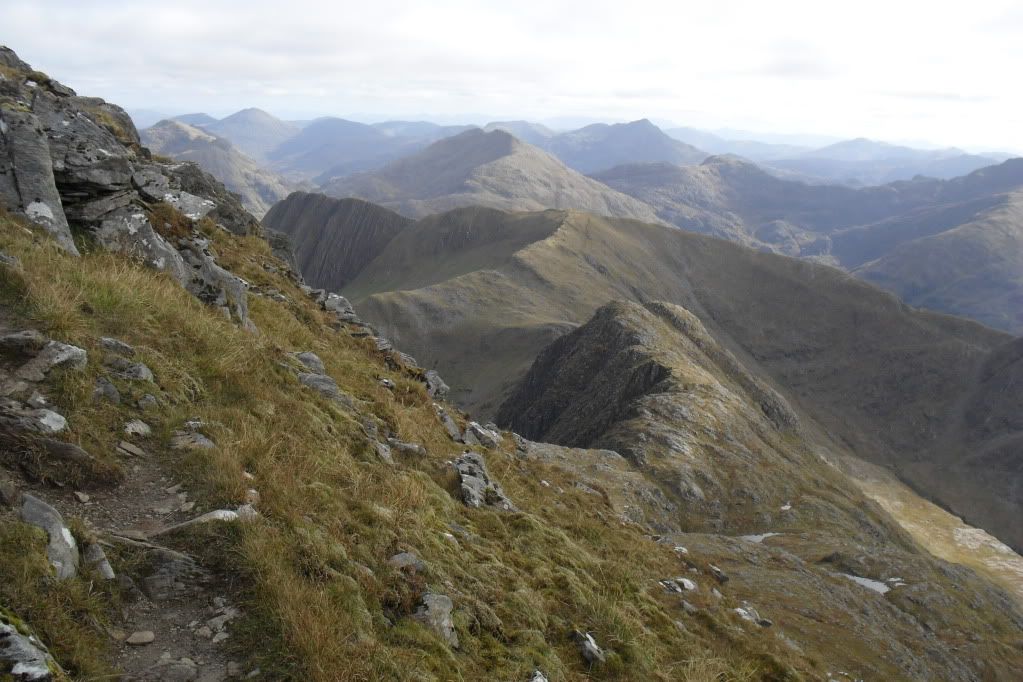 Looking back along the ridge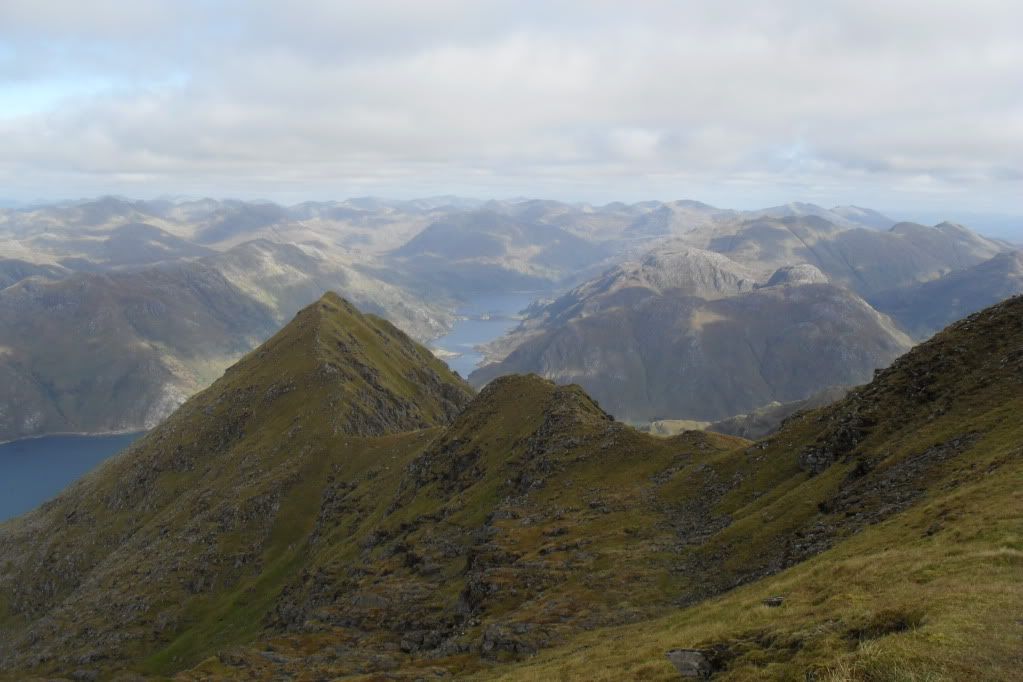 Stob a'Choire Odhair with Loch Hourn beyond
Sgurr Choire Choinnichean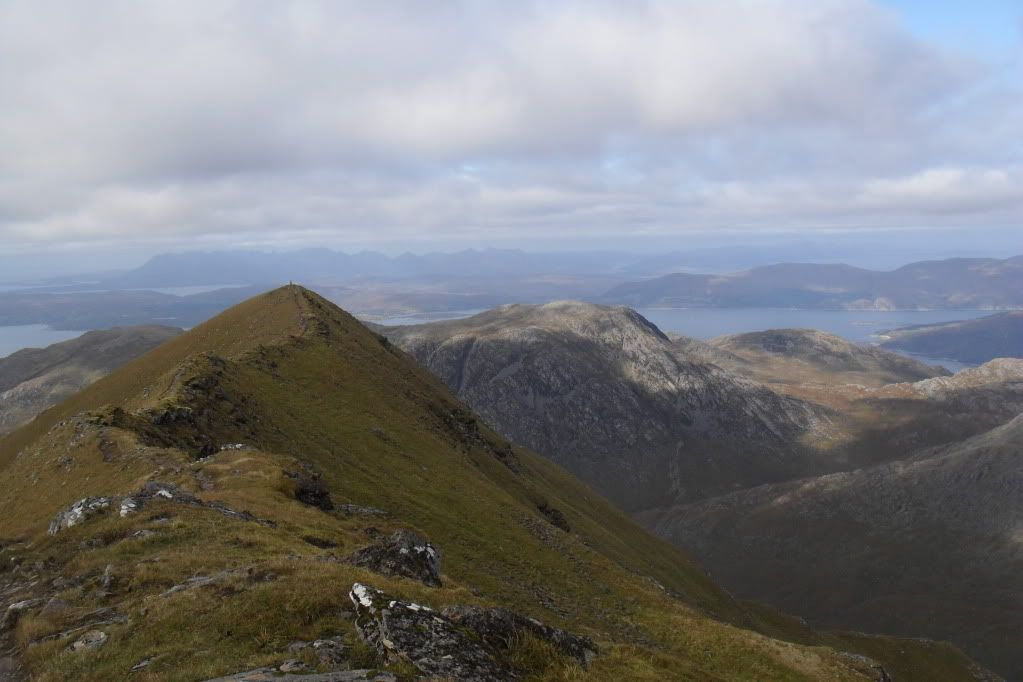 Trig Point and Skye
Sat at the cairn and tried to identify as many hills as possible – could see Beinn Alligin prominent to the north.
After a wee while wandered out to the trig point.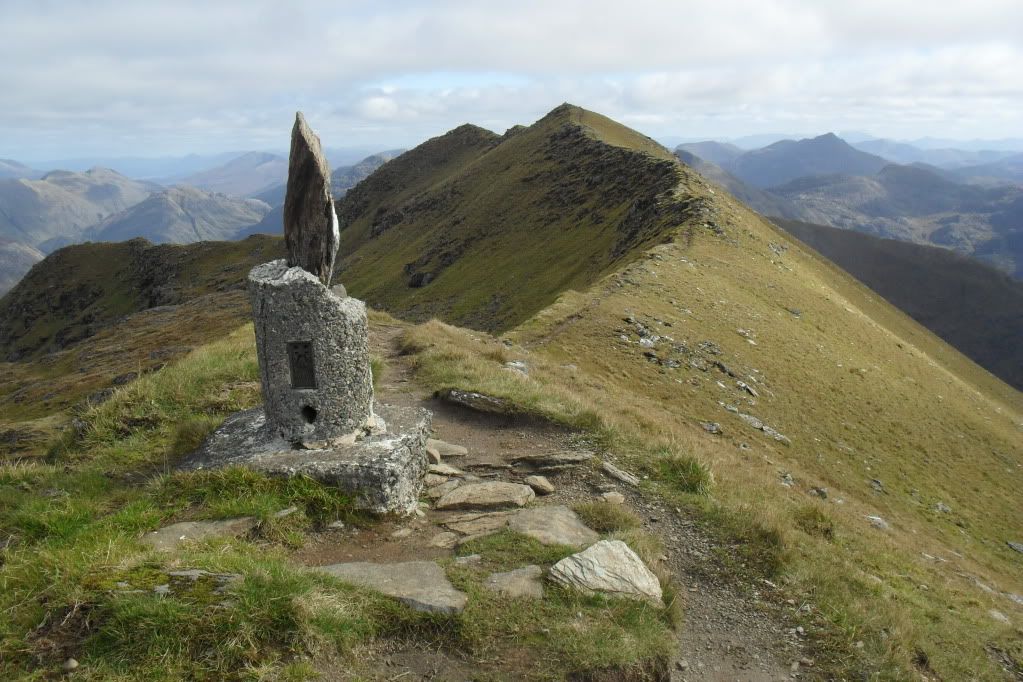 At Trig Point looking back to cairn
Eventually dragged myself away and headed down the slope towards An Diollaid
Immediately met a couple approaching the trig point – Geordies they were – who told me it was their first Munro – Good choice !
This long grassy slope gets you down quickly to the bridge at Folach and a six kilometre walk along the track back to Inverie.
Looking back up to Ladhar Bheinn you would'nt think it was the same hill you see from the other side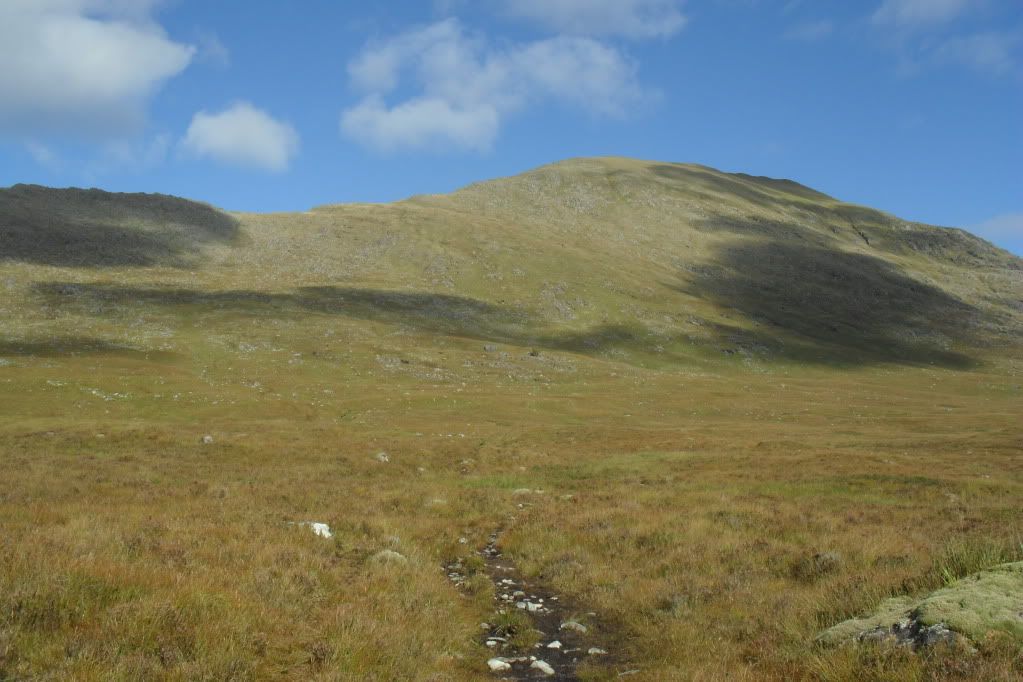 Ladhar Bheinn from Folach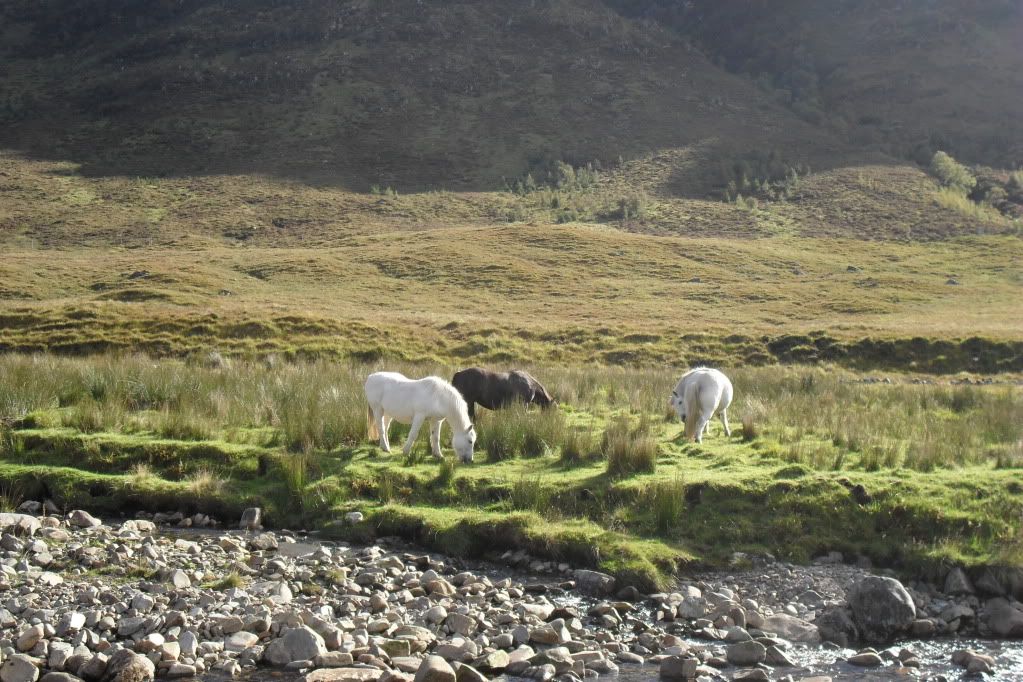 Ponies
Stepped it out along the track – again bothered by deer keds
Got back to Inverie bang on 5 o'clock and it took a great deal of willpower to walk past the pub -----------
Of course ah didnae – straight in for a couple of pints of the pub's own beer – The Seven Men of Knoydart.
Great sitting outside the pub in the warm sunshine.
Had a wee bit of a "senior" moment – after buying my second pint I felt the need to go for a pee – left my pint on the bar and then walked straight outside forgetting it.
The lassie behind the bar had a good laugh at me as I did a quick turn around back in to get it. – now what was that Clint Eastwood film again ?
After my pints strolled back to the lodge for shower and change.
Morag had told me in the morning that some of the locals were holding a curry night in the village hall (to raise funds for improvements) and that guests of the lodge would be welcome.So got washed and changed and wandered back along.
Sunset 1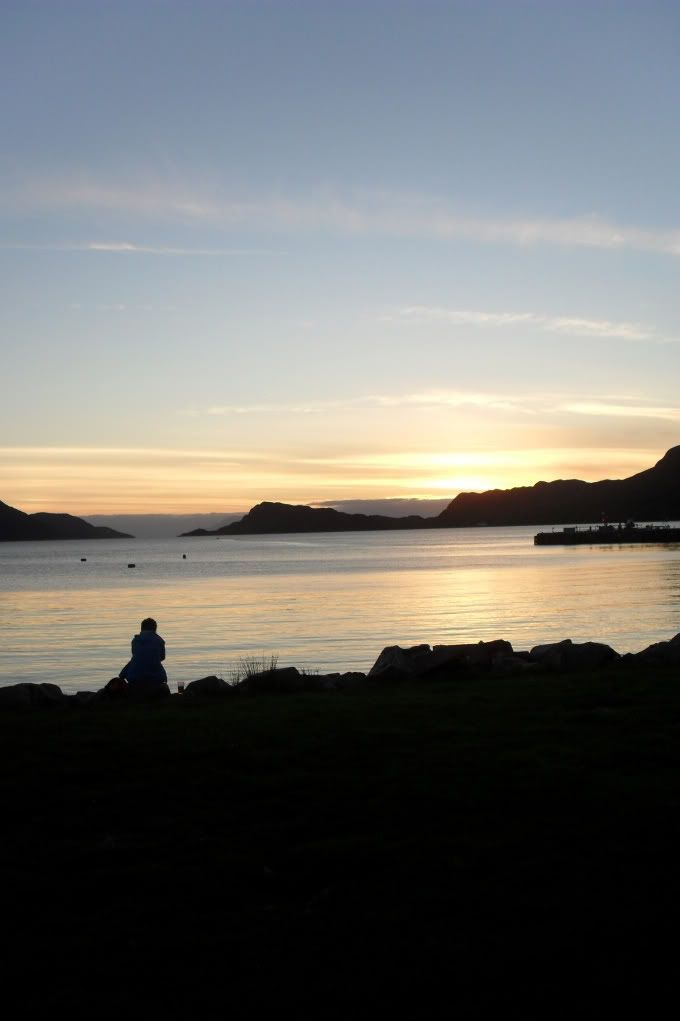 Sunset 2
I was too early – so what to do in the meantime – aye you've guessed – a pint
Terrific spread – and just for a small donation – someone had made a great venison curry - delicious.
Went along for another couple of drinks but by nine my eyes were drooping – back for another early night.
What a terrific day though.
My third time on Ladhar Bheinn and at last a chance to really appreciate the hill - definitely in my top three