SUNDAY 26th SEPTEMBER
BEINN NA CAILLICH
My aim this weekend was to climb the three hills nearest to Inverie that I had to do in this area.
The Corbett Beinn na Caillich was the last one on this list.
Could afford a later start so breakfast was after 8 am – great cooked breakfast.
One party of four (who had done Luinne Bheinn,Meall Bhuidhe the day before) were going for a cycle before heading home.
Another couple were heading for Ladhar Bheinn.
First to finish breakfast – made my excuses – got ready and away at 8.40.
A really wonderful clear morning – and this time back through Inverie for the track back over to Folach.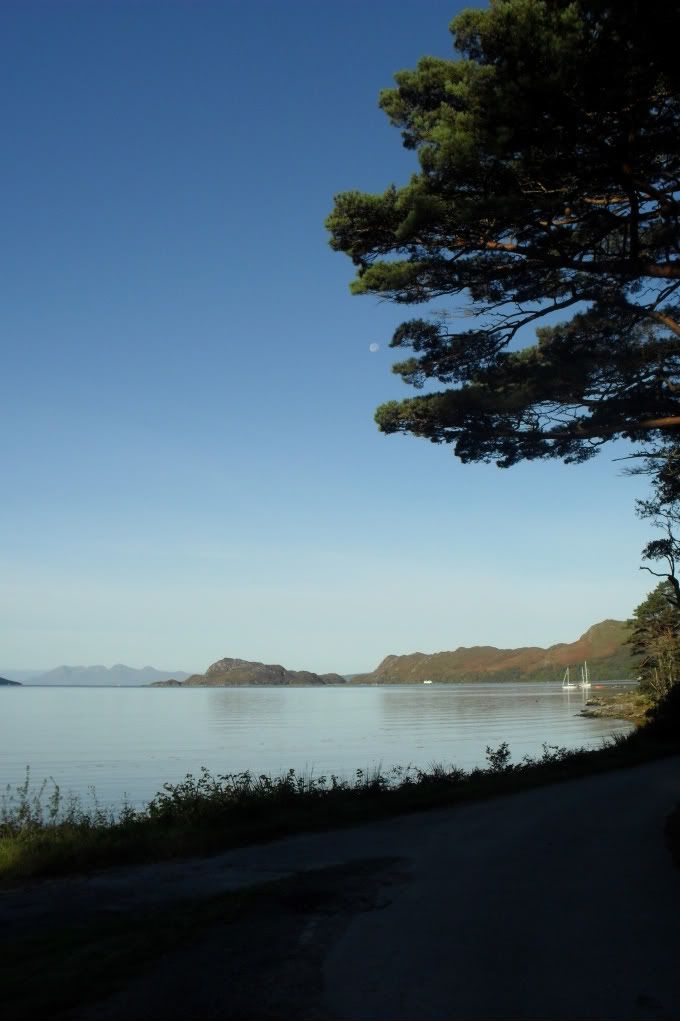 Inverie Bay
Took it nice and easy but still got over quickly enough to the junction of three waters.
The Abhainn Bheag and the Allt Coire Torr an Asgaill meet to become the Abhainn Inbhir Ghuiserein-great names eh ?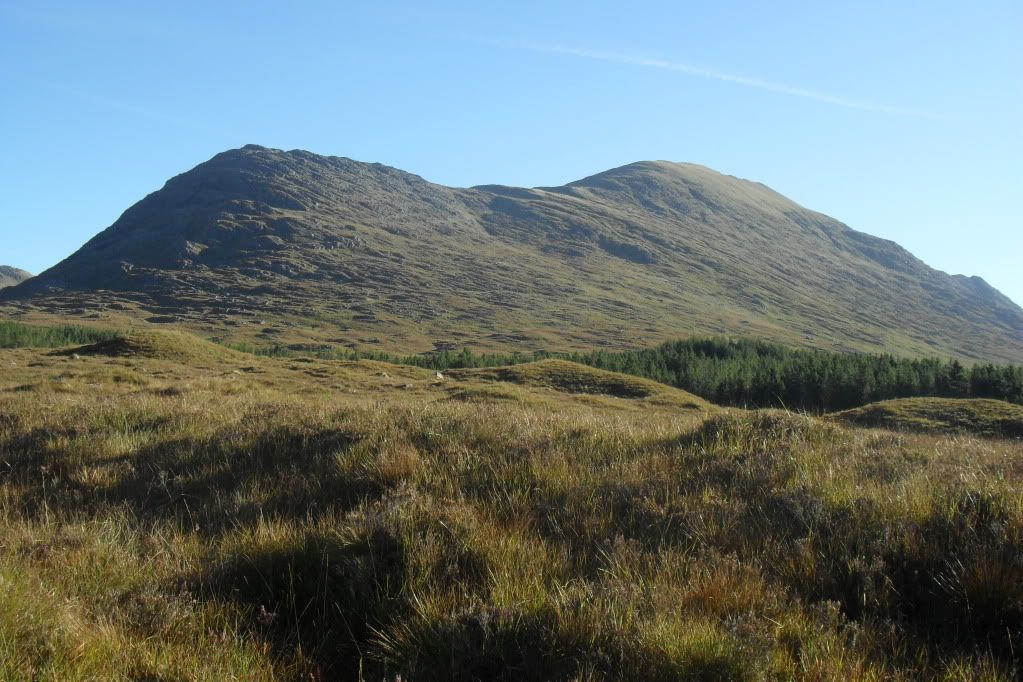 Ladhar Bheinn and An Diollaid
Crossed easily to the stalkers path on the east side of the Abhainn Bheag – this soon takes you up to a gate through the deer fence.
I had considered once past the gate to head directly up towards the ridge of Beinn na Caillich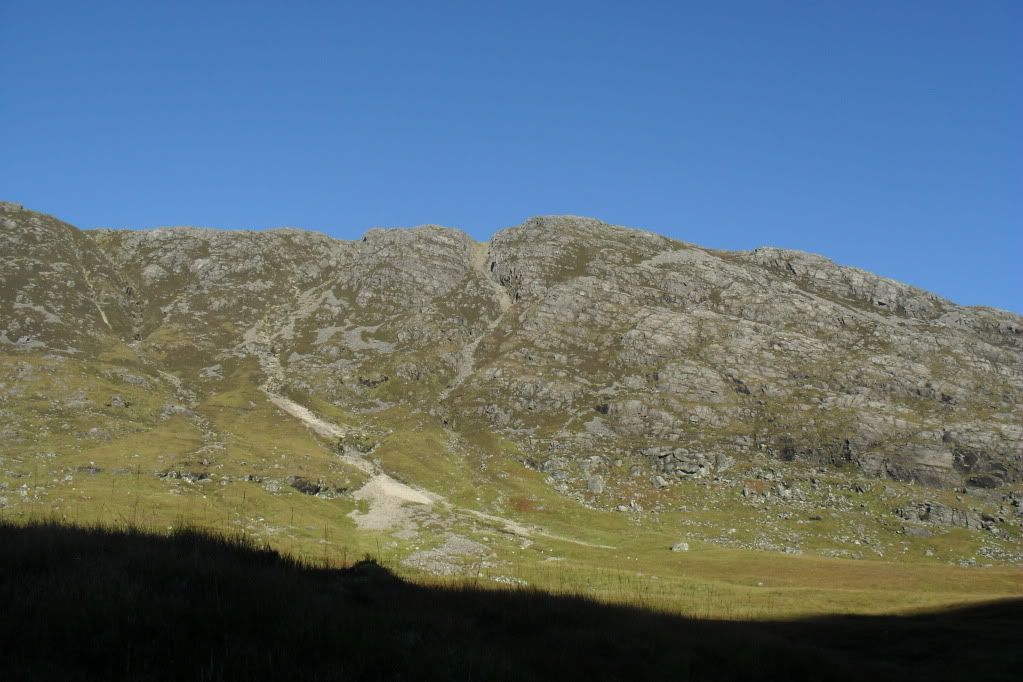 East slopes of Beinn na Caillich
But on finding that this was an excellent path I decided to carry on up to the Mam Li.
In 1998 I had tried to climb this hill by this route – but a day of torrential rain had beaten me.
The rivers and burns were impassable that day – went as far as the Allt Coire Each but had to turn around.
The Abhainn Bheag was'nt a "Wee River" that day.
The weather today was terrific – warm and really clear.
This path was in a lot better condition than those of the previous two days – maybe due to less foot traffic.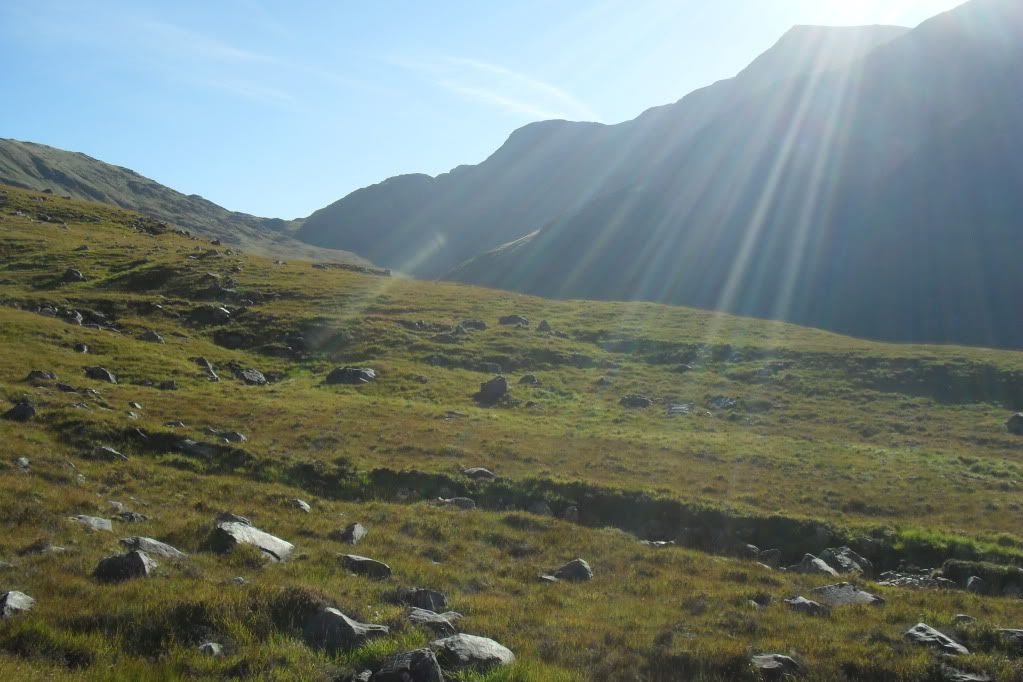 Coire Each
Carried on up past Coire Each and stopped just short of Mam Li for a break
Then across to the foot of the rocky east ridge of the hill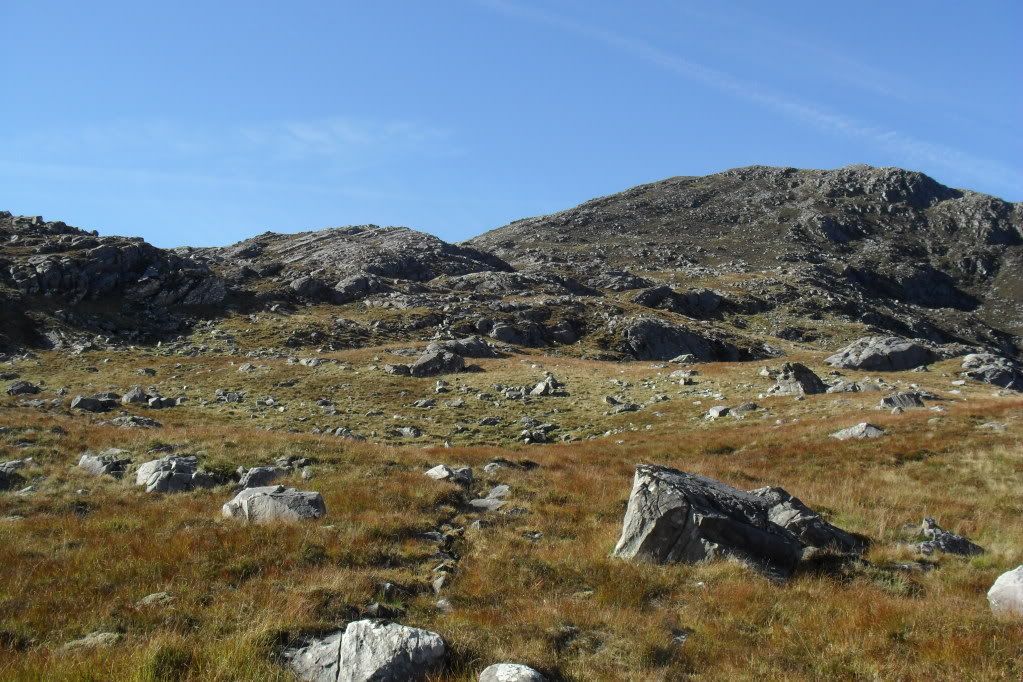 Looking up the ridge
And soon up onto the flattish summit ridge – at 12.30.
Again great views – this was the clearest of the three days – and I could afford a long rest at the top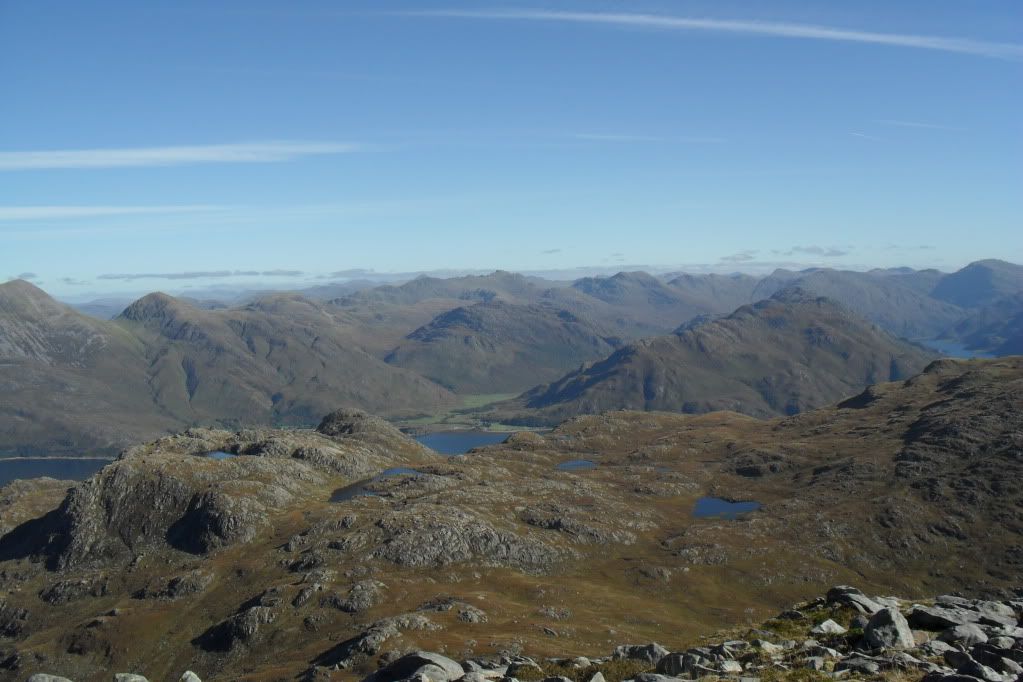 Mam Li and Arnisdale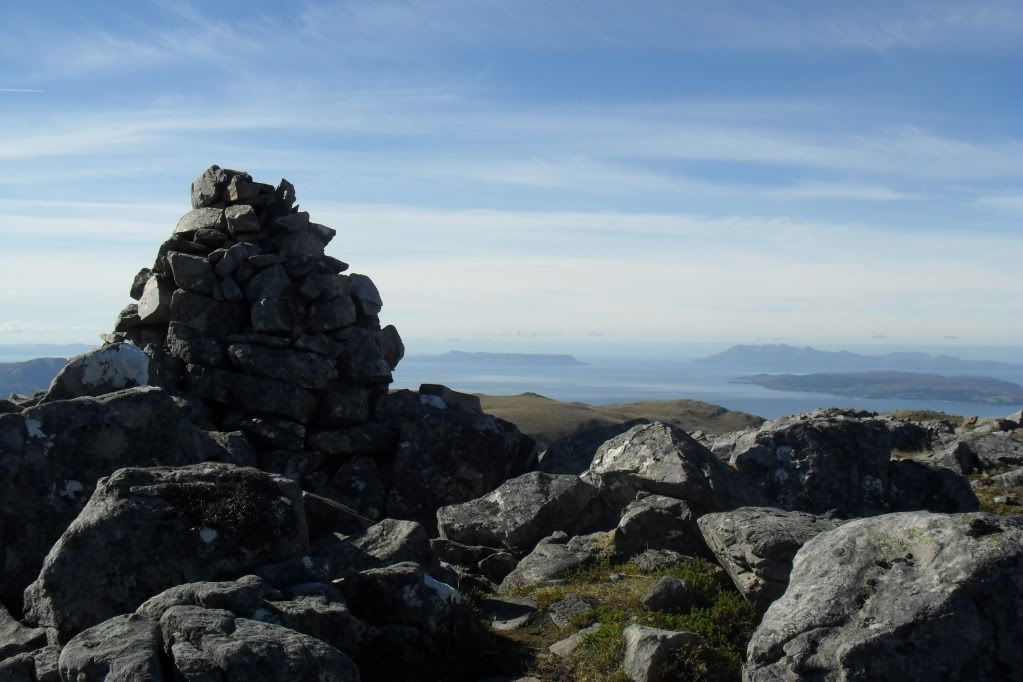 Beinn na Caillich cairn
Wandered out from the cairn for uninterrupted views over to Skye.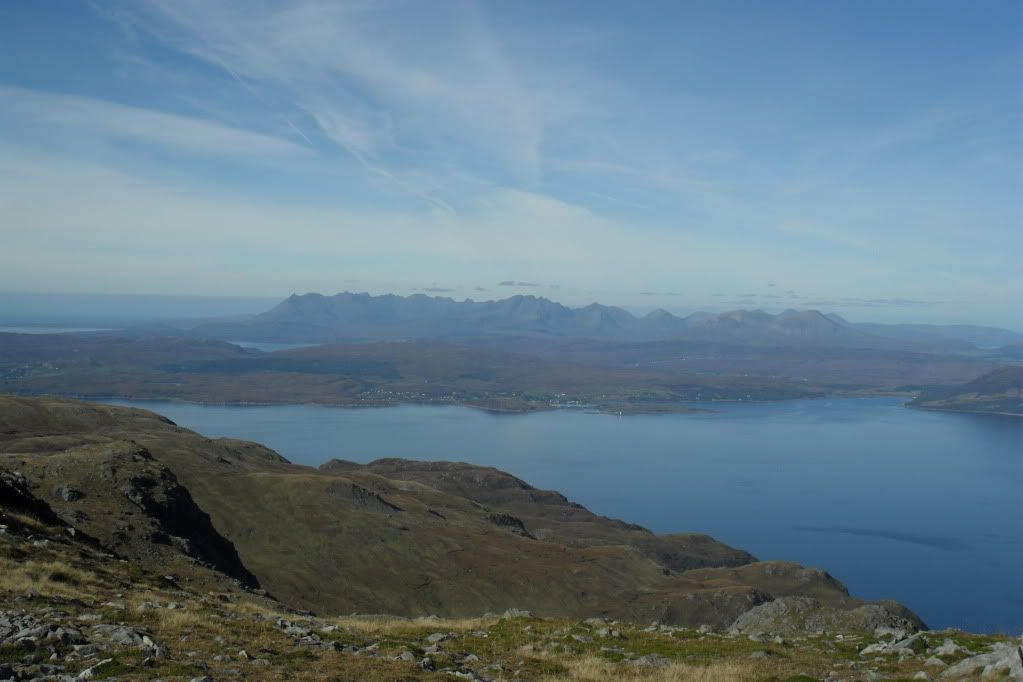 Skye
Went down along the broad grassy ridge heading south west until I could see a way down back to the Abhainn Bheag.
An easy descent over grass , sometimes heather and broken rock – I was glad however that I had'nt gone up this way.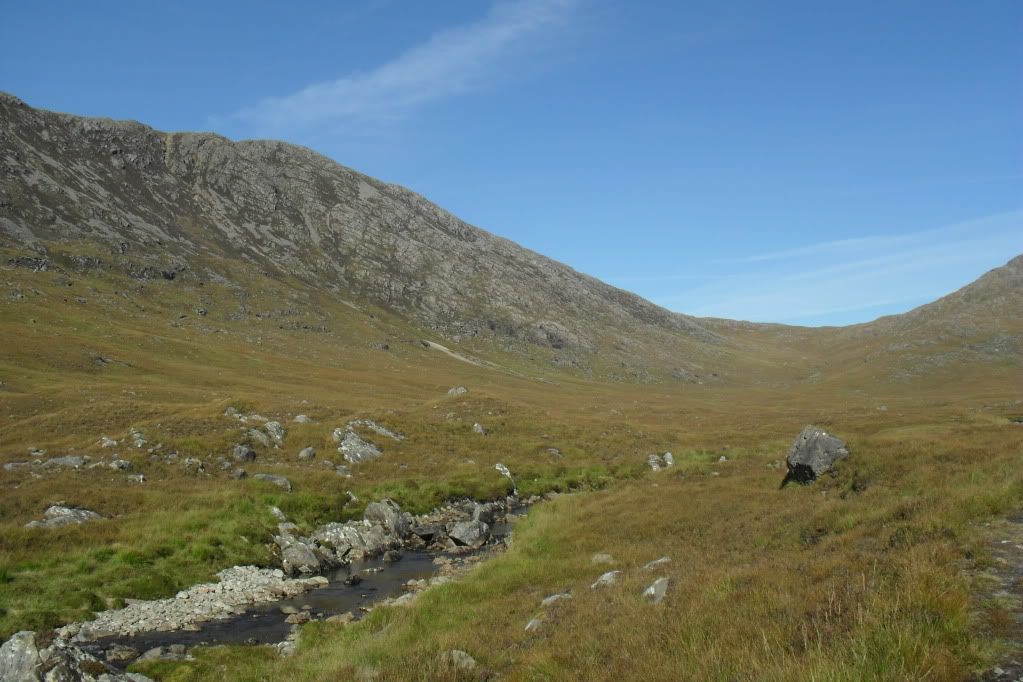 Looking to Mam Li
Back in Inverie for 3.30 and sat outside the Old Forge for a couple of hours – another beer on offer today – Orkney Brewery Raven Ale.
Inverie may be a wee place – but there is always something happening
Boats arriving/leaving the pier – walkers coming back from the hill – cyclists – all ready to pass the time of day.
Sat chatting to Kenny (the ghillie) again – told me about when they used to the ponies for the stalking.
The ponies once loaded with the deer carcass knew they would'nt get rid of their load until they were off the hill.
So they would set of at a canter leaving the ghillies to try and keep up – a kind of wacky races.
Went back along later on for something to eat and a couple of pints
But the afternoon session told on me – another early night – I must be getting old
MONDAY 27th SEPTEMBER
Mallaig Kippers for breakfast – very strong smoky flavour – but fine.
I was heading back out on the eleven o'clock boat – so as it was early enough I had time to take a stroll.
Morag said to leave the bags and she would bring them along in the "taxi"
Wandered along through Inverie and round the bay as far as Scottas House and back.
A really beautiful morning.
Visitor to the patio at the lodge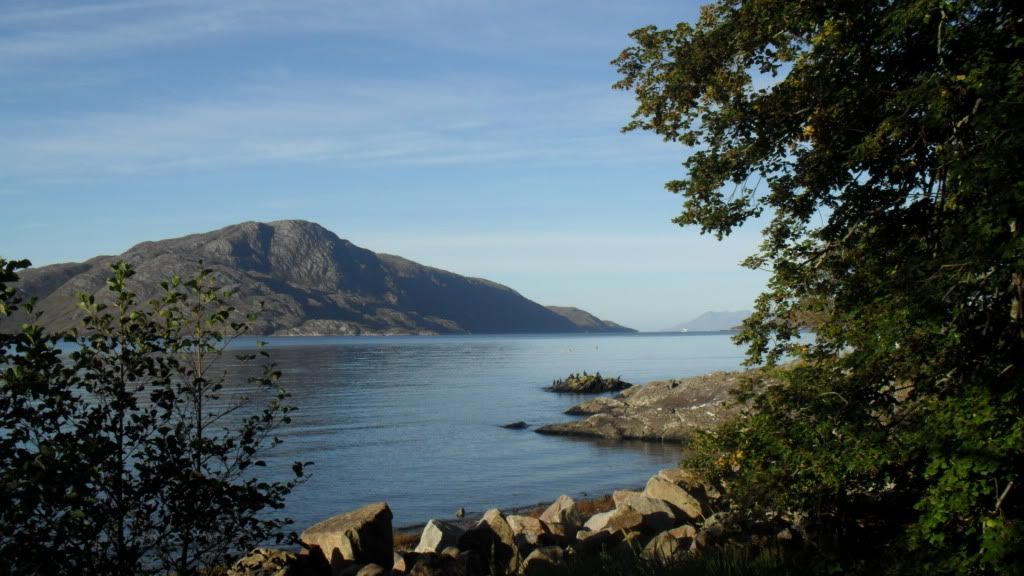 Shaggy Isle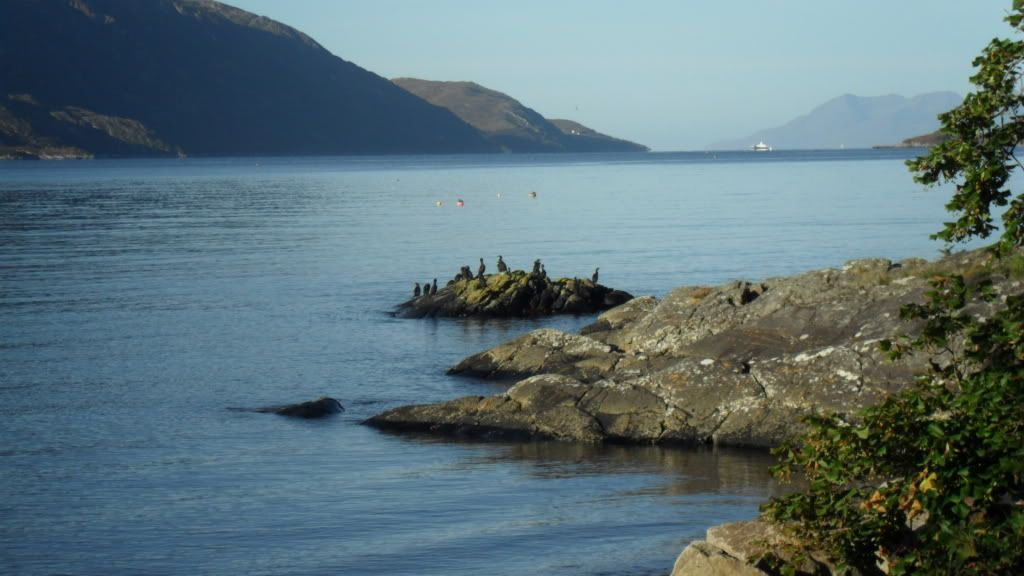 Closer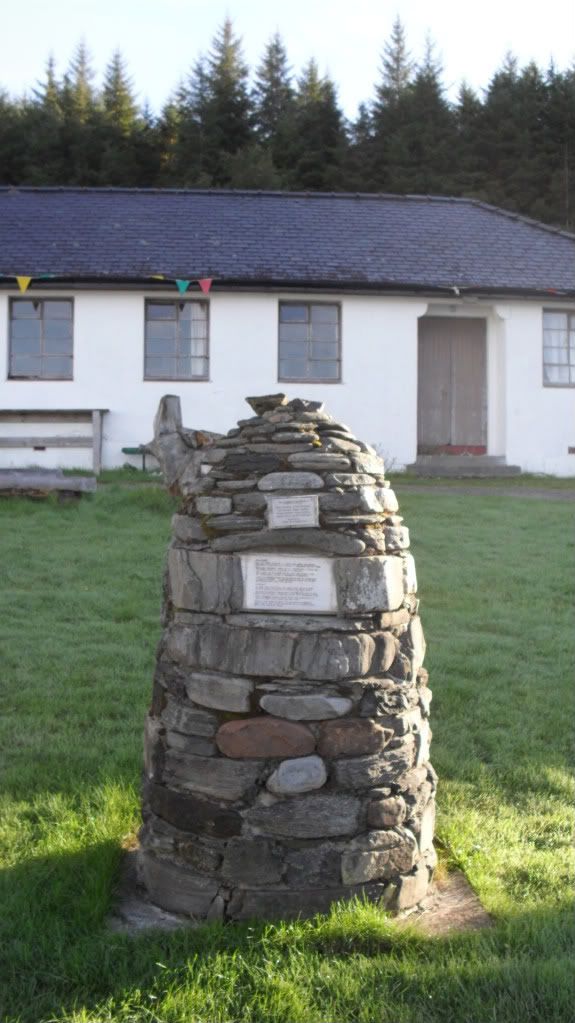 Memorial and Village Hall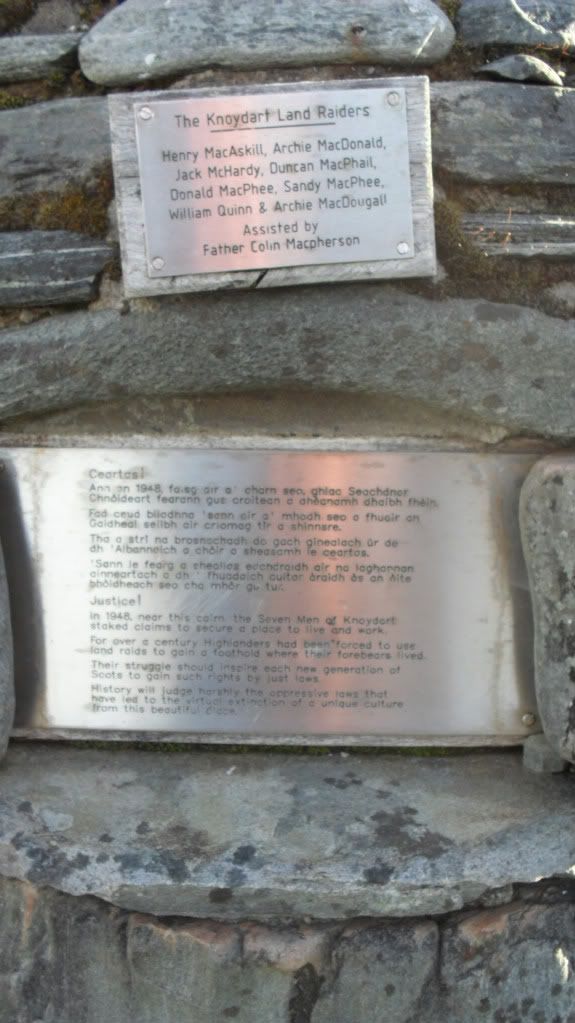 Close Up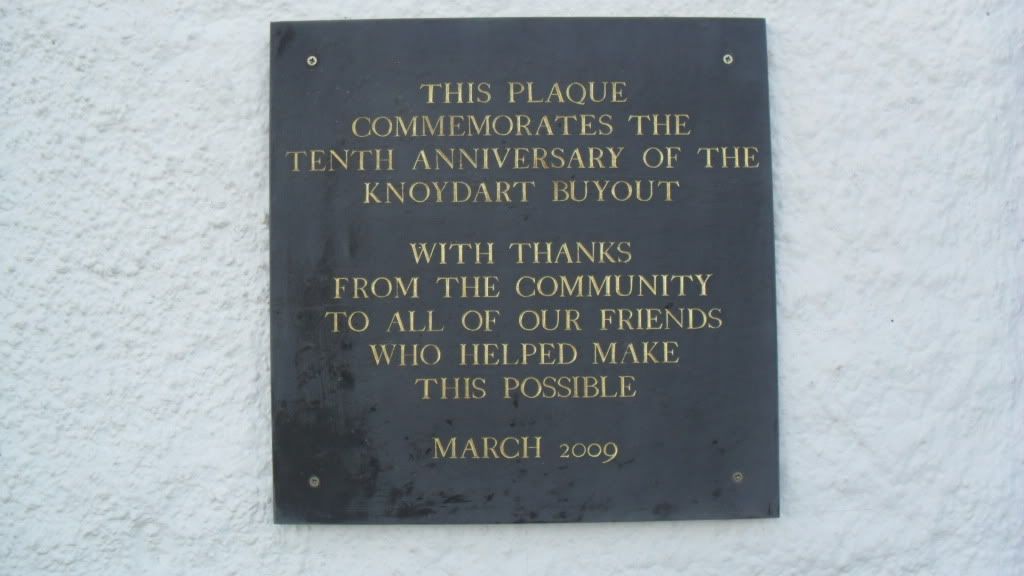 Plaque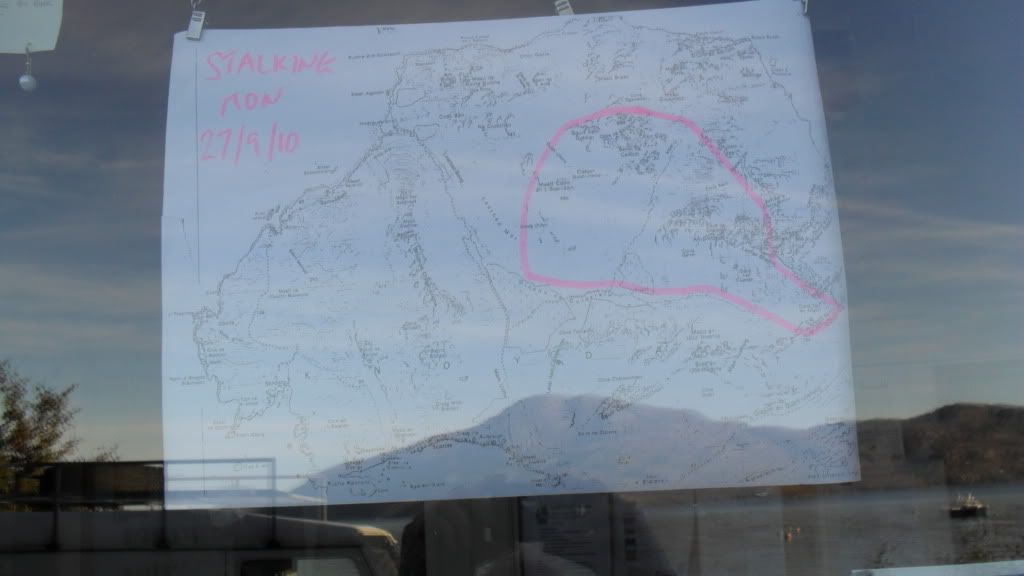 Stalking Info
Old Forge
Inverie Bay
Water Taxi arrives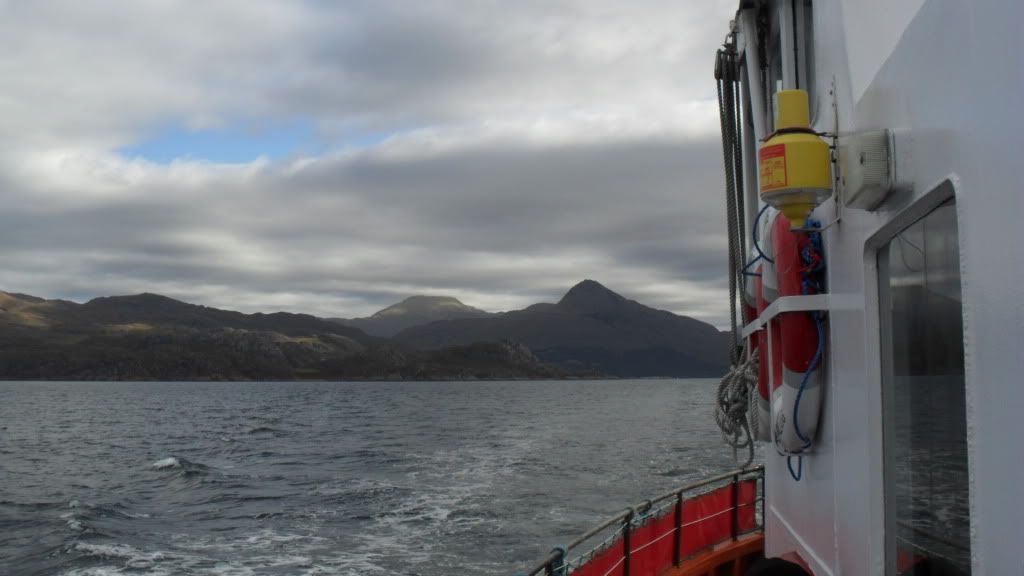 Last look back
The ferry was very busy of course – plenty of weekenders heading home.
Had thought of a game of golf at Traigh but it started to cloud over and turned a bit raw.
Settled just to drive down the road, hopefully to miss the worst of the holiday weekend traffic down Loch Lomond side.
Did have a stop for a pint at the Glenfinnan House Hotel – The Standard Ale
My "bagging" mission for the weekend accomplished – the three hills to the west of Knoydart climbed
Down to a final target now – a kind of single/double day
I will be watching the weather forecasts closely over the next few weekends
A great weekend - many thanks to Morag and Bob at the Knoydart Lodge
Inverie is a unique place - well worth a visit if you have never been