This is one that I'd been planning for some considerable time. Ever since the CEO gave me Steve Kew's "Walking the Munros" for my 2009 birthday - (I wonder if she regrets doing that now…???) - I've wanted to walk Ben Alder – on the front cover there's a fabulous picture of this magnificent mountain at its most seductive…. .
And who with even the mildest liking for mountains could fail to be seduced?
I looked at a good number of possibilities for a round, trying to trade off the practically possible with the unlikely but dreamable; and finally came up with the route below, starting at Loch Pattack rather than Culra because I didn't fancy an extra 4 km or so walk back from Loch Pattack to Culra at the end of what would be anyway a long day.
9 + 5? 9 Munros and 5 tops
.
(the tops are: Sron Coire na h-Iolaire; Sgor Iutharn; Dollaid a'Chairn; Mullach Coire nan Nead & Meal Glas Coire)
But being an inveterate fair weather walker, it had to be under the right circumstances. And it was going to be a longish walk, so I'd need plenty of daylight.
To judge from some fantastic WH reports, there has been a fair deal of pretty decent weather this summer; but it also seems to have generally been allocated a day or two at a time, and so far this had clashed with other commitments.
But then I noticed this…
... and this ...
Both the UK and Norwegian Met Offices agreeing on their forecast!
No further encouragement required
.
A pretty well problem-free drive saw me arrive in Dalwhinnie just before 5.00 pm on the Tuesday. Some of the tops were cloud-shrouded from time to time, and short, sharp showers alternated with that brilliant clear sunshine that follows rain. I wasn't worried at all: this is what had been forecast.
The cycle to Loch Pattack was far easier and quicker than I'd expected – the road is metalled as far as Ben Alder Lodge; and it runs through the forest on the north side of Loch Ericht, a brilliant preparation for the contrasting spare bleak wilds of the Alder massif. And even after that, the track is eminently bikable as far as Culra Bothy.
20170808_165906. The view up Loch Ericht at the start is enough to start the adrenaline coursing through the system!
The track ascends slightly after Ben Alder Lodge; and when you crest the hill and drop a little you get this view of Loch Pattack.
20170808-175003.
.20170808_175611. The suspension bridge is looking a bit rickety, but I don't want to risk wet feet by taking the ford at this stage... (the planned last hill for the morrow, Geal Charn, is showing centre pic).
As I cycle along the shores of Loch Pattack, there seem to be many good potential pitches, but I plump for brilliant little patch of flat untussocky ground just to the East of the bridge over Caochan Ruadh burn.....
20170808_180050. .... with this view looking north east across the Loch. Magic
.
Time to test the new aquisition - a superlight Force 10 Helium 2 man.
20170808_182123
A light breeze means that the vampire legions are obliged to remain grounded, thank goodness. And the tent goes up like a dream in a few minutes.
Since I'll be starting in the dark in the morning and therefore won't get to see Culra on the morrow, once I've got my gear organised in the tent, I cycle further up the road to take a look at the bothy.
20170808_185712. Sad to see such a romantic bothy closed, especially when one compares it to the rather unlovely Culra Lodge just to the west of it. Having said that, asbestos notwithstanding, it looks in quite poor condition anyway. It seems like a good opportunity for a rebuild, but I couldn't find a fund on line to make a contribution to (other than, obviously, the MBA).
What a fabulous wild place, though!
20170808_191238. As I somewhat pensively cycle back towards my pitch, I stop to take a look at the start of tomorrow's walk. Ben Alder (LHS) and Carn Dearg (centre). Can't wait - though I hope the tops clear quickly ...
Back at the tent, the breeze has dropped, and the bloodthirsty billions are ready and waiting....
But I'm prepared with a head net and spray for the hands. The only problem is that just getting into the tent allows hundreds of the blighters to sneak in with me
. So I spend the next 30 minutes in sadistic pleasure squashing them against the tent inner.
During the night the breeze picks up again, and the tent seems rather noisy, notwithstanding the fact that I've guyed it quite tightly. A bit disappointing, for I sleep very badly in a flapping tent.
Up at 3.30 am, and off at 4.00, it's already surprisingly light - certainly no torch is necessary. As I exit the tent I'm greeted by the most wonderful sound - simultaneously mysterious, haunting and inspiring. What better evocation of the spirit of the hills...
(click on the link if you want to hear it...)
https://uk.video.search.yahoo.com/search/video?fr=yfp-t-UK103&p=black+throated+diver+call#id=1&vid=3da7ee406af42ddb9e865252aef988d6&action=click
Once over the bridge at Culra and up into the rough, it's just light enough for photography...
[20170809_051359. Looking back north towards Loch Pattack,...
20170809_051738. ....while ahead Alder begins to show its corries. The going is a bit rough - low heather and tussocks, with the odd bit of bog that's easily circumnavigated - so perfectly acceptable.
20170809_054243. Once over Sron Dreineach the ground becomes much easier. Beinn Bheoil showing to the left, and Ben Alder becoming clearer.
20170809_055523. Looking back north east down Loch Ericht
20170809_060256. The conditions at the first summit, Beinn Bheoil, are in the very best Highland traditions
.
20170809_060848. But the cloud quickly clears in the strong wind, giving great views south west towards Sron Coire na h-Iolaire. The strong wind is something that I hadn't expected, though it's clearly in the Met Office forecast - somehow I'd managed to overlook it; and with temperatures in the low single figures, it makes for a very chilly experience. Unusually, it's been necessary to maintain 3 layers of clothing, even when ascending Bheinn Bheoil.
20170809_063255. The views are really excellent now, especially looking west. I suppose that the cloud-bound hill in the centre is the Ben, while the high hills to the left of the pic are Bidean nam Bian and company in Glencoe.
20170809_063149.
20170809_063733. It is all easy and very pleasant ridge walking - this view is looking more or less north west from Bealach Breabag towards the ascent to Ben Alder up Sron Bealach Beithe - about 250m of fairly steep climb, before it flattens out into a plateau ahead of the final gentle climb to Ben Alder summit
20170809_064425. Looking north east across Loch a' Bhealaich Beithe from the bealach between Sron Coire h-lolaire and Ben Alder (Bealach Breabag).
20170809_071403. More or less on the plateau now, Garbh Choire and Garbh-Choire Beag looking moody in the fast-moving cloud.
20170809_073021. At an elevation of 1125m, I guess Lochan a' Garbh Choire must be one of the highest lochans in the Highlands - about the same height as Lochan Buidhe I think. Very strange to see at this altitude...
20170809_073809. I reach the summit of Ben Alder about an hour ahead of schedule - which is good, since I know I'll be slower later. This view looking more or less west towards the Ben Nevis area shows the rather bleak Cairngorm-like character of the summit plateau. Like so many of the Cairngorm hills, the real attractive views are not the summits themselves but the views from the bottom, and part way up the slopes, of the corries, bealachs and lochans.
20170809_073905. And this is looking south towards Garbh Choire and Sron Bealach Beithe, with Lochan Garbh Choire just right of centre. Really spectacular - if you're so minded, it's worth clicking on this pano to get a better sense of the phenomenal view. I spend as long as I can trying to imprint the vista on my memory while munching a breakfast croissant - and that's not very long, because it really is cold!
20170809_075907. I take a careful bearing before leaving the summit, and follow it assiduously as I start the descent into Bealach Dubh. The topography is not quite as I expected it to be and with the next summits in cloud, visual orientation is not as easy as it otherwise would be. It takes a bit of self-discipline not to abandon the compass and follow my nose...
20170809_081300. But for once I do manage to maintain that self-discipline, and duly land up at the right place
20170809_083129. ...where I cross what looks like an old drovers' path. View here is looking south west towards Corrour Shooting Lodge and Loch Ossian.
20170809_083052. View looking north west, with the cliffs that mark the edge of the Alder plateau showing to very dramatic effect.
20170809_083120. The side slopes of Sgor Iutharn look very steep indeed (LHS of pic). Extremely glad that I'll be ascending via the much gentle slope of the shoulder!
20170809_083412. As I cross the path, I see this aircraft wreckage, which to me looks like the remains of a helicopter, but is in fact those of a second world war Wellington bomber.
http://www.aircrashsites-scotland.co.uk/wellington_geal-charn.htm
20170809_084424. Looking back towards the descent from Ben Alder showing the lumpy topography that would make it a bit tricky to navigate in clag.
20170809_090531. The 300-odd metre ascent of Sgor Iutharn is on good terrain, and not so steep, so it's not long before I'm on the summit. Looking south across to the Ben Alder massif, the mixed cloud and sun make for a dramatic portrait (again worth viewing full size if you like this kind of pano).
20170809_090933. I stop for a while looking out north east from Sgor Iutharn across the Ben Alder forest and try to imagine what it might have looked like when the Caledonian forest cover was at its greatest, apparently about 5000 years ago.
I've noted several remnants of large tree roots protruding from peat hags since arriving yesterday – one right next to my pitch. It seems that a combination of colder and wetter weather, agriculture and felling for fuel started a progressive loss of forested area, and by the time the Romans arrived more than half the forest had been lost. Pastoral activity - fire and teeth – continued to be the most consistently destructive human activity, such that by the 18th century, woodland cover reached its all time low. It's particularly sad to contemplate when one walks through the small areas of ancient pine forest that still remain in place like Glen Lui
I find the plantation tree-planting from the last century has despoiled many parts of the Highlands, but it's encouraging to encounter areas regularly now that are being replanted much less densely and with an appropriate balance and range of species.
It also seems, mind, that 14000 years or so ago, the Highlands were all tundra - treeless; and really, in geological terms, that's hardly the blink of an eye! It would be nice to think that there's a kind of cycle in play…
20170809_093248. The going continues to be good, and shortly I'm in the bealach between Sgor Iutharn and Geal-Charn - Leacann na Brathan (this pic is taken looking back east towards Sgor Iutharn).
20170809_093258. At this point, instead of continuing up to Geal-Charn, I traverse across Aisre Cham, which is characterised by a 20m wide lochan-bedecked ledge, that enables one to avoid an 150m ascent and descent to get to Carn Dearg. This pic gives a good idea of the terrain.
20170809_093312. Looking east north east from "the ledge" across Loch an Sgoir towards Culra, with Loch Ericht showing in the background.
20170809_094106. The ledge continues more or less level until about 100 metres from Aisre Ghobhainn (the ridge that leads to Carn Dearg), at which point the ledge disappears, and it's necessary to traverse a rather steep grass and rock slope - about 45 degrees. Today it's not too difficult, but care would be needed in wet weather: it would be quite hard to stop if one once started sliding down the slope
. Dollaid a'Chairn is the top in the foreground.
20170809_095106. Looking east out across Loch an Sgoir at the end of the traverse across Aisre Cham. The cloud is really lifting now, and light is sensational...
20170809_095123. ... though the peaks on the last leg of the walk are still shrouded in cloud - Beinn a' Chlachair on the LHS, and Geal Charn on the RHS.
20170809_095324. I leave my sac in the middle of the path (without a note to assure anyone who finds it that I have not gone off to commit suicide...
pace
RTC
), and after a long drink, head off along the ridge towards Carn Dearg.
20170809_100110. Looking out along the ridge to Geal Charn.
20170809_101044. ... and back across at Ben Alder, with Beinn Bheoil and Loch an Bhealaich Bheithe just showing on the far left. Just fabulous!
20170809_102126. Loch an Sgoir viewed from close to the summit of Geal Charn. The ledge at Aisre Cham is clearly visible from here.
20170809_102147. The same view in a wider perspective.
20170809_102918. Looking back from the summit itself.
20170809_102918_labelled.
20170809_105411. A speedy return over the top of Dollaid a'Chairn, and back at the start of Aisre Ghobhainn (the beginning of the ascent to Geal-charn), I take a few minutes to appreciate the cliffs overlooking Loch Coire Cheap, before starting up the ridge. I've left my sac square in the middle of the path, on a narrow ridge, so I can't possibly miss it, right....????
15 minutes or so later I suddenly realise that I should have come across the sac by now, since I'd deposited it about half-way down the slope, and I'm well above that point now. But how could I possibly have missed it on a ridge...??? Maybe I misremembered where I dropped it - so I go up a bit further. But now I'm near the top - I really must have somehow walked past it. So I go back down the ridge, and, sure enough, about half-way down, there is the sac...
20170809_115522. After that it's sound walking along to Geal-charn, with great views north from the edge of the plateau. I get to the summit still about an hour ahead of schedule, so there should be no difficulty getting back before dark - this is about the half-way point in terms of distance and ascent.
20170809_115809. Ahead Aonach Beag and then behind, Beinn Eibhinn - a perfect ridge walk.
20170809_121626. Looking back towards Geal-charn from close to Aonach Beag summit. On the extreme LHS Beinn a'Chlachair, and a little to the right and further behind, Mullach Coire an Iubhair (Geal Charn), the last summit of the day. On the RHS, massive and dominant, the Ben Alder massif.
20170809_121950. The summit itself. I'm pretty sure that the double summit in the very far distance, about 60% in from the LHS, is the wonderful Ben Starav... (please correct me anyone who knows otherwise). Ahead Beinn Eibhinn...
20170809_123637. Looking back east along the ridge from Carr Mor towards Aonach Beag (foreground) and Geal-charn (behind).
20170809_130012. As I approach the first cairn I see another walker sat on the ground, and at first I think I recognise SpiderWebb (my eyesight is terrible
); but it turns out not to be he. The chap has come by train to Corrour with a folding bike, cycled along loch Ossian to the lodge, and then walked up the hill. I sit down beside him to consume a much needed cheeze-salami-and-Branston-Pickle sarni, and we chat for a while. But then we both start to get very cold in the still strong wind, and so move on, he to Aonach Beag, and I along the ridge to the 2 waiting tops.
20170809_130532. This looking west from the end of the ridge, with the first top - Meall Glas Choire - on the extreme LHS. Being more than 100m lower than Beinn Eibhinn, it looks very unprepossessing!
20170809_131746.
20170809_133525. Passing the southern-most of the two tiny lochans just to the east of Mullach Coire nan Nead. MCnN itself straight ahead.
20170809_134227. The summit of MCnN, looking north east towards Beinn a'Chlachair - it looks a looooooong way off
. From here it's a 4 km yomp to the crossing point I'm planning, first descending the west shoulder of Sron an Fhuarain, then through a boggy flatland to the "stepping stones" on Allt Cam identified on the map.
20170809_142140. The whole of the shoulder of the hill seems to be one continuous bog feeding hundreds of little burns, so it's quite slow going.
20170809_143912. Eventually, about an hour later I get to Allt Cam. This view is looking east up the glen, with the steep southern slopes of Beinn a'Chlachair visible.
I don't find anything that looks like man-made stepping stones, but I do find a place where I can cross by leaping between large stones, so my rubble bags remain in my sac
.
It's a long steady pull up to the summit of Beinn a'Chlachair - some 600m of ascent over 3.5km...
20170809_150857. Looking back south west approximately along the way I've come, from early on during the ascent ...
20170808_150857.
20170809_153457. The view across to the ridge I've just traversed is quite superb.
20170808_153457 labelled.
Unfortunately, as I take this last pic, there's a familiar bleeping from the phone: for the first time that I can remember on a walk, I'm running out of charge. I'll need to be sparing with the pics from now on.
20170809_162918. Whilst the summit is not particularly spectacular in itself, the views from it most certainly are. Looking south I can see from here 9 of the summits on my route so far.
20170808_162918 labelled.
20170809_162848. ... while looking north east, the last two hills of the day - Creag Pitridh and Geal Charn - are displaying magnificently in the late afternoon sun.
Unfortunately the views take my concentration away from the bouldery ground ...
... with the result that I stub my right foot full force into one of said boulders
This feels like yet again another lost toenail
20170809_164917. I pay more attention to the surface now, as I head toward Creag Pitridh, the penultimate target.
20170809_173311. The crossing of Bealach Leahmain is a bit boggy, but acceptable. This view is taken from the bealach, looking back south west along the route I've just come from Beinn a'Chlachair.
20170809_175621. It's a short ascent to Creag Pitridh, the summit of which I reach just before 18.00, about 10 minutes behind schedule - I'm quite happy with this: I'll definitely get back in good light.
20170809_175647. A last look towards Glen Spean before I leave the CP and head towards Geal Charn.
At this point my camera battery finally gives out completely...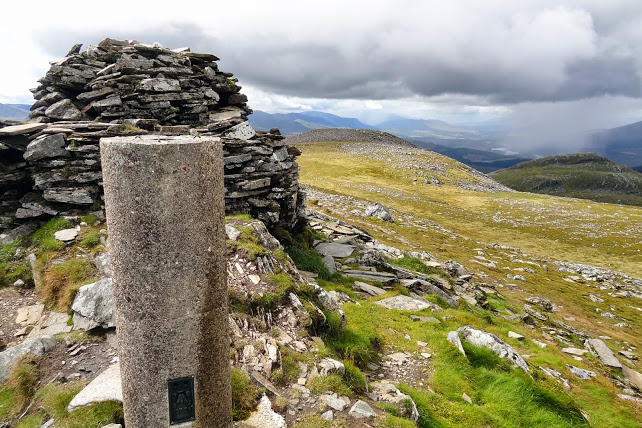 20170809_183831. ... so I've half-inched this pic from a fellow WH's report, mainly because, if you haven't seen it, the summit cairn is rather special...
The drop off Geal Charn down to Loch Pattack is pretty straightforward, albeit it's a pure yomp over coarse turf, heather and towards the bottom, peat hags. But it's quite quick. In the end I do need to use my rubble bags to cross Allt Cam - the burn is knee deep!
Route down from Geal Charn.
Having blown strongly all day, once back at my tent the wind drops to pretty well zero. This necessitates donning a midge net hat, which poses quite a challenge to the effective consumption of the bottle of Twickenham Naked Ladies I've carried out with me, and been looking forward to quite intensely for the past several hours....
....but somehow I manage! After which I just crash out in my tent at about 8.30, and sleep through 'til 8.00 the next morning
.
Summary: this is a great - if quite physically challenging - route. It's superbly wild and isolated - of the areas I've walked, I can only think of the Mullardoch area that compares (though the area West of Beinn Eighe/Liathach must be similarly remote). There are no real issues in terms of difficult ground or likely navigation problems, and importantly, there's plenty of flowing water along the entire route (I carried a 2 litre bottle, and I must have drunk at least another 4 litres from streams). I can highly recommend it.
20170808_180308. Postscript: right next to my pitch - Caledonian forest remnant...???
3D Route View with summits.