It was the Saturday of the Super, sensational and 60 double birthday celebration meet up in Glencoe. We had all been quite sensible on the Friday night and stayed in the hostel (well, most of us at least!) rather than heading along to the Clachaig. The forecast wasn't great and most people headed off to bed by 2am or so with the stated aim of "looking out the window in the morning to see what the weather is like before making a decision".
I was very much of this line of thinking so when I awoke on the Saturday to a less than promising weather situation, my attention turned to the nearby Corbett of Meall Lighiche. Dougie (Leithysuburbs) reckoned this sounded just like his cup of tea for a day like this as well, his first hill outing since walking in the Lake Garda area of Italy a few weeks back.
We drove the short distance round to the parking area by the bend on the main road near Signal Rock, the conventional start point for this Corbett and the neighbouring Munro of Sgurr na h-Ulaidh, my 200th Munro on an epic full-on winter day back in February. Today looked somewhat more benign, the major risk to life and limb appearing to be running the gauntlet of lorries and camper vans on the short but tight stretch over the bridge to the start of the track up Gleann-leac-na-muidhe.
Glencoe and the Aonach Eagach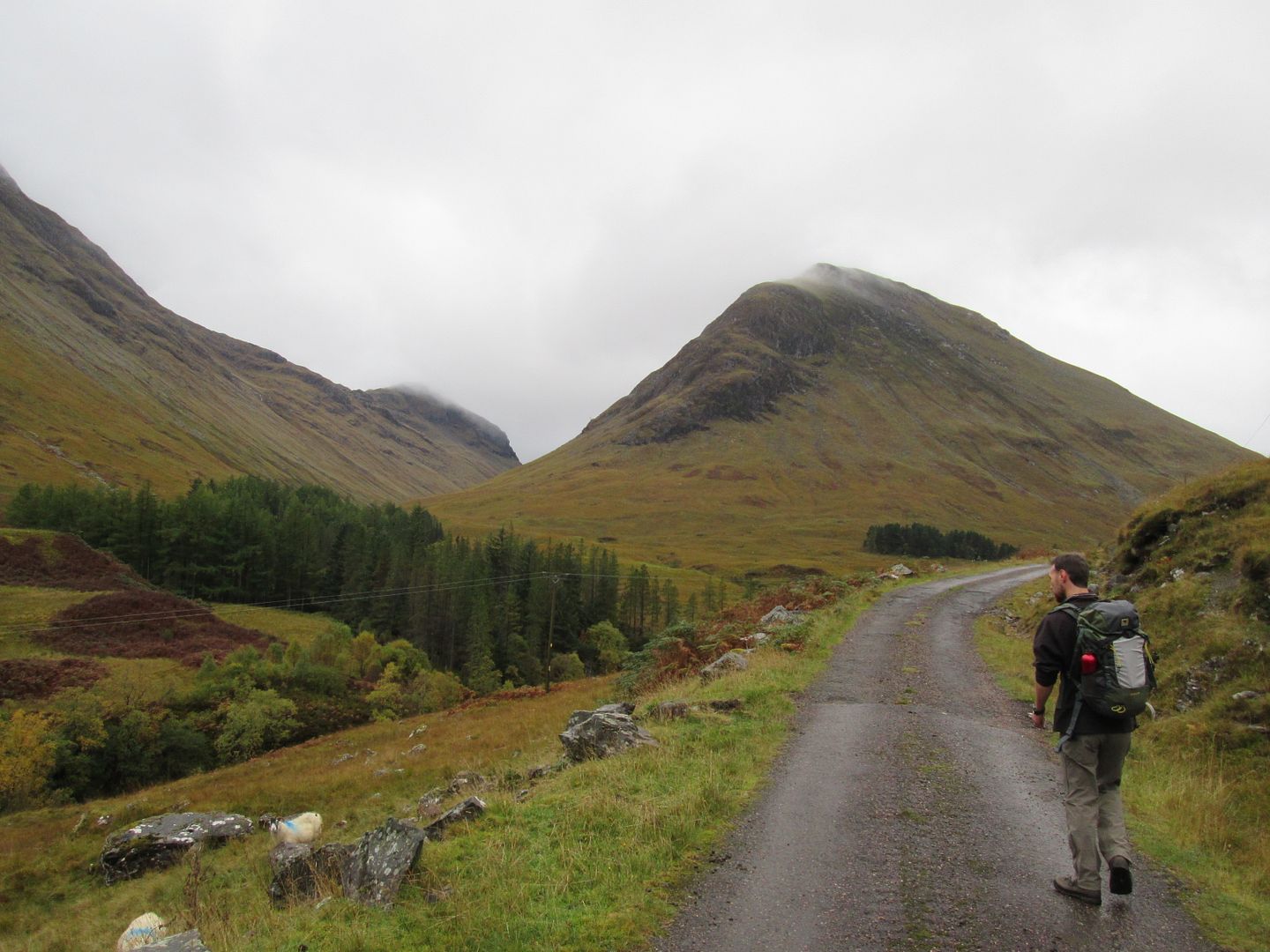 The steep prow of the Aonach Dubh a'Ghlinne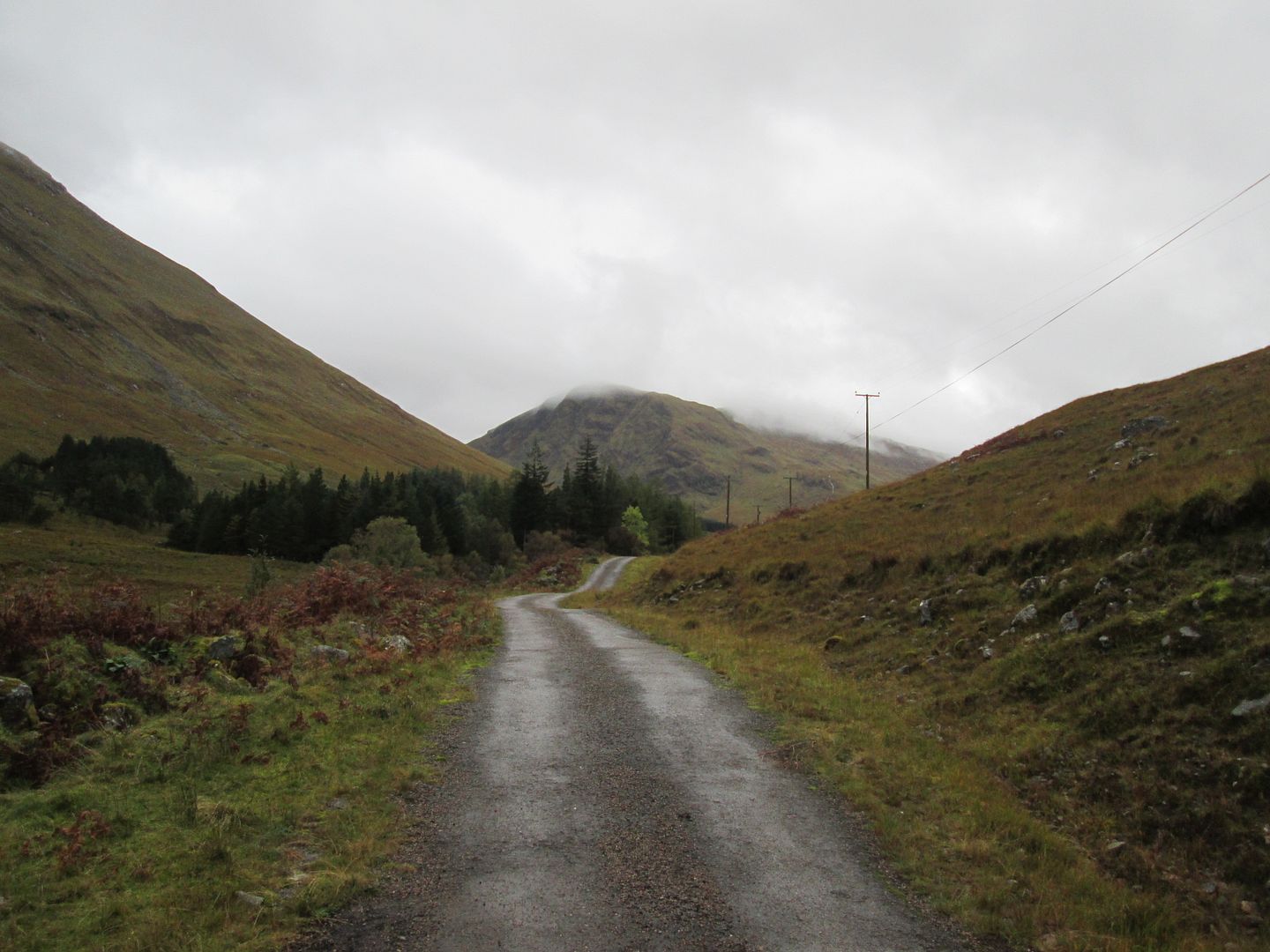 First sighting of our target
If we had thought that all the hair raising business was over for the day, we were proven to be very wrong when we reached the point in the upper glen where we had to make the crossing of the Allt na Muidhe to gain access to the hillside.
Meall Ligiche from the north east and the Allt na Muidhe
I recalled the very tricky crossing of the nearby Allt na Fionn Ghleann back in February when the river was raging and the rocks appeared to be have been greased with a healthy dose of Vaseline! This proved to be uncannily similar! We pushed a little upstream to a point where an island in the river afforded some respite mid-crossing. The down side of this of course is that once on the island, you are pretty much committed to the crossing point. Dougie managed across with some inevitable but fairly minor soaking, but my spot a short distance upstream left me with a final leap where I would be landing in the water and unable to assess exactly what my leading foot would be landing on underwater. It didn't feel right and as ever, if a leap in a river doesn't feel right, don't take it. I retreated back to where Dougie had crossed and he was able to guide me to handholds on rocks that he had used. Both across safely with only superficial damage, we started up the hillside towards Creag Bhan.
Meall Mor and Sgorr nam Fiannaidh down Gleann-leac-na-muidhe
Sgorr a'Choise
Once up above the crags and a few scatterings of trees, the ascent improves dramatically as it tracks up the ridge of Creag Bhan before curving west towards the Corbett summit. The weather could have been better but it certainly wasn't detracting from a fine day in the hills, with a fair few patches of blue in amongst the low clouds, the main one of which seemed to be stubbornly parked directly above Ballachulish, which was resembling rather more the Costa del Sol than the West Highlands!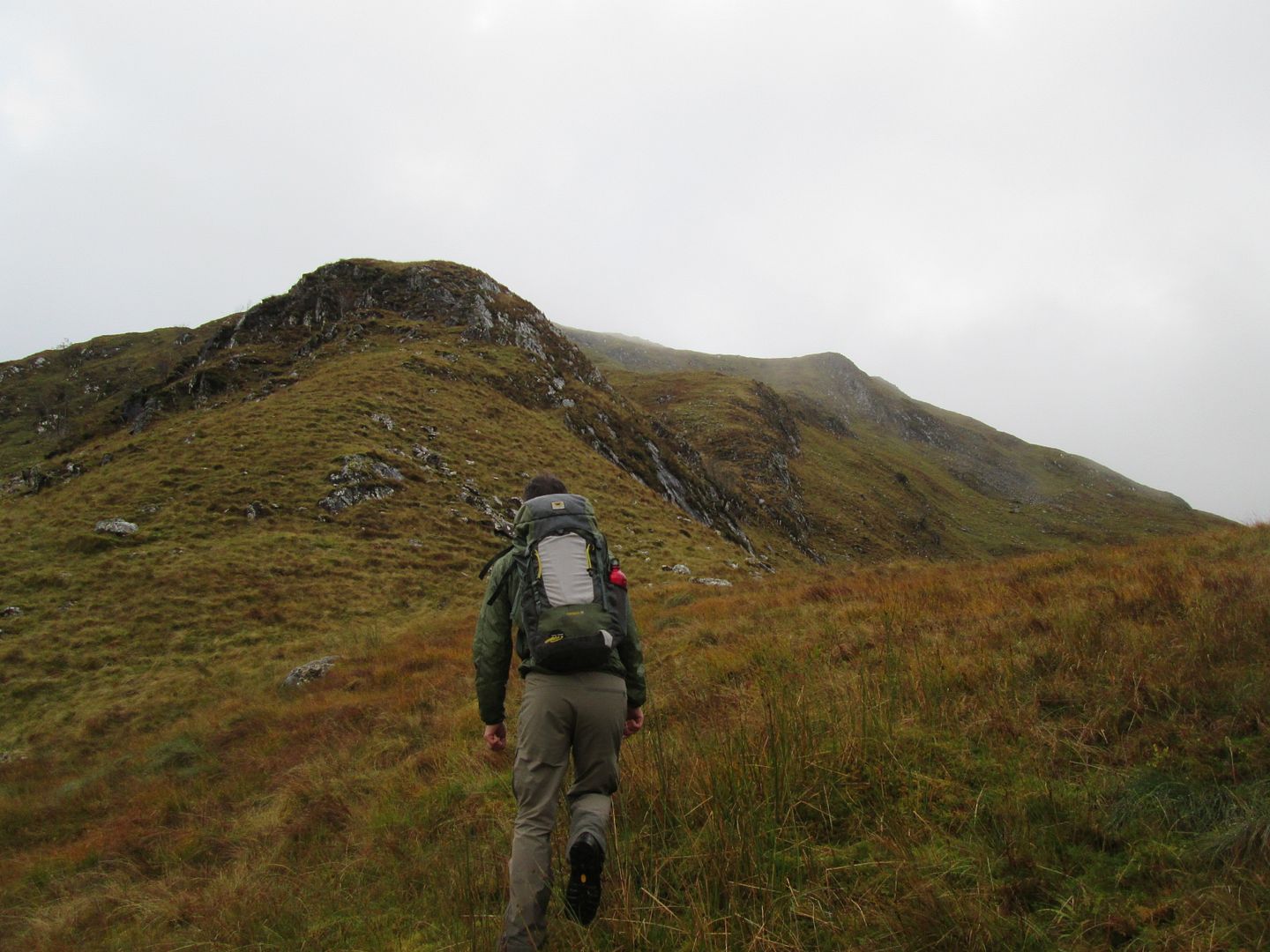 Dougie ascending Creag Bhan and thinking of Italy!
Sgurr a'Choise catching some rays
Don't know what the weather's like in Leith today, but there's certainly Sunshine on Ballachulish
We were both starting to get a bit peckish by this stage but agreed to plough on to the summit and have lunch there. No doubt by then there would be wall to wall blue skies and views to savour!
West to the summit of Meall Lighiche
Schoolhouse Ridge of Sgorr Dhearg beyond Sgurr a'Choise
Sgurr na h-Ulaidh keeping her head down
We may have over played the prospect of summit views!
We didn't outstay our welcome at the summit - not only had the views failed to materialise, there was a keen wind blowing across it and precious little in the way of shelter. We only had to retrace our steps twenty yards or so before we found a spot out of the wind where we stopped for lunch with little standing on ceremony.
Dougie descending back down to the glen
We kept looking for an opportunity to drop off further south than our ascent line, hoping to hit the Allt na Muidhe as far upstream as possible to maximise our choices of crossing spot, but fairly unbroken crags kept funnelling us northwards back towards our line of ascent.
Sgurr a'Choise and the Costa del Sol
Once down on flatter terrain, we did slightly cut back on ourselves to reach a point further upstream. I again went for the upstream crossing with Dougie plumping for a spot further down. I didn't see Dougie go for a swim - I was too busy attempting (and just managing) to get over while performing a more than passable re-enactment of Bambi on Ice as I skittered from one slippery rock to another) - but when I landed on the far bank, there he was a short distance downstream looking a tad bedraggled, and minus a water bottle, no doubt thinking that sh*t like this just wouldn't happen in Italy!
While he partially undressed and emptied the Allt na Muidhe from various items of clothing, I set off downstream in search of a bright red bottle. I didn't really expect to catch it but after a few hundred yards or so, I caught sight of it bobbing along in the current. I ran after it, cutting a bend in the river in an attempt to get ahead of it. When I next saw it, it was stuck behind a rock. I got ahead of it and started to pick my way out into the river. It was on the wrong side of the river, and as I made my way out, it came unstuck and started bobbing towards me. It passed me just out of reach and doing a fair old rate of knots as I lunged and overstretched and followed Dougie into the drink, cracking my shin off a rock in the process.
Oh well, at least we were on the way home. As Dougie said, those sorts of incidents at the start of the day could quite easily lead to the toys going right out of the pram!
As for water bottle, it went on its merry way on a big journey, final destination unknown!
Farewell Lighiche