With Storm Caroline on the way, South was considered a better option than North. Even so, driving conditions were far from pleasant south of Girvan towards our destination at Newton Stewart, with snowy roads and hail being blasted horizontally by strong winds. Took a bit longer than usual to get down. A lull in the weather whilst we put up the tent and hunkered down for the night. I'd identified a number of Marilyns in the area to choose from over the weekend - hoping to finish up on Shalloch on Minnoch on the Sunday, leaving me with just 2 Donalds.
For Friday, i thought we'd head up to Clatteringshaws, where there were 2 hills to be climbed. The first - Fell of Fleet, had no trip reports logged and appeared to require beating a path through forestry - never a happy thing. I was irked to find that I'd left the OS map for the area at home, so relied on the GPS alone. We parked at the start of a cycle route and set off along the track, crisp snow underfoot and clear blue sky above. We branched off left still in the trees and saw that a fair section of the forest had been cleared on the slopes of Gormal Hill - OK we didn't have to fight through trees but still had to negotiate the morass of stumps and holes left behind. hard work, but eventually we made it to the heather clad side of the hill. I had hoped for easier going but we were into an all too familiar land of tussocks requiring much plodding. Snow showers came and went as we inched our way towards the summit. There at last we sought shelter from a chill wind behind some rocks and contemplated our options - either to return the way we'd come or make a dash through the trees and back to track. I opted for the latter - we spent an uncomfortable half hour performing acrobatics through fallen trunks and branches before gaining the track again.
DSC00169
by
Al
, on Flickr
Gormal Hill, with felled forestry
DSC00171
by
Al
, on Flickr
Benniguinnea & Cairnsmore
DSC00172
by
Al
, on Flickr
DSC00174
by
Al
, on Flickr
Tough going
DSC00175
by
Al
, on Flickr
Summit of Fell of Fleet, more snow on the way
DSC00178
by
Al
, on Flickr
Descent into the trees...
DSC00179
by
Al
, on Flickr
DSC00180
by
Al
, on Flickr
DSC00181
by
Al
, on Flickr
DSC00183
by
Al
, on Flickr
Back at the car it was now just gone 3pm and I was keen to get another hill in before we returned. I looked at my GPS route which suggested the nearby Cairnsmore/Black Craig of Dee was 4.5km, of which about half was on track. Should get that done defore nightfall, thought I. Unfortunately i had only drawn the route one way (relatively uncommon for me to do that) so of course it meant that we had 9k at least to do... We drove round to the Visitor centre where we parked and paid £2 then set off up a track to a transmitter mast on Benniguinea, passing a cluster of caravans in a clearing in the trees. By the time we made it to the summit of this hill the sun had already set and the summit of Cairnsmore looked a long way off - furthermore there was a not insignificant drop from Benniguinea to take into account. We decided to go for it, although we had little idea of the torment that would ensue.
DSC00186
by
Al
, on Flickr
DSC00188
by
Al
, on Flickr
DSC00189
by
Al
, on Flickr
Top of Benniguinnea, Cairnsmore ahead
DSC00191
by
Al
, on Flickr
Coming off Benniguinea involved avoiding some steep crags then dropping down to a land of soggy tussocks that drained what remaining energy we had. Hard going indeed - in the failing light. I was concerned about the impact on Allison's back and we conferred about what to do. Neither of us fancied going back summitless and having to repeat the whole exercise another time - this was always going to be a brute whatever the season. So we kept on - i found a deer track which eased the pain for a bit and we stumbled to the trig point as darkness fell. Return was easier than I had feared - it was not too hard to see our outward footprints despite the heather and long grasses. When it became too hard to follow our trail we switched headtorches on. Relief when we hit the track again. The night was clear and the sky pierced by numerous stars - cold hard light with the Milky Way evident. I enjoyed our walk back along the track, a very occasional car creeping by on the raod, but no other signs of humanity, just the starlight. We didn't get back to the tent til almost 7 and were in need of a feed by that time. Then a hot shower and bed.
Summit Cairnsmore
DSC00192
by
Al
, on Flickr
DSC00194
by
Al
, on Flickr
My gaiters - covered in ice balls
DSC00195
by
Al
, on Flickr
DSC00196
by
Al
, on Flickr
Another fine morning greeted us on Saturday. We had the choice of 4 hills near Gatehouse of Fleet to contemplate today - bearing in mind yesterday's rather taxing exertions I opted for the two shortest routes. That meant Bengray and White Top of Culreoch, missing out Pibble Hill which I had been keen to climb because of its name
Anyhow, we drove to Gatehouse of Fleet upon gritted roads then made somewhat slower progress up a small road to just short of Laghead Farm, where there's a layby at the start of a footpath to Loch Whinyeon. All signs of the footpath were hidden under snow, a hard frost meant that the ground was less soggy than I suspect it usually is. Through a herd of cows and onto an ATV track up to Benfadyeon Hill from which we could see Bengray up ahead - some undulating terrain to navigate, but much firmer underfoot than yesterday's efforts. Cross a barbed wire fence for the final short section to the summit trig, which Allison left her mark upon. back more or less the way we'd come.
Benfadyeon
DSC00197
by
Al
, on Flickr
Bengray
DSC00202
by
Al
, on Flickr
DSC00203
by
Al
, on Flickr
DSC00204
by
Al
, on Flickr
DSC00206
by
Al
, on Flickr
DSC00207
by
Al
, on Flickr
Loch Windyeon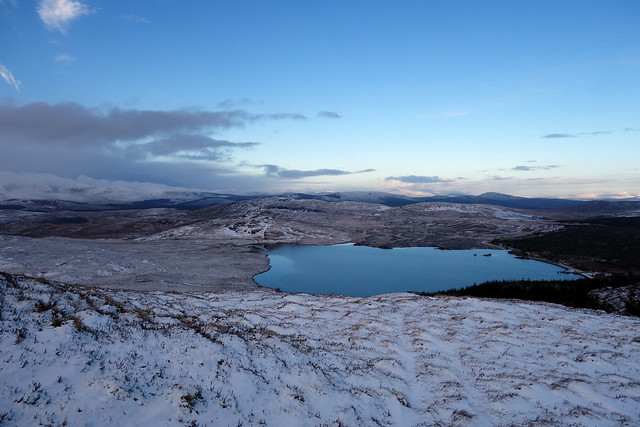 DSC00208
by
Al
, on Flickr
DSC00209
by
Al
, on Flickr
We drove up the road for less than a mile to arrive at the opening of a forest track, at which there's enough room to squeeze 1 car in without causing obstruction. I'd read McMole's trip report of a nightmarish journey through felled forestry and determined to avoid that...The beginning of the walk is along hard forestry track, past the imposing Craig of Grobdale until a stream is reached. We found a gate, hidden amidst bracken and undergrowth and began a slow ascent up the side of the stream, between a fence and a partially decrepit wall. More tussocks and boggy holes to manage but at least no dead trees. Eventually we climbed a short steep section of bank towards the summit - crowned with an uprooted tree and a small cairn. Excellent views back across to the Loch Trool hills which were covered on their tops with a white cloud blanket. We returned by the same route and - although it was quite early - decided that was enough for the day and returned to Newton Stewart. There we discovered that more snow had fallen in our absence and freezing fog enclosed the town. We nipped into the town centre for a couple of things for our tea then sought shelter in the tent.
Craig of Grobdale
DSC00210
by
Al
, on Flickr
Culreoch
DSC00213
by
Al
, on Flickr
DSC00215
by
Al
, on Flickr
DSC00216
by
Al
, on Flickr
Summit
DSC00219
by
Al
, on Flickr
Towards the Glen Trool hills
DSC00221
by
Al
, on Flickr
DSC00222
by
Al
, on Flickr
DSC00224
by
Al
, on Flickr
Scraping the tent - a frequent occupation this weekend
DSC00225
by
Al
, on Flickr
Newton Stewart
DSC00227
by
Al
, on Flickr
Misty Cree
DSC00228
by
Al
, on Flickr
More snowfall overnight and a very icy morning - my plan to tackle Shalloch on Minnoch from the north (Stinchar Bridge) was shelved as I really didn't fancy driving a dozen miles or more along a narrow unclassified road in the snow. I was a bit irked as this would mean no chance of finishing off my Donalds before the end of the year. What else to do then? cairn Pat, over at Portpatrick, had been looked at as a quickie, so we could do that and visit Portpatrick as well. I knew there were several Marilyns south of Girvan, though I had neither OS map or GPS routes. Luckily there's phone signal in Newton Stewart, so I was able to check out the hills on WH - noting that the indefatigable Rob Phillips had posted routes for Knockdolian and Grey Hill. That seemed a plan.
Getting started was a little tricky - couldn't get out of the tent as the zip had frozen solid and I had to breathe on it to free it
Folding the tent away involved scraping hard ice from it (the residue of which fell all over my hall when I got home and hung it up to dry). We were off west, snow being less as we headed towards the coast. Reached the concrete track up to Cairn Pat - one of the smallest Marilyns at only 182m. There was enough room for one car at the start of the track - we had fun trying to walk up the concrete which was completely frozen over with sheet ice and slippy as a skating rink. Where are the microspikes when you need them? The summit is home to a telecoms mast as well as the trig point and boasted some great views of Ailsa Craig and the Antrim Coast - which was just as snowy as Scotland.
DSC00229
by
Al
, on Flickr
DSC00230
by
Al
, on Flickr
DSC00231
by
Al
, on Flickr
DSC00232
by
Al
, on Flickr
DSC00236
by
Al
, on Flickr
DSC00237
by
Al
, on Flickr
DSC00238
by
Al
, on Flickr
We returned to the car and drove the short distance to Portpatrick, a typical little summer tourist honeypot, with pretty harbour. It was a gorgeous day and we wandered up to the ruins of Dunskey Castle, then around the harbour. There are little niches in the harbour wall, each of which was occupied by a pigeon - there was a strange subterranean cooing sound as we walked along the harbour wall. Lunched on a bench overlooking the water before heading up the road.
Portpatrick
DSC00239
by
Al
, on Flickr
Dunskey Castle
DSC00244
by
Al
, on Flickr
DSC00246
by
Al
, on Flickr
DSC00250
by
Al
, on Flickr
DSC00252
by
Al
, on Flickr
DSC00254
by
Al
, on Flickr
I'd decided to do Knockdolian Hill first - we took a B road just after crossing the River Stinchar at Ballantrae - the hill being clearly visible ahead. We drove past Finnart Cottage (you could park there and possibly access the hill from there too?) and found a suitable parking place where a road track cuts to the east. Walked back along the road for a couple of hundred metres to a gate that opened onto the hillside; an ATV track wends through sheep and over to the hill itself. There's a clear path (whether sheep or human was uncertain under the snow) that leads to the summit - we saw another walker descending as we arrived. Even better views of Ailsa Craig and also the whole of Arran, which was all under snow. Allison was in her element, musing ruefully that she'd never been to Arran in the snow. We retraced our steps and returned to the car. Only 2pm - time for another hill!
Knockdolian
DSC00257
by
Al
, on Flickr
DSC00259
by
Al
, on Flickr
DSC00260
by
Al
, on Flickr
Yes, it's a bloody Marilyn!
DSC00261
by
Al
, on Flickr
Arran
DSC00262
by
Al
, on Flickr
DSC00264
by
Al
, on Flickr
The Glen Trool hills
DSC00265
by
Al
, on Flickr
DSC00266
by
Al
, on Flickr
We looked at Grey Hill, which was kinda on our way home. Rob's route was from the east, on a small road, and looked very wet, with numerous streams shown on the map. We decided to climb it from the west - up Pinbain Hill and over the back of the rolling ridge to what I'm assuming is the volcanic plug that marks the summit. We found a layby on the A77 just under Pinbain Hill and set off up an old farmtrack, then up steep grassy hillside, crossing the Ayrshire Coastal Path and continuing up to Pinbain Hill itself. It remained a lovely afternoon, the sun turning the grass golden as it lowered iself in the sky. There are some boggy areas where cattle have been feeding, but the frost meant that we were able to cross largely unscathed. One barbed fence to cross then onto Grey Hill proper -we could see a figure up at the trig point. Another chap enjoying the late afternoon views, we exchanged pleasantries as our paths crossed. On our way back the sun was sinking towards the sea, bathing all in glorious amber light. Temperatures fell as the sun sank - it got as low as -4.5 driving home and i was quite thankful not to be tenting it tonight.
Grey Hill
DSC00267
by
Al
, on Flickr
Up here
DSC00268
by
Al
, on Flickr
...steeply
DSC00269
by
Al
, on Flickr
Arran again
DSC00270
by
Al
, on Flickr
DSC00274
by
Al
, on Flickr
DSC00277
by
Al
, on Flickr
DSC00278
by
Al
, on Flickr
Knockdolian
DSC00279
by
Al
, on Flickr
Girvan
DSC00280
by
Al
, on Flickr
DSC00283
by
Al
, on Flickr
DSC00287
by
Al
, on Flickr
DSC00293
by
Al
, on Flickr
DSC00294
by
Al
, on Flickr