I had been a glorious few days and typically I had been stuck indoors. Sunday brought an opportunity to get out and Colin was free and keen to go and play in the snow
My criteria for this walk was
1. Relatively close to home
2. High enough to have lots of snow to play in
3. Something awesome.
We came up with Cruach Ardrain and Beinn Tulaichean – hills that we had both been up before but it was to be a different route for me
Fortunately Colin had *cough* volunteered *cough* to drive and despite the temperature being arctic (was well below freezing in Glasgow
) the roads had been well gritted. However, turning down the minor road to Inverlochlarig it became a little more interesting….
A quick photo down the glen
There were some nervous moments as we drove along a winding single-track road covered in ice….but thanks to some ballsy driving we made it to the car park at Inverlochlarig.
The temperature gauge on the car read -8.5
Jura and I leading the way
It was freezing…literally….so we quickly booted up before heading off along the road for a short distance. It was a stunning view back down Loch Doine & Loch Voil.
As we passed the farm we met a pal….
And another one….
Crossing over the Inverlochlarig Burn we could see that it was frozen
Looking upwards towards our target for later
We followed the path alongside the river for a few metres before meeting the track. Looking ahead we could see Cruach Ardrain
Looking back
After walking along the track for a few metres we struck off upwards through deep snow, heading directly for Beinn Tulaichean. There was no path and it was tough going across the terrain but we were warming up quickly
The sun was beginning to hit the tops of Stob Binnein and it became a bit of a running joke that it bore a startling resemblance to a certain female body part..
Looking back
The sun rising over the top of Stob Breac
Colin and Jura catching up
Now into the sunlight we had to stop to remove a few layers
There were still a few clouds lingering over Loch Voil in the glen
There were some impressive looking icicles
Looking down the glen towards Ben Vorlich
More icicles!
The twins of Ben More & Stob Binnein
Loch Voil
We struggled our way upwards and it finally plateaued out giving us a frozen lochan to slide across
Beinn a'Chroin and towards the Arrochar Alps in the distance
Short person problems
Up and over another bump and we could see the final ascent to Beinn Tulaichean; the snow making the ridge look incredibly epic with the couple ahead of us near the summit.
Stob a' Choin
We climbed the final few metres to the summit of Beinn Tulaichean and the views were incredible
We were no longer sheltered from the wind so we had to hurriedly add some layers
Silly face!
Cruach Ardrain
A tit in front of two tits
Ben More & Stob Binnein
Zoomed towards Lui & pals
Lui
Ben Lomond
Ben Lui
We made our way down towards the bealach. The path was pretty icy and I managed to go flying with my usual dramatic flair….
Looking back to Beinn Tulaichean from the bealach
Professional at work
From here we set off up Cruach Ardrain. There was a clear path here but it was well hidden under the snow and often it was easier walking to avoid it.
Jura wondering what's taking us so long
It was tough going in the deep snow
Cauliflour snow!
As we approached the summit of Cruach Ardrain we could see all the way back down the ridge towards Beinn Tulaichean
Cauliflour snow
Colin posing in front of Stuc a' Chroin
From here it was a short descent and reascent to the true summit where the views were pretty decent.
I'd been up both of these hills before but it had been claggy on the tops and without a summit photo I wasn't 100% sure if I'd been to the actual summit. No doubt about it today though
Such amazing views called for a summit photo in both directions
Towards Ben Lui
Looking towards Tyndrum
Beinn Tulaichean & Stob a' Choin
It was very cold and we decided that the other top was actually a better viewpoint so made our way back towards it. It was also not a day for standing still
We met a couple of the most enthusiastic guys ever who we stopped to chat to – they turned out to be Mountain Rescue out enjoying the good weather and offered to get a photo of us both
Cruach Ardrain summit with Ben More & Stob Binnein behind
Towards Lui
Ben Vorlich & Stuc a' Chroin
A wee video
It was really chilly and we had talked about waiting up for sunset but on reflection it was a terrible idea partly because it was so cold but also because coming down in the dark could be tricky… So we headed back down towards the bealach before picking up our route down.
Looking back up towards Cruach Ardrain
Towards Ben Lomond
The route down….
Cruach Ardrain
Pair of tits glinting in the sunshine
We wound around crags as we made our way downwards. Sets of footprints coming up were helpful at some points as we found ourselves at the tops of crags
Icicles with Cruach Ardrain behind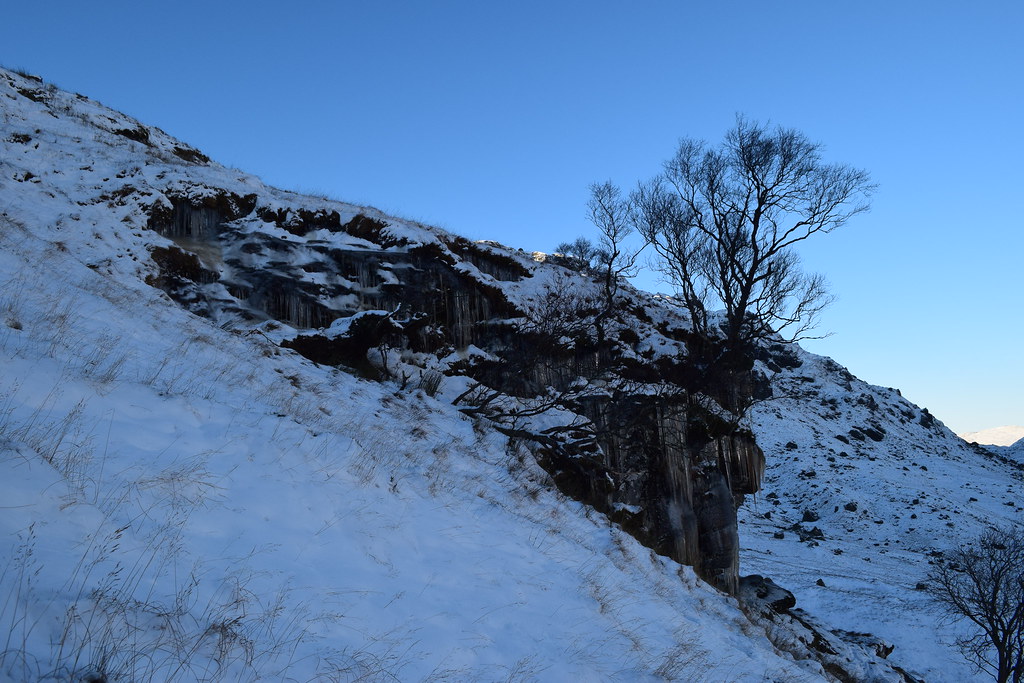 How big?!
It was tough going and although in many ways the snow made it easier, it also seemed to be a particularly sticky form of snow than stuck to my boots making it feel like I was wearing bricks on my feet
We finally reached the track which was a relief after a tricky descent
From here it was an easy walk out….although the track was very icy and there were plenty of near misses from our tired legs
Nearly back we could see the evening light hitting Beinn Stacath
We had an easy walk back along to the car where it was a small matter of negotiating the icy road back to the A84. What a day
Loch Voil