Map: OS 1:50,000 nos. 79 & 80.
Attendees: Me, Big Dog, Small Dog.
Time taken: 4hr 30 mins.
charnel house - noun, historical:
• a building or vault in which corpses or bones are piled; or more generally
• a place associated with violent death.
I recently posted a trip report for three smaller hills in the Eskdale area: Ellson Fell, Pikethaw Hill and Wisp Hill. It was a day I'd enjoyed very much. It was the second time I'd travelled south for this trio. The first occasion had been weeks earlier. As it was, my gamble on a 'low confidence' MWIS forecast hadn't paid off then. The hills were cloaked in mist and rain thumped on the roof of the car. There was little sign of things improving.
It had taken the best part of 2 hours to drive down from Edinburgh. I was loth to go straight home. So I did what any dedicated lover of the outdoors would do. I sorted my rucksack, put my waterproofs on, tightened my boot laces and… fell asleep in the car. I woke 30 minutes later. If anything, it was worse. I don't mind the rain or the cloud once I'm underway on a walk. But these days I'm past heading up the hills when I'm unlikely to see anything. And receive a drenching for the trouble. A bedraggled sheep ambled alongside the car. It looked at me as if it agreed.
I decided to drive east into Liddesdale. I'd always wanted to have a look round Hermitage Castle. It was only 6 or 7 miles away. This was an opportunity. I suppose I also wondered if the weather would any better there. I still had a couple of hills to do in the area.
30 minutes later and I was parking up at the Castle. It was still raining, still grey overhead. As I was letting the dogs out of the car, another vehicle pulled up. The driver got out and introduced himself as Historic Scotland officialdom. He was a fussy little man I found it impossible to warm to. He told me several times the Castle was closed and I shouldn't attempt to enter it. I hadn't intended to. I tried to say as much but he was in full flow - seasonal opening times, Health and Safety, litter, etc. I felt my eyes glazing over.
Once he'd left, I did what I came to do. I wandered round the perimeter. I'm no history scholar. Far from it. I do enjoy visiting old ruins though. I've been to many castles across Scotland and Ireland. Often, they're quaint affairs, almost dainty. Sometimes they're linked to romance or tales of derring-do. Sometimes there's a benevolent air about them. Usually they're objects of dry curiosity.
Hermitage Castle isn't any of these things. The place exudes menace. It's a muscular, brutal building, built to stick a middle finger up to any intruder. It's built for war and killing. Little else.
Hermitage Castle, side view
Untitled
by
NDM
, on Flickr
Hermitage Castle, frontal view. I later read that some people have likened it to Munch's painting 'The Scream'
Untitled
by
NDM
, on Flickr
When I got back to the car I found that the hairs on the back of my neck were standing up. Odd thing - I'd been too absorbed to notice before. I'd almost forgotten about my encounter with the Historic Scotland police.
I'd best stop there. This is meant to be a walk report right?
Point I'm trying to make is that if you find yourself in the vicinity, you might give some thought to visiting Hermitage. See how you find it for yourself. There's plenty of information about it online.
I was mulling the visit over when I noticed that the rain had stopped and the cloud was shifting off nearby Arnton Fell. Blackwood Hill marks the high point of its northern ridge. It was just about on the same OS map I'd brought for Ellson Fell and co. Scratching about in the car, I then found some notes I'd made on the hill from a previous trip.
Blackwood Hill
Distance: 7.5k. Ascent: 272m. Time: 2hr.
I made my way southeast to the start of a track into Riccarton Forest on the Steele Road (GR 532938). I parked the car on grass at the widest part of the bellmouth. A fingerpost indicated walking routes to Hawick and Riccarton Junction. (The latter was once a thriving community but disappeared decades ago following the demise of the local railway.)
I set off northwards along the track, already noting that much of the forestry shown on my OS map had disappeared. After a short distance, I came to a junction. Most accounts I'd read of this hill involved an initial ascent to Arnton Fell's southerly end. This would have meant turning left here, or going straight on over rough ground. Either way, the aim would have been to reach the open hillside alongside the tree line shown in top left of the following picture.
Start/finish for Blackwood Hill
Untitled
by
NDM
, on Flickr
Instead I turned right. This took me on to the line of the old railway which ran –ramrod straight- to the northeast. Almost 1k later, I turned left (at GR 539950) on to another forest track which rose gently through an area of clearfell to arrive at the edge of the remaining forestry. There was a good view of Larriston Fell to the southeast.
Larriston Fell from track ascending to Blackwood Hill
Untitled
by
NDM
, on Flickr
I turned right at a T-junction here and followed the track northeast for a short distance. At GR 535956, just as the track started to descend, I found what I was looking for. A black and white marker post. It's similar to those used to warn of soft roadside verges and was visible in the edge of the tree line to to the left.
Marker post
Untitled
by
NDM
, on Flickr
5m or so directly behind this is a second, similar post. It marks a wired enclosure in the forest. This contains a padlocked metal grill atop a circular base. It's known as Joan's Spring.
Joan's Spring
Untitled
by
NDM
, on Flickr
I assume this place has a history but -both before and since- I've been unable to locate any information about it. It wasn't shown on my Landranger map.
Two or three tree lanes to the right (northeast) of this I located the beginnings of a firebreak which ran directly uphill. Indistinct at the beginning, it soon turned into a fine path. This was my favorite part of the day. Some firebreak walks can be dank, dismal affairs. This was better. Although steep at times, it felt roomy and light. The forest had a deep silence that was almost meditative. The only sound was tread of my boots on pine needles. Several branches were overlain with a moss that looked unnatural in growth. Almost like bits of cloth that had been draped there by human hand.
Blackwood Hill: path through the trees
Untitled
by
NDM
, on Flickr
Moss growth on branches
Untitled
by
NDM
, on Flickr
After ½km or so, I emerged from the firebreak at a fence line 300m south of the summit. It was then an easy walk to a small cairn at the top. Forestry largely obscured views to the north and east. Those to the south and west were still hampered by low cloud.
Emerging from the firebreak and route ahead to summit
Untitled
by
NDM
, on Flickr
Summit area, Blackwood Hill
Untitled
by
NDM
, on Flickr
Rather than return the same way, I followed the fence line back past the firebreak to a larger cairn and gate near Arnton Fell's southern end. The going was soggy in places but easy enough on the whole. The 405m trig point lay a short distance beyond the gate.
I then dropped southeast to pick up the tree line mentioned at the beginning of this report. When I reached the bottom corner of the forestry I crossed rough ground to join the old railway line near the start of my outward route.
Stone cairn and gate near Arnton Fell's south end
Untitled
by
NDM
, on Flickr
Trig point on Arnton Fell looking east to Larriston Fell
Untitled
by
NDM
, on Flickr
Larriston Fell
Distance: 13k. Ascent: 378m. Time: 2hr 30m.
Despite the events of the morning, I still found myself ahead of time from where I'd expected to be. I gave some thought to Larriston Fell. It looked to be a solid lump of a hill. I'd seen at least two tracks on its western slopes that looked helpful. Unfortunately, the hill sat a few blue-lined blocks off the only map I'd brought so I couldn't correlate the tracks to anything.
I cursed myself for the umpteenth time for being GPS illiterate. (Am I the only one left who is ?
) Still, there was always the internet. Well, no. Not this time. The Vodafone network signal proved too weak to check.
Back to the map. Two names jumped out at me – Dinlabyre and Mountain View. I was sure I'd read a previous trip report on Larriston that started and finished around them. The first in particular was a distinctive house name and I doubted there'd be more than one in the area. Moreover, the map did show tracks leading off in the right direction.
(Finishing this report in 2018, my memory was broadly correct. It was GBrooks's 2011 report I'd seen.)
Nothing ventured, nothing gained. 20 minutes later and I had parked the car on a grass verge in front of a gate leading to another forest track. This time on the east side of the B6357, just south of its junction with Steele Road (GR 529922). The farmhouse at Dinlabyre was just visible through a copse.
Start/finish for Larriston Fell
Untitled
by
NDM
, on Flickr
The track ran east for approximately ½k before arriving at Mountain View. An impressive house, it looked empty and undergoing refurbishment. I could see a woodcutter at work in the distance.
There isn't really a great deal to say about the next 4k or so. The track rose on a steady gradient, plotting a course southeast and then northeast. Much of the forestry shown on my map had been scythed to ground level. There were five or six smaller tracks leading off the main one but I ignored these. At one point, the dogs discovered a common frog making a poor attempt of hiding behind a stone. There were decent views west, as far as Eskdale where I'd started the day.
Looking back towards Mountain View
Untitled
by
NDM
, on Flickr
Frog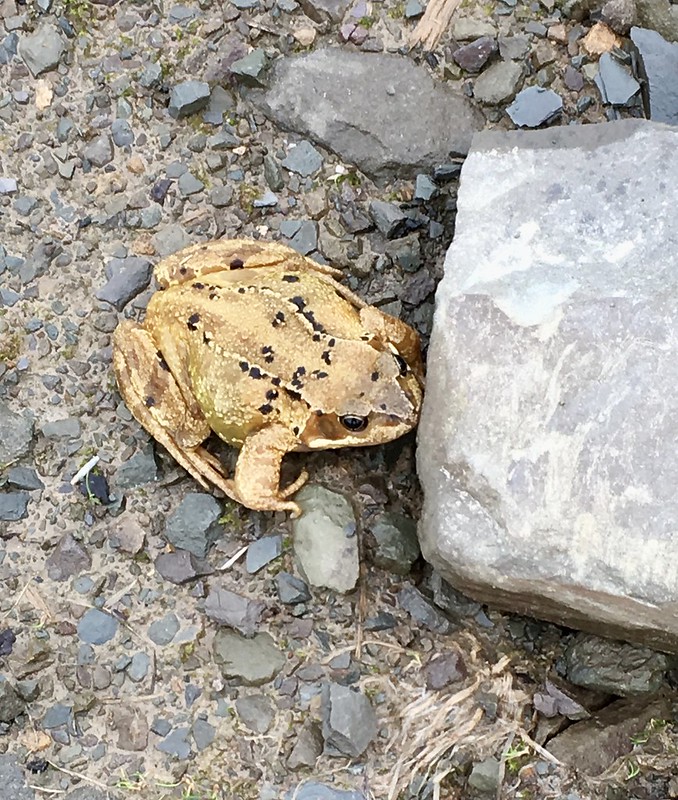 Untitled
by
NDM
, on Flickr
Looking west to Blackwood Hill (foreground), Roan Fell and Ellson Fell (background)
Untitled
by
NDM
, on Flickr
Higher up, the forestry closed in again and the track arrived at a well-tended radio mast enclosed by a wire fence. Just before this, a number of huge concrete slabs form what I assume was a car park. This construction and the mast didn't seem to fit together. The concrete was of a type I'd normally associate with old military buildings; the mast more modern. (I haven't been able to source any historic information about the site online so can't verify this one way or the other.)
Concrete slabbed area with radio mast in background
Untitled
by
NDM
, on Flickr
Hillside leading to summit
Untitled
by
NDM
, on Flickr
I passed to the right-hand side of the radio mast and on to the open hillside. The high point of Larriston Fell was visible about 1k to the northeast. I began a slow plod across some very rough ground. It wasn't pleasant going. Progress was marginally improved when I moved further west to higher ground. I passed three evenly spaced cairns before arriving at the trig point.
The views were reasonable but Larriston's elongated top robbed them of any depth. I did notice that a distant hill to the northeast had radio masts on it. One of these looked identical to the Lowther Hill 'golf ball'. For a moment, I wondered if somebody had pinched it
With hindsight, I now believe this hill was Deadwater Fell to the north of Kielder.
One of the cairns on route to trig
Untitled
by
NDM
, on Flickr
Looking northeast from Larriston Fell summit
Untitled
by
NDM
, on Flickr
View southwest back towards radio mast
Untitled
by
NDM
, on Flickr
I had a signal on my 'phone by this time. I pulled up GBrooks's report on the site again and confirmed that I'd pretty much followed in his/her footsteps. Rather than drop south towards Bloody Bush however, I elected to return directly by my route of ascent. I picked up my pace on the track and got back to the car in just over an hour. My outward time had been 30m longer.
It's probably worth confirming a route detail here. Once home, I looked out the appropriate OS Landranger map for Larriston Fell (no. 80). I retraced my steps via pencil point. The map clearly shows a path/track leading from the radio mast to the trig point; and thence east towards the Kielder Forest. As the author of the above report states, that path/track no longer exists. It crossed my mind that perhaps the three cairns marked the northernmost part of the old track to the trig. I couldn't attribute any other reason or purpose to them being there.
Conclusions? If you've persevered with the report thus far, you've probably surmised I preferred Blackwood Hill to Larriston Fell. I did. My choice of ascent for Blackwood was one of those few occasions when the presence of new forestry enhanced a walk, not detracted from it. Larriston? Straightforward and –save the last stretch- relatively easy. A decent track, though the linear nature of my walk made it feel tiresome at the end. Had circumstances been different, I might have looked at alternatives more closely. Hermitage Castle proved an unintended but worthwhile detour.
On a day when I'd had some thoughts about returning home the moment I arrived, I could have few complaints.