I had decided that I was going hillwalking on Saturday as the forecast looked good and I had shaken off an injury gained at five a sides a few weeks earlier. Everyone seemed to be busy so I went myself as I didn't want to waste the good weather by lying in my bed. I left the house at 7:15am and arrived at the car park at Inveruglas bang on 8am despite being stuck behind some very slow drivers on the A82.
I noticed someone had already set off before me and after a couple of minutes, I was ready to go and started walking past the power station towards the railway. As I passed under the bridge the sun was starting to rise and it looked good as it lit up A'Chrois.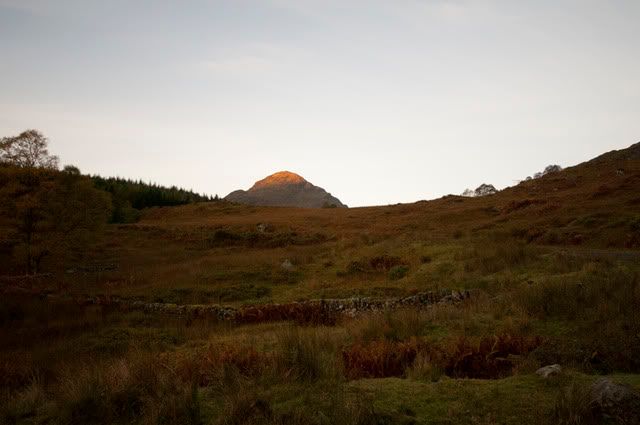 As I marched past the power station I could hear the odd roar or two coming from the forest and I put this down to the stags although my imagination started to run away with me and I had thoughts of orcs and goblins coming running out of the trees. I quickly brought myself back from Middle Earth as the Loch Sloy dam came into a view and as directed on this site, I turned left and over the bridge where I followed the path for about 400 yards. I came to a small bridge over an even smaller burn and knew that this was where I had to leave the solid path and start to trudge through the bog.
As I tried to dodge the worst of it I noticed the person in front of me who had started walking about ten minutes before I had and he was through the bog and on to a more solid path. The path started to rise steeply and as it did the ground became firmer until I found myself on top of the shoulder where the real climb begins. At this point I caught up with the chap in front of me and after a brief chat and the miracle of turning trousers into shorts, we headed up the path together.
People on here had advised me how steep it was and they were very correct although the saving grace was the well trodden path which made it easy to navigate our way up the mountain. We quickly gained a lot of height and stopped for a minute or two to admire the view of the dam and Ben Vorlich. We were passed here by a man and his dog from Dunblane who informed us that he was against the clock to be home so he wasn't wasting any time and I could only dream of climbing as fast as he did.
I had kept telling myself that there were a few false summits and if I hadn't have known this prior to climbing this mountain, I might have found the discovery of another climb a bit dispiriting. I reached the top in about 2 hrs and 15 minutes and the view at the top was worth the hard climb to get there. The clouds were well above us on what was a nice flat summit and we could see as far north as Ben Nevis, out towards Jura and south past Arran. When friends of mine ask me why I do it I tell them that the views on days like Saturday are worth it.
Our descent took about 1 hour and 50 minutes and we must have passed at least 40 people who were heading for the top, some of whom had dressed for a cold winters day and were struggling under the weight. It may be one of the smallest Munro's but what it lacks in height is certainly made up for by the steepness of the climb.