I should have written this for International Women's Day but I confess I didn't get my act together on time. I was probably multi-tasking and that was one task more than I could handle!
I joined 4 other women from the Ladies Scottish Climbing Club for a wee jaunt up Sron na Laraig. I was the least experienced climber but not the oldest. Thea was and she was also the most experienced and competent. So she embodied the perfect challenge to the double jeopardy of gender and age (in case you wonder I'm a sociologist!
)
We walked at a good pace up the Lairig Eilde, crossed the burn and the boundary between the shadow cast by the Buchaille Etive Beag and the sunny slopes at the head of the Coire. The conditions couldn't have been more perfect. Sron na Laraig, a ridge which buttresses the south ridge of Stob Coire Sgreamhach is a Grade II winter climb so not particularly difficult but made interesting by rocks, narrow gullies, snow slopes and a couple of exposed sections. A blue day made the anticipation all the more exhilarating.
IMG_2308
by
Emmanuelle Tulle
, on Flickr
Stob Coire Sgreamhach
by
Emmanuelle Tulle
, on Flickr
After a last pee before donning harnesses and crampons, plus all the hardware that goes with climbing, we set off split in two ropes. I joined Thea and Jo (with me in the middle) on one rope and Kate and Lizzie formed the second team. We shadowed each other all the way up.
I felt quite intimidated, having never walked or climbed with a women-only team, and forgot how to tie a figure of 8. With my sole karabinier I also felt really under-equipped and a bit of a fraud. It took me a couple of pitches before I got my climbing memory up to speed and into a wee groove. Thea kept us under vice-like control and I couldn't have felt safer. But she sometimes spoke a language I didn't grasp, and I had to ask for translation! I now know how to 'flick' a rope...
The climb starts with a snow slope, then the pitches vary between rock and snow. The two exposed sections gave us cracking views down the corrie but in the moments waiting for Thea to lead and establish a belay, we had plenty time to admire the views. I climbed BEB and SCS first time round in awful weather and zero views. Today's conditions compensated for the shivering in the long waiting times.
North ridge of SGS
by
Emmanuelle Tulle
, on Flickr
Laraig Eilde
by
Emmanuelle Tulle
, on Flickr
The backs of the two Buchailles, of Creise and others fanned out from Glen Etive
by
Emmanuelle Tulle
, on Flickr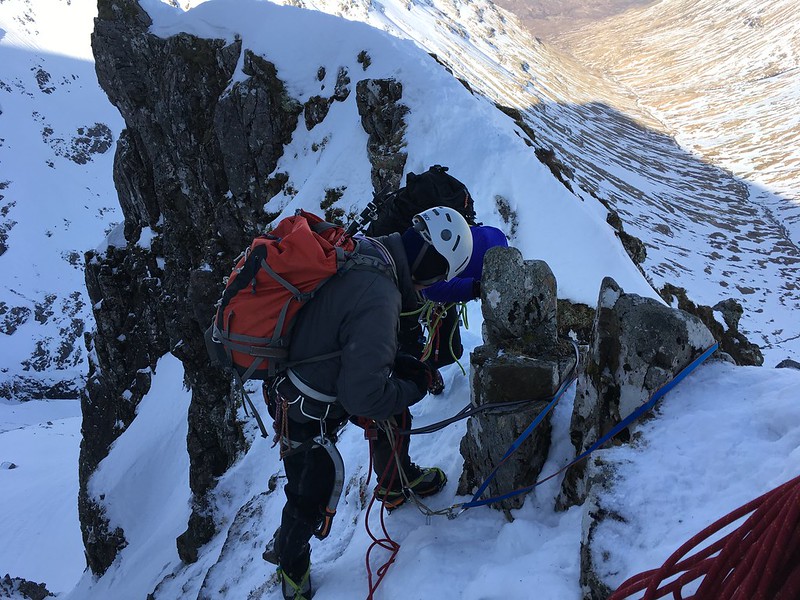 over the crux
by
Emmanuelle Tulle
, on Flickr
The climb finishes with a long snow slope up which we scuttled getting purchase with axes and crampons and we emerged in the late afternoon sunshine onto the ridge leading up to the Munro summit. There's still a good km of walking on hard icing sugar slopes but this is repaid by more superlative views over to the Ben in the north and Ben Starav and Ben Cruachan further west and south. Superb.
Bein Fhada and Lairig Eilde
by
Emmanuelle Tulle
, on Flickr
Loch Etive
by
Emmanuelle Tulle
, on Flickr
SCS summit cairn
by
Emmanuelle Tulle
, on Flickr
Ben
by
Emmanuelle Tulle
, on Flickr
Gear Aonagh
by
Emmanuelle Tulle
, on Flickr
Thea and Lizzie
by
Emmanuelle Tulle
, on Flickr
We gathered for a team chat about the return. We went with Plan A and headed down the ridge to Coire Gabhail (Lost Glen). From there we stepped over the cornice down the vertical slope, using the footsteps kicked in by others before us. There too I had to be reminded how to use my axes properly and I made slow progress down to the gorge at the head of the Coire. I picked up speed later until we got to the floor of the glen and I swapped my crampons for spikes.
Kate and Jo sped on ahead, Lizzie and Thea soon joined me and Thea pressed on be-cramponnned. We found her under a large boulder just at the start of the boulder field. Then with our headtorches lighting the way, we fumbled over the boulders, staying close (mistakenly) to the river bed concealed from view, until we eventually found the path and I could remove my spikes.
Kate had run on ahead and persuaded a guy to drive her back to the car park at the big cairn. She met up with us just as we'd come out of the gorge, her car waiting invitingly for us to drop our gear and rest our weary bums. We had been on the move for 10 hours.
We got back to Blackrock properly knackered but this day will stay in my memory as one of my best days out in the hills: winter conditions, superb weather, remote (for Glencoe), the Munro only a subsidiary target to cap a beautiful climb, guided by brilliant mountaineers.