Before going down to Ambleside, I had looked at Robin's WH map of Wainwrights and Hewitts to plan some routes that neither of us had done. Not difficult in my case, only ever having done one previous Lakeland route, but Robin has been a regular visitor there over the years and his map featured a lot more blue than mine. We had identified four main routes, one of which was for him in the relatively unexplored north western part of Wainwright territory.
The route was a horseshoe from near Crummock Water around the back of Grassmoor, with a fair bit of uncertainty about whether we would have the mental or physical wherewithal to actually include Grassmoor itself in the round.
We took the one car and drove up to Keswick and then over the Whinlatter Pass to the start point at Lanthwaite Green Farm near the northern end of Crummock Water.
The car park was already full by the time we arrived and had to squeeze in tight up against the drystane dyke so as not to impede other cars. We could see a regular stream of walkers heading up the steep path over Brim Fell towards Whiteside and by the time we were a few hundred metres up the path, several more cars had squeezed in along the wall as well.
Brim Fell and Whiteside from the Lanthwaite Green Farm car park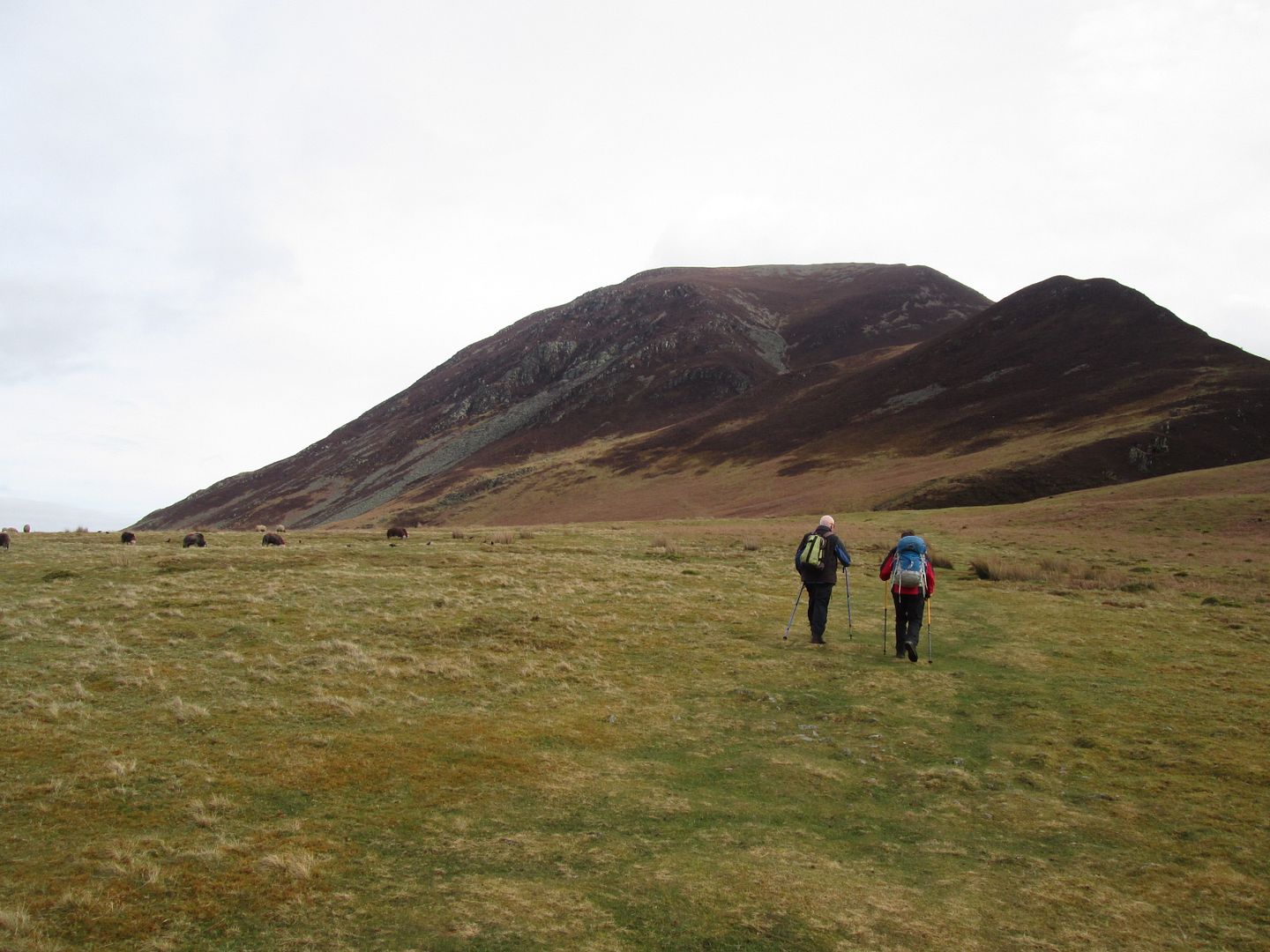 Dave and Robin striding out
It was a hard, relentless climb up onto Whiteside but the effort was increasingly being rewarded by views back down over Crummock Water and across the winding ridge linking to Hopegill Head and beyond.
Crummock Water and Mellbreak from Brim Fell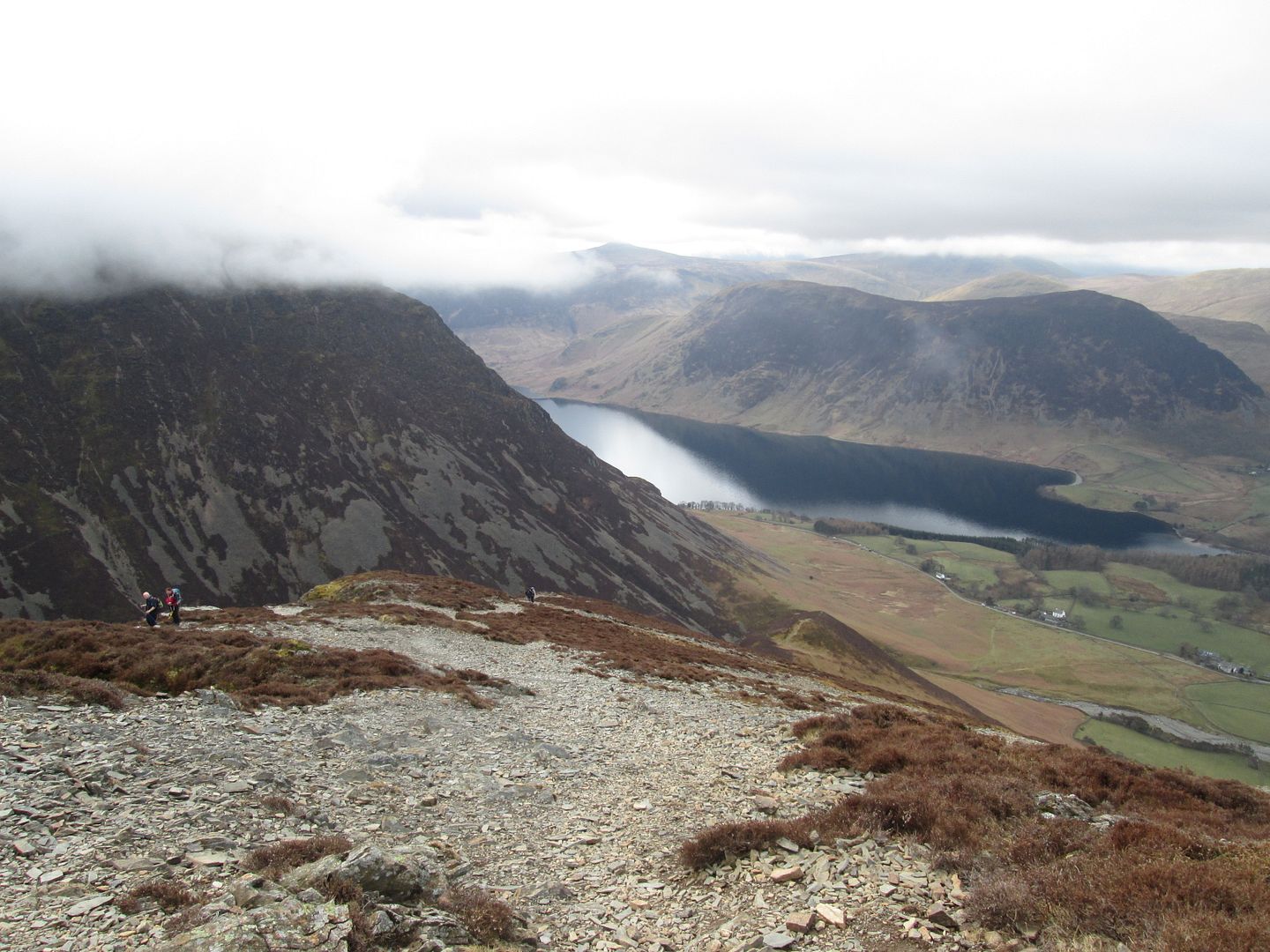 Flat cap on Grassmoor
Judging by the look on his face, Dave may just have followed through on a beery one!
From the summit of Whiteside looking towards Coledale Hause with Hopegill Head and Eel Crag to either side
Robin and Dave on Whiteside
Zooming in on figures on the ridge to Hopegill
The northern face of Grassmoor
Cloud barrelling in over Coledale Hause
The ridge walk from Whiteside to Hopegill is a delight, with the cloud inversion banked up against the ridge to its northern side giving a real sense of airiness and character to the walk.
The start of the walk over to Hopegill Head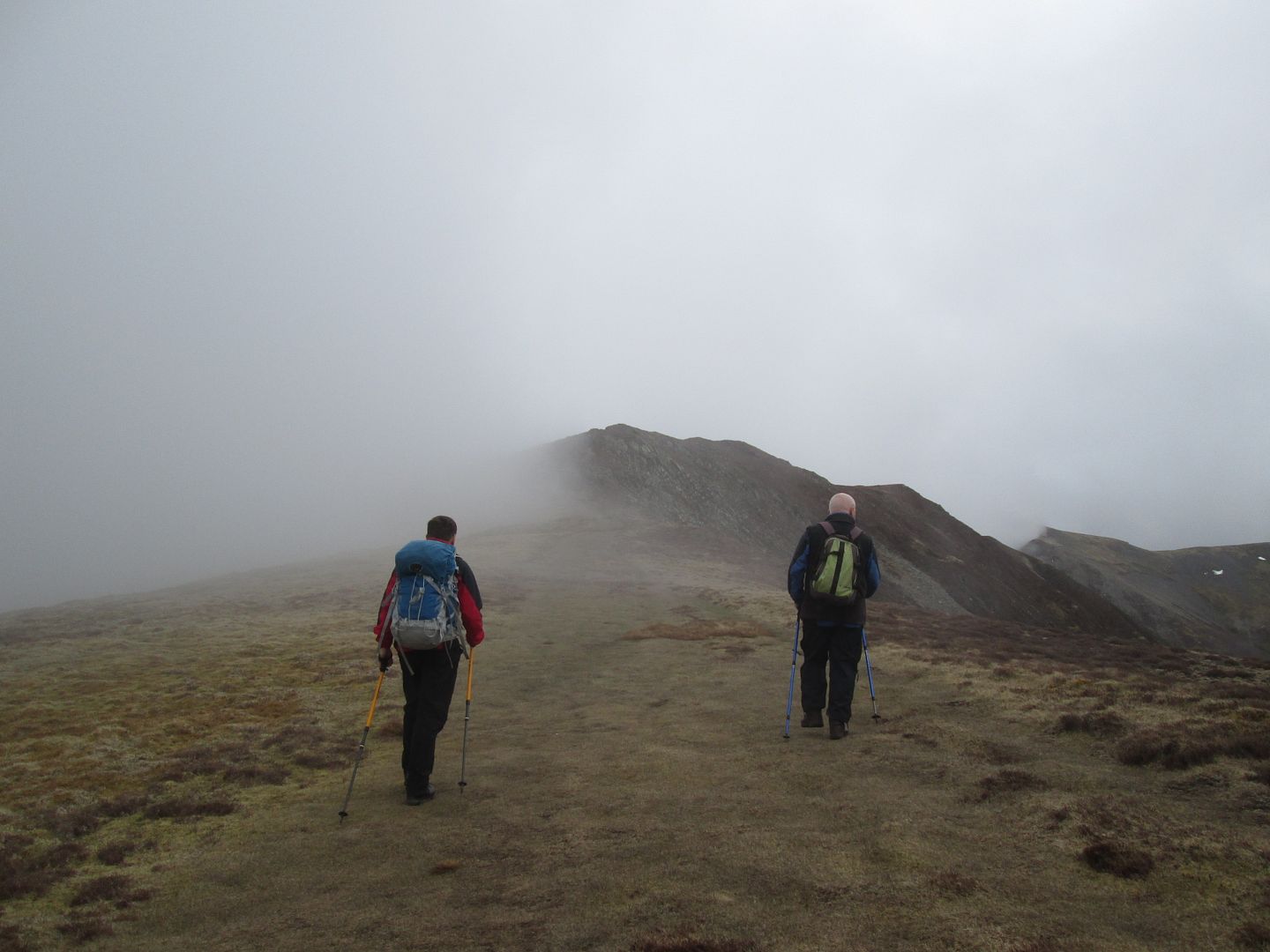 Figures heading into the mist
Back to Whiteside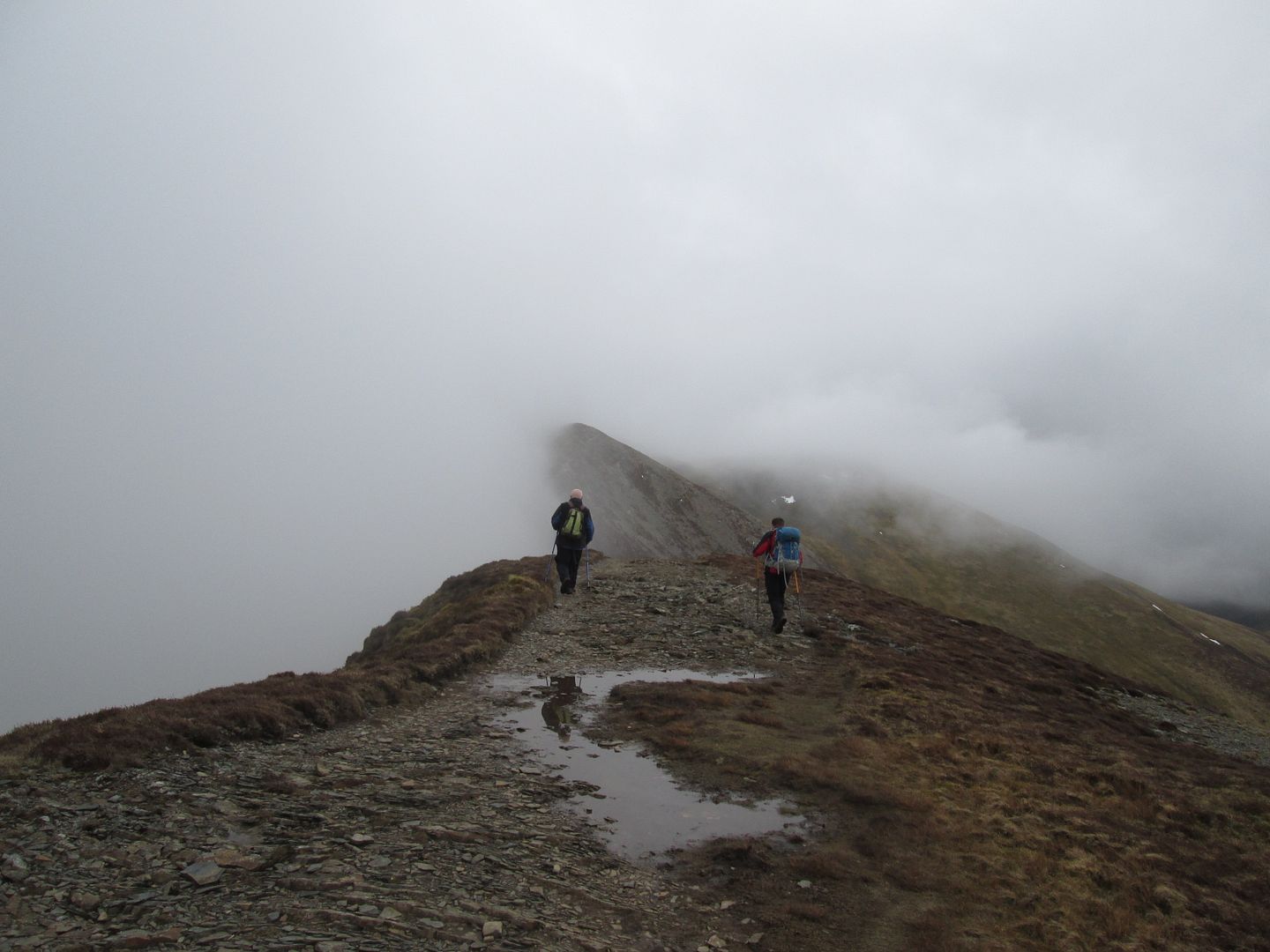 Ridge reflection
Eel Crag and Coledale Hause
Back along the Whiteside-Hopegill ridge
Checking in to Hopegill Head
At Hopegill Head we met a lot more people, many of whom seemed to be coming up from or descending via different routes to the one we had just arrived on.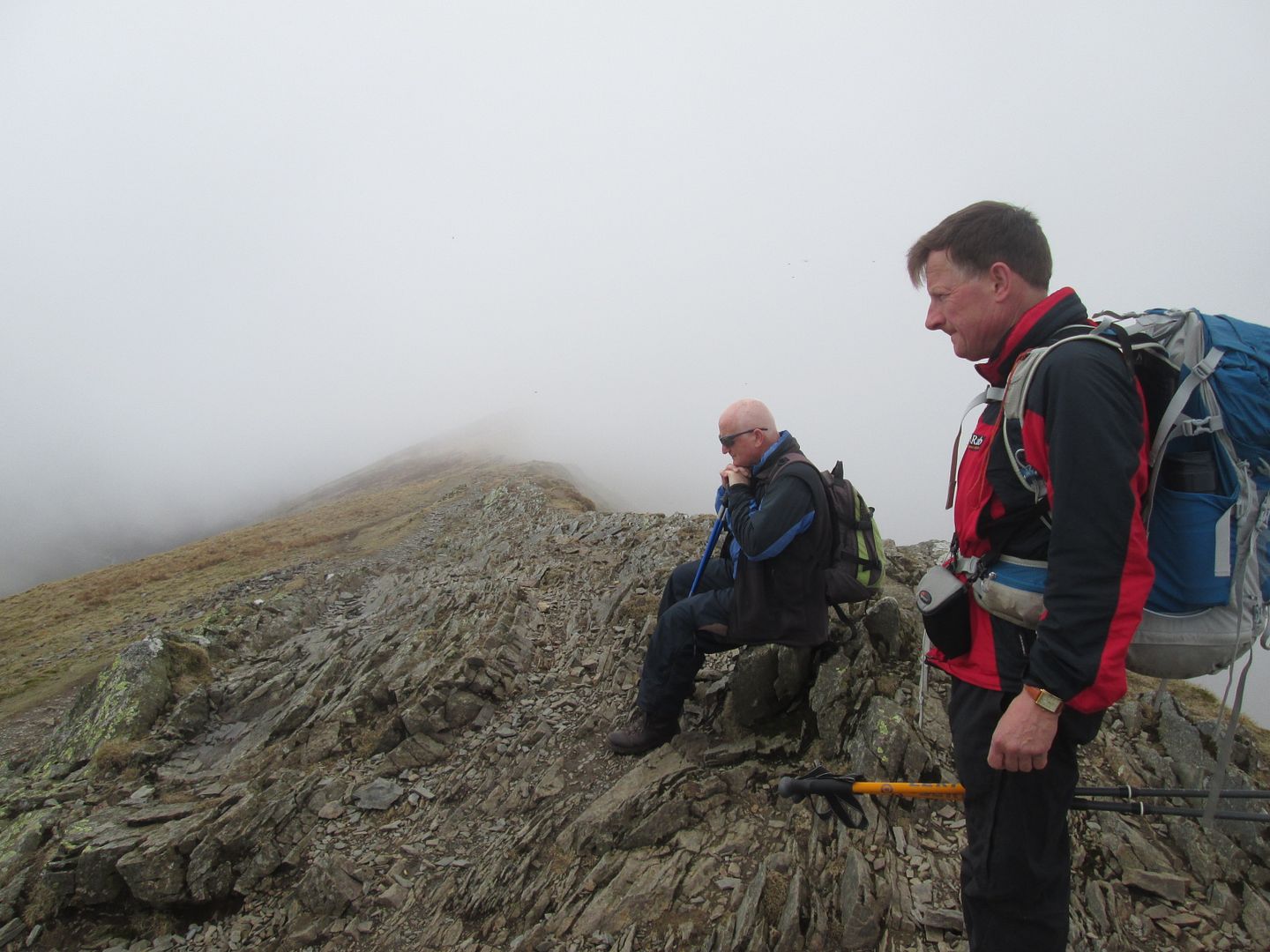 Robin and Dave in pensive mood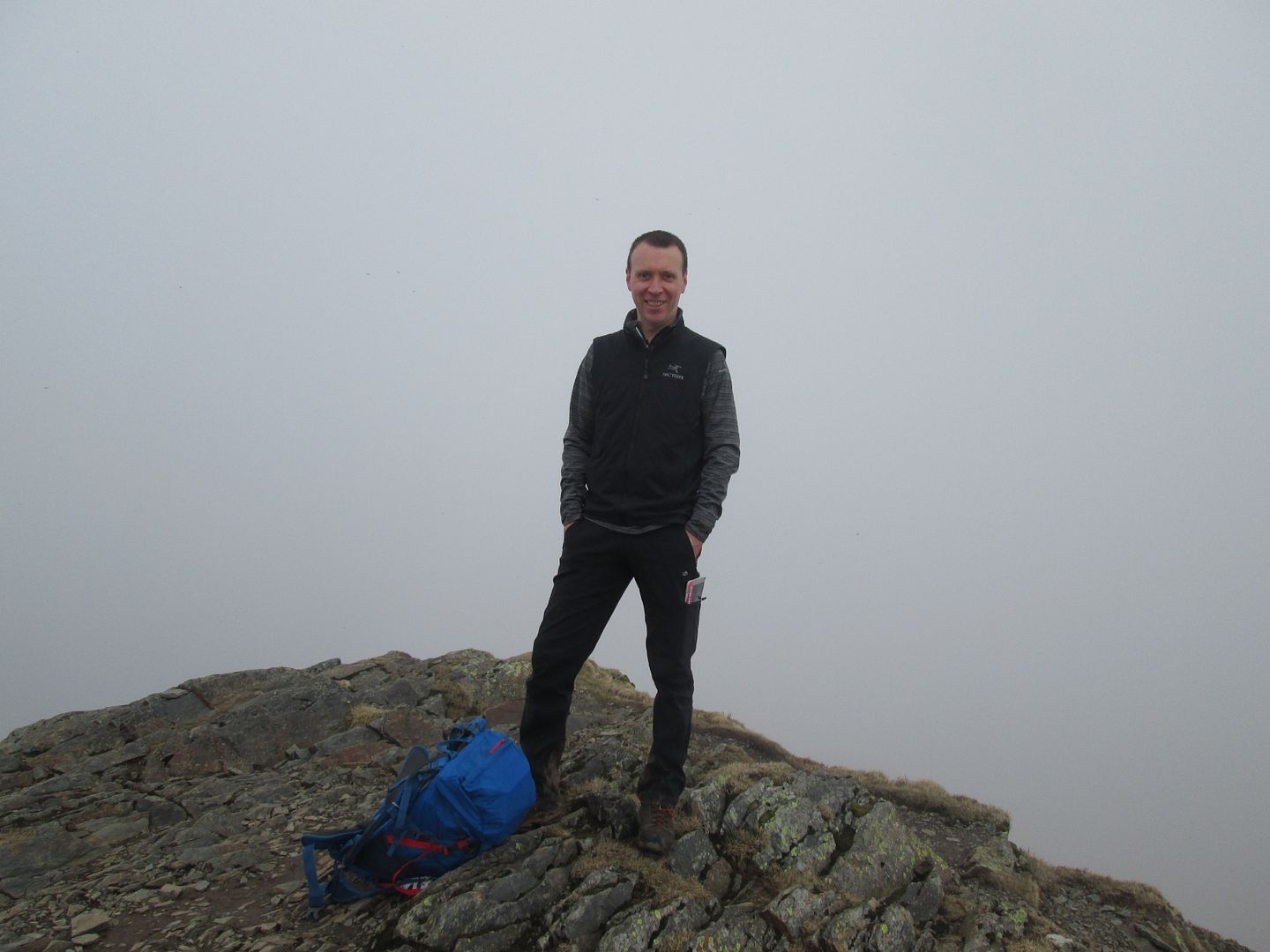 Me on Hopegill Head
Coledale Hause
From there we traversed across the Hewitt summit of Hobcarton Crag to the busiest point of the day, the bustling summit of Grisedale Pike. By now the weather had taken a turn for the worse and a light drizzle had come on.
Looking back to Hopegill
Low clag still rolling around
Clearing a bit and giving some views down towards Braithwaite and Keswick
Back to Hobcarton Crag and Hopegill Head
The temperature had also dropped markedly and we needed to add a couple of extra layers as we paused for a second lunch on Grisedale Pike. Again, many of the walkers who were coming and going around us seemed to be coming up from the Whinlatter Pass or Keswick directions.
Second lunch at the busy summit of Grisedale Pike
We retraced our steps back towards Hobcarton before cutting across on a grassy path towards High Force and Coledale Hause, passing the old disused pits and mines on the way.
Descending to Coledale Hause
Keswick
Eel Crag from Coledale Hause
We opted to forego the opportunity to tackle Eel Crag head on, instead following the more gentle gradient of the path up to the Crag Hill-Grassmoor bealach from where we followed the wide M6 extension up to the Crag Hill trip point. Almost immediately upon arrival at the summit of Crag Hill the sun once again broke through and the views opened up around us, although when we detoured out to the Wainwright top of Eel Crag itself, the cloud was still sitting tight over the earlier part of our route away to the north and west across Coledale Hause.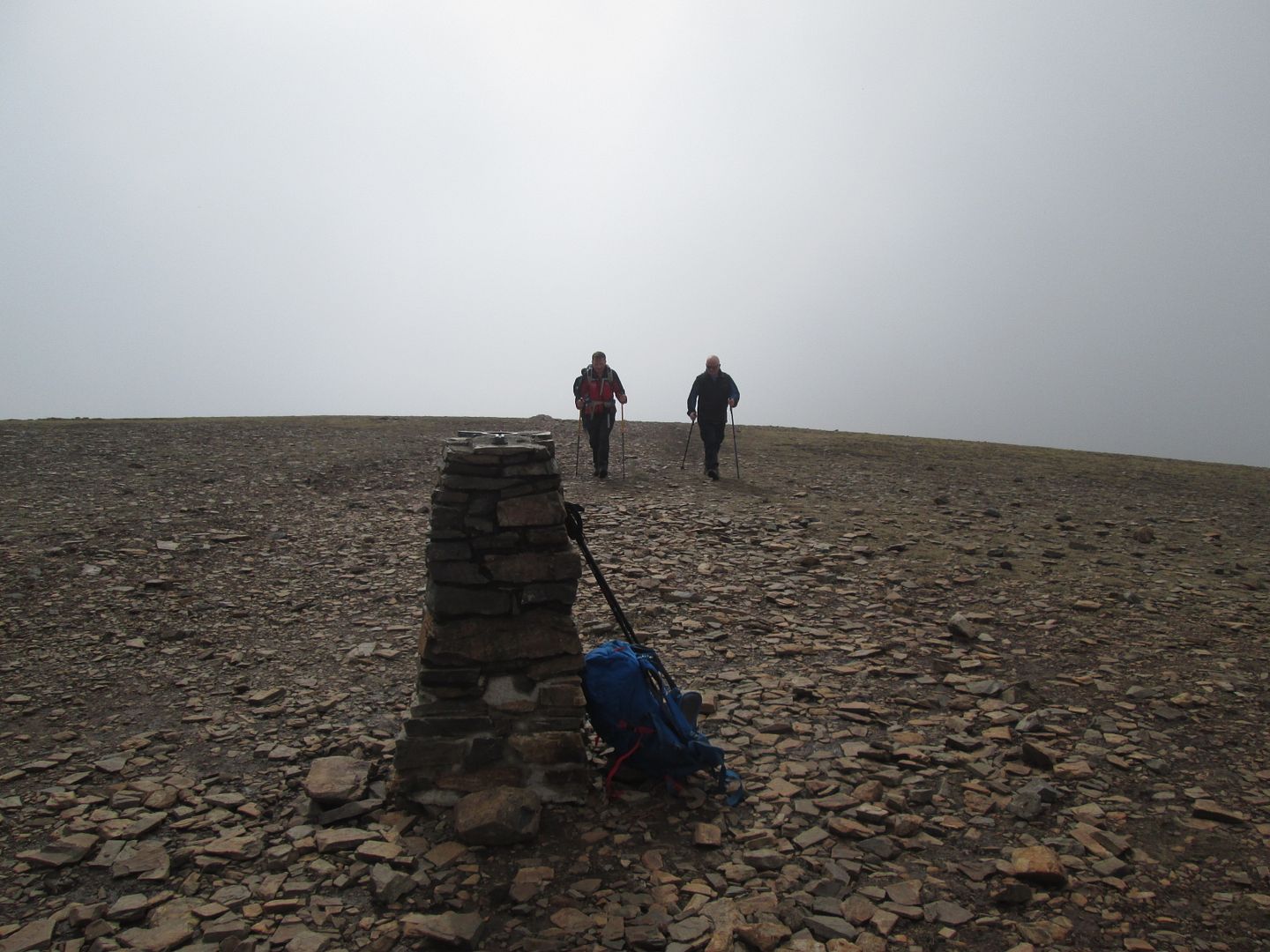 Robin, Dave and the sun all arriving together at the summit of Crag Hill
Taking a short detour down to Eel Crag
Clag still obscuring views from Eel Crag
We once more retraced steps, this time back to the trig point on Crag Hill from where we followed the narrow little arête down and then back up onto Sail. This was a momentous moment for Robin, who some years ago had done a route with an ex partner and her son from the east of here, over Causey Pike and Scar Crags. He had intended to carry on and capture Sail as well but his two walking companions had mutinied and he had been forced to abandon ship before he got the chance to set Sail, so to speak.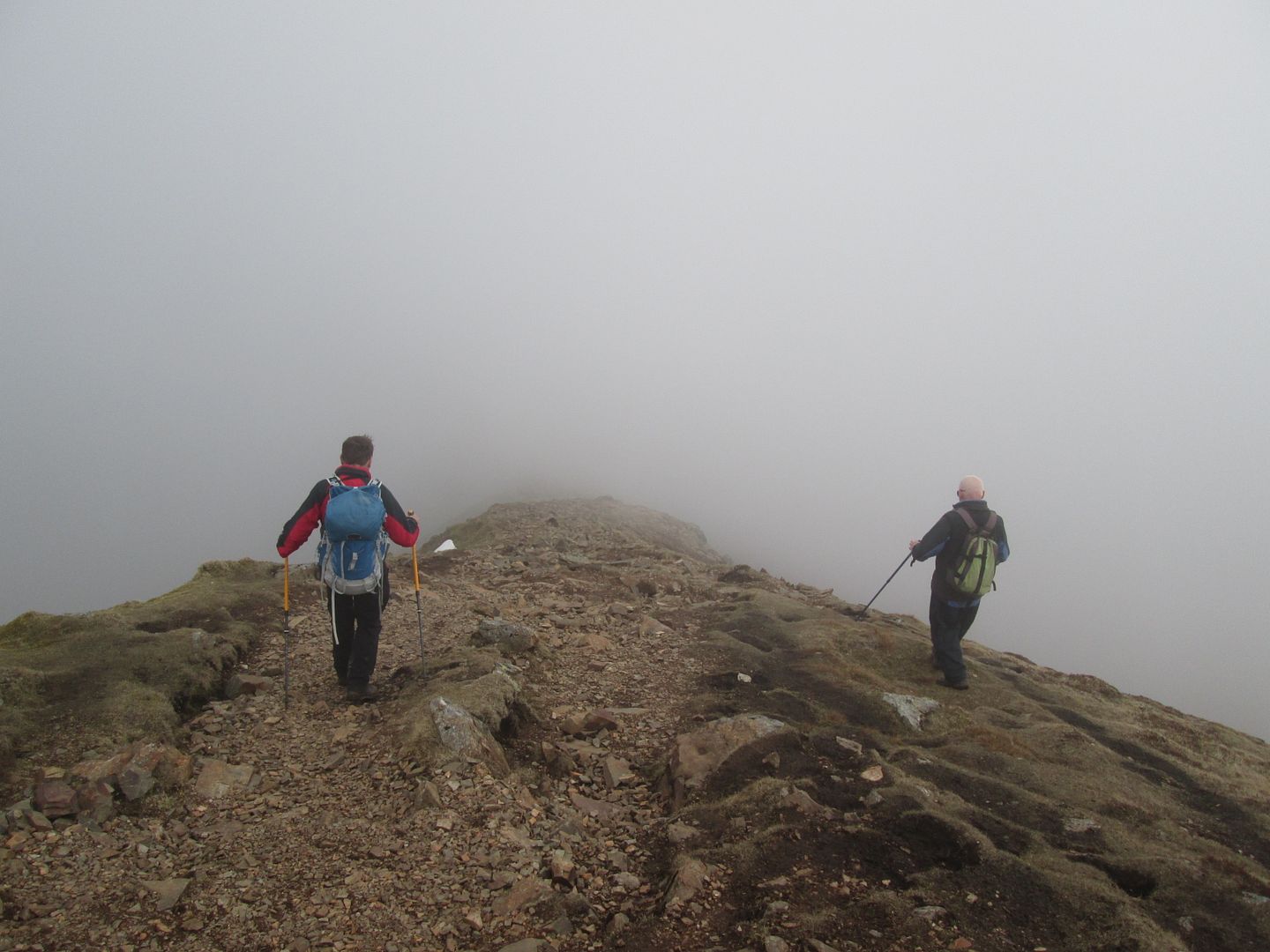 Descent towards Sail
Sail half clagged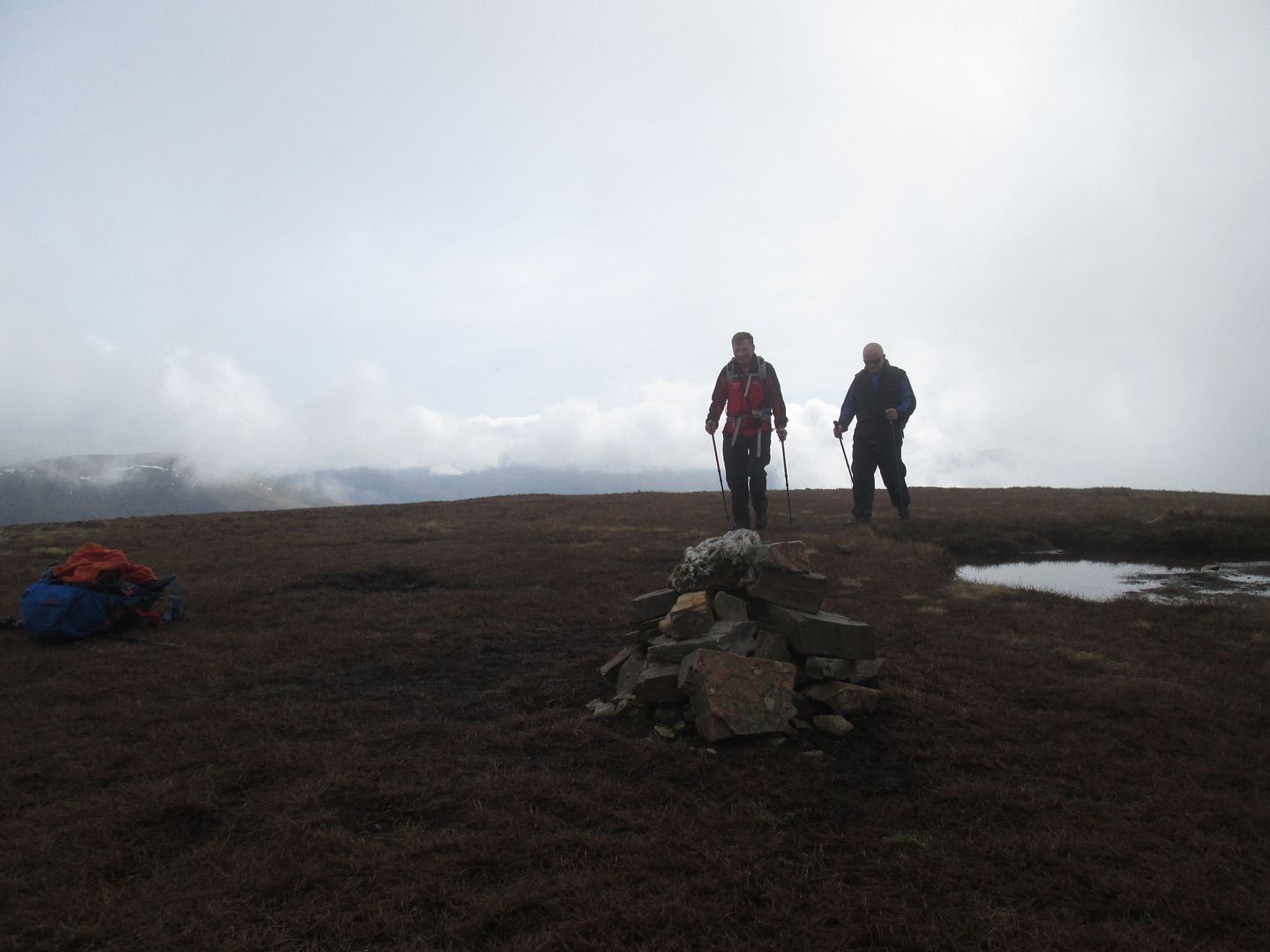 Robin and Dave go Sailing!
Robin finally sets Sail
Wandope and Crag Hill from Sail
Retracing steps back to the Sail-Crag Hill bealach
From Sail we cut back down to the low point between it and Crag Hill and were treated on the way to an aerial show from a paraglider doing big loops above our heads. At one point he/she came in so low over us that we could almost have reached up and tickled his/her legs!
Robin, Dave and some bloke by the name of Robinson!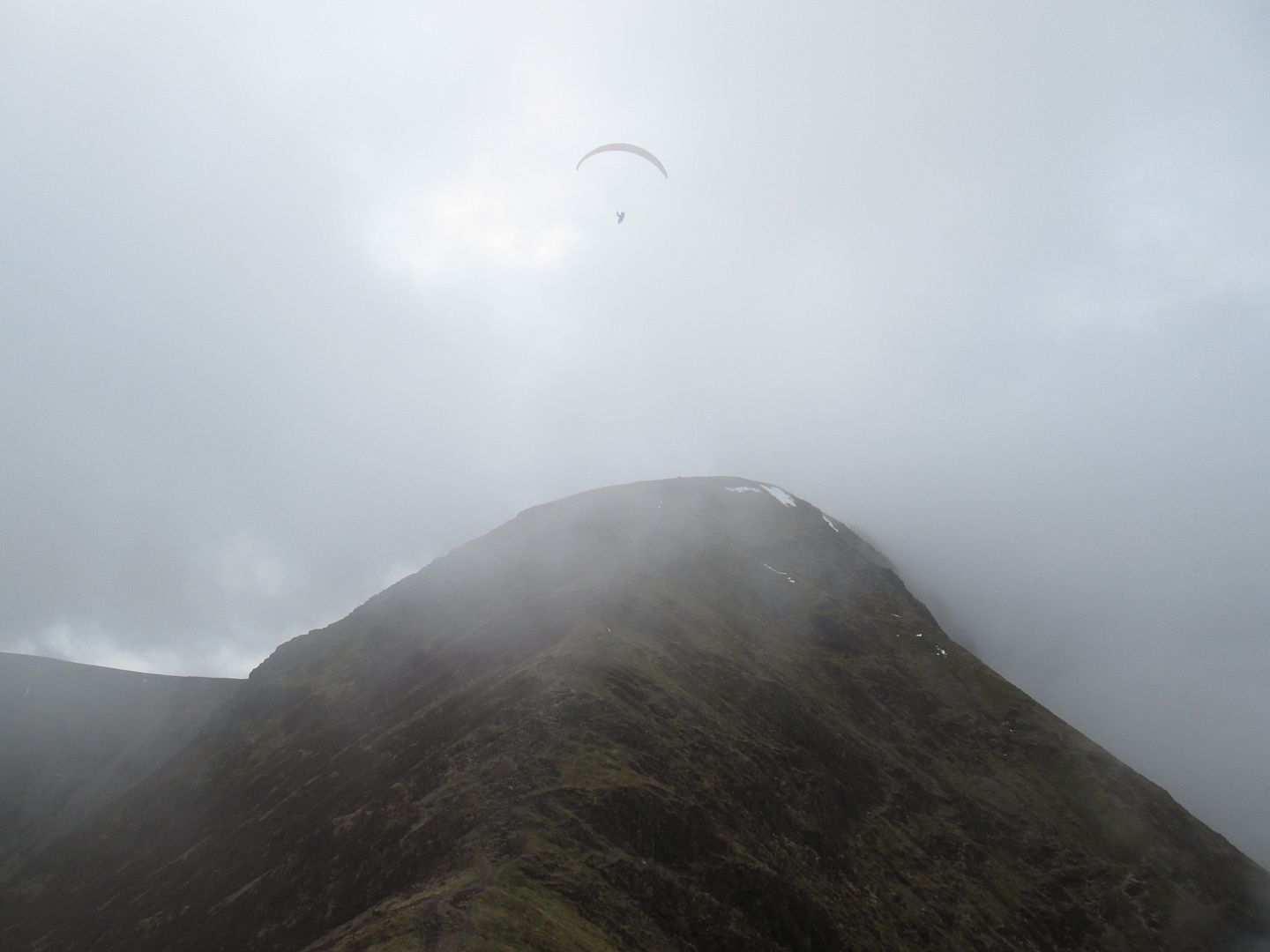 Are they deliberately sailing around above Sail?
Geez a lift!
A sheep track branched off to our left, offering the possibility of cutting out the corner and the renascent back up onto the Crag Hill summit plateau, so we took the chance on it. It spat us out back on the main path dropping down from Crag Hill to the foot of the climb up onto Wandope. The hustle and bustle had now been left behind and we seemed to have the hills pretty much to ourselves.
That Robinson bloke is following us!
Wandope in shade, with the Red Pike/High Stile range in the background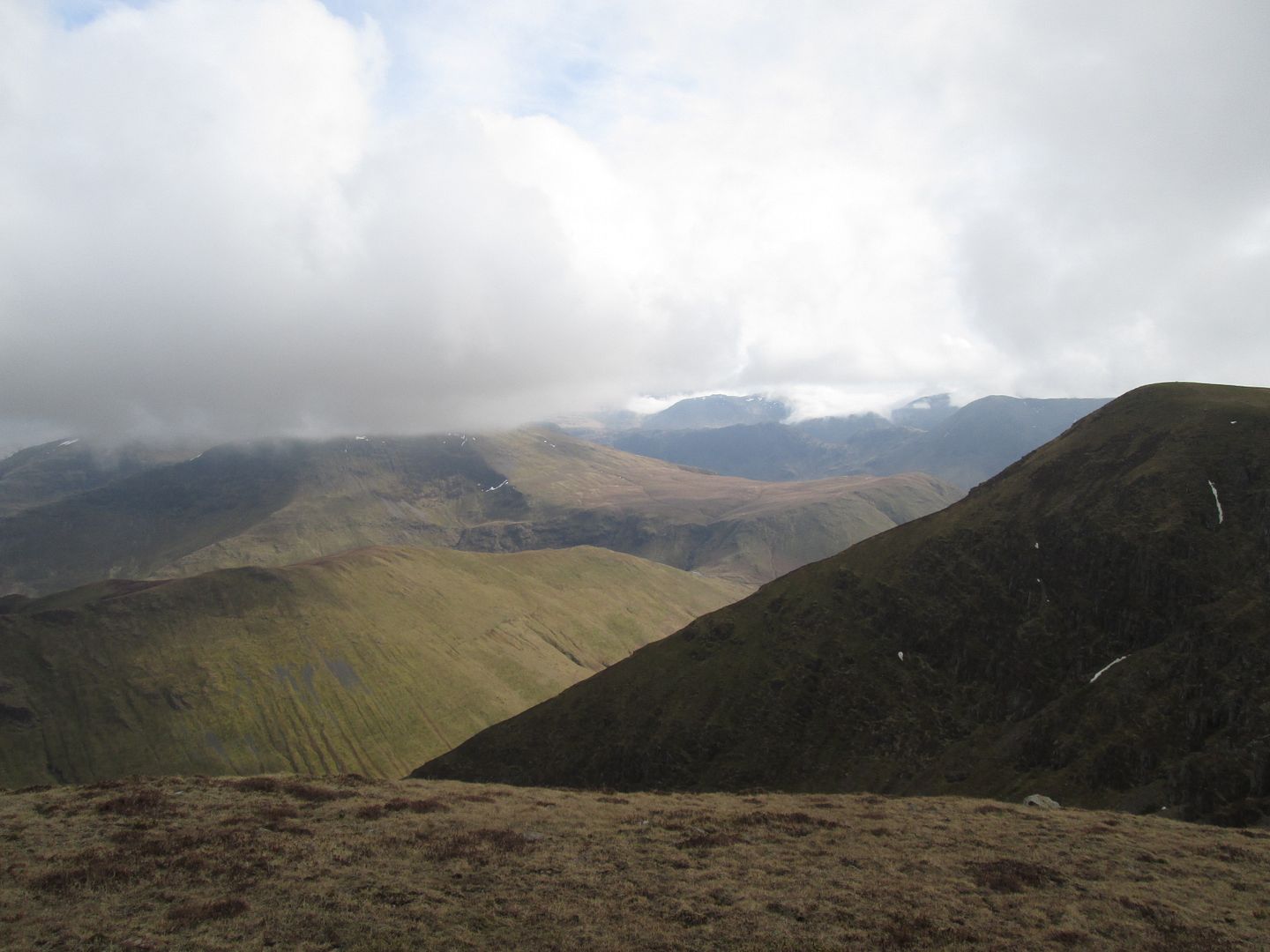 Knott Rigg and Robinson across the east ridge of Wandope
From the tiny, sprawling cairn on the summit of Wandope, we could pretty much see our long road home, or at least back down to the road and the side of the water. It was also at this point that we began to regret the decision to only bring the one car. "Och, a few clicks along the tarmac at the end of the day will merely serve to whet our appetites for a few pints and a bite to eat", we had joked as we set off from Ambleside that morning. We were less inclined to joke now, particularly Dave! I'm sure he was thinking to himself "If I have to walk 3km along that tarmac road at the end of this, I'll Wandope dead!"
Crag Hill, Sail and Ard Crags from Wandope summit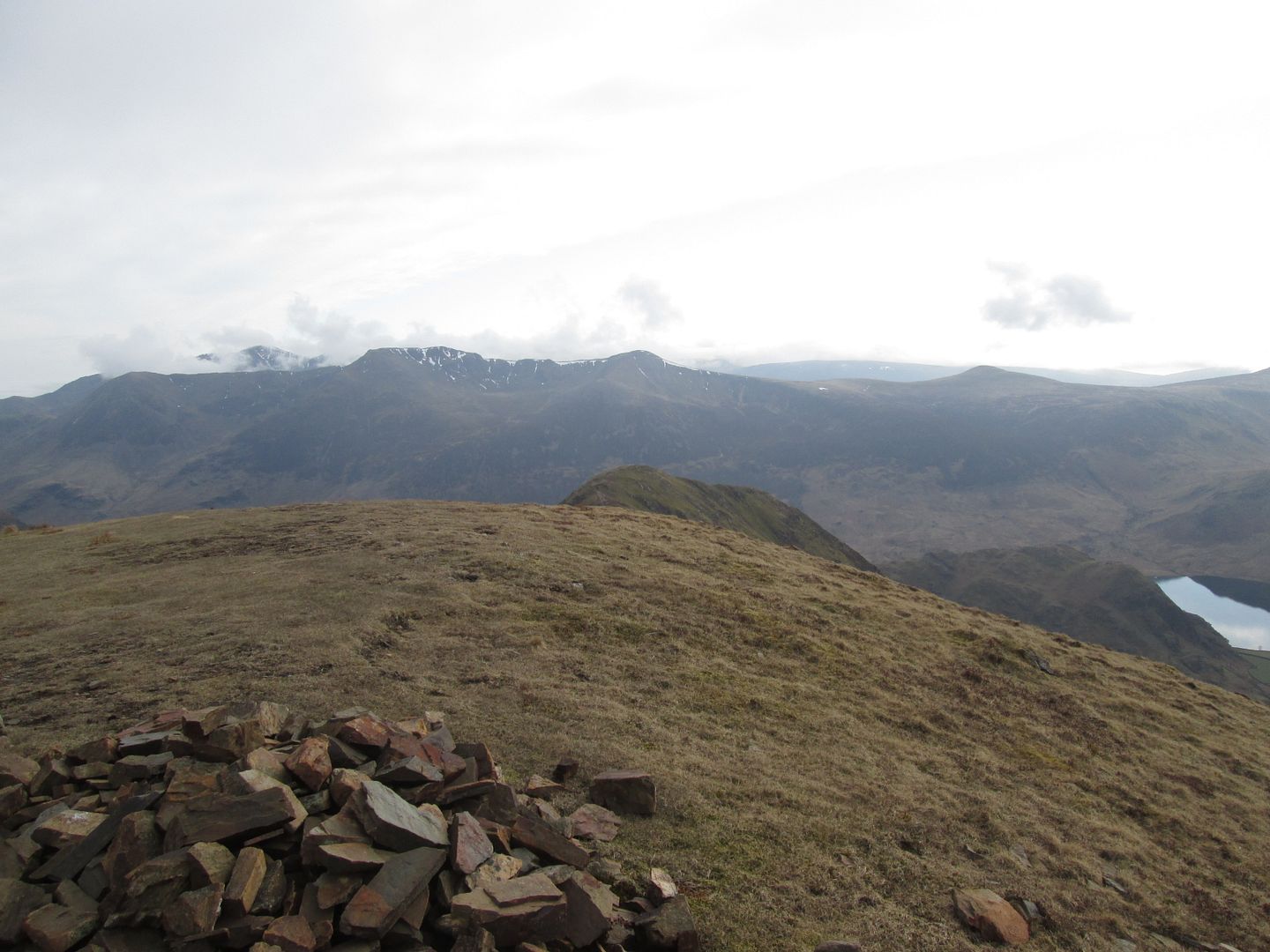 Our final two objectives in the foreground, Whitless Pike and Rannerdale Knotts, with High Stile, Red Pike and Great Borne in the background.
Descent to Whiteless Pike
Mellbreak across Crummock Water
Whiteless Pike
Summit of Whiteless
Robin and Dave spoiling the view from Whiteless Pike, Causey Pike in the far background
Mellbreak, Crummock Water and Grassmoor from Whiteless Pike, with Loweswater in the background
The long winding descent off Whiteless Pike to the western end of the Rannerdale Knotts ridge was arguably the highlight of the day. The sun had now broken through in anger and we were bathing in the warm glow of a Sunday evening in springtime. As we descended, the sound of church bells tolling began to ring out across Buttermere and it all seemed vaguely Alpine. I could almost hear cowbells and yodelling!
Robin and Robinson
Crepuscular rays over Rannerdale Knotts
Haystacks and High Stile
Cutting the corner to Rannerdale Knotts
It had been a cracking first full day of my 2018 Lakeland adventure and even a minor spat at the foot of Rannerdale Knotts couldn't detract from it. Robin and I were determined to do the final peak, Dave was more than happy to bypass it and head straight to the pub. Majority outcome Dave! Robin did suggest that he could skip it and meet up back at the road but Dave took this as impugning his character and possibly even questioning his manhood so he rolled his sleeves up and got on with it!
On the Rannerdale Ridge
Final summit ahead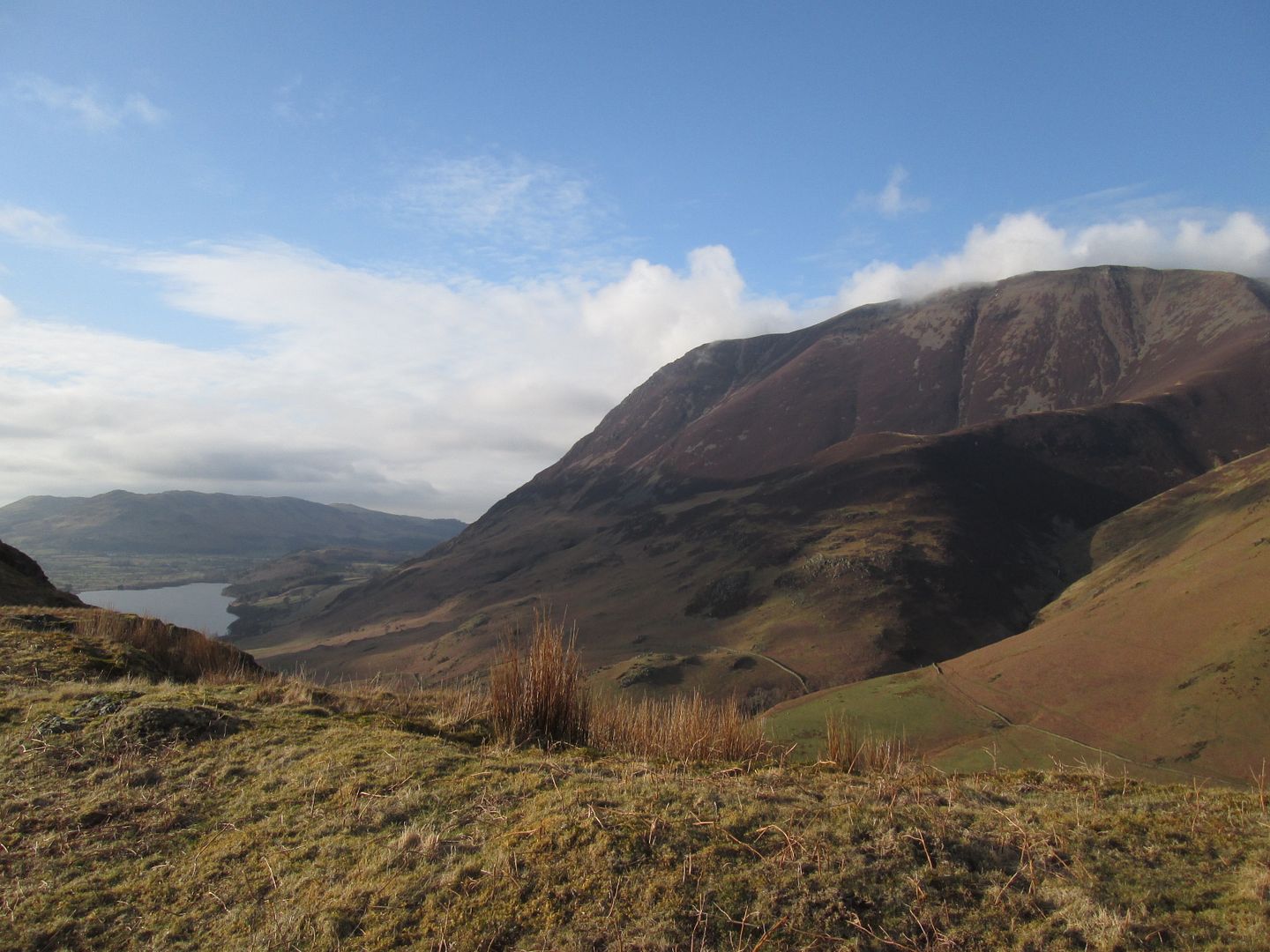 Grassmoor
Come on guys, we've got a pub to get to!
I raced up to the summit of Rannerdale (yes, I wanted to do the hill as much as Robin but I also wanted to get to the boozer as much as Dave). At the summit I met a young local lad who had just nipped up in his fell running gear to pass an hour on a beautiful Sunday evening and he talked me through the merits of the fells I could see across the water, before Robin and Dave turned up and Dave's grumpy face scared the young lad away!
The vast bulk of Grassmoor again
Robinson and Fleetwith Pike from the summit of Rannerdale
From the summit of Rannerdale, Robin kindly agreed to forge ahead to pick the car up and come back to pick Dave and myself up on the road. Actually, he tried to suggest that I take his keys and go ahead, but I explained that I would be wracked with eternal guilt should I hit a gigantic sheep on the road and write his car off while driving it uninsured and so therefore would have to politely decline!
And so it fell to Robin to plough on ahead and get the car while Dave and I sauntered down to the road, where we had so sit down for at least 20 minutes while I found a spot where I got a flicker of signal to call home and say goodnight to my daughter.
Someone has to go get the car!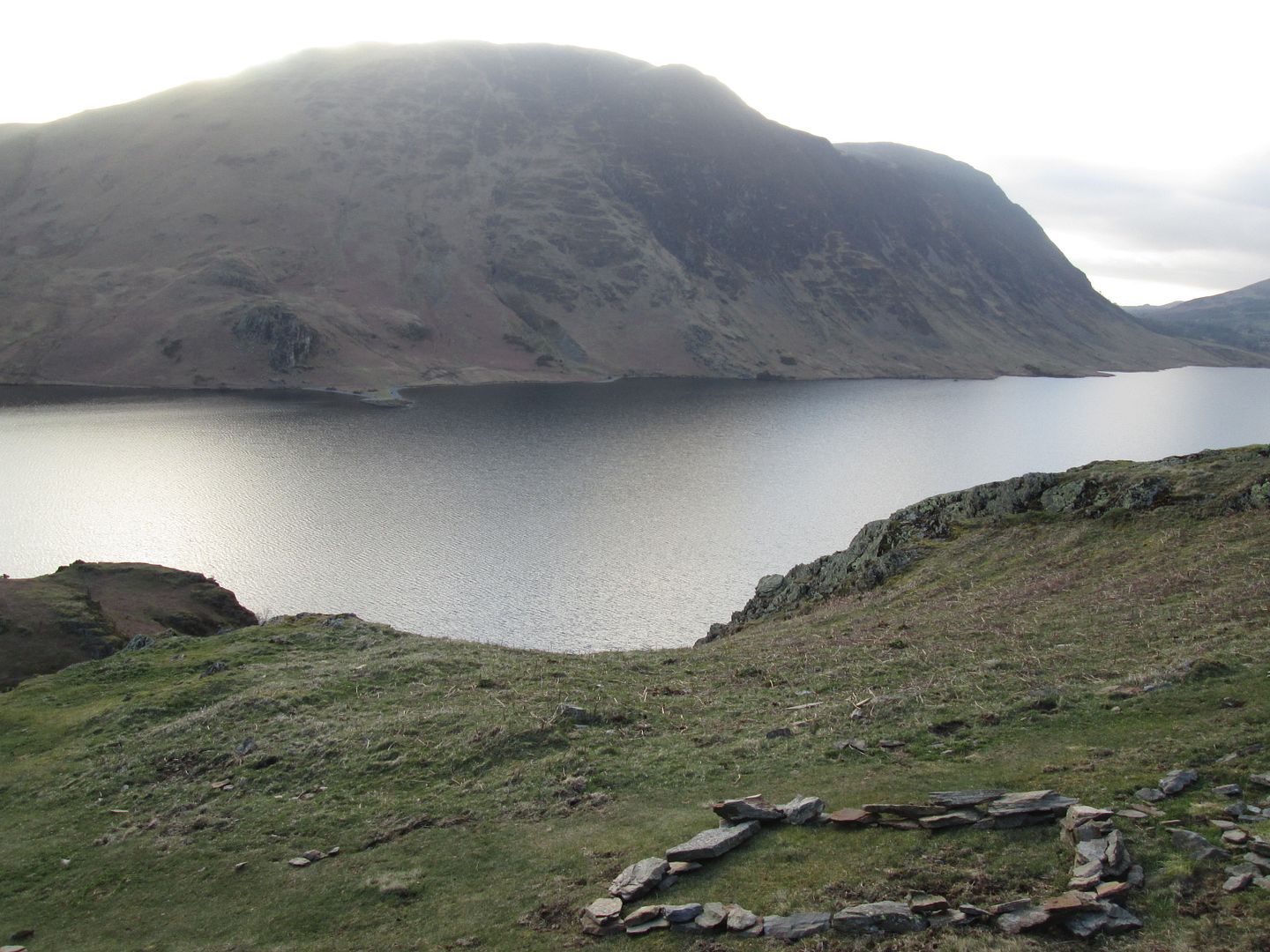 Mellbreak across Crummock Water
Fleetwith Pike looking very fine along Buttermere
We sat there for a bit longer watching the occasional car tootle past before the fear of completely seizing up got the better of us and we started to head along the road. We got to the parking area just short of half way along, where an unrelentingly steep looking path heads up onto Grassmoor, where we decided to down tools and wait for Robin to roll up, which he duly did a few minutes later.
Rannerdale Knotts from the north
Toto, I've a feeling we're not in Scotland anymore!
We then felt it incumbent upon us to spend some cash in the local Keswick economy and chose to do so by making a visit to the local Wetherspoons, or to give it its Sunday name, the Chief Justice of the Common Pleas. Either that or we were simply foaming at the mouth and not keen on the prospect of driving back to Ambleside before having the opportunity to do anything about it. The driver concurred and so we headed to the former magistrate's court and police station which has now been converted into part of the JD Wetherspoon Empire where we enjoyed good quality, good value pub food and (Dave and myself at least), several pints of Jaipur!