After concentrating my recent walks in the Arrochar/Loch Lomond area I was ready for a wee change of scene.
The weather forecasts were a bit mixed but it did look promising for the southern uplands.
Not an area I know too well so set my sights on two Grahams Culter Fell and the great name of Gathersnow Hill.
Left Dumbarton just after eight o'clock in smirry rain.
Strange to be heading south for a change and to be speeding to the hills on a motorway.
The rain continued all the way through Glasgow and further south to Lanark area.
However I could see a definite brightening in the sky to the south and soon enough had a sight of Tinto totally clear and bathed in sunshine.
Made good time down to Abington and turned east towards Coulter and along to Culter Allers farm to park up.
Booted up and away just after 9.30, the first wee bit on tarmac until starting up the ridge of Fell Shin.
A bit muddy lower down on a track which leads up steeply past stone grouse butts.
At the 550 metre level the slope eases and it is a pleasant walk towards the rounded summit.
Reached the Trig Point in just over the hour.
The early morning sunshine had disappeared and now a bit raw so jacket and hat on.
The next part of the walk just follows the line of a fence down over Moss Law to Holm Nick
Very boggy and wet underfoot,moorland walking reminiscent of the Luss Hills.
The weather unfortunately was now closing in with cloud coming over from the south.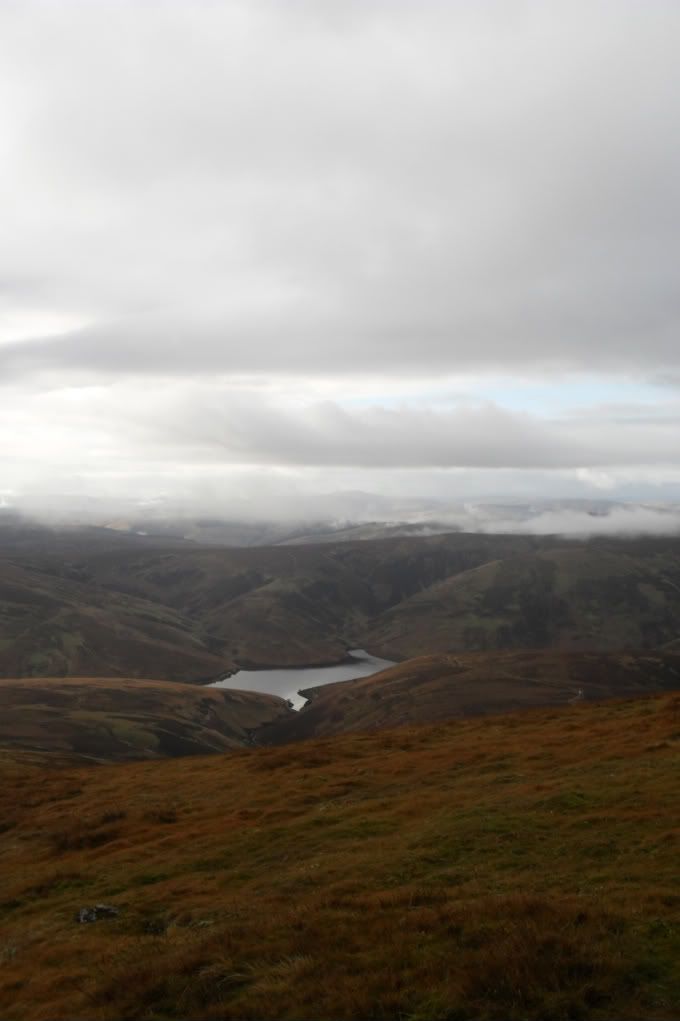 Coulter reservoir
Took a direct line up towards Gathersnow Hill on a very green mossy slope.
I suppose that this is where the Snow Gathers.
Reached the wee cairn next to the fence in thick mist,checked position on GPS to be sure.
The cloud closing in took away any notion I had of wandering on the moorland to some of the Donalds I had marked on my map.
Took a direct line down to the reservoir,saw six figures dropping down from Culter Fell
Enjoyable walk down by the reservoir and back along the road - with a bit of rain
Went in to The Mill Inn for a pint - Atlas Wayfarer - nice pint and a nice pub
The drive back up the road was in torrential downpours
Enjoyed my wee trip down to this area - maybe not the most dramatic walking - but very pleasant scenery
Pity the weather changed