I could have been watching the Word Cup Final today, a once every four years opportunity, sitting on the couch with some cold beers and a few packets of crisps and nuts! But no, instead I was having a pretty universally miserable and depressing experience on Gulvain, miserable and depressing experiences on Scottish hills being something one generally doesn't have to wait four years to experience again!
Despite 6 weeks school summer holidays, my time was pretty much all accounted for one way or another but I had identified a Sunday to Tuesday slot in mid July when I could get away myself for some hill time. Unfortunately I couldn't fit in the WH meet in Skye just prior to that as my daughter was on stage on the Saturday in a Perth Youth Theatre Summer School production and we were going to see her. I had assumed it would be an afternoon show in which case I would have driven up to Skye for the Saturday evening shenanigans but it turned out to be an evening show.
I had arranged to meet Kev and Robin the following Tuesday to do Ben Vorlich, a hill I have done many times but this time I was going up with Lucy's ashes to bury the at the top and they wanted to join me. That meant that I had the Sunday and Monday to myself. Time to make plans.
I wanted to do the North Mullardoch Four one of the days and set about looking for something in the north west for the other day. In the end I settled on Gulvain and the neighbouring Corbett Braigh nan whatever it's called.
I left home nice and early and made a stop in Fort Bill to purchase a pie (and a few essentials I had forgotten, like walking socks!). What I didn't know then and would only find out much later in the day was that I had forgotten to take any waterproof trousers with me!
I dallied quite a bit in the Fort, with the weather not looking too clever in any direction. In the end I decided to stick with Plan A. Keep the faith as I always say.Many times before I have been rewarded for doing so with an unexpectedly fine day.
I parked up in the layby at the start of the A830 where it loops under the railway and back along the southern shore of Loch Eil towards the Corran Ferry. It took a wee while for me to organise all the stuff in the crates in the back of the car into a daypack (waterproof trousers anyone!!!!????) and set off across the Fort Bill-Mallaig road past the houses and onto the Right of Way track to Strathan.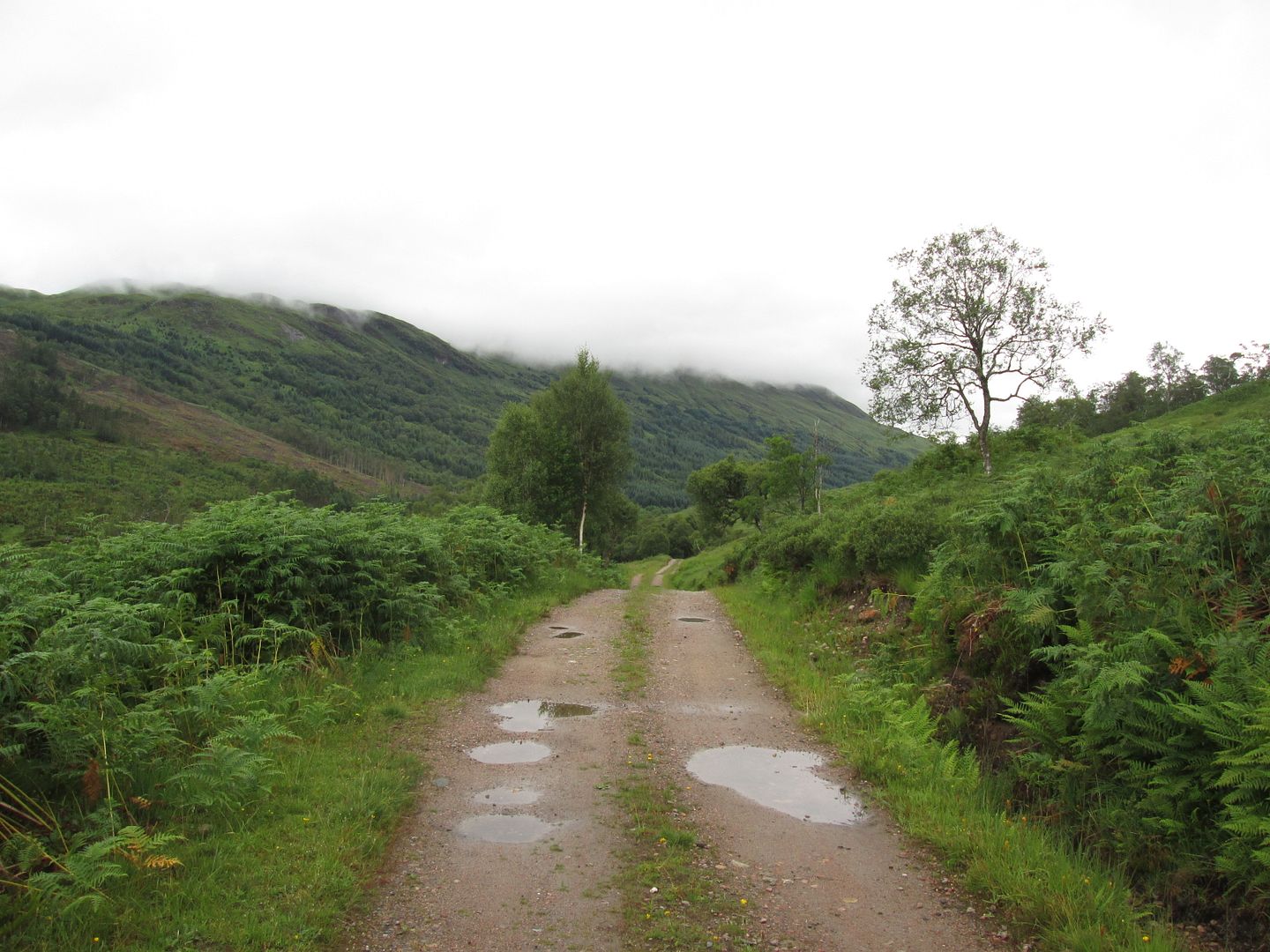 Heading into Glen Fionnlighe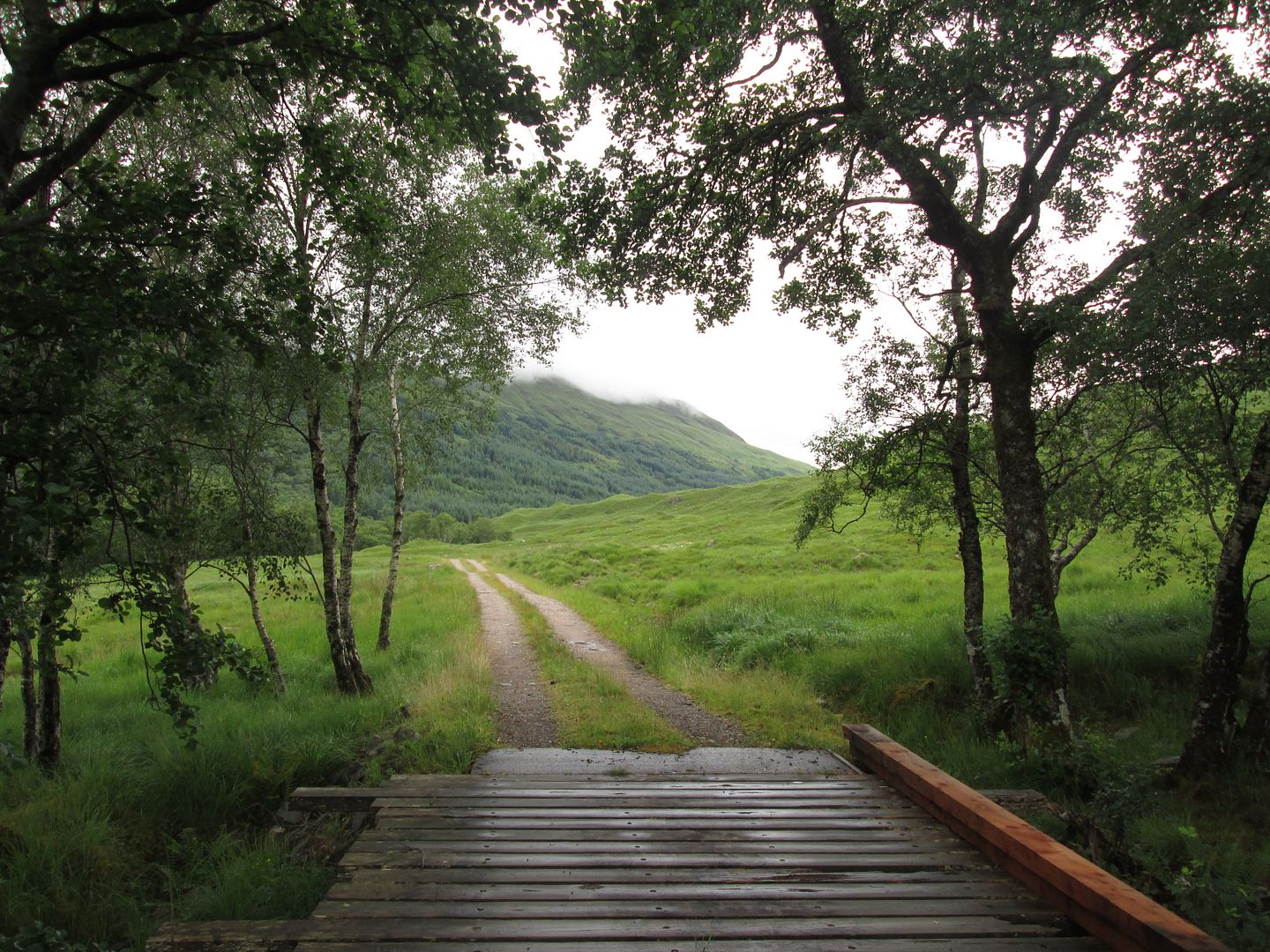 Deeper into the glen and some of the greenest grass I have seen in a long time!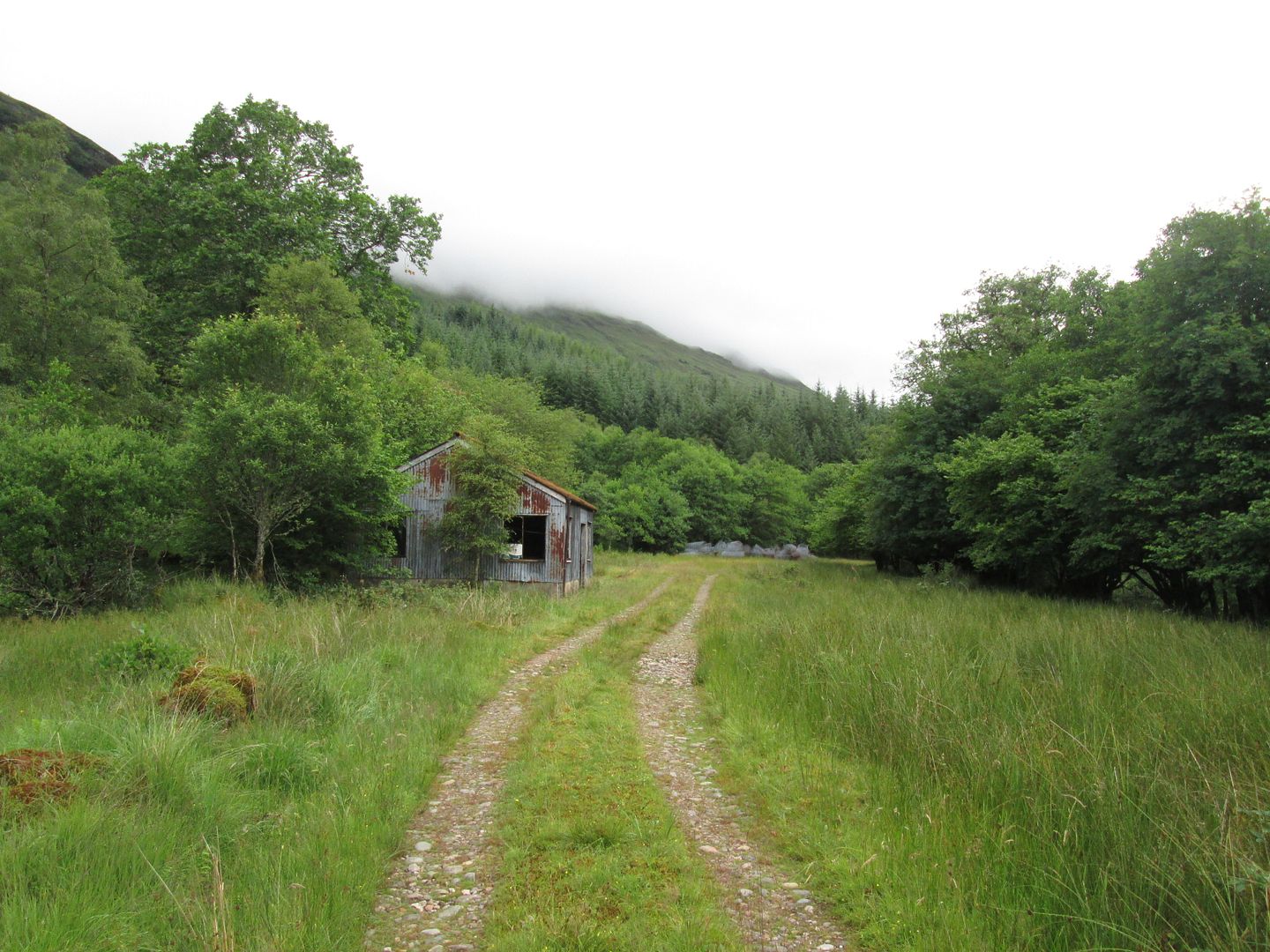 The old building at Wauchan
Gulvain ahead
Approaching Na Socachan with Gulvain and Meall a'Phuibil ahead
So far so good - not exactly splitting the bricks or wall to wall sunshine, but perfectly pleasant nonetheless, if a little muggy. Gulvain was still stubbornly refusing to take the hat off though! I stopped for lunch by a little stream across the track a short distance from the wooden bridge at Na Sochachan. It was glorious - sunny with a nice fresh breeze to take the edge off the mugginess and the bubbling stream for company. I could have sat there all day. With hindsight perhaps I should have done!
With every step up the south west slopes the conditions got colder, greyer, wetter and generally more dismal. By the time I reached the trig point on the South Top I was positively morose!
Back down Glen Fionnlighe from the early stages of the ascent
Should've watched the World Cup Final!
Still smiling at the South Top but inside I am morose!
It got no better at the Munro summit itself. My map was becoming increasingly soggy (forgot a waterproof case or poly pocket of any sort for it!) but I dug it out and took a bearing that would lead me away from the steepest ground to my left and round the head of the coire to link up with the Corbett. Visibility was pretty dire but this was nothing I hadn't done hundreds of times before.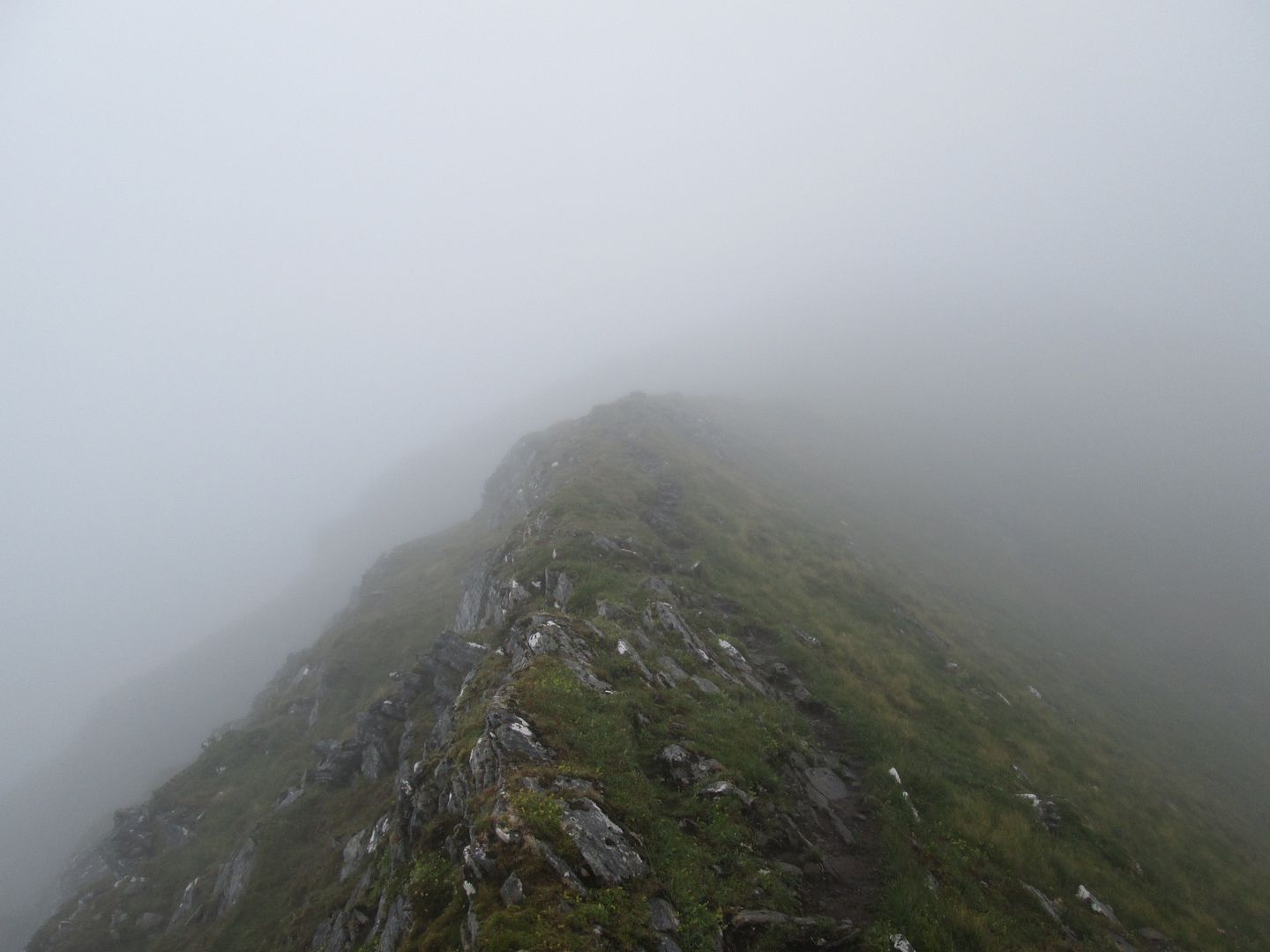 Ridge to the summit - trying to convince myself that it's atmospheric!
Summit cairn and only my second new Munro this year!
Forcing a smile now!
It shouldn't have caused any real problems. So I really can't explain what happened next. I got utterly bamboozled and to my dying day I don't think I could tell you where I ended up or how I got there, let alone how I never managed to locate the way up onto the Corbett. My mind seemed frozen and my decision making and ability to think things through rationally just seemed to completely desert me. It was as if I was completely disconnected from reality! I knew things weren't right but I couldn't seem to make myself establish what they should be like. It was one of the strangest feelings I have had on the hills. In my crazy rambling about the claggy hillside I stumbled and fell a few times.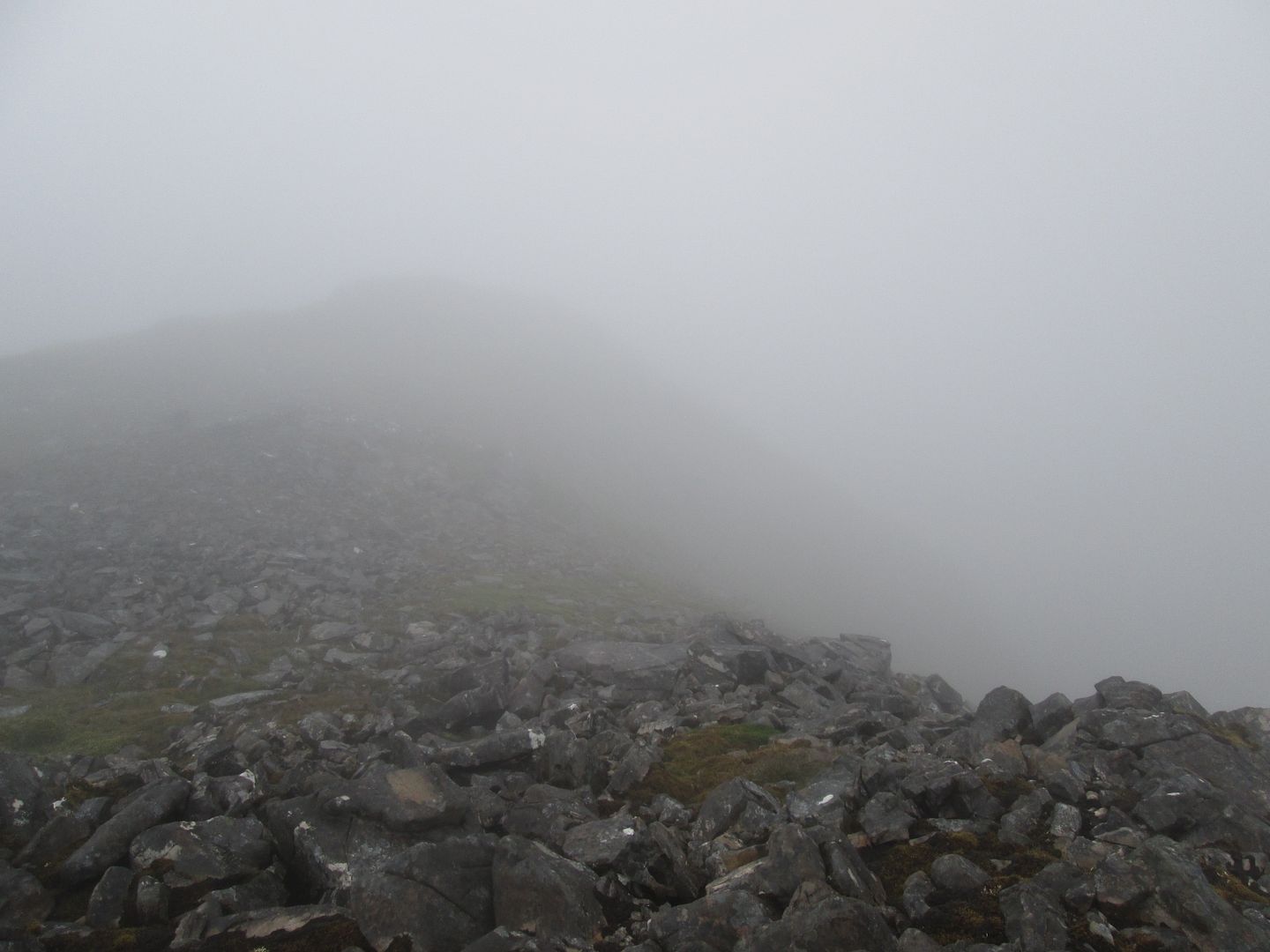 Simply stunning
Very small lochan or large puddle?
The only other lunatic I was to see all day. He had no idea what was going on either!
One fall was quite hefty and when I got up I had no idea which way I was facing. Of course the compass told me in an instant, but I suddenly felt an overwhelming desire to get the f*** out of there. I never panicked, I just felt completely out of it! I guessed the general area that I was in and followed the compass on a bearing that I felt would take me back to Gulvain.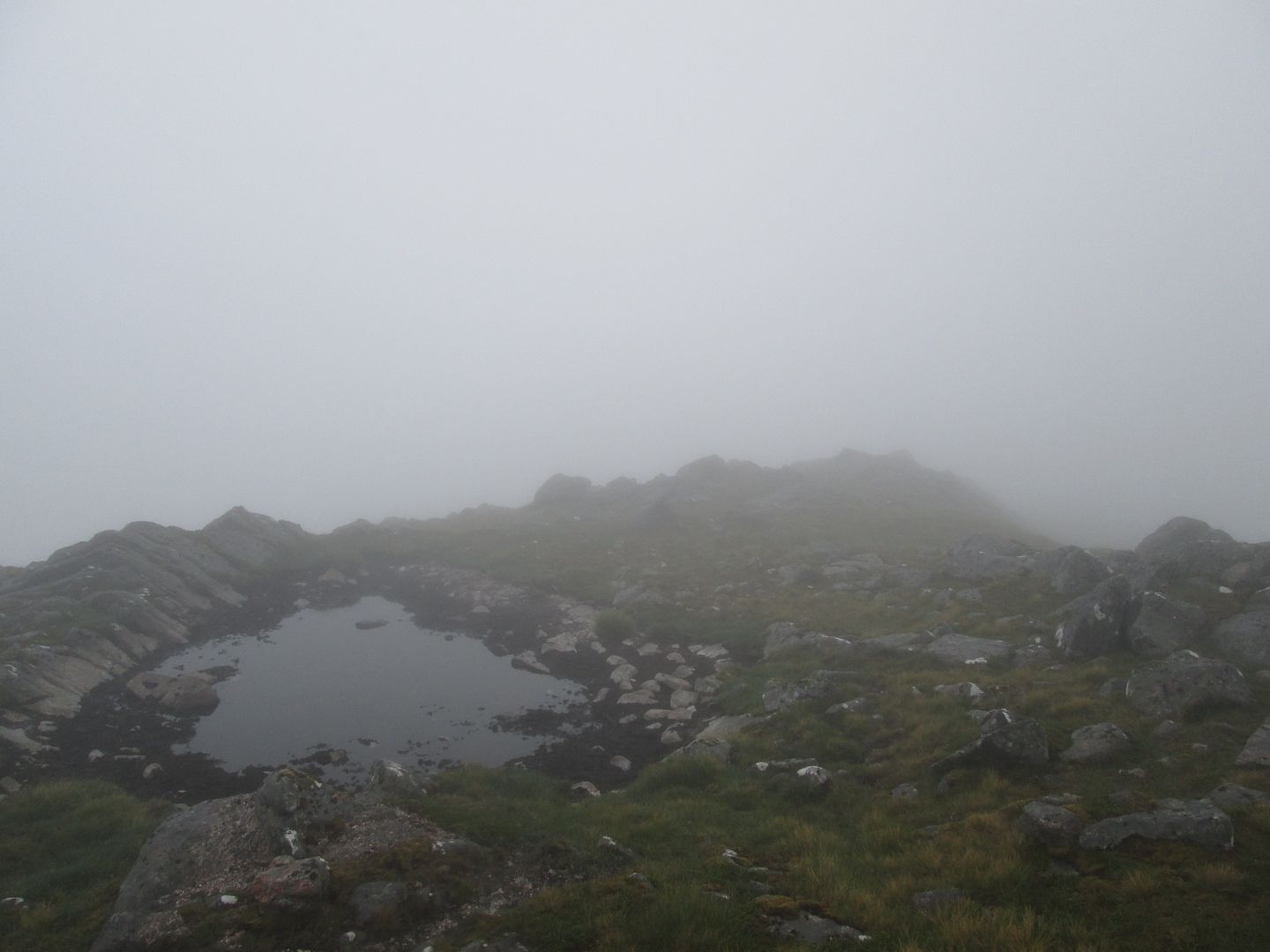 For the love of God, give me strength!
It all seemed to be stacking up and eventually I emerged at the summit cairn of Gulvain once again. I have no idea how long I had been wandering or exactly where I had wandered, but I was back on track and keen to get back to the car.
Not even trying to smile anymore, I give my full and frank assessment of the day's events!
It was a long, lonely, depressing walk back as I retraced my steps from earlier. The weather looked thoroughly miserable in all directions and I had serious doubts about the wisdom of driving up to Mullardoch to do a big route in these conditions.
Oh joy!
Across Meall a'Phuibil and Meall Onfhaidh towards Glen Suileag
Kill me now!
I decided to drive back south through Fort William and camp up at the picnic area on the shores of Loch Linnhe just north of the Corran Ferry. I would set an early alarm and see what tomorrow had to offer on he weather front before committing to anything.