The life of a dog is unfairly short by the standards of the average human, even when the dog in question reaches an age that would make her over 100 years old if she were one of us.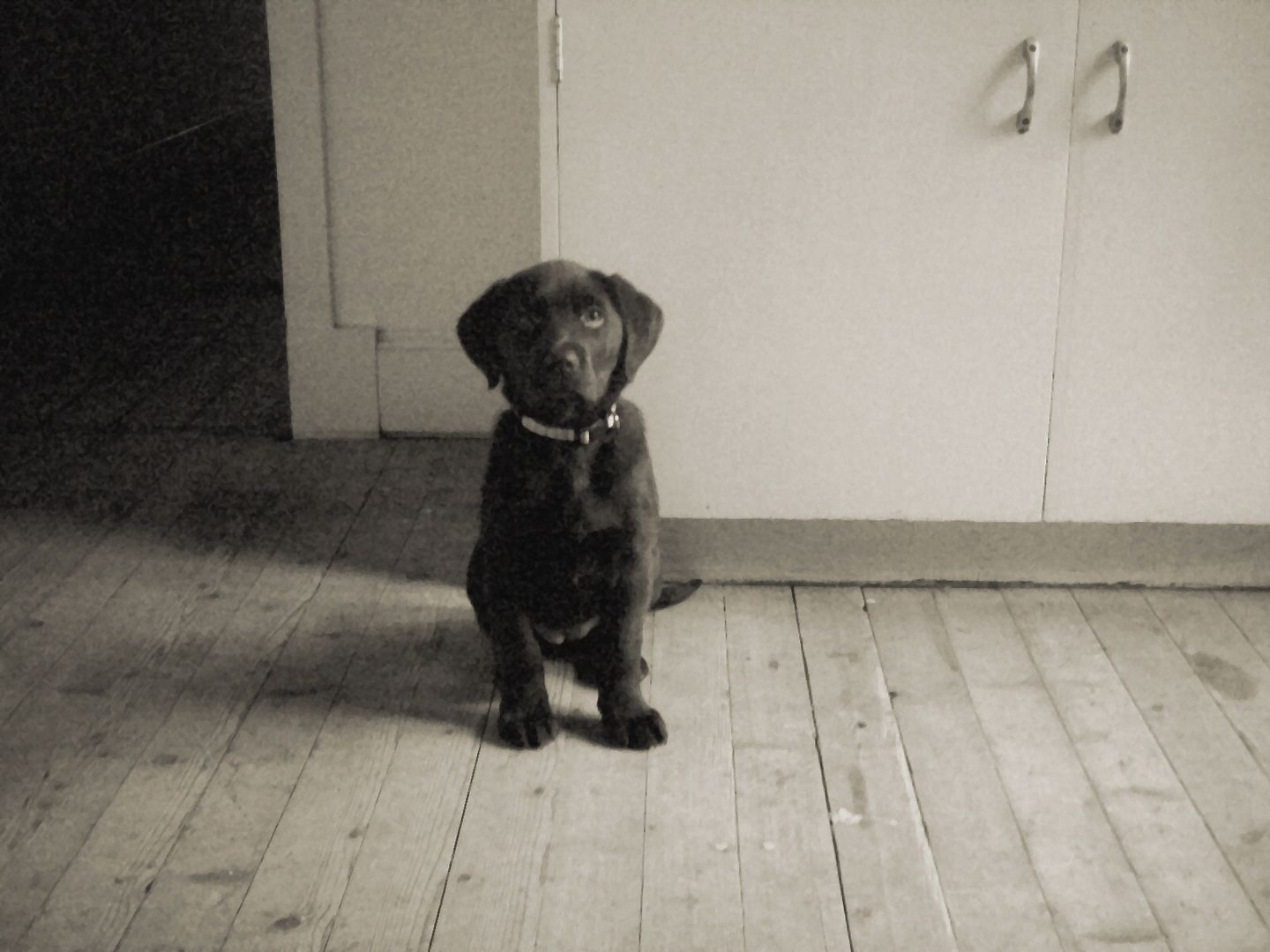 February 2004 - aged 3 months, born into a world of bare floorboards and house renovations
Sometime in early 2004 - on the South Inch in Perth, exploring her home town with her mum
Turning into a leggy teenager and overseeing the new fencing and garden landscaping work
As many readers on here will know, we lost Lucy back in February. She had turned 14 two months prior to that, a damn good age for a Labrador, and to be honest, it was her time and it was the right thing to do. Be that as it may, as any dog owner who has been in that situation will testify, it is still a heart rending thing to have to do.
Two days after we lost her, I did the Munro Geal Charn from the Spey Dam and wrote a fairly heartfelt report on that day. That was an instant response to my loss when it was still raw, almost not quite real, and I had practically had to be told by my great friend Robin to pick myself up off the floor and get out into the hills to let them do what they do best. Today was altogether different, five months having elapsed and this day having been in my mind for most of that time.
She was a real hill dog and up to about 11 or so she was regularly by my side on the Munros, the Corbetts, the Grahams and even on occasion the Yorkshire Dales and the Snowdonian mountains. It seemed right therefore that her ashes be scattered somewhere in the hills, but where?
Ben Vuirich - June 2010 (aged 6)
There were a few candidates. Beinn Vrackie for one. She had been up there numerous times in all weathers and one of my favourite pictures of her shows her as a two year old bounding through the shallows of Loch a'Choire, spray flying in all directions.
One of her early raids on Vrackie and one of my favourite shots
In the end however it was an easy decision. She had been up Ben Vorlich above Loch Earn equally as many times and it can be seen from our house, from my work and from the bottom of my mum and dad's road. She was a regular guest at their house when we were abroad on holiday or needed a dogsitter for whatever reason, and they loved her as their own.
Kev and Robin (plus his own young Labrador Eddie) were supposed to be joining me, both having spent a bit of time with Lucy in the hills, but Kev had to pull out with work commitments a few days before. Having driven down from Glencoe that morning, I was parked up on the already busy verge on the South Loch Earn road near Ardvorlich House having breakfast when Robin called to say that something urgent had come up and he would also have to pull out. Oh well, looks like it's just you and me old girl, like it so often used to be.
Busy busy - just so happened to be Lucy's toilet training command when she was a pup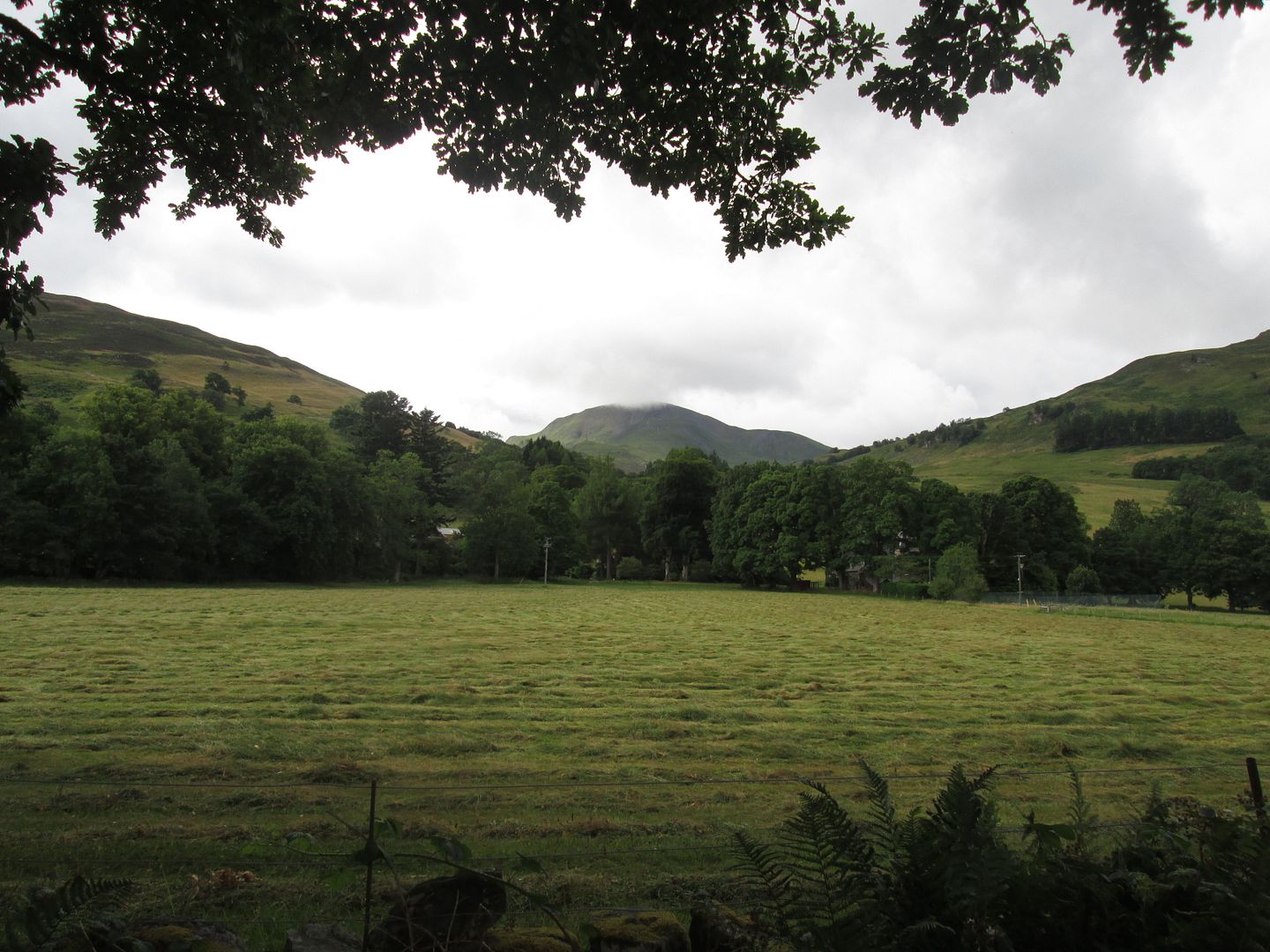 Vorlich from the car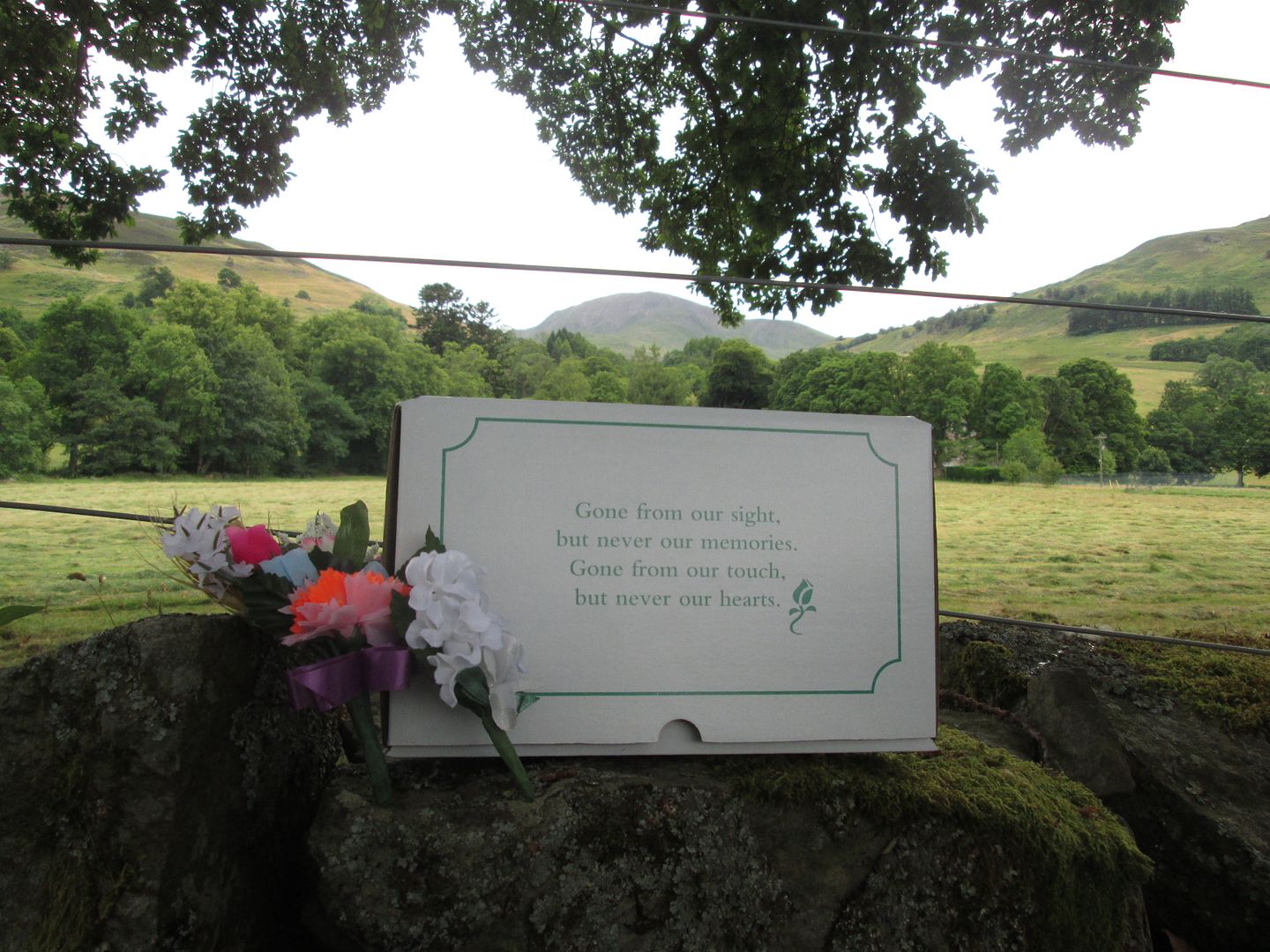 Very true
Time is a great healer indeed, and the last five months have greatly dulled the pain of that day in February. But this was still a final act and as such it brought some of those memories back. For most of the last five months she has been living in a box under my bedside table, and in a way it has been like a part of her has still been in the house, but this is no place for a dog to spend eternity. She needed to be taken to the hills and fully and finally laid to rest. If it were me, I certainly know where I'd rather spend eternity. Under a bedside table in a house in Perth or at the top of a Munro? No contest!
She was a regular visitor to the beach at St Andrews.......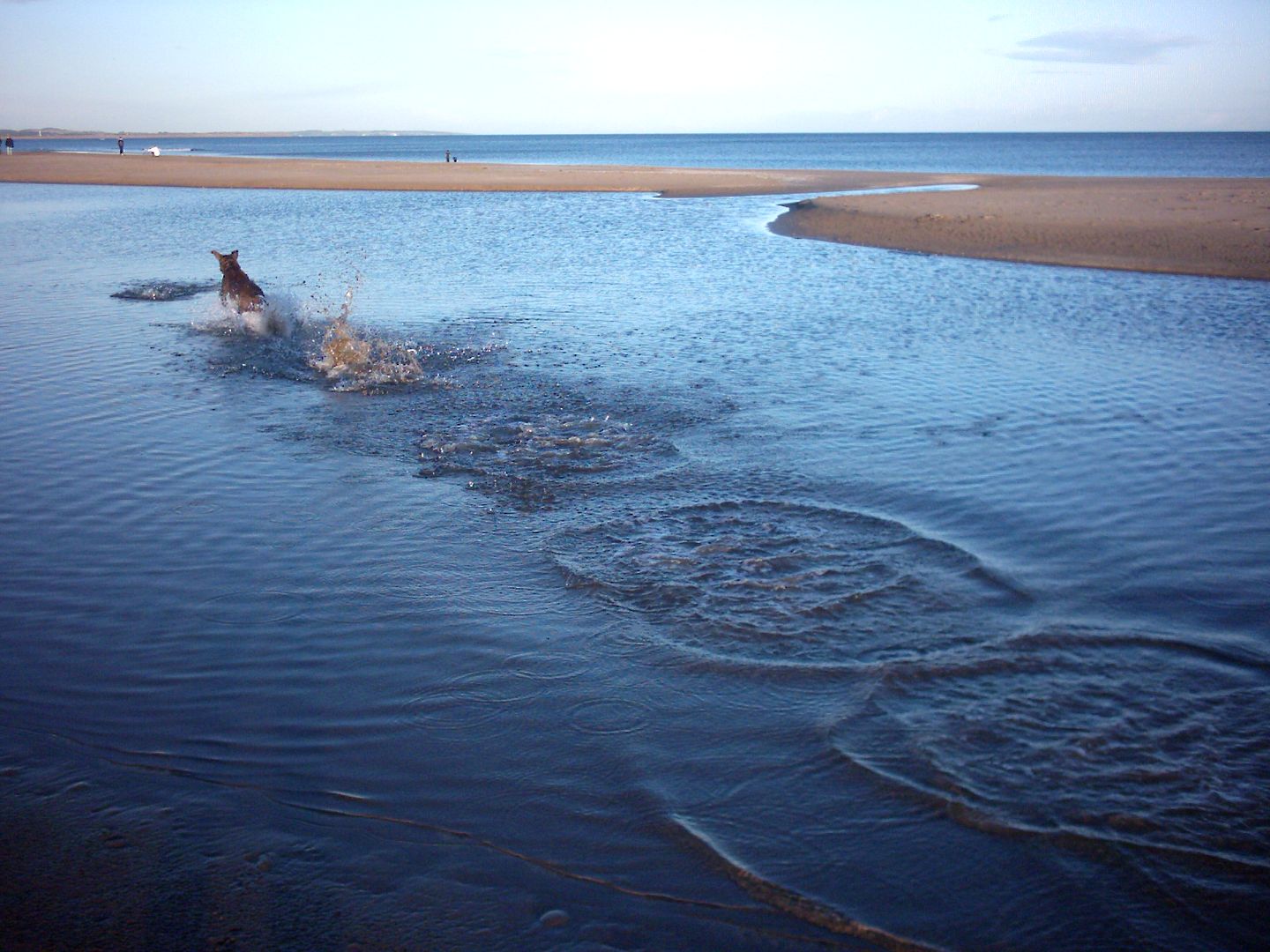 ...... and also to Kinshaldy Beach at nearby Tentsmuir Forest
Even still, I still had a lump in my throat as I carefully packed the linen bag containing most of her ashes (a small amount had already been buried at one of my favourite spots on Kinnoull Hill, her local walking grounds) into my day pack alongside the usual bits and pieces. Her collar and lead went in too along with one of my old neck buffs which I would wrap the linen bag in for burial.
Creag Uchdag - July 2010, with her old pal Rosie, sadly now also no longer with us
As I finished my second cup of coffee and prepared for the off, my thus far successful attempt to avoid finding out the outcome of the World Cup Final was scuppered by a young boy and his grandfather getting ready at the next car. "Hey granddad" he said. "Do you think I'll be able to see the World Cup when I go to Paris next month?" Oh well, that'll save me a bit of time watching it on catch up!
At last I took a deep breath and set off to do what needed to be done.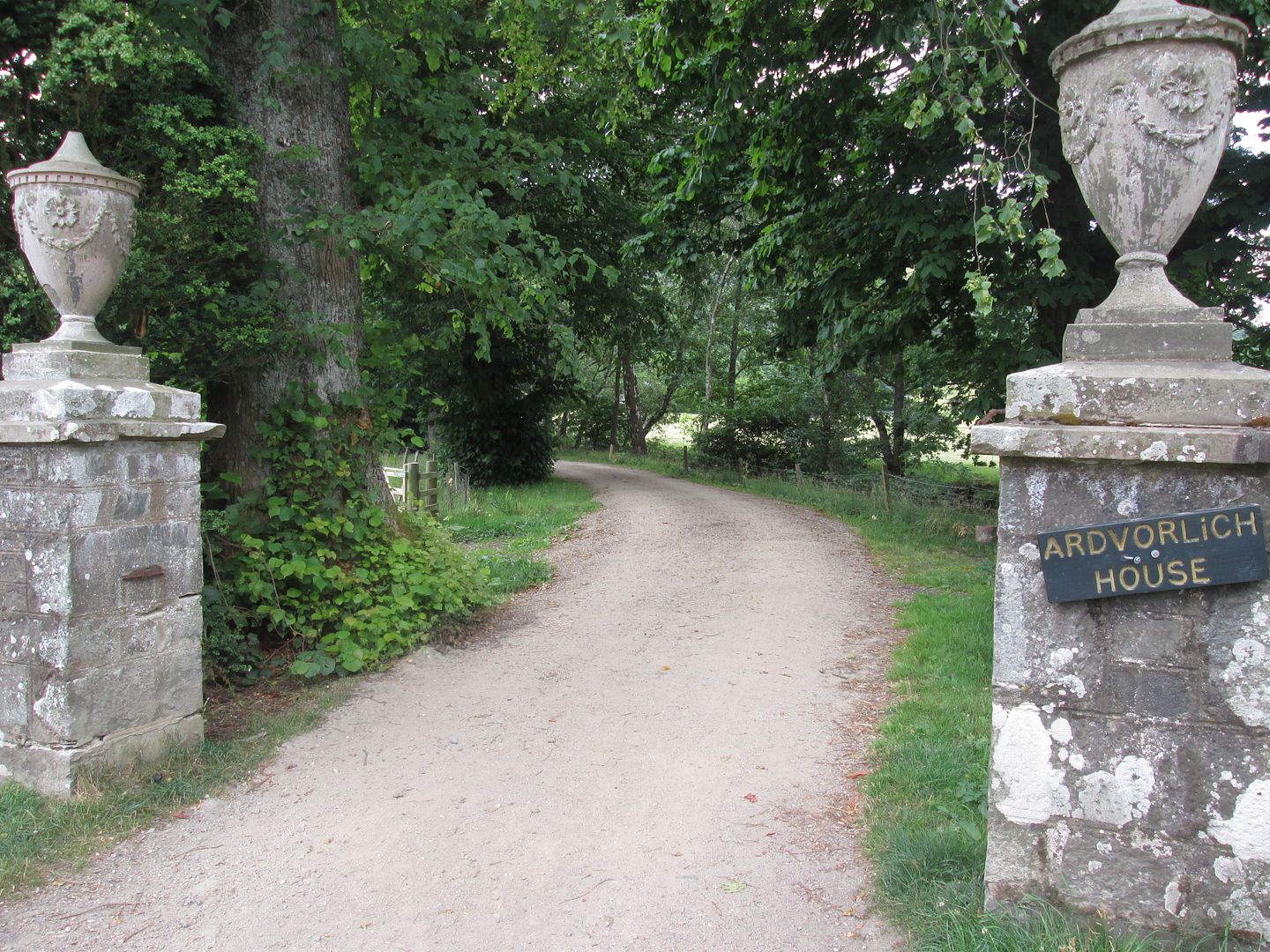 Entrance to Ardvorlich House and access to the hill
Vorlich looking very fine this morning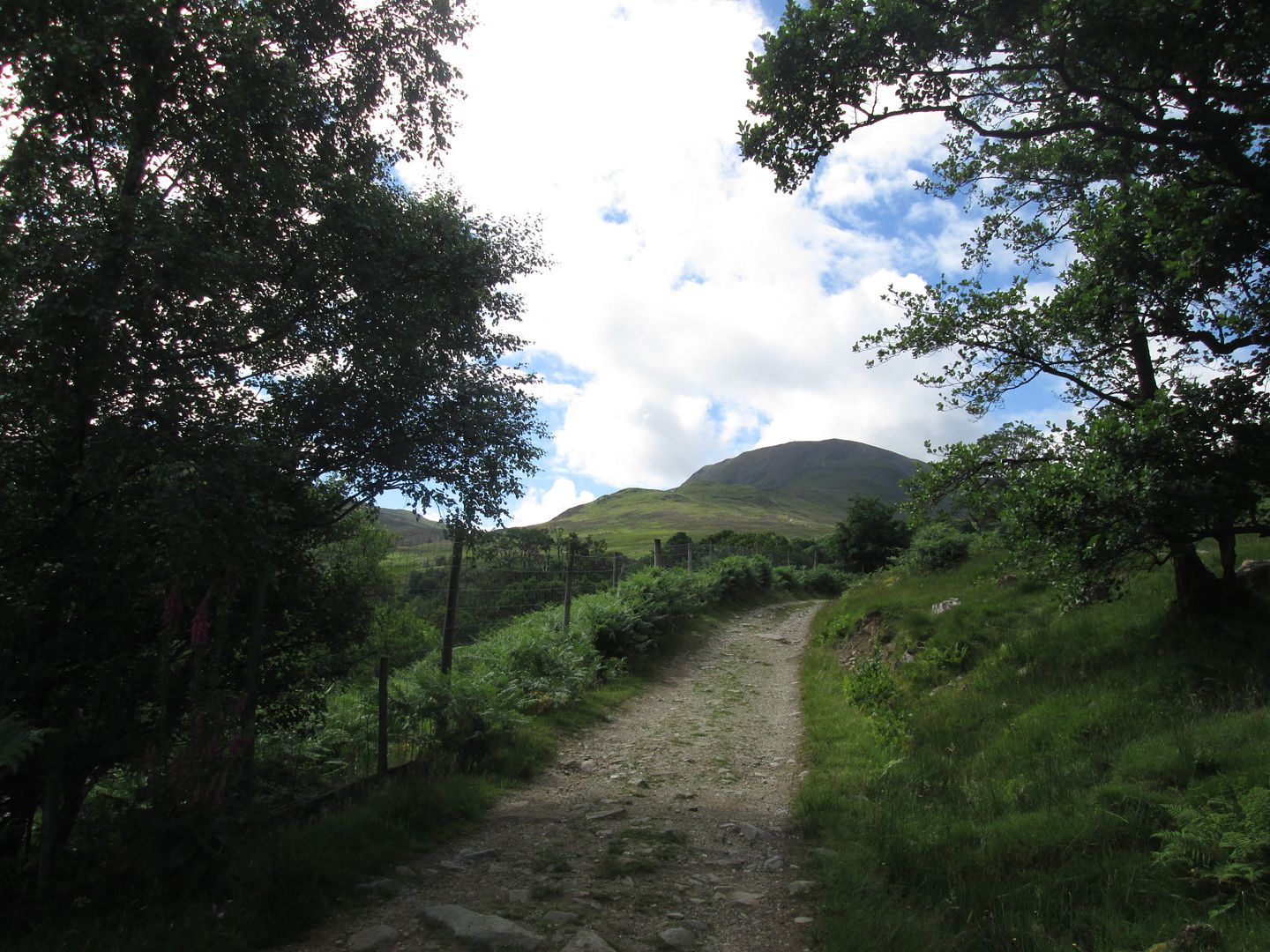 Almost clear of the trees
Clear of the trees and onto the open hillside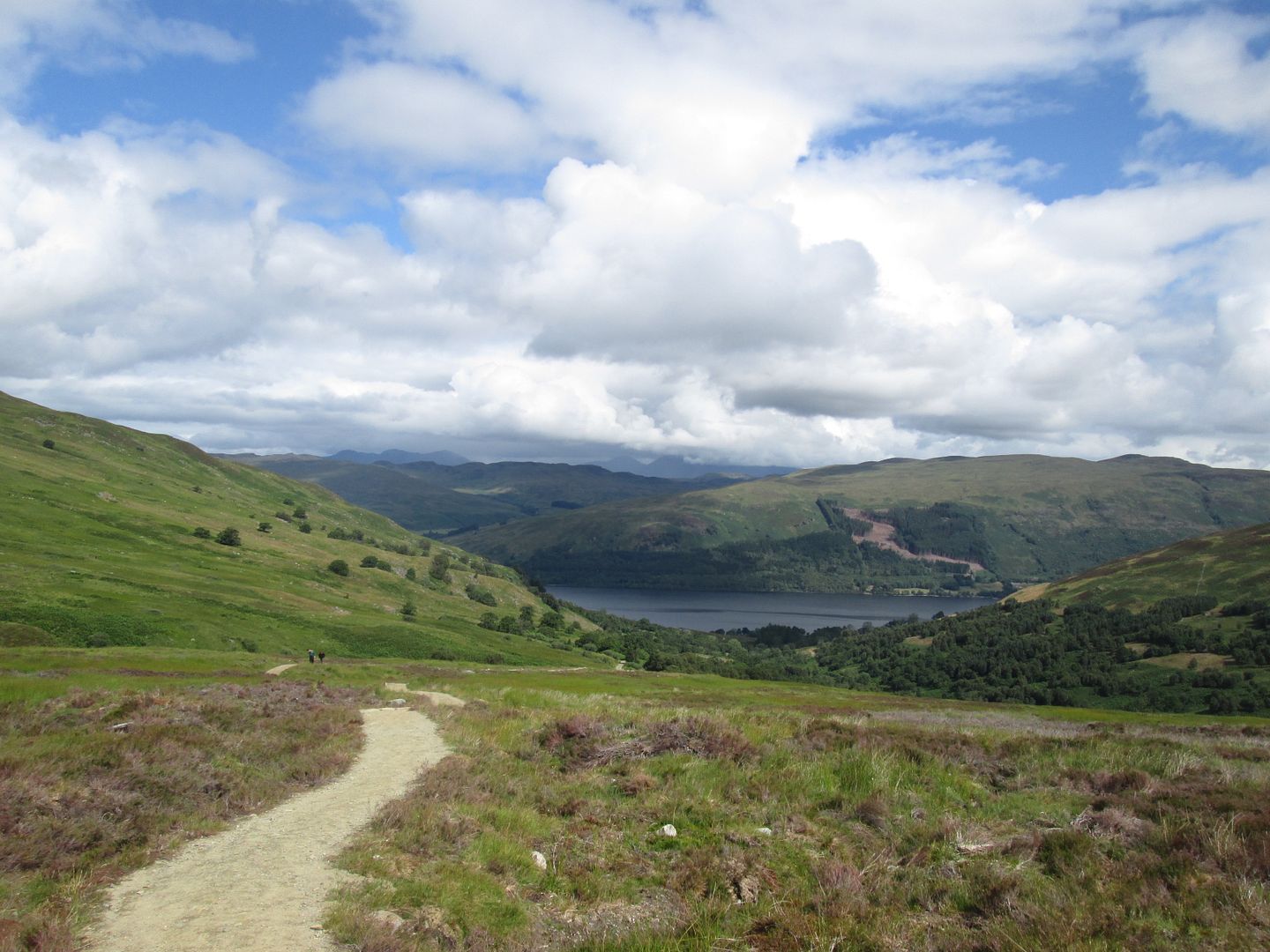 Back down to Loch Earn
Having not seen a soul on the hills over the last two days, I was now on a hillside that resembled Princes Street on a Saturday afternoon in comparison. About half way up I met a former colleague and her husband descending. They live in Comrie and this is a regular outing for them. A short distance further on two young chaps descending towards me were in the midst of a heated argument about how many Munros there are. I was not going to get involved until one of them asked me if I knew. "282" I fired back. "See, told you!" he said to his pal, before turning back to me and saying "He reckoned there were thousands!" Good Lord I thought, after Sunday's shenanigans I think it would be the end of me if there were thousands of them!
Carn Bhac - January 2011 (aged 7)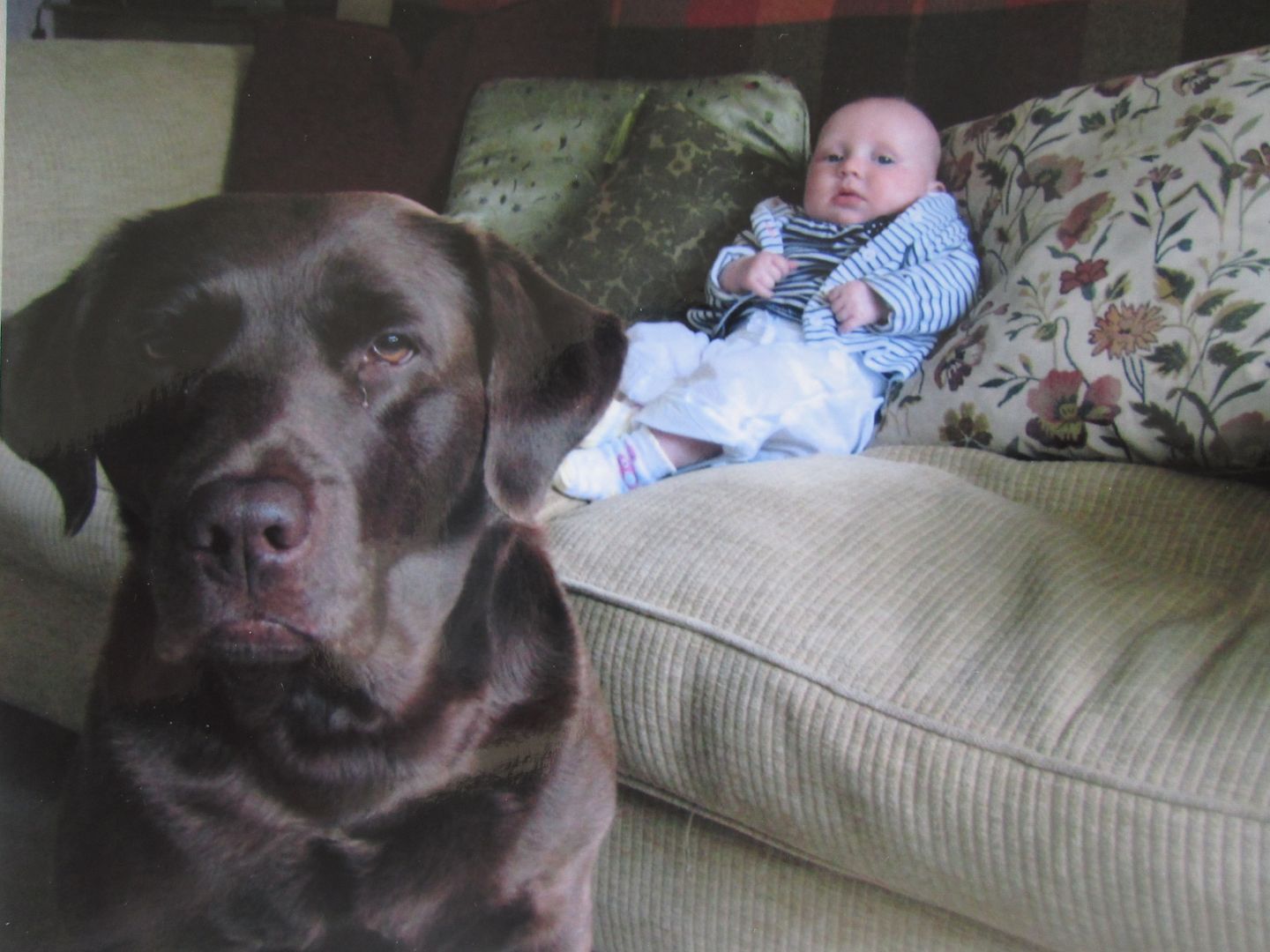 Dutifully looking after the new arrival - sometime in spring or early summer 2011
The Fara - August 2011, photo taken by my great friend Robin, a fellow dog lover and man of the hills
Summit cone rising ahead
Meall na Fearna foreground right with the Comrie/Glen Artney hills behind
Almost there now old girl!
Two hours after setting off, I reached the summit trig point and bendy iron rod. It was obvious that I was not going to have much scope for privacy with a constant coming and going around the summit. I wandered over to the cairn at the South East Top, equally busy with folk sitting having something to eat or drink, and reviewed the options.
Stuc a'Chroin from the summit trig pillar on Vorlich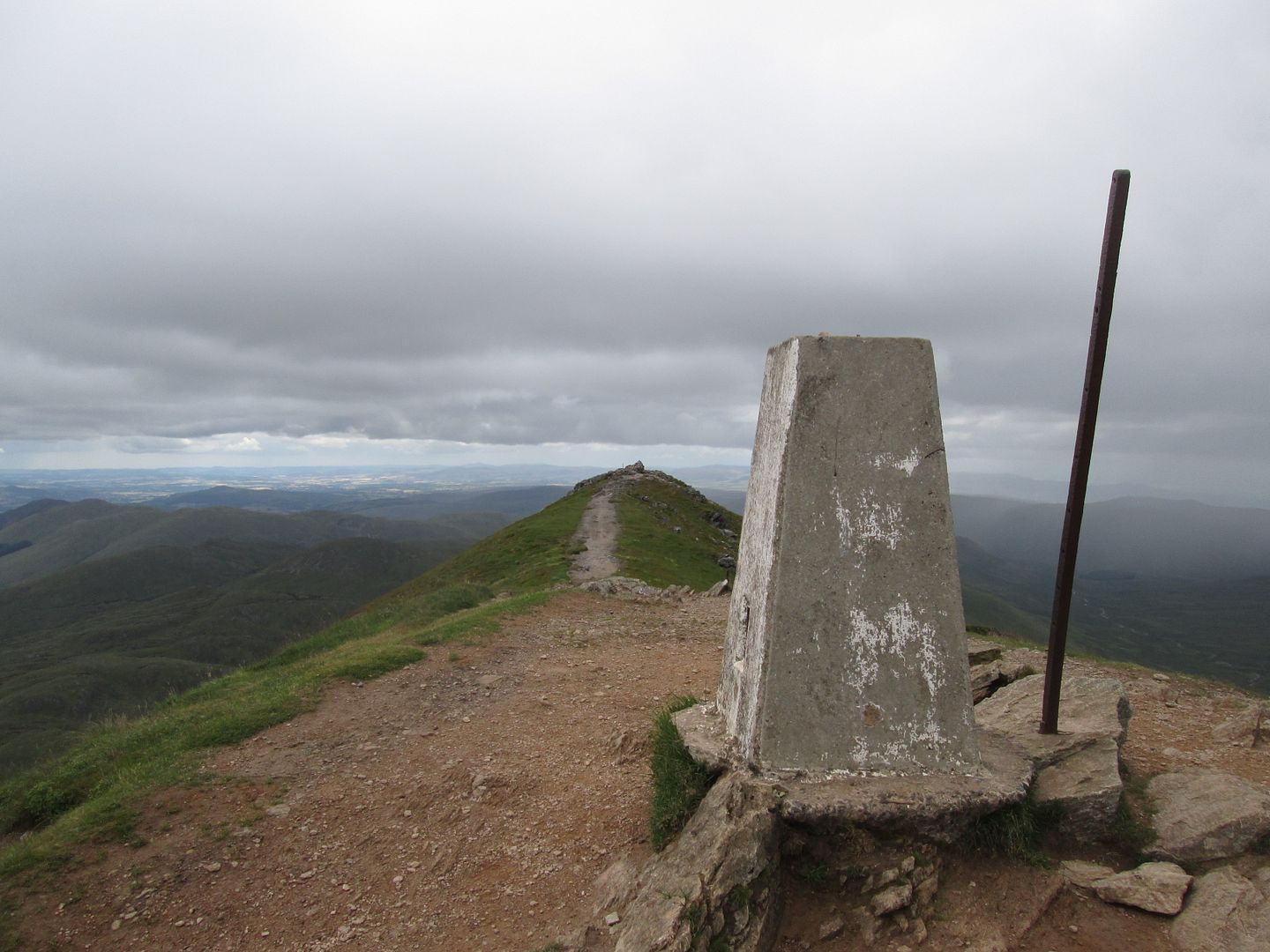 To the South East Top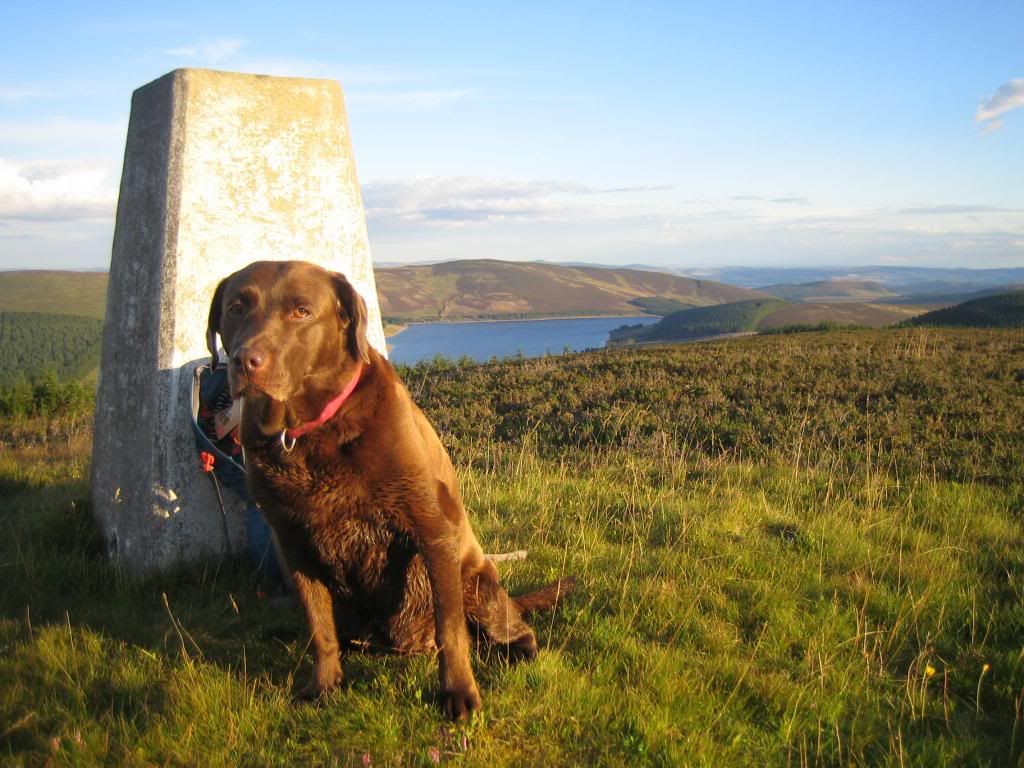 Hare Cairn - September 2013 (aged 9)
Yours truly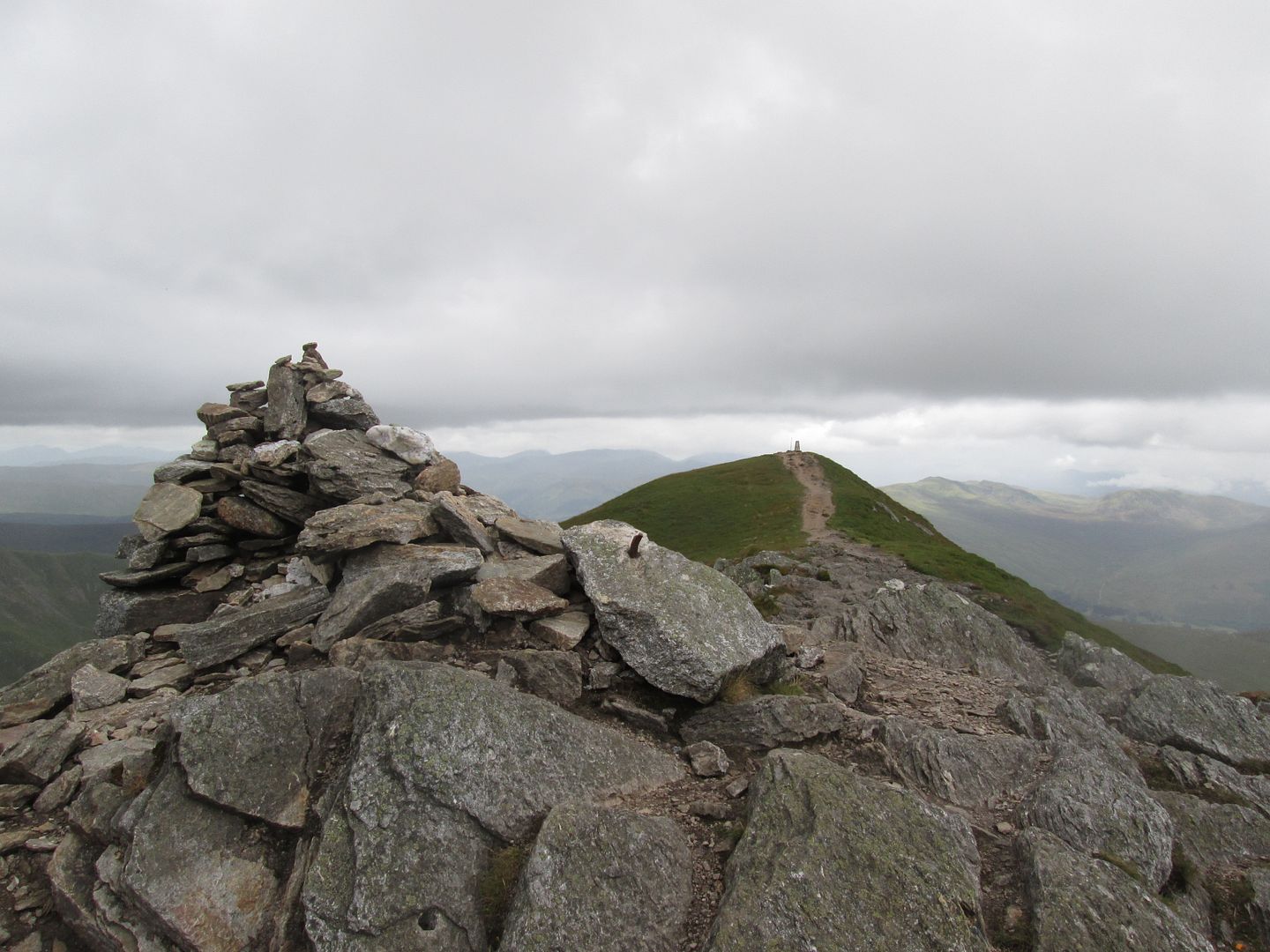 Back to the summit from the South Top
I became engaged in a fairly lengthy chat with the young lad who had blown the secret of the World Cup Final score and his grandfather. The young lad was desperate to add Stuc a'Chroin to his Munro list (which currently stood at Ime, Narnain, Lomond and Schiehallion. And of course Vorlich now too. The grandfather was visibly less keen, especially with the weather looking like it was thinking of closing in. I tried to be as non-committal as I could and muttered things about the hills not going anywhere in a hurry and silently willed them to be gone!
Eventually they were gone but they were no sooner gone than two German women appeared, wanting to know what the English word was for one of the little flowers growing around the summit area. Dear Lord, have mercy!
Eventually I retreated a short distance to below a little crag that I had spied. It was sheltered from the wind, catching the sun, had a brilliant view across the coire to Stuc a'Chroin and was away from prying eyes. I took out my trowel (as well as the hammer and chisel I had carried just in case) and dug out a square of turf before excavating a hole deep enough. It was difficult work in the stony ground which will never have been disturbed before by human hand. Eventually I had a hole deep and wide enough for the bag with her ashes wrapped in my old neck buff, as well as her lead and collar. I placed them in the hole and covered it back over, carefully stamping the turf back down into place before placing some stones over the spot. Then I wiped a wee tear, cracked open a can of beer and sat down to enjoy a spot of lunch.
Lucy's final resting place
When I eventually got up and emerged from behind the crag, an entirely different set of humans were gathered around the cairn at the South Top. I ignored them all and walked on, stopping only briefly to make a fuss over a collie that had just arrived with its owners at the summit trig point, before hitting the descent path back to the car.
Time to say goodbye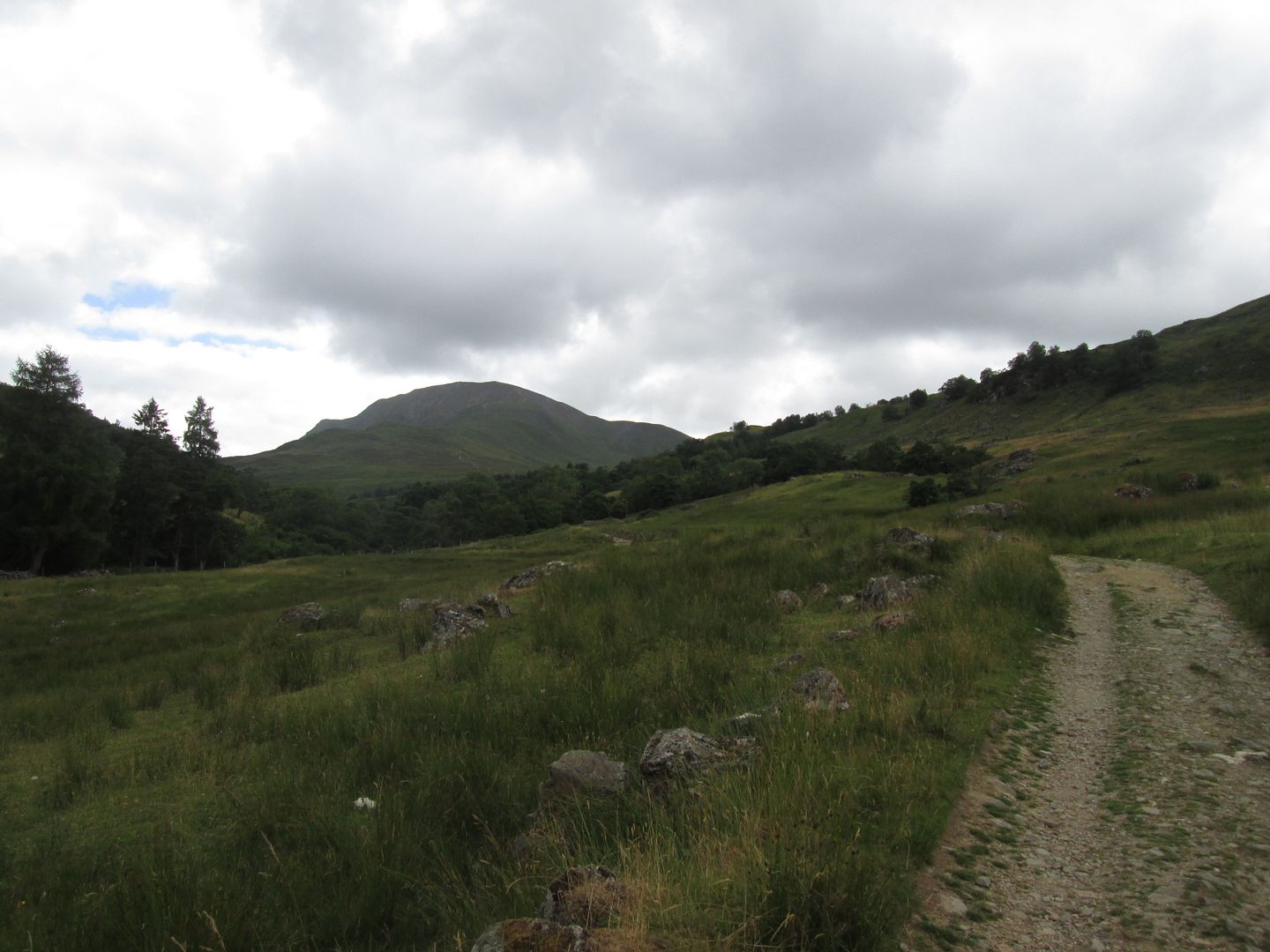 A last look back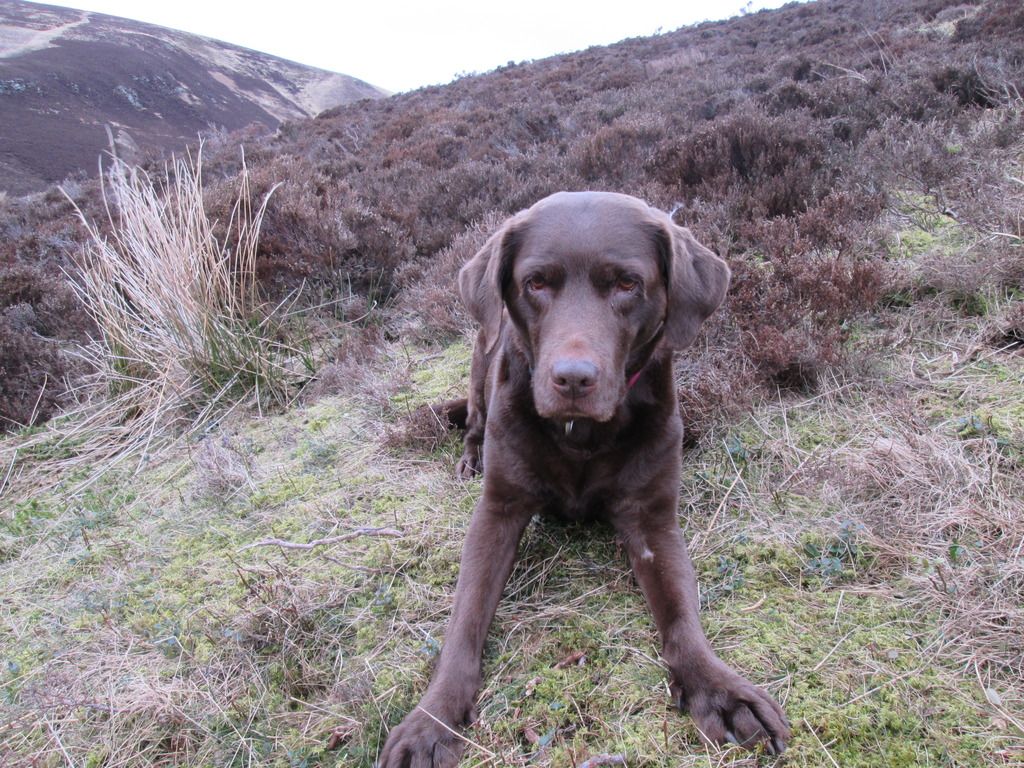 Cat Law - March 2015, aged 11, the day she officially retired from the hills
She may be gone now after only 14 years, but I would not have wished her to be one of us. In so many ways she was my best friend because she was
NOT
one of us. Because she was a dog, man's best friend and all that jazz, but there is more than a grain of truth in the cliché. Other dogs will undoubtedly come to be part of my life, but she spanned arguably the defining 14 years of my life when all that happened over that time is taken into account. There will not be another like her. She will always be there by my side on the hills, be it Ben Vorlich which I will continue to visit for as long as I remain able to do so, or any other hill where I choose to wander.