Torridon - even among new walkers the name conjures up awe and expectation of something special. These expectations weren't disappointed
I had to stay in the area for quite some time to find a day with high-level visibility and winds that were low enough to tackle one of the great Torridon Three. But at least this way I could explore a lot of attractive low-level terrain
Finally, a day with a decent forecast came, and eagerly I set off towards Tom na Gruagaich. So eager that stepping into the middle of a tiny puddle - surrounded by completely dry ground - after the first 20 yards or so reminded me that today I would also have to watch my step and not just look at the hilltops
Having been walking for a week already, I was quite pleased with how relatively easily my legs carried me up that first steeper bit and across the flatter section towards the base of Coire nan Laogh. With each step up this relatively steep climb (for me at least), the very gusty wind was picking up, suggesting that the forecasted gust speeds would probably be exceeded at the top. And so it was - Tom na Gruagaich was in no mood to let one wander too close to the summit ridge but afforded great views in all four directions.
Looking south to Loch Torridon and Loch Damh
Speaking of ridge - the ridge down towards the saddle that leads to Sgurr Mor wasn't really exposed and looked like a fun bit of harmless scramble had it not been for the gusts, which were quite strong at times but at least they were southwesterly, so I kept well to the side of the ridge, which was dry and looked a safer bet than the paths further down, where the steep grass was still quite wet after days of heavy rain.
At the top of Sgurr Mor, the light was a bit better for the view.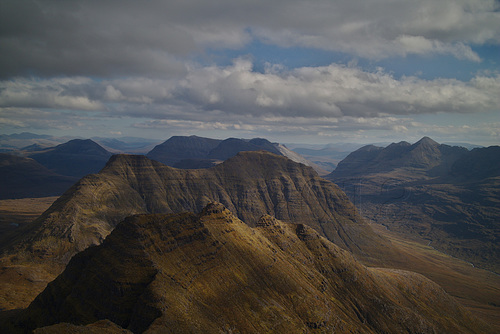 Looking east from Sgurr Mor
With the wind as it was, I had already made the decision to not go anywhere near the Horns, and so had a number of other walkers with a lot more scrambling experience that I have. So going back down the way I had come, I was rewarded with good, but hazy early afternoon light.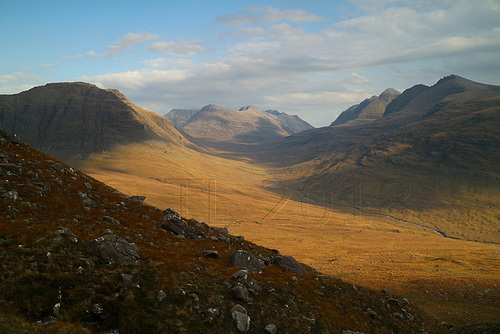 Beinn Dearg, Beinn Eighe, Liathach
Very, very enjoyable walk and it's true: the advantage of the clockwise walk direction is that if you decide not to do the Horns, you indeed have bagged 2 Munros already