Slipped up in October by missing out on a couple of good weekends (fooled by weather forecasts)
However - a weeks holiday to take and the forecasts not too bad for the early part of the week
The plans for the wee trip started with a bit of a disappointment when I phoned "Billy the Boat" only to discover that he had stopped providing the ferry service from Arnisdale to Barrisdale - was looking forward to that
Missed the Boat right enough
Ah well - nowt for it but the walk along from Kinloch Hourn
Sunday 21st November
Arrived at the car park just on noon and quickly away for the walk into the bothy
Once round to the first ruin at Skiary the ridge of Ladhar Bheinn is visible in the distance and fools you a bit that it is closer than it actually is
The first steep climb with the rucsac was a pech - but once the fleece pullover was off the second hill and the rest of the walk was easy enough and enjoyable - 3 hours bang on to the bothy - met a group of three and and a group of four just before the boat house
Half way along I remembered the first time I had walked this route was October 1991
Older now with grey where once was brown
I returned to you my memory land,you did not let me down
Once more among the clean skies,the mountains and the streams
I felt again that peace of mind,that quiet to soothe my dreams
I felt the years roll back,could feel both wild and free
Among the solitude of the hills that kept their faith with me
The bothy was quiet - one rucsac left but this belonged to a lass who arrived from the hill and was walking out to catch up with her mates
Had my meal, had a dram,listened to the radio and read the bothy book.
The cold bothy soon had me seeking out my sleeping bag and an early night.
Monday 22nd November
Ach well - time to get the job done
Getting on for 9 am when I set out - cloud was just catching the top of the hills but day looked promising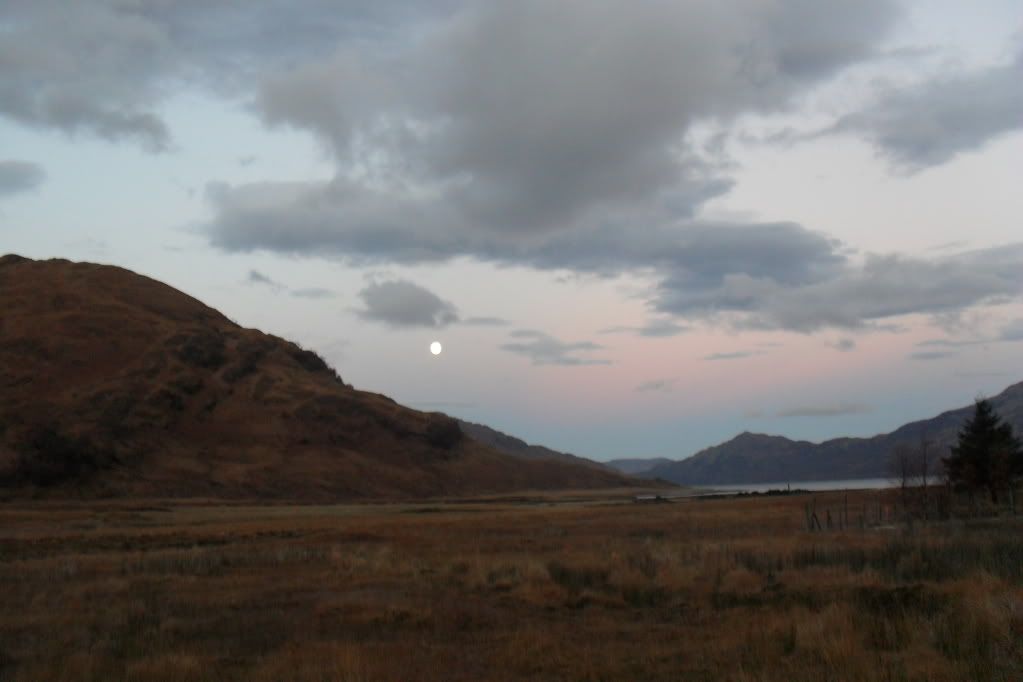 Silvery June over Barrisdale
Up to Mam Barrisdale where I stopped for a short break.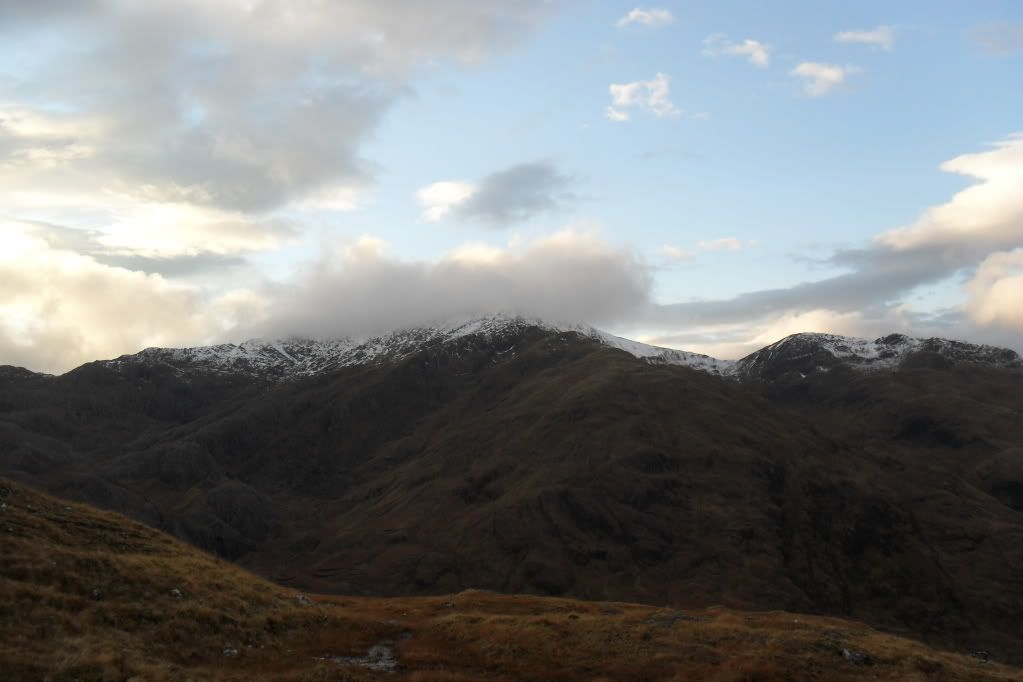 Meall Buidhe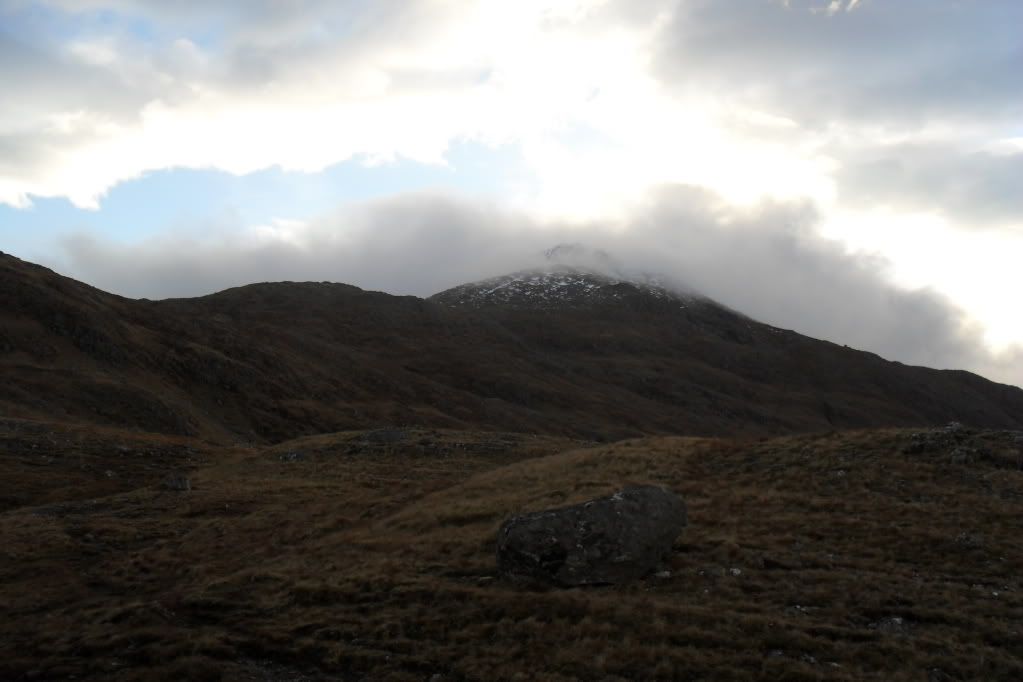 Cloud just catching Luinne Bheinn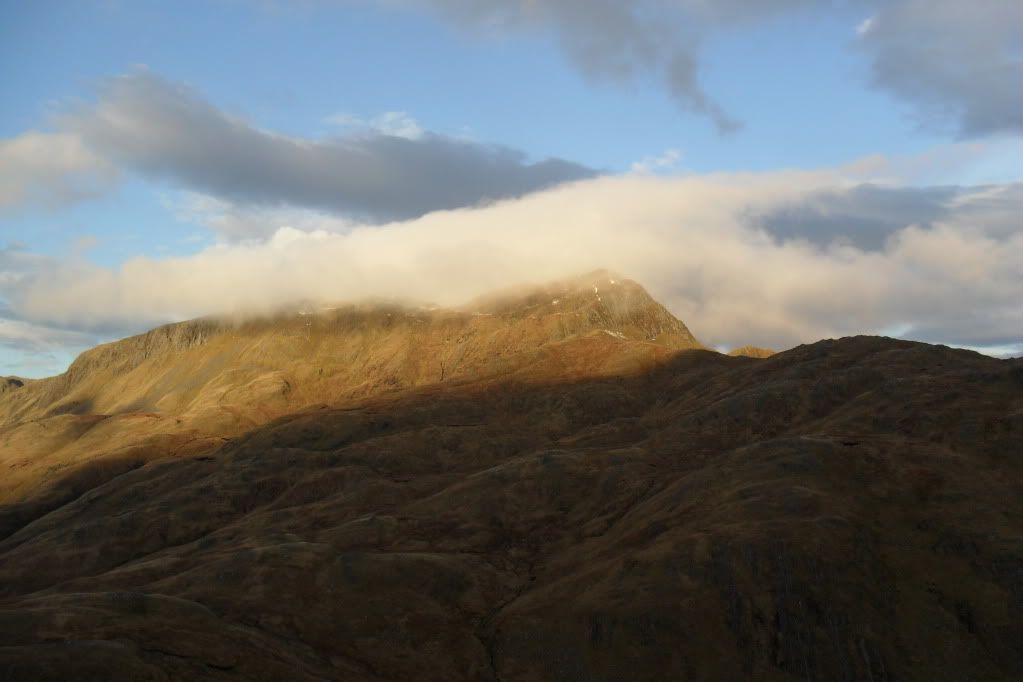 Cloud and Sunshine over Stob a'Chearcaill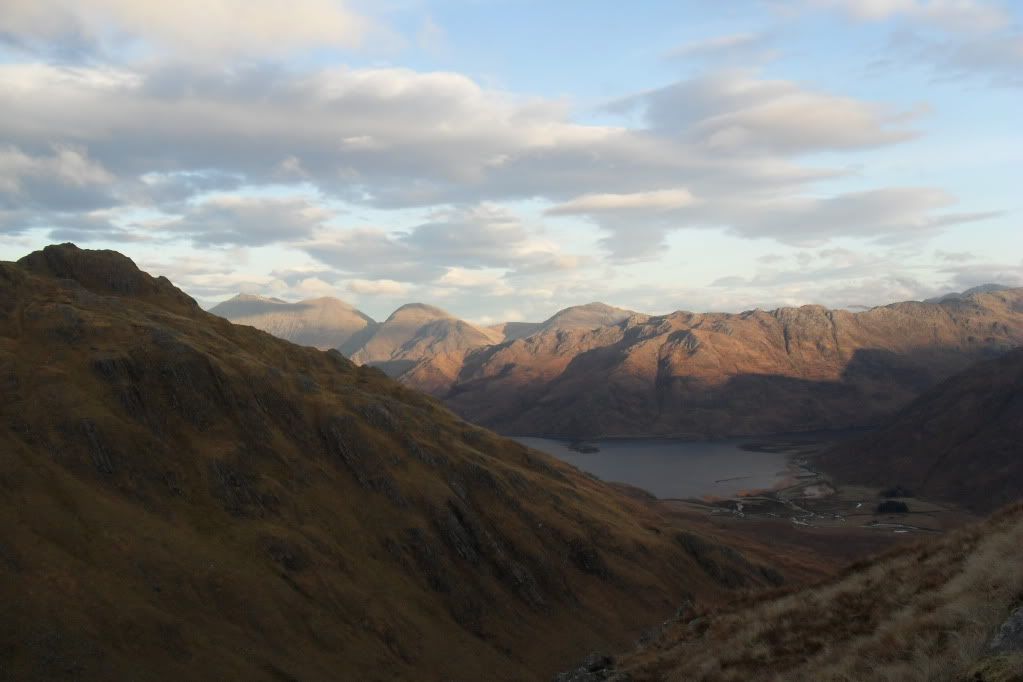 Barrisdale Bay and Beinn Sgritheall - Looking Good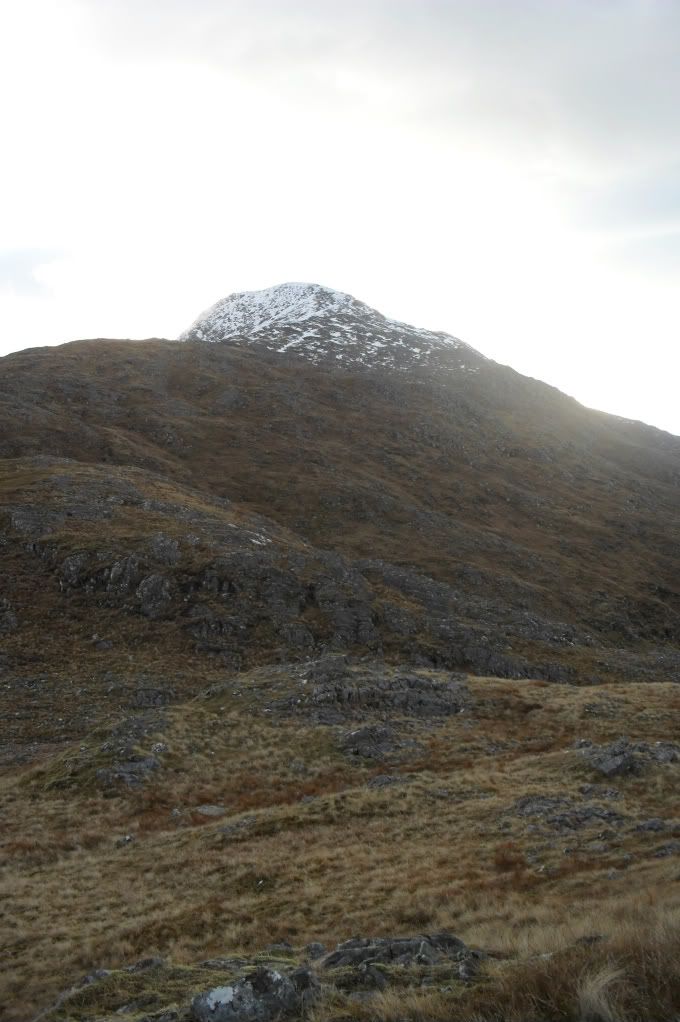 Looking up to Luinne Bheinn
Meall Buidhe again
Loch an Dubh-lochain - cloud coming in
Simply then up by Bachd Mhic and Tosaig to the base of the final climb to Luinne Bheinn
Cloud was coming and going and I was still hopeful of clear views at the top
Did'nt quite work out that way but was'nt complete clag either
Reached the first cairn just after 11 o'clock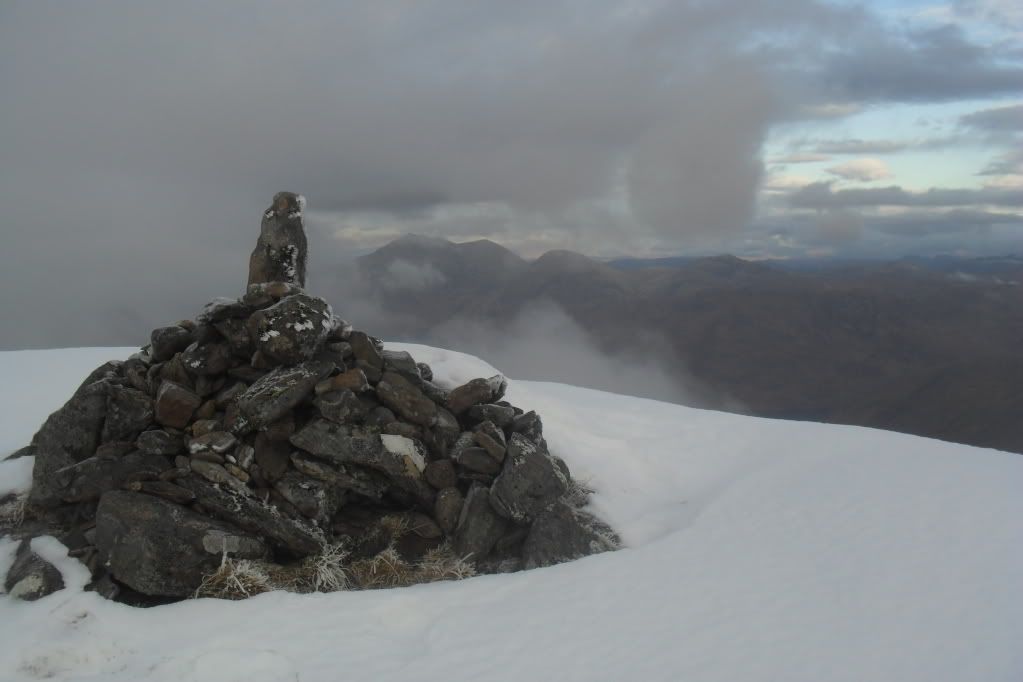 Cairn
From Luinne Bheinn looking to Sgurr a'Choire-Bheithe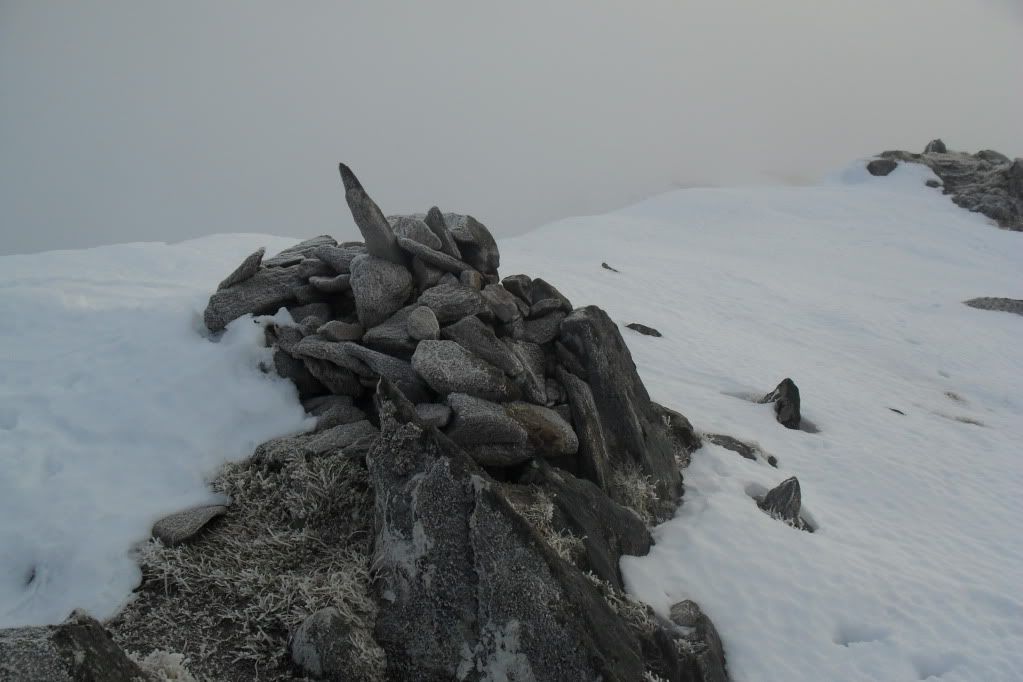 Second summit cairn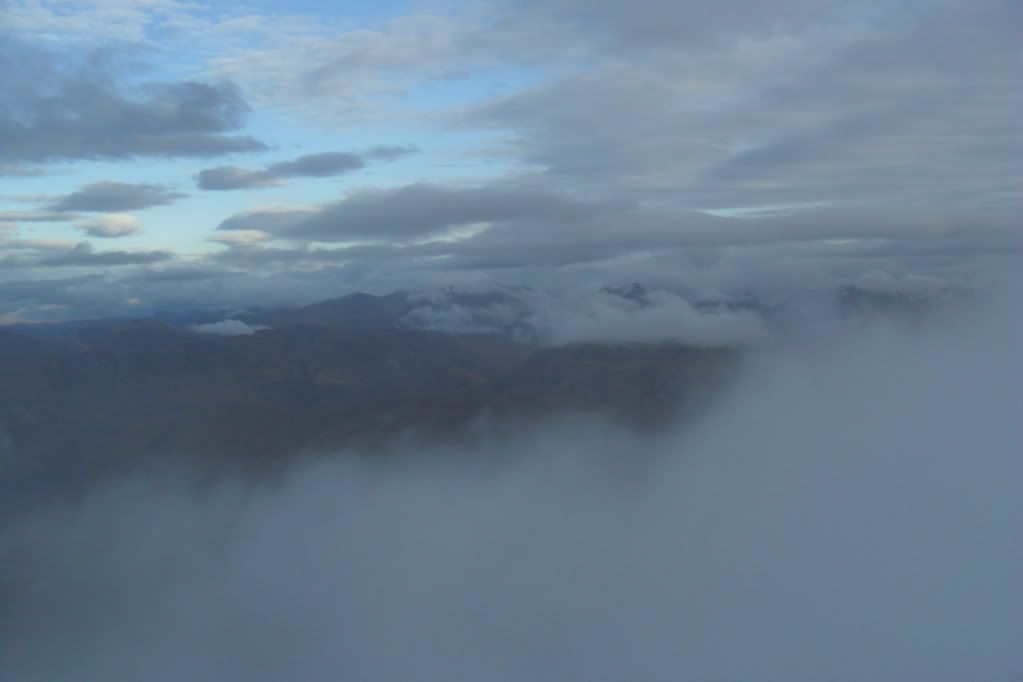 Not quite the clear views I was hoping for
Munro Round # 3 compleat - maybe an apt hill for it - quick dram (Glenmorangie Lasanta) of course before moving on
The cloud really came in just as I set of to the east top and down the ridge towards Mam Unndalain
Snow on the ridge - crunchy in places - felt happier with ice axe in hand
Took a careful bearing so as not to follow the wrong ridge in the mist but once down a bit it was clear again
Rough and complicated ground in parts - glad I could see the route ahead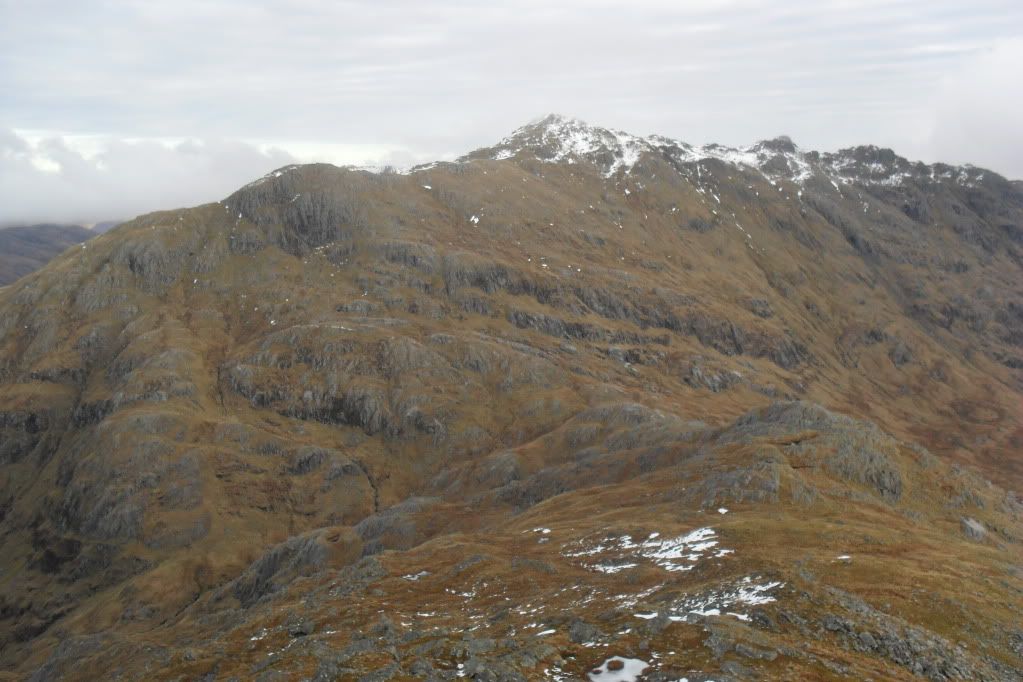 Way ahead to Sgurr a'Choire-bheithe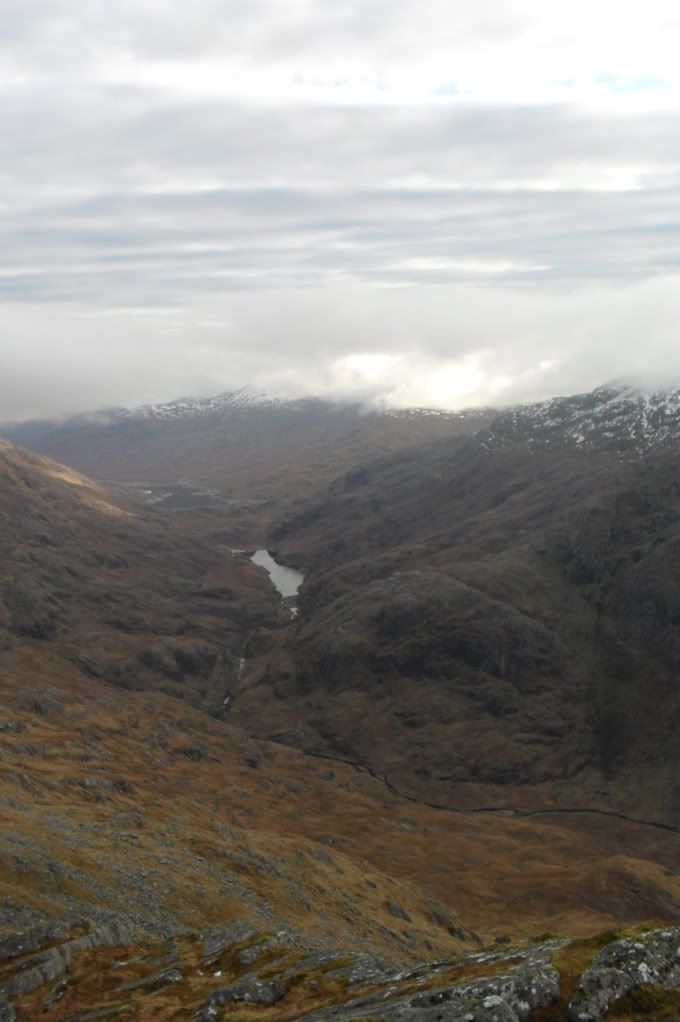 Lochan nam Breac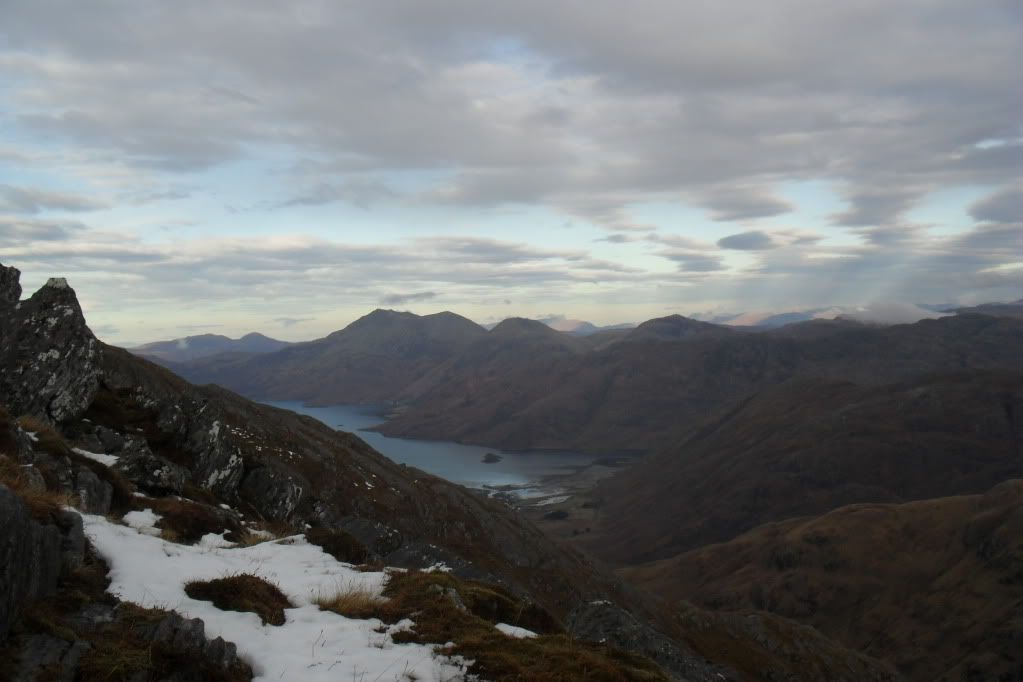 Beinn Sgritheall and Barrisdale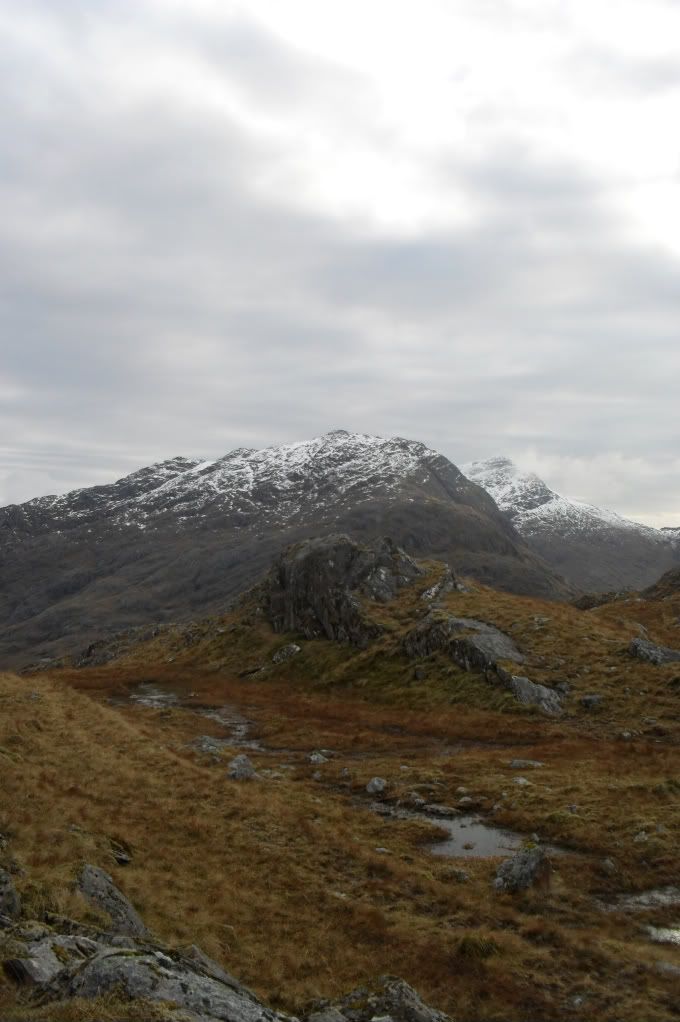 Beinn Aden and Sgurr na Ciche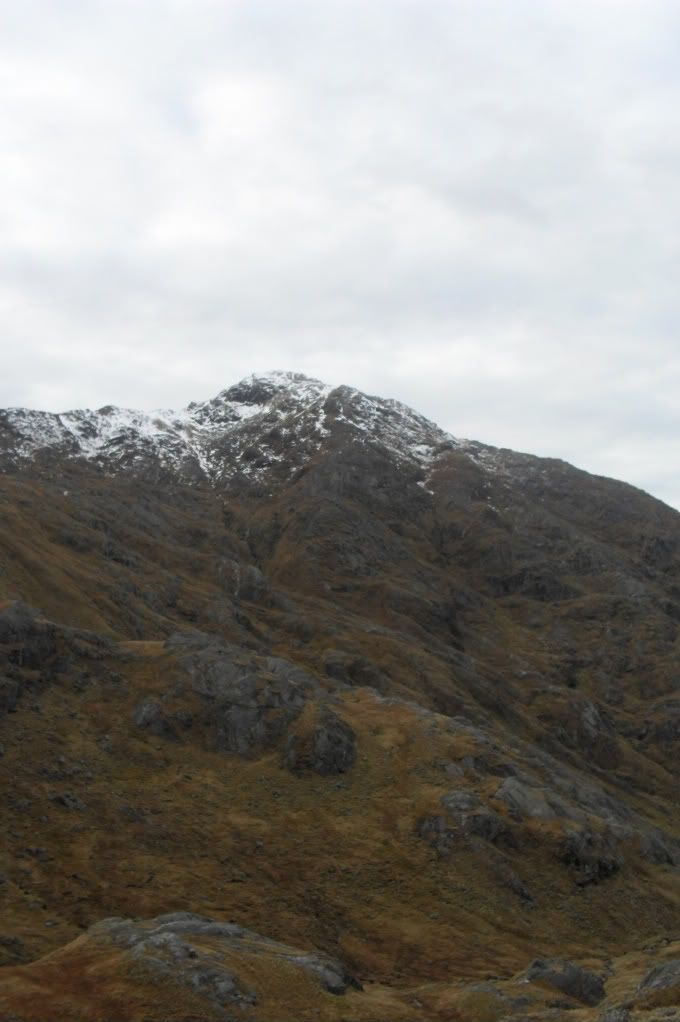 Luinne Bheinn - Clear of course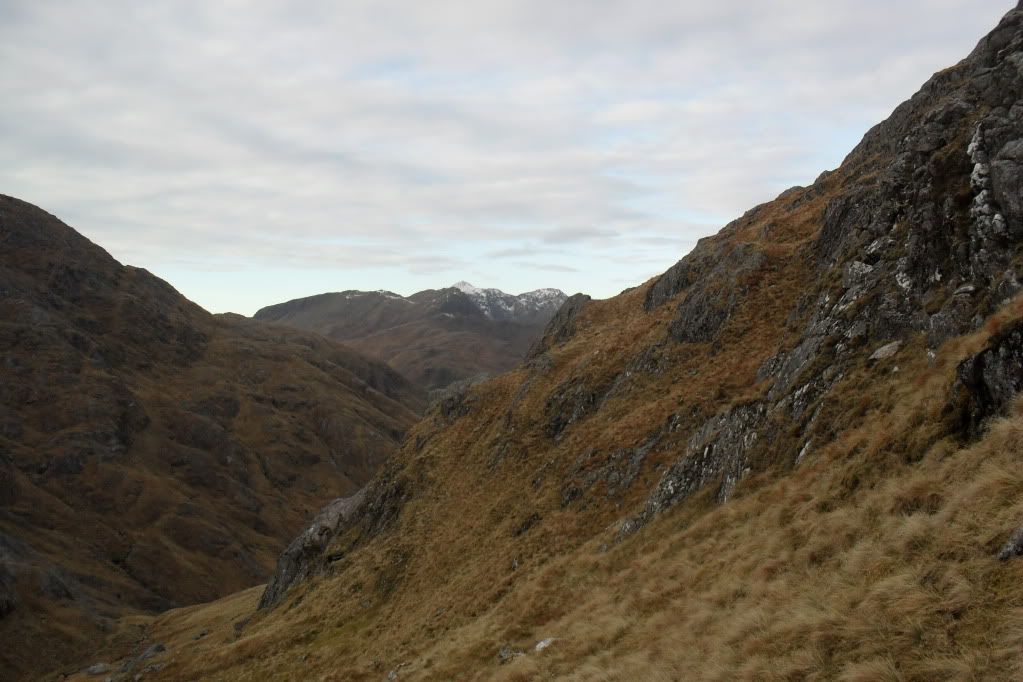 Ladhar Bheinn from Mam Unndalain
Down to the Mam in reasonable time - and a break
Then for the climb up to my final Corbett - Sgurr a' Choire-bheithe
I had settled on this pair of hills to compleat the double round when SaCB was affirmed as a Corbett.
Just a case of picking a line up past and between the rocky outcrops
Found the climb a bit tedious but I was soon on the level ridge with a short climb to the summit.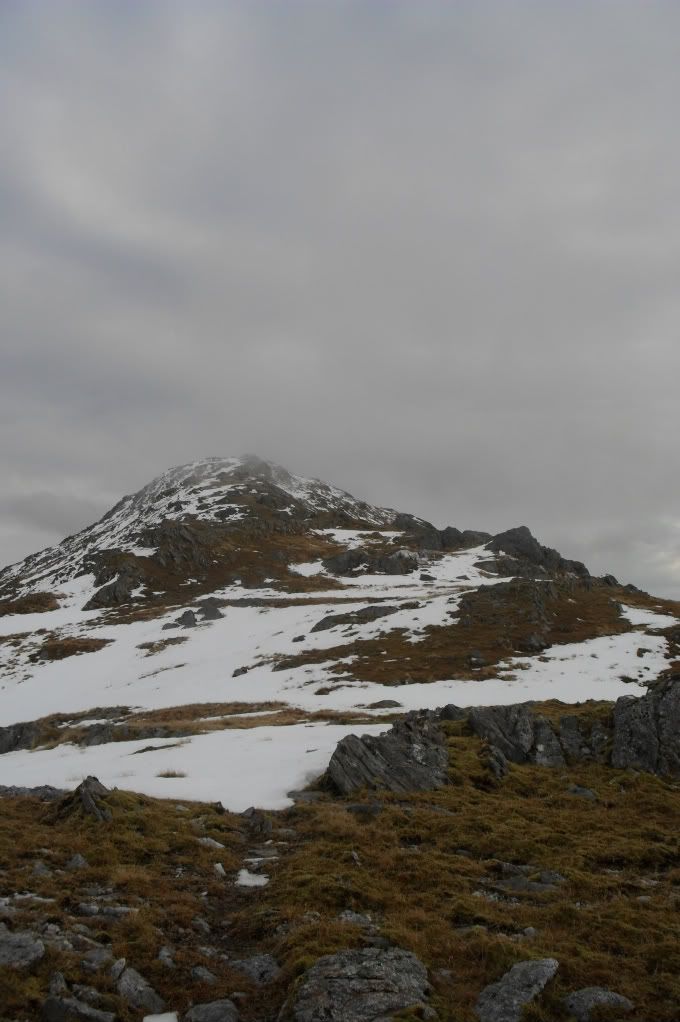 Approaching the top of SaCB
Strolled up to the top to compleat my round of Corbetts
How long did that take then - first Corbett was Ben Ledi in 1975 !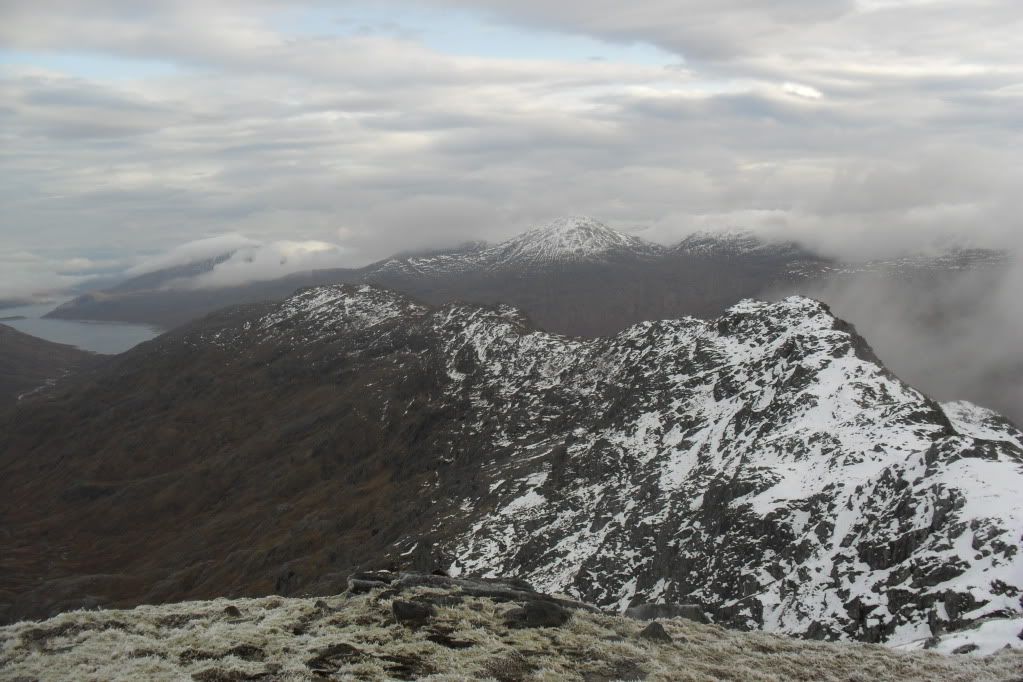 Druim Chosaidh ridge
Summit cairn- Luinne Bheinn and Rum distant
A great viewpoint this hill I'm sure - but It really was'nt a bad day at all.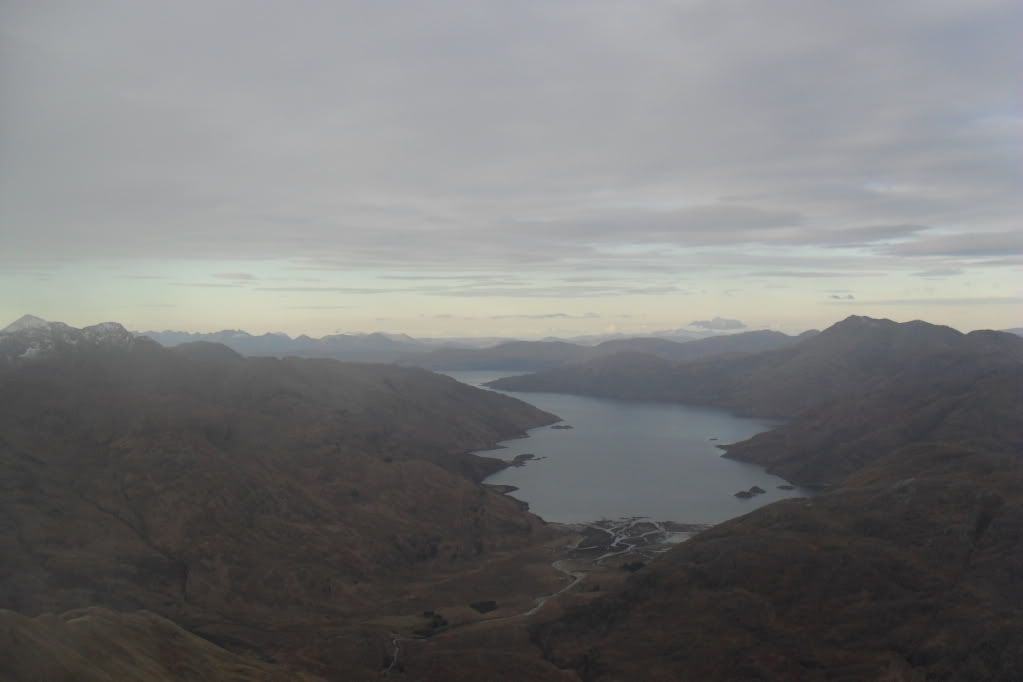 Barrisdale with Skye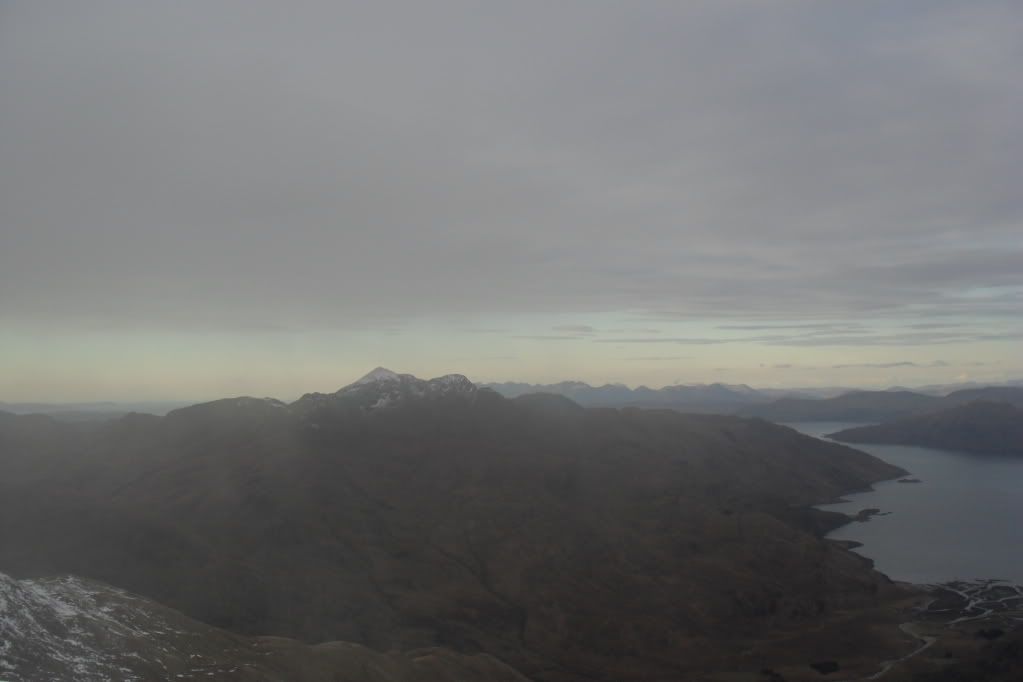 Ladhar Bheinn
After a few photos and another dram from the hip flask back down to the Mam and the pleasant walk back to the bothy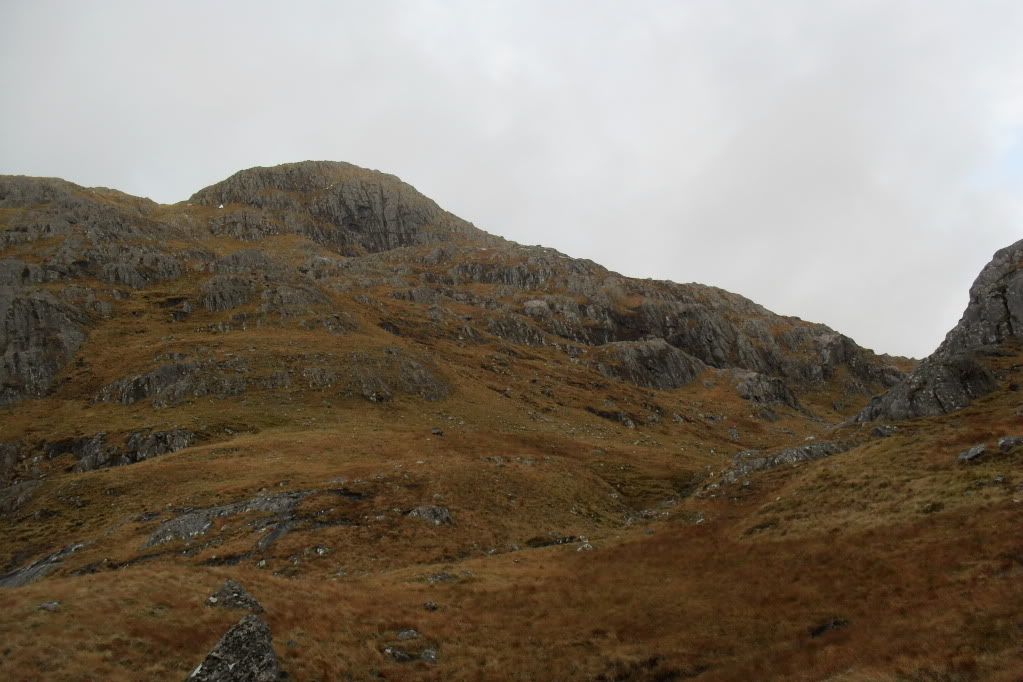 View back to Sgurr a'Choire-bheithe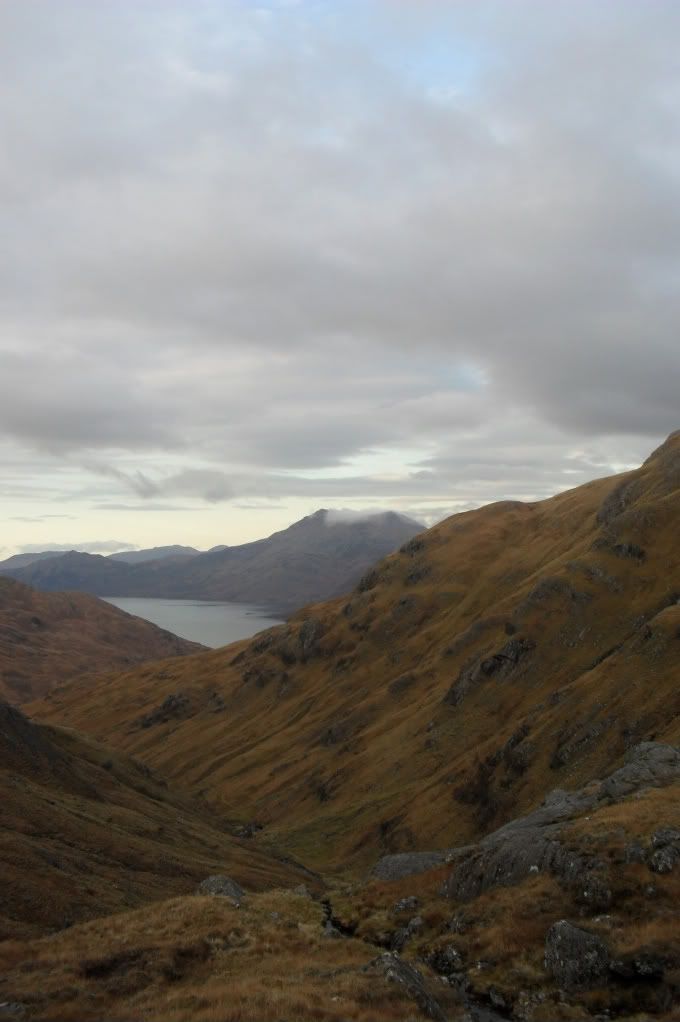 Dropping down from Mam Unndalain
Meal and a few drams - but again soon to bed to beat the coldness
Tuesday 23rd November
Enjoyed the walk back out - just over 3 hours again - but glad to get back to the car
Some photos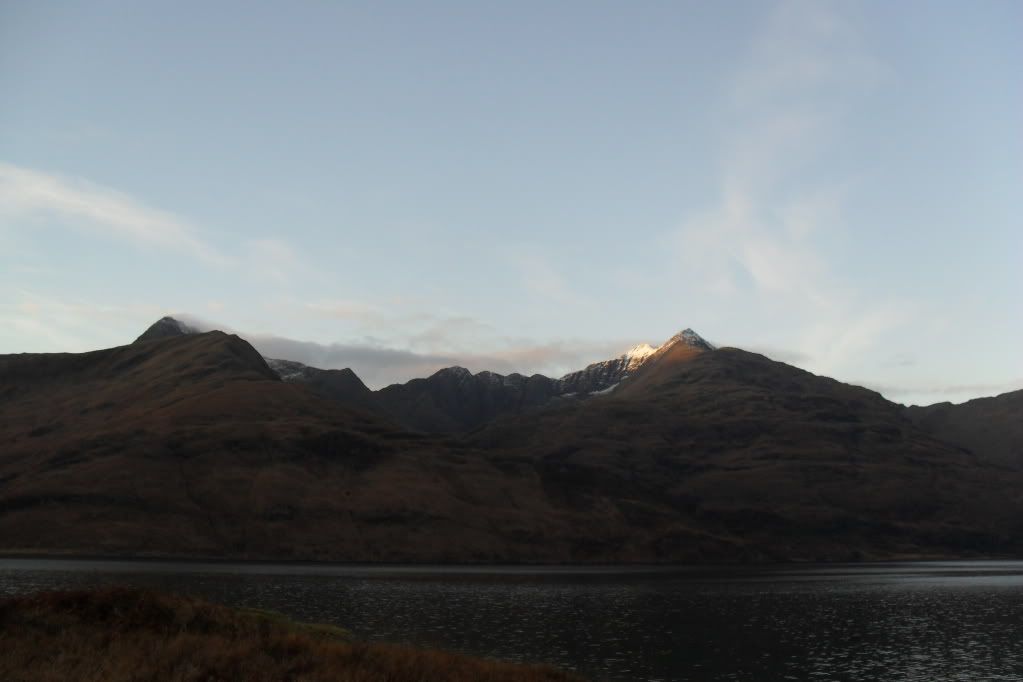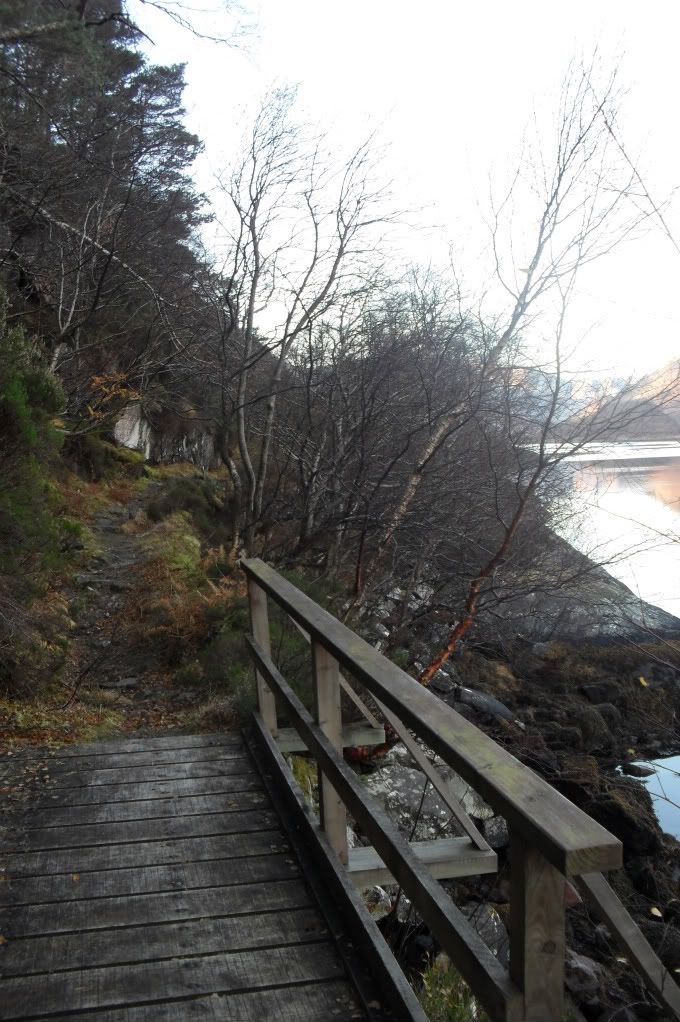 Welcome back to Kinloch Hourn
Pint at Invergarry and home
Treated to a grand meal by SWMBD
- a lovely bottle of wine - and ???
- Oh Aye a few drams
An end to all that "Bagging" - Honest