Again didn't get an early start - so another short day as a result
Stob Breac the Graham above Inverlochlarig is a hill that has been niggling at me for a couple of years since I turned back from it on a day of ill health and lethargy.
It was just after 11.30 when I set off from the car park at Inverlochlarig along the road for the rise up the forestry track that skirts the west side of this rough wee hill.
There is a locked gate at the bottom of the track with a stile to get over the fence so perhaps not one for the canine companions.
Once over the stile the track rises in gradual zig zags before levelling off.
I knew from my previous aborted visit that there was a wide firebreak that gave access to the steep hillside.
You do pass other firebreaks that would also take you on to the hill but the slopes above them are very steep.
This firebreak for instance
My route to the hill was further to the south
Reached the bottom of the firebreak(NN440153) in just under an hour
My way up the hill - on the trail of the lonesome pine
Wasn't particularly looking forward to this climb - forestry firebreaks can be rough going
As it turned out the going was OK - probably the best time of the year to tackle this hill
The tussocky grass had been flattened down by recent snows and the ground was still quite frozen
So I made good time up to the tree line where I stopped for a drink
Thought about taking a rising traverse up to the summit but in the end just went for the direct steep climb to the broad grassy ridge - disturbed a small group of stags on the way up
Along over the 681m top before sight of the actual summit
Reached the top of the hill and this tiny cairn (a couple of hinds lying just below were soon off and running)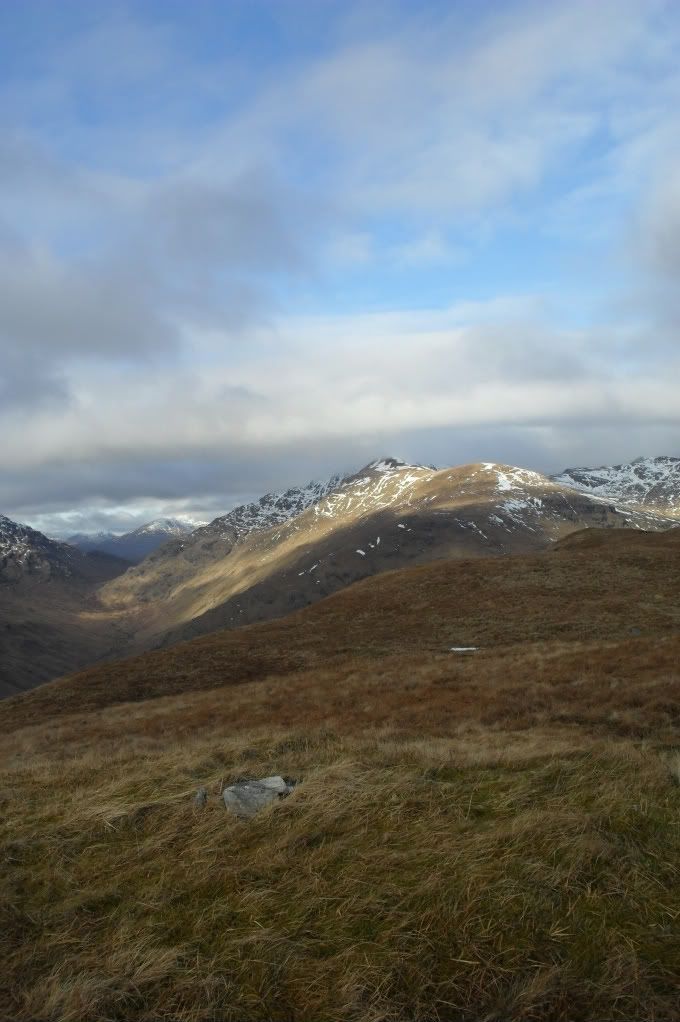 There was another wee grassy top a couple of hundred yards to the north so I wandered out to it and back
These hills were clear of cloud but the top of Stob Binnein didn't clear
I could have dropped directly down the steep slope to search out one of the other firebreaks but settled for the gentle falling traverse back to my ascent route
Soon back down on to the forestry track for the amble back to the car
"Breac" always makes you think of rough ground and it is a rugged wee hill right enough
Maybe not the most exciting of walks but typical of a Graham in being a good viewpoint to bigger hills
Must get myself out of my pit earlier next week for a longer day
Stopped at the Kingshouse for a beer - Bottle of Deuchars