Have been dying to get out on another hill since Ben Lomond on the 2nd January, and finally my never ending chest infection had bogged off so the time was now! One of the guys I work with, David, had been trying to get a few folks together but as of Friday it was just him and me that were up for it. He suggested Stob a Choin. Its one of the hills he can see from the Campsies, which he lives just beside, and he is trying to tick off all the ones hes can see from there.
So off we set from Callander at 8:30 on Saturday morning. We parked at the carpark at Inverlochlarig, got our gear on, and set off at at 9:40. The road in to the car park was a bit icy so it took us a while to get there.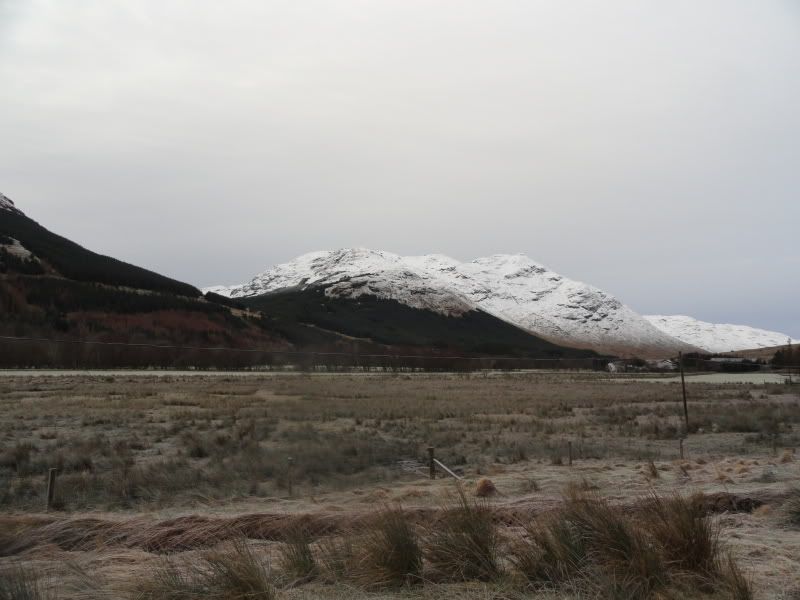 First proper view of the hill whilst walking in on the farm track. David said it was a bit of a steep one. He wasn't wrong!
We crossed the footbridge and continued East towards the sheep fold. Took my gloves off as I was getting warm, took my hat off for the same reason, tried to put hat in pocket whilst still holding gloves and dropped one glove in a burn! Doh. Thankfully David had a spare pair. Lesson number 1 of the day. Bring spare gloves! Although I had them off most of the time as it wasn't too cold and hands were required for some dodgy climbing!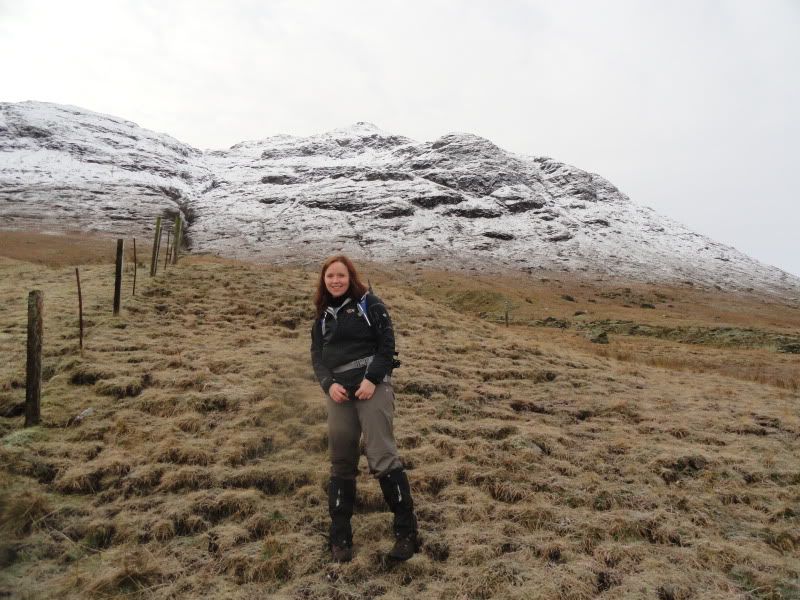 Still smiling, even with wet gloves, and the realisation that I had also left my waterproofs in the car in the bag I had packed with clean clothes for the drive home. Lesson 2 of the day. Pack your waterproofs in your rucksack!!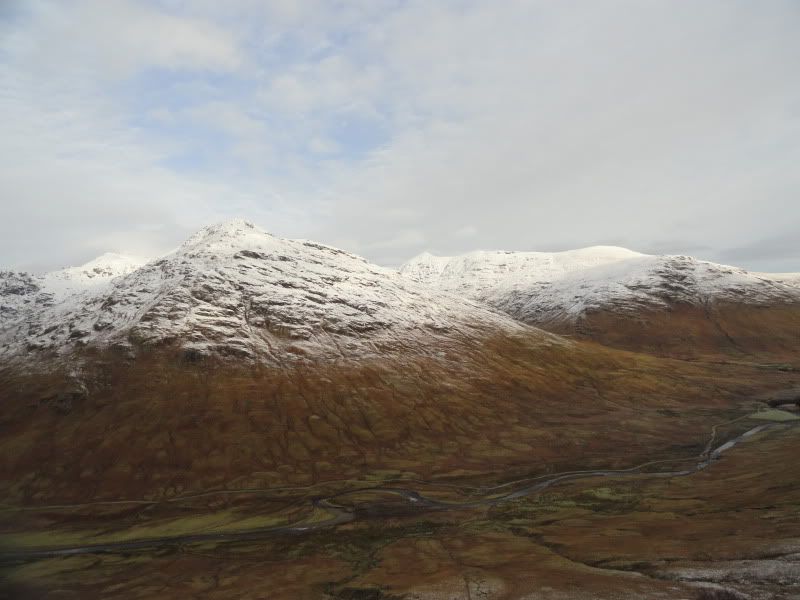 View across to Beinn Tulaichean and Stob Binnein
So anyways yes this hill is steep! There was lots of snow and the ice axe was required quite a lot to help us climb up. My first time using one! David is very experienced in winter hill waking thankfully as I required his assistance a few times. There was some very slippy sections and I found it difficult finding my footing a few times. There was one occasion on the way up when I honestly thought I was going to go as I was balanced very badly and struggling to find a way to move that would mean not falling. Thankfully found a rock to grab onto to give me an edge up.
We climbed up the gully which had sections of quite soft snow, we had expected it to be more frozen, but the further up we got it started to get crispy and David kicked steps for us to climb up. I struggled a bit in my summer boots. I bought winter boots a couple of weeks ago but haven't walked them in yet and didn't want to risk using them on a hill yet. I definitely didn't have as much grip or sturdiness as I would have had in a stiffer boot.
A slightly happier face picture than my frozen face Ben Lomond one lol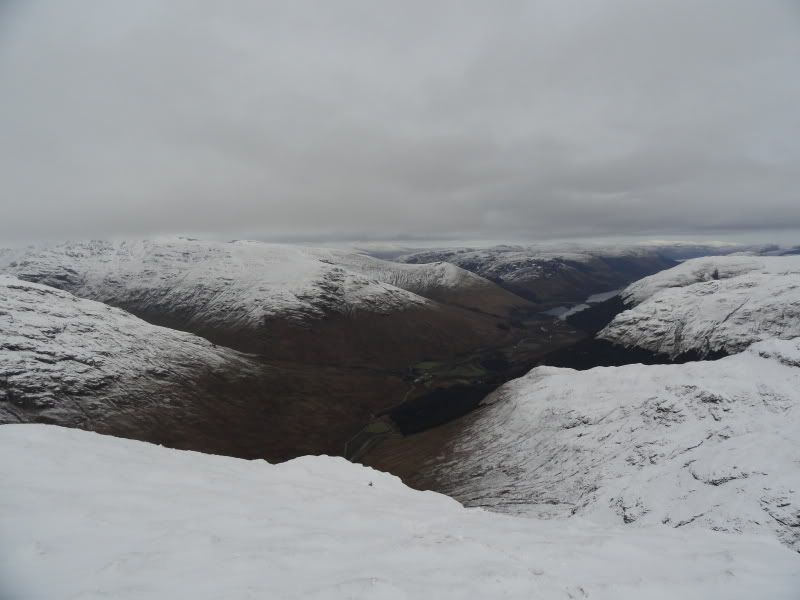 View toward Loch Doine
We weren't entirely sure which peak was the highest so we did them all just to be sure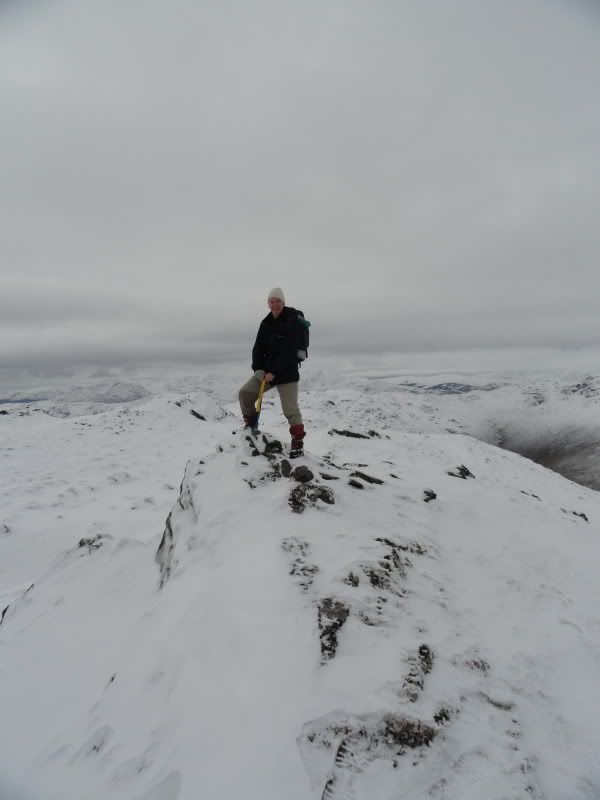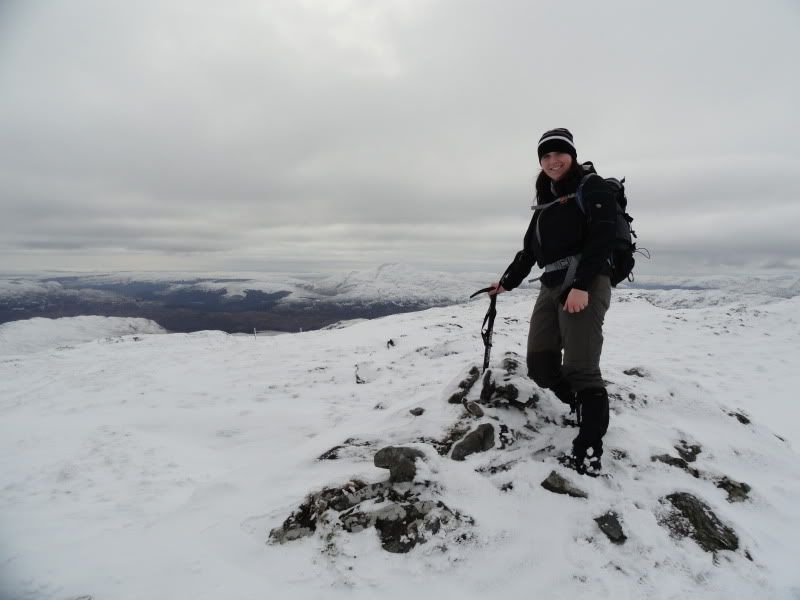 Me and my good mate Mr Lomond there in the background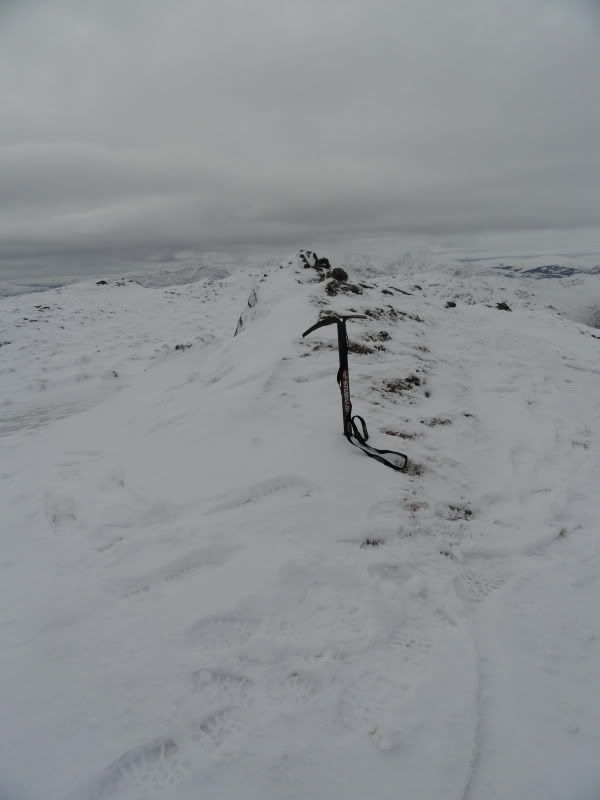 Got to have an axe pic
We took some shelter, had a bite to eat and headed off again.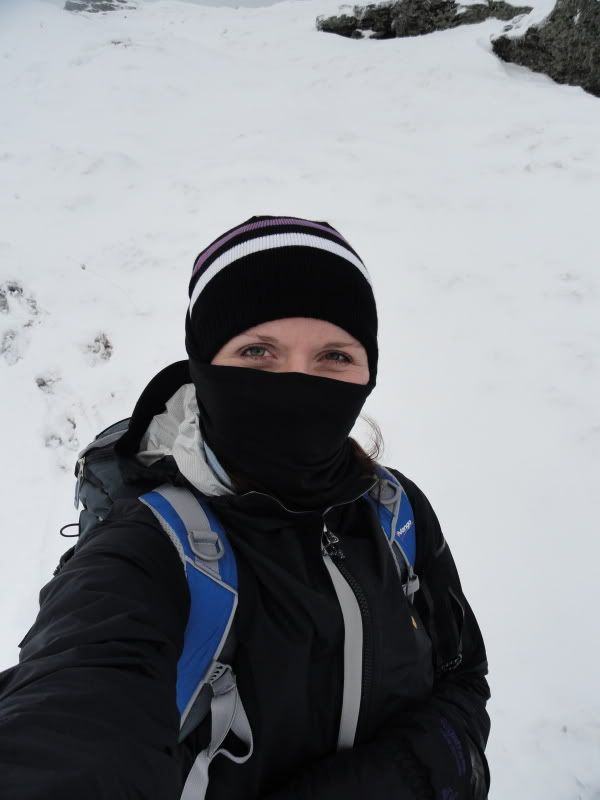 It got a bit cold standing about so had to wrap up a bit.
We descended down to the Bealach. David had hoped to do some axe arrest practising to let me have a go at it, thankfully I had watched some videos on youtube, and he had quickly reminded me when we set off what to do, as I took a flyer down a snowy slope and after a few goes managed to stop myself. Thankfully not too steep, and pretty safe as it was just down to the Bealach so I picked a good place to do it! Then I realised sliding down a slope was fun and I did the rest on my bum. Bum slides for the win!
What a hill looks like after you slide down it on your bum.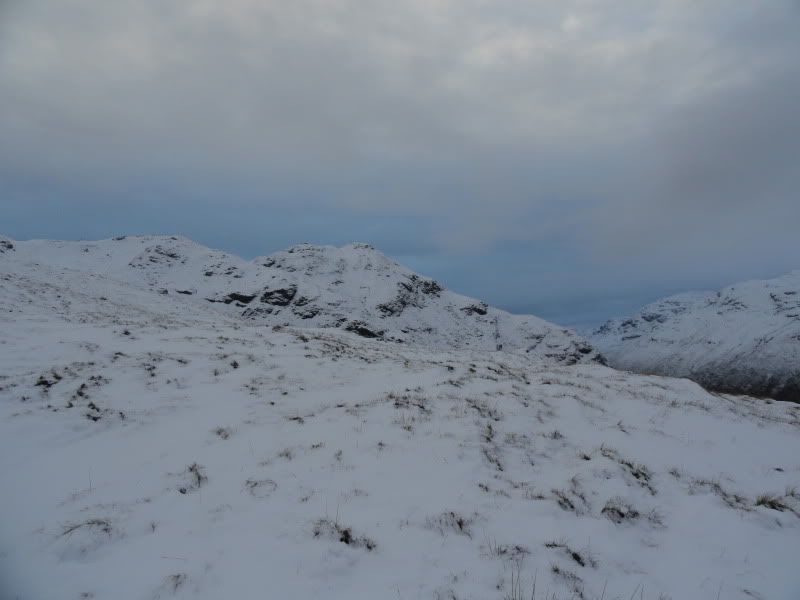 Nice view back to where we just were

Panoramic shot
Didn't stop for pictures much after this. Conditions were a bit ropey. Very steep sections on the descent. It started to get icy at sections and David had to put his crampons on. Me in my summer boots could only do with microspikes, which helped a bit but for a steep hill like this crampons were a necessity. I felt very much not secure quite a few times.
When we got to the grassy section it was still quite steep and very slippy. Was very much feeling it in the back of the legs at this point.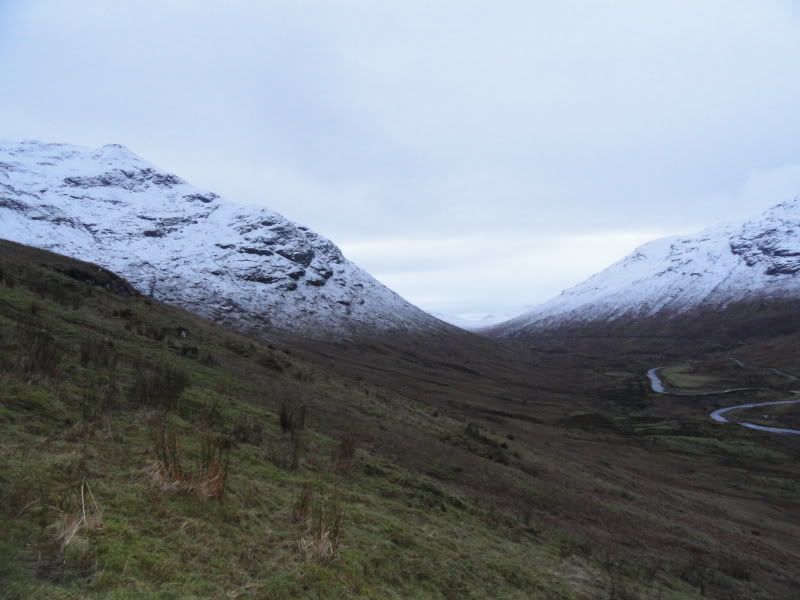 It took us 8 hours in total. Very long day out for me! We spotted a few sheep on the way down, thankfully they stayed far enough away from me to be not bothered. I hate sheep! I may perhaps have mentioned this a few times before lol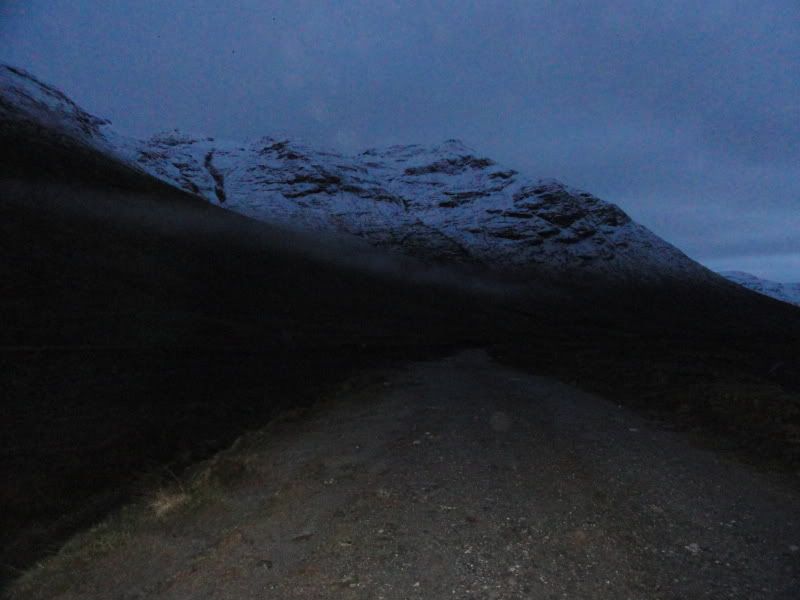 Almost in darkness on the way back to the car.
David had done a bit of this hill before in the summer but ran out of time after starting too late so never made it to the top. I think he underestimated just how steep it was as when we were finished he did say it was probably too steep for the conditions, especially since this was only my second winter hill. But we got there eventually, with only two moments when I was properly scared lol.
Got to get my winter boots broken in before I try something like this again though!
Emma