This weekend, I was supposed to be going up Glen Feshie, but the mate I was going with ended up entering a triatholon in Fort Bill on Sunday, so we decided we would do something up Glen Coe instead.
We left Friday night, and I was zipped over the lecht, through Speyside, and over the road by Laggan at 90mph, feeling slightly green at the gills
I didnt think it was possible to do Aberdeen to FW in 2 and a half hours, but it turns out I was wrong!
We stayed with a very kind mate of Alan's in N Ballahulish, which was fine and handy, and Saturday morning, we arrived at the carpark in Glen Coe at about 9AM. It was raining pretty heavily, but I knew it wouldn't last long.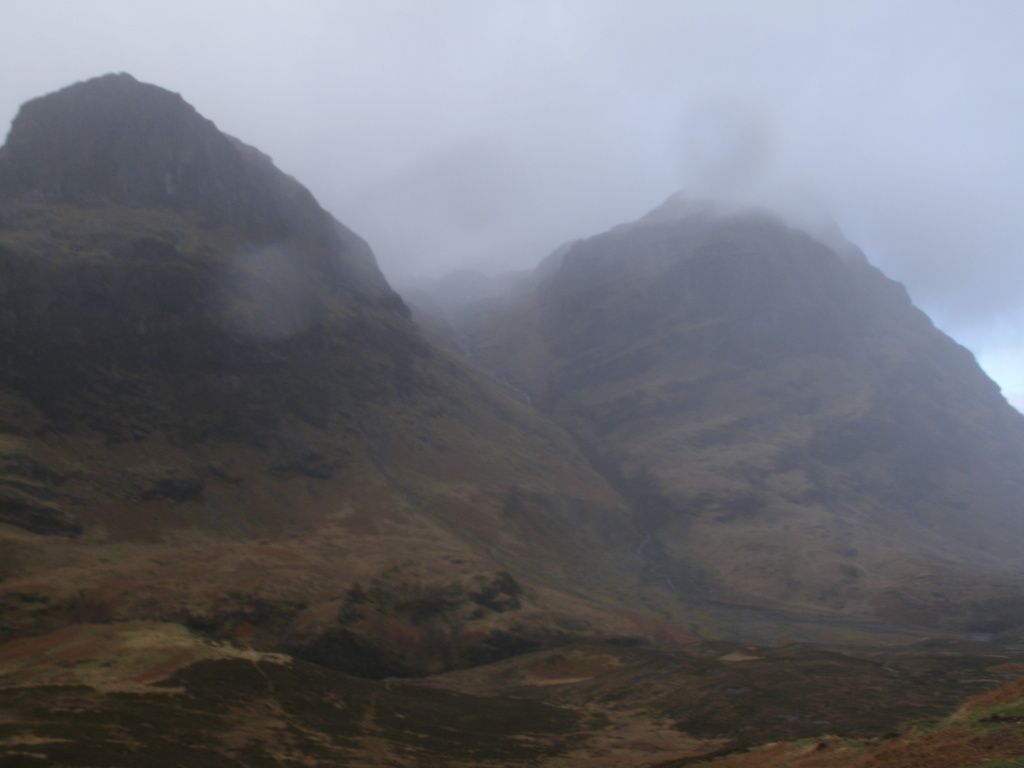 It had been a while since I was on a day walk, and my day sack seemed so light, I felt like I could leap up a munro in a single bound
A good feeling. We descended and re ascended heading for Coire nan Lochan up the right hand glen. A pretty relentless climb, but the scenery made it hard to notice, and the weather had improved substantially. We were overtaking other walkers, so it felt like we were making reasonable progress.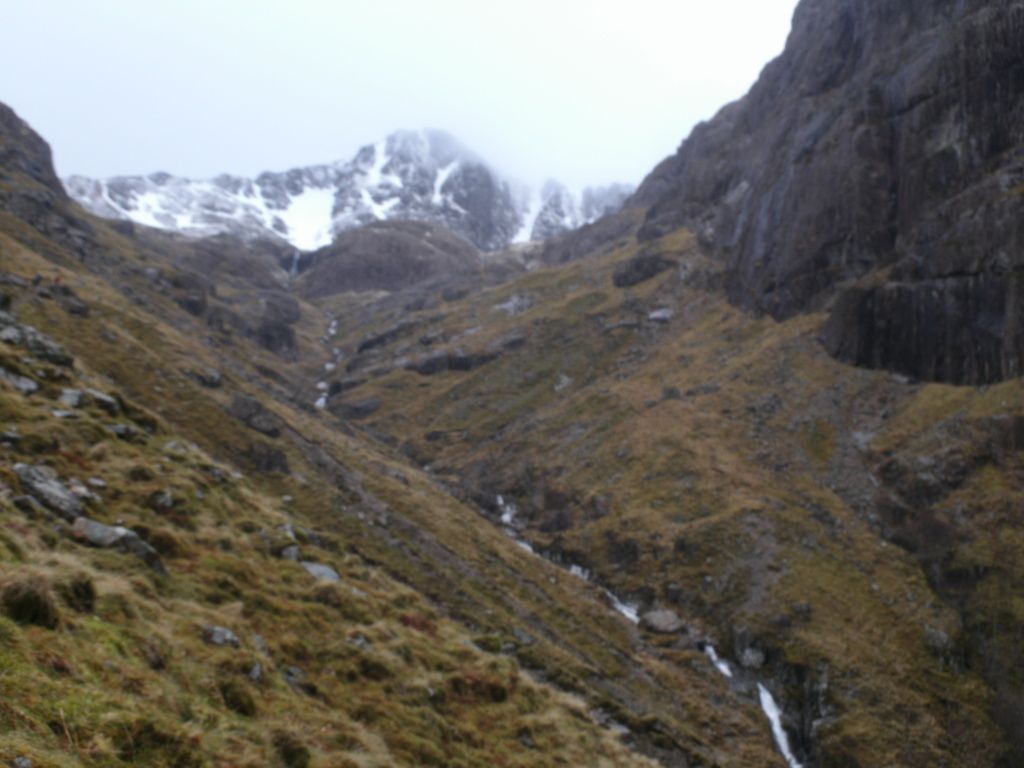 We stopped for a snack on the corrie, and watched a large group of walkers struggle onwards up the path. We headed up to the right, where the going looked easier and I could make out a rough wee path. Once we made it over the lip, there were jaw dropping views of Stob coire nan Lochan, and the butresses.

Most folk seemed to be going up the ridge to the left, but I fancied going over said butresses, so we headed up to the ridge off to the Right. It was snowing by then, but the rocks werent slippery, which was a good thing, because there were a lot of rocks
I love ascending hills on these boulder fields, you are so busy watching where you are putting your feet, you dont even realise you are climbing
And when we reached the small cairn at the top, I was surprised, and a little disappointed.. I was having a lot of fun..
From there, we could just about make out the coll through the clag, it looked insane! But we never the less headed off toward Bidean nam Bian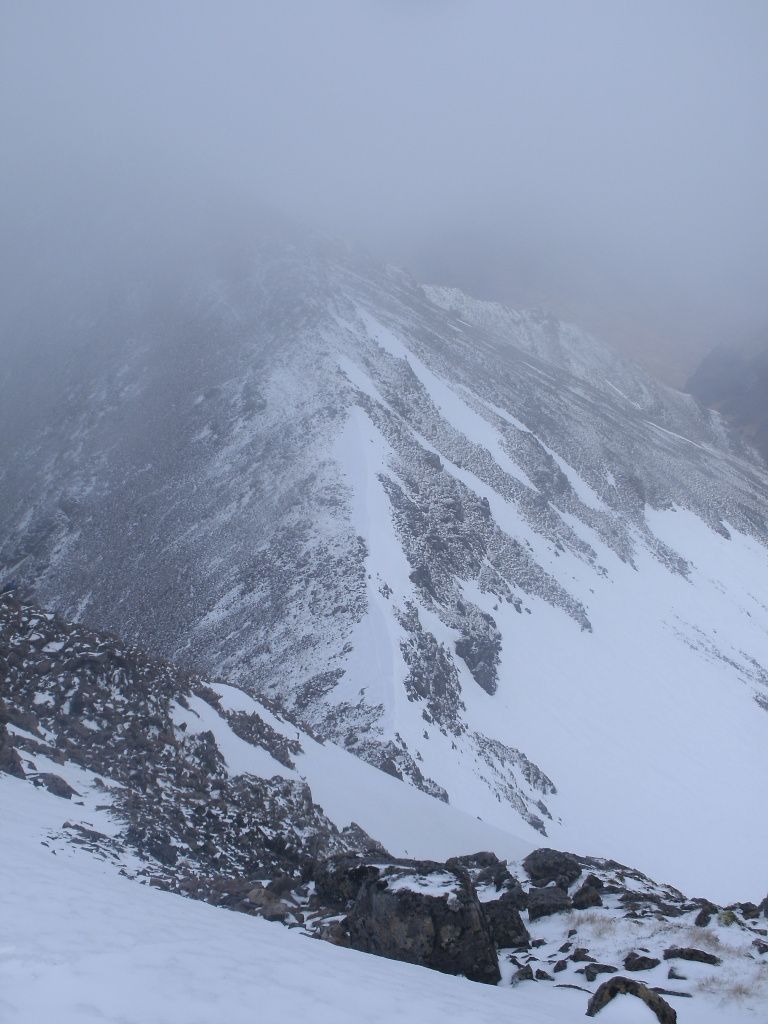 We went down an easy going path, across a snow patch at the bottom, and started the climb. It was back on the rocks, so I was a happy quine, but getting hungry again, so we stopped for lunch. There was more rocky stuff (although less steep now) up to the summit, where the horizontal snow was a bit tedious, so we didnt stay long, and we were on our way toward Stob Coire Sgreamhach in no time at all.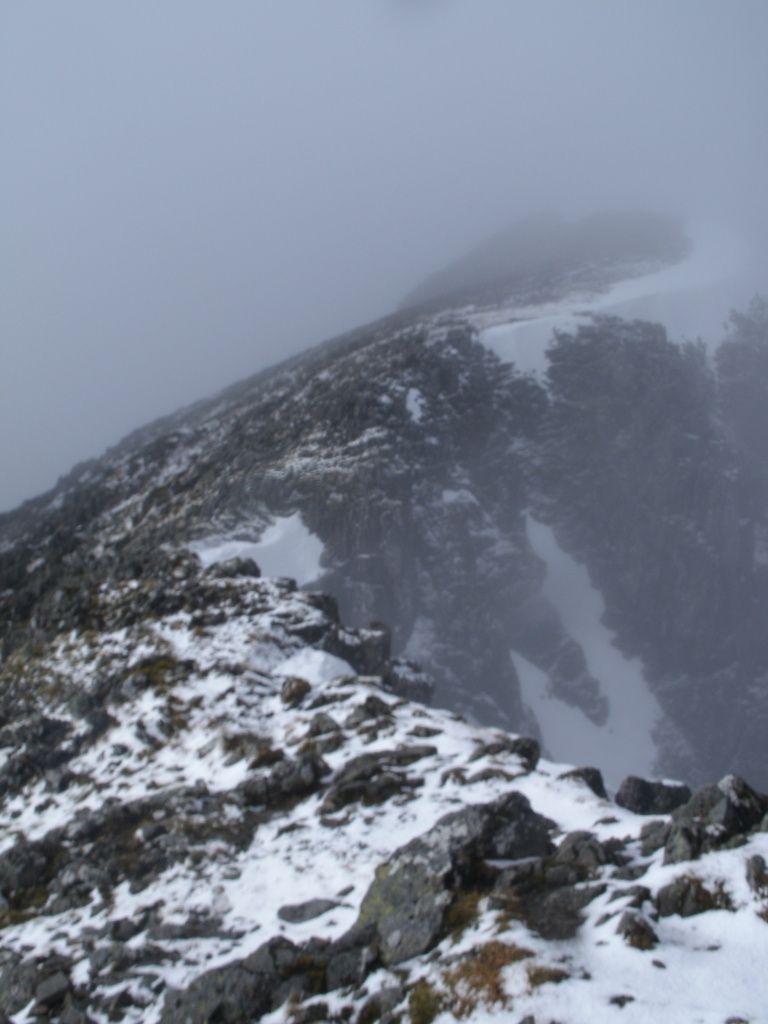 The ridge was fun, and the climb up to summit seemed to pass in no time at all. It was very busy at the top of Sgreamhach, there were 8 of us, and by the time we had got back to the bealach for the ascent into the lost valley, our numbers had swelled to 12!
The descent looked a little insane, darn near vertical snow. We could see the footprints where others had done it, but as i threw my legs over the side, hanging on for dear life I thought for a moment, I wasn't going to be able to do it..
I kicked my feet in, and realised my legs had turned to complete jelly! This was no place for a hillwalker, this was mountaineers stuff..
Alan was already 50 feet below me, so I thought I'd better get moving, face to the snow, inching downward, sometimes using other folks steps, sometimes kicking my own. The progress was slow but steady. A guy came down in crampons, making it look easy. He asked if I was alright, and I told him I was terrified, but enjoying myself.. The jelly legs at least seemed to of sorted themselves out
The gradient was getting a bit easier, so I turned round and bumshuffled, digging steps with my heels, that was a little bit faster.. Then it got even easier, and I found I could go back to using my hillwalkers legs to the bottom, back on solid ground. I looked back and couldn't believe I was down! A cigarette was required at this point before we set out to find the path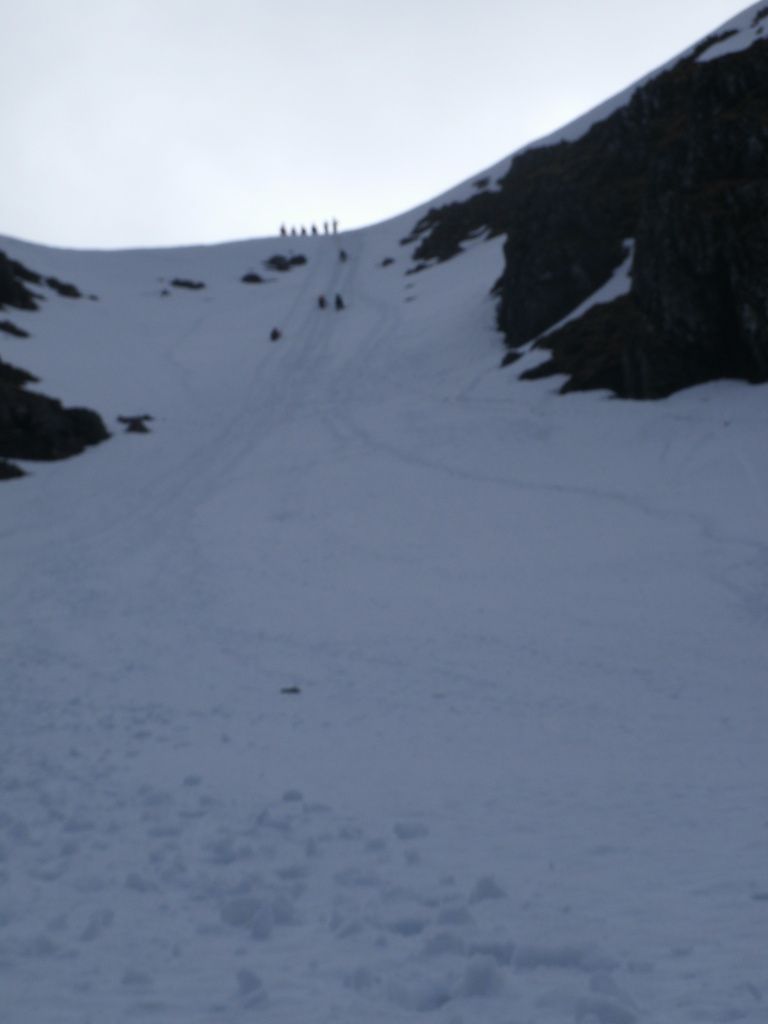 The path turned out to be a foot bruiser, but an easy amble, and apart from a chocolate break, we rocketed down the lost valley.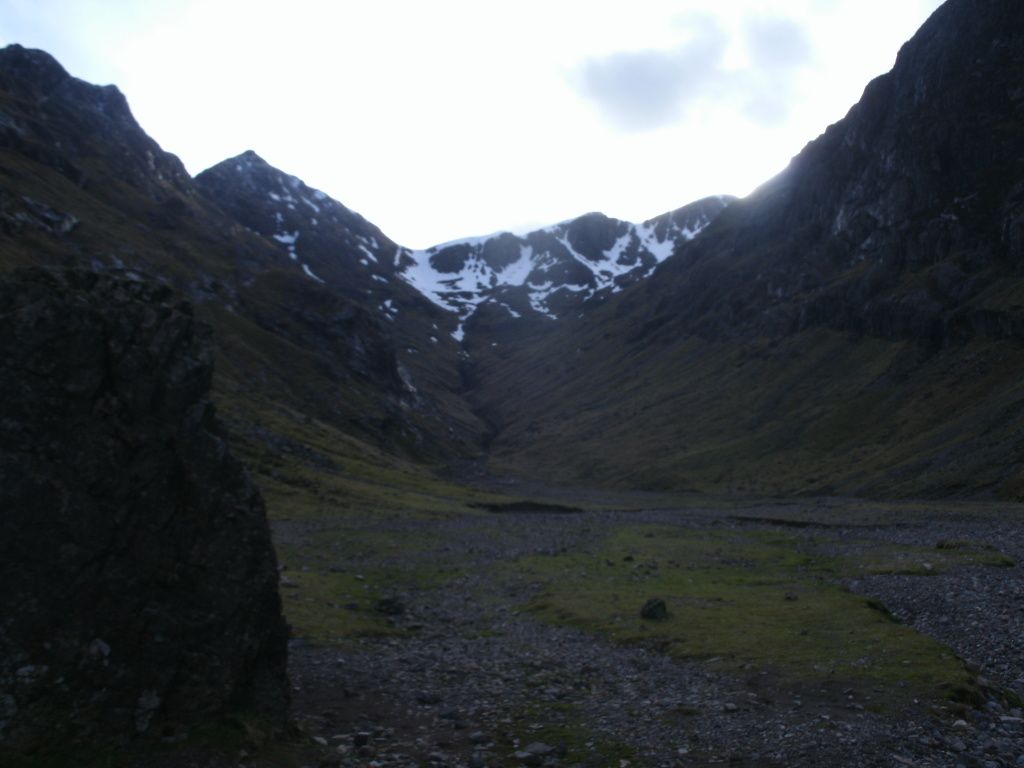 We intentionally missed the path, so I could get a look at the huge boulders in the mouth.. Quite a force required to get them there! but the going was tough, so we went up to the path eventually, which quickly descended again, and we were soon back at the car. A very memorable day!