I first spotted the South Glen Etive ridge on a map a couple of years ago, and instantly thought it would make a fine few days walking
I discussed it with my Dad, who informed me he had done it in a day many years ago! Oh that sounds like punishment!
So after being on the backburner for too long, this weekend saw an attempt come into fruition.
The usual rush to get away from work on a Friday took us to a bonny camp spot in Glen Etive.. It had been a scorcher of a day, and it didn't really get dark until after midnight.
So up reasonably early for us, we were at the ski centre for a cup of tea and a scone in no time. It was another hot day, and we were both looking forward to getting going. We took the ski lift up – Probably cheating but I have climbed hundreds of hills, but never been on a ski lift, so seemed like a braw opportunity.
And what fun! Getting on with a heavy pack was not a graceful endeavour.. Then I was high above the waterfall, the seat vibrating enough to put the fear of death into me.. Then there was the dismount at the top.. Best way to spend a fiver ever
So disappointedly back on shanks pony, we circled round to the right to avoid the rest of the ski centre stuff and a big plaque of snow. Even though the ascent was gentle, it was still very hot under a black rucksack, so at plod pace, we made our way up the hill, the going getting rockier all the time. Views were a little distracting 'n' aw..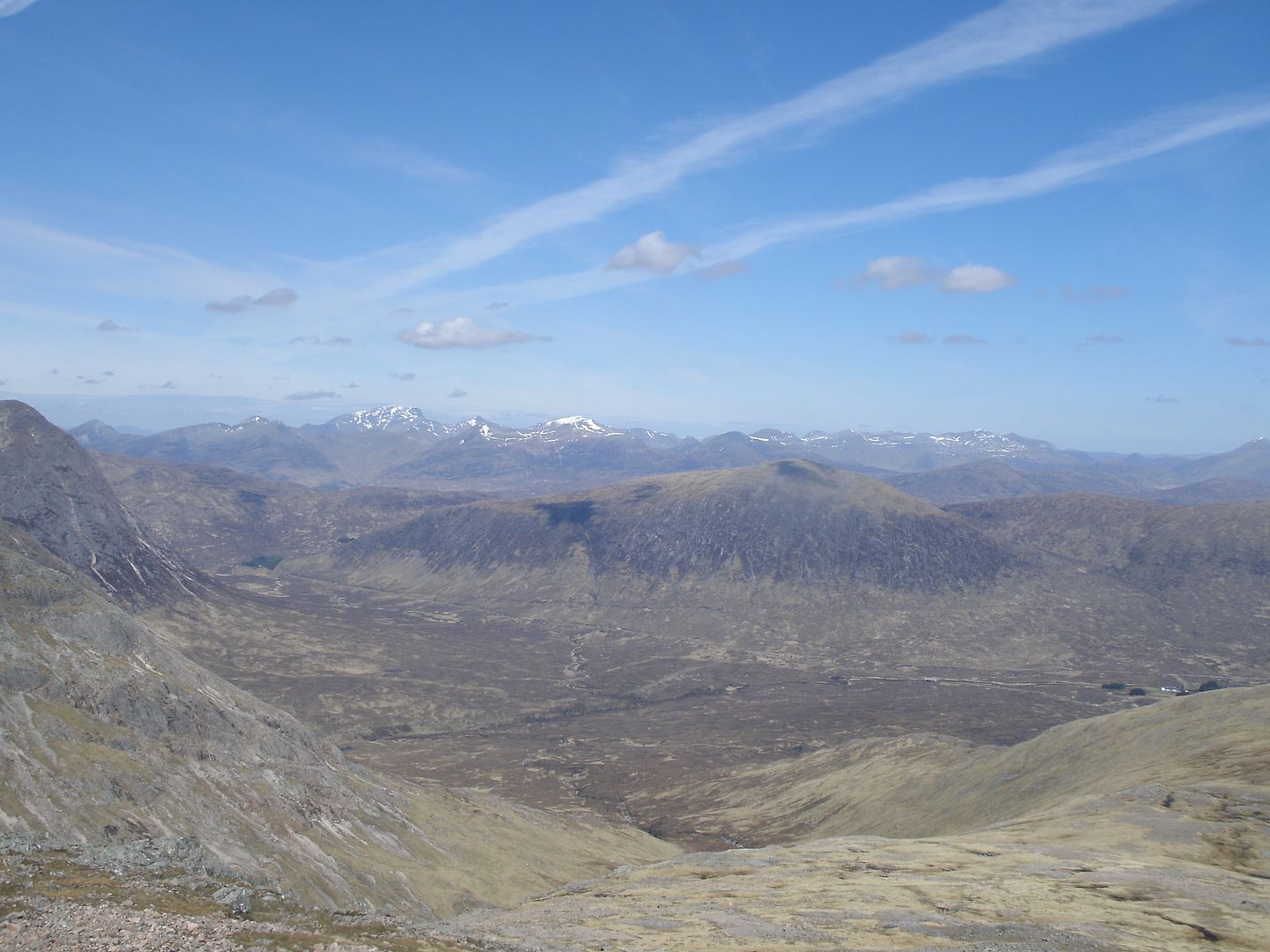 We reached the summit and sat a while. There was another group at the summit that didn't have so much as a bottle of water or a piece wi them.. Strange folks..

We headed down the ridge toward Creise, still some cornices hanging on looked impressive in the sunshine.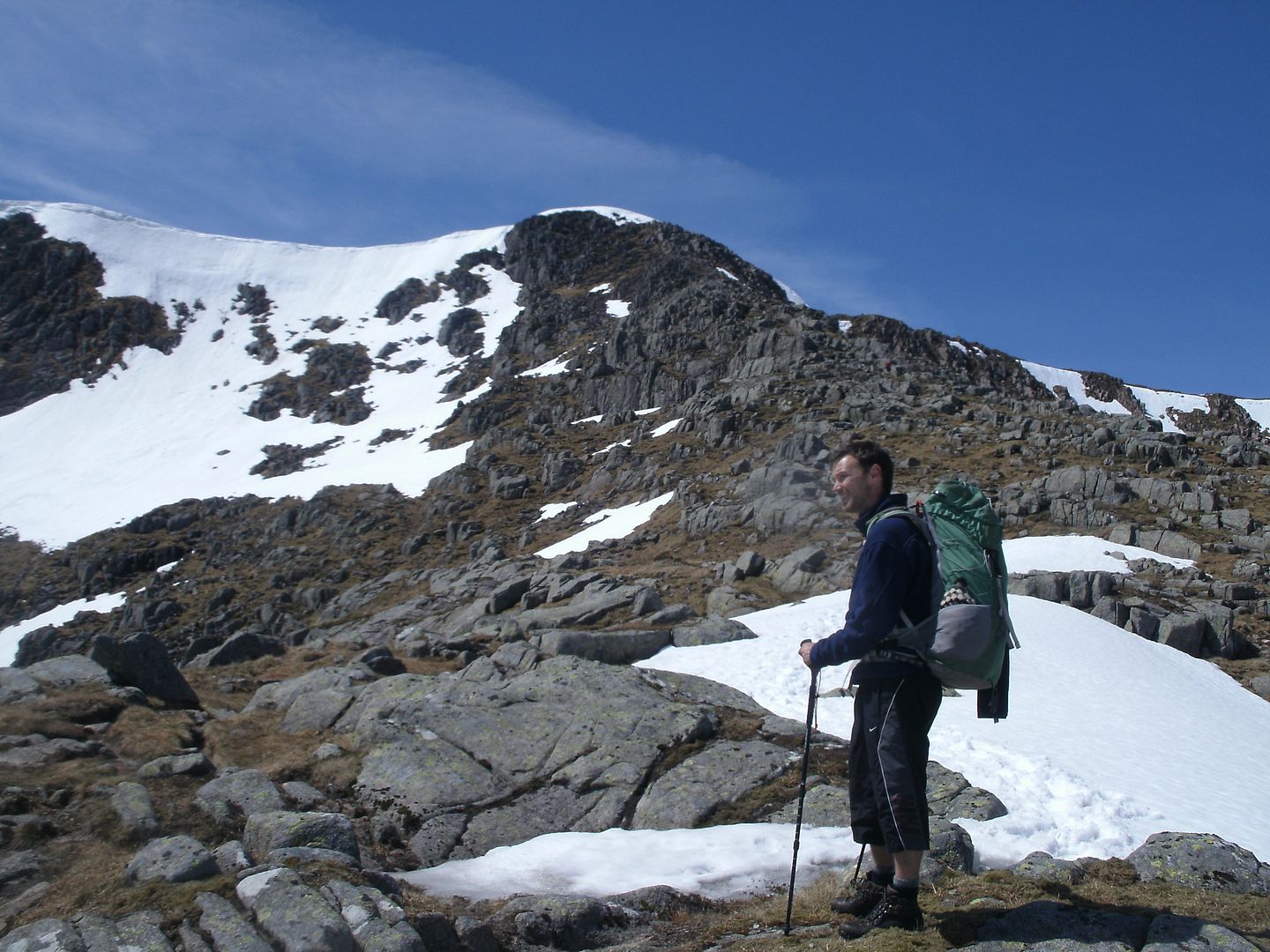 Not too long a climb saw us scrambling the last few feet up to the ridge.. where we dumped our packs for the short walk out to the summit. Felt good to be lighter again!
There were quite a few folk out on the ridge.. The weather so good everyone seemed in a jolly humour. We picked up our packs again and walked over a couple of snow patches up toward the south top. Impressive cliffs and cornices off to the left.
We got there to find a fairly decent sized cairn and shelter – bigger than the main top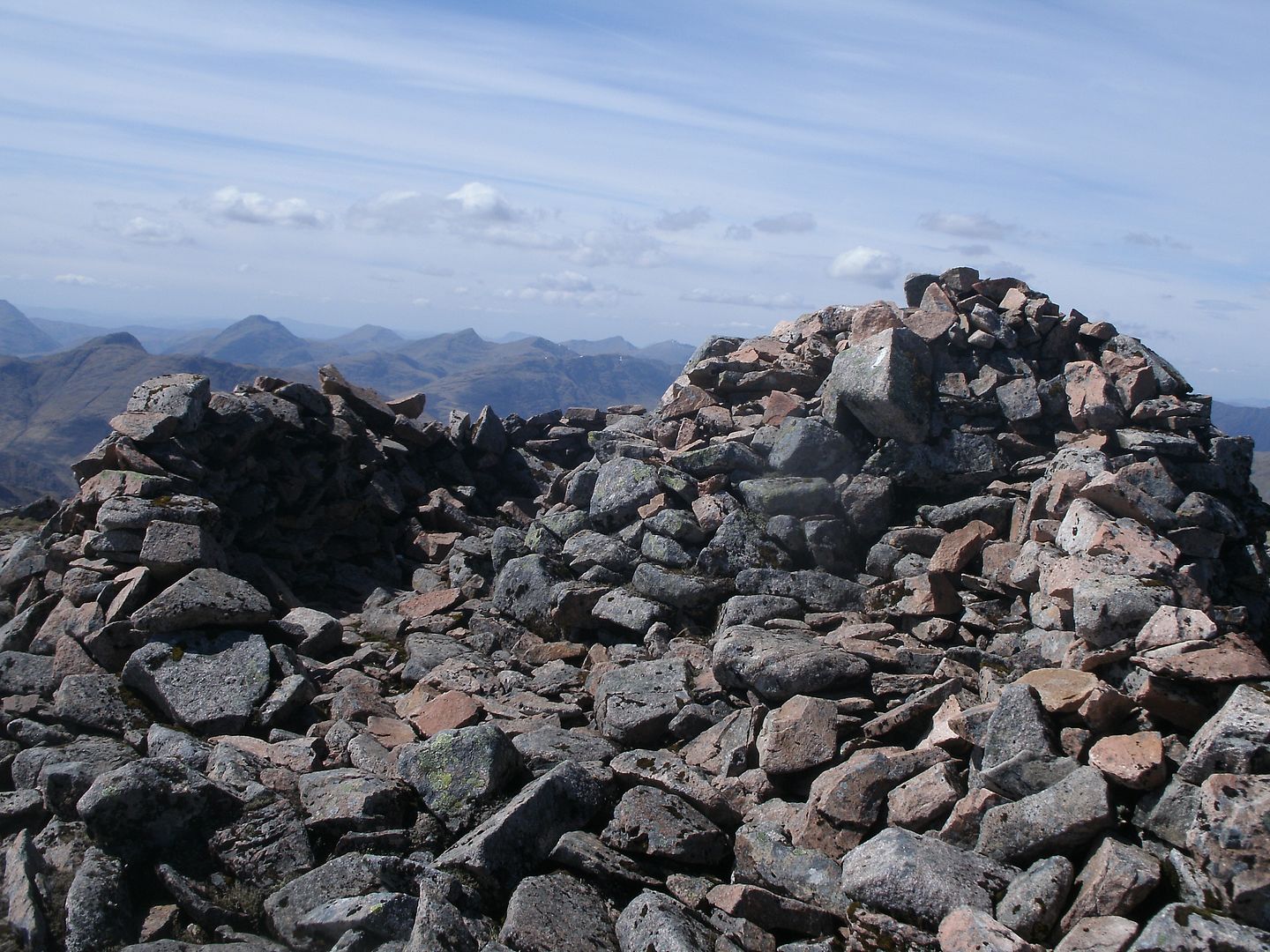 We headed SW down the ridge, the ground mostly rocky underfoot, knowing that the drop down to the next bealach was going to be steep and unpleasant, and we weren't wrong.
We made it down though, and lay in the sun for a good while out of the wind. Oh such a bonny day.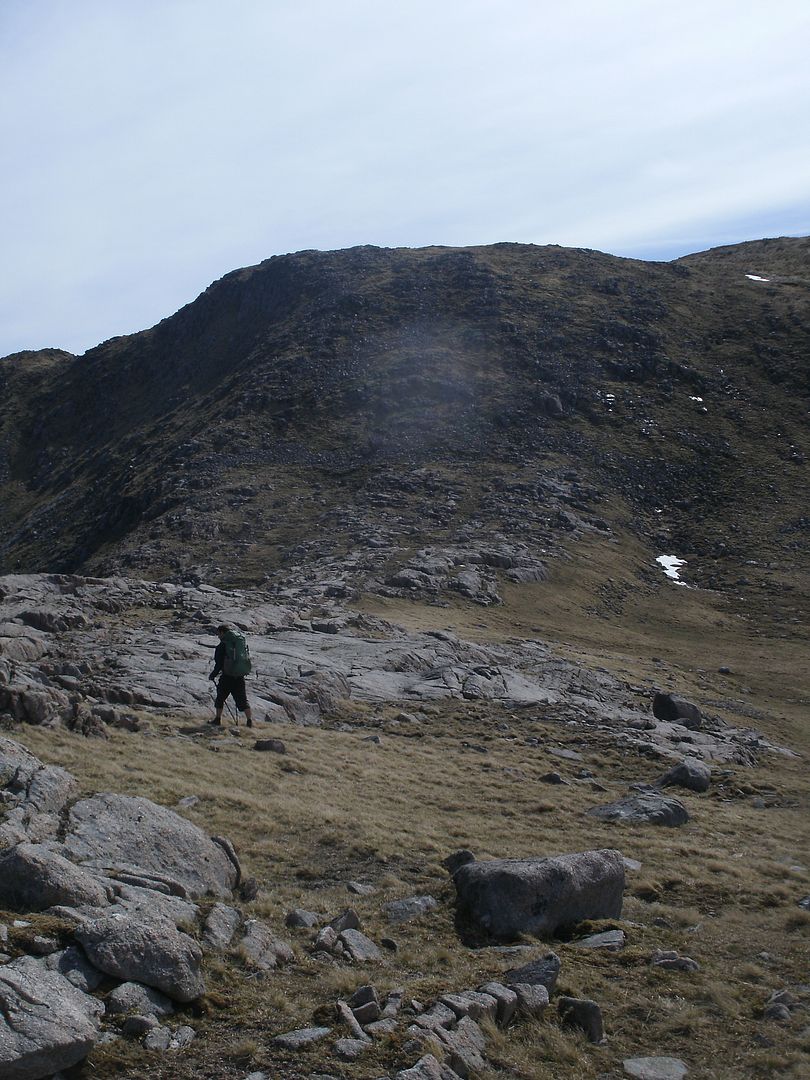 The climb up the other side wasn't too bad, and we were up on the Aonach Mor ridge.. it's quite lumpy, and we were starting to tire.
Instead of heading up to Stob Ghabhar, we continued along the ridge eastwards, looking for a way down to the corrie where we planned to camp..
A little further than we hoped along we found a place.. Quite 'cliffy' terrain round there..
Made it down OK, but with tired knees and ankles.. We found a spot on the other side of the corrie, a commanding spot near the baggers path between Ghabhar and Choire Odhair.
I left Dougie to set up camp while I made my way up to the path and toward Stob a choire odhair. Dougie had been up it before, and wasn't fussed about doing it again so I was on my own for this one
A fine path wound its way up the hill - only a few wee scrambles, one of which I thought might be tricky on the way down, but I must of taken a different route back as I didn't come across it again. The views all around were stunning, and I would have liked to of sat at the summit longer to absorb the views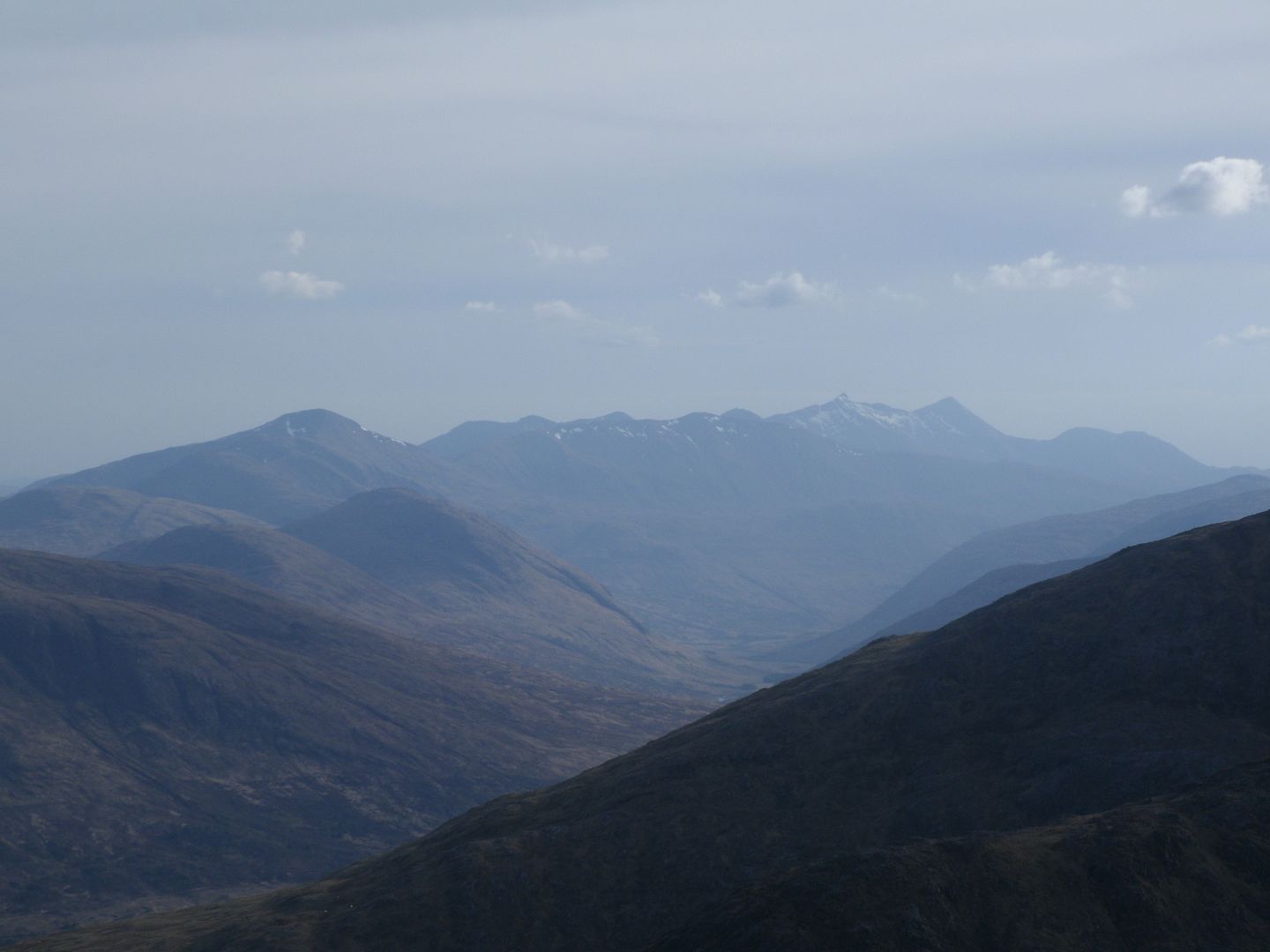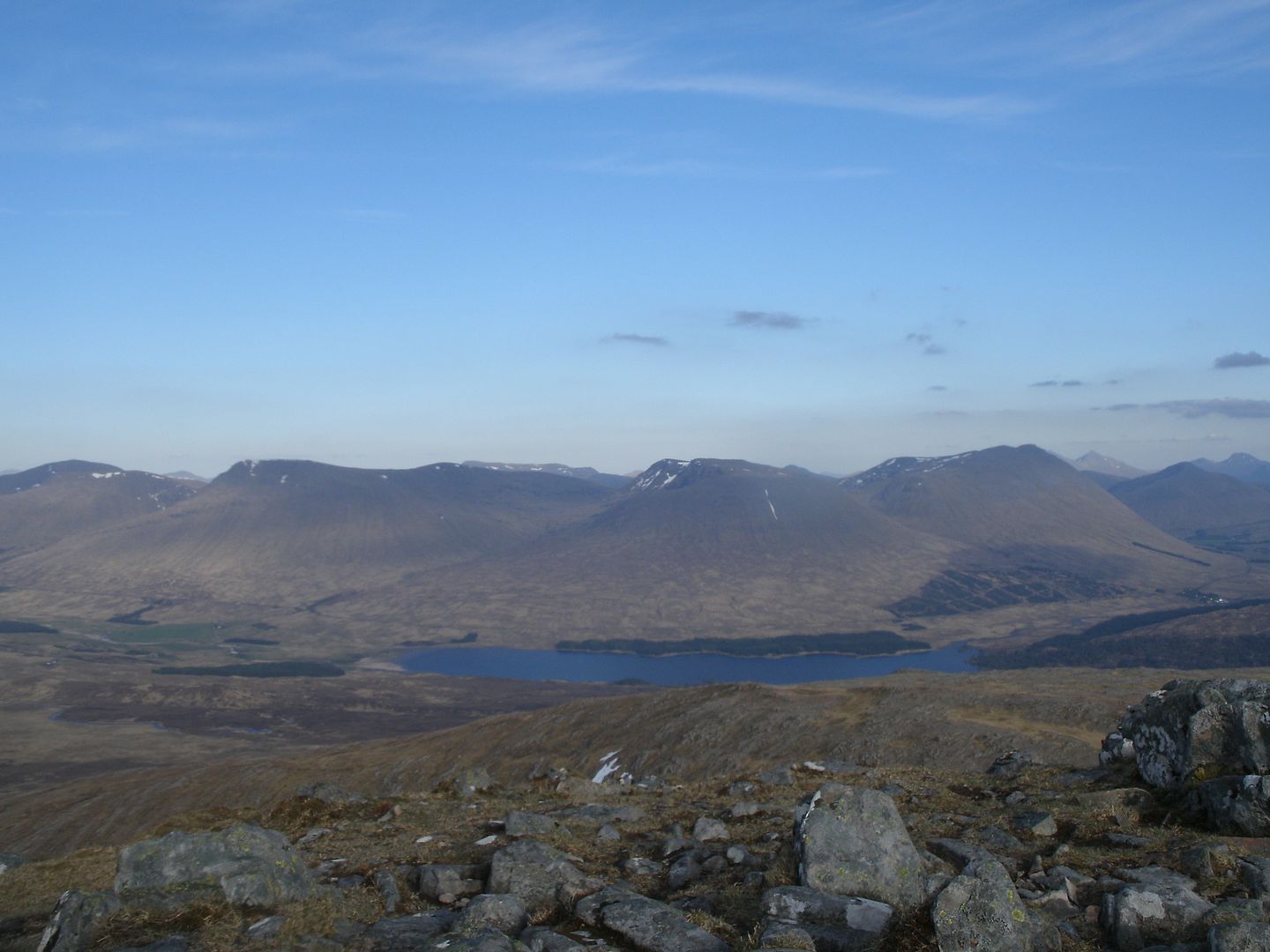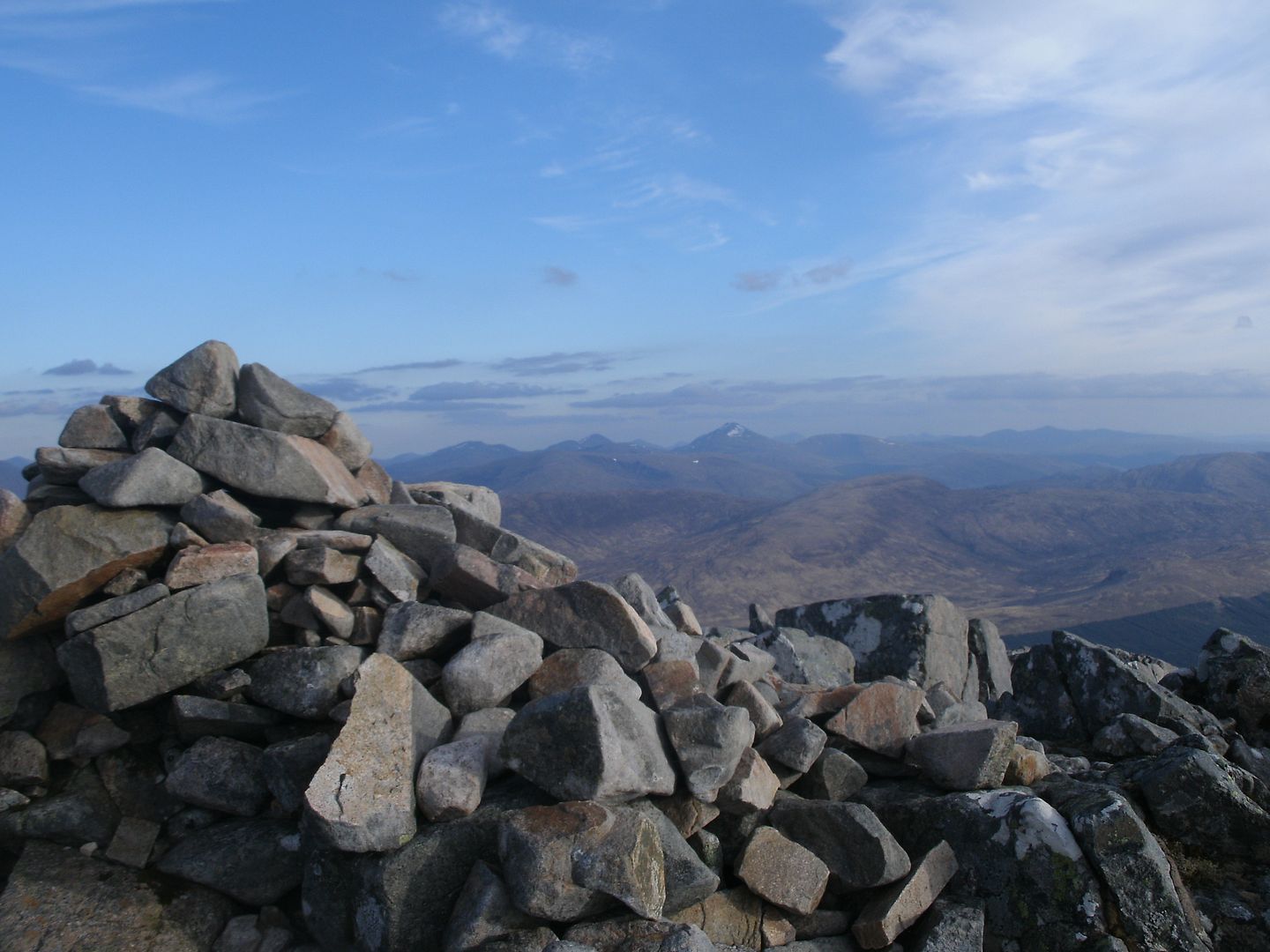 but by this time it was after 7, and dinner beckoned back at the tent. I started to head down. Right in the middle of the path I found a plover had made her nest and had a wee clutch of 3 eggs.. She tried to lead me away by doing a very amusing wee dance.. Aww I hope her chicks survive being brought up on a path..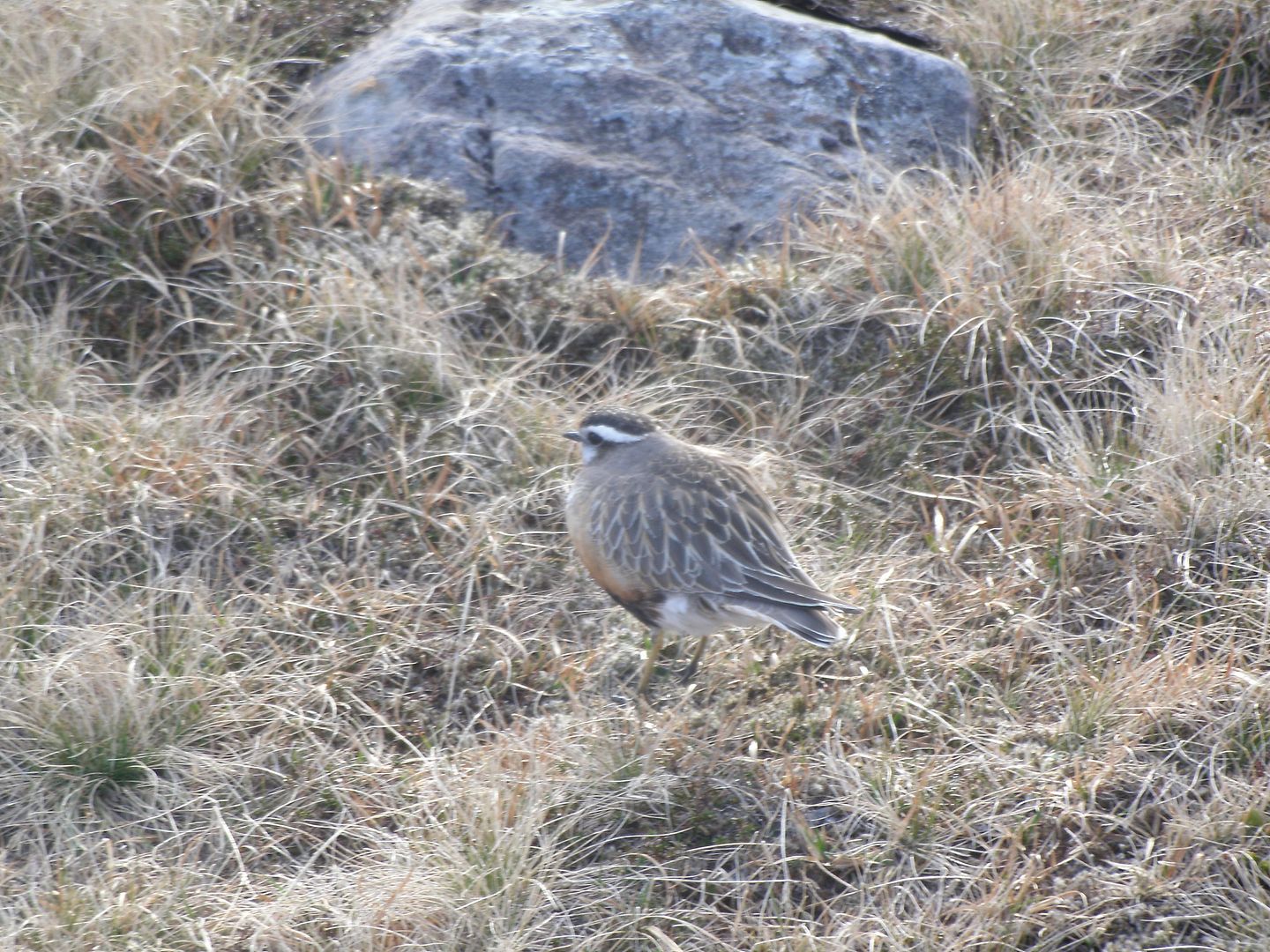 So only 45 mins down and I was back at the tent, which Dougie had already sorted out and had a cuppa waiting for me.. Oh I felt right pampered having all the usual chores done for me.
Next morning we awoke to thick clag. There had been a fair amount of drizzle the night before, so everything had a rather less parched look about it.
We set off late, as we suspected it would be clearing later. We made our way back up to the baggers path, but this time headed toward Stob Ghabhar. The path up to the ridge was really steep and in the humidity, was a bit of a sweat fest.
Underfoot, it was very loose, even on the scrambles, and with heavy packs destroying all balance, there were a few hairy feeling moments!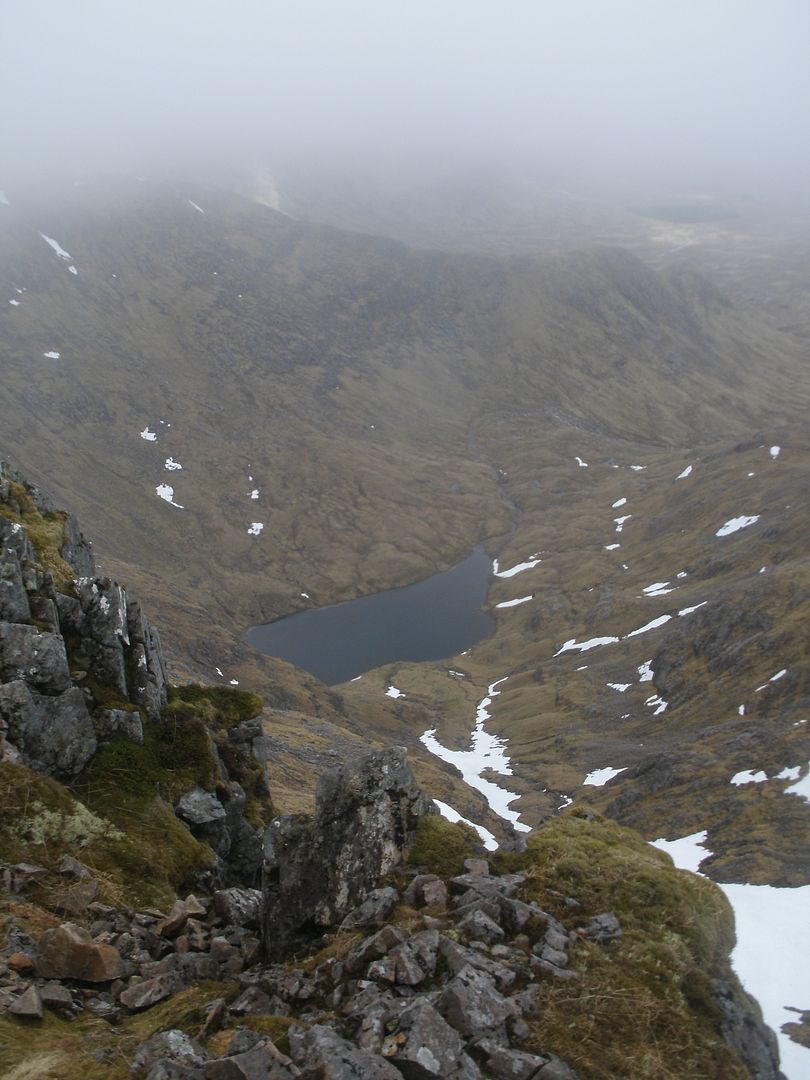 We were up on the ridge in less than an hour and pretty soon we were on the mini Aonach Eagach. Considerably less scrambling than its big brother, but still a lot of fun.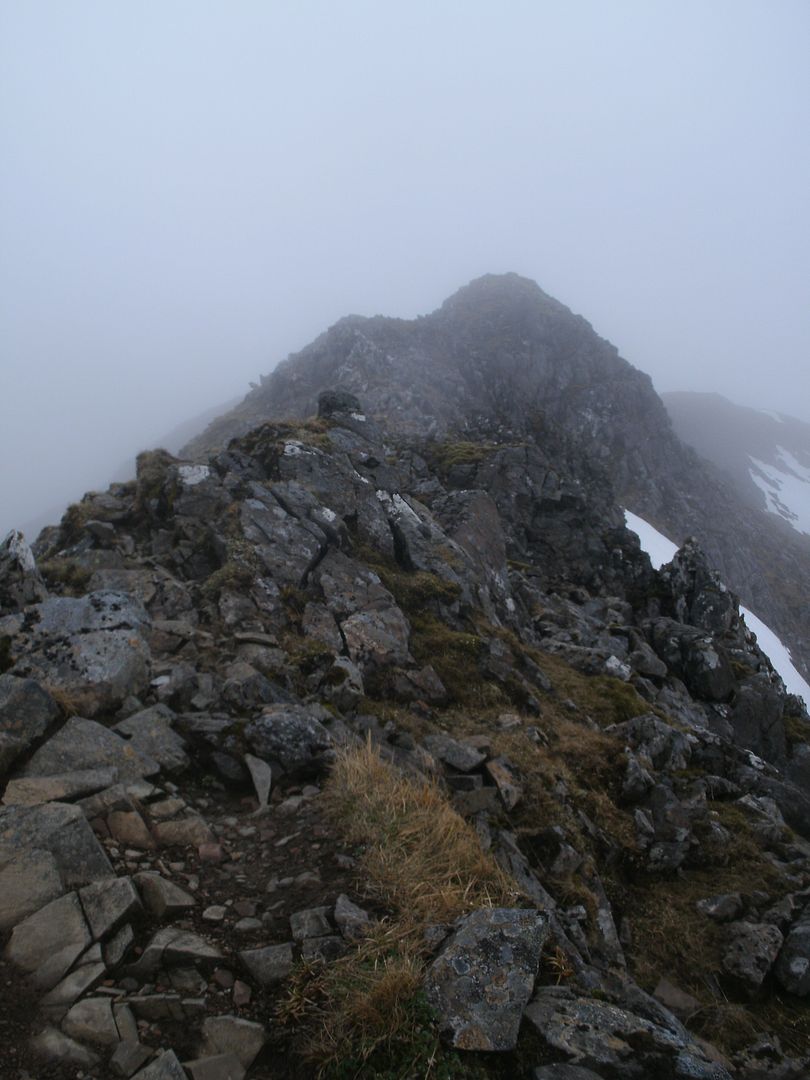 Not long after that, the summit loomed out of the mist, and we stopped for something to eat, waiting to see if the lifting clag would rise above the summit before we got cold.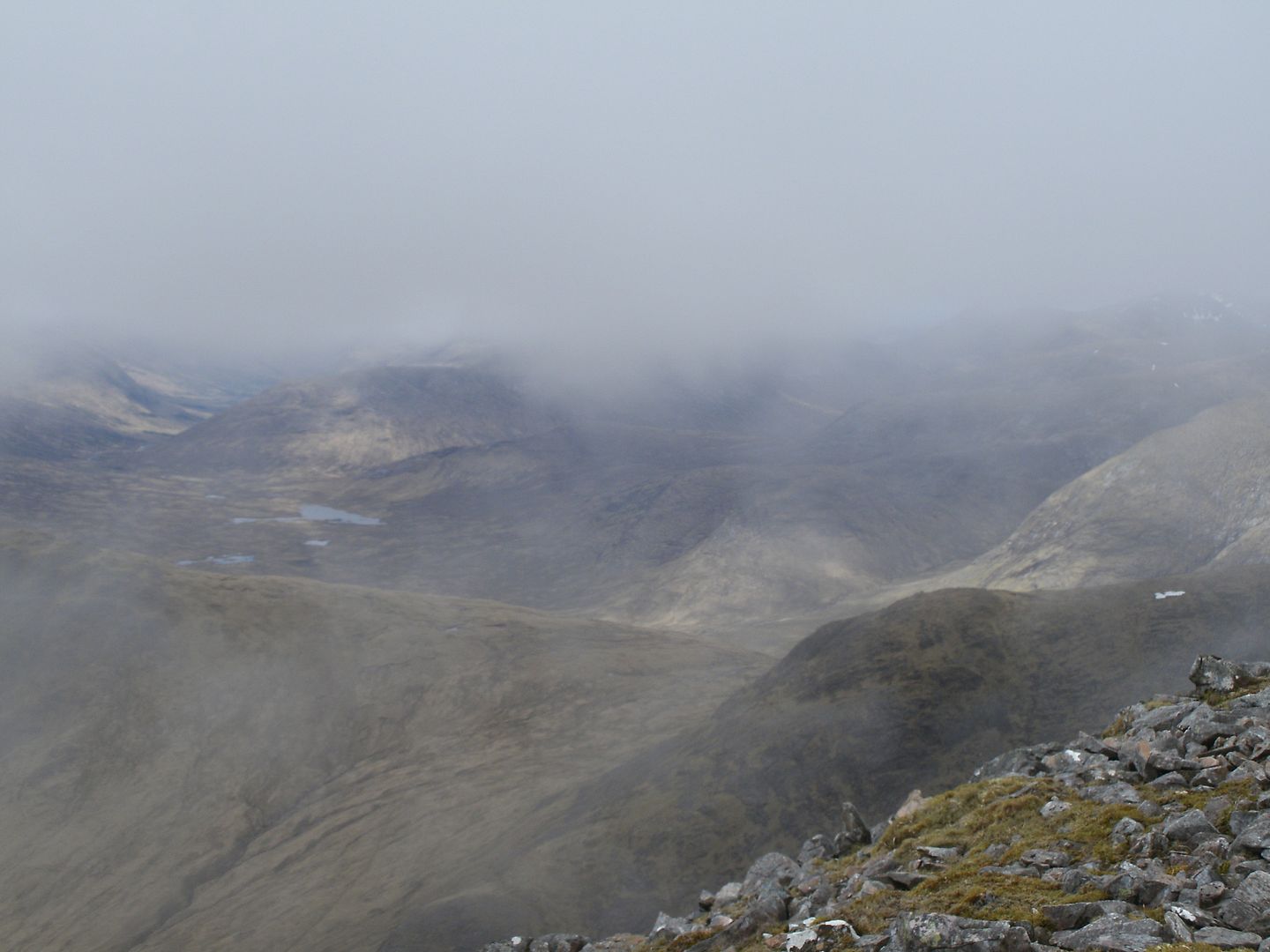 It didn't, so we carried on along the fence line onto the ridge that heads due west. It was fine grassy walking and we were soon down below the clag enjoying the bonny views again. Of course the summit cleared 10 mins after we left it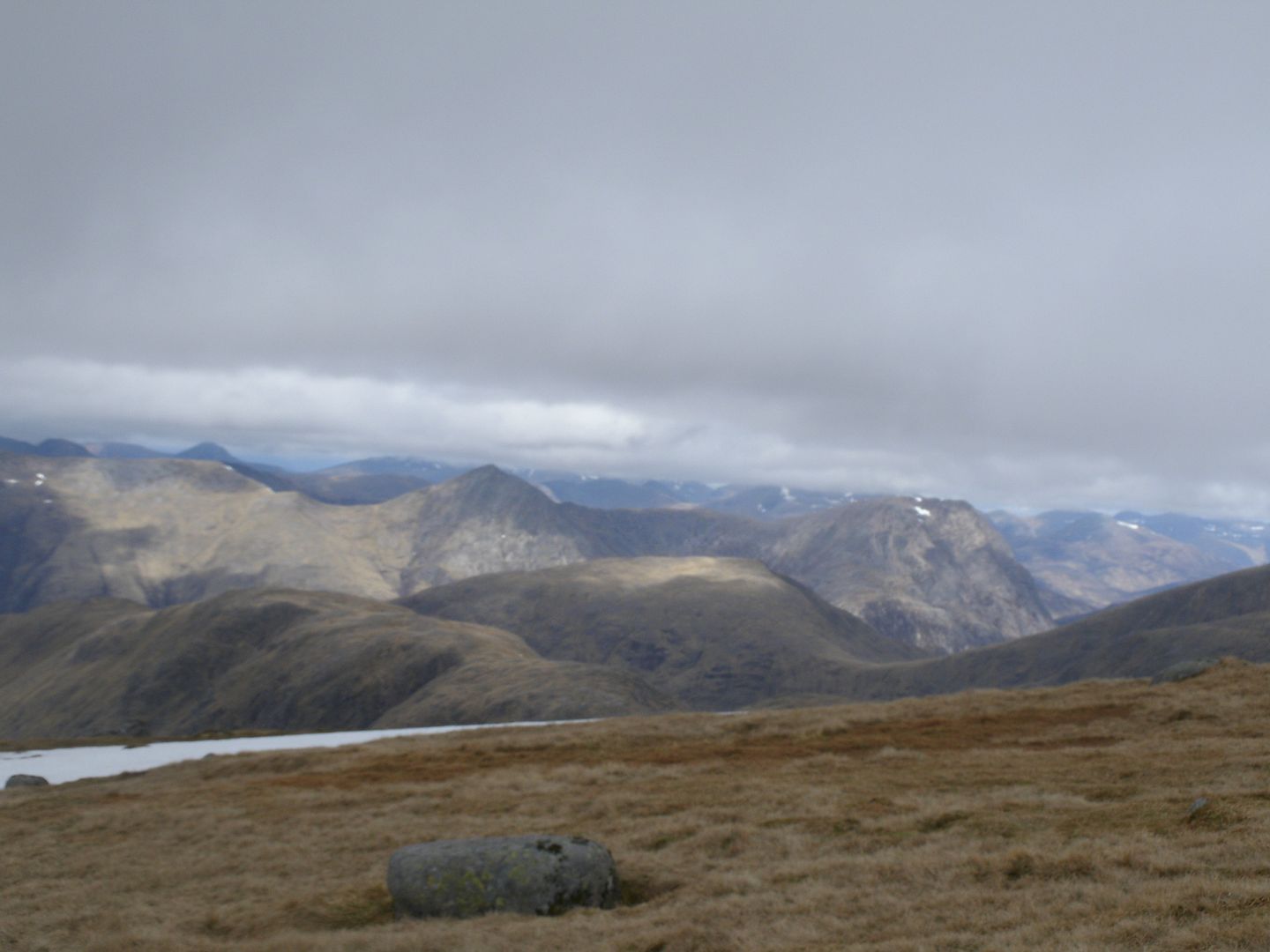 Like I said, we headed about 4 km along the ridge, seemed to pass in a flash as it was all downhill and easy going underfoot. Our minds were on the descent down to the next bealach..
It didn't look very easy on the map – lots of crags, and the angle of the slight twists and turns in the ridge made it impossible to get a view. We went slightly passed the bealach before making our descent down a very steep gully, but only mnimal down scrambling was required. Mentally tiring though, and the ascent to Meall nan Eun the other side looked just as bad!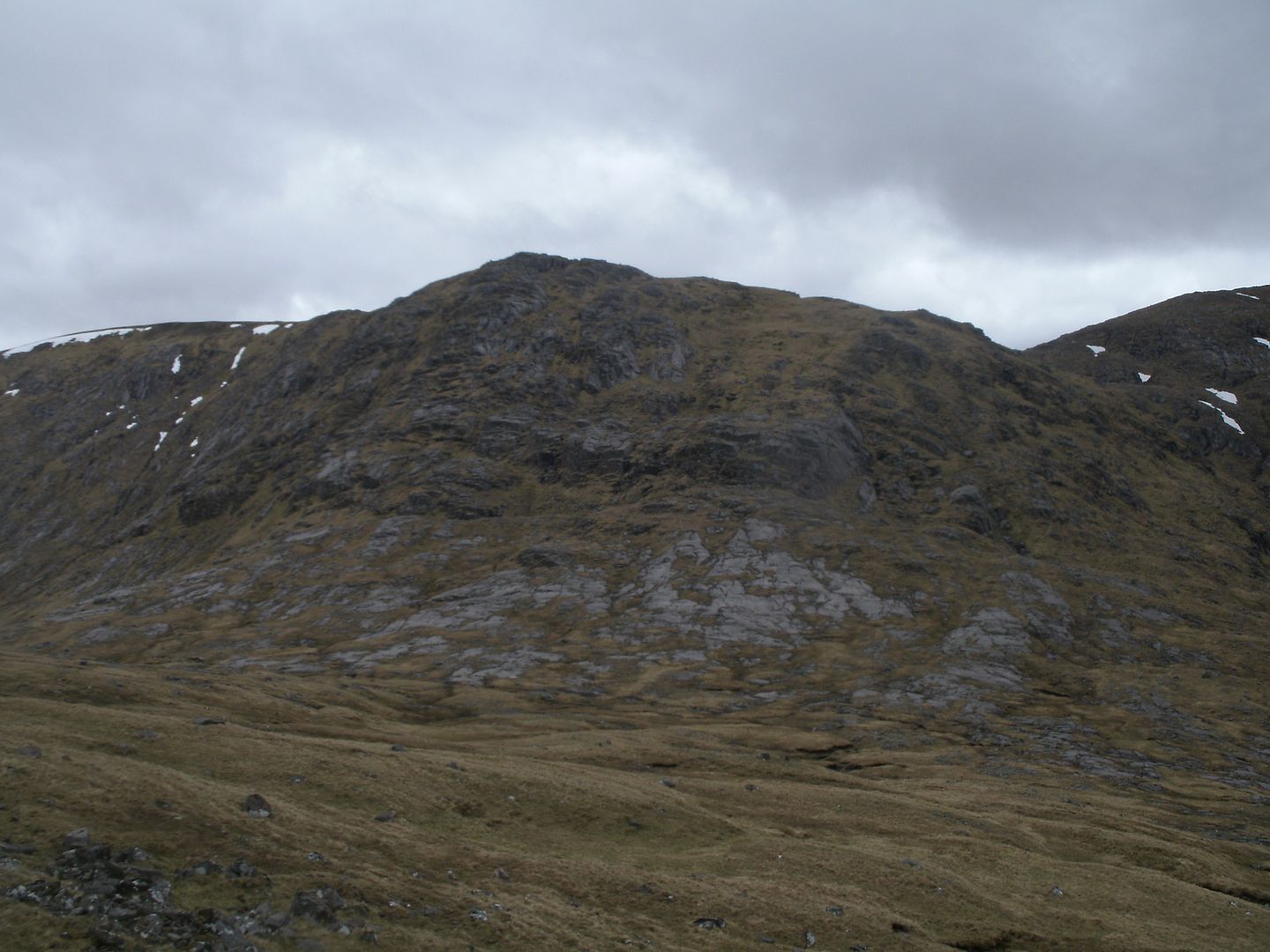 We stopped for a rest, and watched another couple of walkers scramble right up the slabs.. We certainly wouldn't be going that way with heavy packs on!
We kept to the right, and made it up fine on the route we chose.
I was very very glad that the clag had lifted so we could see where we were going. About half way up though, Dougie hit a wall and went on go slow..
We stopped for more food, but it made little difference..
Maybe it was dehydration? Who knows, but it was slow progress from then on.
We made it up onto the plateau, still a fair old plod to the summit but we made it.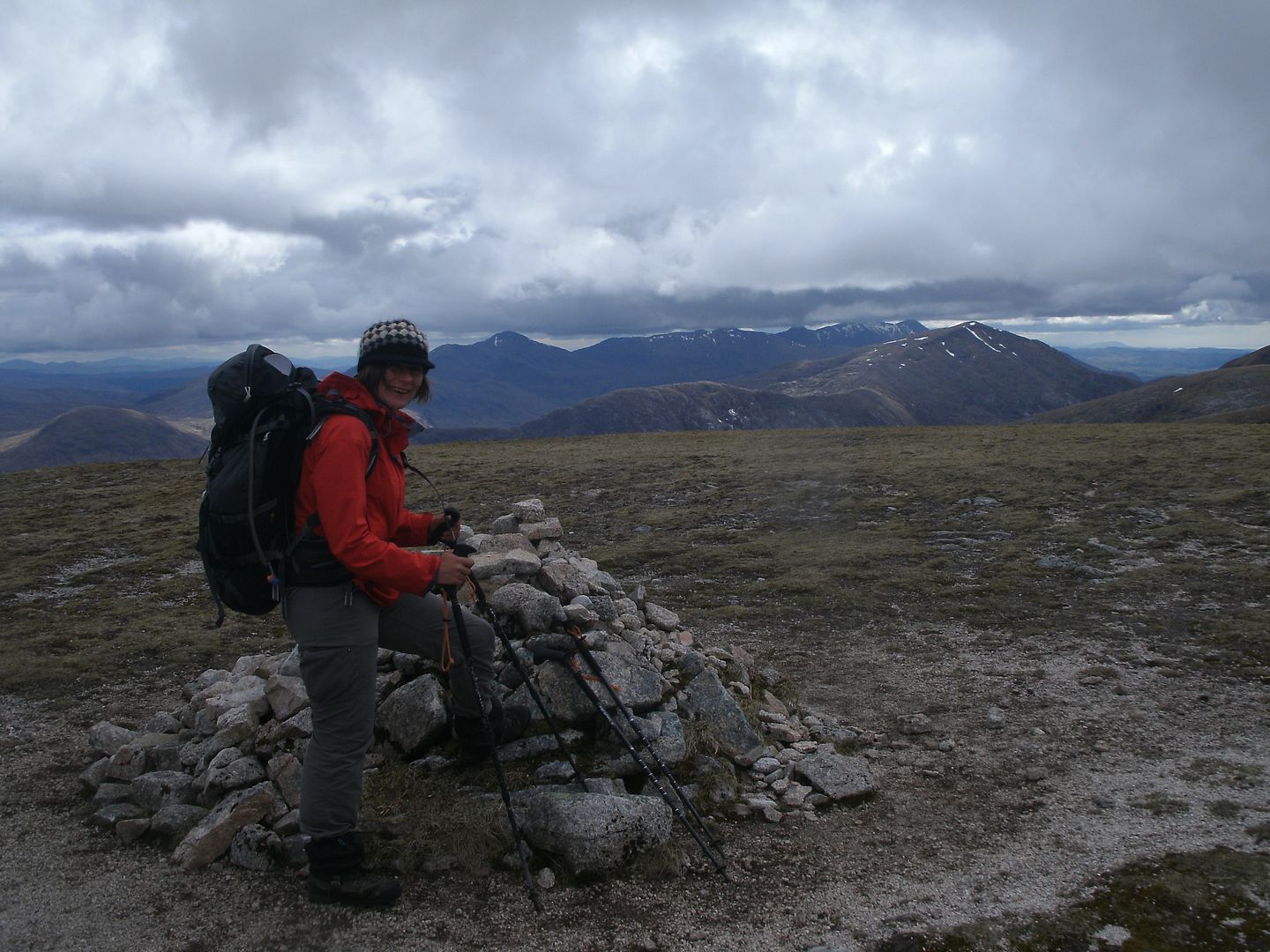 We discussed camping nearby, but he wanted to carry on.. So onward toward Meall Tarsuinn..
It was downhill, but we were still just going at a plod. It was still only 4PM, so lots of the day left to go slow.
As we climbed the first slabs of Meall Tarsuinn though, what should I find on the path? An unopened bottle of lucozade! Oh the gods must have been smiling on us – it was just what Dougie needed. Once over to the next bealach the climb up Stob Coir an Albannaich didnie look so steep.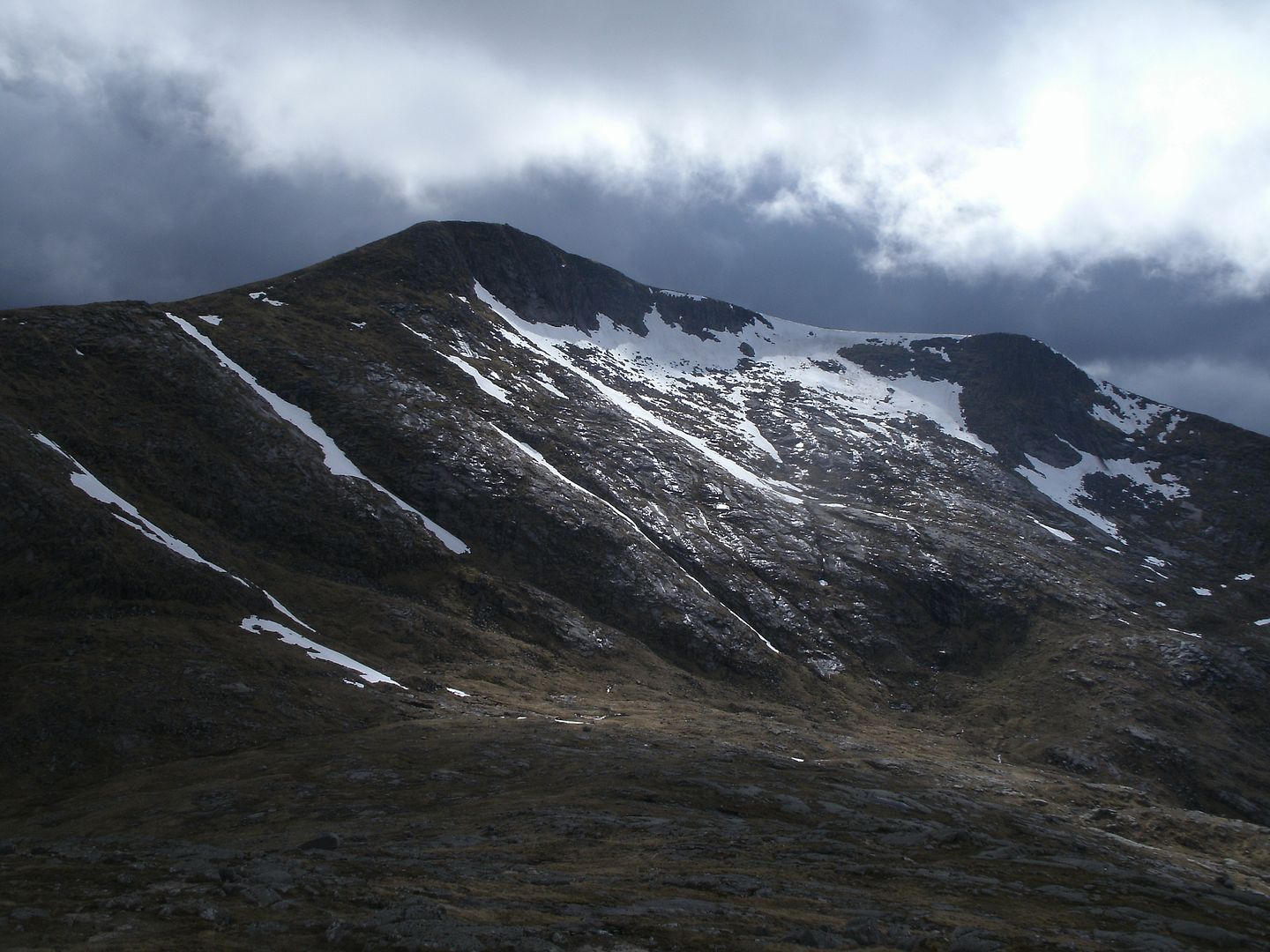 The path was mostly obscured by big patches of snow, but we made our way up the gully easily, finally finding the path about 20 yards from the ridge
Once up on the ridge though, Dougie started finding it tough again, so a very slow plod to the summit.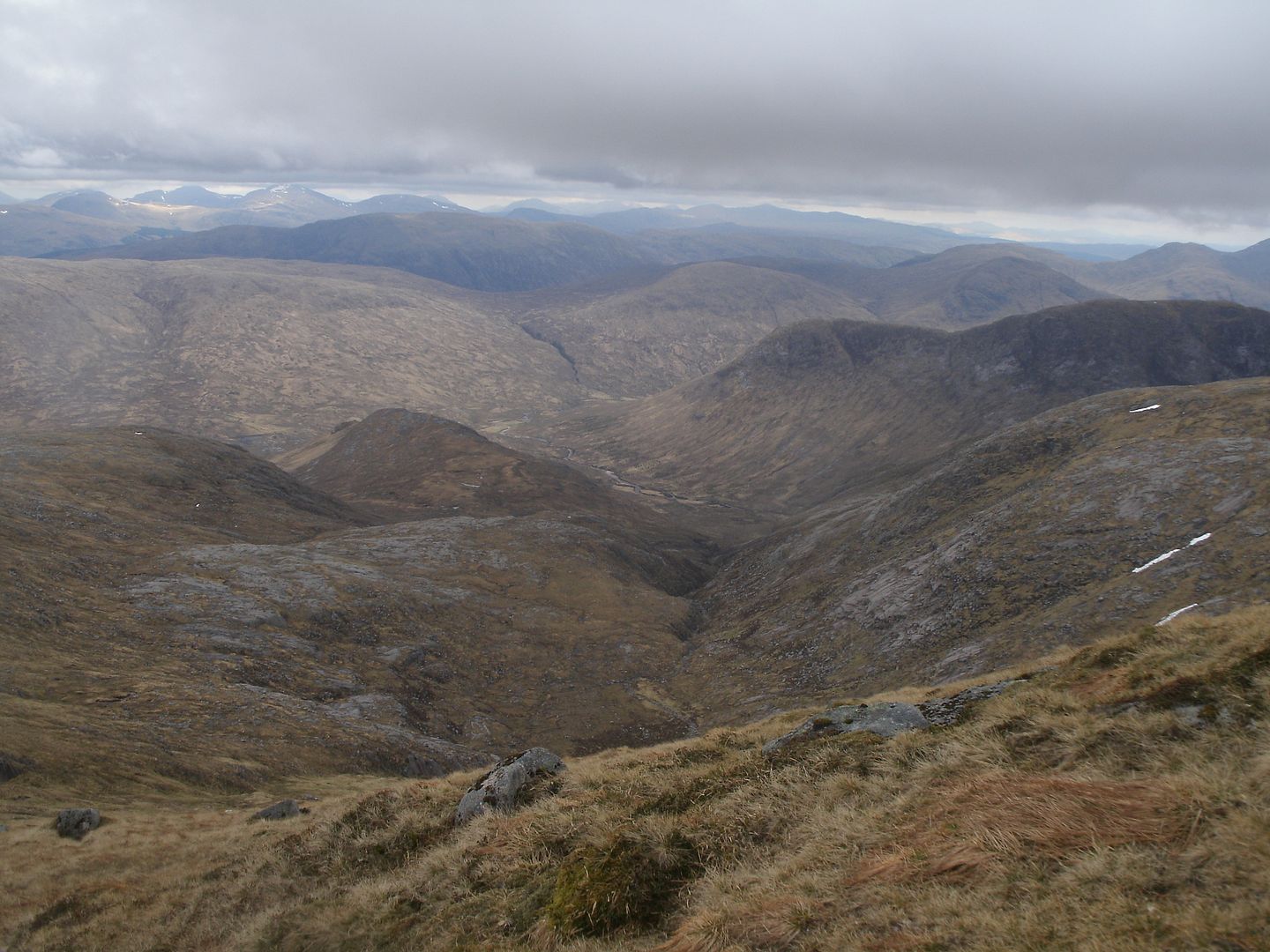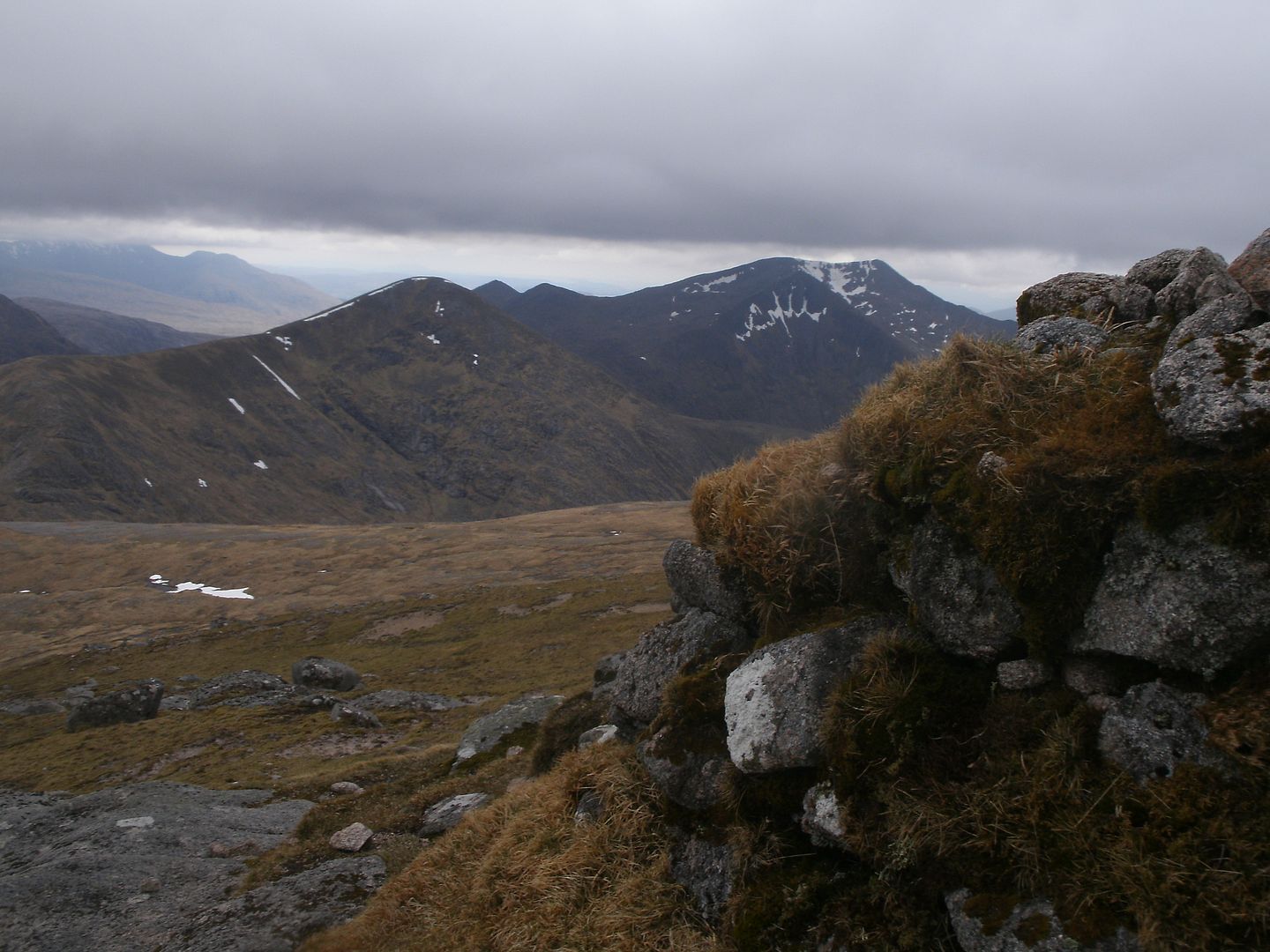 We were both pretty tired, and we knew we had to camp soon, especially as the sky was getting awful dark, and the wind had got up. We found a relatively sheltered spot just a few hundred yards from the summit, with a wee stream passing by which held some very tasty water.
Dougie could hardly keep his eyes open, and dinner turned out to be not as tasty as usual..
The wind got stronger and the rain started pelting. We were both awoken frequently through the night with the ferocity of the weather.. The wee green limpet we call home on these trips held up like a trooper though and we felt safe.. We just hoped it would blow over by morning..
Unfortunately it didn't blow over by morning..
I went out for the usual comfort break first thing, and I have to say I was shocked at the weather..
You folk that read my WR's regularly will know I'm not afraid of a bit of bad weather, but I have honestly never experienced anything like this before. Just horrible! My heart sank, I knew that the trip was over – no way we were continuing on to the other 3 munro's in this – it would be too crazy even for me.
We had a relaxed start to the morning, waiting to see if it would improve any, but at about 10, I noticed the first signs of the tent beginning to fail.. That made it about 2 hours before we would be flooded out, so time to pack up and go, no matter the weather
We headed for the next bealach, as there was a path marked down to Glen Etive where we had parked sunny. Visibility was down to a few yards, and we were battered senseless by the weather, so it was hard to stick to a bearing for the bealach
We managed to miss the crags, more by luck than any navigation skill, and made it to the path down. The path followed a really amazing glen, made even more amazing by the huge amount of water that was coming down the hill.. Unfortunately all that water made for a wet splooshy descent. The waterfalls were breathtaking though - and you know how I love a bonny waterfall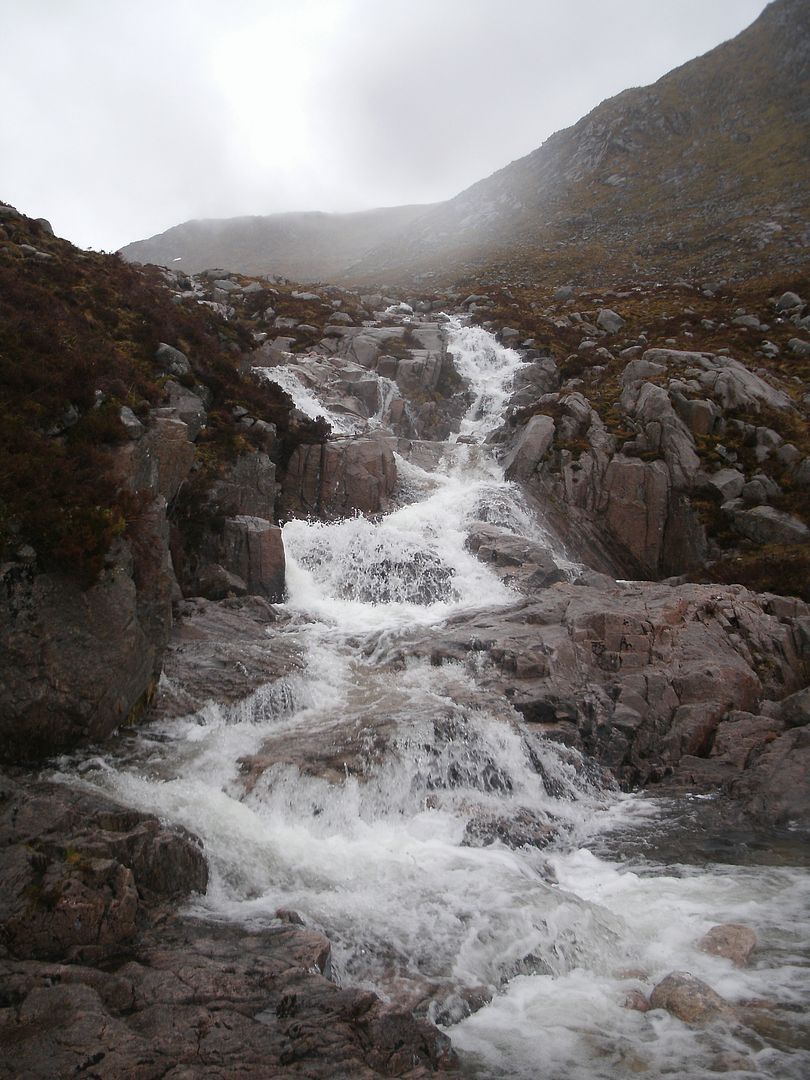 It didn't take us long to get back down into glen Etive, the wind easing slightly, but the rain was still thundering down as we got back to the car. definately the right decision to high tail it back, no regrets at all. We may of failed on doing the whole ridge, but it certainly doesn't feel like it.. Just loved it