So this weekend, we were originally going to camp on Suilven for midsummer, but as time wore on, it became clear what was actually going to happen was that I was going to be a golf widow
So I shelved those plans for another year and decided I would try and bag something instead – seems ages since I bagged a Munro. I wanted something Dougie had done but I hadn't. That narrowed it down to Clunae 3, or Grey Corries, and the Grey Corries don't strike me as a place of ample campsites, so I went for Kintail.
I took Friday off, the solstice being morning on the 21st this year. I was looking for an excuse for a long weekend anyways
And set off at 2.30 for Kintail.. The usual accident on the A9 made it a frustrating journey, but I was at the car park and set off by 7. Others returning from their day walk looked at me like I was crazy setting off at this hour.
I set off up the road, and on to the track, handily signposted Carn Ghluasaid. Its pretty steep and rocky up to the mast, but it isn't too far, then on to the brilliant pony track/stalkers path beyond. The joys of it being quite steep to start is that the views start opening up really quick
I had heard that the path was a little boggy, but the footprints of the walkers that had come before me were all baked hard in the sun.
I was passed by a guy with a lab who was setting out to do the 12, finishing with the sisters. I hope he managed OK. I wasn't feeling great, I didn't know if I was coming down with a cold, or had a tummy bug brewing, but it wasn't the best feeling in the world.

The path meanders upward, before the usual pony track zigzags up the steep rocky nose onto the ridge beyond. I was at the summit of Carn Ghluasaid in a little over an hour. There are a few cairns there, so I looked for my map to see which one was the summit. It was then I realised that I had either left the map in the car, or at home.. Not ideal at all..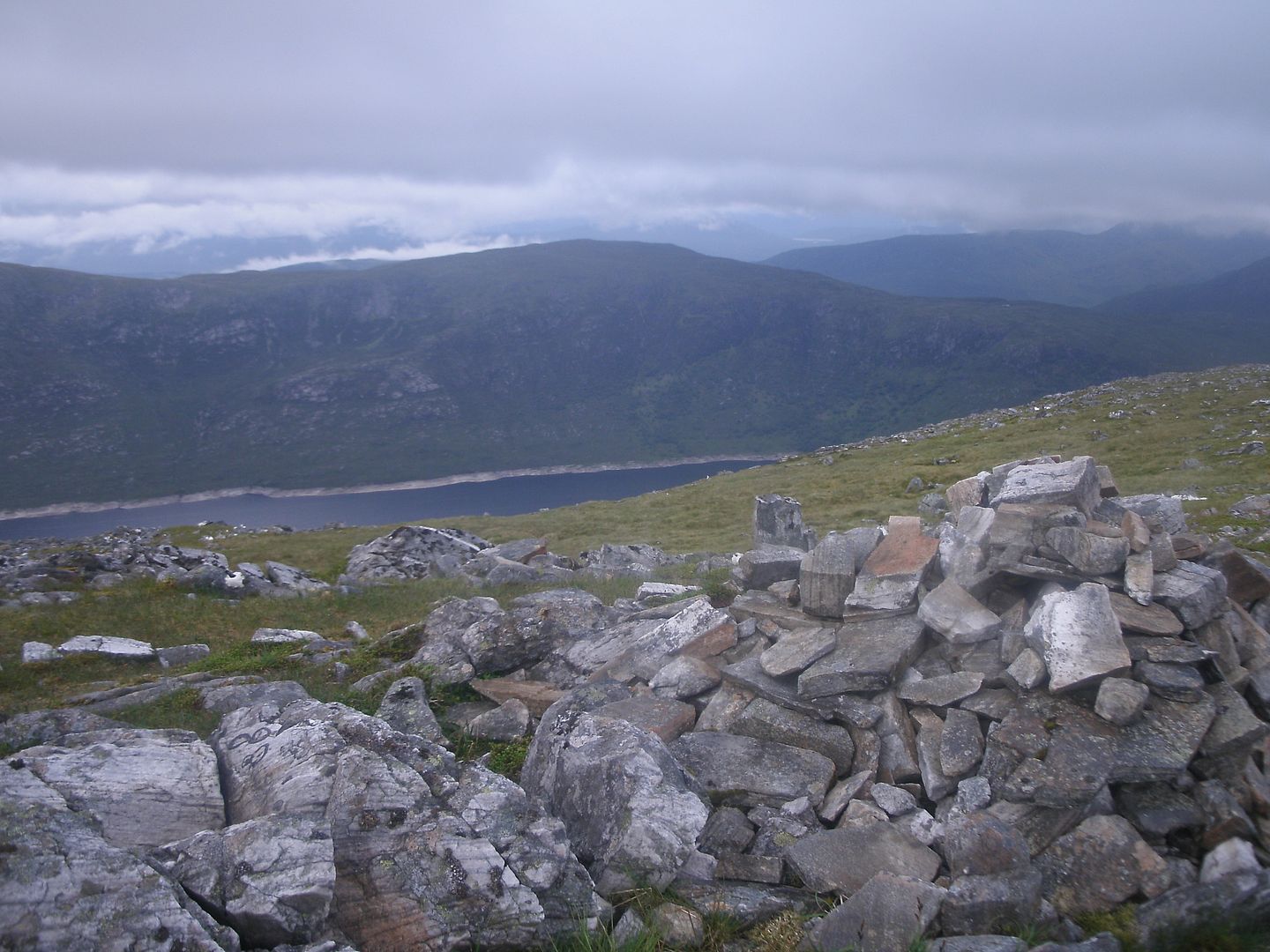 I didn't linger very long, the wind was gusty and cold, the way ahead looked claggy.
My original plan had been to camp out on Sail Chaorainn, but if it was claggy maybe I was best waiting to see what the weather was like tomorrow.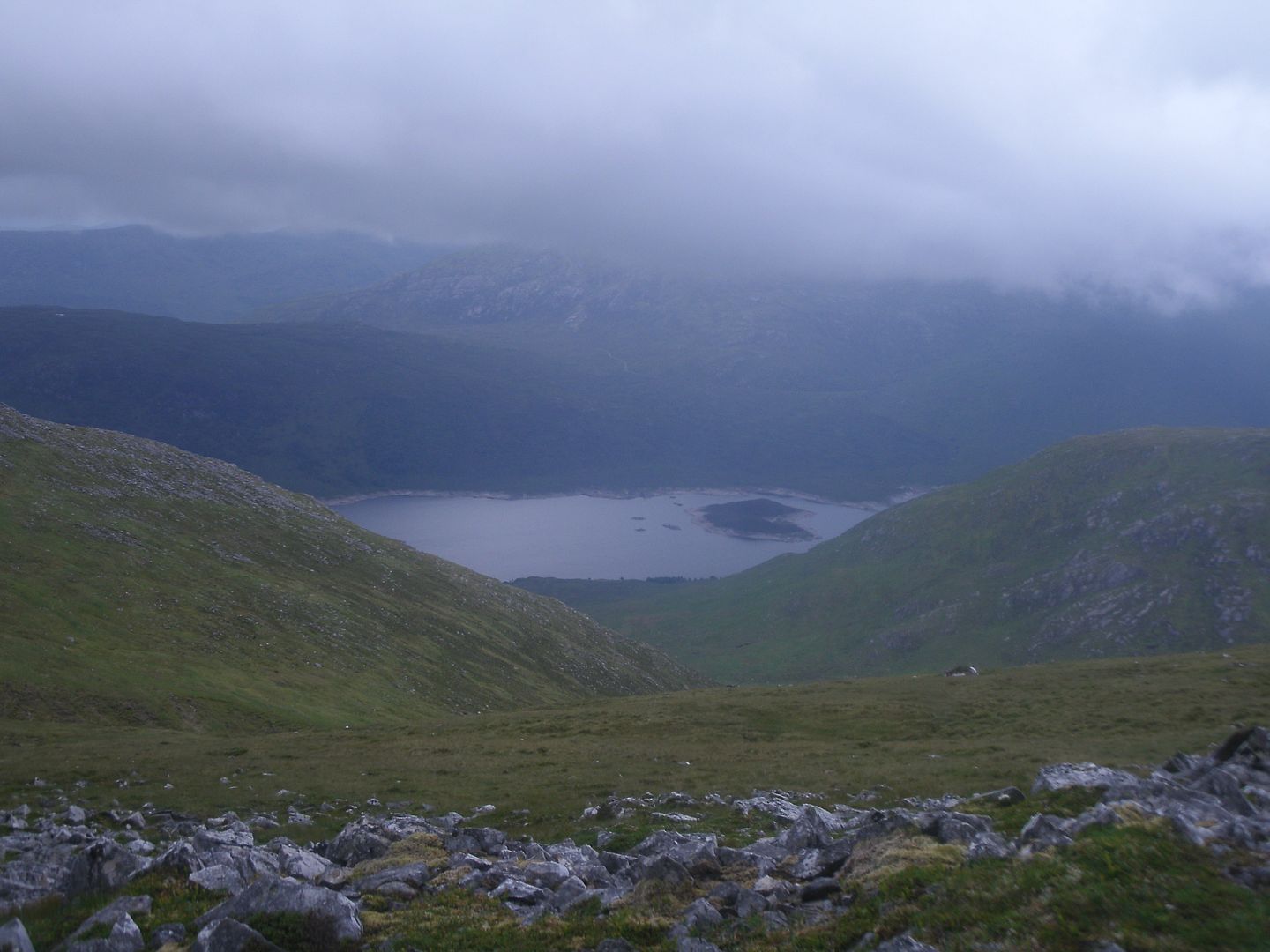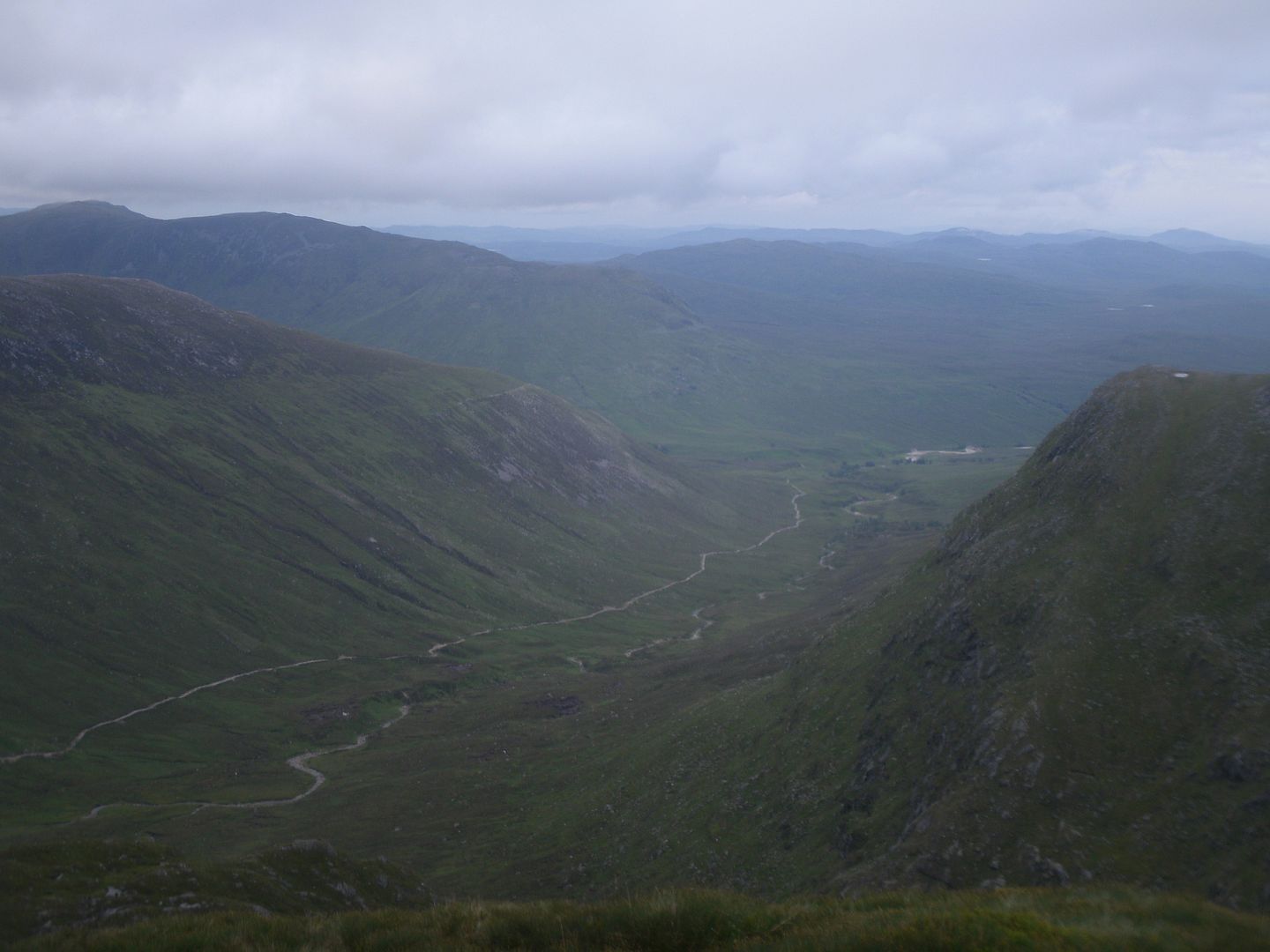 I walked over to Creag a chaorainn, took a wander down its ridge, and pottered about, I really didn't want to head into the clag above, drizzle was becoming more persistent' and I was feeling quite dizzy now, so got the tent out, and made a cuppa.
It was very gusty, and there was one crucial guy that kept on coming loose in the rocky soil. Sunset was disappointing.
I was soon asleep however, until a big gust and some driving rain woke me up at midnight. I had brought dinner, couldn't face it, so I just had a cup a soup. I dozed a bit, but was awake at about 4 in the hope of catching the sunrise. It I was unfortunately clagged in at that point. I waited for the weather to improve, and was almost giving up when at 10, it suddenly got brighter
By the time I had packed up, the sun was out yaay!

Time to get on the road. Just a short descent then climb up to Sgurr nan Conbhairean, where there is a substantial cairn and shelter. Although I was in sunshine, I think I was on the only cloud free Munro's for miles around, which didn't make for the best views.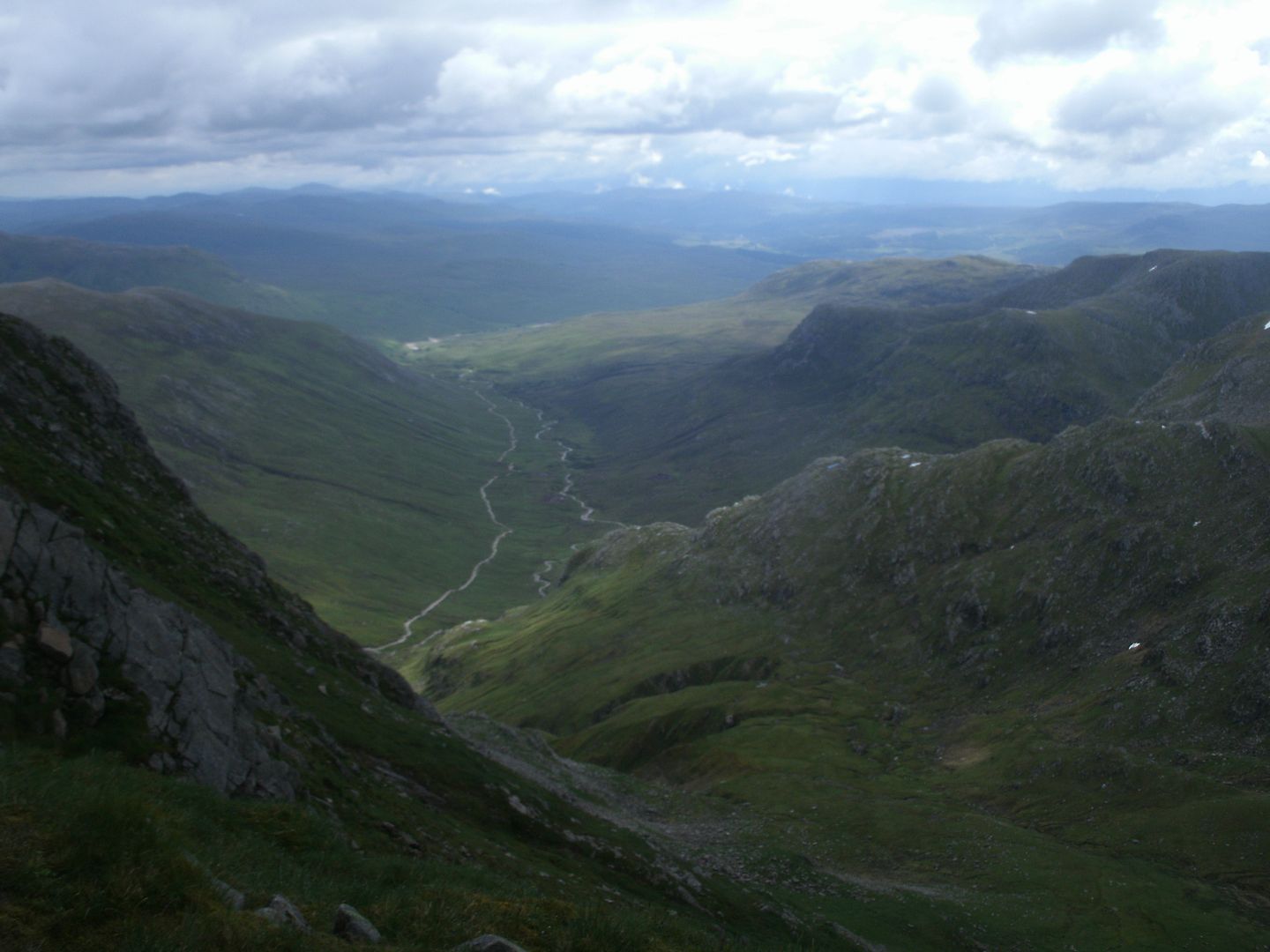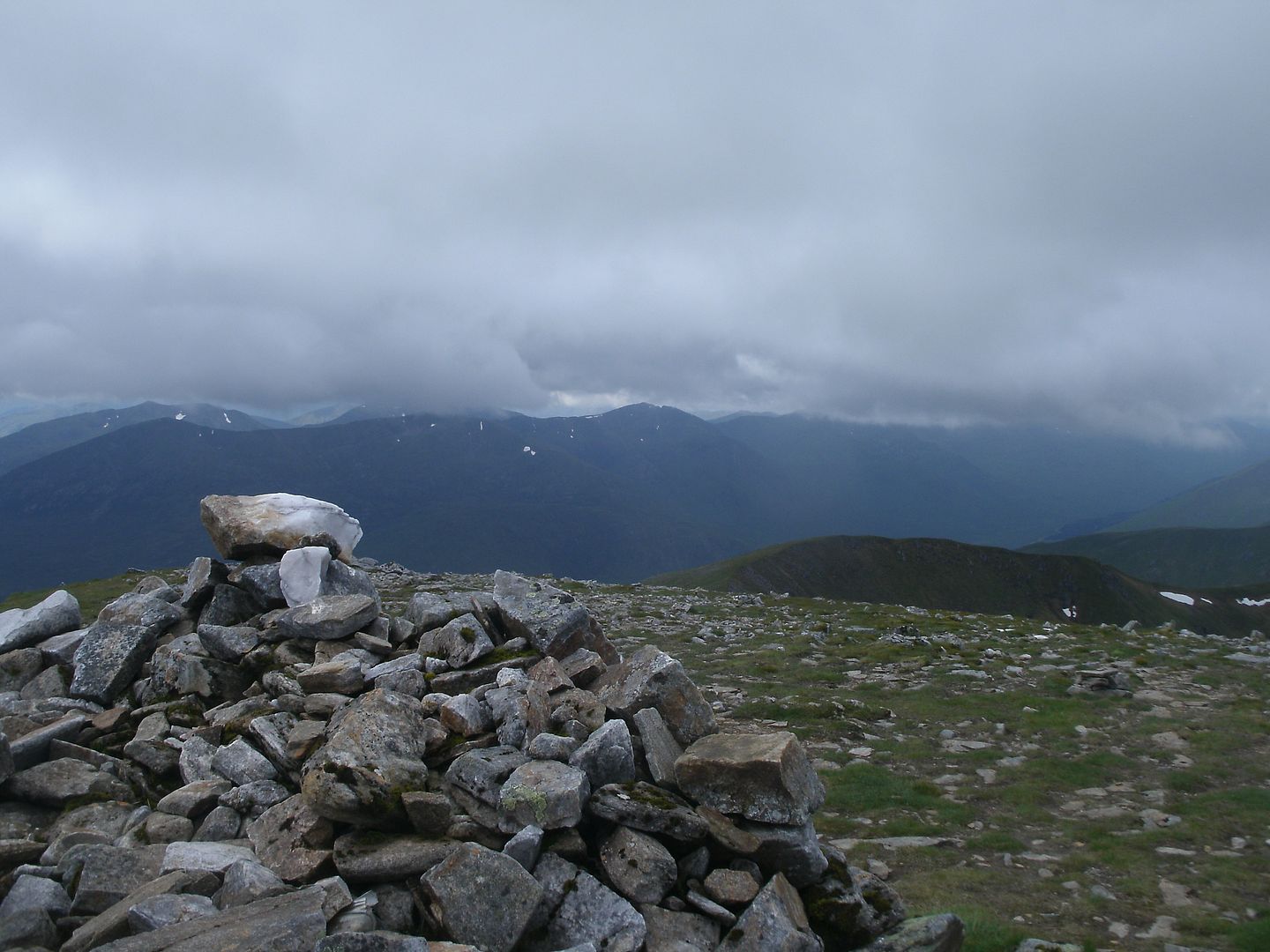 I left my rucksack at the summit, packing my pockets with a couple of cereal bars. Looked a fair way out to Sail Chaorain. Didn't take long though, easy slopes and a good path made it easy.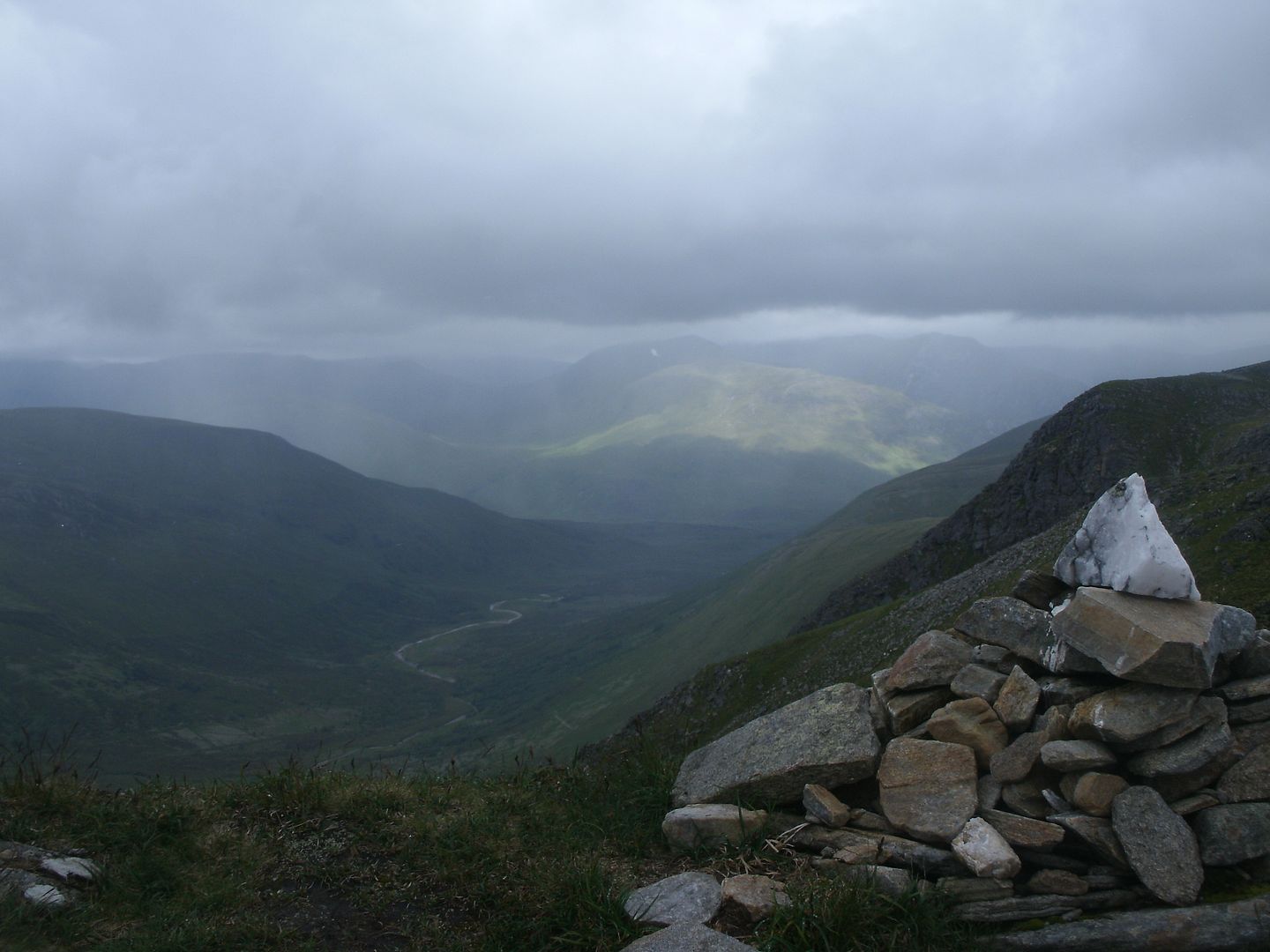 I wished I had my map again, as there was a further away top that could have been higher, but from memory I thought the nearest one was it, and I remembered right
Besides, the solstice was upon me so I stopped to mark the occasion. I had a snack, but still didn't really feel like eating, and the wind was strong and cold, so I headed back pretty quickly.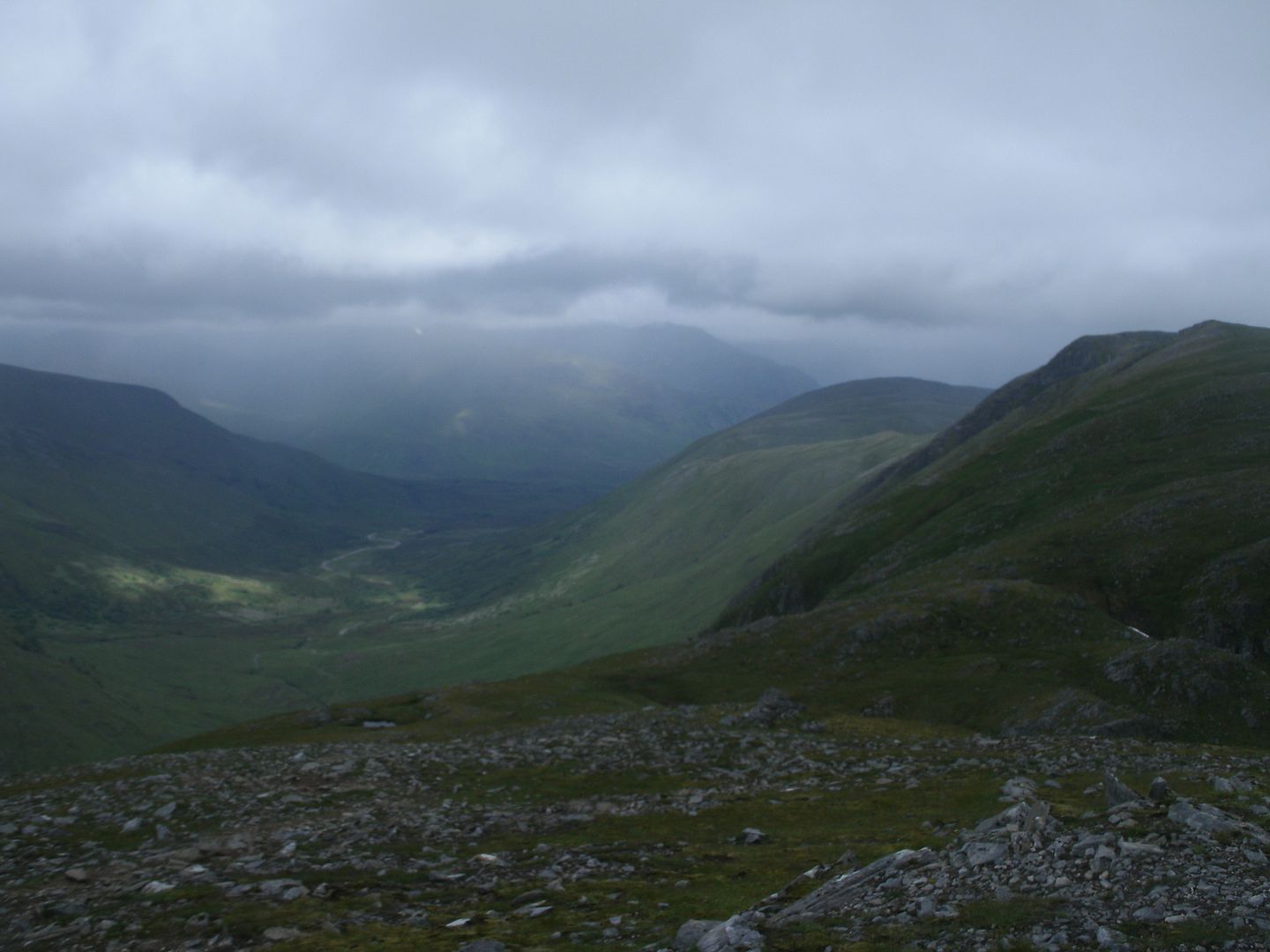 I realised that leaving my pack at the top of Sgurr nan Conbhairean meant extra ascent – should of thought that one through properly
but the wind was behind me for the climb, so that made it a lot easier. Unfortunately though, the clag rolled back in.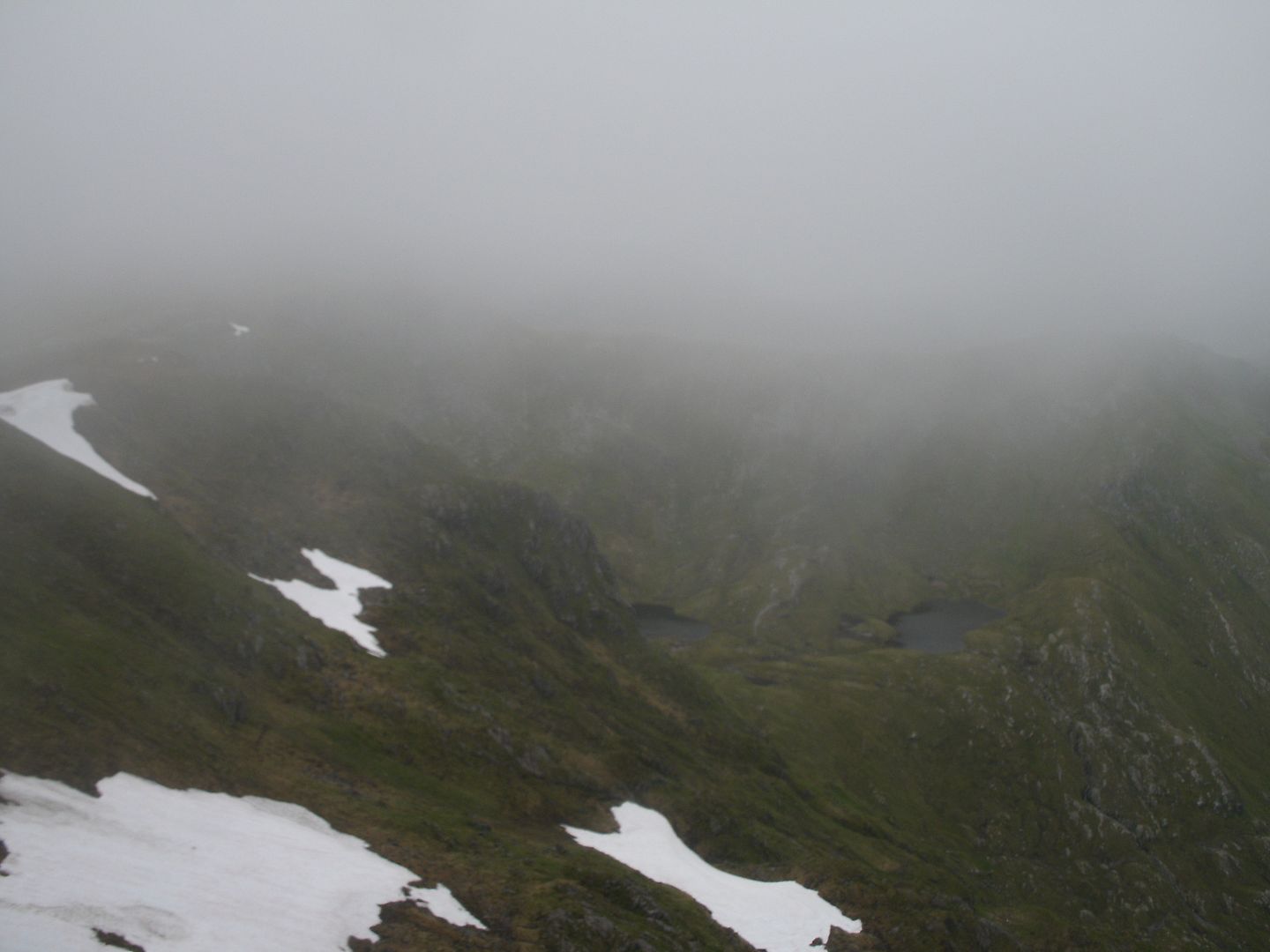 I sat in the shelter at the top, the rain heavy and pulled on my waterproof troos. I've haven't had a dry midsummer for years, so I was expecting a good soaking at some point
It didn't relent, and I was getting cold, so set off into the clag. Without a map to take a bearing, I was relying heavily on my GPS, which isn't ideal in anyone's book, but that's all I had, and it worked out well.
Down the grassy ridge I went, it was mostly at a pleasing angle and kind to the feet. I made it down below the clag, and the views started opening up again.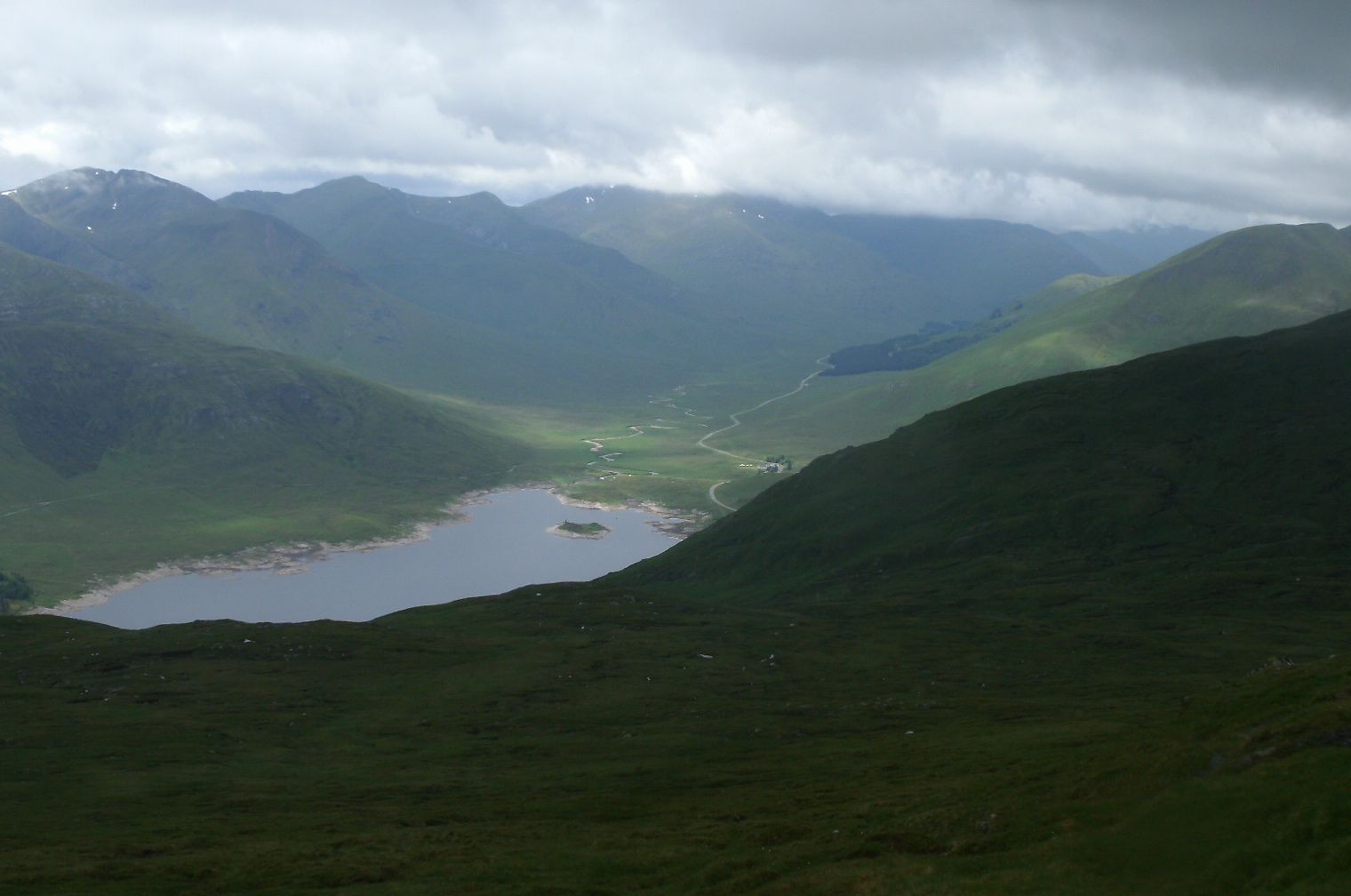 I worried a pair of Golden Plovers who tried the broken wing dance on me, then followed me quite a distance down the ridge, making a racket and even swooping the back of my head!
Didn't catch a glimpse of their brood..
I had just got rid of them, when a pair of ravens also took exception to my presence. You know when one of them swoops you I can tell you
So I did the maintaining eye contact thing, and that worked in calming them down. I do not have a way with birds...
So then it was steeply down to the glen below. I was glad the grass had dried out a bit, or it would of been very slippery, but as it was, the ground was soft and kind on the feet, and the boggy bits were nice and dry. The path goes all the way down to the Allt Coire Lair, and further, but I didn't know where it was going so at a good looking place I cut down and crossed the idyllic burn.
The weather had improved and it was sunny again, so I would of stopped to enjoy for a while, but the midges were out in high numbers so it wouldn't of been very relaxing.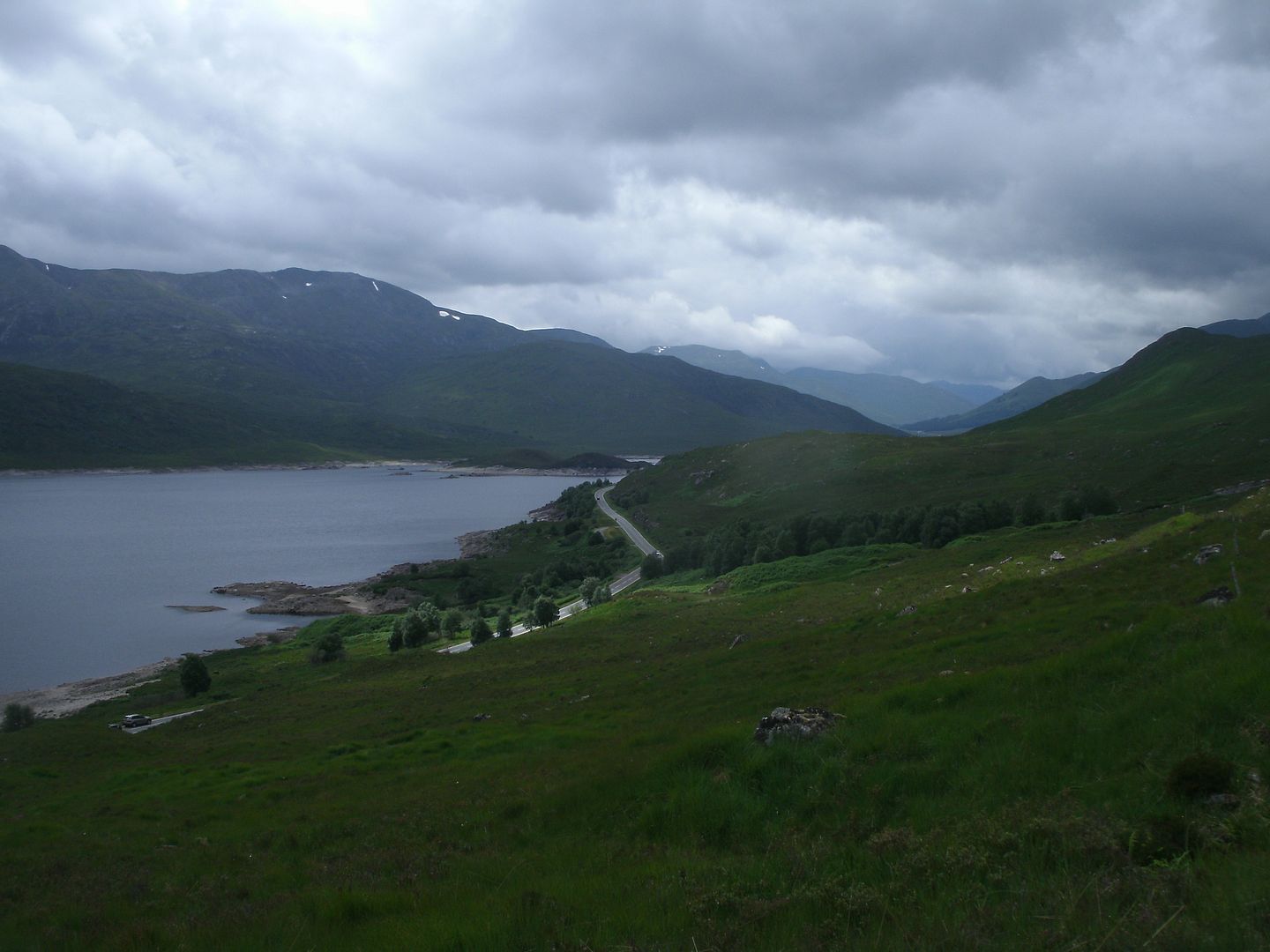 I headed onward, a good path even if it was a bit noisy from the road, took me all the way round the hillside back to the mast and a short steep ascent back to the car. Quite an enjoyable midsummer jaunt, canny complain at just a brief soaking