Time for a more serious walk yesterday. The forecast had come together for a really promising day on the hills and as it turned out it was quite spectacular. I chose to go for the three western munros as it looked like a decent challenge to stretch the legs and it was also a lot more serious that anything I have managed to date this year.
I parked at the layby just south of Keilator Farm at the back of eight. Views across to Sron Gharbh were definitely promising.
Its a decent pull up to the top of Sron Gharbh and the views were worth it. The three targets lined up left to right above Twistin Hill - Bheinn o Chroin, An Caisteal & Bheinn Chabhair.
View across to Ben More, Stob Binnien and Cruach Ardrain from Sron Gharbh.
A closer view of An Caisteal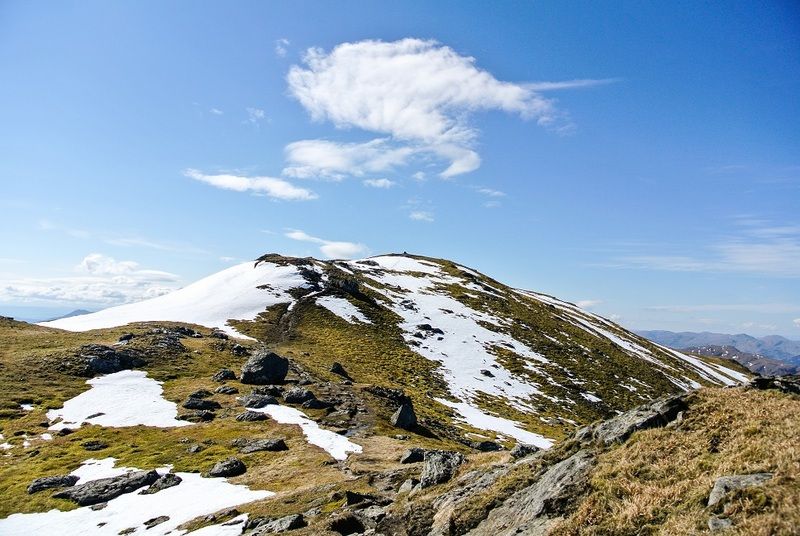 Top of An Caisteal towards the Arrocher Alps
Bheinn a Chroin from An Caisteal (Ben Lomond is peeking up)
Bheinn Chabhair, Loch Lomond and Arrocher Alps from top of An Caisteal
Bheinn Chabhair was the next target and I was hoping to find a path heading off of the main path towards Bheinn a Chroin. I didn't actually seen one until I got to the bealach at the foot of the Bheinn a Chroin scramble. I headed down the gulley and then veered to right to the foot of Bheinn Chabhair. I was actually surprised that the land was pathless.
View back to Bheinn a Chroin from foot of Bheinn Chabhair (the route was to keep to the right of the photo up to the obvious gap).
The route up Bheinn Chabhair is very steep and there are no visible paths up so it just a case of navigating a safe route up past the large patches of snow. Once at the top the views were worth it. View across the summit towards Loch Lomond and the Arrochar Alps.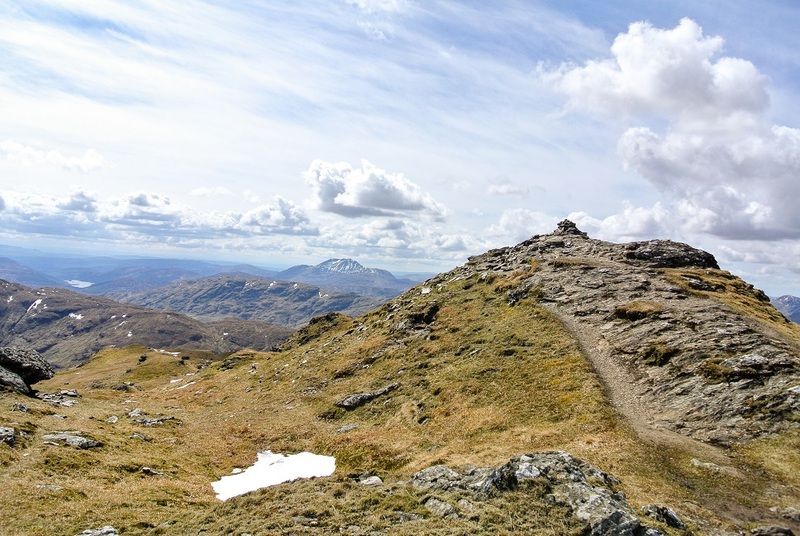 The scramble back down Chabhair was really draining and I was feeling the effects of the steep ascent and descent. As tiredness sets in then this usually means that I cannot be bothered getting the camera out of the sack so the number of photos dramatically reduced.
Next photo was at the top of Bheinn a Chroin when someone offered to take a snap of me at the cairn. Cruach Ardrain, Ben More and Stop Binnien in the background.
Finally a view of An Caisteal from the top of Bheinn a Chroin.
It was a really long and draining exit down to Glen Falloch but it gets easier once you hit the works track.