So this weekend looked like it was going to be another scorcher, but with more uncertainty on Sunday for our usual haunts, so we decided on a wee trip down to the lakes.
We left after work on Friday as normal, and arrived at Stonethwaite in time to set up the tent at dusk, although the moon was so bright it never really got dark.
It was a chilly night, but the morning sun soon had all the frost melted and our tent dripping
We had a plan to go up a scramble called Cam Crag, and maybe some other scrambles. The sun made me think that we may actually spend the day frollicking in a nice river somewhere like we usually do
So no need for the car, we walked through the farm and 5 minutes along the road took us into the village.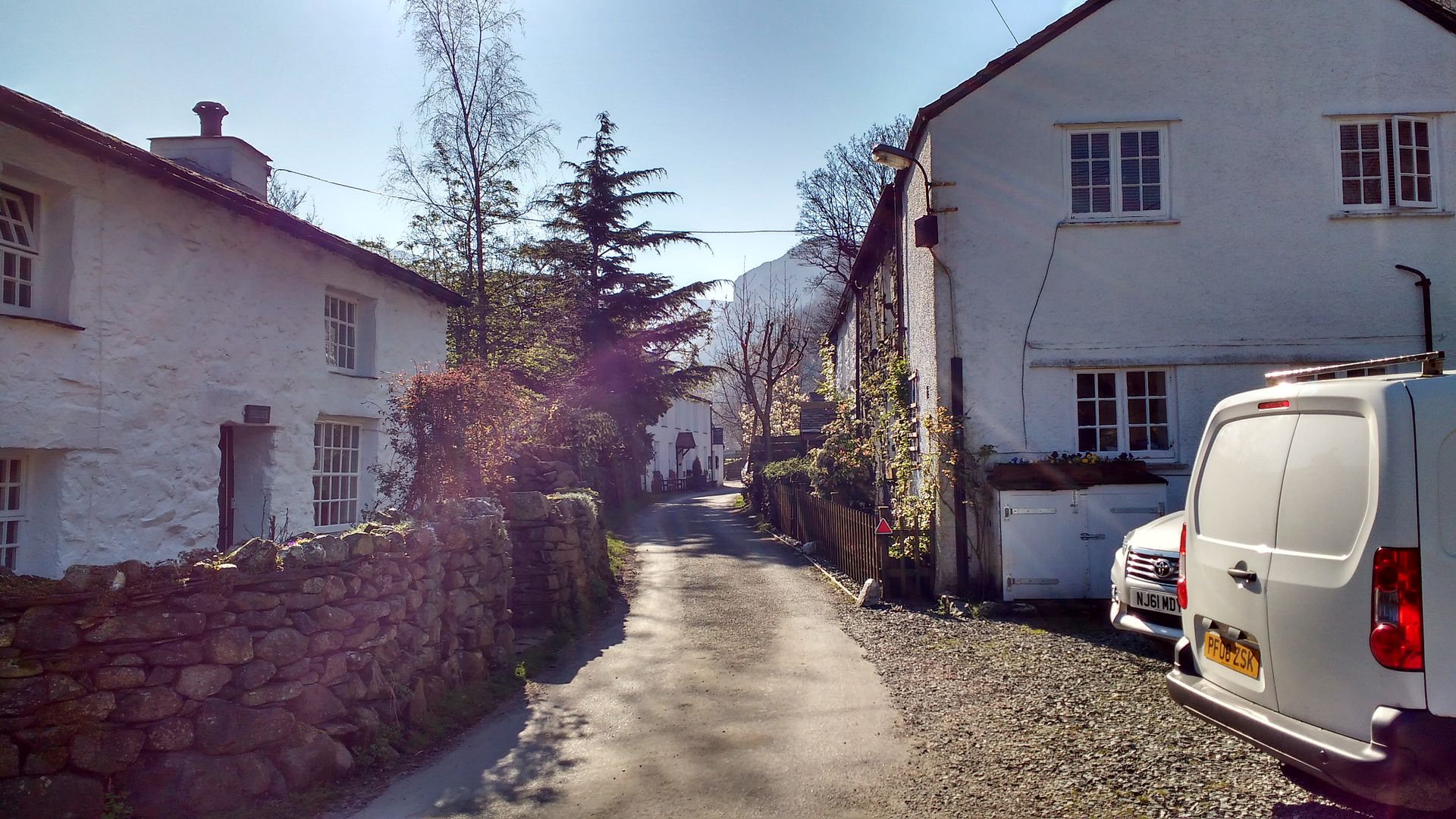 We were soon on the track beyond, right up past the campsite and into the open glen beyond. It was sunny, but there was a fine cool breeze so we could keep up a decent pace until the path dropped down tho the river which was fairly idyllic and mesmorising.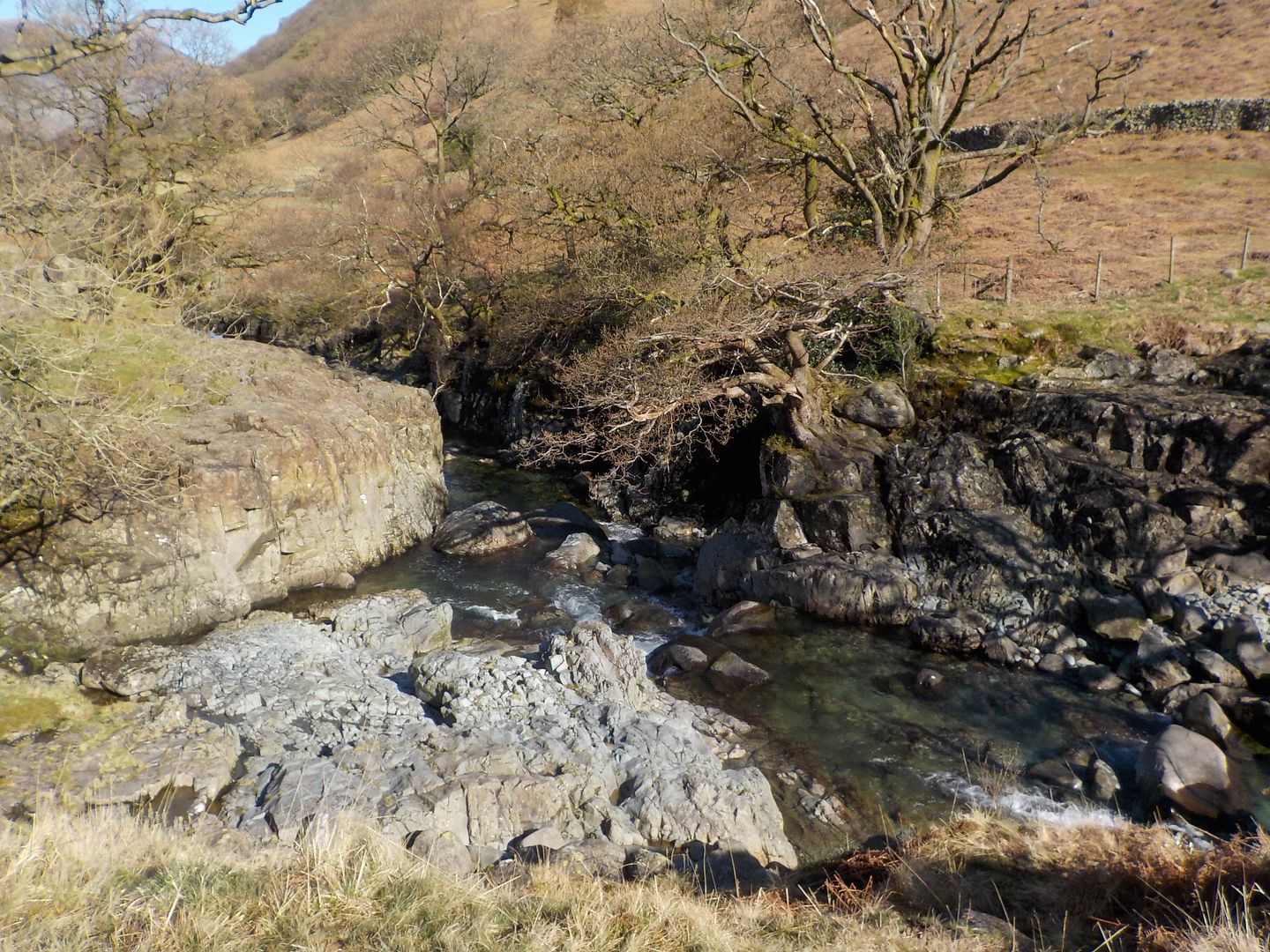 We came out of a clump of trees to find ourselves in the familiarly named Langstrath. We got our first views of the crag we were aiming for, although it turned out it was the buttress behind.
Blackmoss pot was a lovely little run of water, again I struggled to tear myself away back to the path. Lovely wee spot.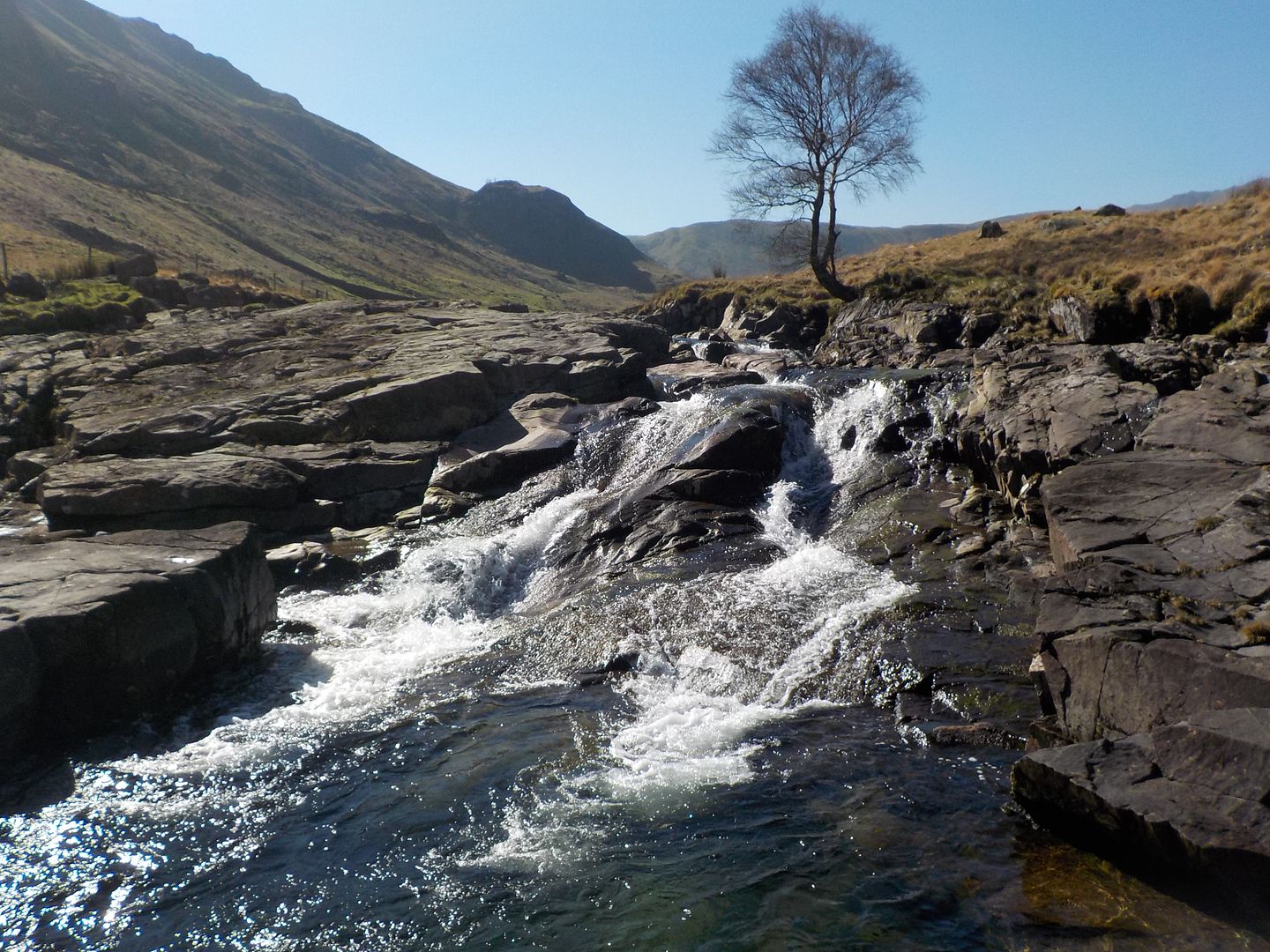 We passed through a field of sheep, where a path slanted up the hillside, getting steep and brutal to facilitate passing through a gate onto the open hillside.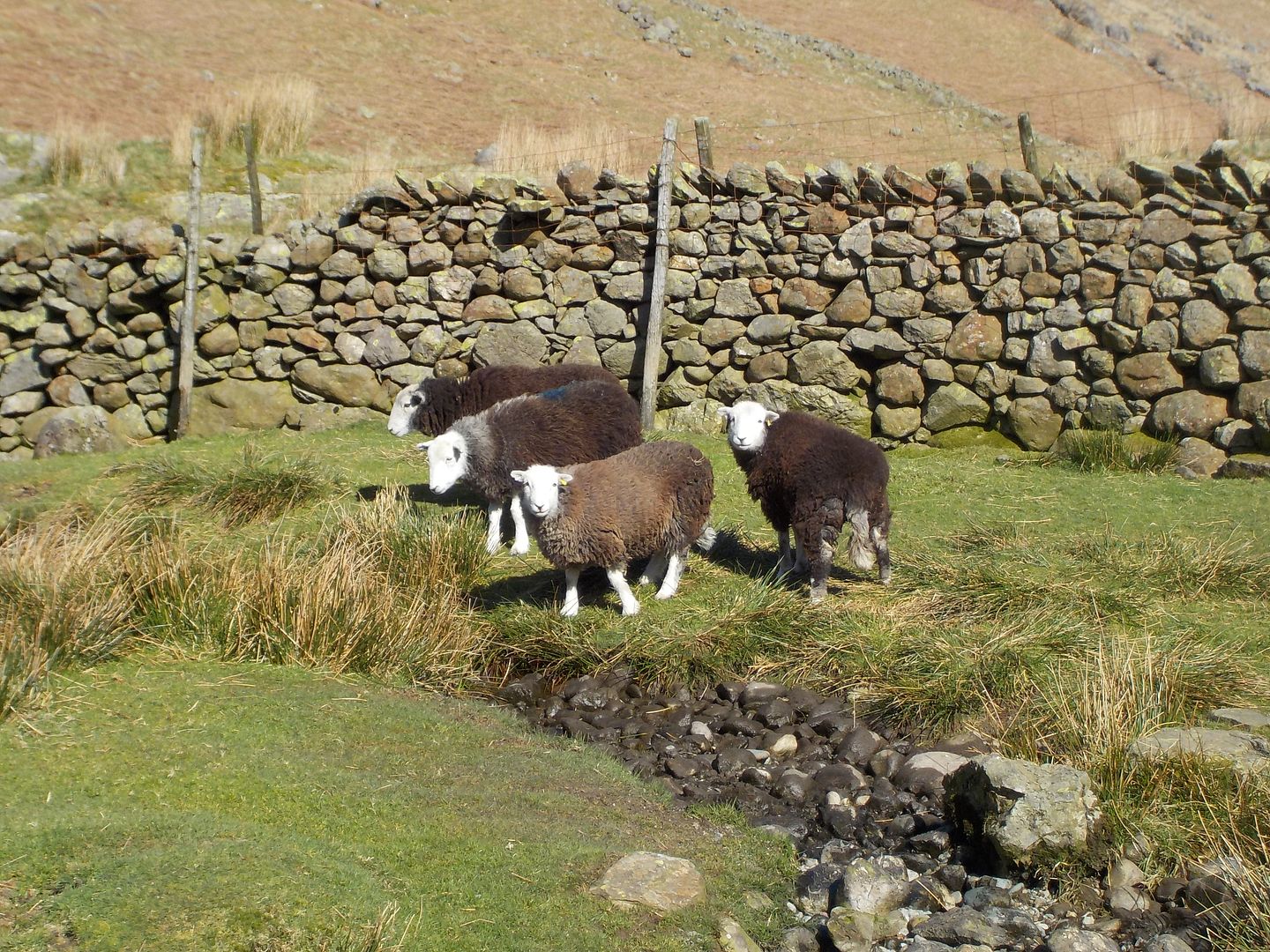 There were a large party of folk just below the crags with beer and deckchairs, and we passed them by following the path. It didn't go anywhere fun though, so we went back a bit and headed straight up, first over big boulders, and then fine cleaner rock above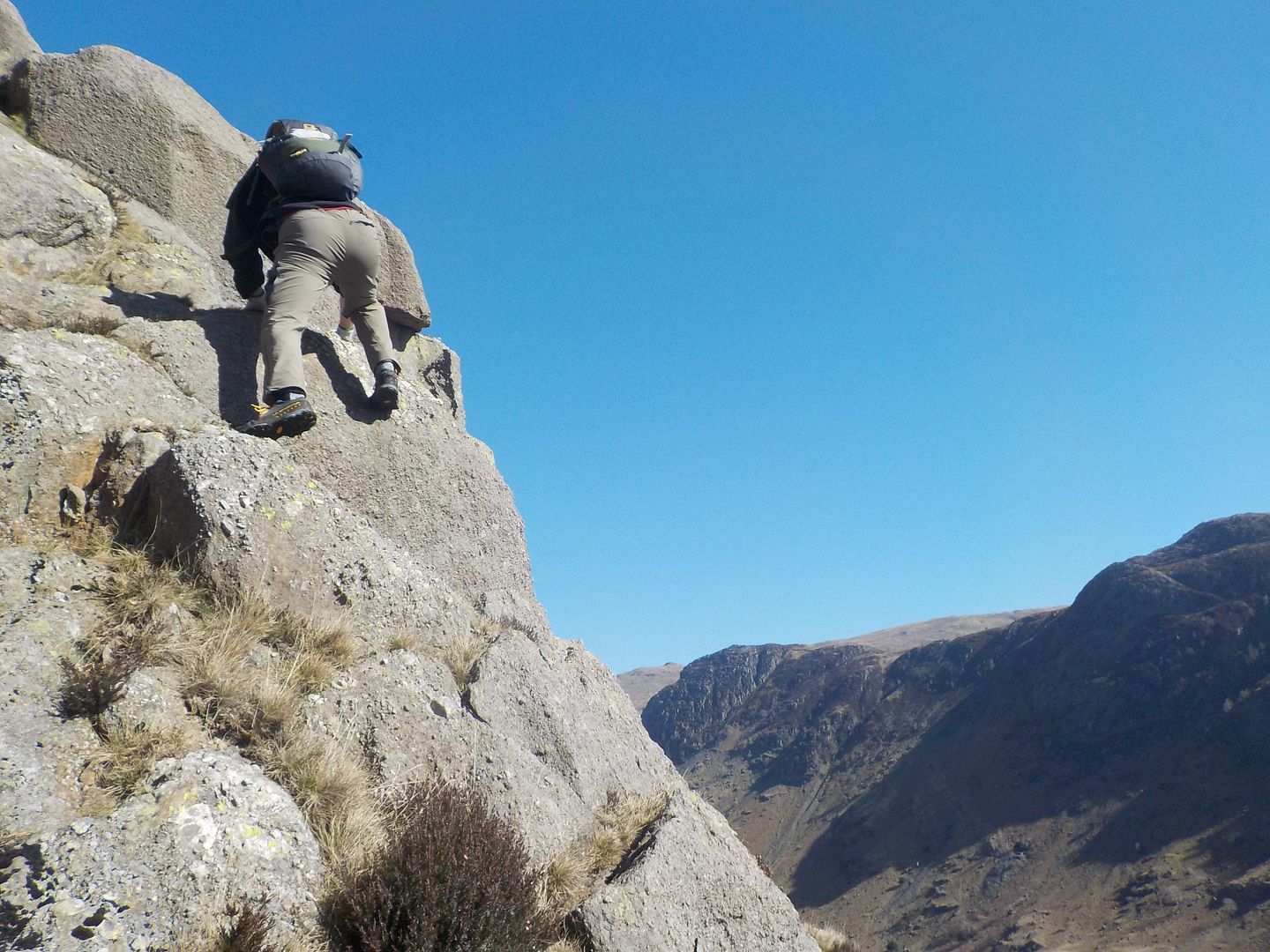 When we got to the top, the way ahead looked mighty inviting - the compacted volcanic ash rock really grippy and dry.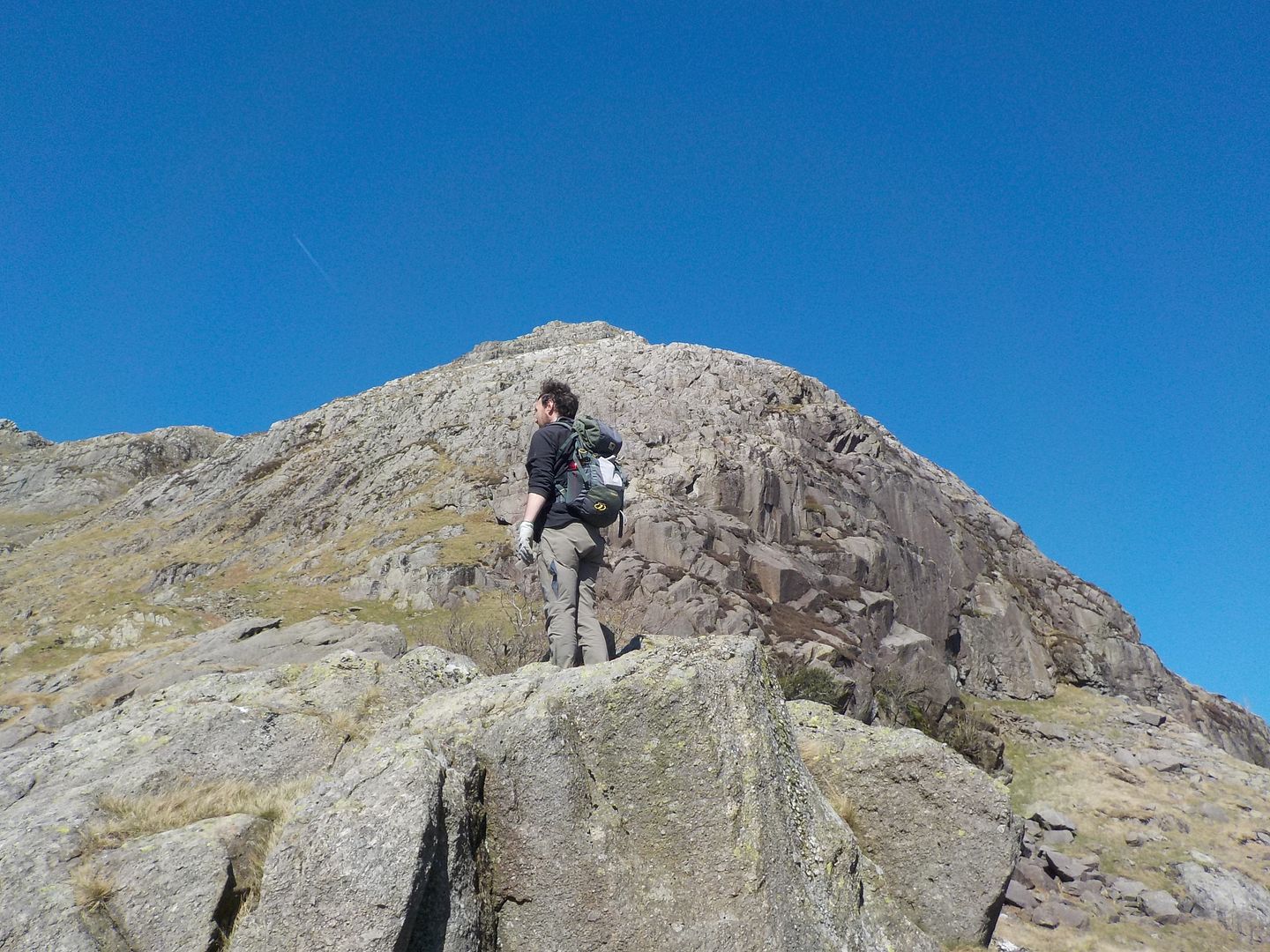 The way up is on the right, a complicated array of cracks leads up to a very tricky slightly outward sloping corner. I made the first move, but didn't like it, so followed a ledge left a bit to an easier groove while Dougie showed me how it was done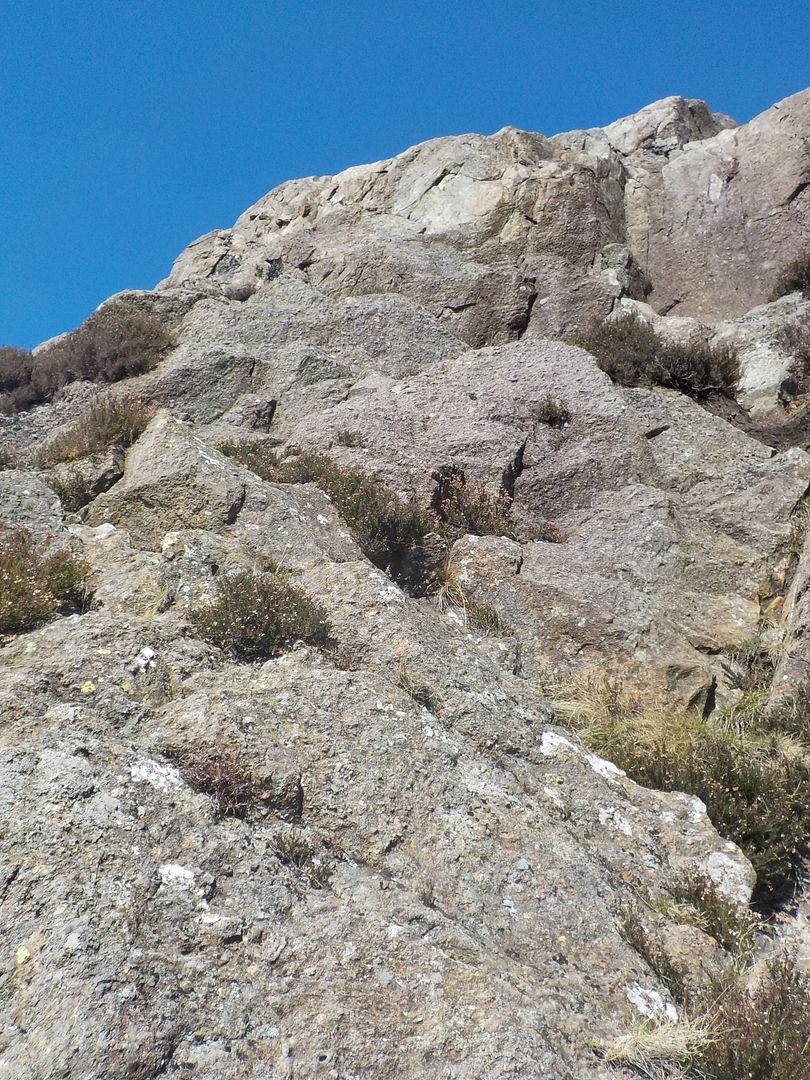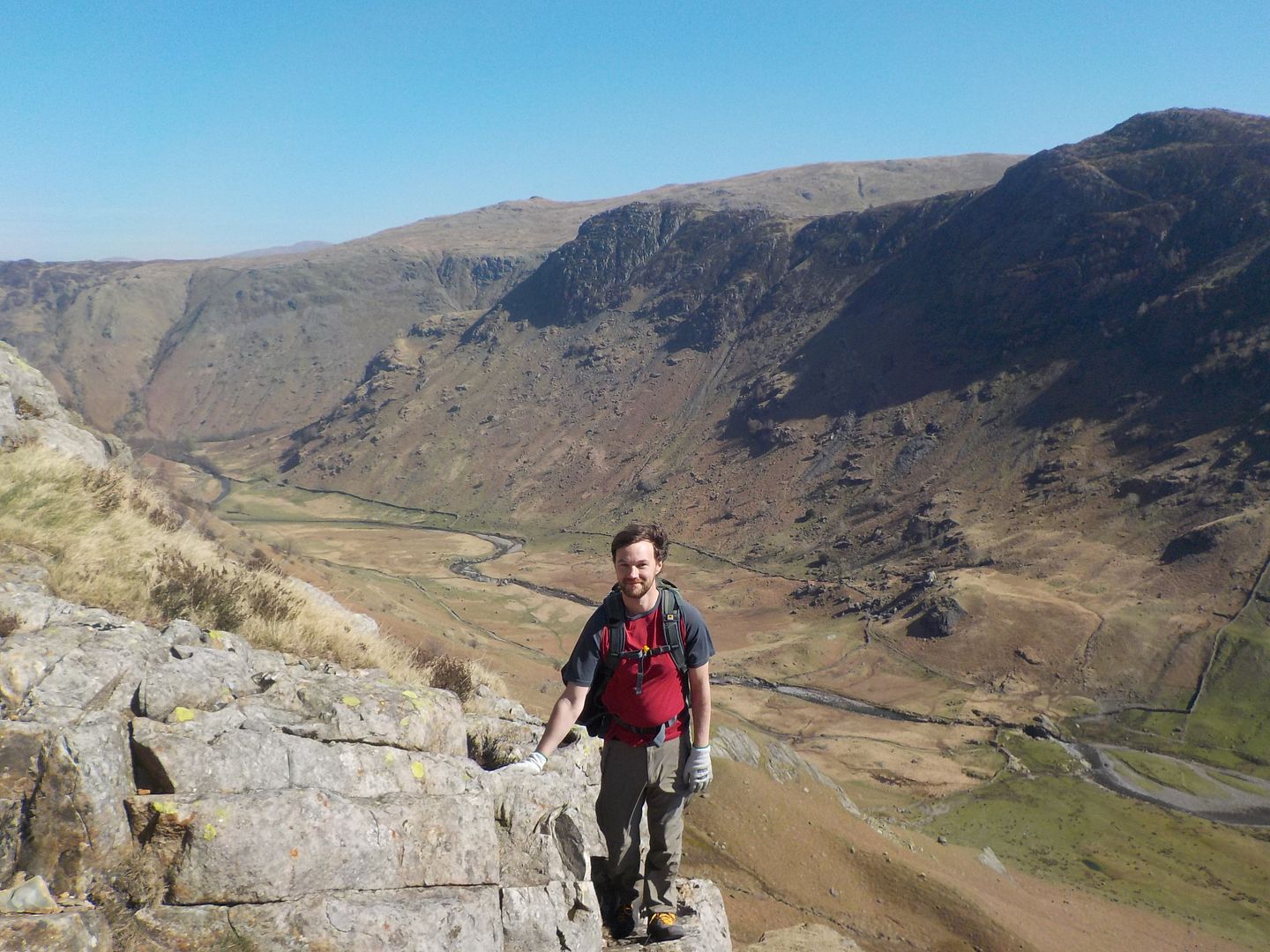 There was then an easier section at a nice angle. We noticed that there were lots of weird circles in the rock up this buttress.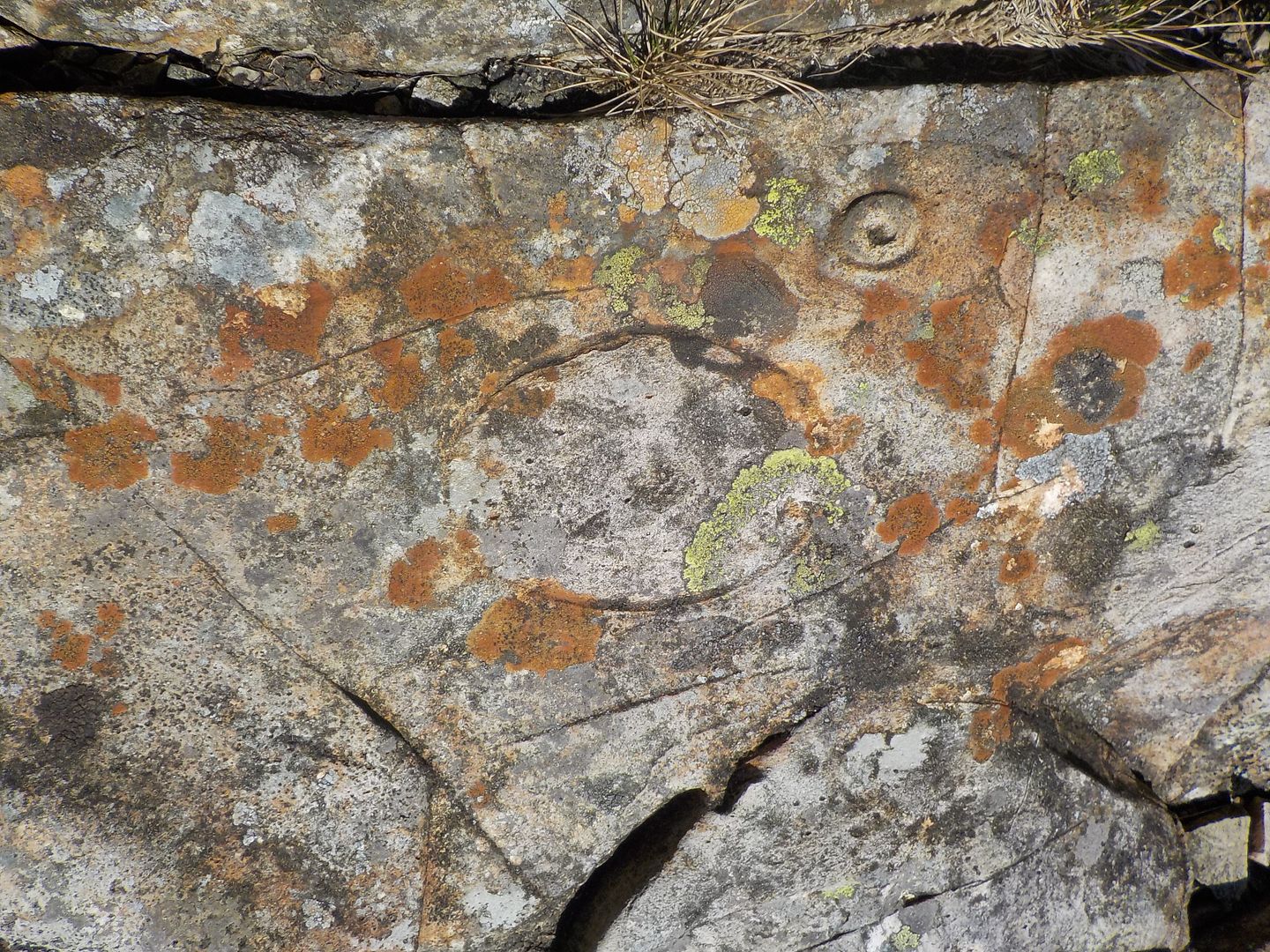 Another grassy terrace took us up to a big slanting groove that was easier than it looked.
The next craggy bit looked awful steep, but as you got closer you could see how many holds there were - looked amazing! and it was - so exhilarating climbing something so big and steep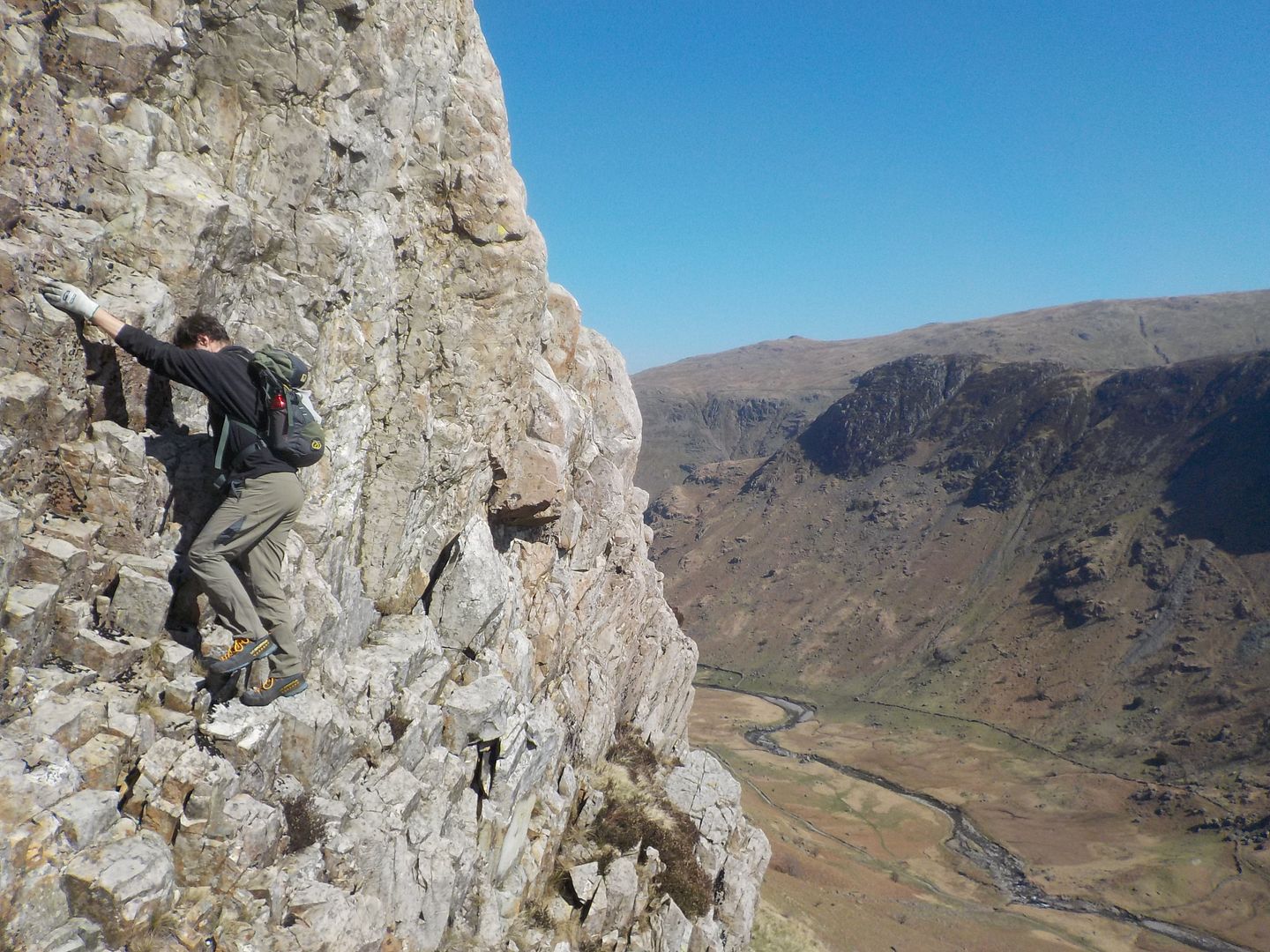 And when we got to the top of that bit, we could see that we still weren't finished
When we got closer though, we realised the route was a bit lacklustre here, so we went round to the right where a variety of ribs led back to the crest. They looked a bit steep but on closer inspection had enough holds for a really fun pitch.
Up at the top though, I found myself in a recess with very few options for the last 10 feet.. I stepped up to a ledge where the rocks weren't quite as smooth, and made a couple of moves that got me halfway up only for a handhold to give way, and I slithered back down to the ledge
Fortunately the ledge continued round a corner where a leap of faith took me into a crack with a juniper bush which finally saw me at the top - took some time for the wobbly legs to subside after that bit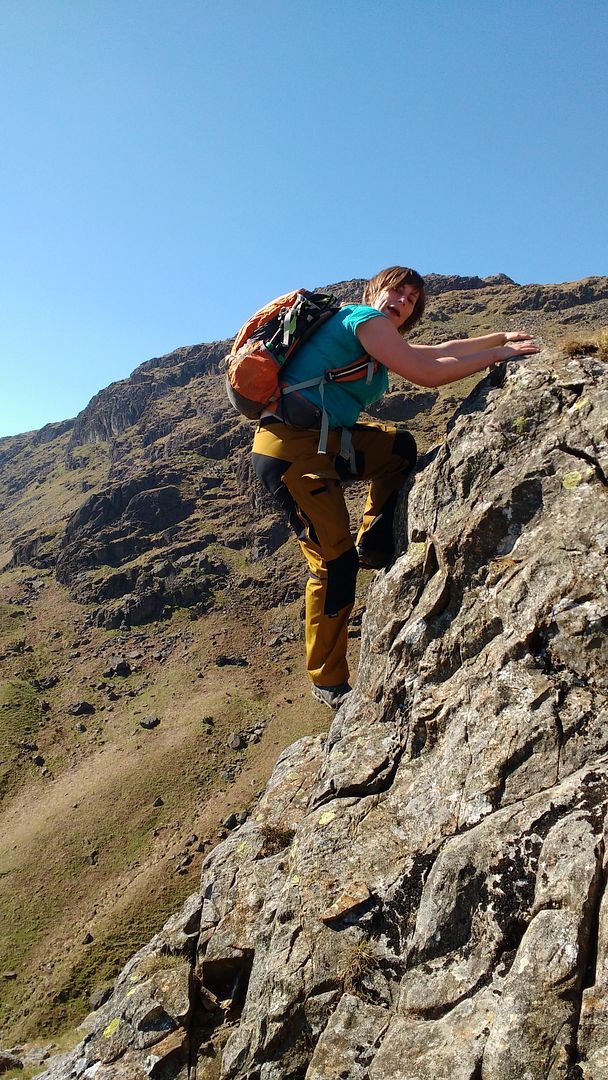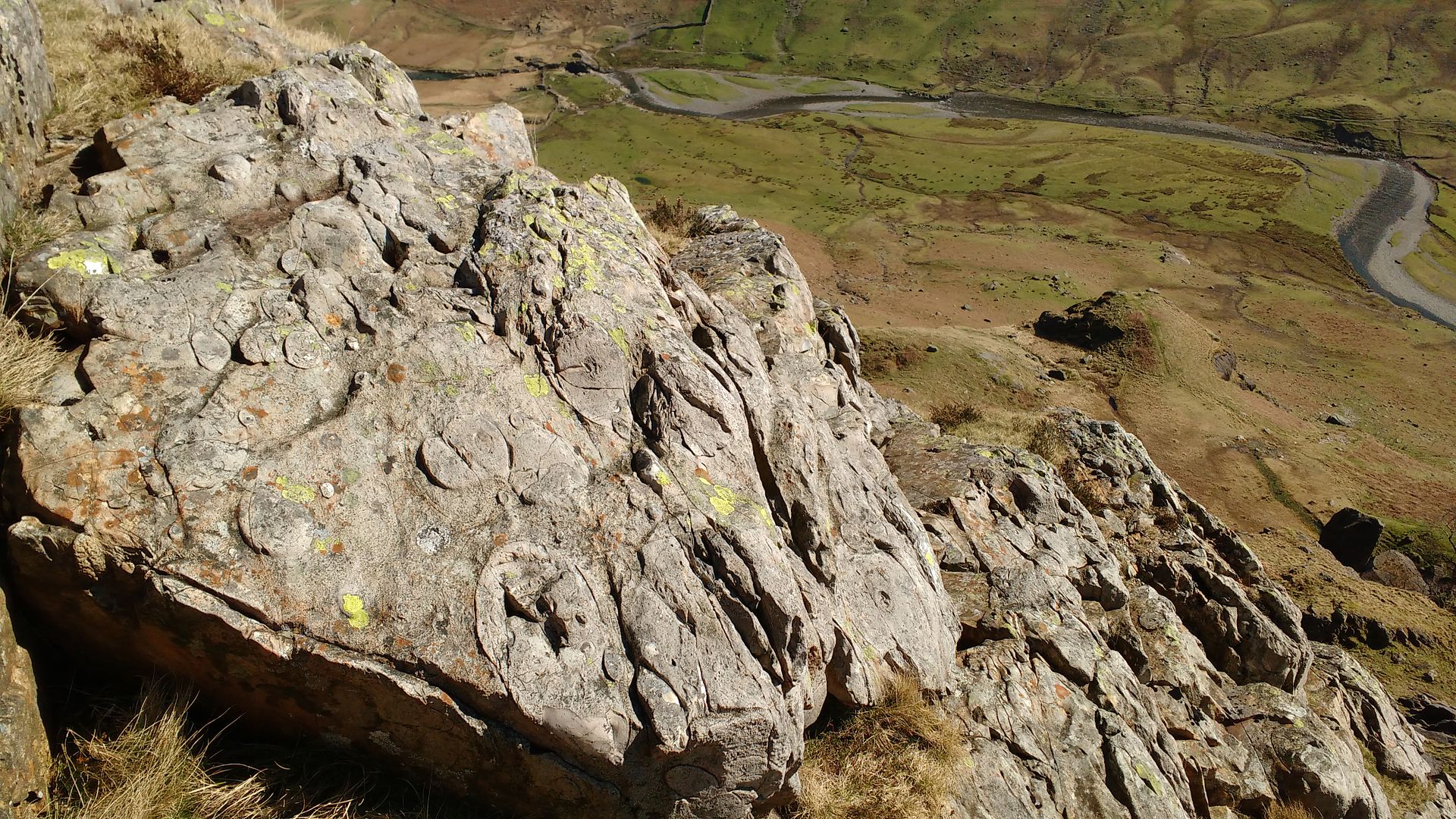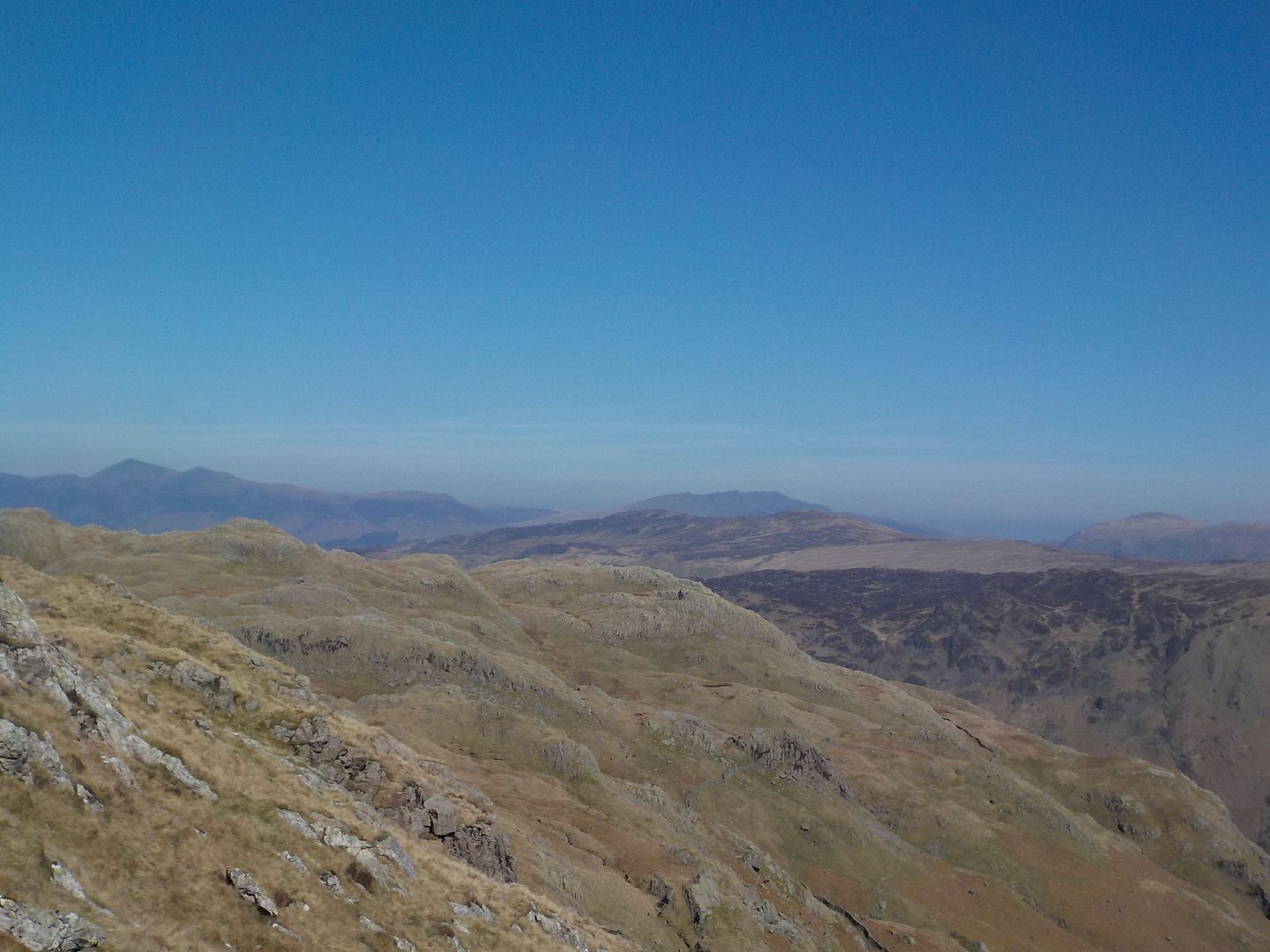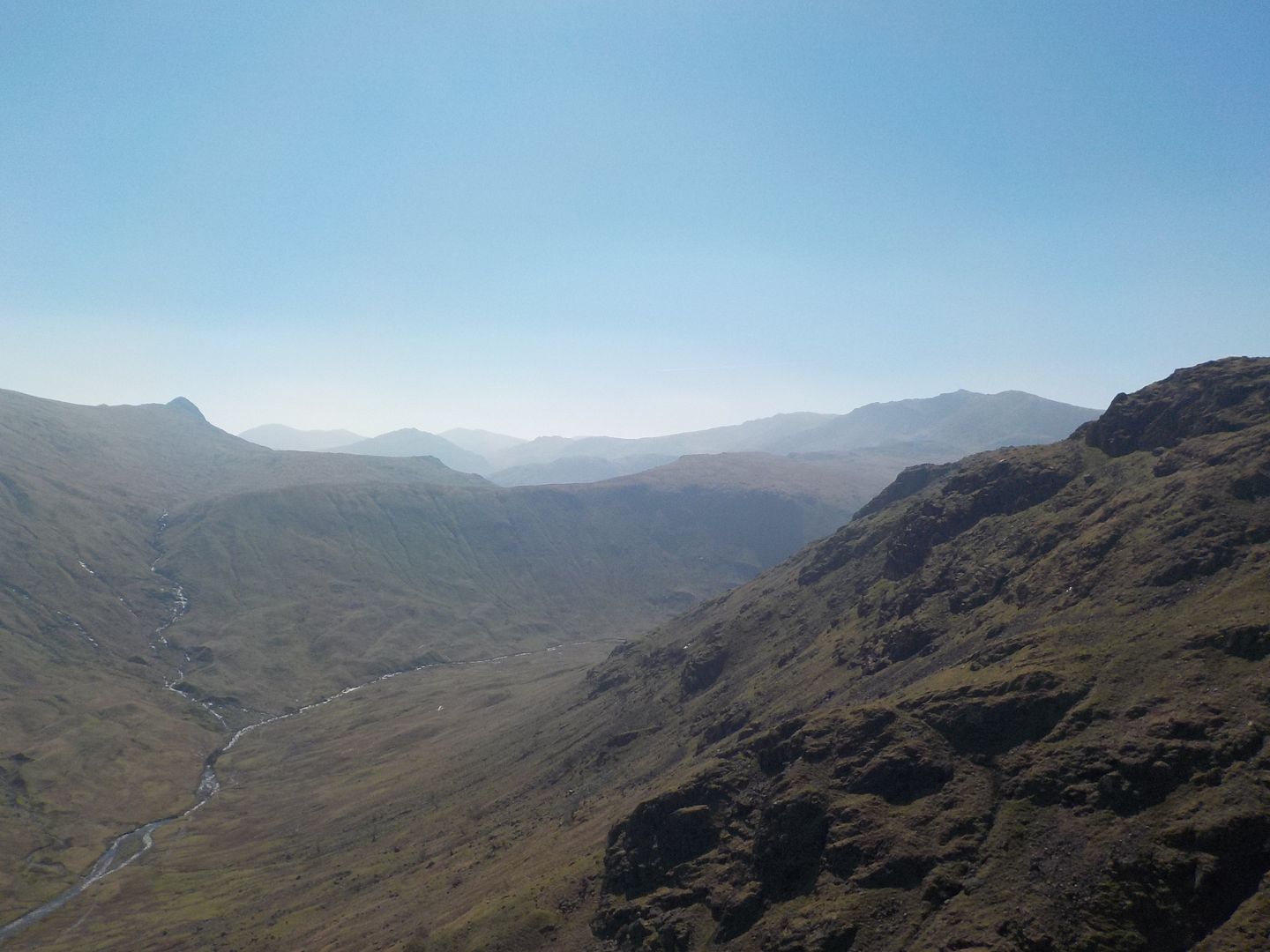 A few short walls with many opportunities led up to the finale which was sustained but easy peasy in comparison to what had come before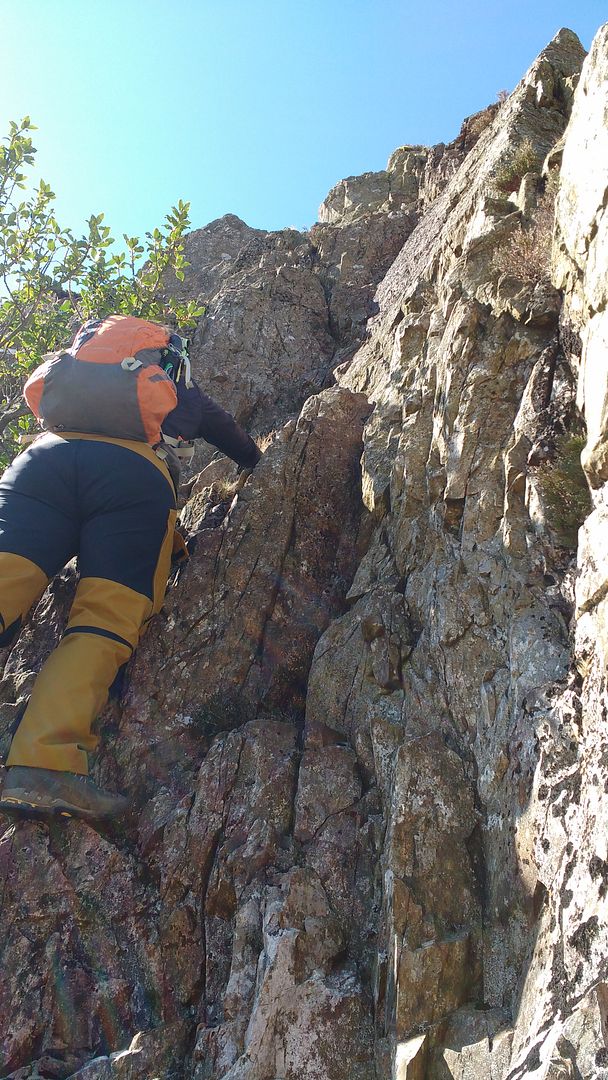 After reaching the top, we realised that the ridge was rather lumpy and undulating. We saw a rocky tor not far away that looked like fun, so we went over for a look.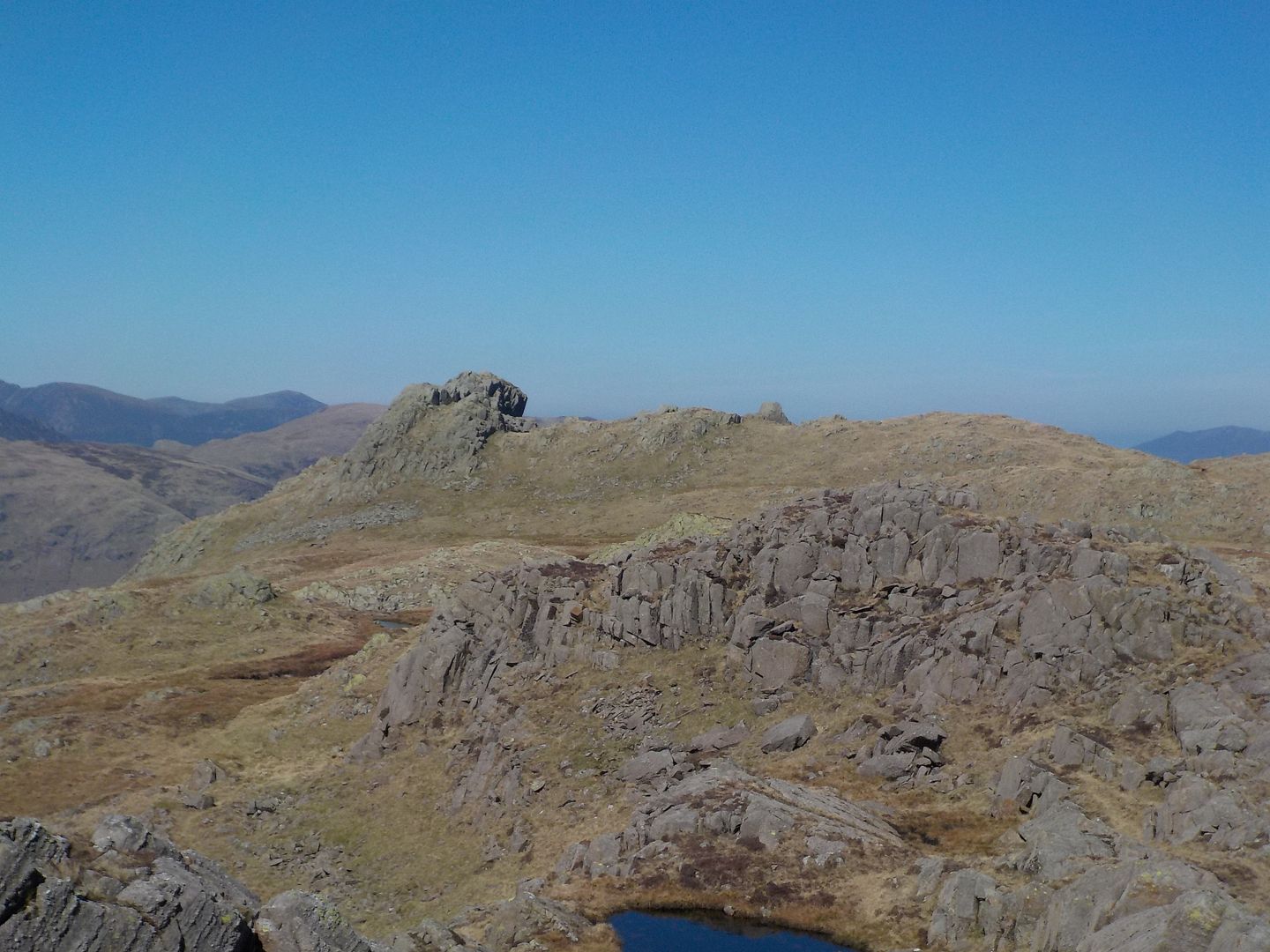 Think it was Rothswaite fell, a lovely little scramble can be had up to the top.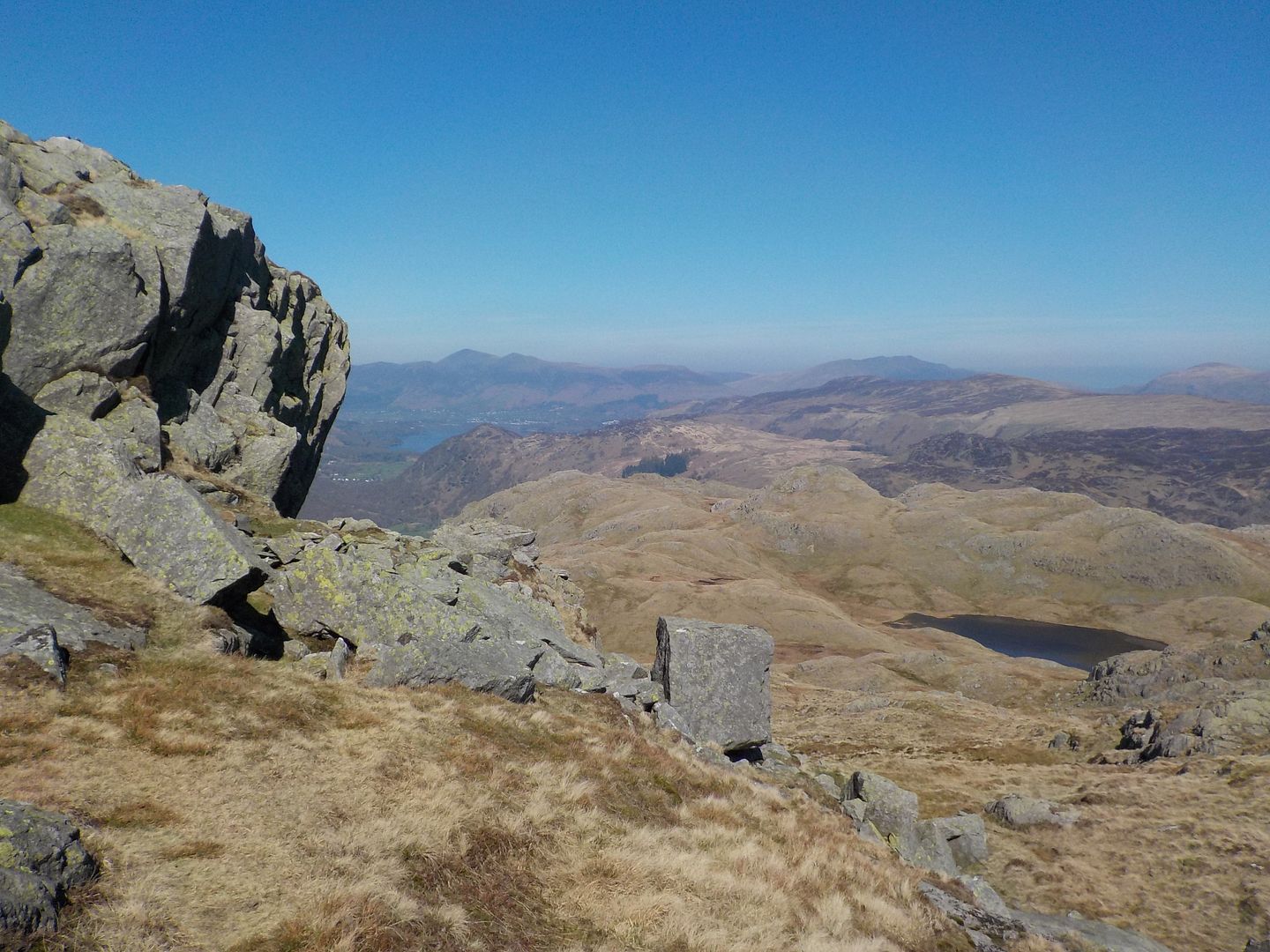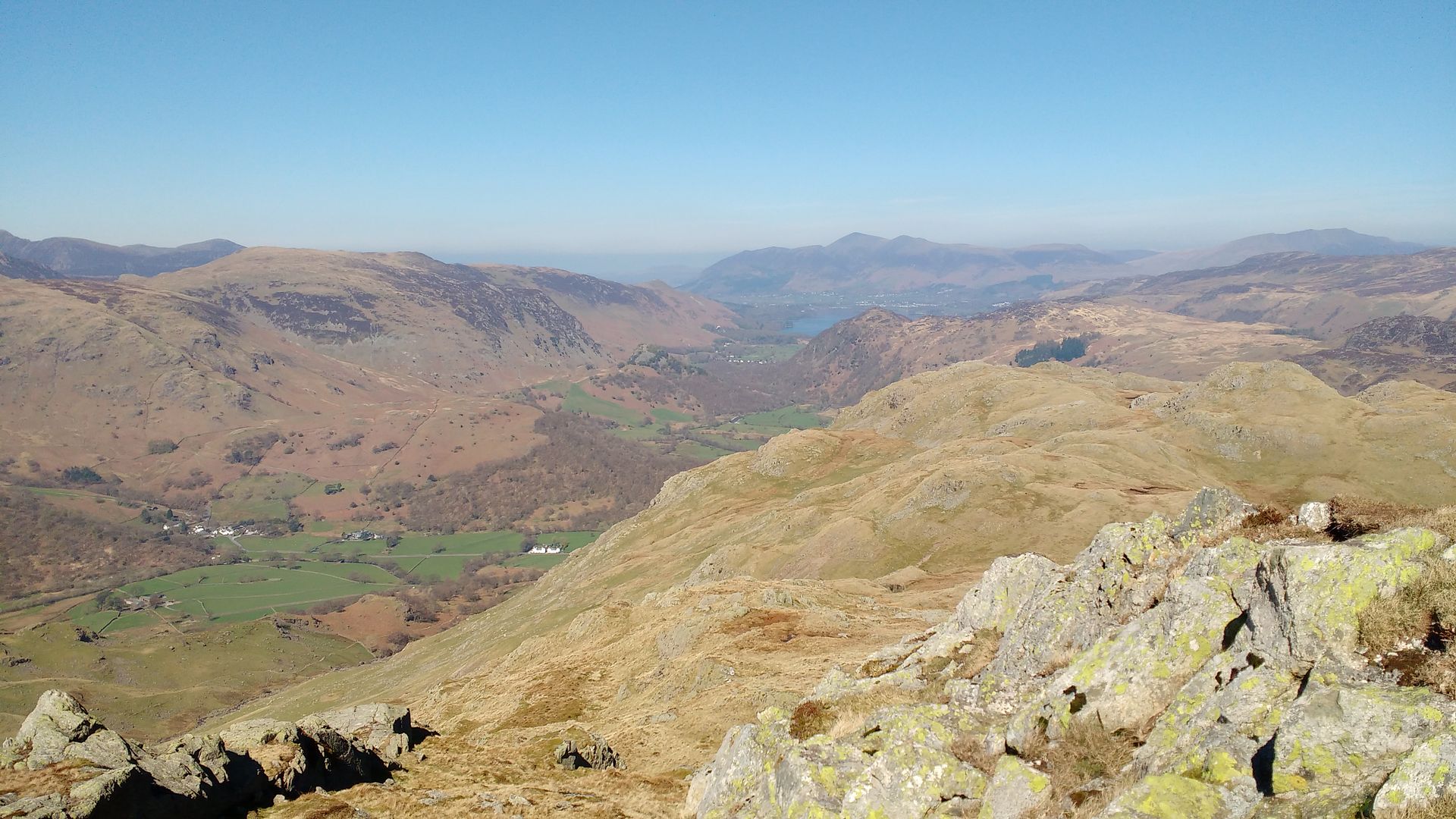 We consulted the book, and decided on descending the other side of the ridge to visit Attic Cave and Dove Nest crag. It was a very interesting descent down a series of ledges - bum slides and down scrambles a plenty, but eventually we found a burn which we followed down steeply. We could see that our crag had climbers with ropes on it - surely it wasn't that bad?
We descended to the ledge start point, having a squeeze under a boulder which I found on my return to be much easier just to climb over
there are big cracks that go deep into the face, and attic cave was down one of them.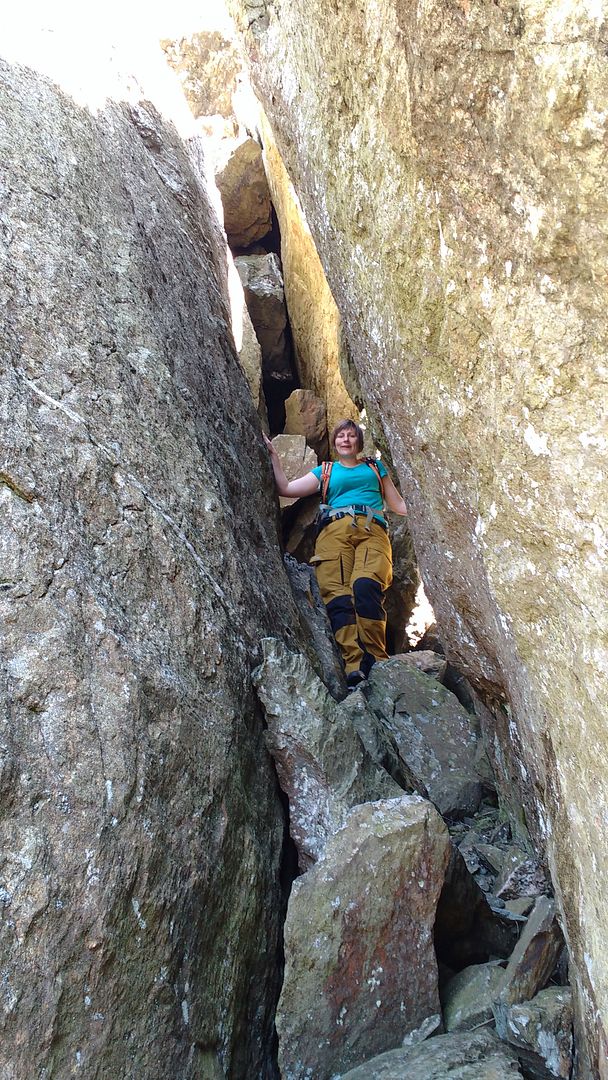 There is a chokstone bit that is very slippery and I couldn't do it, but Dougie got up to the balcony and said there wasn't really anything worth seeing so I didn't try as hard as I might.
We retraced our steps back to the start of the ledge, and this time headed straight up.
A couple of steep and slightly vegetated pitches saw us up to a big crack with a massive flake of rock jammed into it. The climber guy was still there belaying for his kids, and we had to wait until they finished before we could pass under his ropes. This was the crux by the looks of it, a very exosed step from the flake onto a very slanty ledge, with no visible handholds
Terrifying
The climber guy saw I was a bit hesitant and offered me a rope, and once I did the move I realised it was easier than it appeared from below.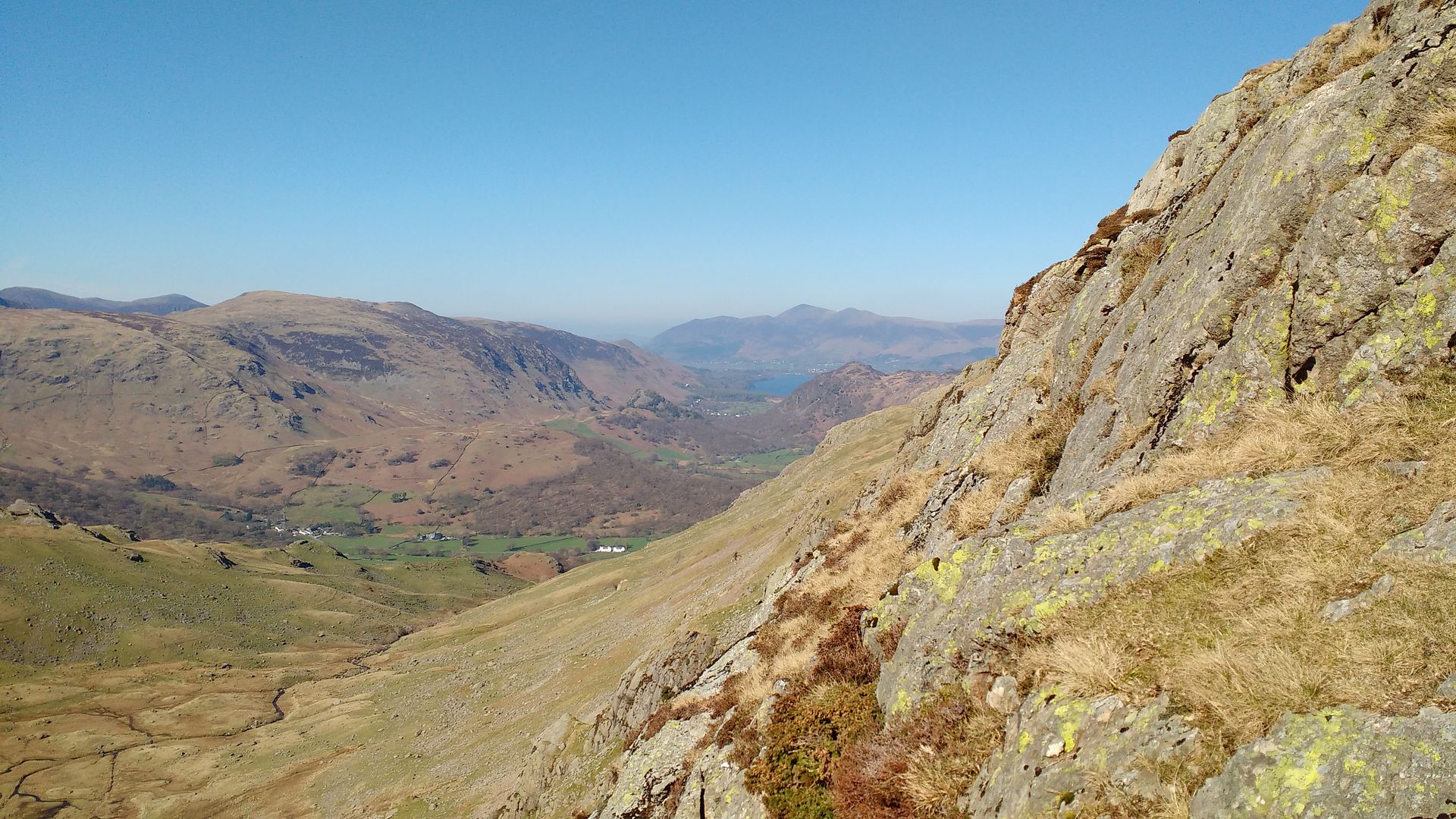 After that there were a few good walls, the moss on the rocks tinder dry so turned to powder under your soles. At the top, we hunkered down behind some rocks for lunch.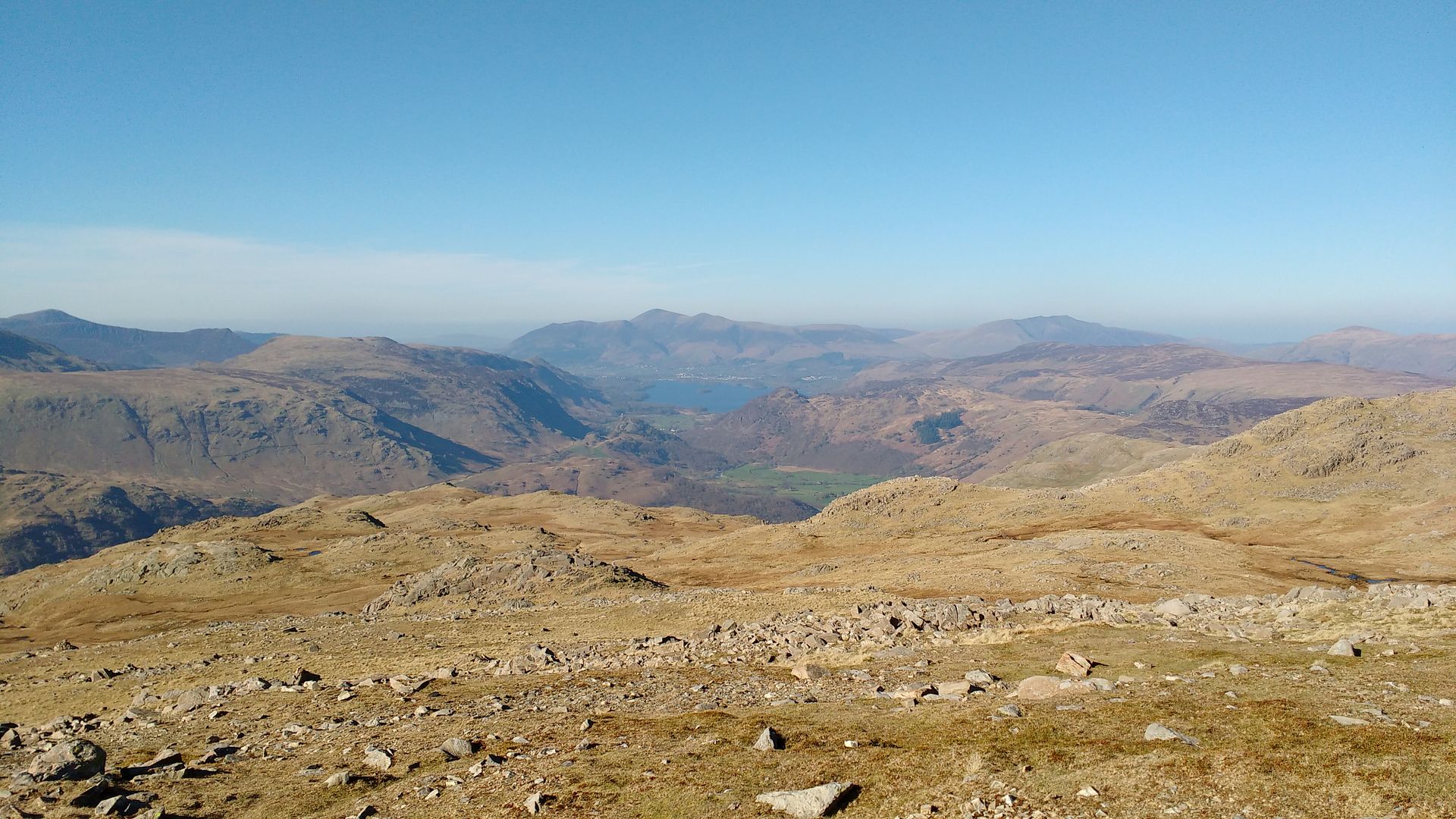 Dougie had thought we would just be going down now, but I wanted to go up the hill, so we set off toward it. It looked further than the map would suggest. I climbed the slabby buttress that we had descended earlier. I tried to traverse it but couldn't find a way off the other side so ended up being forced up the way
Dougie had traversed below, so I lost sight of him for a good while, but turns out he could see me!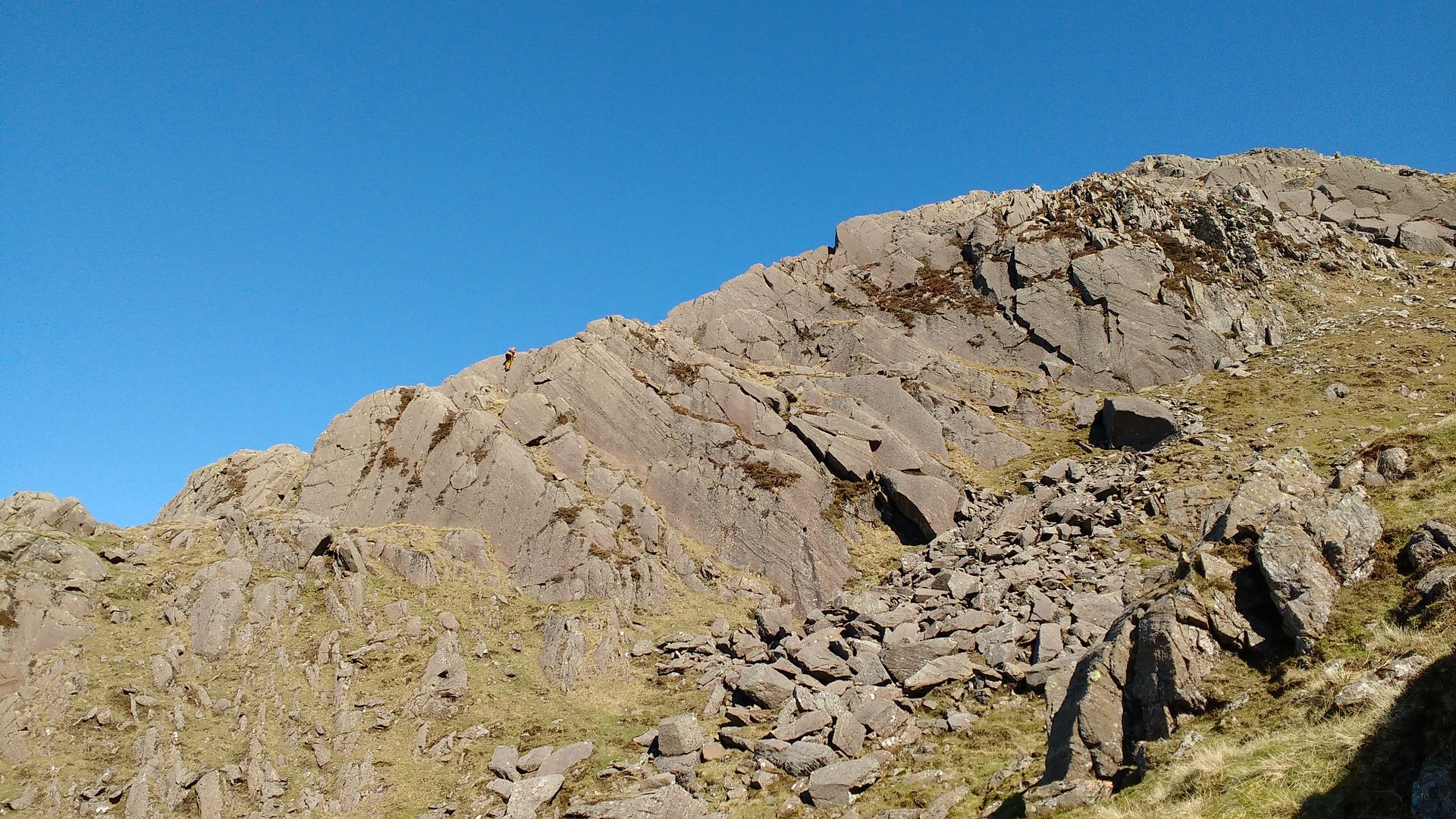 Spot the Seana on the slabby buttress
We met up in the col, and the mood was rather sombre for the trudge. plenty of crags about, but Dougie had lost his mojo - wasn't happy about being dragged up an 'extra' hill, and I felt bad for dragging him. We really should talk about routes before we go so we know what we are doing.
In any case we we had come too far now to turn back. The mood was lifted by the scramble up to the summit, which was cracking, although legs had started to feel heavy and it was an effort...
I reached the top, then saw Dougie at a cairn further on. By the time I got to that cairn, Dougie was away over at another cairn, then another appeared - Just how many summits does it have?
There then followed an uneventual wander down the ridge, over the burn and back round to the campsite. Saw when we got back we were 4 hours moving 4 hours stopped on the GPS - typical sunny day for us!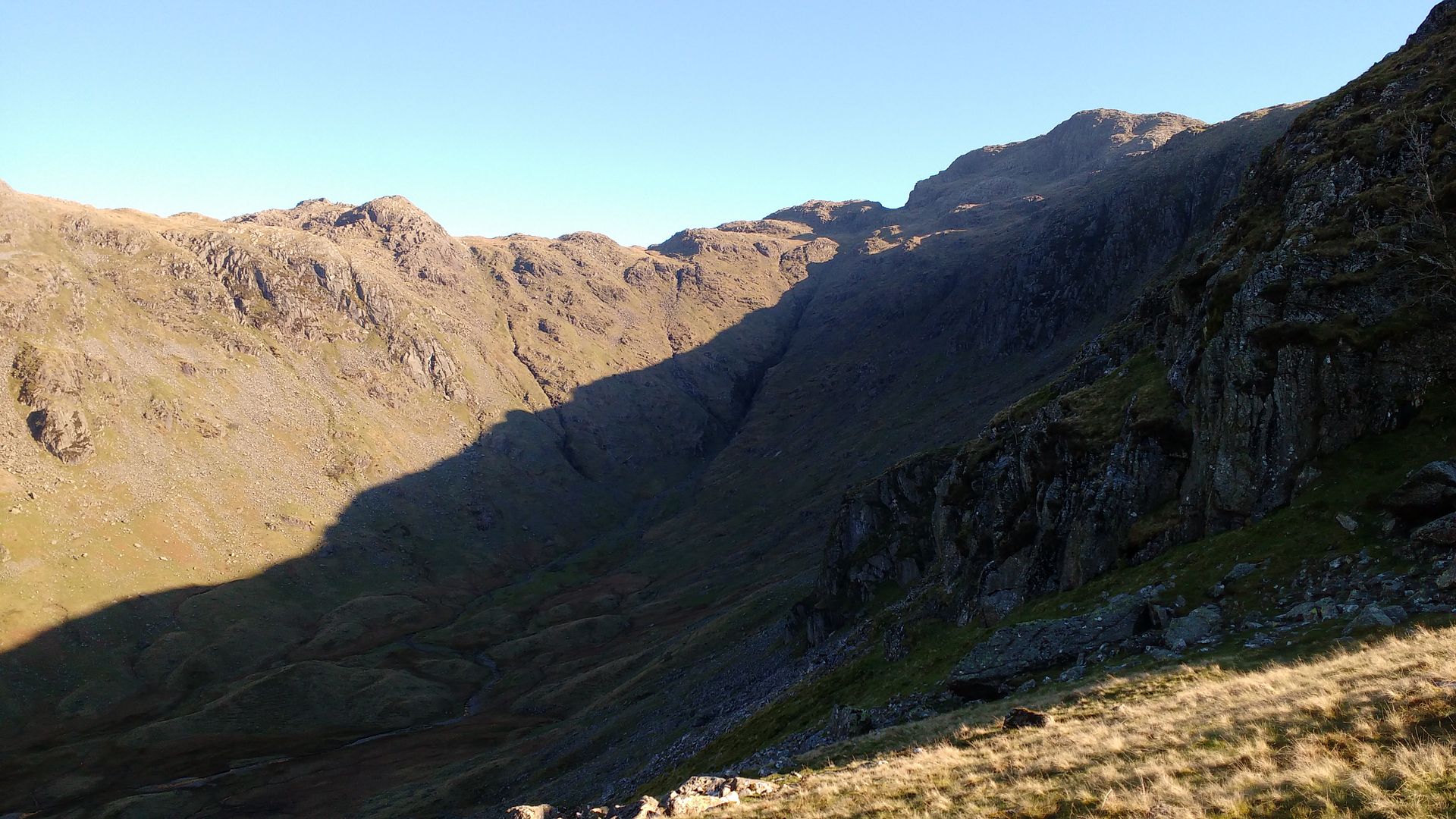 Dove nest is the insignificant looking crag on the left with Glaramara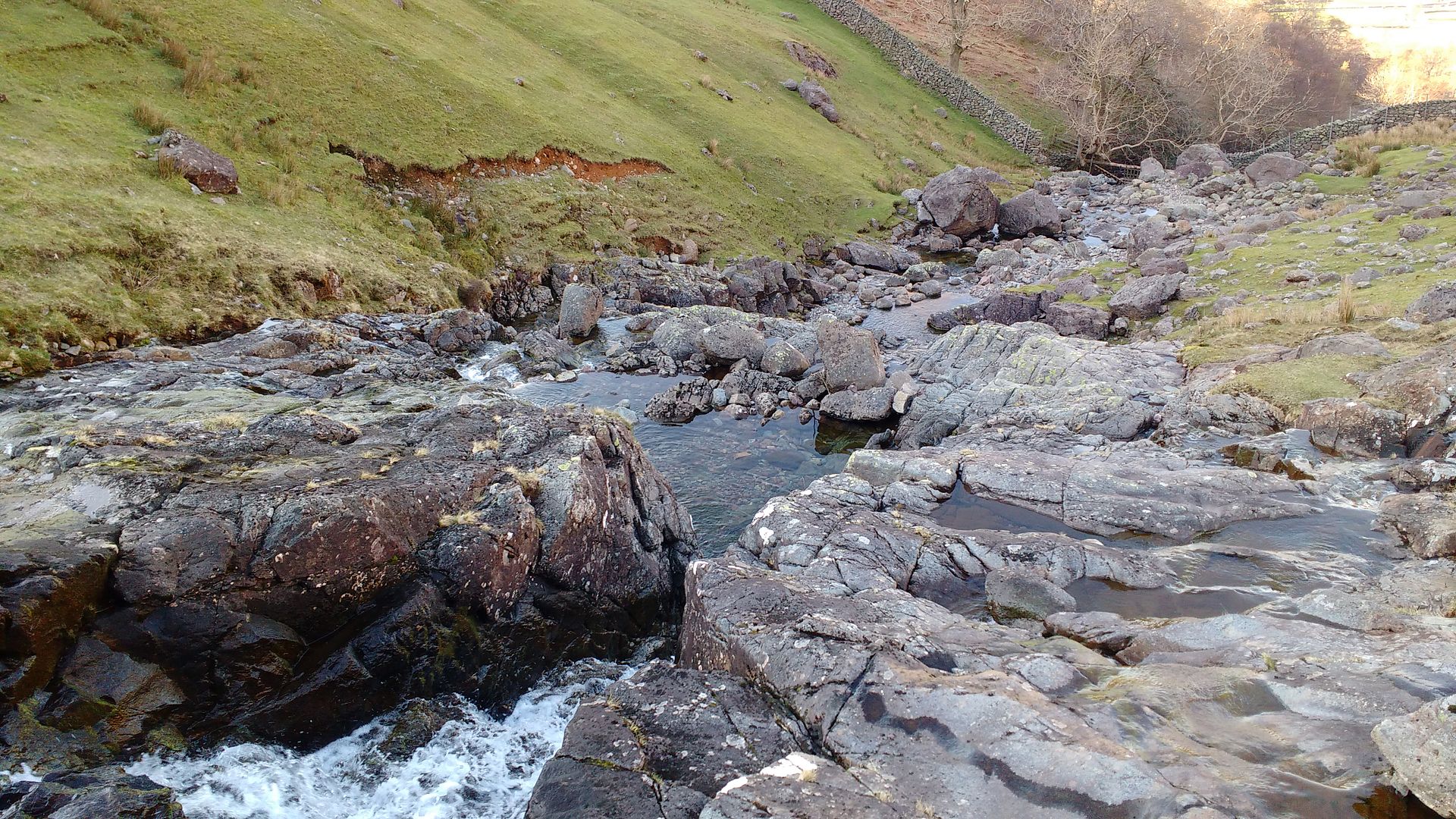 A rather warmer night was very pleasant in the campsite, apart from the resident woodpecker giving me frights constantly.. Sunday morning came and was a relaxed affair, we consulted the book and set our sights on a wee crag just down the road with a curious name Nitting Haws.
Managed to get in the last space at Grange which was fortuitous, and headed through the village following signs for the camp site which was only a wee way along. We took a right down a path into the main camping field, where a recce round the back of the yurts found the gate onto the open hillside. The path straight up to the first rocks was as brutal as usual, but it really wasn't far.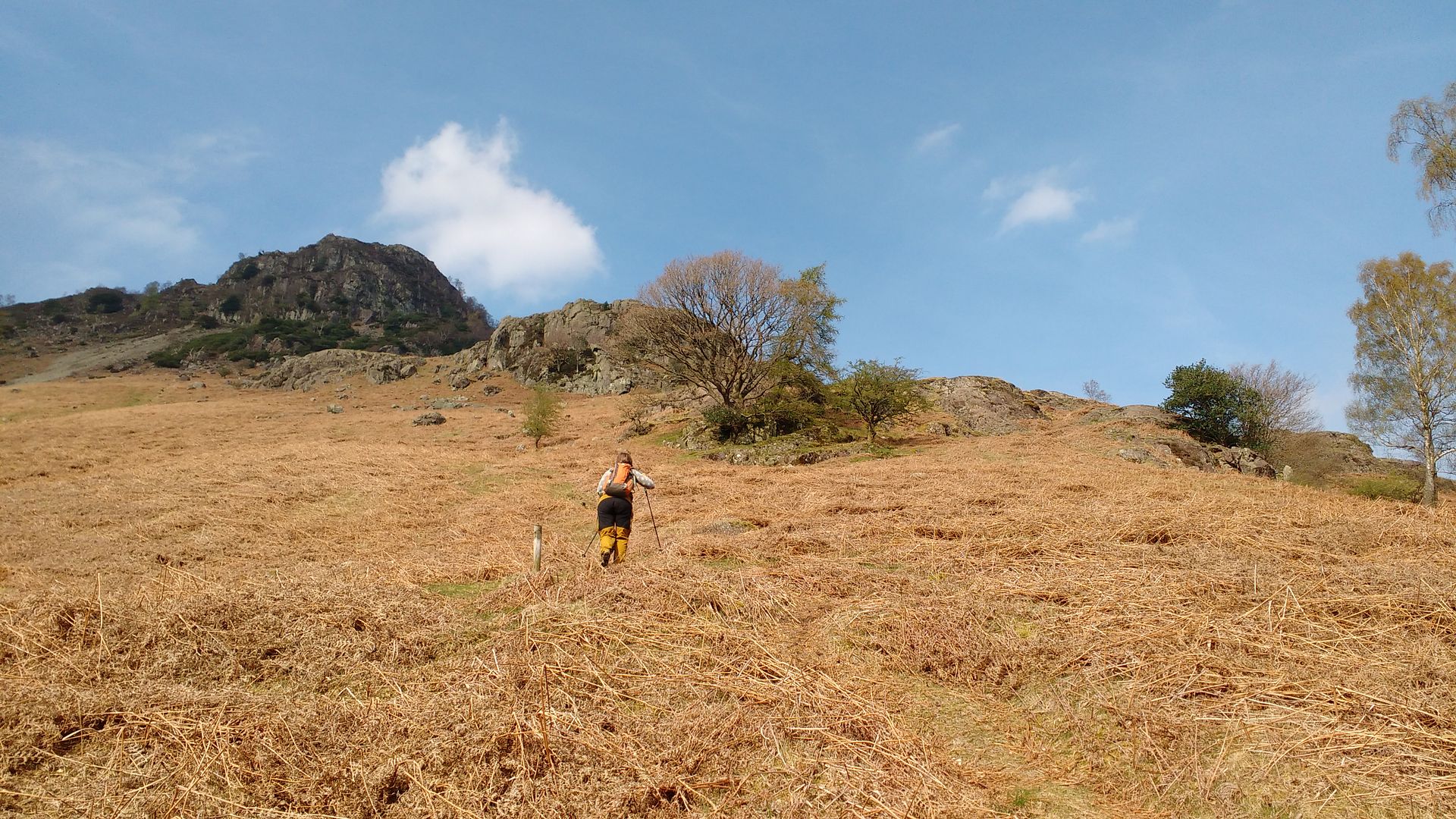 The scrambling is just easy to start with, no need for hands really, but the second band got more interesting.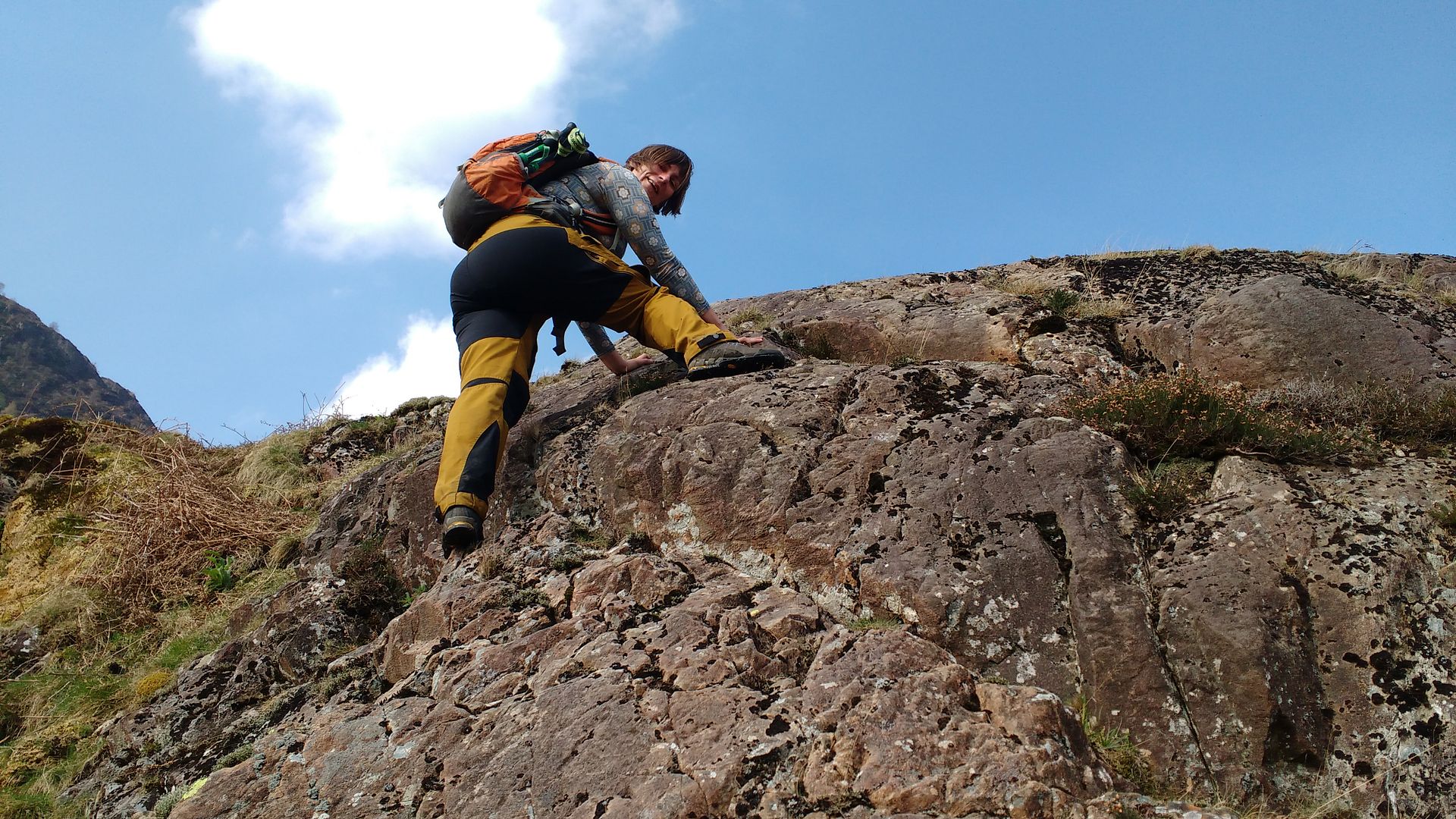 There are then easy slabs that lead up to the first major obstacle.
The little scramble up the first rib was easy enough, then a path led up to a face which looked formidable. The book said to squeeze round a holly on a ledge, but there were quite a few hollies in the area, all of which seemed to be growing on ledges..
We investigated a couple of ways without success, before we realised that we were actually above the ledge we wanted, so had to retrace our steps and traverse lower down for an exposed edge round a corner and vertical up a groove to the next terrace.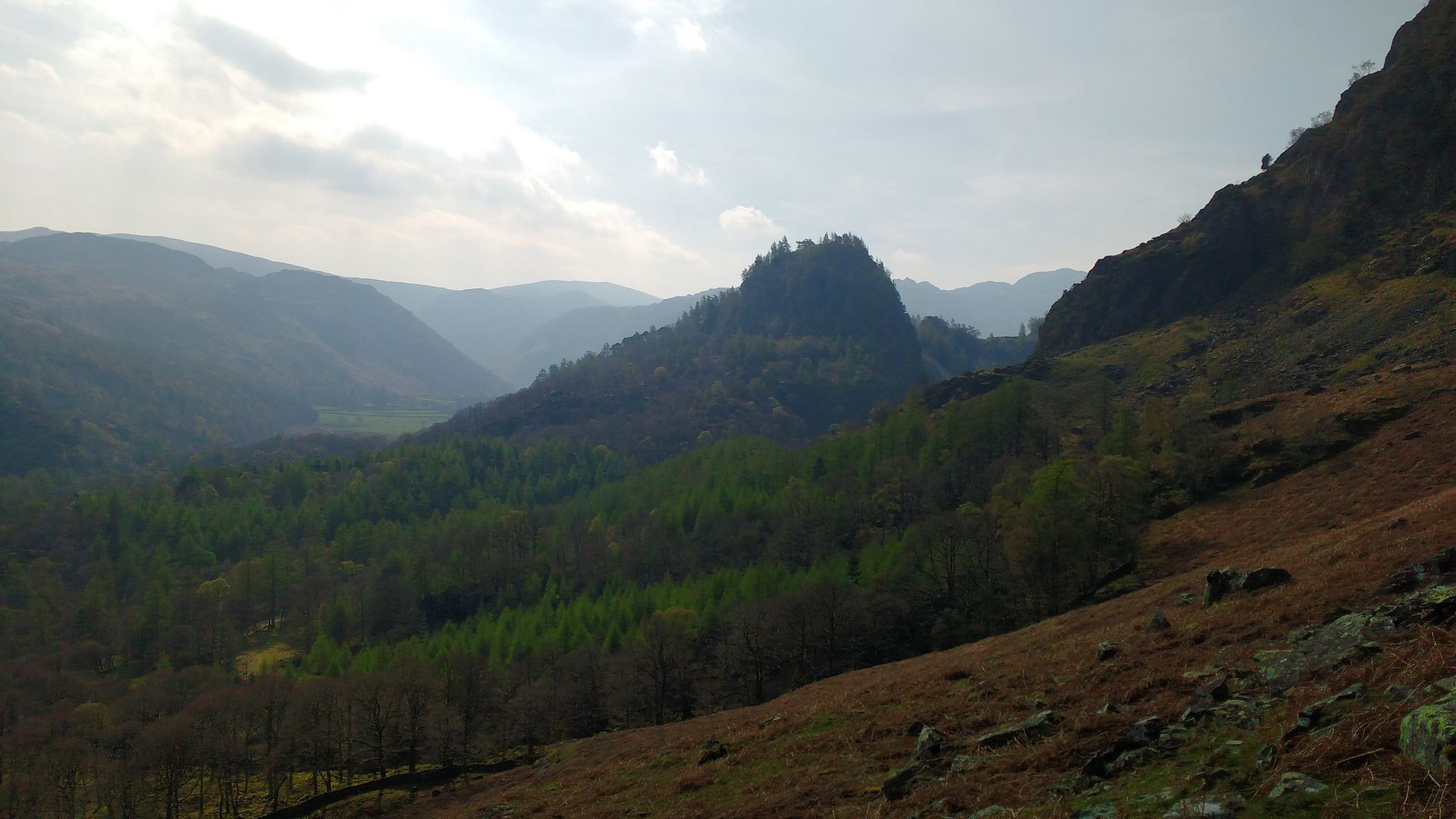 There was then a few little easy bits and some undulations leading to the slightly dodgy looking crags above, referred to as the 'Juniper jungle'.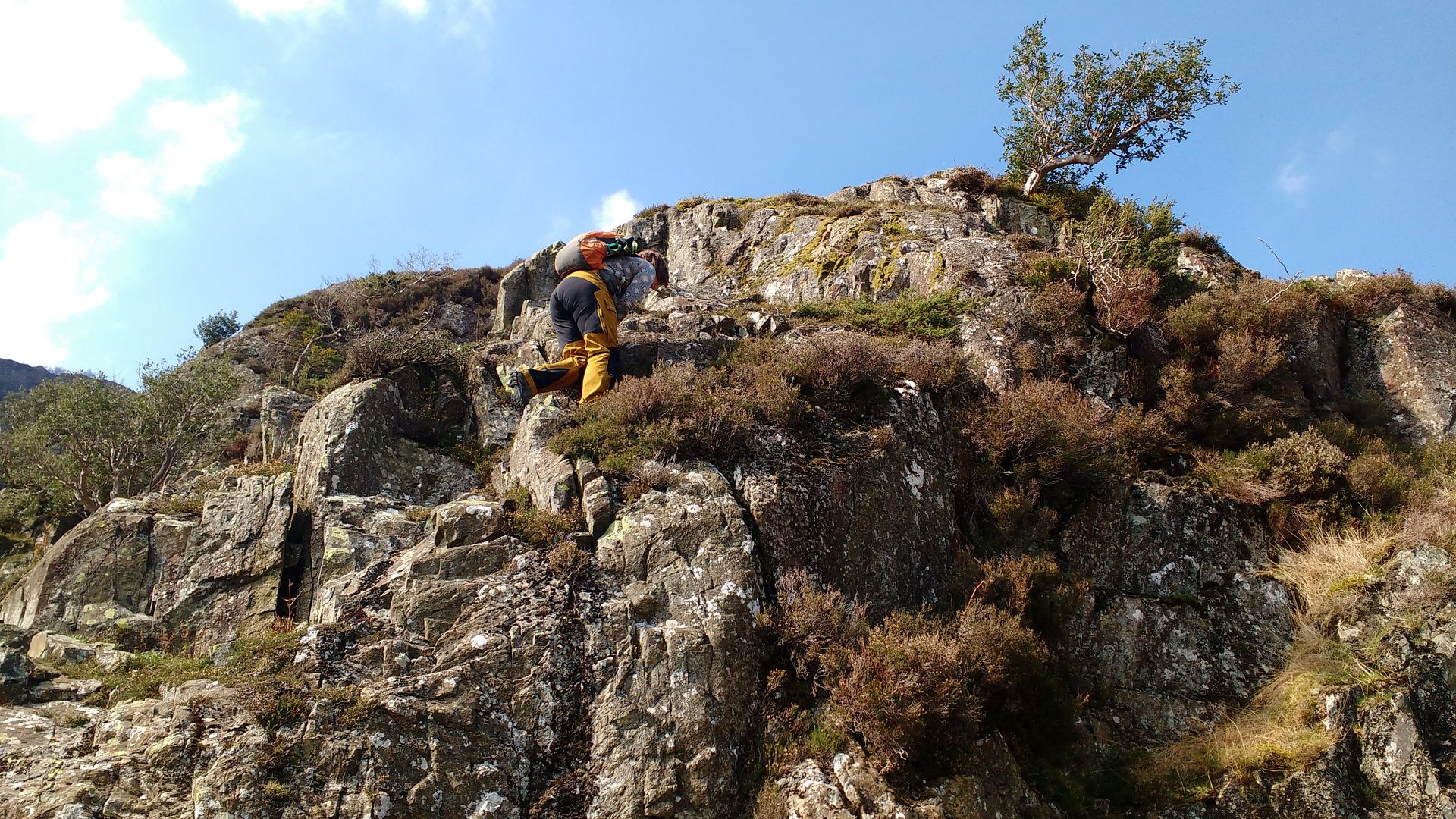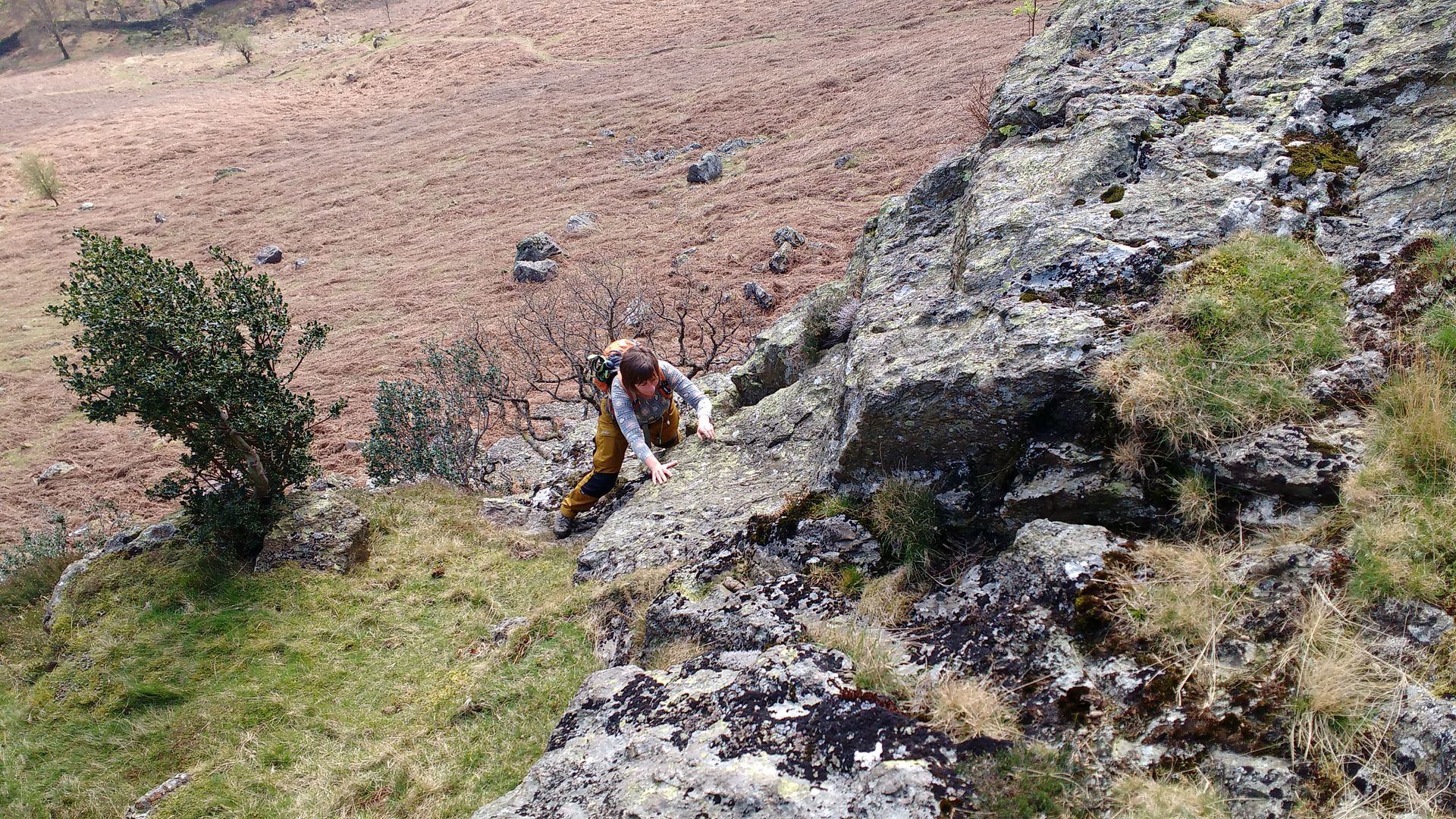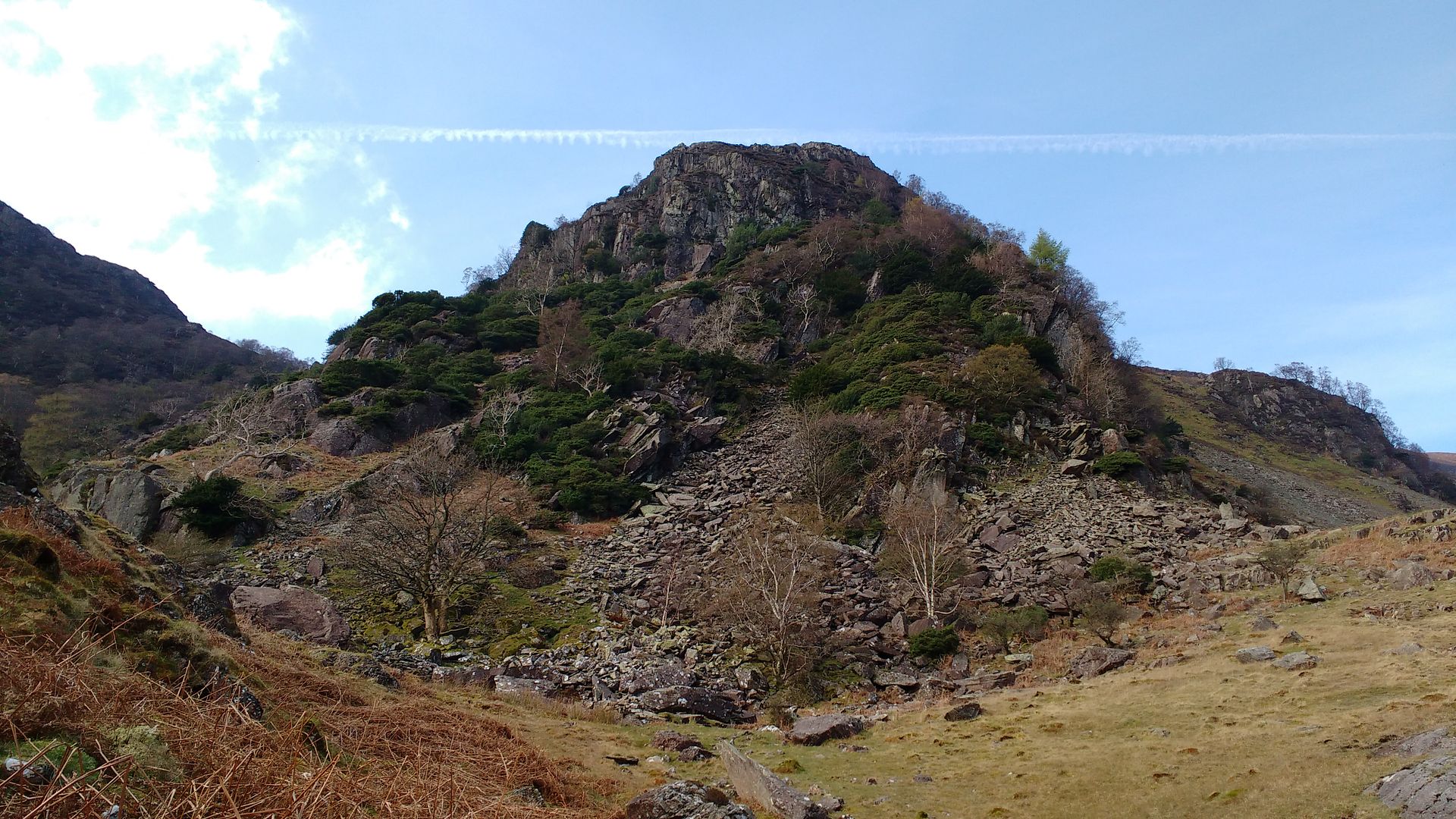 After a wee stop to enjoy views and sunshine we set off. You start on the far left on the only clean rib available, and it was the start of something truly brilliant - way better than expected. The scrambling was normal, but the foliage gave a completely different atmosphere, the canopy either side of the arete meaning some holds had to be looked for. When the arete petered out we headed right, across a wee boulderfield and under some bushes to the next buttress, which culminated on a very steep round slab, with only one crack that made up the very exposed route into the juniper jungle. The way ahead was obvious though, a path developing which led to a variety of hidden craggy bits, and eventually up a good run to a grassy terrace with an overhanging wall in front. Our route was to the right behind a huge holly tree. There was a good groove which looked vegetated from below, but was actually rocker and more challenging than it looked. A path then led to the last difficulty, then easier scrambling led all the way to the top.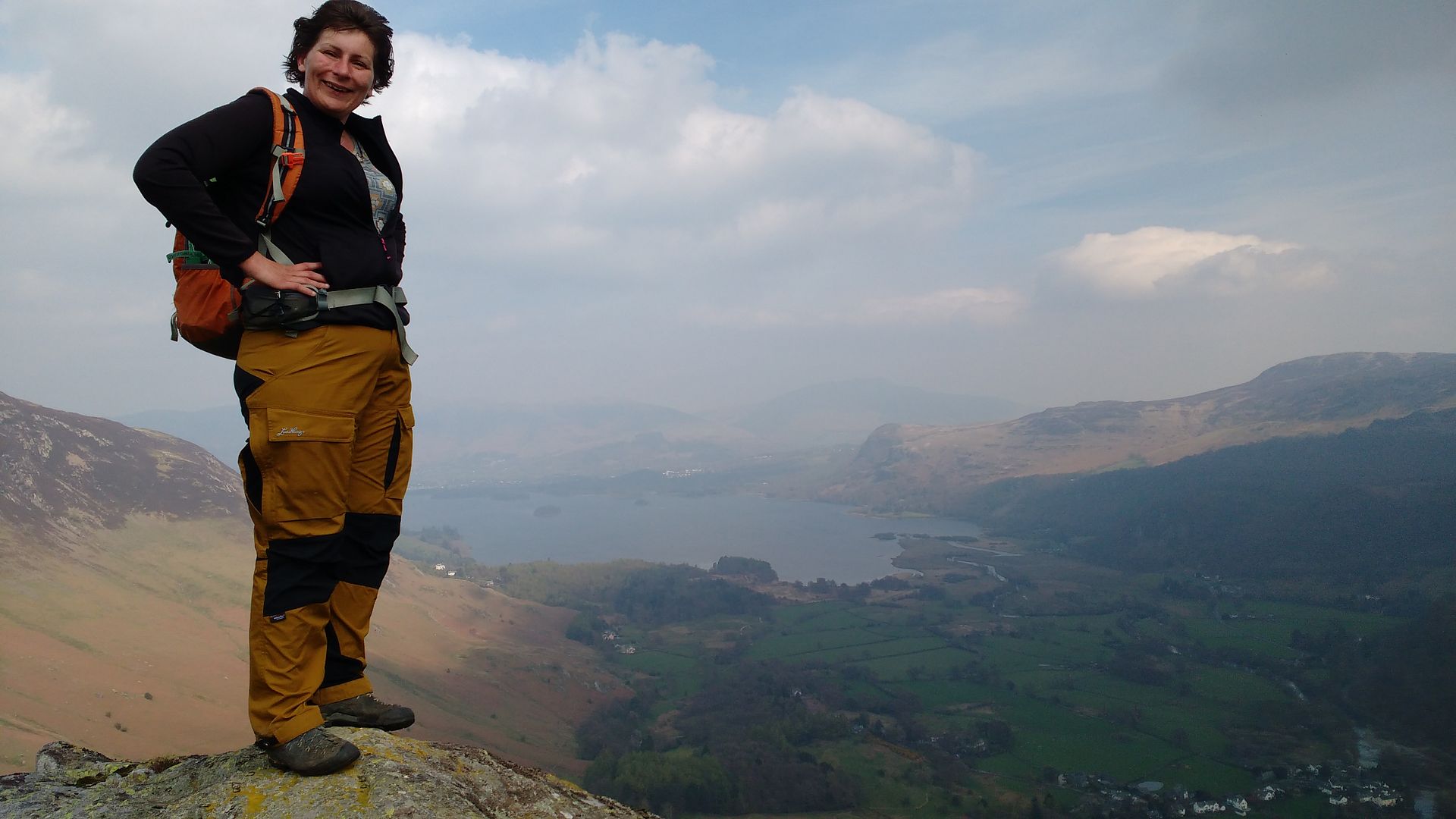 We went down into a hollow for lunch, feeling exhilarated - what a fun route. I'll definately remember this one to come back to. Something completely different.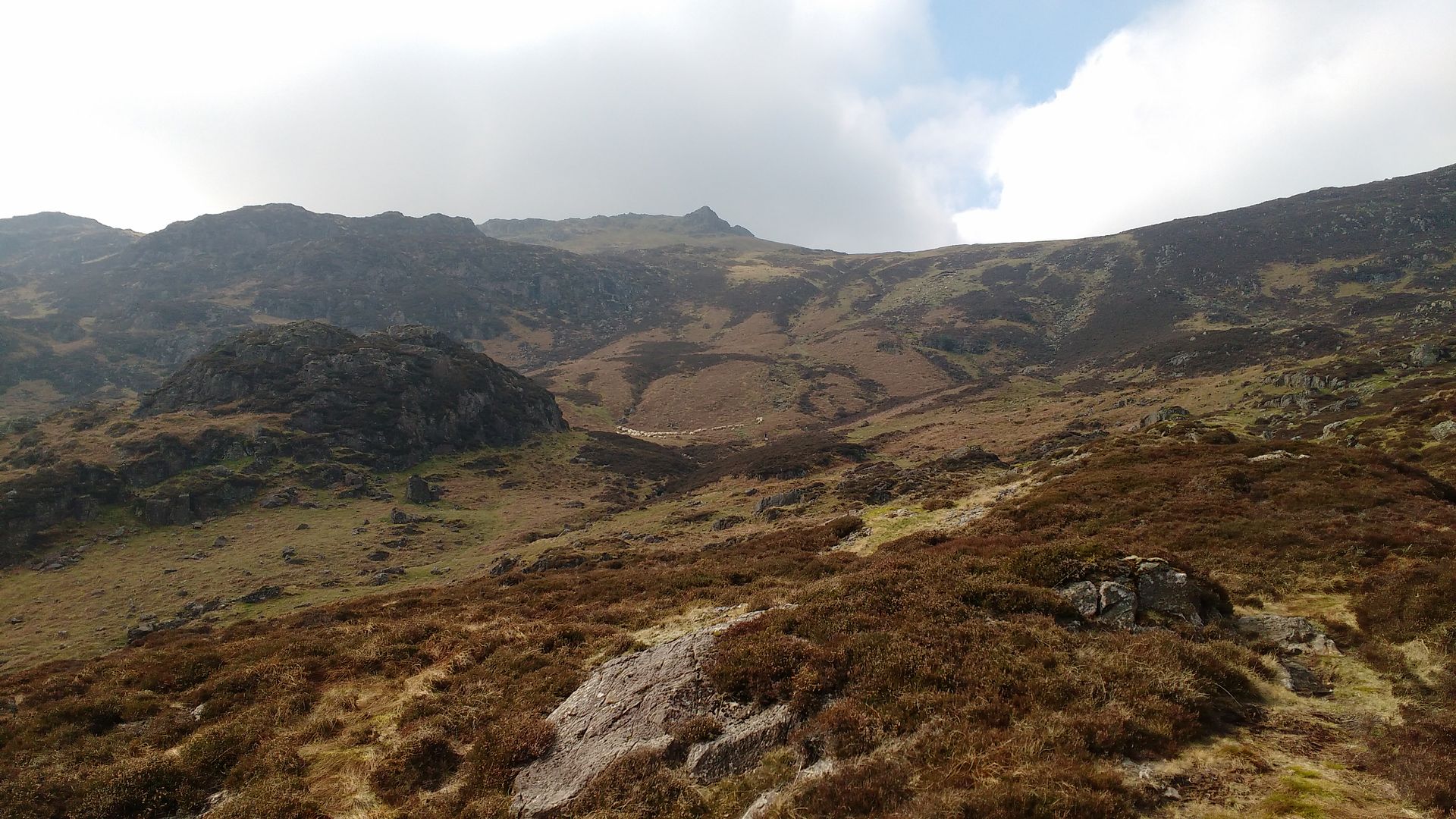 It was then just a matter of getting down. There is a descent path, but it is as steep and loose as the worst that Skye or the Dolomites have to offer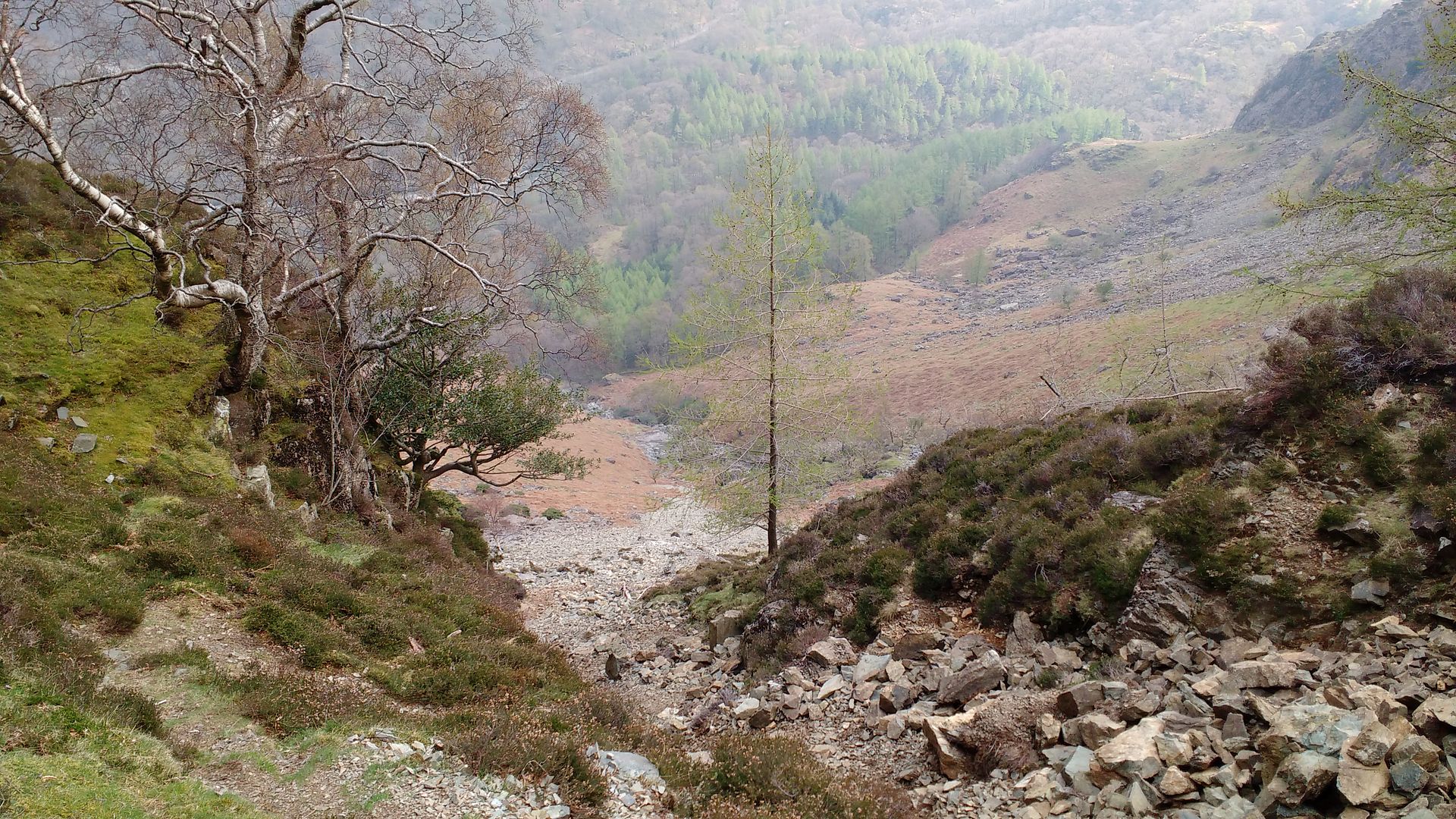 Its always good to descend right next to your ascent route so you can gaze back up and relive all the fun as you go.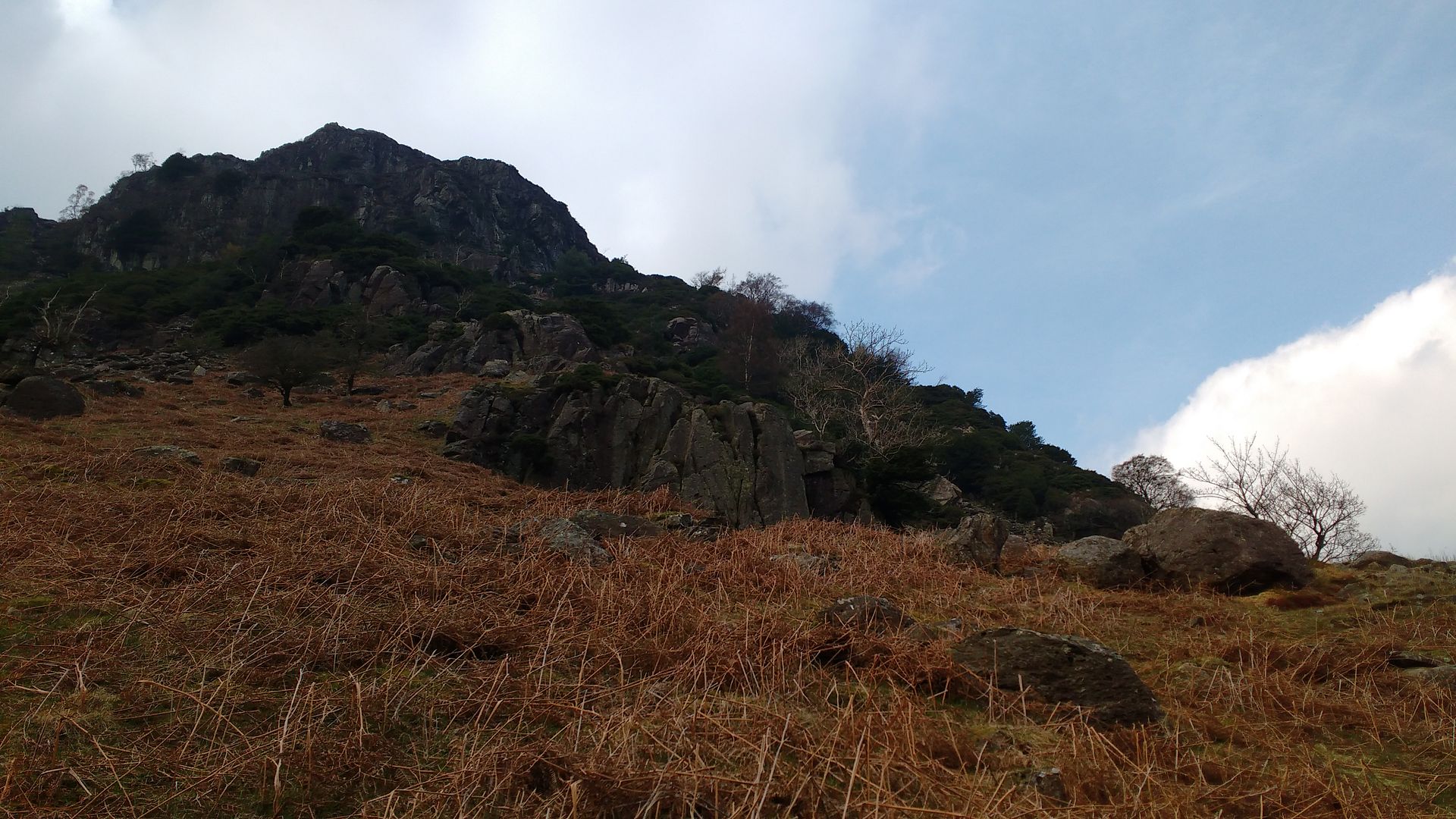 Back at the car, there was time for a tea and ice cream in the local cafe before home.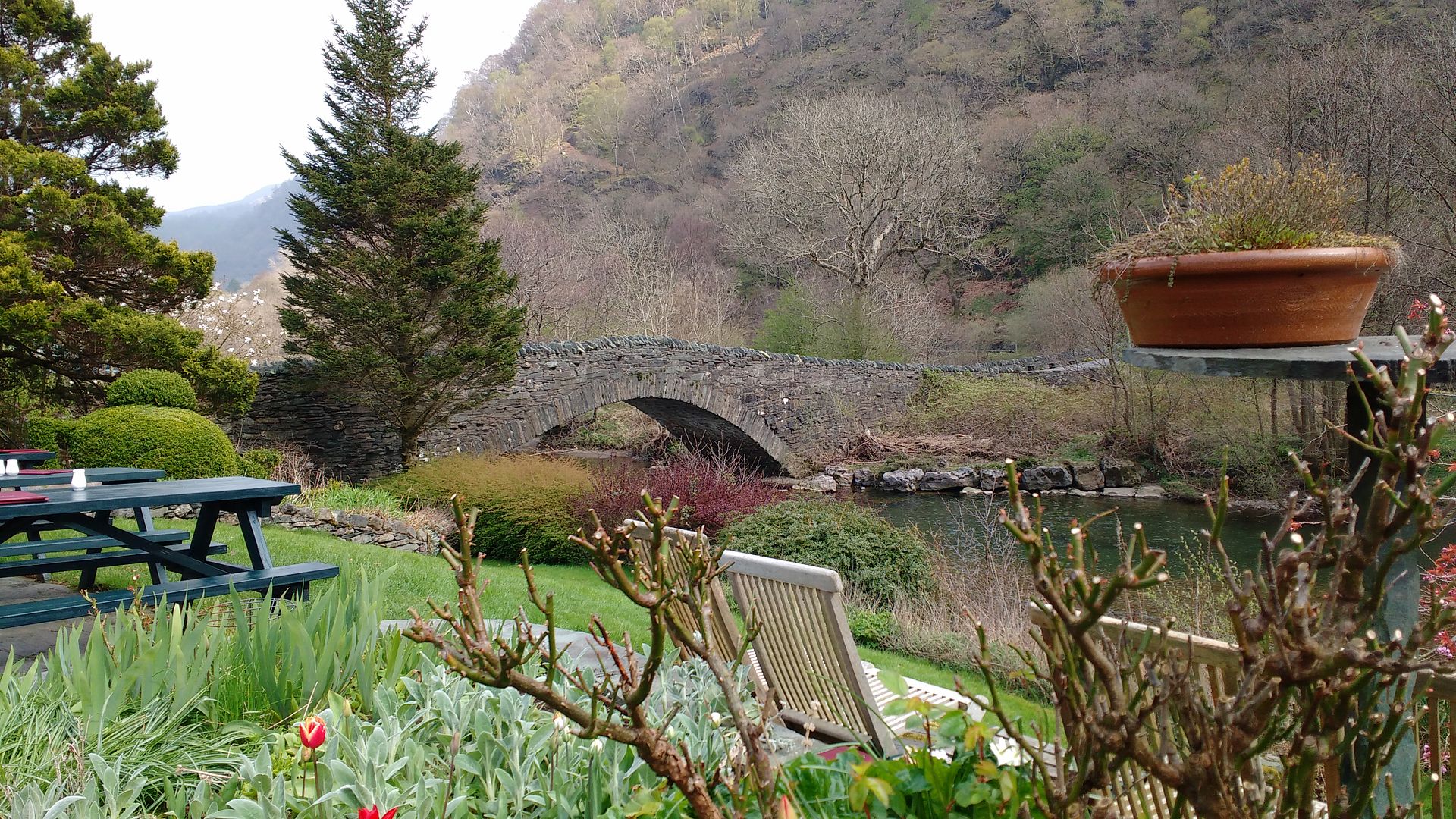 Another cracking weekend in the run of good fortune. Will it last till long weekend easter? Probably not