Date walked: 30/04/2015
Time taken: 72 hours
Distance: 60km
Ascent: 1865m
Last weekend I was up in the Fisherfeild Forest area of the Scottish Highlands taking a couple of photographers wild camping in one of Scotland's most remote landscapes. (I lead landscape photography tours to remote places)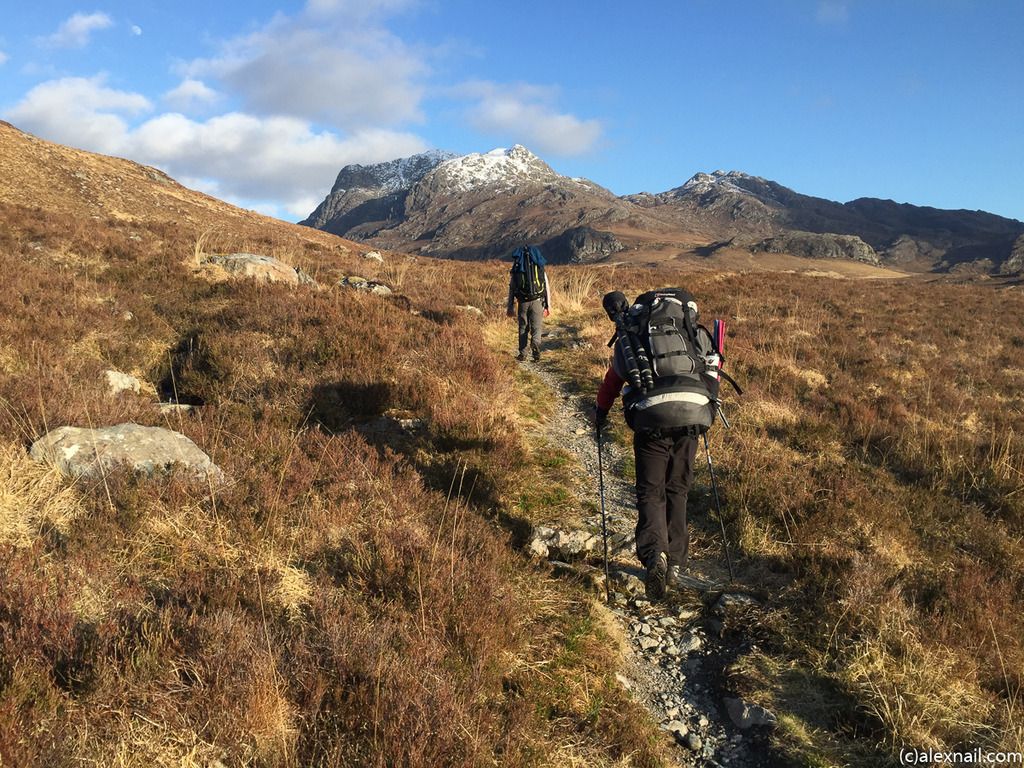 Beinn Airigh Charr ahead
Our hike started at 5.45pm on Thursday, a day earlier than planned, in hopes of making the most of a forecast weather window. The goal was a summit camp on A'Mhaighdean to take summit photographs at sunrise and sunset. We set off at Poolewe and walked hard into the evening and night, reaching Carnmore bothy at about 10.30 after a 45 minute break to take photos at sunset. It was a very late dinner!
Some exposed tree stumps on the approach to Carnmore, I'd love to know how old they are
The last part of the approch to Carnmore along Fionn Loch
We slept well overnight - the bothy is extremely run down, more of a barn than anything else, but it has 4 walls and it's dry. We were up early to shoot the sunrise from a small hill near Carnmore. The sun rose behind A'Mhaighdean so it took a while for the light to reach us, but it was a beautiful morning to be out all the same.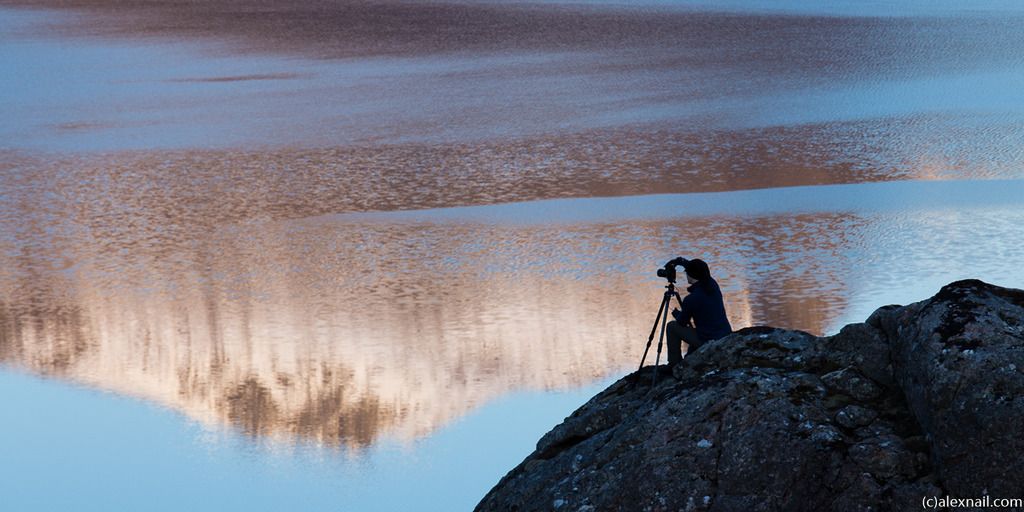 Photographing sunrise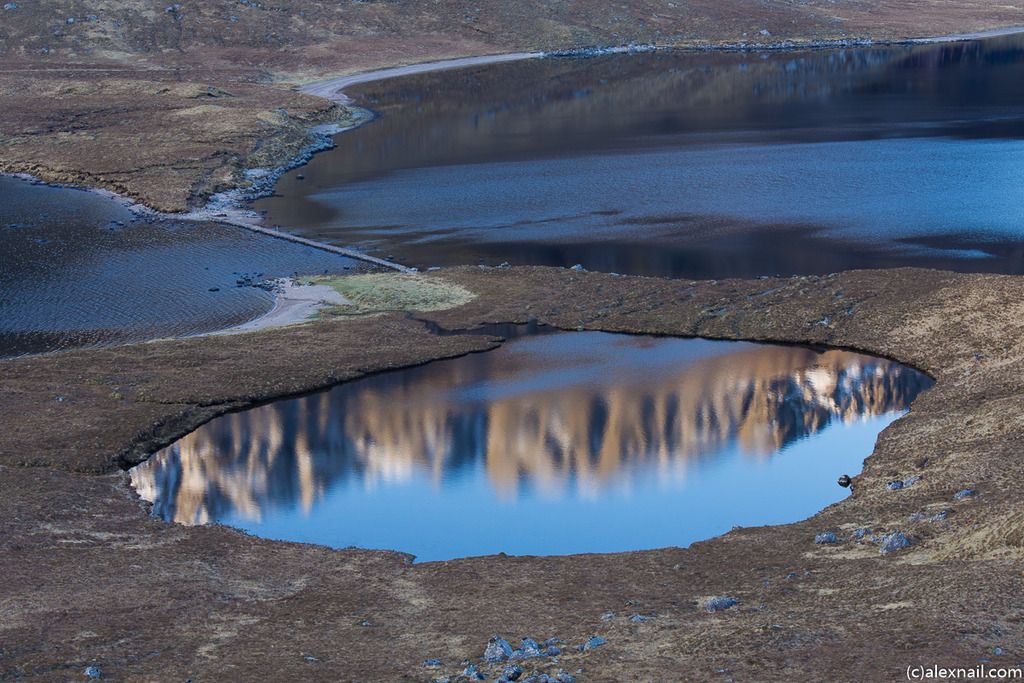 Beinn Lair reflected in a pool near the causeway between Dubh Loch and Fionn Loch
After a bit of breakfast and a coffee we set off in perfect weather on the second part of our hike up to A'Mhaighdean. The last time I went up to the top I collapsed completely exhausted because I hadn't eaten, so I made sure we ate plenty this time around with regular breaks! It was the kind of day that you keep looking at eachother, grinning and saying "This is great!"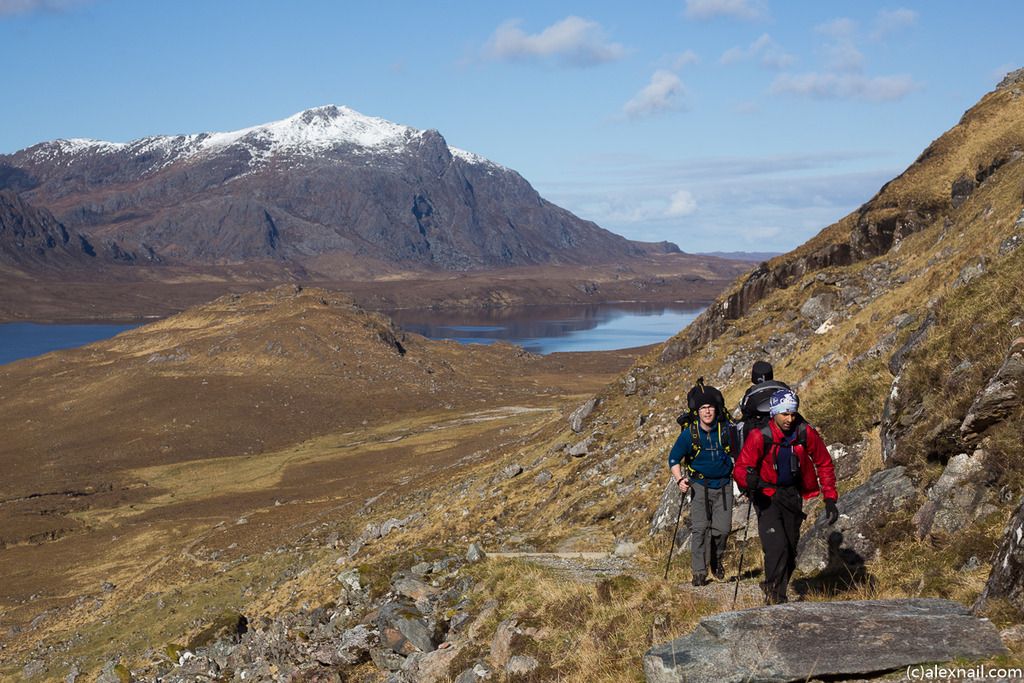 Finally heading uphill!

Views are excellent from the moment you leave Carnmore
Hopping across a small stream
We hit the snowline at about 600m and I was happy to find the snow old and soft with no need for crampons or ice axe. We past Fuar Loch Mor with A'Mhaighdean reflected in its still waters and continued up to the pass between Ruadh Stac Mor and A'Mhaighdean for our lunch stop before the final 200m to the summit.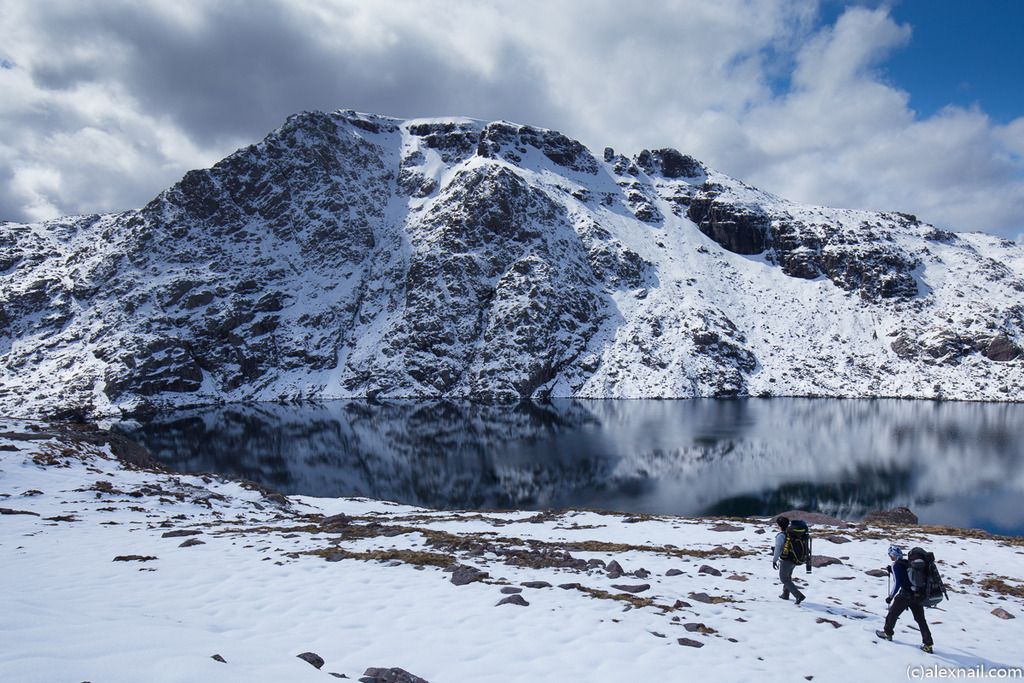 Hiking past past Fuar Loch Mor
We contoured the mountain for a while to take us onto the easier slopes on the eastern face of the mountain. The snow hid dips around rocks and on a couple of occasions I found myself falling knee deep through a gap, from then on I used my walking poles as a probe for any dodgy steps.
Countouring A'Mhaighdean with Ruadh Stac Mor behind
It was moderately hard work up to the summit. The snow would hold my weight temporarily before giving way and dropping me 6 inches. If I'd had 500m to go I probably would have found it harder, but so close to the summit I didn't mind so much. I'm sure Sean and Harsharn were glad to have my footsteps to tread in!
The final slope to the summit - dramatic clouds added to the atmosphere
Once we were up on the summit totally sensational views were revealed. The cloud had mostly filled in by this point but the visibility was excellent giving a 360 degree panorama. We took a few photos and then set up camp just 20m or so below the summit itself on a flat grassy pitch.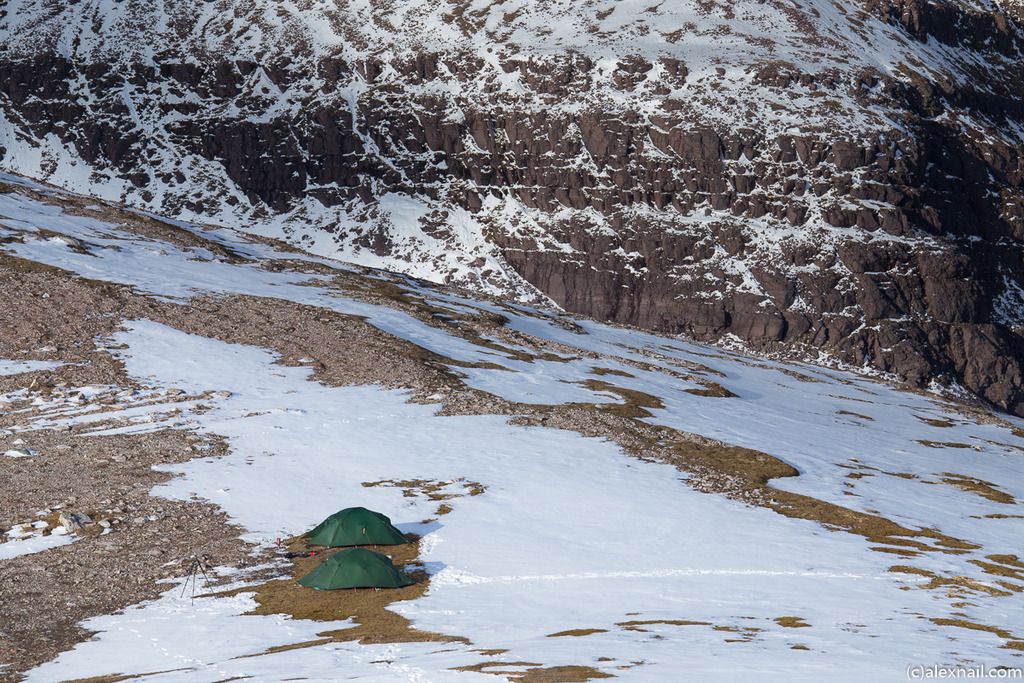 My dream camp spot - a perfectly flat pitch next to incredible views! Only Suilven is better
Sean walking to get a better view of Slioch
Sunset was a lovely if muted affair – often I hope for red fiery skies and dramatic bursts of light, but a bit of subtlety can make a nice change when the view is so inspiring.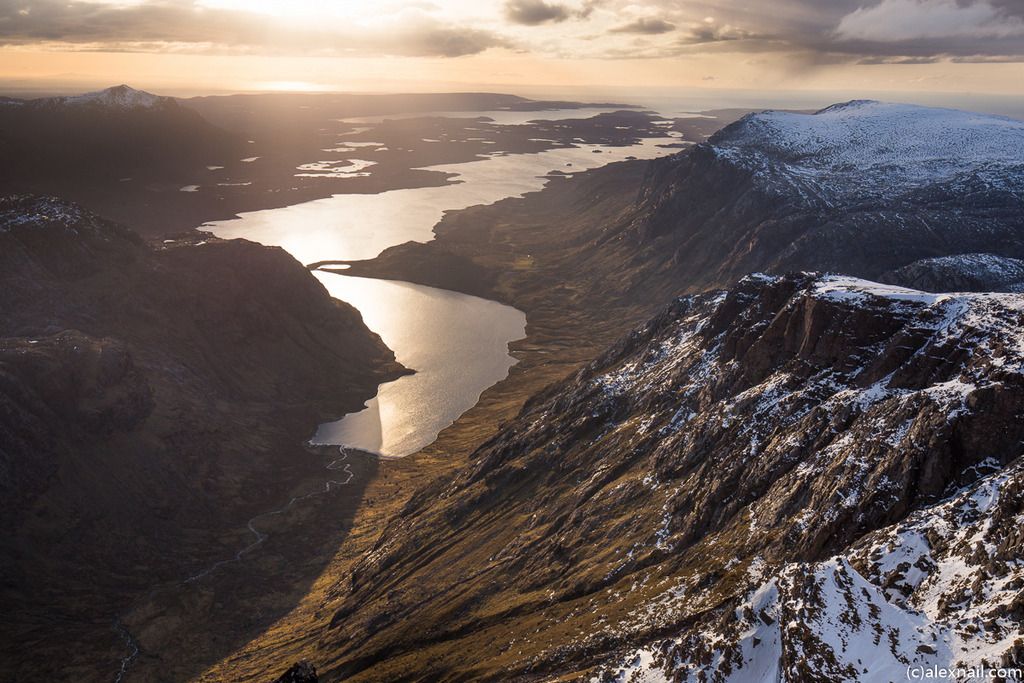 Sunset over the lochs
Sgurr Ban, Mullach Coire Mhic Fhearchair and Beinn Tarsuinn. The Fannichs are behind.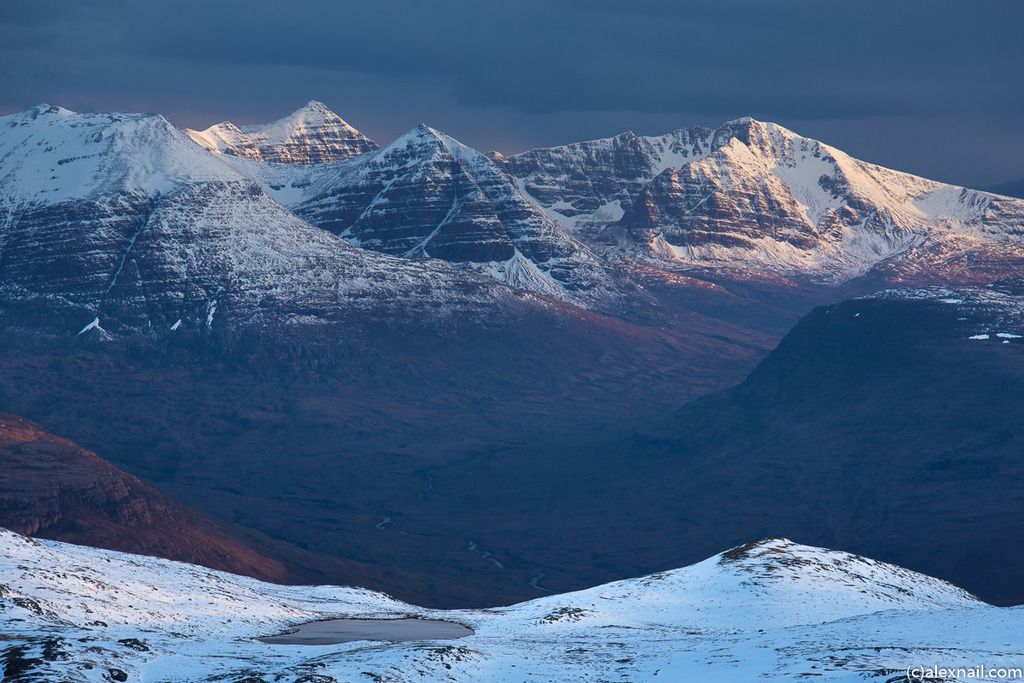 Liathach with its summits Spidean a' Choire Leith and Mullach an Rathain (which I hiked in August) catch some early morning sunshine behind Beinn Eighe.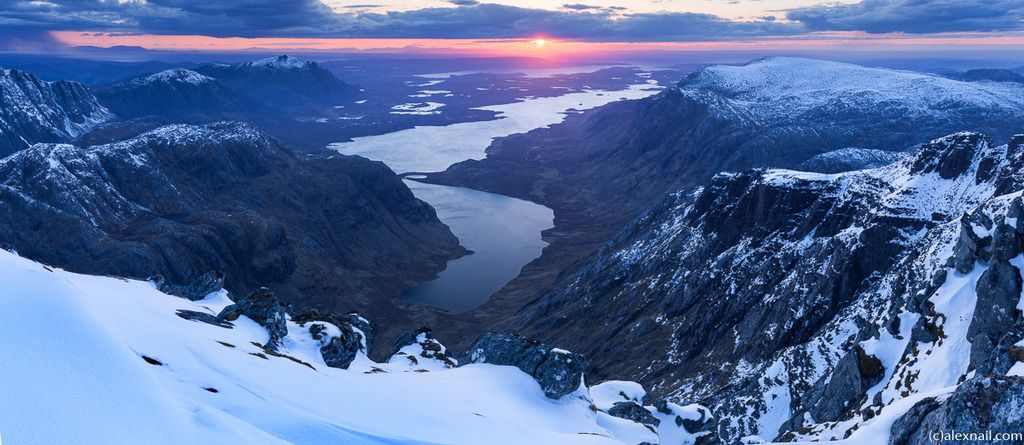 The shot I had planned for - Sunset above Dubh and Fionn Loch from A'Mhaighdean
The wind was moderately strong that evening and the newly installed thinner guy lines on my Ultra Quasar whistled in the wind. Despite temperatures dropping well below zero overnight (my boots inside the tent froze) we awoke at 4.45am feeling refreshed and ready for a great sunrise!
Sunrise from camp - pretty hard to describe how exciting it is as a photographer to have a sunrise like this in a magical place!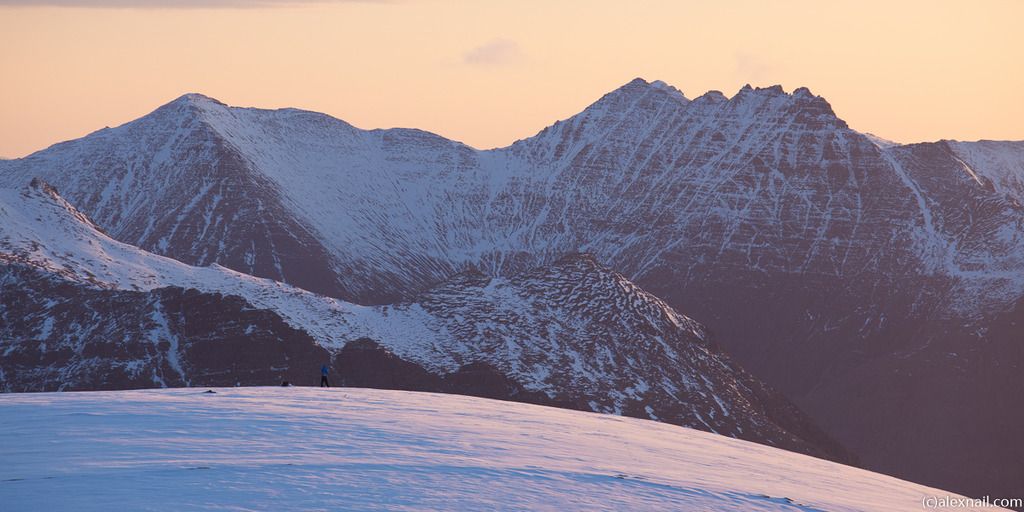 Sean photographing An Teallach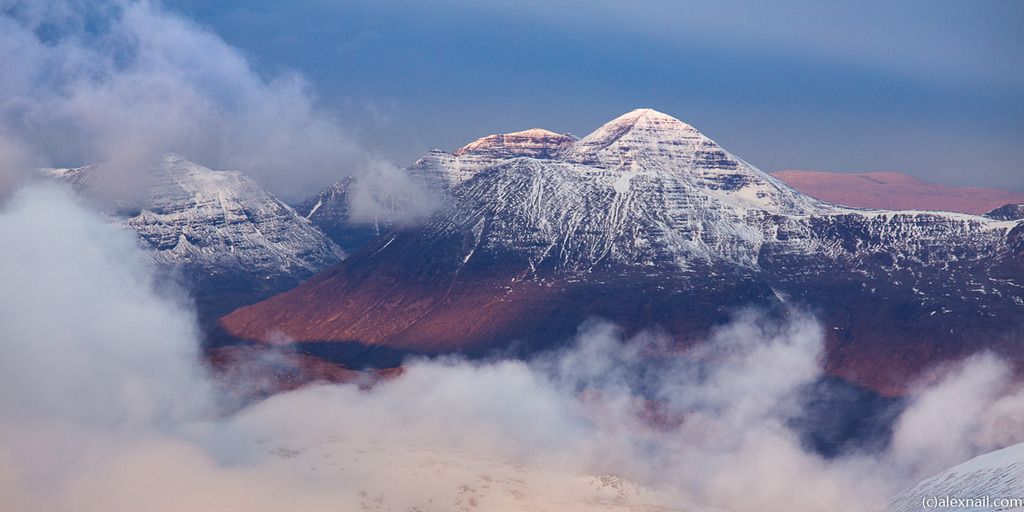 Beinn an Eoin catches the early sun on its slopes with Beinn Alligin above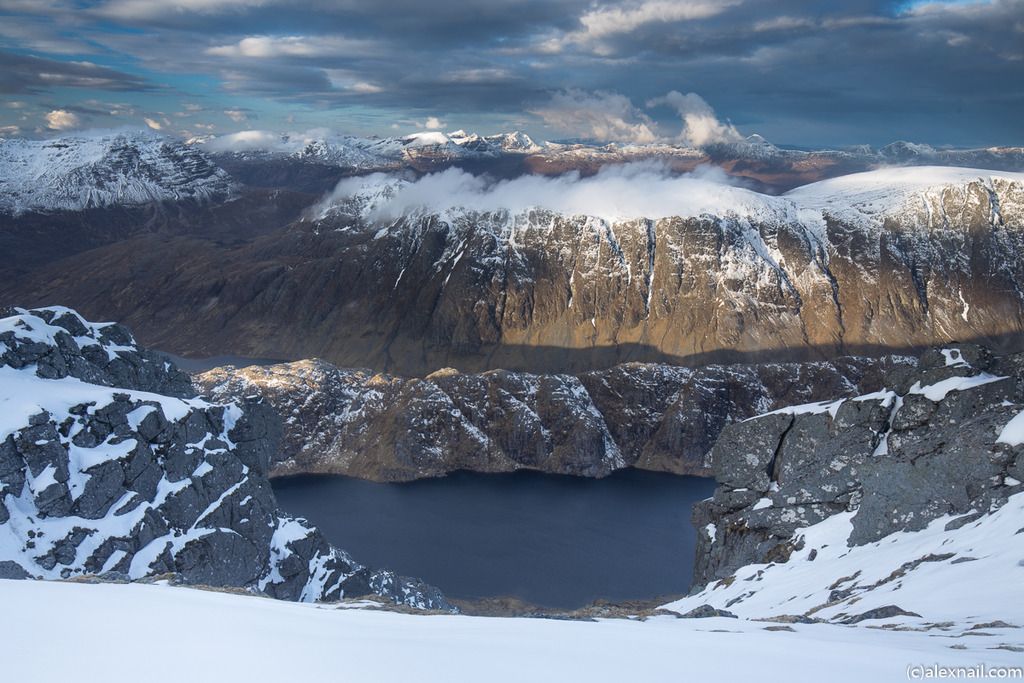 Gorm Loch Mor, Beinn Lair and the peaks of Torridon - a pretty awe inspiring view
I know from past trips to the Highlands that if you have a run of luck like we had over the past 24 hours, then you've already had a good trip! MWIS forecast strengthening winds overnight so we headed off the summit and down to camp next to Lochan Feith Mhic-Illean. We could follow our footsteps all of the way down - we were the only people to have visited the top since the snow fell a couple of days before.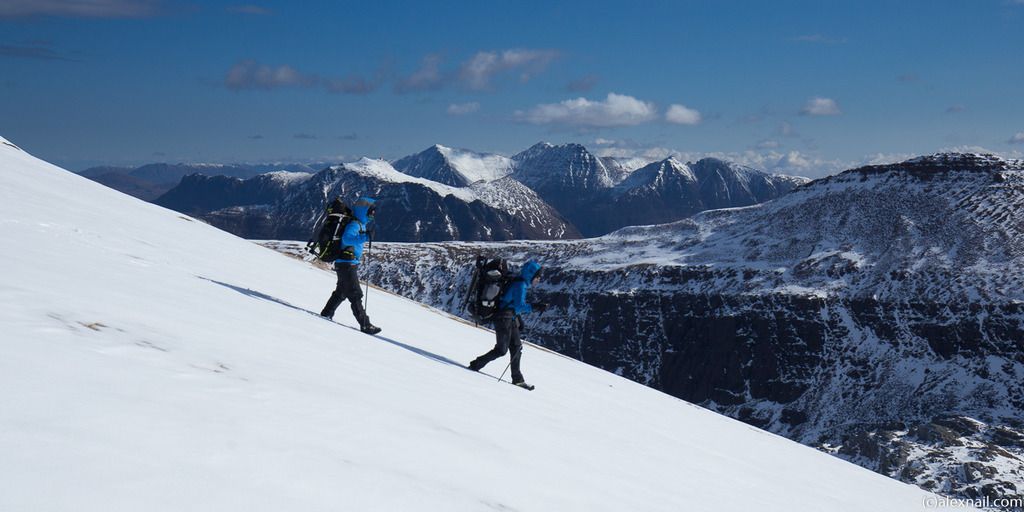 Time to head down, again in perfect weather, with An Teallach in the distance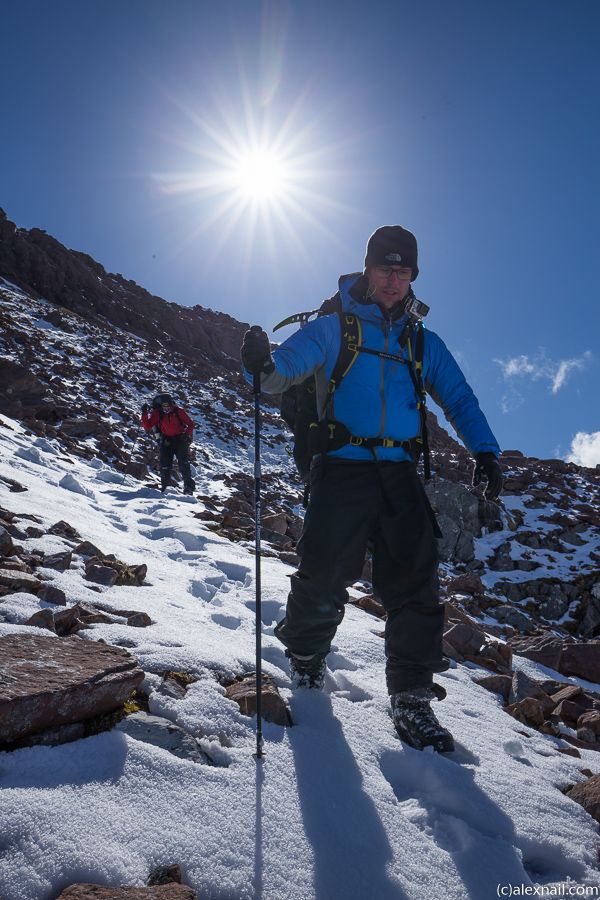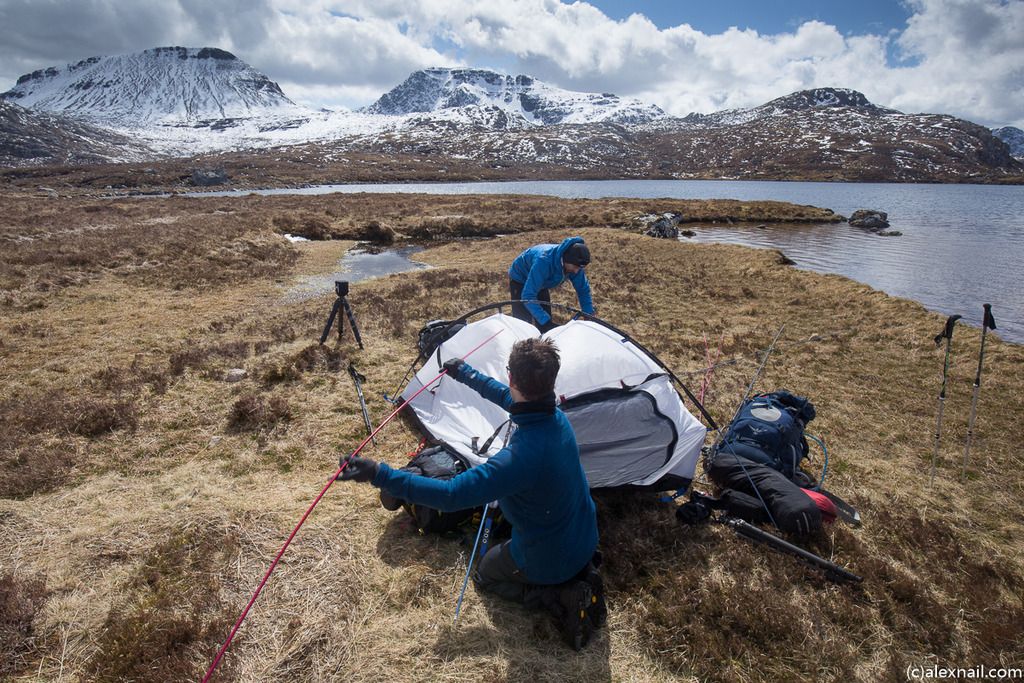 Setting up camp near Lochan Feith Mhic-Illean
From our still moderately high camping spot we were in a good position to reach a couple of viewpoints that afternoon. First we headed to a hill overlooking Beinn Dearg Mor and Beinn Dearg Beag and then we contoured around to Sgurr Na Laocainn with its towering views over Dubh Loch and Fionn Loch. The weather was cloudy throughout but occasional shafts of sunlight brought the all-important drama that we photographers seek!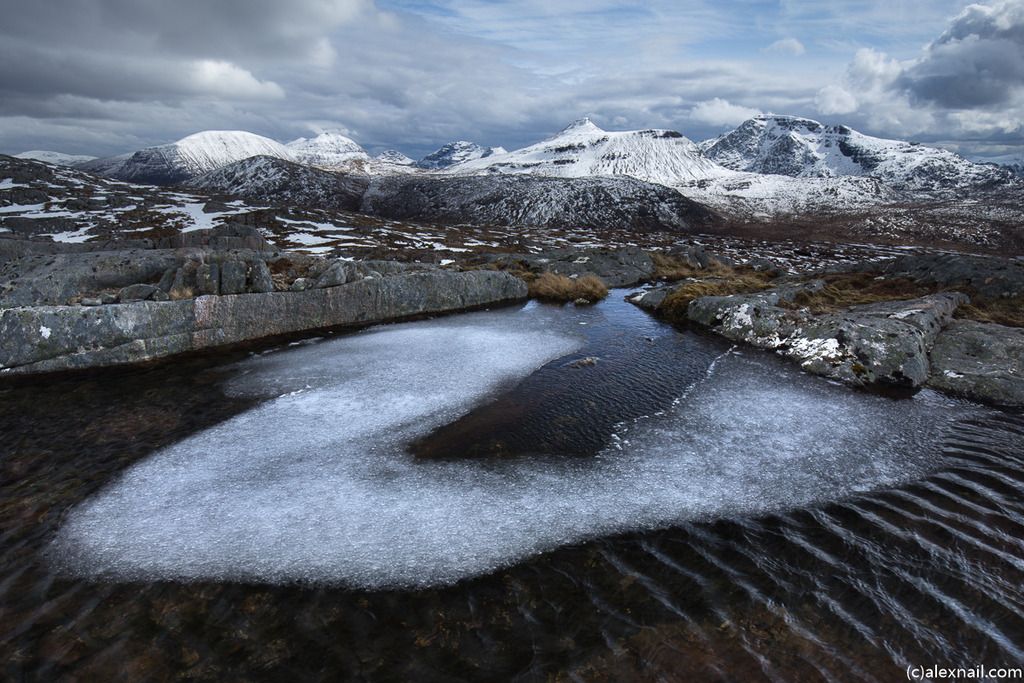 An icy pool and the 5 Munros of the Fisherfield 6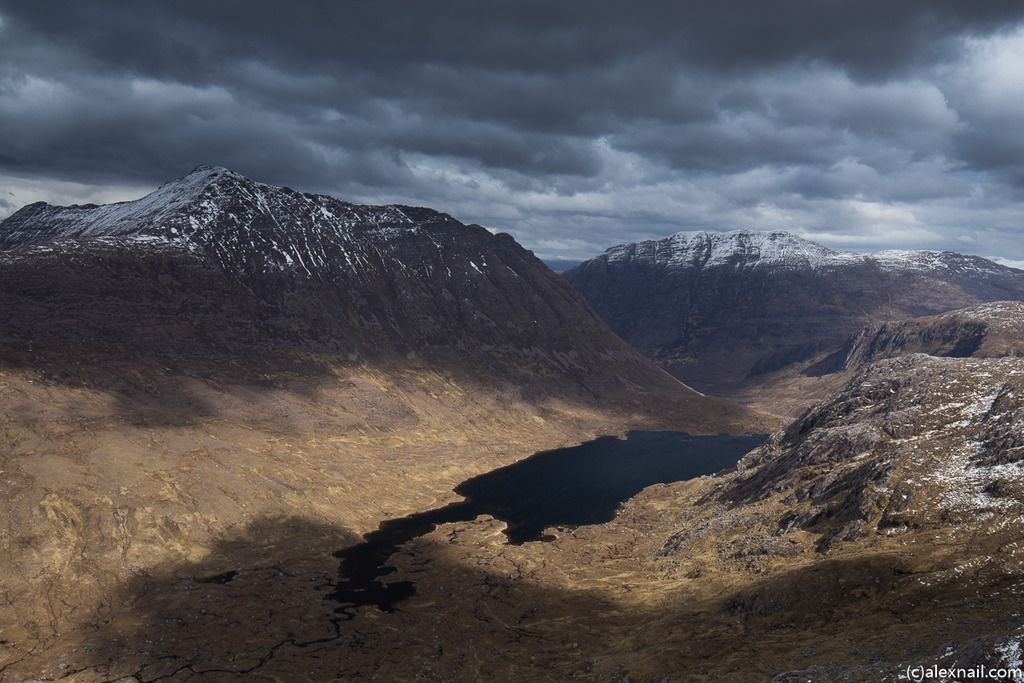 Light on the slopes of Beinn Dearg
The view from Sgurr Na Laocainn - no doubt a rarely visited viewpoint, I have never seen photos from here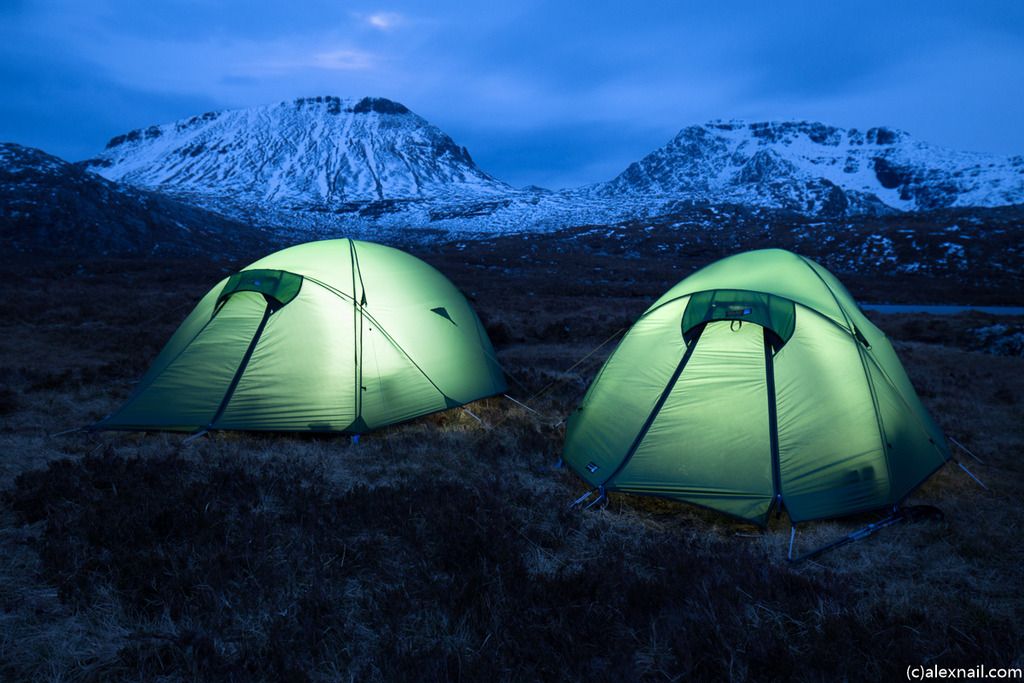 Torchlit tents with Ruadh Stac Mor and A'Mhaighdean behind
The light fizzled out before sunset sadly but we arrived back at the tents pleased with the days efforts. The following morning brought much strengthened winds and some spitting rain and snow in line with the forecast – it was time to leave.
A long hike back but we made good time to avoid the incoming weather
Heading off at just before 8am we arrived back at Poolewe at 12.30pm, a pretty quick time with backpacks weighting 20kg+. The walking was made a bit harder by a strong gusty wind, which kept knocking me off balance, but at least we had our backs to it. I've no doubt that the pub lunch was a big motivator too!
Sat down for fish and chips at a pub by 1.30 the rain really started to come down and the wind picked up further. There's nothing better than feeling like you've beaten the Scottish weather!
Click to mark this as a great report. Register or Login
free to be able to rate and comment on reports (as well as access 1:25000 mapping).
---
1
,
2
Munros:
Bidein a' Ghlas Thuill (An Teallach)
,
Sgùrr Fiona (An Teallach)
Date walked: 29/12/2014
Distance: 14.3km
Ascent: 1040m
Comments: 28
Views: 20912
---
Activity: Scrambler
Mountain: Suilven
Place: Assynt and Coigach
Member: BMC












Statistics

Trips: 1
Distance: 60 km
Ascent: 1865m
Munros: 1
Trips: 1
Distance: 14.3 km
Ascent: 1040m
Munros: 2



Joined: Dec 31, 2014
Last visited: Jan 17, 2017
Total posts: 9 | Search posts