Date walked: 09/09/2016
Time taken: 6 hours
Distance: 13.2km
Ascent: 784m
PHOTOS SHOULD NOW BE VISIBLE TO ALL.....AT LAST
It has been two months since I managed to get out and up a hill and though I've done a few low level hikes in the interim period, it has been a very slow summer overall
Fortunately when WH'ers Stuart and Fi (Mr & Mrs Scoob) dropped in for a few days they brought some much needed sunshine and we wasted none of it as we headed down to the Elbow Valley to hike the stunning knife edge of Nihahi Ridge.
I've posted the route previously here
http://www.walkhighlands.co.uk/Forum/viewtopic.php?f=16&t=22539
so anyone seeking full details of access and route can find all you need there. This post is just to share a few shots of another WH Canada meet up
Stuart & Fi starting out at the Harold Chapman suspension bridge (Nihahi Ridge in the far distance)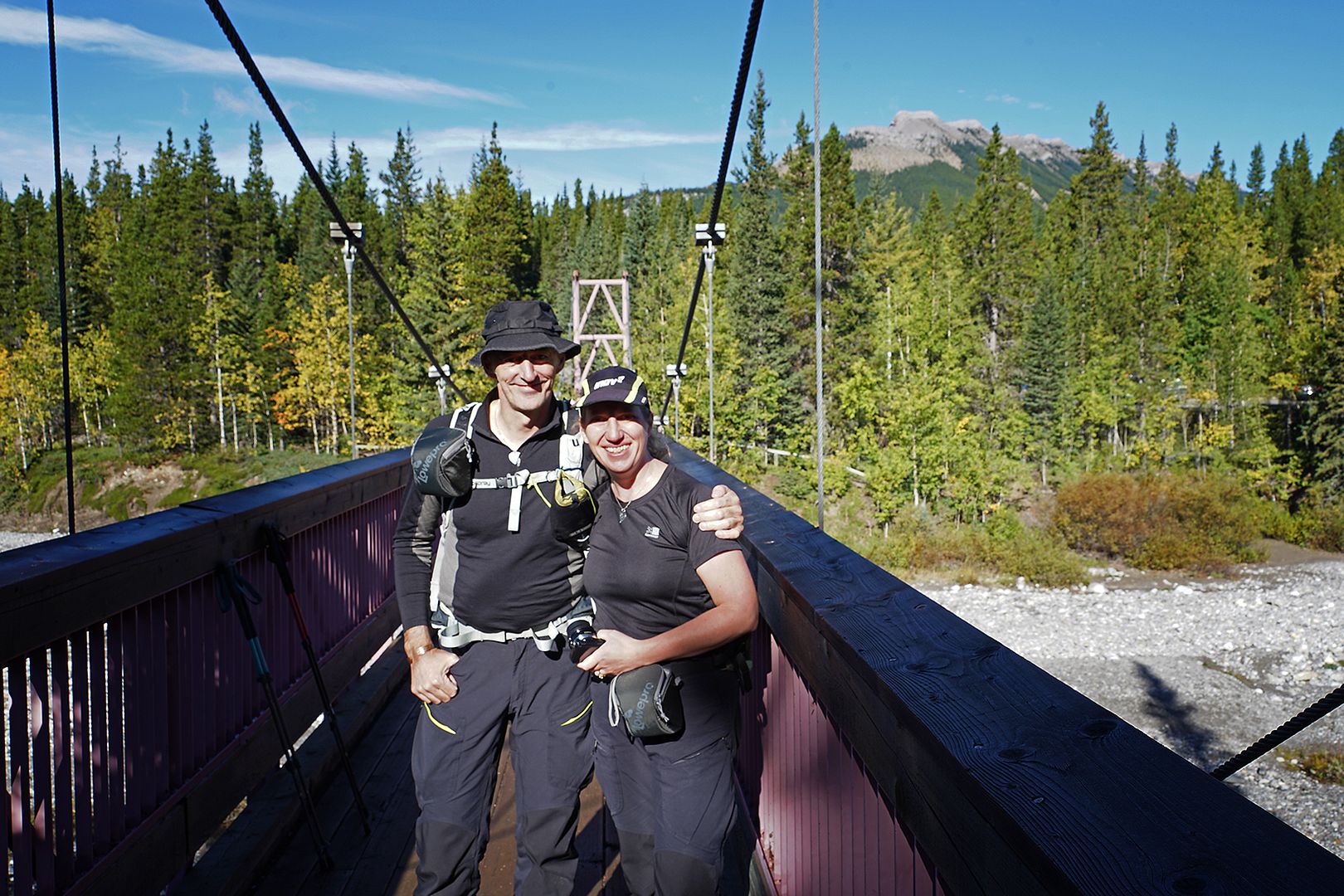 Autumn is on the way in the Elbow Valley
The early part of the trail as is passes the Elbow Valley Campgrounds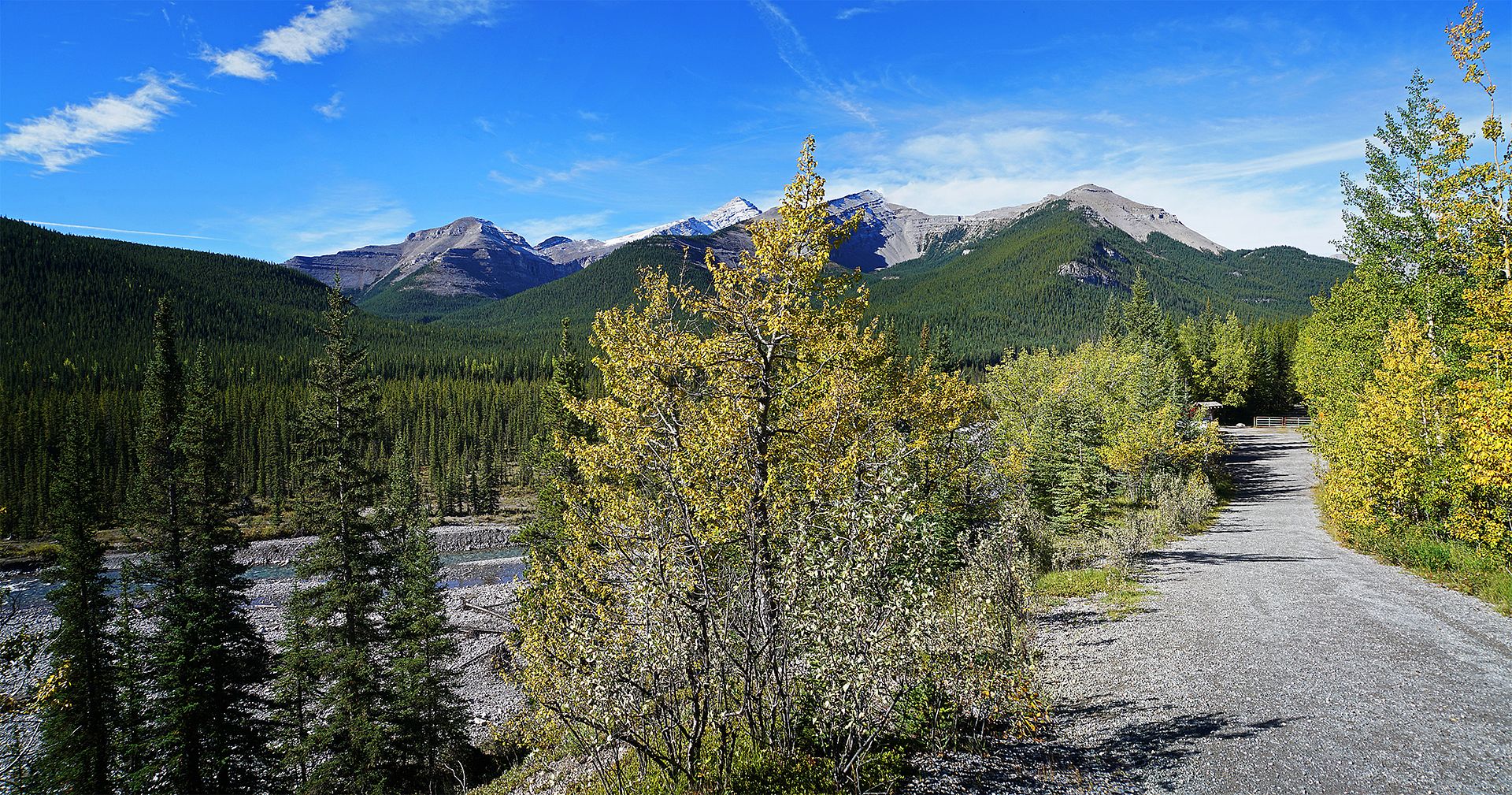 Up and on to the ridge then a nice wee break
Onwards and upwards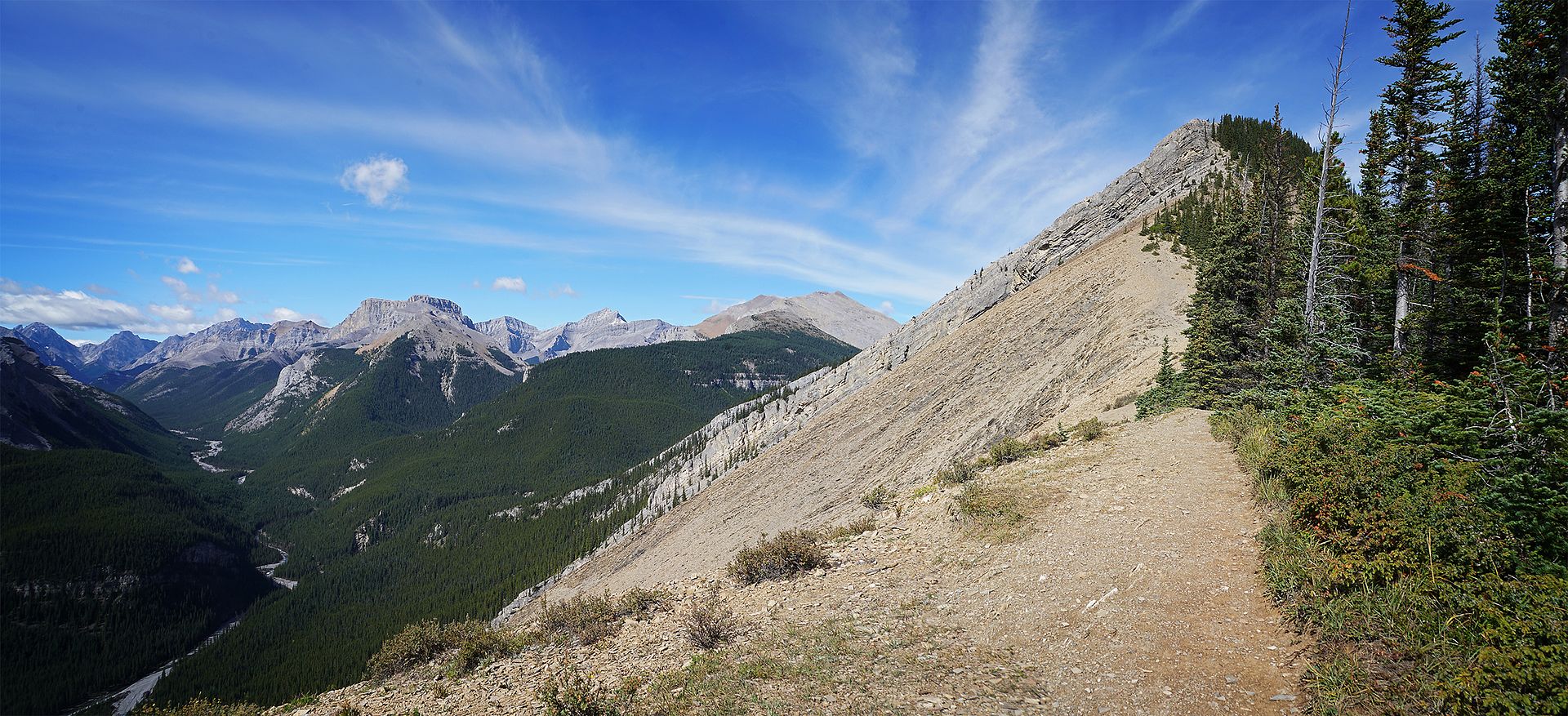 one of the better parts of the high trail
Fi tackling 'the wall'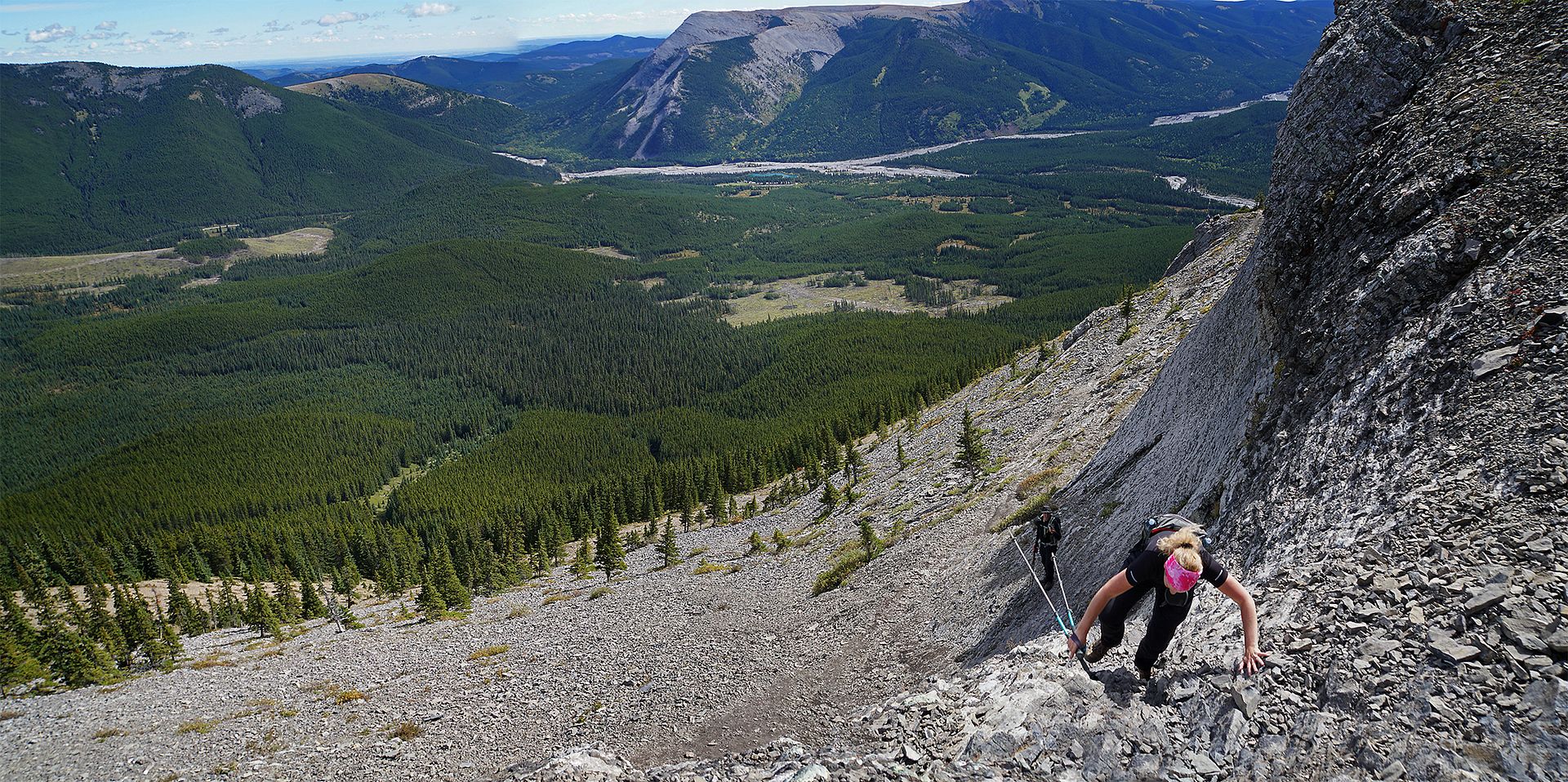 up and out of the scree bowl to the open views along the Elbow River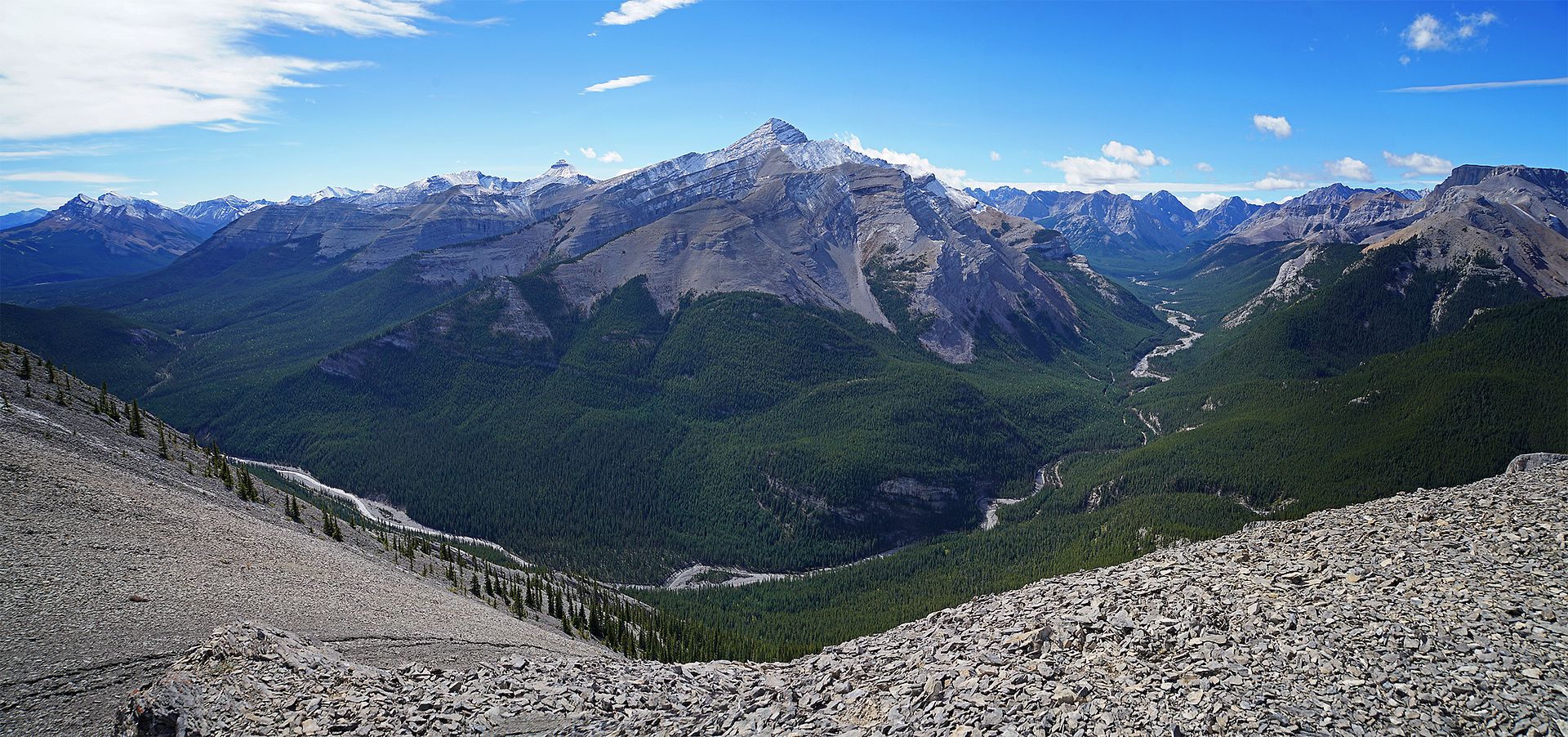 Now making the final little scramble to the start of the ridge top proper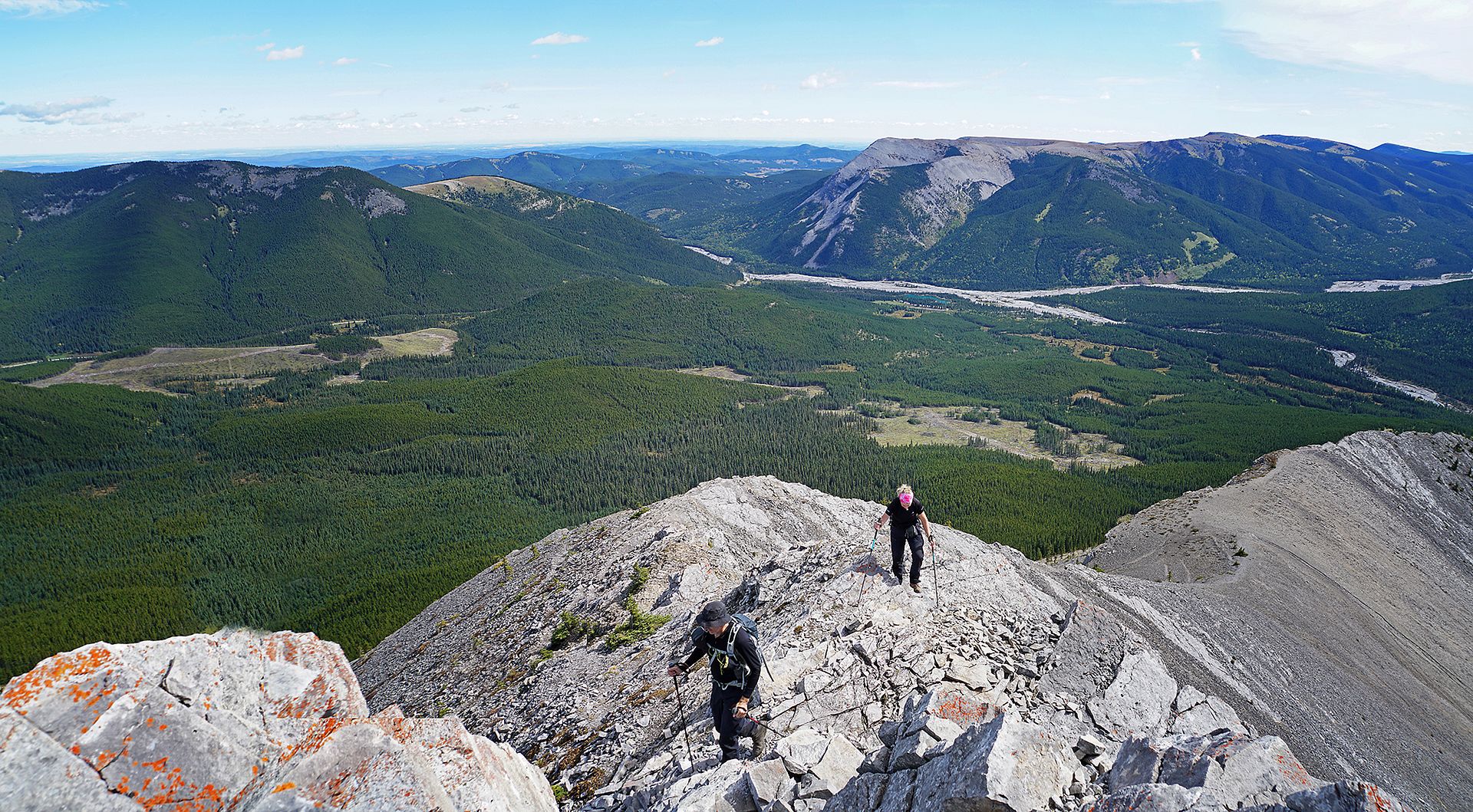 Stuart filming Fi on ascent
It's impossible to tire of this view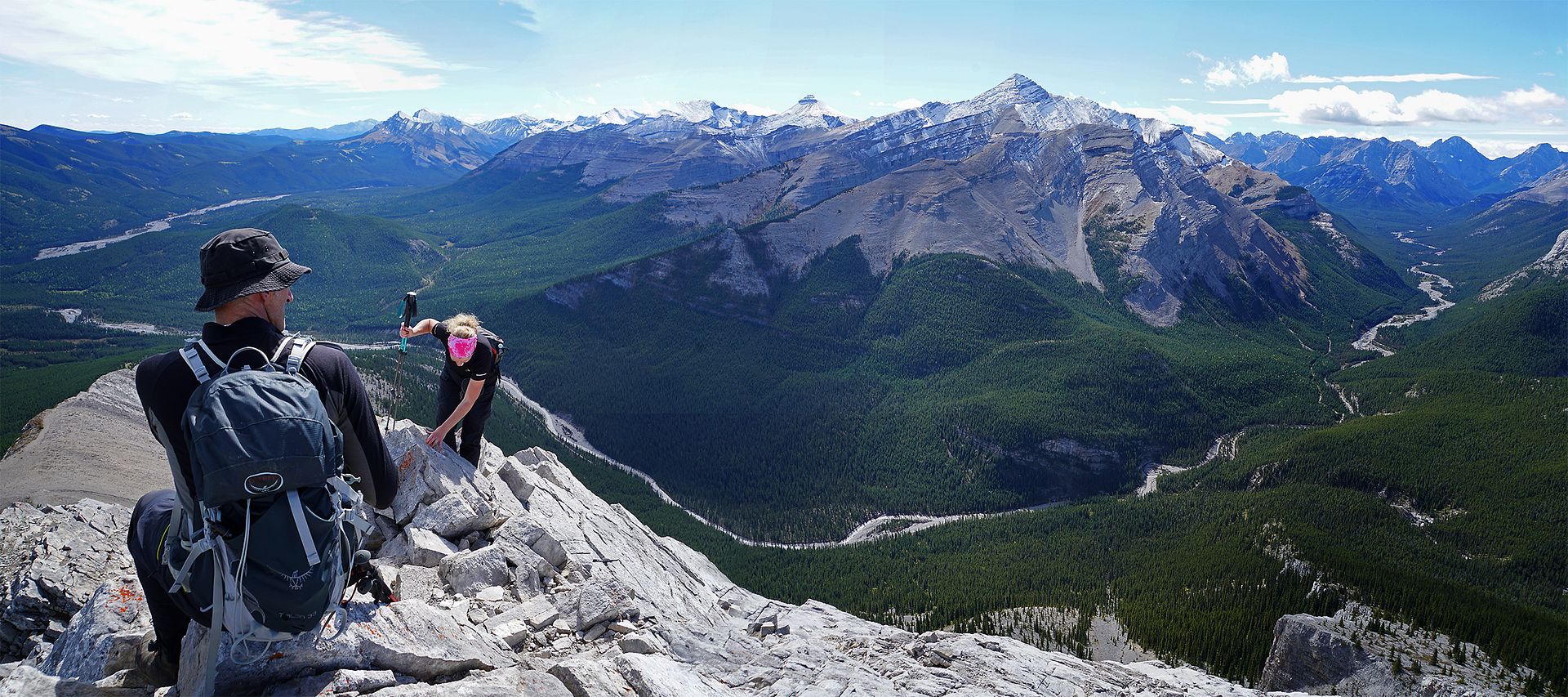 The south summit ahead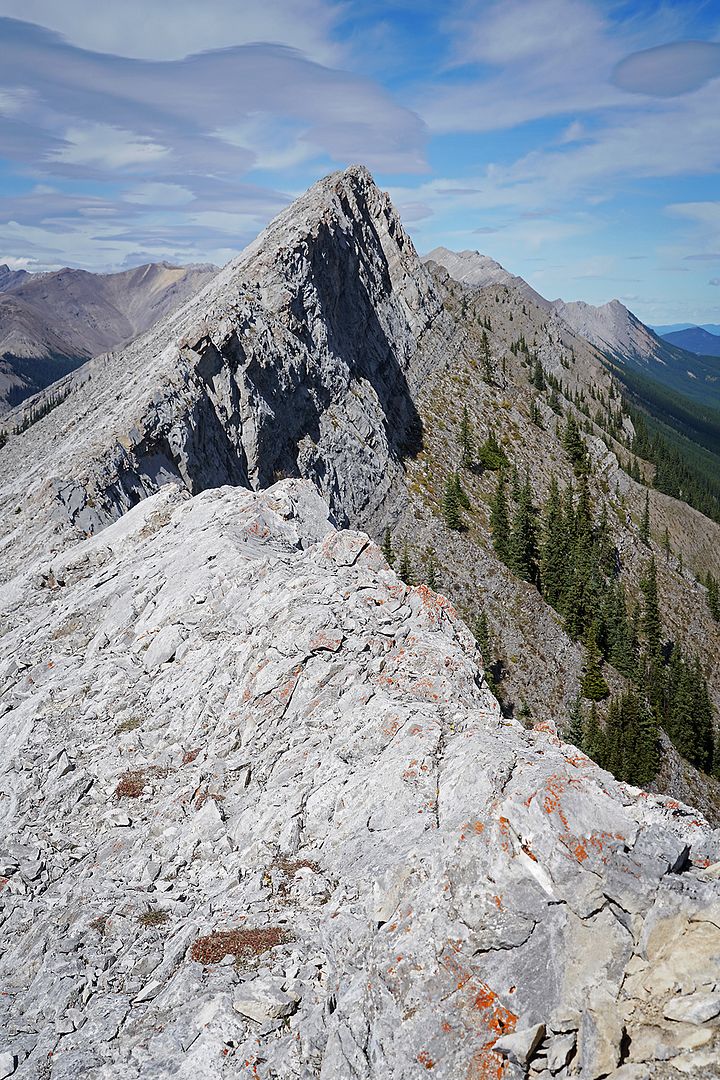 Waiting for Stuart after the promise of a geocache (he found it later on the return journey)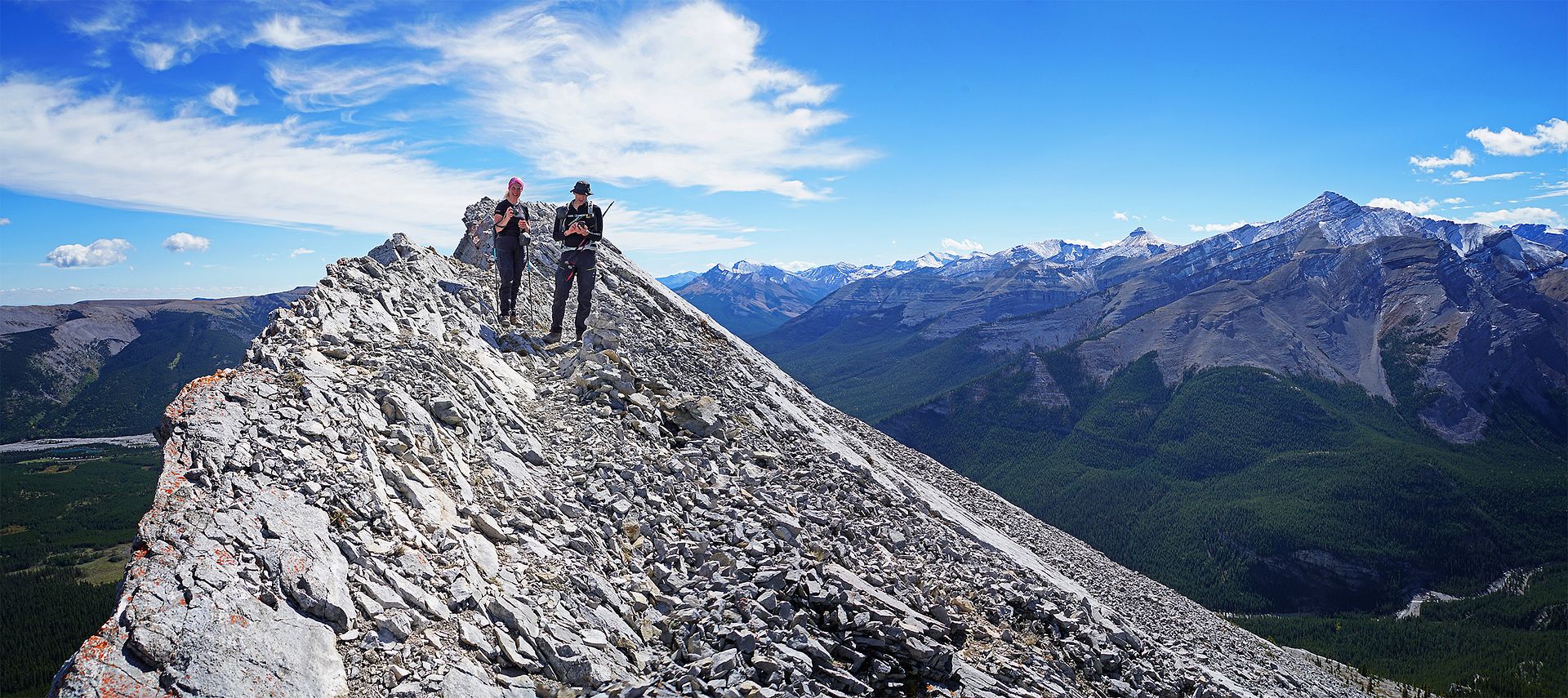 Careful on those slabs Fi......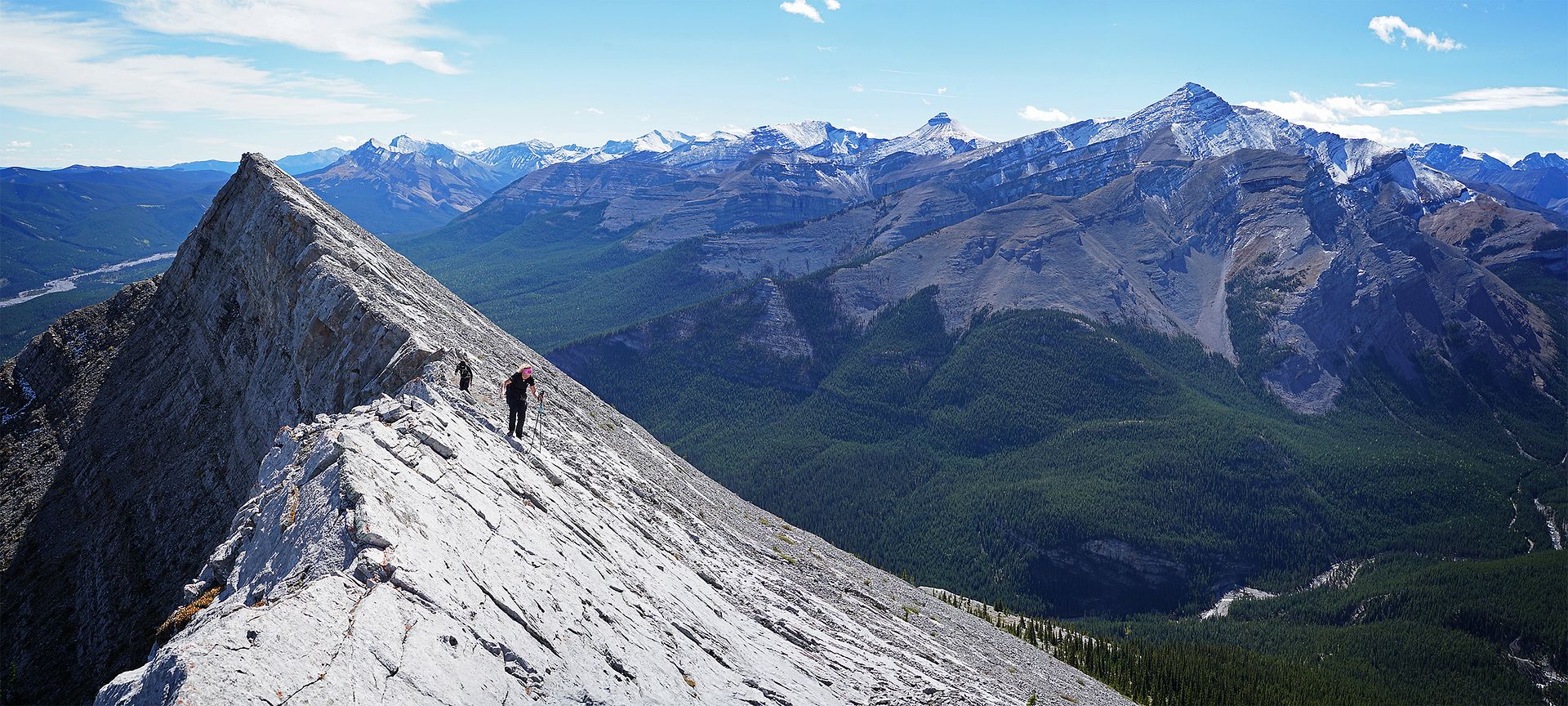 Almost there now

The final ascent
I think Fi is just happy to see some level ground!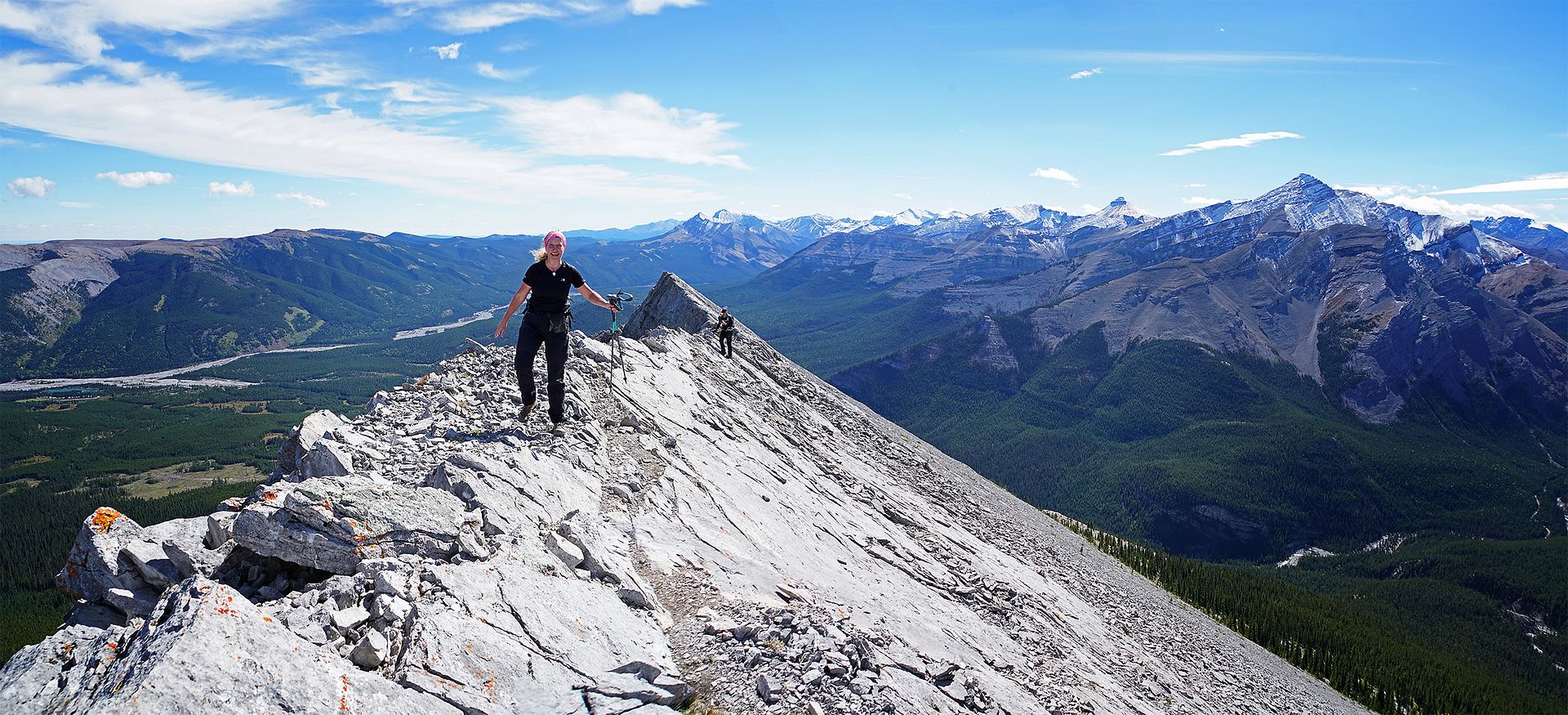 The summit pic on 'The Table'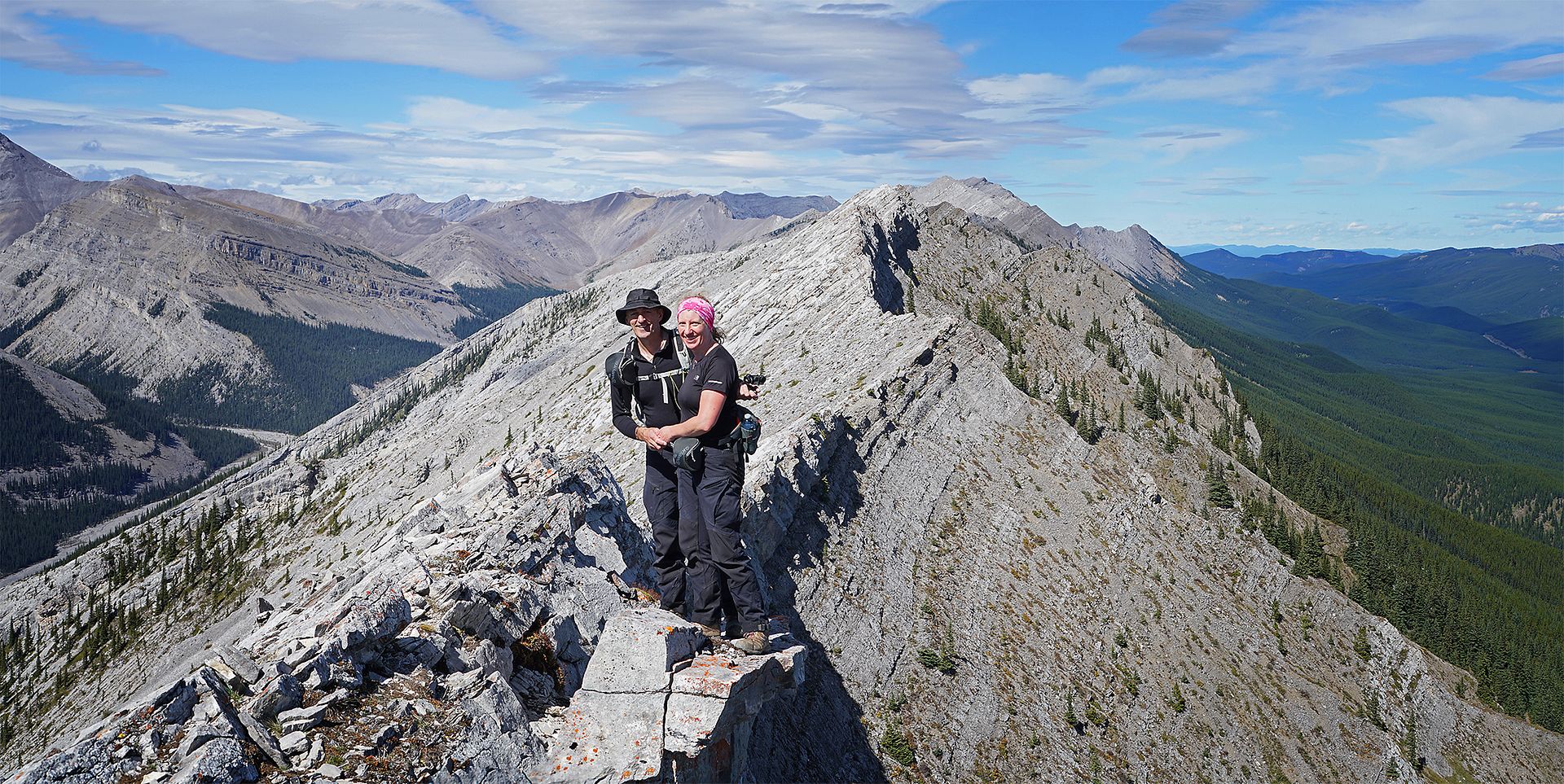 Stuart showing off his fancy 360 degree camera (got a great pic too)
looking back up to the summit at the start of the descent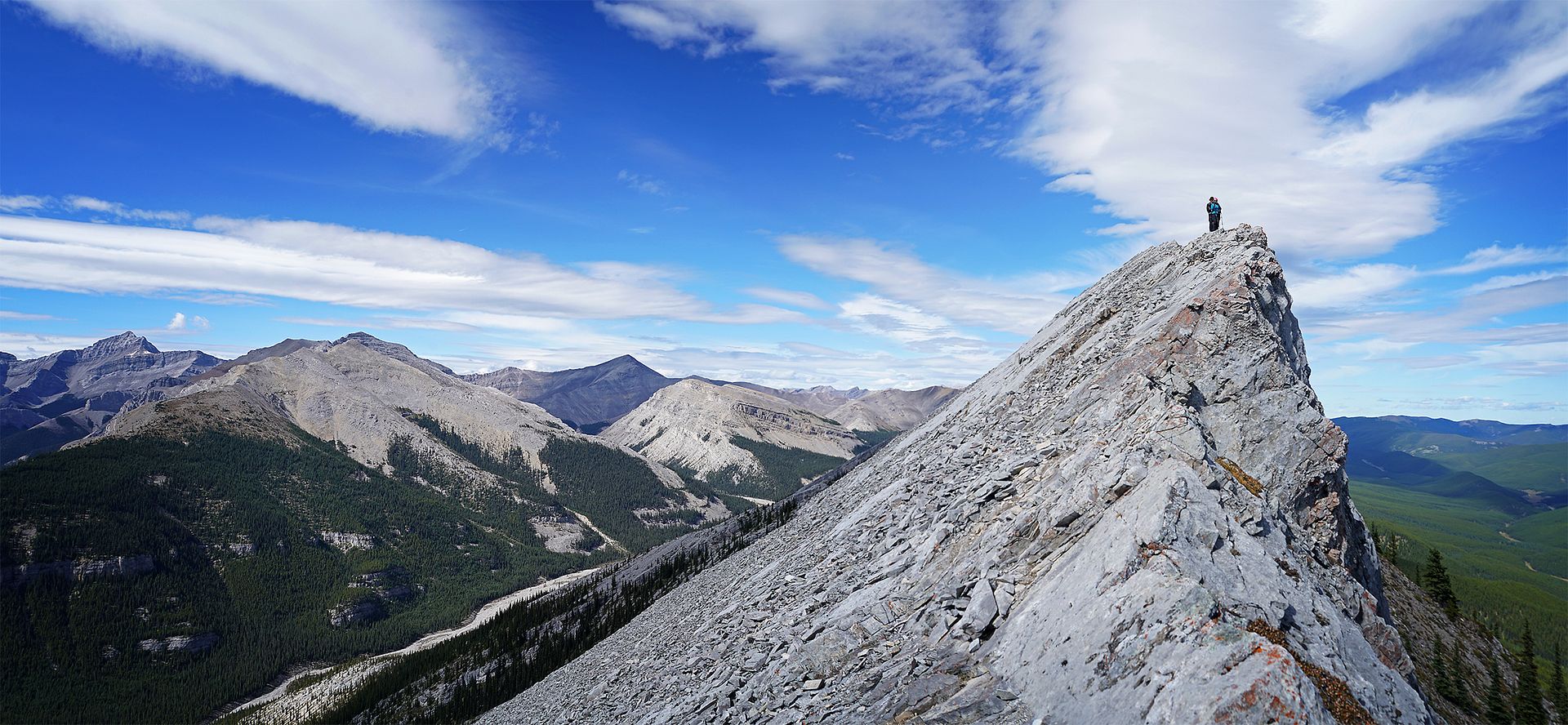 The route home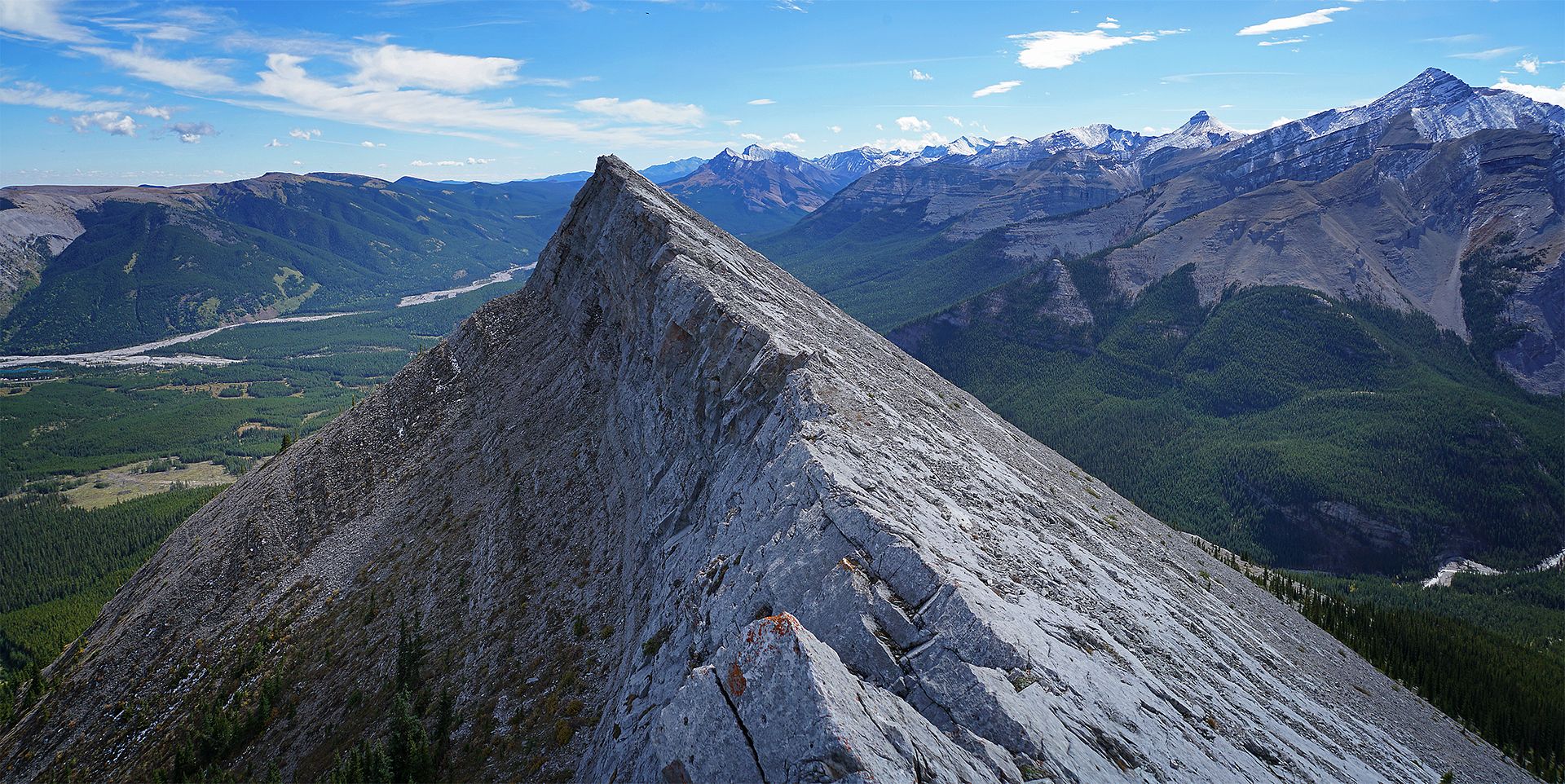 Life on the edge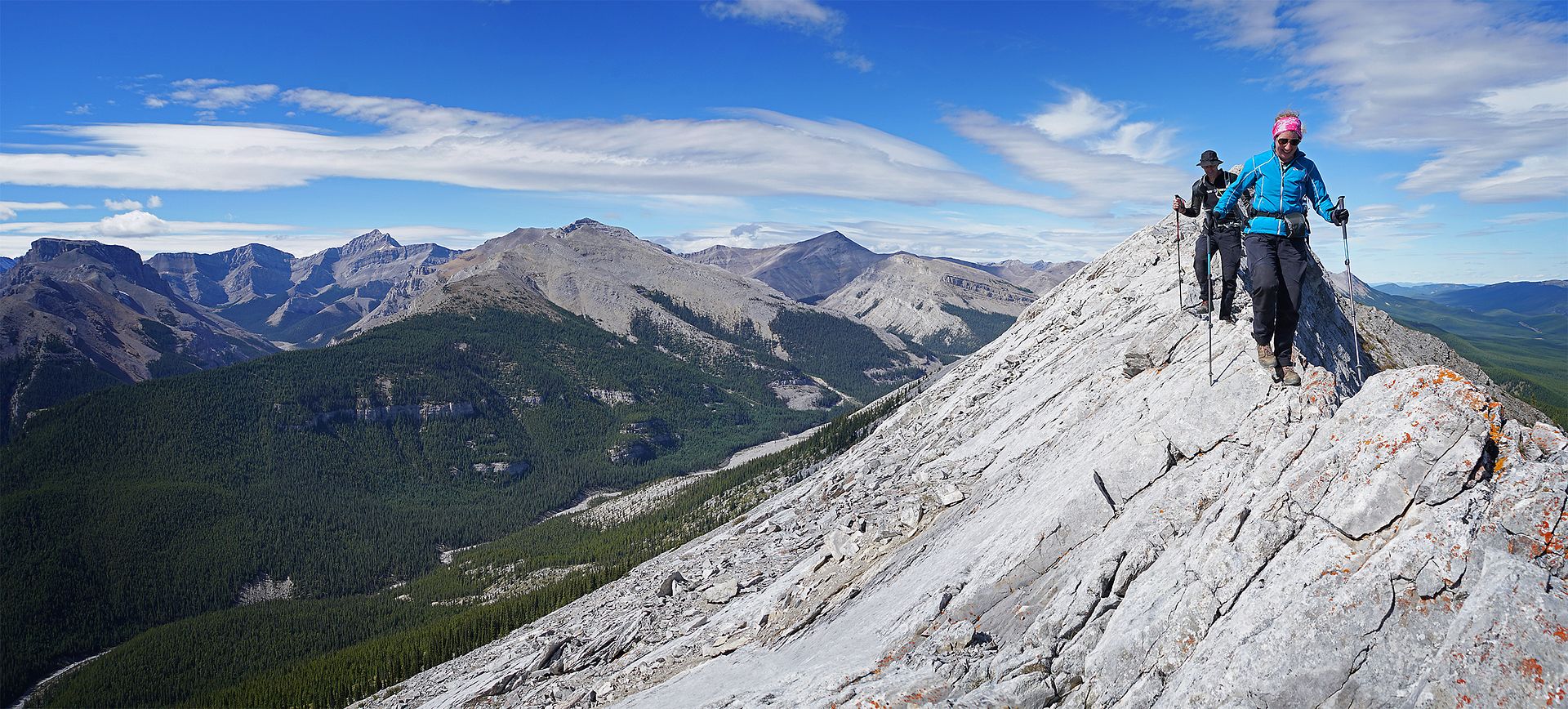 Fi descending the wall
I've seen mountain goats with fewer skills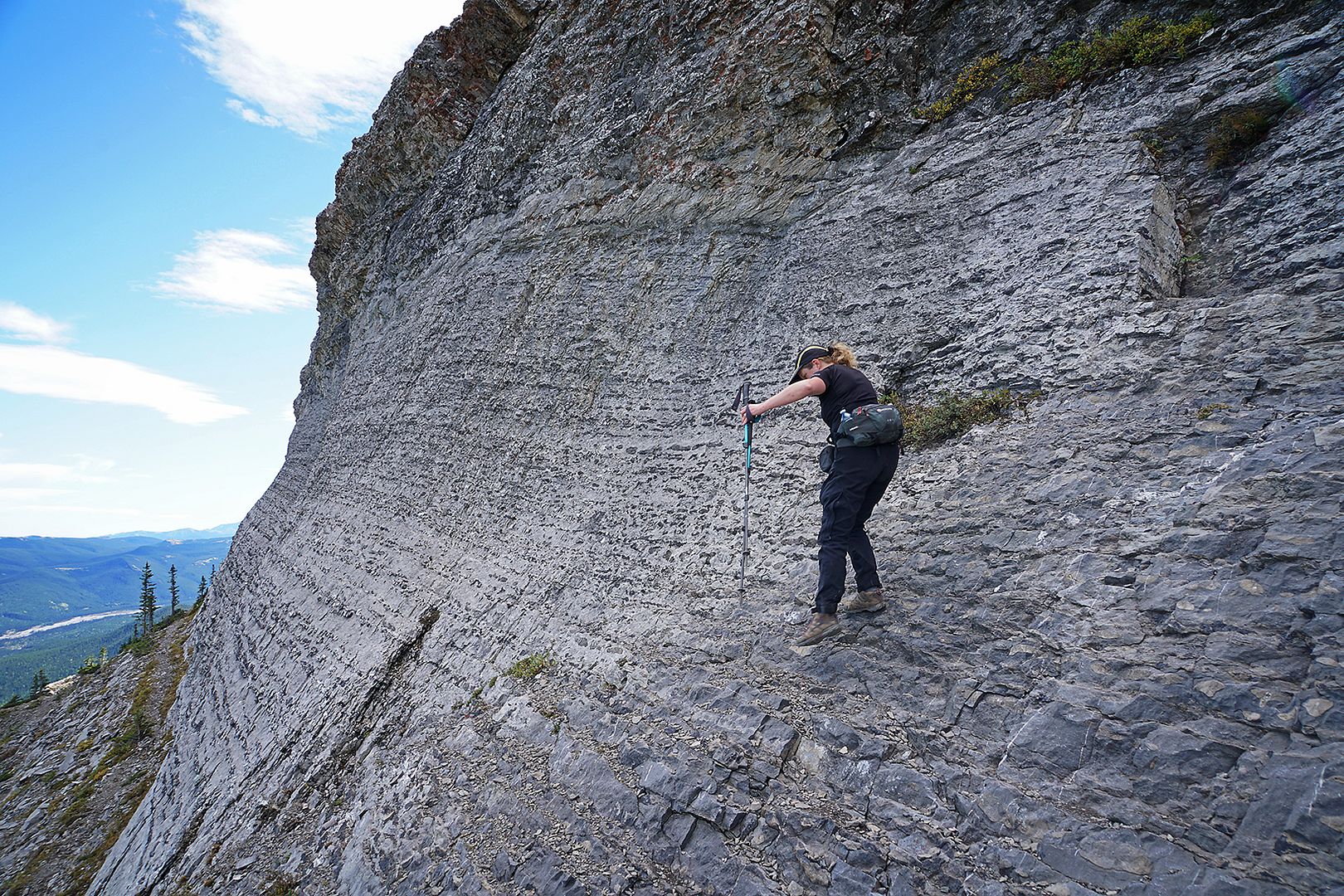 Stuart is fair running down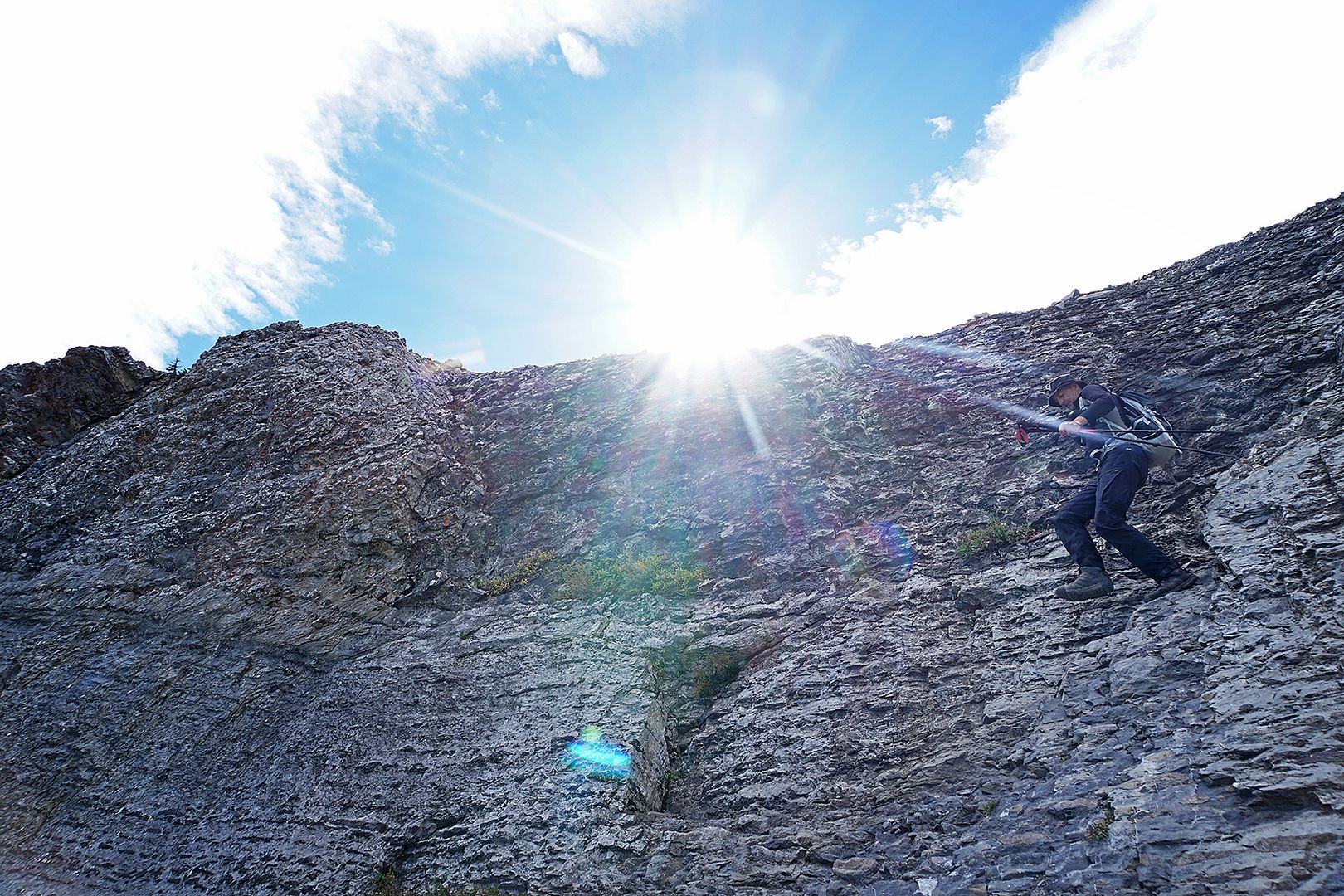 A nice steady wander out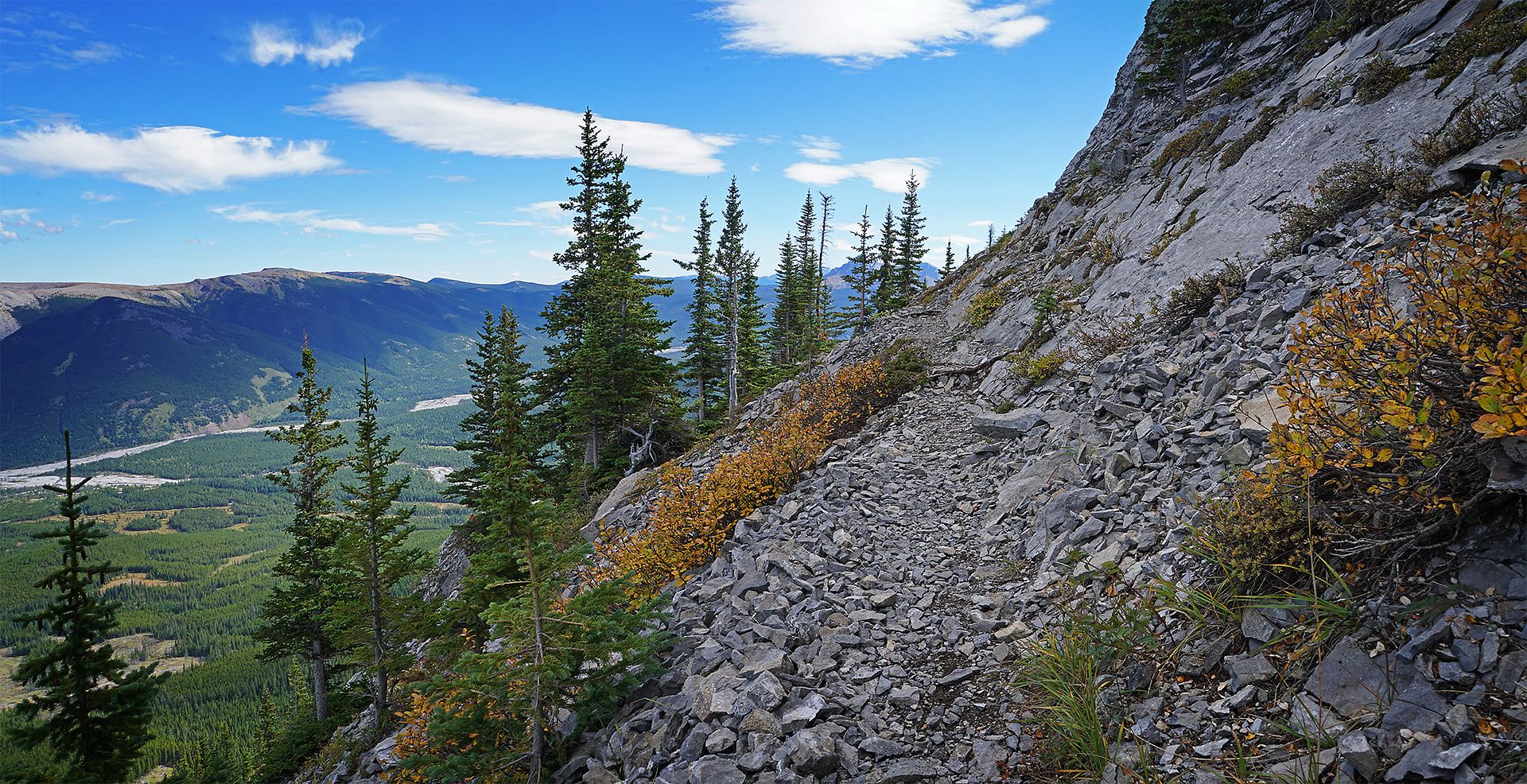 It was really great to have Stuart and Fi staying with us again, I would have loved it to be for longer but I'm absolutely sure we'll seem them again soon
Click to mark this as a great report. Register or Login
free to be able to rate and comment on reports (as well as access 1:25000 mapping).
---
Date walked: 18/07/2016
Distance: 12.9km
Ascent: 817m
Comments: 14
Views: 3784
---
1
,
2
Date walked: 25/06/2016
Distance: 9.2km
Ascent: 749m
Comments: 18
Views: 6204
---
Date walked: 17/06/2016
Distance: 7.2km
Ascent: 417m
Comments: 11
Views: 3345
---
Date walked: 02/06/2016
Distance: 18.9km
Ascent: 452m
Comments: 10
Views: 3049
---
Date walked: 17/05/2016
Distance: 22km
Ascent: 595m
Comments: 13
Views: 4062
---
Date walked: 04/05/2016
Distance: 9.6km
Ascent: 739m
Comments: 13
Views: 3506
---
1
,
2
Date walked: 05/03/2016
Distance: 15.4km
Ascent: 276m
Comments: 24
Views: 7424
---
1
,
2
Date walked: 25/02/2016
Distance: 11.8km
Ascent: 914m
Comments: 18
Views: 5584
---
1
,
2
Date walked: 09/02/2016
Distance: 5.7km
Ascent: 873m
Comments: 16
Views: 5540
---
Location: Cochrane- Alberta - Canada
Occupation: Management Consultant - Semi Retired
Interests: Photography, Walking, Kayaking, Golf, Mountain Biking
Activity: Rambler
Pub: Sutton Arms
Mountain: Mt Rainier - USA
Place: Loch Muick
Gear: Quality footwear
Member: None
Camera: Canon 5DIII
Ideal day out: A scramble on a high ridge in Kananaskis
Ambition: Lose some more weight!


Munros: 18
Corbetts: 5
Grahams: 3
Sub 2000: 6


Contact:











Statistics

Trips: 11
Distance: 134.2 km
Ascent: 6954m
Trips: 43
Distance: 521 km
Ascent: 27347m
Trips: 9
Distance: 83.8 km
Ascent: 3432m
Trips: 9
Distance: 92.1 km
Ascent: 5308m
Trips: 45
Distance: 476 km
Ascent: 22860m
Trips: 41
Distance: 596.35 km
Ascent: 24677m
Munros: 19
Corbetts: 5
Grahams: 3
Sub2000s: 6
Trips: 2
Distance: 13.4 km
Ascent: 675m
Trips: 8
Distance: 46.3 km
Ascent: 622m



Joined: Jan 25, 2011
Last visited: Apr 07, 2022
Total posts: 4940 | Search posts