Date walked: 27/04/2015
Time taken: 6 hours
Distance: 28.8km
Ascent: 1300m
I'm 10 weeks post shoulder surgery (labral and bankart repair) and after 7 weeks of being in a sling (and only doing flat boring walks) I was told that I could start incorporating some hills as long as I stuck to good paths and was sensible. Im not sure that Carn a'Chlamain is what she had in mind
Got a message on the 1st April that there were free train tickets up for grabs as Abellio is taking over as operators of Scotrail. Slightly dubious that this was some 'joke' to make fun of poor people like me, I checked out the offers.
No returns to Corrour station to be had
so settled for Blair Atholl on the 27th April. Thinking it might be ok by then without full winter kit and at 9 1/2 weeks after shoulder surgery it would be about time to test out the legs.
Everything was looking good, snow melting nicely (I have nothing against snow, but currently can't self arrest using my right arm, so a little bit scared of it!) and nice weather, well, until this weekend
Decided on Carn a'Chlamain as the target with the thought that I could always just do the Glen Tilt circuit and have a decent walk even if I had to turn back. The trains would give me 9 1/2 hrs which seemed enough for a walkhighlands 7-10hrs, after all I've done pretty much nothing all year and am lacking serious fitness. I could have a nice gentle amble and take it from there.
Sun splitting the sky in Glasgow this morning and even by the time I got to Blair Atholl at 10.28 it was sunny with only a few clouds to be seen. A perfect day for a good walk, or so it seemed.
I started off with good intentions to take it easy, but it all went wrong right at the start when I thought I'd 'just check' what time the earlier train went. 17.22 was ingrained and I think from that moment on the race was on! It would give me 6hrs and 45mins.
The first part was lovely and Glen Tilt was living up to expectations. Pretty glen, nice day and following the waymarked walk gave some lovely diversions and not too much slogging away on hard ground - plenty of that to come
I was soon down to my baselayer and my shoulder was coping well with the weight of my Osprey Talon 44 (not full by any means I must add). There were inviting glimpses of a snow dusted Beinn a'Ghlo through the trees until I reached the shooting range and the views opened up.
Here I met the only people I'd see all day - dog walkers on their way back.
lovely start to the day
just before the driving range, clouds starting to build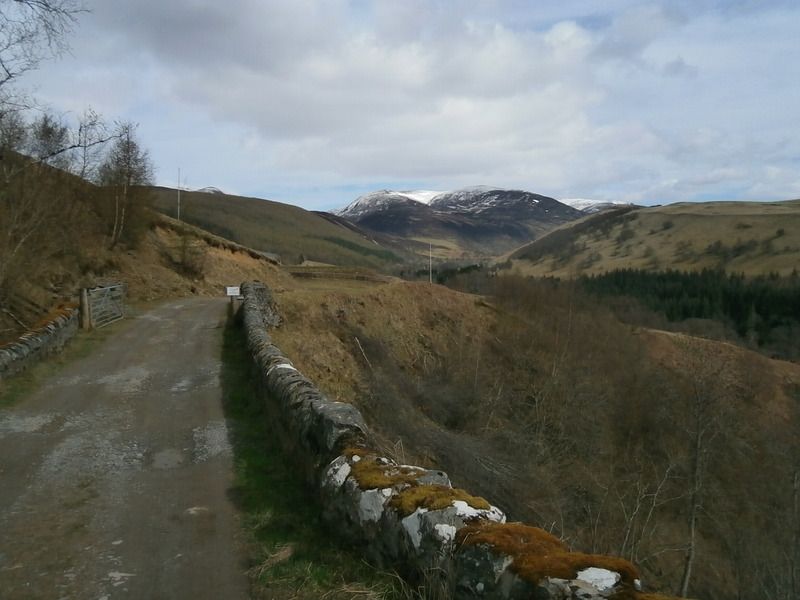 Round about here I thought I'd check the GPS just to see whether it was tracking ok. As I pulled it out of my pocket it somehow parted from my hand and flew face down onto the stony path. Not a scratch on the outside, but somehow the LCD screen now has a massive crack right down the middle and only part of the screen is working.
Only really use it for logging routes anyway, but still suddenly felt very vulnerable out all by myself with 'only' a map, compass and phone
Turned the GPS off to see if it having a rest would magically fix it and continued on my merry way.
After the shooting range I almost missed the diamond shaped gate in the fence and had to walk back 100m or so from Gilbert's bridge. The track here soon turns into a path, but the going was good and still relatively fast. I'm glad there was some softer ground as the tracks later on really punish the feet!
the grassy path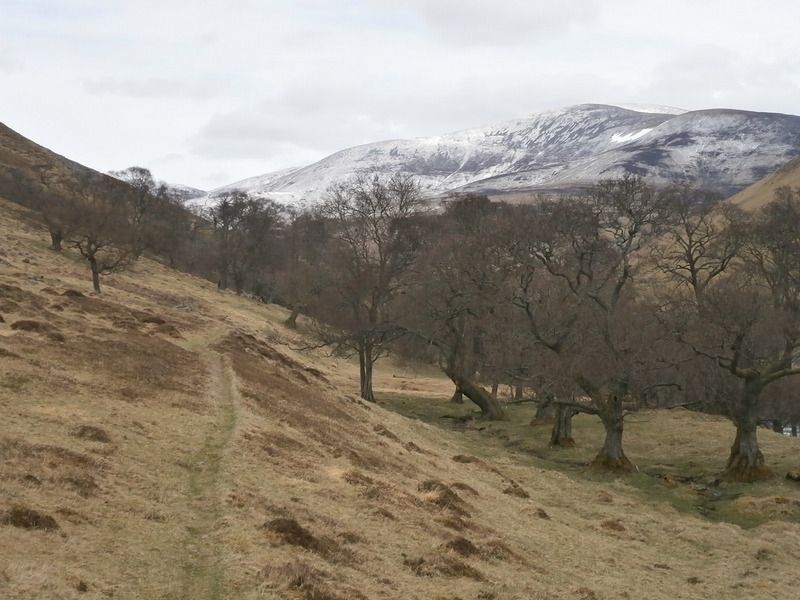 It was beautiful and unfortunately the pictures I took just don't reflect it. I had an energy bar at 12 and was feeling good. All too soon the path finished and I was on the wide hard track that goes all the way through the glen. At the next bridge the very steep grassy path up to the shoulder was hard to miss. There is a mini cairn too, but not really needed. I'd made it to the bottom of the climb in 1h40mins and was feeling good.
Starting up the climb soon put that right though! This is where my lack of fitness really showed. I was quite glad that there was no-one about to see me struggle! Lots and lots of short breaks for breath were needed, but even so it was only 20 mins before I hit the bulldozed track.
looking down the first part of the climb
The weather was now definitely starting to get worse. I could see showers (probably snow) moving northwards towards me and the wind had become a lot stronger. Put some layers back on, but as I was still well below the snow line, thought I would press on. Carn a'Chlamain soon came into view briefly. It looked far more imposing and mountainous than reports suggested although that probably had a lot to do with the dusting of snow.
views opening up, but clouds closing in. Schiehallion with some snow to the right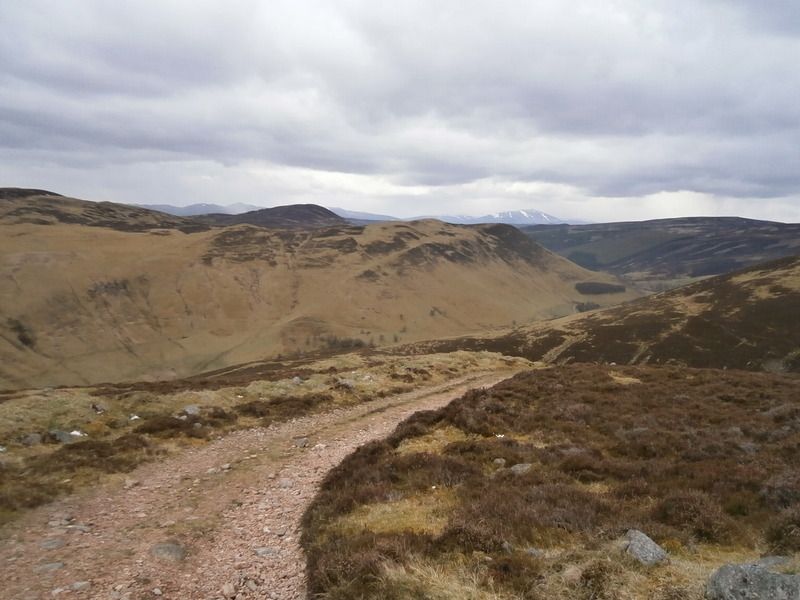 don't think I'll be able to outpace the showers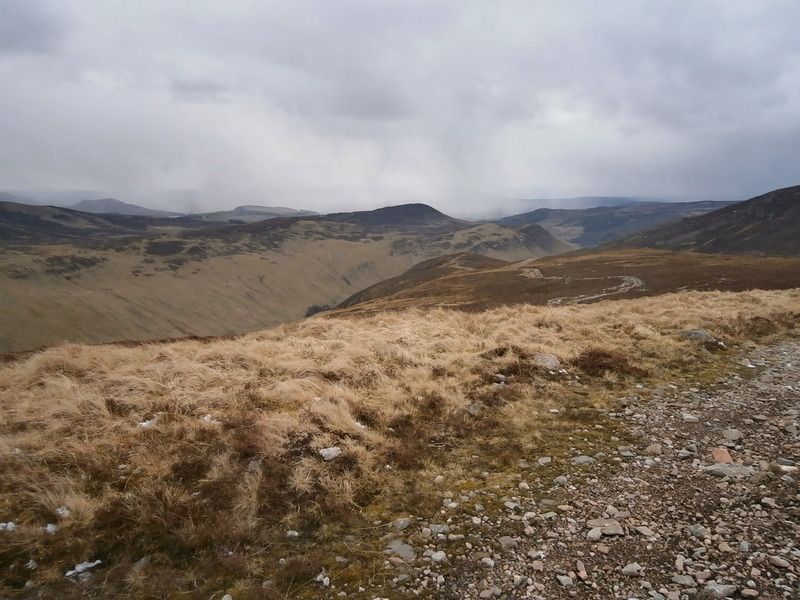 first real view of the target Carn a'Chlamain
The path was easy to follow with only small accumulations of soft old snow present which were all pretty easy to avoid. The new stuff was no more than a sprinkling really. Looked nice, felt horrible on the face, but overall posed no problems. I was still prepared to turn back if things deteriorated and took some bearings just in case visibility became an issue. It's a fairly easy route though, even without the bulldozed path and I was confident I'd be able to find my way back down.
Hitting the highest point of the shoulder, the path makes a 90 degree left turn and heads along the plateau almost straight to the summit. This is when the wind and the snow it was carrying really hit me (had been coming from behind before) so all layers went on for a final summit assault.
across to a snowy Beinn a'Ghlo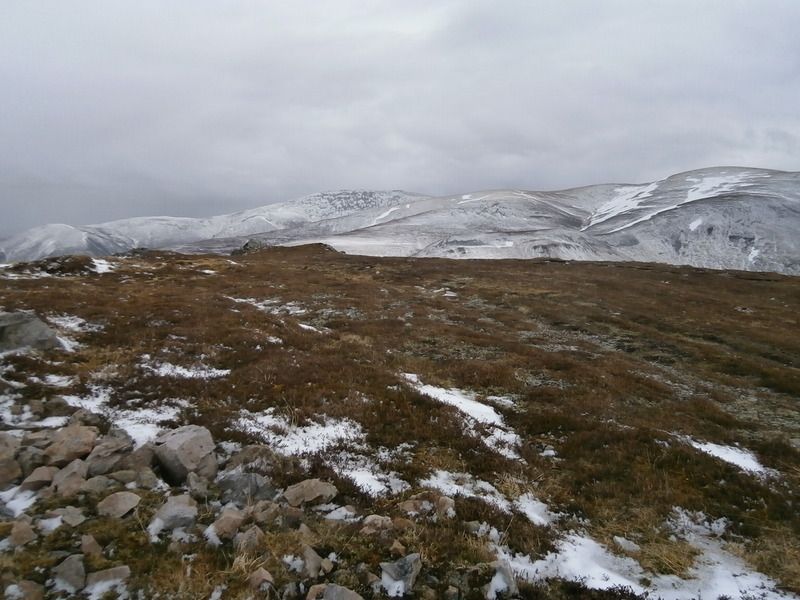 the final stretch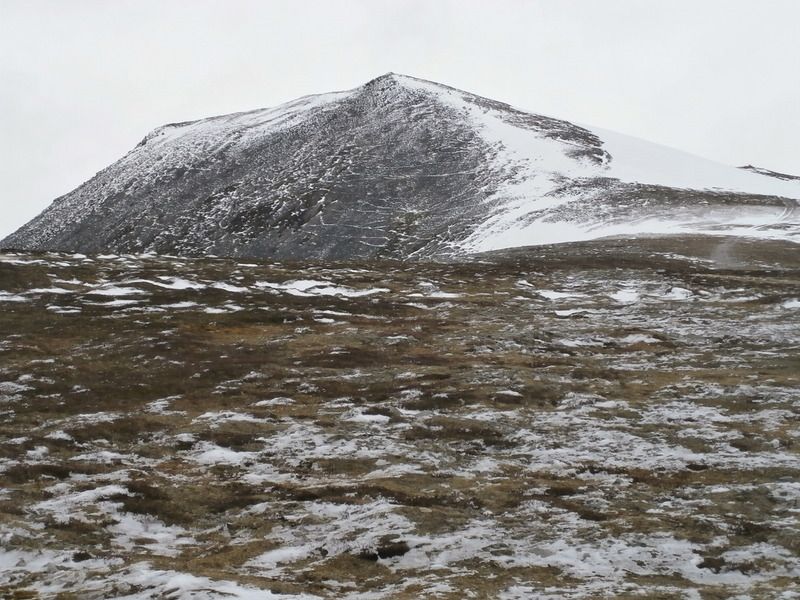 Most of the snow again was easy to avoid and the rocks were dry enough. It would have been really easy going had it not been for the wind and biting snow.
Got to the summit after 3hrs and 20mins and decided not to linger. Some quick snaps and a look around at the vast emptiness of the landscape and I was off again to retrace the ascent route. The bulldozed path was definitely not the most fun, but it did make for quick going. I was keen to be out of the wind so kept a brisk pace, only stopping once I had got back to the steep grassy path and relative shelter. Had a wee sit and a bite to eat here. It was 2.45pm by now (4h 15mins in) and I was hungry and my legs were feeling fairly tired.... with a massive walk out still to go
I was however starting to feel very hopeful about the 17.22 train.
Carn a'Chlamain summit, looking south, back the way I'd come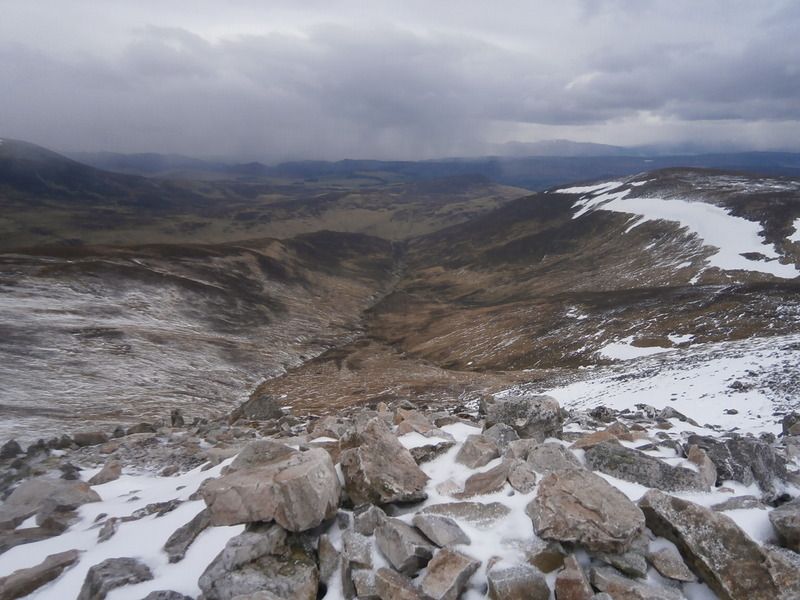 white and featureless plateau to the other side. Wouldn't want to get lost here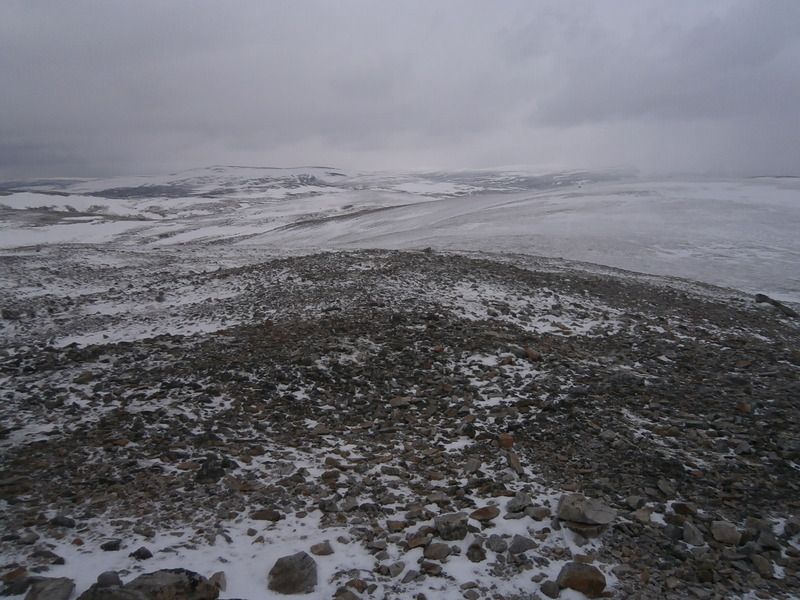 looks pretty, but walking across this bit of spin-drift was not much fun
After my rest I felt much better, some of the winter layers went back in the bag and the rest of the descent was nice and I felt quite optimistic. Until I hit the big glen track. Almost immediately my feet started screaming at me. About 5 mins after that the sleet started and didn't let up the whole way back and the gloves, hat and jacket came back out to stay.
Where before my op I'd have barely noticed the walk out, this was turning into a real battle. The cloud had also come down and Glen Tilt had lost much of it's earlier charm. I walked as fast as I could manage so that the pain wouldn't be prolonged too much. Feet, ankles, hips and knees were all succumbing and the muscles were burning. My shoulder however was blissfully pain free. I'll have to remember that the best way to cure shoulder pain is to make everything else hurt more!
cloud coming down, this is looking back towards the hills
Even though I was making good progress the walk just seemed to drag on and on and on. I decided that if I got back in time I could have a chippie back in Blair Atholl. This turned out to be great motivation and I arrived back at the station just as the rain stopped briefly in 6hrs exactly (no wonder I was tired, should have taken it easy!). This left me 45mins to go and find the chips. Hobbled to the food in the park place, bought a chip buttie and took it back to eat at the station. I can honestly say it was the best thing I'd had in a long time!
Finished my food and had enough time left to do my shoulder physio exercises before the train came. Felt a little bit sorry for the people who had to sit close to me, but it was lovely not to have to drive back after a walk. I was really worried about the walk from the station back to the flat in Glasgow, but it was actually fine! Maybe if I'd rested throughout the walk I wouldn't have been in so much pain during it (but then I'd have had to wait for the 20.18 train and that just seemed like too long a wait in the sleet and rain).
waiting for the train
I'm definitely not as fit as I'd like to be, but refuse to accept it whilst I'm walking
At least now I know I can do a decent day and am planning for some more singles to knock off to work on the fitness. So over the next month you're likely to see me on all those 'boring' southern munros with good paths just to keep the physio happy
Click to mark this as a great report. Register or Login
free to be able to rate and comment on reports (as well as access 1:25000 mapping).
---
This post is not published on the Walkhighlands forum
Date walked: 18/04/2015
Distance: 17.8km
Ascent: 450m
Views: 1555
---
This post is not published on the Walkhighlands forum
Munros:
Ben Vorlich (Loch Lomond)
Date walked: 31/05/2014
Views: 895
---
This post is not published on the Walkhighlands forum
Munros:
Stob Coire Raineach (Buachaille Etive Beag)
,
Stob Dubh (Buachaille Etive Beag)
Date walked: 24/09/2013
Distance: 11.6km
Ascent: 1007m
Views: 565
---
This post is not published on the Walkhighlands forum
Munros:
Beinn Tulaichean
,
Ben More
,
Cruach Ardrain
,
Stob Binnein
Date walked: 13/09/2013
Distance: 18.2km
Ascent: 2188m
Views: 594
---
Corbetts:
The Cobbler
Date walked: 10/09/2013
Distance: 12km
Ascent: 980m
Comments: 9
Views: 3556
---
This post is not published on the Walkhighlands forum
Munros:
Ben Vane
Date walked: 20/07/2013
Distance: 11km
Ascent: 930m
Views: 534
---
Munros:
Braeriach
,
Cairn Toul
,
Sgor an Lochain Uaine
,
The Devil's Point
Date walked: 17/07/2013
Comments: 2
Views: 2974
---
Munros:
Carn a'Mhaim
,
Derry Cairngorm
Date walked: 16/07/2013
Distance: 25.5km
Ascent: 1146m
Comments: 3
Views: 2714
---
Munros:
Beinn Mheadhoin
,
Ben Macdui
,
Cairn Gorm
Date walked: 15/07/2013
Comments: 3
Views: 3755
---


Munros: 50
Corbetts: 1
Sub 2000: 5
Long Distance routes: West Highland Way











Statistics

Trips: 2
Distance: 46.6 km
Ascent: 1750m
Munros: 1
Trips: 1
Munros: 1
Trips: 12
Distance: 288.8 km
Ascent: 10963m
Munros: 21
Corbetts: 1



Joined: Jul 10, 2013
Last visited: Sep 09, 2019
Total posts: 28 | Search posts