Date walked: 21/04/2014
Time taken: 3.5 hours
Distance: 7.5km
Ascent: 924m
Was on my very first visit North of Inverness and the intention was to try and get Orkney & the whole North coast cracked in three days. Had the family booked too and got them to believe me that I had the weather booked as well!
Now Orkney was fascinating and the history fantastic however my excitement could hardly be contained when I clamped my eyes on these two.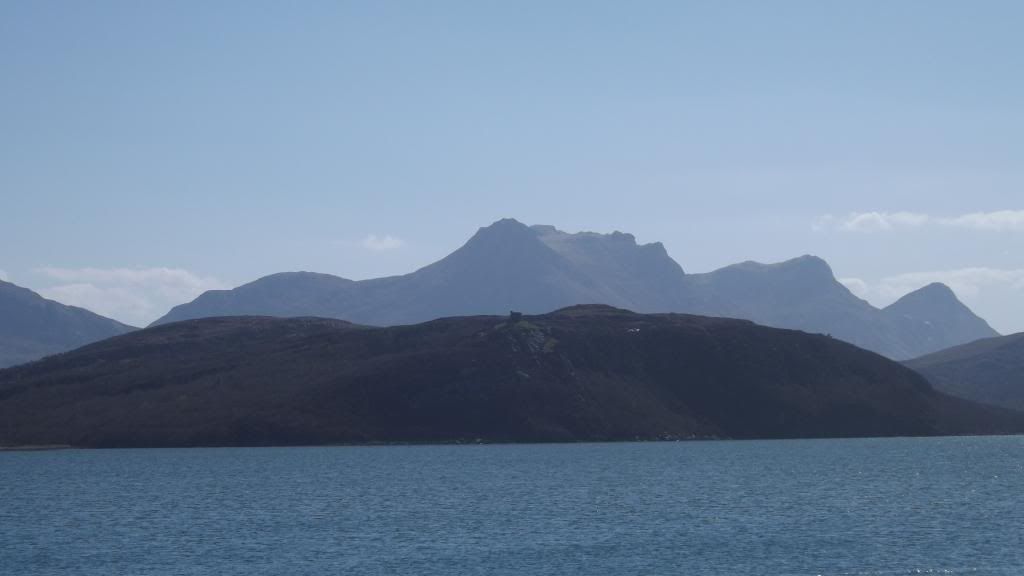 As the day was quite late I decided to push on to where we were staying for the night in Durness at Smoo Cave and the hotel by the same name appropriately. Smoo Cave was a cracking visit too!
The views above of the coast line were even better especially as the sun was setting.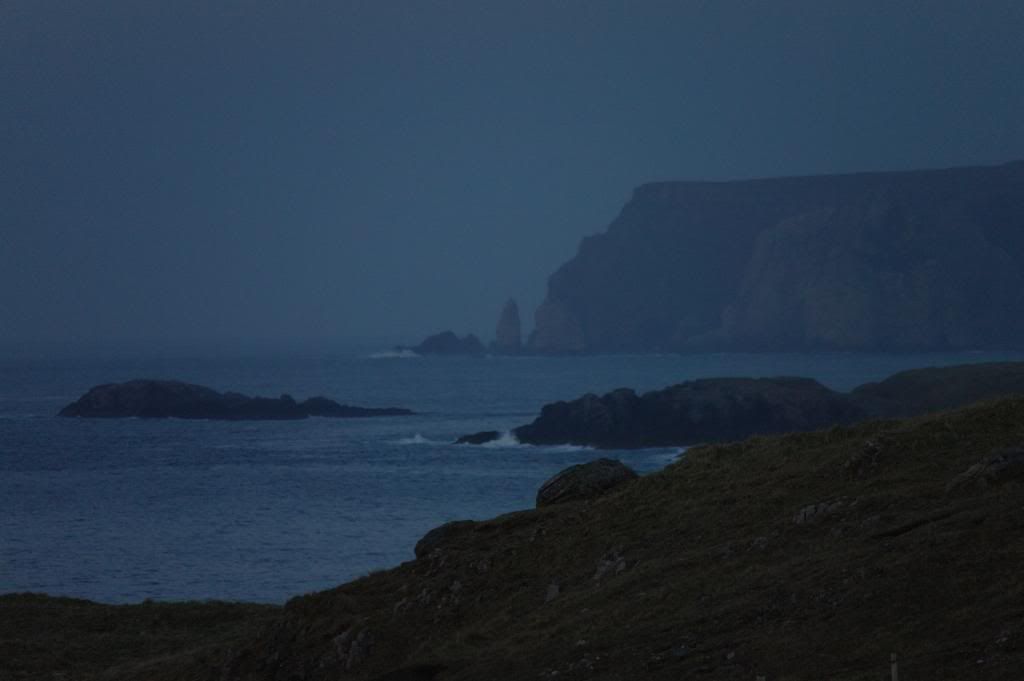 Anyway on to the walk. I was up and running at 4-30 as it was still an hours drive from Durness to the start point. The wildlife that was running around that time of day was awesome enroute and I had to be very careful driving there.
Well there was no denying where the start point was.
Now one thing I don't enjoy when starting off up these hills is steep starts as I have my first hour where I like to warm up and this fella definitely denies this! So I took it easy with plenty of breathers on the way up. The path was very good and easily identified all the way to the peak.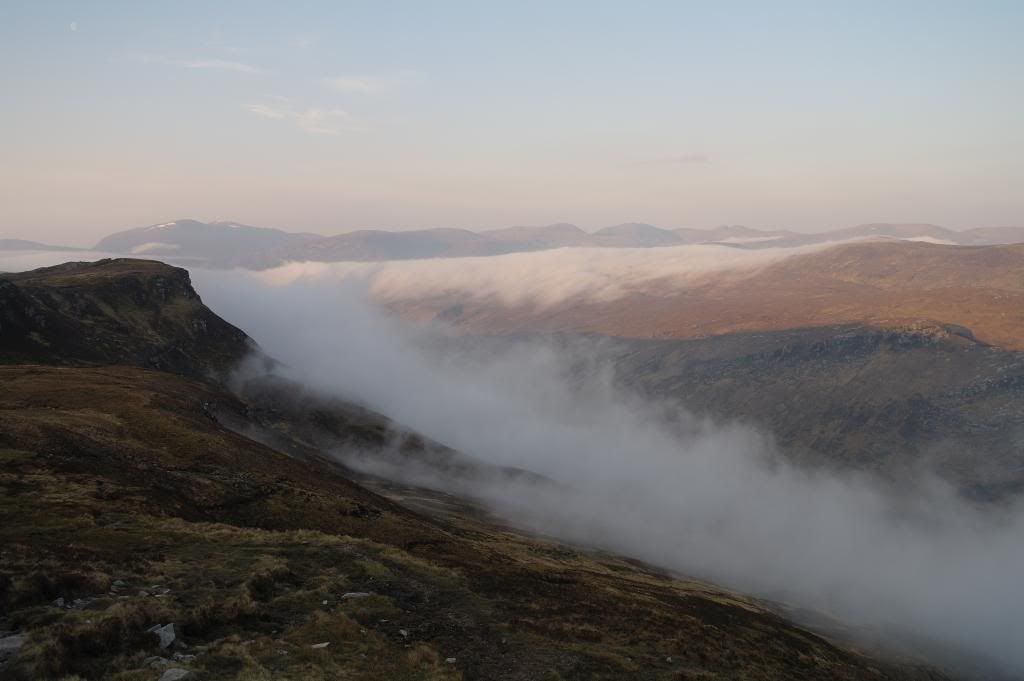 What made this a cracking day for me was the inversion that was threatening to happen and I was observing the whispy white stuff creep along Strathmore towards Loch Hope the higher I got. The snag with being quite steep was I was now counting my height gain and wishing the trig point & cairn to appear all too soon! But oh it still seemed miles off!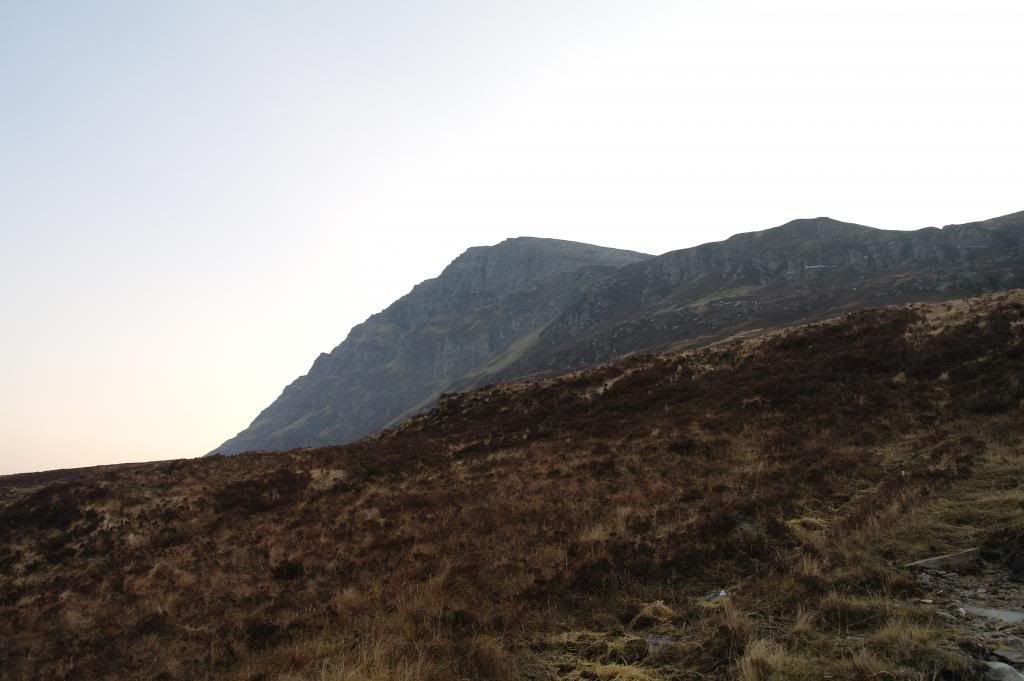 Now one thing that always makes me smile on the hills are these felllas. I never seem to fail to see one !
Added to this the views were beginning to become stunning!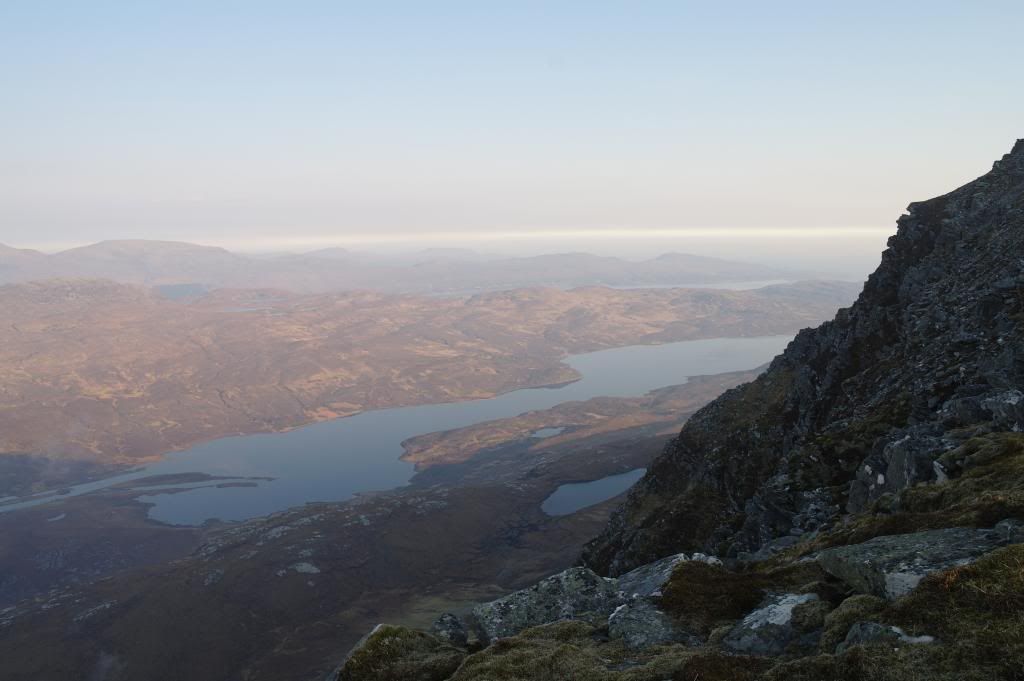 Finally this appeared and what shocked me was I was only 2 hours into the walk however it rammed home how steep this climb up the south ridge is.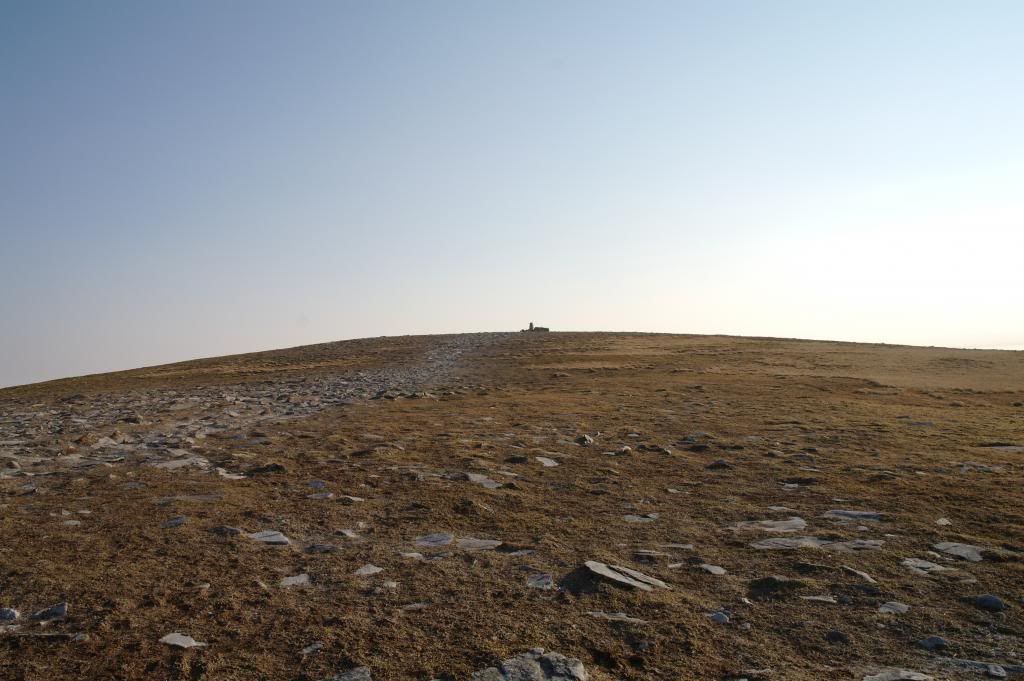 Quick Breakfast at the top and here's my shots from the peak.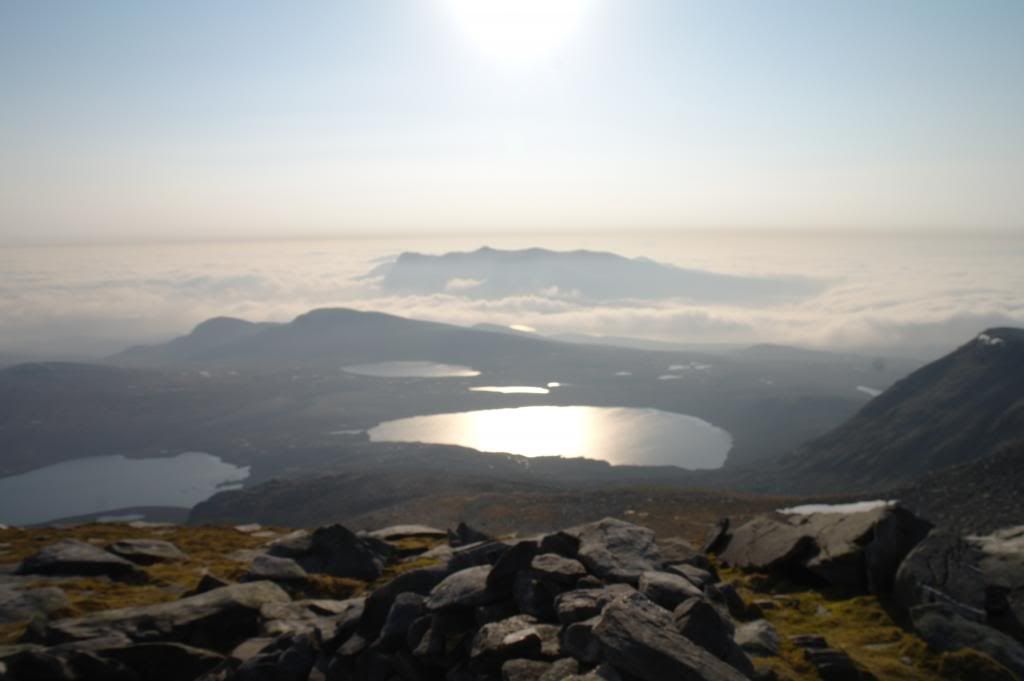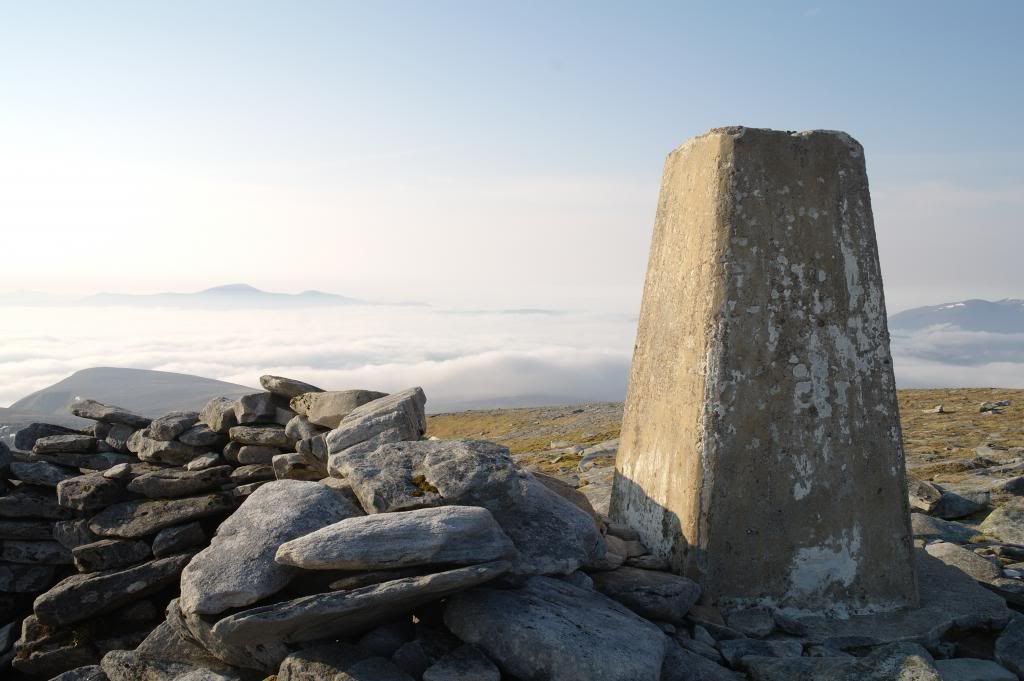 I descended the same way and managed to avoid any souls all the way down. A fantastic short day and the beauty of this is that I was done and dusted by 10am and sorely wished I had done my homework and gone for Ben Klibreck as well. Here's a shot from the roadside of a really good walk and a cracker from the most Northerly Munro!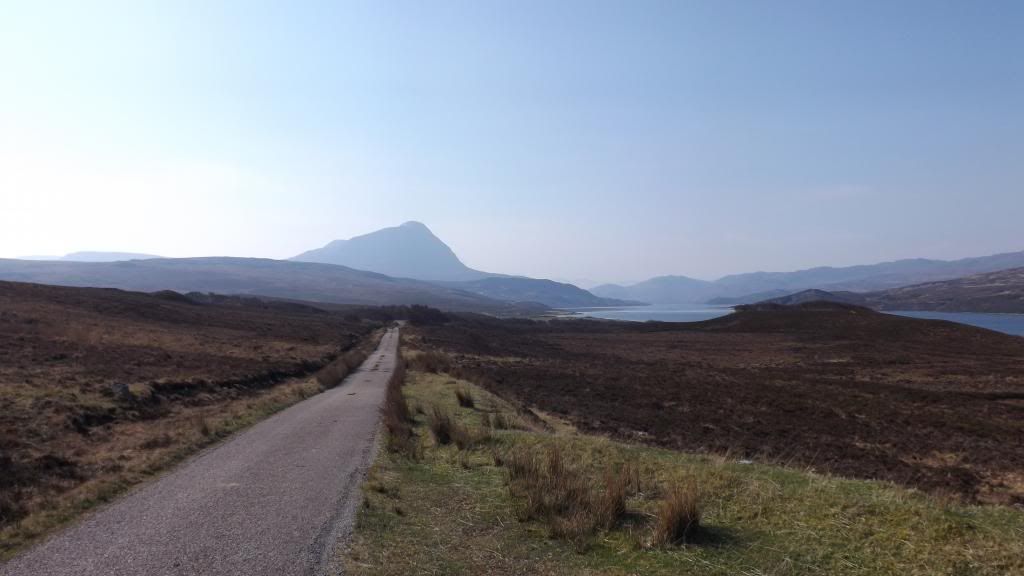 Click to mark this as a great report. Register or Login
free to be able to rate and comment on reports (as well as access 1:25000 mapping).
---
Munros:
Am Bodach
,
An Gearanach
,
Sgùrr a' Mhàim
,
Stob Coire a' Chàirn
Date walked: 12/10/2013
Distance: 15km
Ascent: 1545m
Comments: 2
Views: 2966
---
Munros:
An Stùc
,
Meall Garbh (Ben Lawers)
,
Meall Greigh
Date walked: 28/07/2012
Distance: 19km
Ascent: 1118m
Comments: 2
Views: 2591
---
Munros:
An Caisteal
Date walked: 06/03/2012
Distance: 11km
Ascent: 995m
Views: 2054
---
Corbetts:
Ben Donich
Date walked: 03/03/2012
Distance: 7.5km
Ascent: 575m
Comments: 6
Views: 3421
---
Munros:
Beinn a' Chochuill
,
Beinn Eunaich
Date walked: 06/11/2011
Distance: 17.5km
Ascent: 1584m
Comments: 2
Views: 2394
---
Munros:
Ben Cruachan
,
Stob Daimh
Date walked: 15/09/2011
Distance: 14km
Ascent: 1126m
Comments: 4
Views: 3458
---
Corbetts:
Goat Fell
Date walked: 28/08/2011
Distance: 12km
Ascent: 874m
Comments: 2
Views: 3246
---
Munros:
Stob Coire Raineach (Buachaille Etive Beag)
,
Stob Dubh (Buachaille Etive Beag)
Date walked: 21/08/2011
Distance: 8km
Ascent: 958m
Comments: 5
Views: 4609
---
Munros:
Stob Dearg (Buachaille Etive Mòr)
,
Stob na Bròige (Buachaille Etive Mòr)
Date walked: 19/08/2011
Distance: 8km
Ascent: 1022m
Comments: 4
Views: 4213
---
Location: Bonhill
Activity: Mountaineer
Pub: Waterhouse Inn Balloch
Mountain: Ben Arthur
Place: My House
Gear: My New Scarpas
Member: BMC
Camera: Samsung NX11
Ideal day out: Ridge walking


Munros: 139
Corbetts: 13
Grahams: 3
Wainwrights: 2
Hewitts: 9
Sub 2000: 2











Statistics

Trips: 1
Distance: 7.5 km
Ascent: 924m
Munros: 1
Trips: 1
Distance: 15 km
Ascent: 1545m
Munros: 4
Trips: 3
Distance: 37.5 km
Ascent: 2688m
Munros: 4
Corbetts: 1
Trips: 11
Distance: 136 km
Ascent: 11646m
Munros: 18
Corbetts: 1



Joined: May 18, 2011
Last visited: Aug 02, 2019
Total posts: 112 | Search posts