Date walked: 09/10/2016
Time taken: 5.5 hours
Distance: 12.5km
Ascent: 800m
A Norwegian "Munro" and a wee hump.
It's a while since I've been bagging any munros now because I'm in Norway. Anyway here are "Munros" as well.
Ruten would be a typical one if allocated in Scotland.
The altitude is 1039 m above sea level, (the same as Meall Ghaordaidh.)
The prominence is 742 meters.
And the summit is the cairn in the middle: There is a book to sign there, and every ascent is logged at
www.rutenregisteret.no
.
But the very best thing of this mountain is the view to Trollheimen, (the Trolls' home). You can also see Sylan at the border of Sweden, and the Atlantic Ocean. The long slog up is worth it.
The mountain to the left is Snota in Trollheimen. At an altitude of 1669 meters, that top would be a good challenge if you are coming to Norway some time.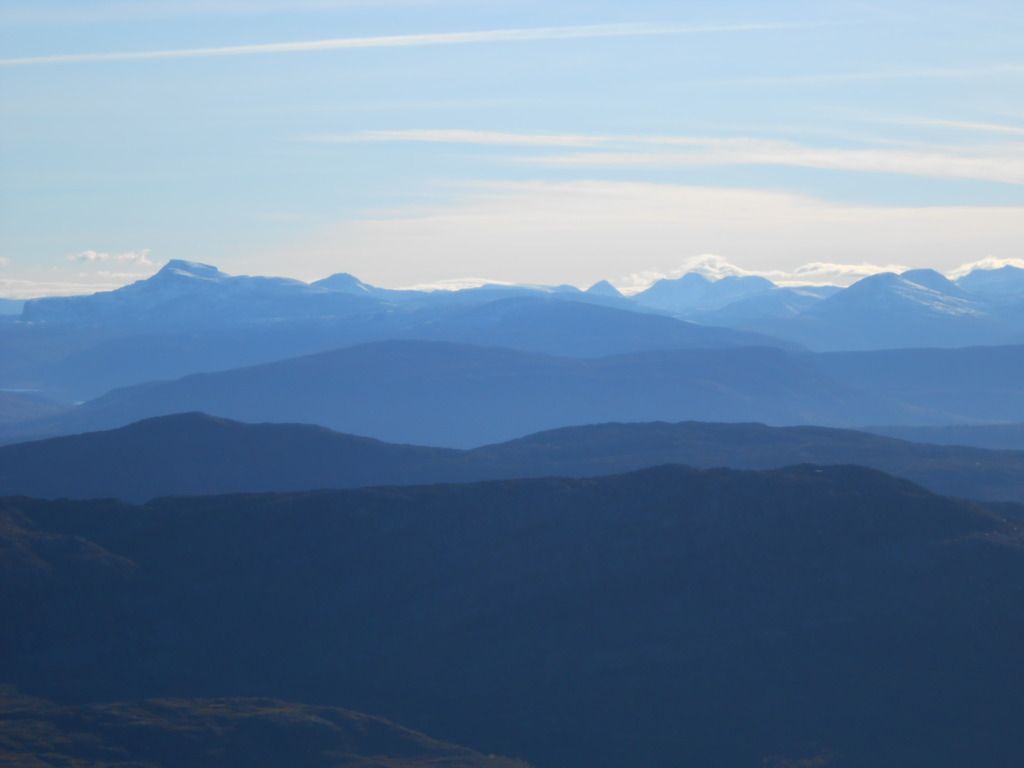 The King's Crown and the Queen's Crown are in this picture among hundreds of other tops. (Kongekrona and Dronningkrona).
Sunset over Ruten, Seen from the wee Hump, Tverrfjellet.
Click to mark this as a great report. Register or Login
free to be able to rate and comment on reports (as well as access 1:25000 mapping).
---
Munros:
Aonach Air Chrith
,
Aonach Meadhoin
,
Creag a'Mhaim
,
Creag nan Damh
,
Druim Shionnach
,
Maol chinn-dearg
,
Saileag
,
Sgurr a'Bhealaich Dheirg
,
Sgurr an Doire Leathain
,
Sgurr an Lochain
,
Sgurr Fhuaran
,
Sgurr na Carnach
,
Sgurr na Ciste Duibhe
,
Sgurr na Sgine
,
The Saddle
Date walked: 18/07/2015
Distance: 62.8km
Ascent: 5664m
Views: 1371
---
Wainwrights:
Scafell Pike
Hewitts:
Scafell Pike
Date walked: 06/06/2015
Distance: 9km
Ascent: 923m
Views: 1309
---
This post is not published on the Walkhighlands forum
Date walked: 17/04/2015
Views: 782
---
Munros:
Schiehallion
Date walked: 21/12/2014
Distance: 10.1km
Ascent: 796m
Views: 1450
---
Munros:
Beinn a'Chaorainn (Cairngorms)
,
Beinn Bhreac
,
Beinn Mheadhoin
,
Ben Macdui
,
Derry Cairngorm
Date walked: 25/11/2014
Distance: 44km
Ascent: 2496m
Views: 2437
---
This post is not published on the Walkhighlands forum
Grahams:
Cruach nan Capull
Date walked: 21/11/2014
Distance: 20.5km
Ascent: 989m
Views: 619
---
Munros:
Sgorr Dhearg (Beinn a'Bheithir)
,
Sgorr Dhonuill (Beinn a'Bheithir)
Date walked: 16/08/2014
Distance: 24.2km
Ascent: 1752m
Views: 1438
---
This post is not published on the Walkhighlands forum
Wainwrights:
Helvellyn
,
Raise
,
White Side
Hewitts:
Helvellyn
,
Raise
,
White Side
Date walked: 12/07/2014
Distance: 12.2km
Ascent: 1029m
Views: 689
---
This post is not published on the Walkhighlands forum
Munros:
Meall Ghaordaidh
Date walked: 26/04/2014
Distance: 9.75km
Ascent: 906m
Views: 587
---
Location: Greenock
Activity: Munro compleatist
Pub: James Watt
Mountain: Ben Lomond
Place: Glen Affric
Member: Clydeside Orienteers
Camera: Nikon Coolpix
Ideal day out: A sunday afternoon ridge walk towards the west.
Ambition: Bagging them all.


Munros: 115
Corbetts: 4
Grahams: 2
Donalds: 1
Wainwrights: 8
Hewitts: 8
Sub 2000: 4











Statistics

Trips: 1
Distance: 12.5 km
Ascent: 800m
Trips: 3
Distance: 71.8 km
Ascent: 6587m
Munros: 15
Hewitts: 1
Wainwrights 1
Trips: 7
Distance: 135.05 km
Ascent: 8526m
Munros: 9
Grahams: 1
Donalds: 1
Hewitts: 3
Wainwrights 3
Trips: 12
Distance: 159.21 km
Ascent: 12207m
Munros: 16
Corbetts: 1
Grahams: 1
Sub2000s: 1
Hewitts: 2
Wainwrights 1
Trips: 25
Distance: 510.05 km
Ascent: 35467m
Munros: 64
Corbetts: 3
Hewitts: 2
Wainwrights 3
Trips: 10
Distance: 114.21 km
Ascent: 10157m
Munros: 11
Sub2000s: 1



Joined: Oct 12, 2011
Last visited: Oct 16, 2020
Total posts: 111 | Search posts